Christmas appetizers: the best recipes to bring to the table during the holidays
Delicious Christmas appetizers? Meat, fish, vegetables, hot and cold, we have something for all tastes: here are the recipes for special and very tasty appetizers!
Here you are, for the Christmas Menu category, a series of delicious Christmas appetizers to bring to the table during the Christmas Eve dinner or lunch on December 25th. Appetizers are certainly one of the crucial parts of any menu, since they are the first to be served, but they are also the most fun to prepare, as there are so many ideas that can be put into play to create original recipes and to make make your mouth water.
We have decided to offer you a series of dishes, starting with fish appetizers, refined and inevitable, and continuing with cold and finally hot appetizers, to be served at the moment . Choose the ones that stimulate your imagination and appetite the most and… roll up your sleeves!
Let's discover the best delicious Christmas appetizers to prepare for your lunch or Christmas Eve dinner !
Quick fish appetizers
Let's start our series of appetizers for Christmas Eve or for lunch on the 25th with some delicious ideas for preparing fabulous fish appetizers. In fact, among the great protagonists of the holidays, salmon and scallops cannot be missing! What are we waiting for? Let's start our journey right away to discover the most delicious recipes ever!
1. Scallops au gratin
We can't help but start with a classic Christmas appetizer : let's see immediately how to cook baked scallops au gratin !
This is a dish that will make your mouth water just to see it served on the table. The secret lies in the perfect preparation of the filling, which must be balanced and tasty, but also in the quality of the raw material: with fresh scallops you will have a memorable dish !
Finally, cooking the scallops: 15 minutes in the oven at 200 ° C. The result will be amazing!
Ingredients for the recipe for scallops au gratin (for 4 people)
8 scallops
120 g of breadcrumbs
2 cloves of garlic
Fresh parsley to taste
Extra virgin olive oil to taste
Salt to taste
Pepper as needed
1 lemon
2. Salmon mousse
At Christmas, of course, salmon cannot be missing! But if you are tired of always offering it in the usual appetizers and the salmon canapes have definitely bored you, here is a dish that will renew your desire to try new recipes : salmon mousse.
Basically, even with this dish you can make canapes or savory croutons to be enjoyed as an appetizer , but the salmon will be served in the form of a creamy and inviting fish mousse , and each guest can compose his own canapé on the spot.
To make this sort of salmon cream, in addition to the Philadelphia fish, use fresh cream, and then pepper, salt and fennel . Try it too!
Ingredients for the salmon mousse recipe (serves 4)
200 g of smoked salmon
100 g of spreadable cheese
2 tablespoons of fresh cream
dill or fennel to taste
Salt to taste
pepper as needed
3. Salmon and Philadelphia canapes
We continue with another dish based on the same ingredient: the smoked salmon canapes , a quick and delicious appetizer that will surely please everyone.
To make salmon croutons you only need to equip yourself with the necessary ingredients … and nothing more ! Yes, because this is one of those dishes that you can not only prepare well in advance, but also very quickly . The steps are very few: prepare the sauce with Philadelphia, salt, pepper, oil, lemon zest, stuff the croutons and … enjoy the canapes in company!
Try making these canapes for the Christmas aperitif: because simplicity is often the best recipe.
Ingredients for the salmon and Philadelphia tartine recipe (for 8 people)
130 g of smoked salmon
Philadelphia to taste
Chives to taste
Pepper as needed
Salt to taste
Lemon zest to taste
Crackers or bread to taste
4. Seafood salad
First rule of seafood salad : there are no rules ! This is in fact one of those dishes that can be prepared in any way, using the ingredients available and seasoning them and enriching them with other delicious elements .
You can choose to use octopus, squid, mussels and shrimps, but also salmon and other delicious fish . Follow the right cooking methods for each one and then combine them with fresh vegetables, salad, lemon juice or other.
With the fish salad you will brighten up your Christmas dinner table in an instant!
Ingredients for the mixed fish salad recipe (for 6 people)
600 g of octopus
500 g of squid
1 kg of mussels
350 g of shrimp
Extra virgin olive oil to taste
2 cloves of garlic
Salad to taste
1 lemon
Parsley to taste
Pepper as needed
5. Shrimp cocktail
Other than the Eighties: the prawn cocktail is an appetizer that can never be missing on the table. Also perfect for an aperitif, the pink sauce is delicious when paired with fresh and well-cleaned shrimp tails. To serve them, why not opt ​​for 3-4 small ceramic containers to be placed at the table and, on the side or crossed on the edge, many shrimp or shrimp tails?
Preparing this recipe is really simple, all you have to do is use the right ingredients.
Ingredients for the prawn cocktail (for 4-6 people)
500 g of frozen shrimp
70 g of mayonnaise
1 tablespoon of ketchup
1/2 tablespoon of worchester sauce
Salt to taste
green salad to taste
Cold appetizers
If you are looking for delicious cold Christmas appetizers, which you can prepare in advance and make in large quantities … well, you've come to the right place for you! From the great classics such as the gastronomic panettone to some original and delicious dishes , here are a series of recipes that will make you the most acclaimed chefs of all Christmas!
1. Salty puff pastry Christmas tree
Have you ever tried to make a salty Christmas tree with puff pastry? No? So what are you waiting for, if not the holiday period to try!
This technique lends itself to many preparations : you can stuff your puff pastry sapling with meats, cheeses, creams, vegetables and so on. We opted to intertwine two trees, one stuffed with ham and cheese and the other with olive paté.
The technique is simple: you have to cut out some strips to fill while keeping the trunk intact, then bake in the oven first brushing the surface with an egg yolk. Once the appetizer is ready, place your Christmas savory pie in the center of the table, which with its wonderful appearance will also act as a centerpiece … or at least, it will be until it is literally devoured by your guests!
Try making the salty Christmas tree yourself !
Ingredients for the salty Christmas tree recipe (serves 8)
2 rolls of rectangular puff pastry
100 g of raw ham
100 g olive paté
80 g of cheese
1 egg
Pepper as needed
Peppers to taste
2. Salty lady's kisses
Here is a delicious and perfect finger food to prepare in large quantities, salty baci di dama ! This is nothing more than a reinterpretation of the classic sweet kisses, a delicious variant for a dish that will surely be snapped up.
You can fill these kisses with a mousse or a cream made by you, but also with Russian salad or other delicious ingredients. Try them, this original dish will certainly make a great impression!
Ingredients for the lady's kisses recipe (for 8 people)
100 g of flour 00
80 g of almond flour
80 g of grated cheese
120 g of Philadelphia cheese
80 g of butter
2 tablespoons of water
Salt to taste
Pepper as needed
3. Stuffed hard-boiled eggs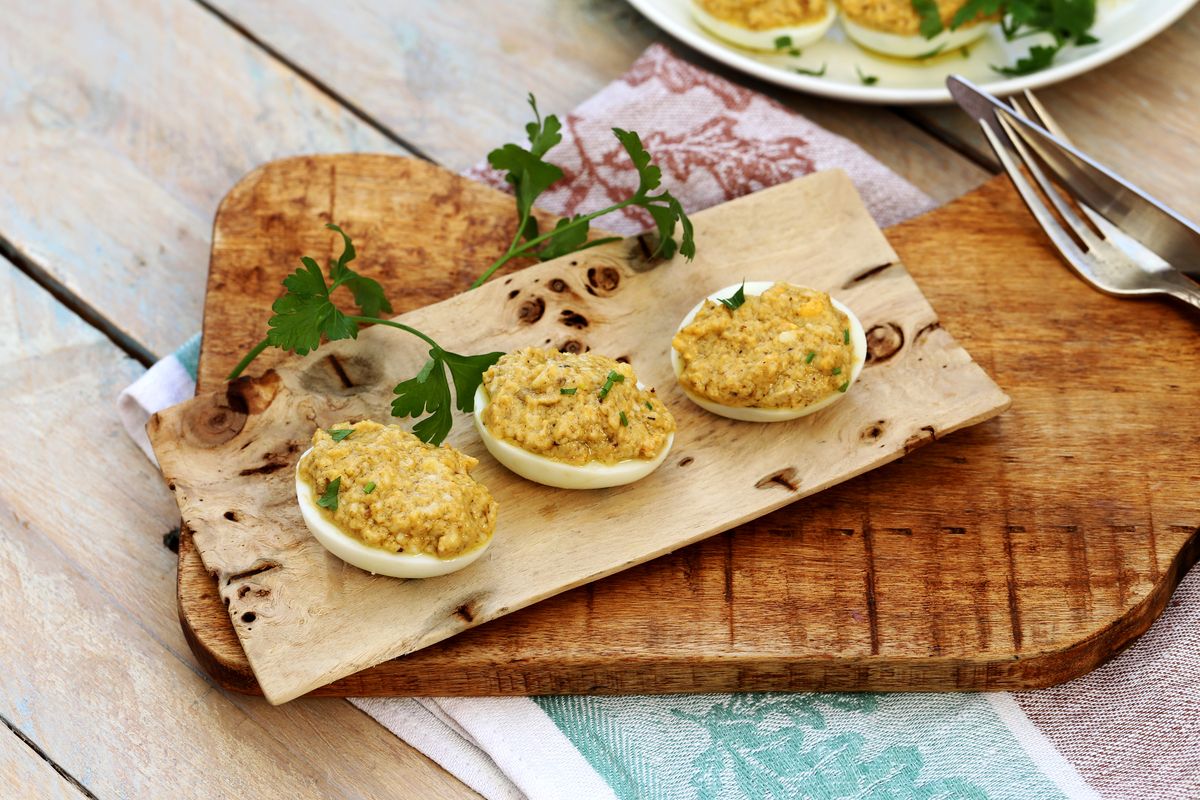 Stuffed eggs are also one of those time-saving recipes, and above all, that can be made in large quantities without spending too much time in the kitchen. In fact, all you have to do is decide the number of eggs (remembering that for each one you will get two boats) and the filling, which you will prepare in large quantities.
To make them, even here there are no limits to the imagination. You can make a filling with egg yolks along with many other tasty elements or stuff them with sauces, mayonnaise and much more. Are you ready to make one of the appetizers that your Christmas guests will like the most? Then prepare our stuffed eggs too!
Ingredients for the recipe for eggs stuffed with tuna (serves 4)
8 hard-boiled eggs
8 anchovies
150 g of canned tuna
Parsley to taste
Pepper as needed
Salt to taste
Butter to taste
Lemon zest to taste
4. Gastronomic panettone
Here is a classic Christmas recipe , certainly a bit difficult to prepare, but with a little good will and a few tricks we are sure you will make it. Are you ready to discover all the secrets of the gastronomic panettone , from how to stuff it to how to make the dough?
Let's start with the simplest thing: the filling of the gastronomic panettone. Here, as you can imagine, there are no rules , just good taste! A piece of advice we give you is to create different flavors, divided by half or by levels. You can even make each disc with a different filling , so as to create a different flavor with each bite.
The dough, then, is perhaps the most complicated part, but if you want to solve the problem you can buy a salty panettone ready to cut and stuff.
Give your Christmas more flavor with this wonderful recipe!
Ingredients for the salty gourmet panettone recipe (for 16 people)
450 g of Manitoba flour
100 ml of milk
100 g of butter
90 g of water
2 eggs
1 sachet of yeast
1 teaspoon of honey
30 g of sugar
40 g of salt
5. Russian salad
Another must have for the holiday menu is, of course, the traditional Russian salad recipe. Mayonnaise and lots of steamed vegetables, sometimes flavored with ham or other ingredients that can vary depending on the region. Do you think that there are those who also use tuna to enrich the sauce, just like a tuna sauce.
To prepare it you will not really put anything, even the mayonnaise thanks to the use of the blender and the very cold eggs will thicken in an instant. Pay attention only to cooking vegetables, it could ruin all the work!
Ingredients for the Russian salad recipe (serves 4)
350 g of mayonnaise
500 g of potatoes
300 g of peas
200 g of carrots
50 g of pickled gherkins
white wine vinegar to taste
Salt to taste
extra virgin olive oil to taste
capers to taste
6. Savory Christmas log
The sweet one is definitely more famous and known, but also thesavory Christmas log recipe has its own reason and should be tried. If you don't know what to bring to the table on December 25th and you want to amaze your guests, you just need a little bread loaf, mayonnaise, ham, capricciosa salad, Philadelphia and green salad. You will see that the game will be done in a few minutes and the result will make you look great .
Ingredients of the salty log (for 8 people)
3 slices of white bread for sandwiches
2 tablespoons of mayonnaise
100 g of cooked ham
300 g of whimsical salad
4 lettuce leaves
300 g of Philadelphia
7. Liver pate
With or without jelly, it can spread on croutons or to bring to the table and cut into slices. Whichever way you decide to serve it, this appetizer will always have its reason and, even the most skeptical, after tasting this recipe they will change their mind. We are talking about a unique appetizer, very often misunderstood, but with an articulated and exquisite flavor: liver pate !
To prepare it you will have to cook the chicken livers in a pan with butter and a drizzle of oil, then chop everything and season with the aromatic herbs. For the version with jelly? Just add a few sheets of isinglass with water and you're done.
Ingredients for the liver pate (for 6 people)
500 g of chicken livers
3 onions
1 glass of Marsala
250 g of butter
bay leaf to taste
a handful of herbs to taste
3 tablespoons of extra virgin olive oil
1 lemon or orange zest for grating
salt
pepper as needed
3 gelatin sheets (optional)
Hot appetizers
Let's continue with the best Christmas recipes to create wonderful appetizers! If you want you can also prepare quick appetizers for Christmas to be served hot, delicious if enjoyed on the spot. We therefore conclude our review with the latest delicious dishes that we recommend serving during your Christmas lunch or dinner!
1. Savory vol au vent
Here is a real classic of appetizers for Christmas: hot stuffed vol au vent. These puff pastry baskets are easier to make than you think, and can be stuffed with tons of delicious fillings.
Today we will show you the recipe for vol au vent with fondue, a soft cheese-based filling that can be prepared quickly and without major problems.
But how to fill the vol au vent ? First of all you need to make the baskets by obtaining the base from the puff pastry, the rings that make up the edges and, if you like, the lids . Once done, you will have to bake in the oven and wait about ten minutes. In the meantime, prepare the fondue and when it is ready, let it cool for a moment, then fill the vol au vent to the brim!
Ingredients for the savory vol au vent recipe (for 4 people)
1 roll of puff pastry
120 ml of milk
60 g of fontina
60 g of taleggio cheese
15 g of butter
1 pinch of salt
Nutmeg to taste
1 pinch of pepper
1 teaspoon of flour 00
2. Crispy baked polenta croutons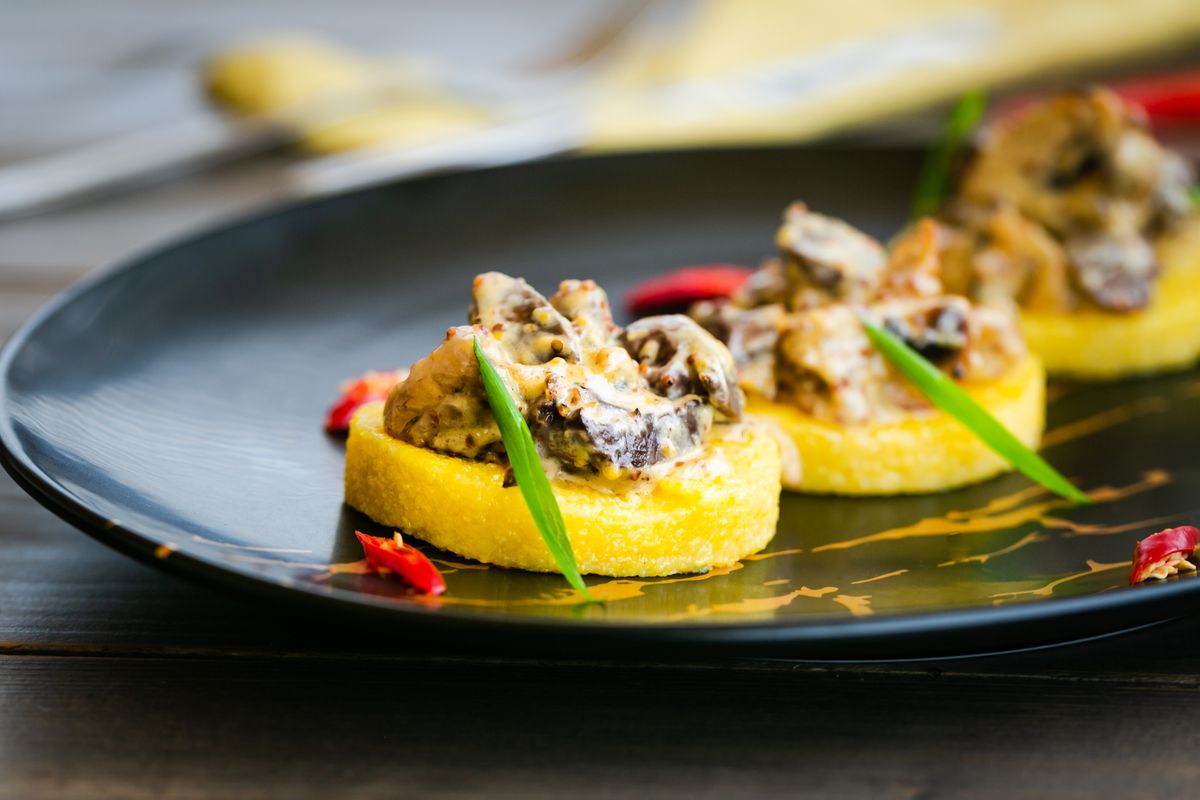 Leftover polenta in the oven is a dish that can turn into a delicious recipe , and it is not just a recovery dish, but it can also be prepared instantly and then put it back in the oven to make it crunchy.
In practice, it is a question of cooking a classic polenta (which you can prepare with the instant preparation or with corn flour) which is then passed in the oven to become beautifully toasted.
At that point, squares or rectangles are obtained and the baked polenta croutons are then stuffed ; certainly an original and tasty idea, to try as an alternative to the usual croutons . You can enjoy this appetizer with cheeses, meats, sauces, or even too natural.
A perfect match? Try it with lard or with gorgonzola and a slice of raw ham, this baked polenta will surprise you!
Ingredients for the crispy baked polenta recipe (for 4 people)
400 g of corn flour
2 liters of water
100 g of fontina
40 g of grated cheese
Salt to taste
Pepper as needed
80 g of butter
Extra virgin olive oil to taste
Coarse salt to taste
3. Emilian fried dumplings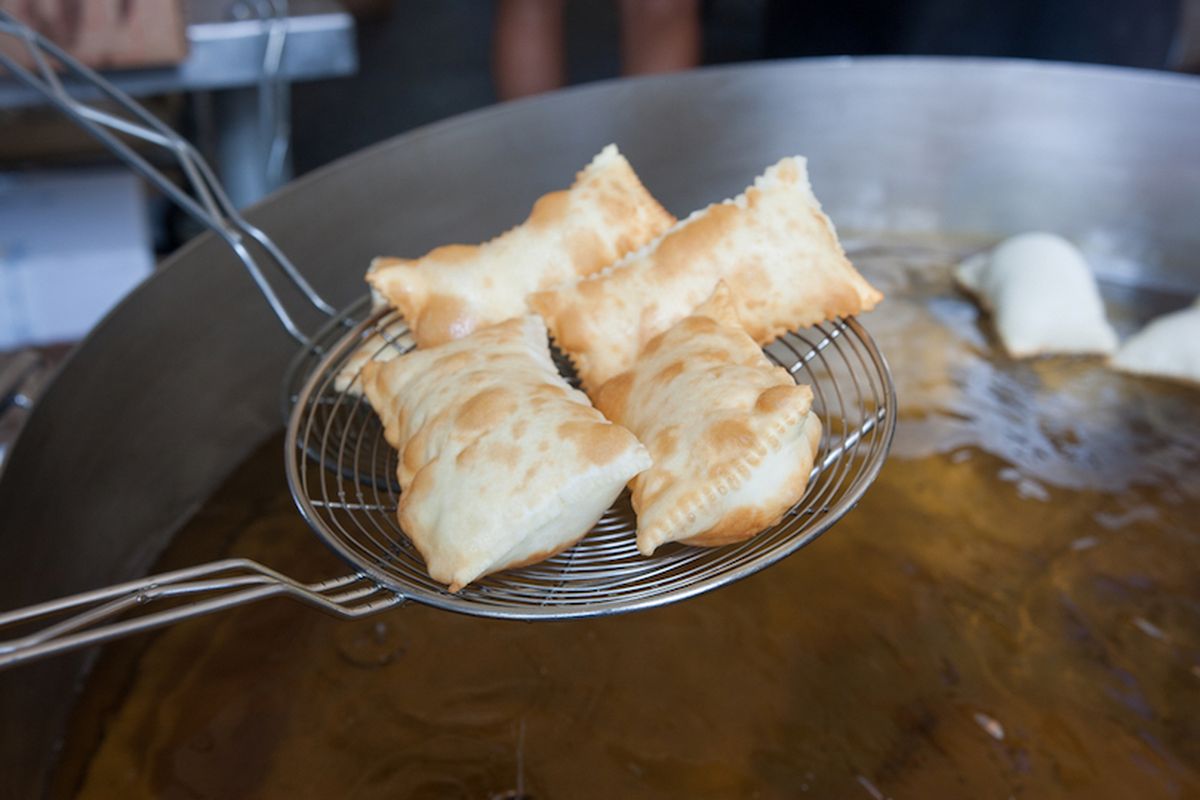 Here is the fried gnocco , an original typical Emilian recipe and perfect to be served accompanied by cold cuts or soft cheeses. This particular fried pasta is prepared on the spot and dipped in boiling oil, then dried and served as an accompaniment to aperitifs or appetizers.
The beauty of this dish is to serve it hot : if you break a fried dumpling in half, in fact, you will notice that it has a hole inside, and this allows you to stuff it with cold cuts, cheeses (try gorgonzola or stracchino) but also vegetables. , sauces or whatever you like best.
You can serve the first gnocchi on the spot , just fried and still hot, but also prepare more to leave them on the table instead of bread. This delicious recipe will please everyone!
Soft and puffy fried dumpling ingredients (for 4 people)
400 g of flour 0
40 g of lard
1 sachet of dehydrated brewer's yeast
2 teaspoons of granulated sugar
Water to taste
Seed oil for frying to taste
Salt to taste
Riproduzione riservata © - WT