Not just spiders and pumpkins: the best Halloween recipes for a menu … scary!
When October 31st approaches, we need to think of Halloween recipes that are up to par. From appetizer, to dessert: here is our scary menu!
Halloween recipes are usually divided into two: pumpkin- based preparations (the real star of this period!) And " macabre " themed preparations (ie mummies, spiders, etc.). And this is certainly true at least as regards the Halloween menus for children's parties; the older children, on the other hand, can also draw from the Italian and Anglo-Saxon tradition with the most famous typical dishes of this period (such as Barm Brack , Colcannon, or the bones of the dead).
Primo Chef's Halloween menu
You can think of a themed buffet appetizer menu: sausage mummies, caprese eyes, spider pies and stuffed eggs decorated with… insects. First of all , the rice gourds are very cute and spectacular; as a main course, on the other hand, a stew accompanied by a side dish of Irish colcannon, or scary meatballs is perfect. Finally, you have to think about Halloween sweets: yes, let's talk in the plural because just like for the appetizers choose only one … it's impossible!
So let's see the best recipes for Halloween dinner: from appetizer to dessert !
Appetizers for Halloween: 4 nice ideas
Let's start with the savory Halloween recipes and the first appetizer is the mummy frankfurters: as spectacular as they are simple to make! For 4 people, get:
4 frankfurters
a roll of rectangular puff pastry
egg yolk for brushing.
Cut the pasta into very thin strips and use them to wrap the sausages. Brush with egg yolk and bake at 180 ° C for about ten minutes .
The second idea is a cold dish: caprese eyes .
For the third idea , however, following our recipe, make mini pumpkin pies to which you will have to make some small changes. Prepare the filling and the puff pastry, then compose the single-portion cups as follows: a disk of puff pastry, the filling, and another disk of puff pastry. With small strips of pasta, also make the spider's legs (as in the photo), brush with the egg yolk and bake for 15 minutes at 180 ° C. If you notice that they risk burning during cooking, cover them with aluminum foil.
The fourth and last of the salty recipes for Halloween that we propose for the appetizer are the classic stuffed eggs . To this traditional recipe for special occasions you will have to add black olives, which you will cut wisely so that they resemble spiders (as in the photo!).
First courses for Halloween: rice pumpkins and …
Rice pumpkins are beautiful: nice – but also good – and will appeal to young and old. In addition, it is a healthy first course : it is nothing but a pumpkin risotto! The necessary ingredients are:
400 g of risotto rice
1 tablespoon of chopped shallots
250 g of pumpkin
Grated Parmigiano Reggiano
15 g of butter
vegetable broth to taste
extra virgin olive oil to taste
Salt to taste
pitted black olives to taste
1 stick of celery
Start boiling the diced pumpkin in salted water for 20 minutes and then drain and blend . Meanwhile, brown the shallot in a pan with a drizzle of olive oil, add the rice and pumpkin pulp and cook for 25 minutes adding the hot broth . Stir in the butter and Parmesan and season with salt before letting it cool. It must come a little sticky.
With your hands, then, make balls : crush them lightly, make the grooves with a stick and decorate with celery and black olives .
This is a perfect recipe for a themed night, and is sure to be found in our Top Ten Best Halloween Recipes for Kids. If, on the other hand, you want to opt for something more classic, no one will make you feel out of place if you choose to prepare a good risotto with pumpkin and sausage (if you want you can say that the pieces of meat are brains, and here is the first course contextualized with Halloween. … although perhaps the most impressionable may decide not to continue with the dishes)!
Outline: Irish colcannon plus a spooky idea
Colcannon is a typical Irish dish: a sort of flan made with potatoes, cabbage and onion. To prepare it, boil potatoes and cabbage and brown the onion; then, everything is put into the oven for about ten minutes. Simple, genuine and nutritious, it is the perfect side dish for the classic stew!
If the colcannon doesn't seem monstrous enough (only to the eye because the taste is really spatial) you can always opt for a slightly revisited classic: duchess potatoes ! once ready, use some poppy seeds to create eyes and a wide open mouth… a small army of ghosts are ready to serve!
Seconds for Halloween: stew and meatballs
As a second we have thought of two alternatives : a nicer one – meatballs – and a more serious and adult – stew. To you the choice!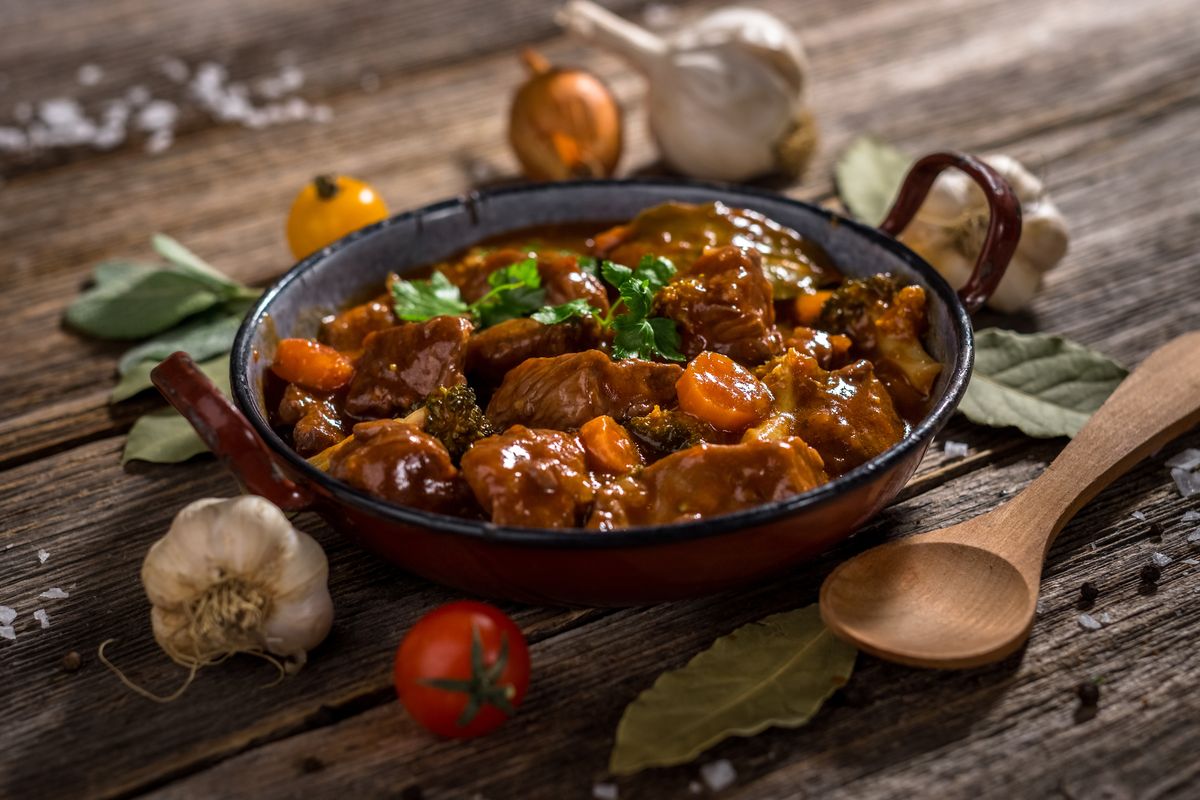 Since there are no real second courses for Halloween you can stay on the classic (perhaps for a dinner with adults) with a veal stew, or make monstrous themed meatballs (perhaps for the little ones). For the stew, get:
600 g of veal
1 carrot
1 onion
1 stick of celery
2 generous tablespoons of tomato paste
1 glass of white wine
meat broth to taste
extra virgin olive oil to taste
Salt to taste
pepper as needed
aromatic herbs to taste
Now you just have to follow our veal stew recipe !
For monstrous meatballs , the basic recipe is that of meatballs . For four people, get:
150 g of ground beef
150 g of minced pork
4 slices of mortadella
1 slice of sandwich bread
1 egg
1/2 white onion
80 g grated cheese
Salt and Pepper To Taste
parsley to taste
flour to taste
milk to taste
In a bowl, place the ground dog, egg, chopped onion , a slice of bread soaked in milk (and squeezed), grated cheese, chopped mortadella, parsley and salt and pepper. Make medium-sized balls with your hands and bake them in the oven at 180 ° C for 30/40 minutes .
Once cooked, we could turn them into little monsters (as in the photo):
For small spiders , make legs and eyes by piercing the meatball with raw vegetables such as cucumbers or peppers. For the eyes, use sunflower seeds or bread balls.
To give the impression that they are eyes , sprinkle the meatballs with sauce and then create the pupil with half a hard-boiled quail egg and a slice of black olive.
Finally, for mice , give the dough the shape of a drop (before cooking) and then complete with two pieces of carrot ring for the ears and a toothpick for the tail.
Sweet Halloween recipes: monstrous ideas!
As for Halloween sweets, however, you can indulge yourself: we offer you some very cute recipes .
Barm brack, the Irish dessert
Directly from Ireland, you can also try the barm brack, a dessert that is a cross between a plumcake and a panettone . Rich in raisins , tradition has it that a coin, a ring or other precious object (resistant to cooking) is inserted inside. When you cut it, whoever finds it will be lucky for the whole year!
Here is the complete barm brack recipe : good… luck!
• 350 g of raisins
• 250 ml of tea
• 220 g of flour 00
• 125 g of sugar
• 2 teaspoons of baking soda
• 1 egg
• rum to taste
• butter to taste to grease the mold
• cinnamon to taste
Start by soaking the raisins in a bowl with hot tea and a shot of rum. Once ready, squeeze it well and keep it aside without throwing away the liquid. Add together the flour, sugar, cinnamon and baking soda, egg and a few tablespoons of the liquid where you left the sultanas to soak. Mix the dough well also with the help of the electric mixer. Finally, add the raisins, stir again and then pour the mixture into a buttered and floured pan of about 22 cm in diameter (or into a bread mold). Cook at 170 ° C for about 45 minutes. Serve it for a snack on Halloween, perhaps accompanied by a nice cup of hot milk as it is a little dry.
Halloween cookies: recipes and ideas
Finally, how can we forget some ideas for cookies ?
Start making classic pumpkin cookies (to stay on topic). Then, you can choose whether to make a spider on top : use a chocolate for the body and chocolate cream for the legs; or you can fill two of them – always with chocolate cream – and, with small pieces of marshmallows, make them into monsters. Or again, if you are familiar with the sac-à-poche, you can cover them with a sugar glaze .
Different speeches for the witch's fingers , one of the most classic Halloween sweet recipes! For about 20 biscuits you will need:
150 g butter
100 g sugar
2 egg yolks
250 g flour 00
almonds to taste
In a large bowl, place the flour, sugar, butter into chunks and the two egg yolks. Knead with your hands, but do not heat the dough too much . Make a ball and let it rest in the fridge for at least 30 minutes .
With the dough, then make some 5-centimeter sausages (more or less like a finger); with a knife, make the grooves of the fingers and apply the almond on top (which will be the nail). Bake at 180 ° C for 15/20 minutes .
Ghost cake
The ingredients are many, but don't let this ghost cake scare you! It is simpler than you think and it will surely be among the Halloween dishes that young and old will ask you for every October 31 for its taste as well as the spooky design.
350 g of carrots
300 g of flour
50 g of almond flour
300 g of sugar
2 tablespoons of unsweetened cocoa
1 sachet of yeast
3 eggs
2 egg whites
1 teaspoon of vanilla extract
500 ml of fresh cream
250 g of mascarpone
300 g of Philadelphia
200 g of powdered sugar
milk to taste
2 sheets of isinglass
100 ml of sunflower oil
30 g of dark chocolate
30 ml of water
Prepare the chocolate carrot cake by combining the powders (be careful not to use sugar and then you will need only one tablespoon of unsweetened cocoa) with the eggs, two tablespoons of milk, oil and vanilla extract. Bake it in the oven at 170 ° C for about 40 minutes and in the meantime prepare the filling cream by whipping the cream with half the icing sugar. Separately then add the mascarpone, the other spoonful of cocoa, the Philadelphia and the other half of the icing sugar. Mix well until you get a smooth cream. Add the cream to the cream, being careful not to dismantle it and use it to fill the cake that you have specially cut into 3 discs . To complete, prepare the marshmallow ghosts. Put the isinglass to soak for about 10 minutes in water, then take the sugar and 30 ml of water and pour them into a saucepan to create a syrup. Beat the egg whites and pour them over the sugar syrup slowly and add the well squeezed isinglass. Mix everything until it is at room temperature, transfer it to a pastry bag and form your marshmallow puffs which you will then put in the fridge to harden. A completely melt some chocolate to create the eyes.
Halloween cake pops
Among the quick Halloween recipes we could not fail to mention our beloved cake pops ! They are ready in no time, especially if you have ready-made sugar paste at hand (instead of icing), and are super spectacular for Halloween night!
50 g of granulated sugar
100 g of butter
200 g of flour 00
1/2 sachet of baking powder for cakes
2 eggs
230 g of condensed milk
60 g of fresh liquid cream
200 g of white chocolate
food coloring to taste
food pencils
candied fruit to taste
Start by vigorously mixing the softened butter with the sugar. Once you have a cream, add 1 egg at a time while continuing to mix and, finally, 90 g of condensed milk. Add the sifted flour and baking powder and mix everything well with a spatula. Take the mixture and pour it into a cake pan of about 16 cm in diameter. Bake in the oven at 170 ° C for about 30 minutes . Take the baked cake and crumble it. Add the crumbs with the remaining condensed milk and mix well. Shape the balls and place them on a tray. Now melt the white chocolate and add it to the cream colored with the food coloring. Now dip the balls in the glaze, each stuck on a stick and let it harden in the refrigerator for about 30 minutes. Complete the cake pops as you like, for example we added a green candy on top and painted the eyes and mouth with the food coloring, but you can get the same result with the sugar paste too !
Riproduzione riservata © - WT