Seasonal fruit in June: what it is and why it's good for you
Seasonal fruit in June: find out what it is and what its most precious properties are.
The month of June is undoubtedly one of the most popular both because it is full of beautiful days and for the variety of fruits it brings with it. An important aspect, considering that eating seasonal foods is good for health by offering greater properties and helping to always eat healthily. Which in this month, thanks to the seasonal fruit of June, is always particularly pleasant due to the many cheerful and sunny colors that can be brought to the table. So let's find out what these seasonal fruits are and what properties they boast.
Apricots: rich in vitamins
Colorful and soft, apricots are a purely summer fruit and one of the most anticipated of the season.
In addition to being particularly good, they also boast several properties. Among the most important is, without any doubt, the presence of vitamins and minerals of which they are rich. With less than 50 calories per 100g, apricots offer antioxidant and protective properties for the eyes. Added to this is the invigorating effect that they give thanks to the minerals they contain.
They also favor intestinal transit, making them particularly suitable for purifying. Finally, they are good for the heart, stimulate the production of melatonin and help fight hypertension. Good alone or in a fruit salad, they are also excellent in the form of juice or in smoothies.
Peaches: sweet and rich in antioxidants
Among the most anticipated fruits of the summer there are undoubtedly peaches.
These are rich in antioxidants which are also found in the peel and are easy to digest. Excellent for counteracting dehydration, they help reduce blood pressure and bad cholesterol. They also have diuretic and laxative properties.
Among other things, peaches are considered real allies of the eyes . In fact, they contain particular antioxidants that protect the sight from light radiation. Excellent to eat either alone with other fruit, they go well with yogurt and / or ice cream.
Medlar: excellent for the eyes
Loquats are known for being very sweet and therefore pleasant for practically everyone.
Their properties, however, do not stop there. In addition to having less than 50 calories per 100 g, they are rich in vitamins and minerals and, among other things, they also boast a certain amount of fiber.
Consuming them helps protect the heart and intestines and all by reducing cholesterol values. Friendly to the skin, they support the kidneys and, if in the form of a decoction, they are among the remedies for coughs . Good both alone and in desserts, in some cases they can also be a good ingredient for particular side dishes to which they give a sweet and at the same time fresh taste.
Plums: friends of the intestine
Plums are also fully among the fruits of June. Rich in vitamins, they boast in particular the presence of vitamin A , which makes them one of the most antioxidant fruits.
The supply of fibers is also important and ensures that they are also friends of the intestine of which they regulate the transit and the ability to purify itself of waste. Diuretic, they are able to stimulate the nervous system and relieve states of mental fatigue. They are also good for the liver and all with only 35 calories per 100 grams. Excellent in yogurt, they are obviously also good at the end of a meal or to break hunger during the day.
Cherries: sweet and rich in antioxidant properties
Among the most loved fruits there are certainly cherries. Small, colorful and sweet enough to give a good mood, they are also beneficial .
In addition to having antioxidant properties, they are rich in fiber and therefore friendly to the intestine. They also help keep blood cholesterol levels low and are good for the liver.
Particularly useful against joint pain , they satiate quickly enough. Since they provide about 60 calories per 100 g, they are also recommended if you are on a diet. They are good for the heart, they help detoxify and purify and sweeten sweets and various preparations in a natural way. Obviously, however, it is advisable to consume them raw.
Strawberries: sweet and with anti-inflammatory properties
Among the most popular foods of the spring / summer season are strawberries . With just over 30 calories per 100 grams they are in fact colorful and sweet at the right point.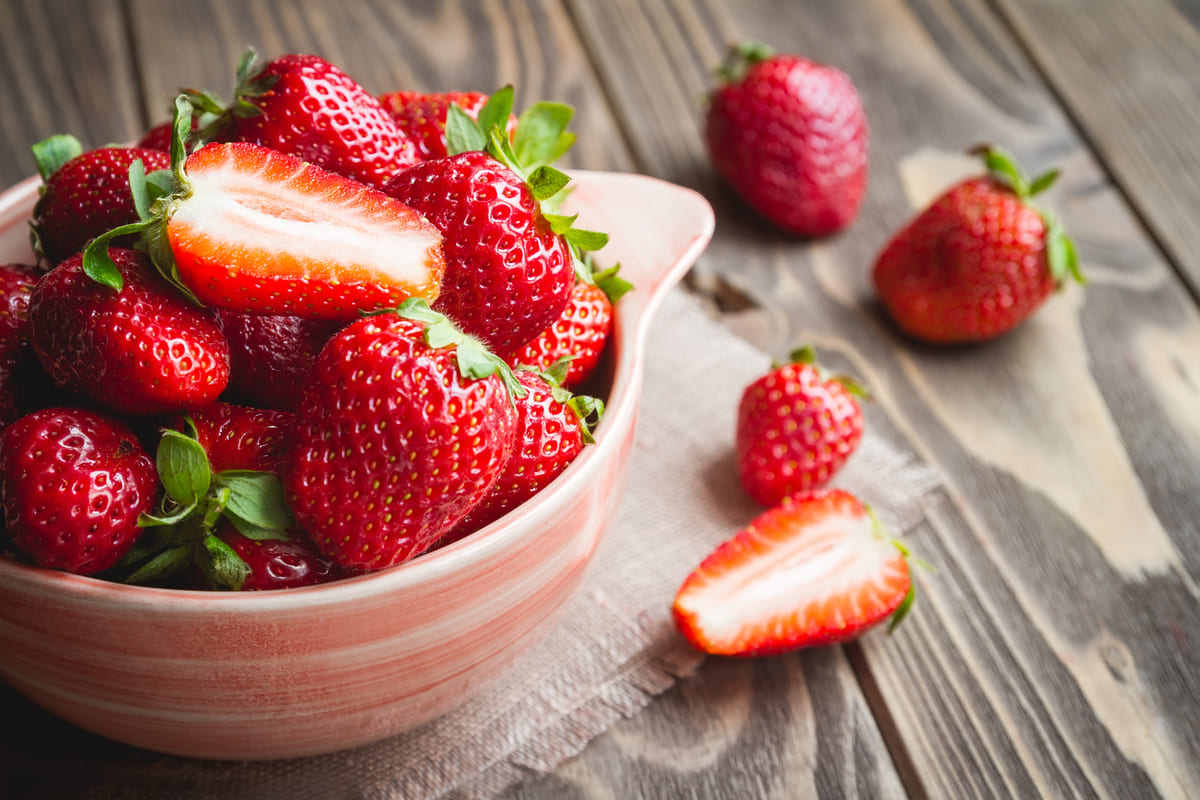 Among the main properties they boast anti-inflammatory and antioxidant properties. They also have a mild draining power, which makes them excellent for those who want to purify themselves. They prevent dental plaque and heart disease and are rich in iodine, making them one of the foods considered thyroid friendly.
Excellent to eat alone, they go well with yogurt and cream and are able to give flavor to desserts. Nevertheless, in order to fully enjoy their properties it is advisable to consume them raw.
Riproduzione riservata © - WT