Time for outdoor lunches: here's how to organize a perfect vegan barbecue
Simple to organize, the vegan barbecue is perfect for summer. Light and tasty, everyone will love it: here are 5 ideas for a vegan grill to try for yourself!
Following a vegan diet is not easy already on "normal" occasions, let alone when it comes to having to organize a barbecue which, by definition, is based on meat. That's why today we see together some infallible recipes to bring a vegan grill to the table without getting too excited and obviously without sacrificing taste. You can start with the bruschetta, continue with the vegetable skewers, the corn cobs and finish off with grilled fruit!
1. Bruschetta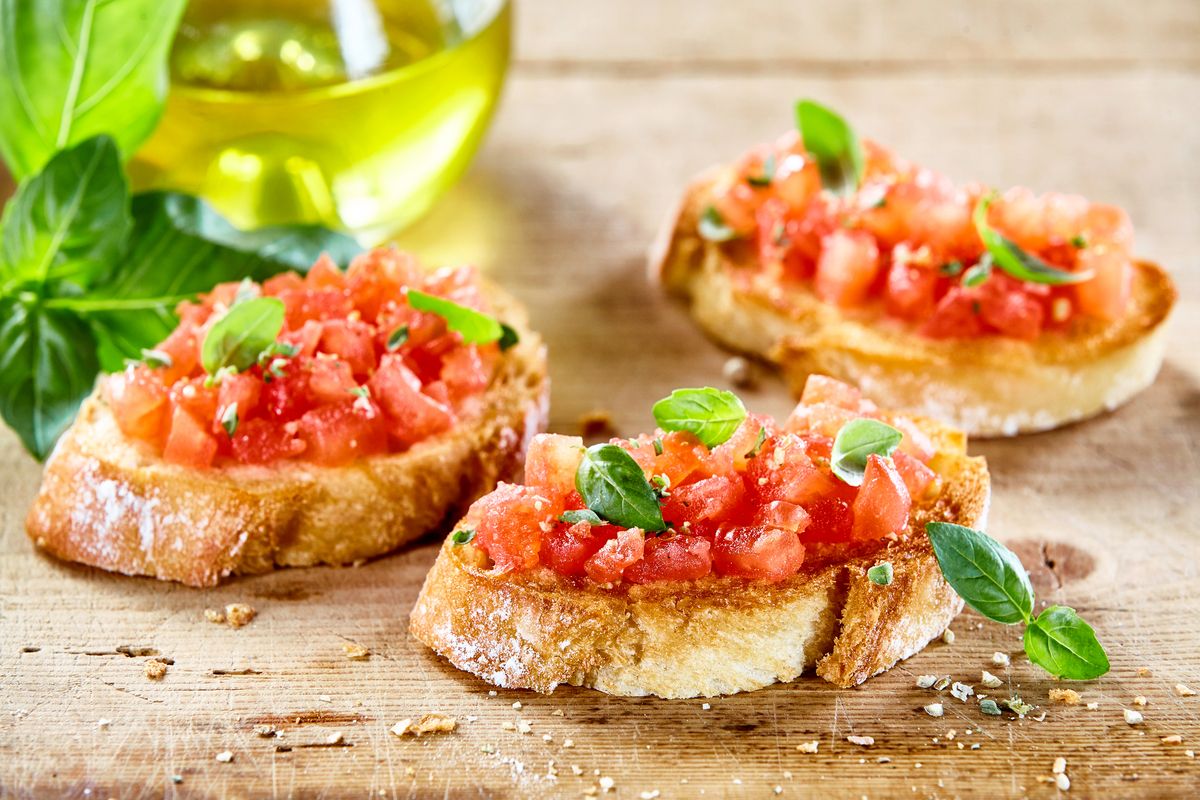 Impossible to resist the temptation to prepare bruschetta with tomato . They are perfect as an appetizer because you can toast the bread for a few minutes while the grill heats up. Meanwhile, prepare the cherry tomatoes with basil and a pinch of salt and when the bread is ready you can serve them (don't forget to rub some garlic on the still hot bread).
For an extra touch of flavor you can combine diced avocado with tomatoes. For the basic bruschetta recipe you will need:
8 slices of homemade bread
4 tomatoes
thyme or basil to taste
extra virgin olive oil to taste
2 cloves of garlic
Salt to taste
pepper as needed
2. Vegetable skewers
This will be the main course of our vegan grill and for our vegetable skewers , we will use:
vegetables of your choice (peppers, aubergines, courgettes, onions, etc.)
1 stick of tofu
aromatic herbs of your choice
1 lemon (juice)
1 clove of garlic
extra virgin olive oil to taste
Salt to taste
Slice the courgettes, aubergines and peppers rather finely (about half a centimeter) and alternate them on a skewer with onion and tofu to taste. Put the skewers in a container and season them with an emulsion based on oil, salt, lemon, pepper and aromatic herbs and leave them covered for an hour before cooking them. It will take about 15 minutes on the hot grill .
3. Grilled corn on the cob
We have seen them in many films and we have always wondered what they were like. It's time to try roasted corn on the cob for our vegan grill. Buy precooked corn on the cob and cook them on the grill, turning them often for 10-15 minutes.
Serve them sprinkled with vegetable margarine or oil, or accompany them with vegetable mayonnaise. You just need to get:
4 corn on the cob
50 g of oil
Salt to taste
pepper as needed
fresh parsley to taste
4. Barbecue sauce
Do you really want to organize a vegan barbecue without making this magnificent sauce? The perfect barbecue to accompany vegetables and to give an extra touch of flavor to dishes. It is surprisingly vegan since, to make it, you will need:
200 g of tomato sauce
1 tablespoon of concentrate
1 white onion
1 clove of garlic
3 tablespoons of white vinegar
2 tablespoons of sugar
2 tablespoons of mustard
1 chilli
20 g of vegetable butter
tabasco to taste
Worcestershire sauce (vegan)
Salt to taste
pepper as needed
5. Vegan grilled fruit
A real treat, sometimes unexpected: the perfect dessert to end a vegan grill is grilled fruit. In addition, it cooks in a flash: 5/10 minutes !
Especially in the case of apricots, pineapples and grilled peaches , you can serve them with a scoop of vegan vanilla ice cream and make everyone happy!
Riproduzione riservata © - WT