An original side dish? Let's prepare the radicchio in the oven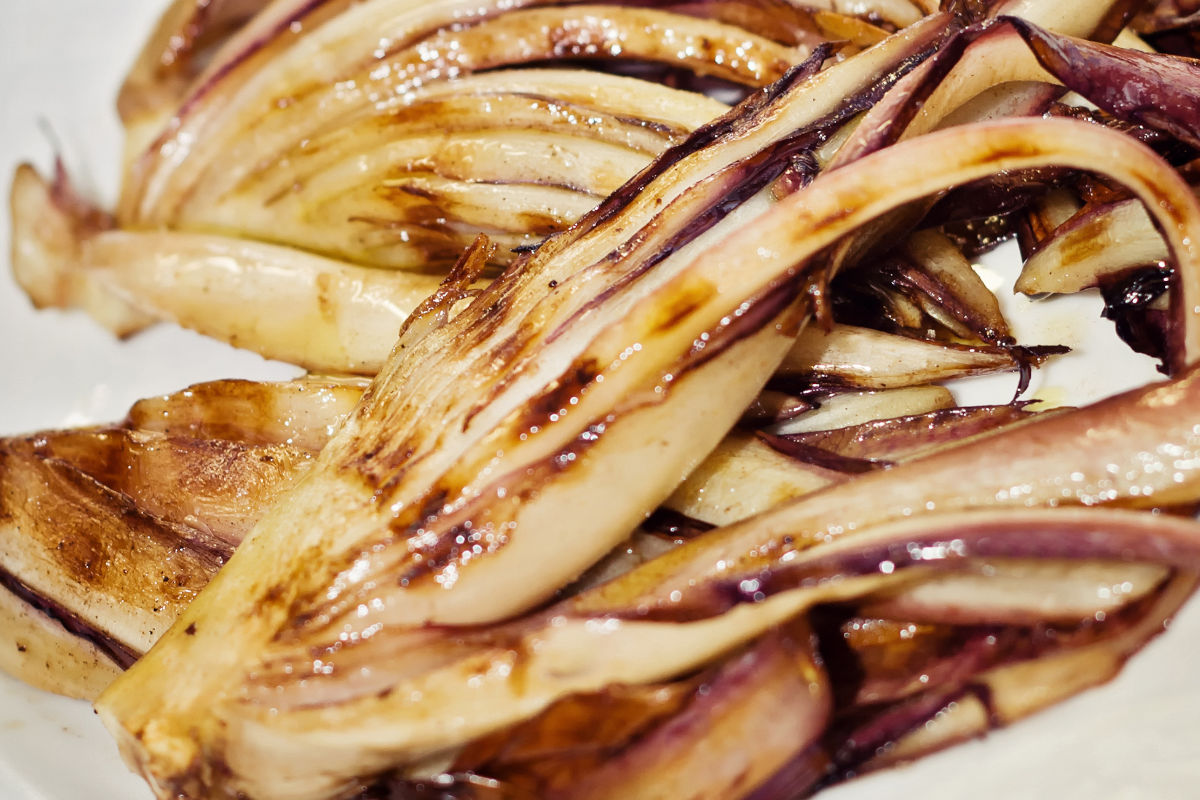 Baked Treviso radicchio is a side dish rich in flavor and perfect to combine with any dish. Here is the very simple recipe, to be proposed on every occasion!
Today we prepare a very simple side dish: baked radicchio. For this dish you don't need a lot of effort , let alone many ingredients, but simply good fresh radicchio and some condiments .
If you love the strong taste of this dish, we absolutely recommend it, especially if you are preparing a dinner or a lunch and you don't have too much time to think about the side dish. Moreover, it is a recipe that really has no flaws: it is good, delicious, fast, very simple and … very cheap !
Are you ready ? So let's go straight to the kitchen and see the recipe for baked radicchio!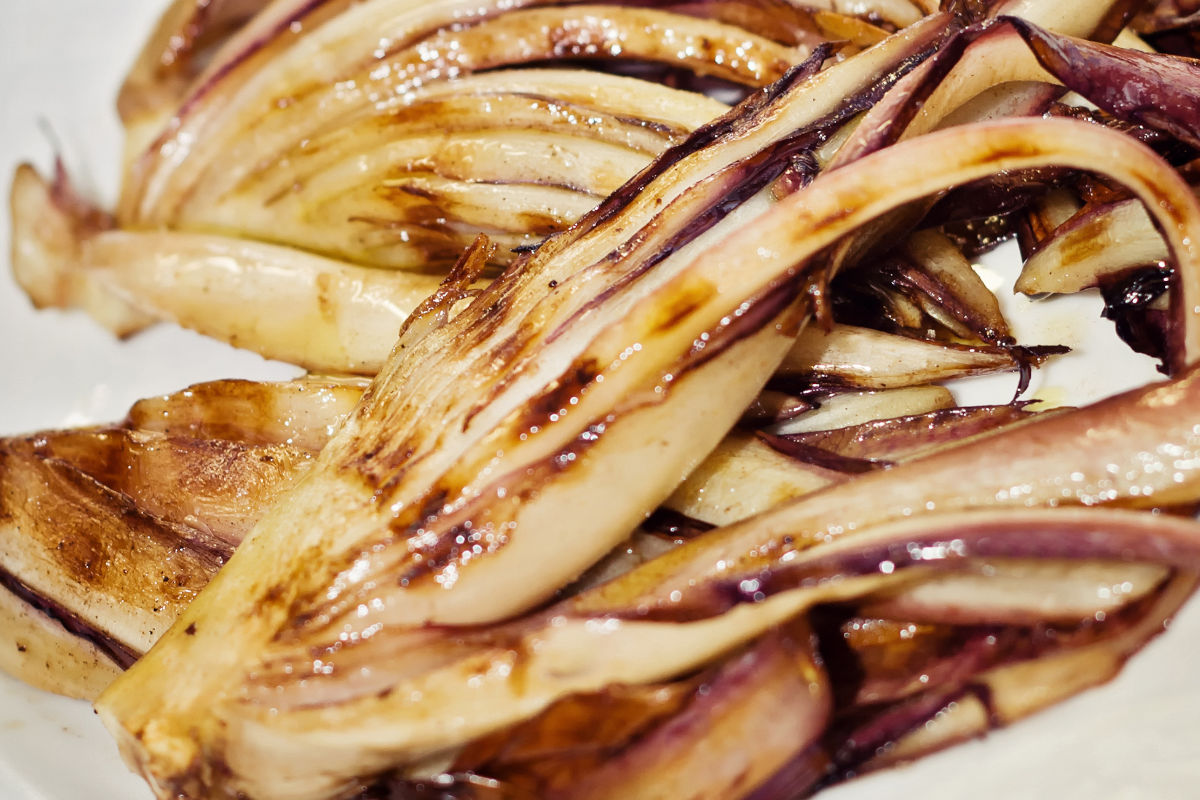 How to make red radicchio in the oven
First of all, take the radicchio and wash it thoroughly under running cold water.
When you have finished the cleaning phase, peel it by cutting it in half or quarters (it also depends on the size and size of the head) and place it on a baking sheet lined with baking paper.
At this point season the radicchio with extra virgin olive oil, salt and pepper.
All you have to do is proceed with cooking : pre-heat the oven and then cook the radicchio at 180 ° C for about 15 minutes . When the radicchio is beautifully wilted and its color has turned brown, then it will be ready!
Enjoy your Treviso radicchio in the oven accompanying it with cheese, meat or fish. Enjoy your meal!
After preparing this dish with us, you can't miss all ourrecipes with radicchio !
Baked radicchio with cheese and bacon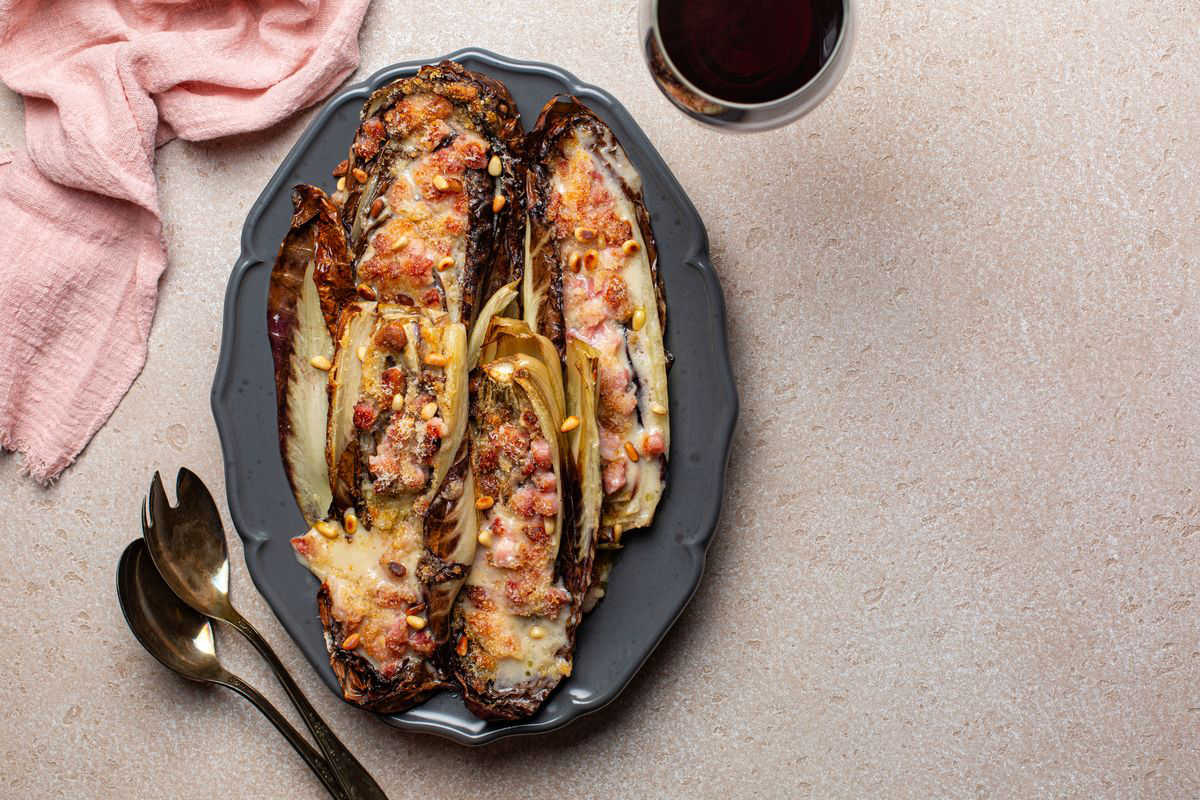 An absolutely greedy variant of this recipe for light baked Treviso radicchio is the one with the addition of grated Parmesan cheese and diced bacon. Prepare a plate of grated cheese with the special tool and about 200 g of diced bacon . All you have to do is season as in the classic recipe for baked red radicchio but, after seasoning, also add plenty of cheese and a few cubes of bacon for each slice of radicchio.
Baked radicchio: delicious recipes
Now let's see some other more elaborate variant of this dish, with the addition of some tasty ingredients !
Roasted radicchio au gratin: in this case the recipe is exactly the same, but you will have to make a delicious au gratin with breadcrumbs, parmesan, salt, pepper. Cut the tufts in half, sprinkle them and bake them in the oven.
Baked radicchio with gorgonzola and honey: given the bitter taste of this ingredient, you can cook it in the oven with salt, oil and pepper, and then take it out and sprinkle it with a drizzle of honey and chunks of gorgonzola , which will melt on contact with the heat of the vegetables. How tasty!
Baked red radicchio flan: here we go towards a single dish rather than a side dish. In this case you will have to use a baking dish and not a simple pan, and serve with bechamel, cheese, breadcrumbs and maybe even some speck . Cook the leaves first, then alternating the various components made of the layers and cook for about 15 minutes at 180 ° C.
Are you a lover of this ingredient? Then we recommend a first course to scream : the radicchio and gorgonzola risotto ! Its creaminess will make you crazy!
How to remove the bitterness from red radicchio
Before cooking the radicchio in the oven, you can also make sure to soften the bitter taste of this vegetable. To do this, soak the tufts, after washing them thoroughly, in about 1 liter of water mixed with 1 glass of white vinegar and 1 level teaspoon of salt . Leave the vegetable to soak well for at least 30 minutes then rinse everything under cold water, pat it dry and proceed with the preparation.
storage
We recommend keeping the side dish in the fridge for a maximum of 2-3 days after cooking and in a special container with an airtight lid.
READ ALSO: Radicchio: varieties, nutritional values ​​and recipes
Riproduzione riservata © - WT