Catalan lobster: a gourmet dish with an inimitable flavour!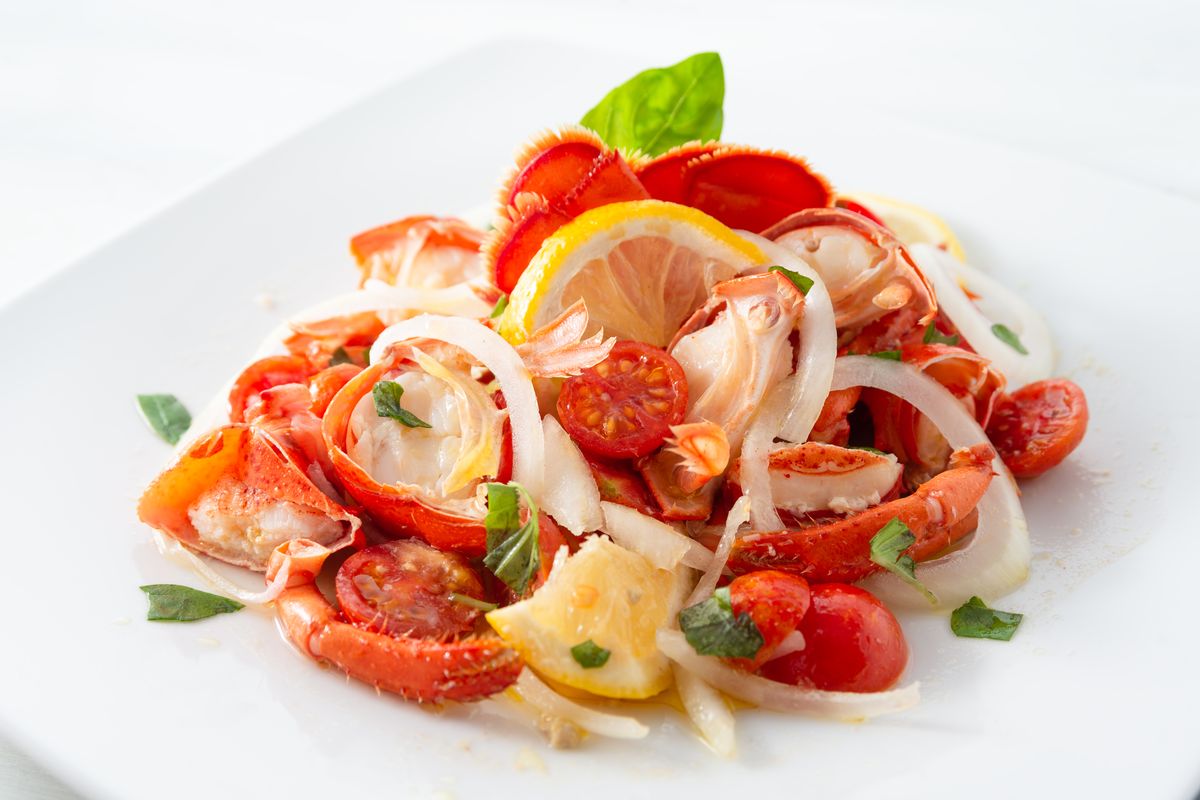 Delicious, refined and tasty: here is the Catalan lobster with vegetables, a typical Spanish dish perfect to impress anyone you want to impress.
Typical of Catalonia, an area located in northeastern Spain, Catalan lobster is a simply fabulous dish. The sweetness of this meat, which is known as one of the finest ingredients ever, meets here a series of ingredients that enhance its flavour, for a truly fabulous result.
You can serve this dish both as a main course and as an appetizer during an important lunch or dinner . In short, if your goal is to amaze, you are in the right place. What do you say, shall we start right away? Then follow us into the kitchen and get ready, because you're about to make an incredible dish: here's the recipe for Catalan-style lobster!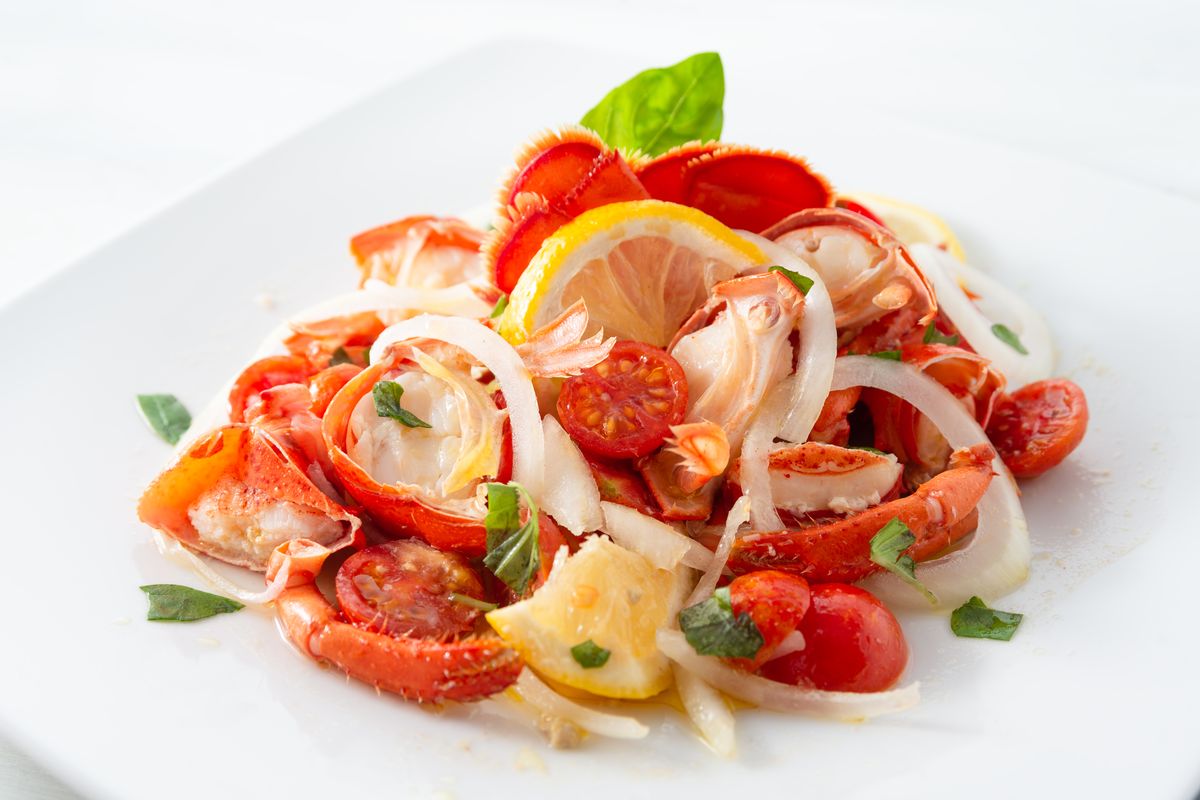 How to cook Catalan lobster: original recipe
1. Peel and cut the onion and put it in a bowl with water and vinegar (1 part vinegar and 4 parts water) for at least 20-30 minutes to make it lighter and more digestible.
2. Immerse the lobster in a very large saucepan filled with water as soon as it has boiled and keep the lid closed. If you have purchased a live lobster, we recommend tying the claws with resistant strings so that it cannot pinch you.
3. When the lobster is cooked (it will take about ten minutes), remove them immediately and let it cool. At this point comes the most complex part: cleaning the lobster.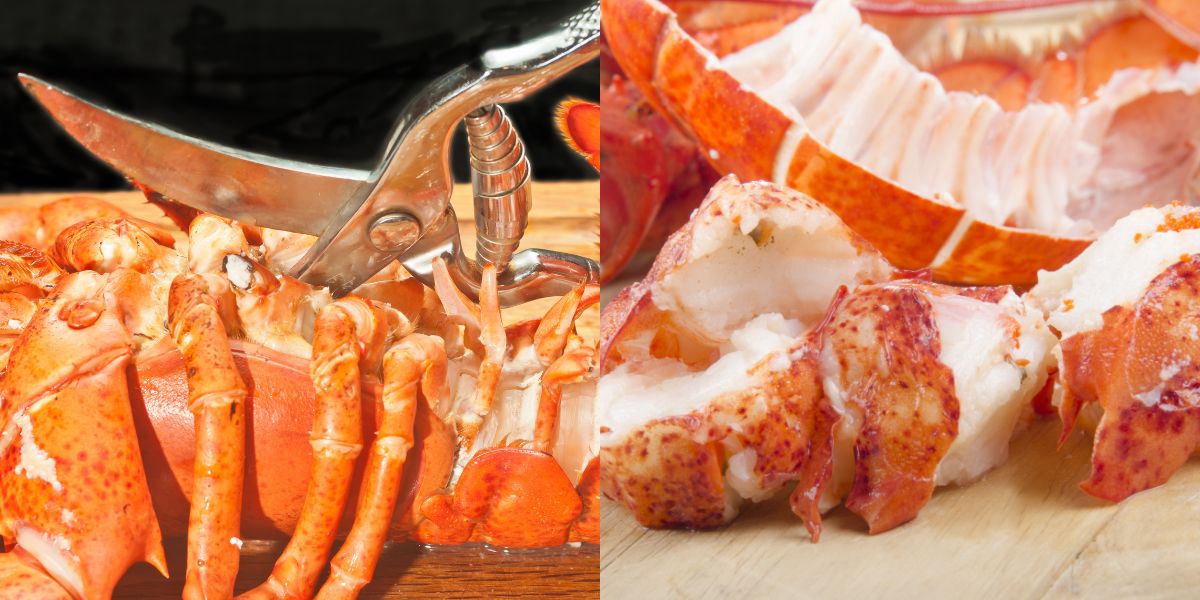 4. Take a poultry shear and cut the shell from the side of the belly as well as from the side of the back , then gently extract the whole lobster meat and cut it into pieces.
5. Break the claws with a nutcracker and, always carefully, remove them from the crustacean.
6. Finally, remove the soft part from the animal's head and place it in a bowl. Add the lemon, salt, oil and pepper and emulsify everything with a fork.
7. Cut the cherry tomatoes, drizzle them with a drizzle of oil and place them in a bowl or on a serving plate. Add the chopped lobster and the well-drained onion.
8. Finally, add the emulsion and bring to the table a traditional and delicious second course, perfect for special occasions .
Catalan lobster: wine pairing
What wine to accompany a recipe so rich in flavor? We count that we have to support a refined ingredient , the onion and tomatoes which contrast their sweetness with their acidity, and in general strong and persistent flavours.
For this reason, a good choice could be a fresh, still, citrusy or slightly savory white wine, such as a Soave Classico, but also a rosé, which goes very well with such a dish.
Catalan fish, shellfish and… Catalan lobster
If you want to think big, you can also prepare Catalan crustaceans, a dish that is also widespread in Italy , especially in Sardinia. You can use different crustaceans, such as prawns, langoustines, a lobster or a lobster and scallops .
The fish will have to be steamed or boiled . Once ready, prepare the onion, tomatoes and the rest of the ingredients, and then combine everything to create a real triumph of fish !
Obviously, if you want to prepare a simple Catalan lobster, the recipe is the same!
Do you love fish? Also try the linguine with lobster , a marvel for the palate! To conclude, however, we also leave you all of our best summer second courses !
storage
We recommend consuming the dish at the moment , once seasoned and served.
READ ALSO: How to prepare (and season) boiled lobster
Riproduzione riservata © - WT