Pumpkin bread (homemade) has never been easier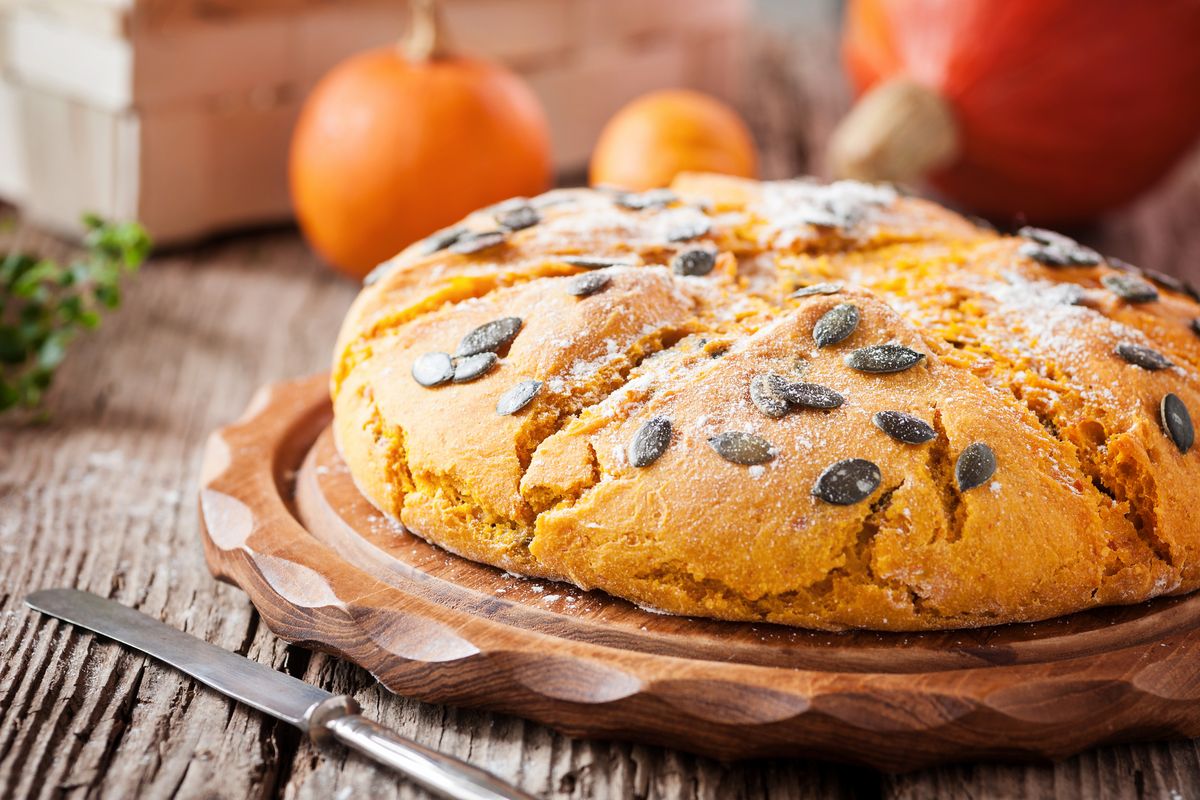 Autumn is the perfect season to prepare an excellent pumpkin bread: here is the soft and fragrant recipe!
A very soft bread, in which there is pumpkin, which gives it a very special flavor. This is pumpkin bread, a perfect recipe to accompany fresh cheeses or with honey to enhance its sweetness. It is also very good for an aperitif or an appetizer with an autumnal and very particular flavor .
You can also add walnuts to the dough, which will give it a pleasant crunchiness, even if the bread already includes the use of pumpkin seeds (if you like them). This recipe is however different from that of sweet pumpkin bread, which is more of a brioche bread. In fact, we are talking about a real bread: leavened , soft and with a nice orange crumb. Let's begin!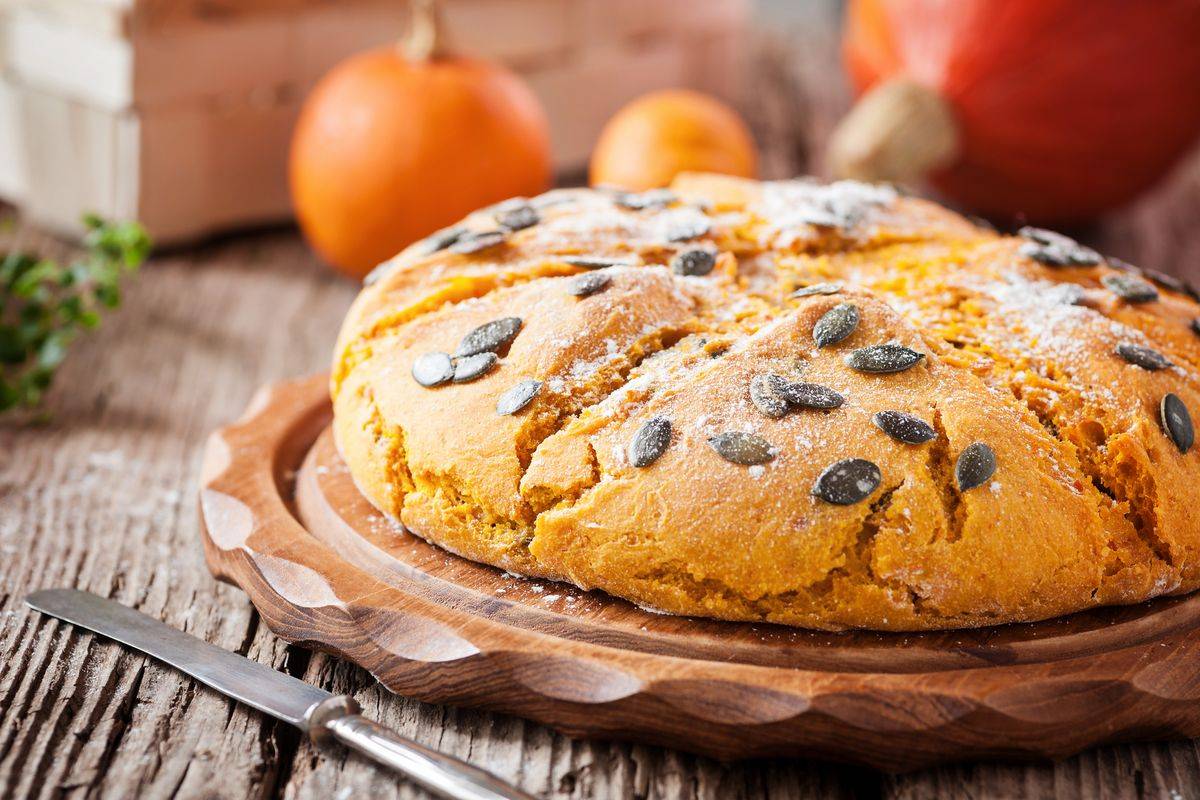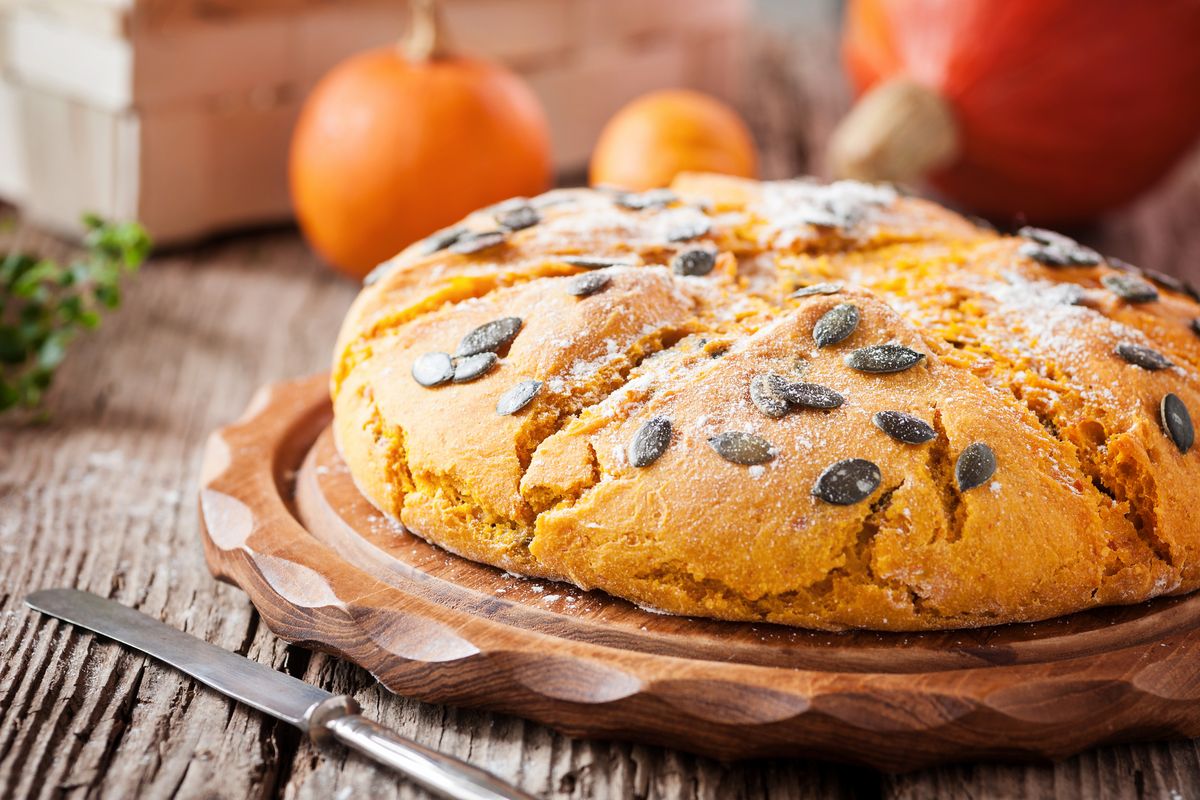 Preparation of bread with pumpkin
First, clean the pumpkin and cut out the pulp to cut into small pieces . Save the seeds, which will be used for later. Steam it for about 20-30 minutes.
Once the pumpkin pulp is cooked, blend it until you get a smooth puree and leave it aside to cool.
Now combine the water at room temperature with the crumbled yeast in a small bowl and let it dissolve completely.
On a work surface make the fountain with the flour 0 and in the center place the water with the dissolved yeast and the extra virgin olive oil. Knead and then add the pumpkin pulp and salt.
Knead the dough and then let it rise covered with a cloth for at least a couple of hours or until it has doubled in size.
When the dough has doubled its volume , put it in a mold, a little oiled, and then let it rise for another hour, after having sprinkled it with the pumpkin seeds that you have set aside (if they are not to your taste. you can safely omit them).
After this leavening time you can tie the bread with a kitchen string (so as to give it the classic pumpkin shape). To do this, take a long piece of string and make a cross first and then, with a second round, an X and finally ask with a knot and cut the excess cord.
Now bake the pumpkin bread at 180 ° C for about 40 minutes – if necessary, lower the temperature slightly halfway through cooking.
Remove the string and serve your pumpkin bread, but only after it has cooled down or cooled completely.
Below we also leave you all the secrets for a perfect homemade bread : try it!
Sweet pumpkin bread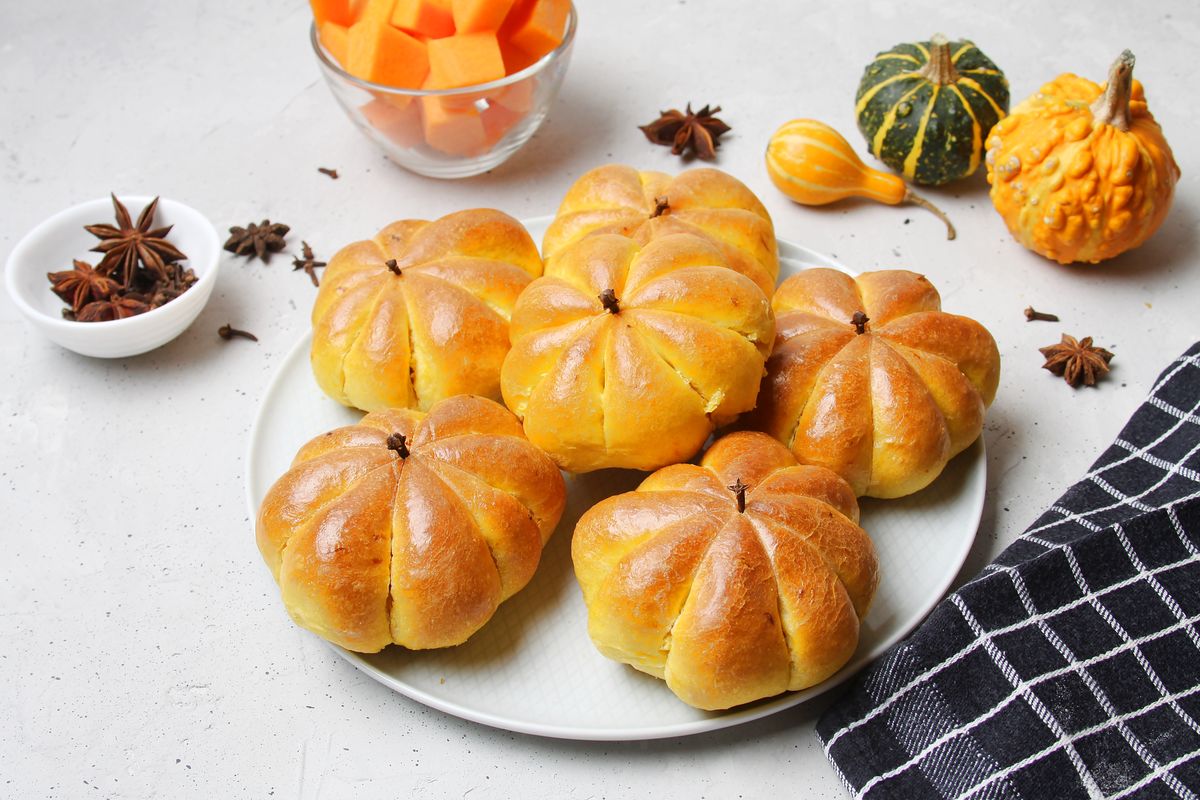 On the other hand, the recipe for sweet pumpkin bread is very different, much more like a brioche bread . The ingredients for 4/6 people are:
350 g of Manitoba flour
100 g of flour 00
200 g of pumpkin puree
100 ml of just warm milk
100 g of sugar
50 g of very soft butter
10 g of fresh brewer's yeast
1 pinch of salt
Preparation of sweet pumpkin bread
Dissolve the yeast in warm milk – not hot! – with 1 teaspoon of sugar.
Sift the flours into a large bowl and add the pumpkin puree, milk mixture, salt and butter at room temperature.
Start working the dough, form a ball, cover with a cloth and let it rise covered for 1-2 hours , until the volume of the dough has doubled.
Make about 8 balls and place them in a loaf pan. Let it rise for another hour and bake at 180 ° C for about 25 minutes.
storage
We recommend storing pumpkin bread, both salty and sweet, for about 3-4 days in a cool and dry place, away from sources of light and heat to preserve its softness. We do not recommend freezing in the freezer.
Riproduzione riservata © - WT