Apple rose: a quick and delicious treat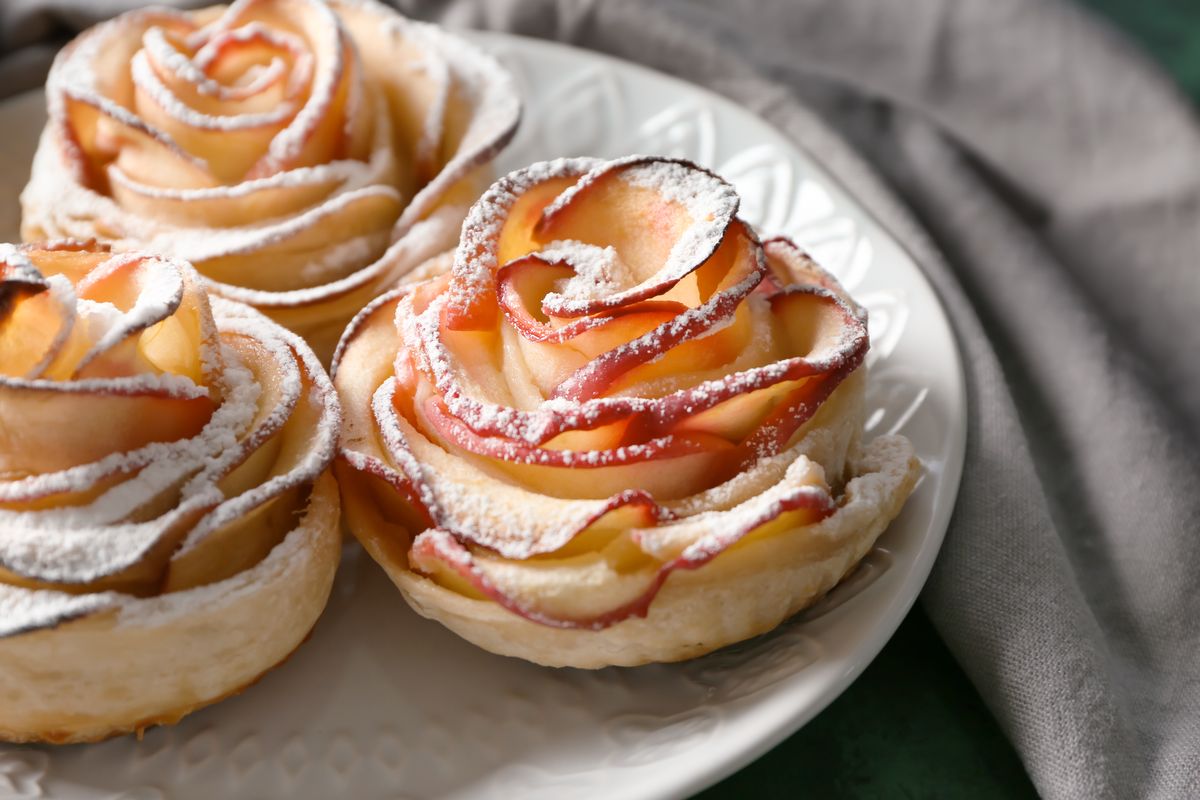 A quick and easy dessert, perfect for a snack: the apple rose will win you over at the first bite with its crunchiness and its scent.
We are always in a hurry and often do not have the time and strength to devote ourselves to the preparation of some sweets for breakfast or a snack for the little ones. We prefer to fall back on packaged products convinced that to prepare something good it is necessary to dirty the whole kitchen and waste a lot of time. Actually, after you have prepared the apple rose you will have to change your mind!
This cake is of a disarming simplicity and to prepare it you will need only three ingredients : apples, puff pastry and icing sugar. In the refrigerator there is never a shortage of puff pastry (a savory pie always saves you from the inconvenience of dinner!), The same goes for apples and sugar . In short, there is no excuse for not making puff pastry roses and apples. Let's find out how!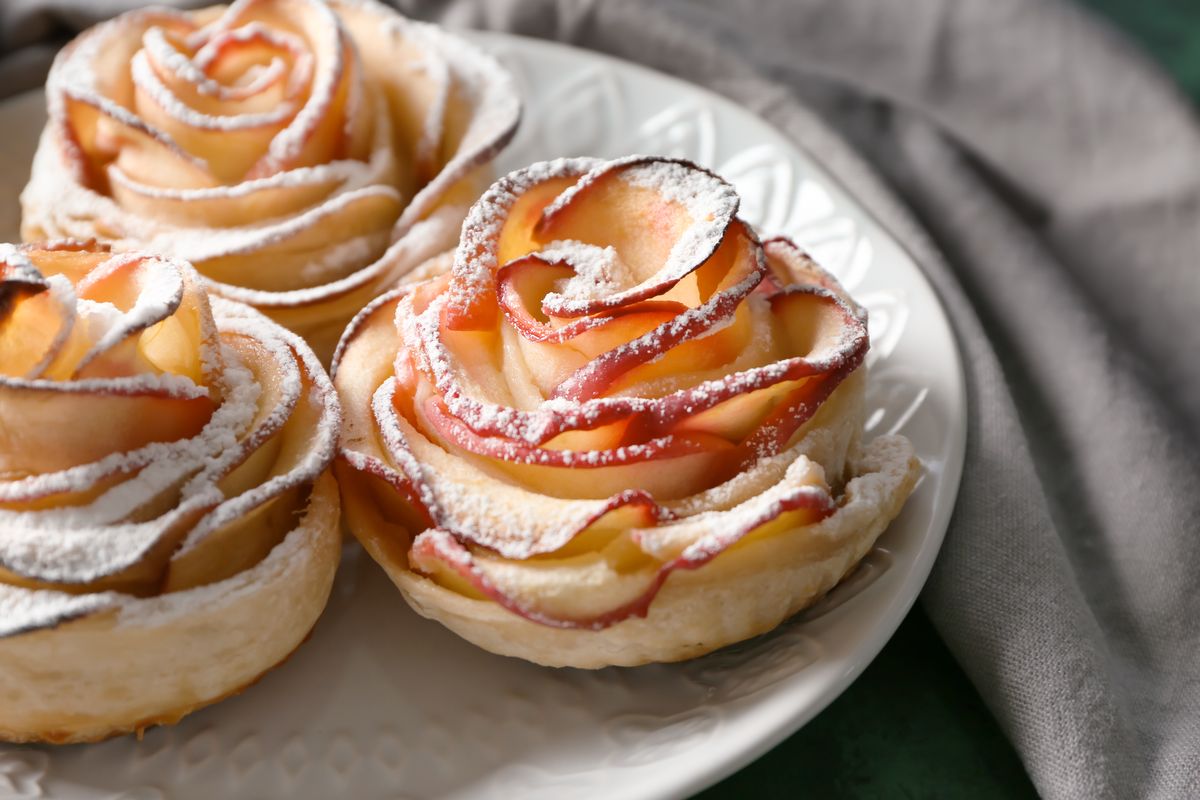 How to make apple roses quick and easy
First of all, we advise you to buy organic red apples so that you can keep the peel. It is she who gives the cake a scenographic aspect, but if you can't find them you can wash them well and use the others.

Cut the fruit in half and remove the core and stalk. With a potato peeler or a mandolin, start slicing them in order to obtain slices a couple of millimeters thick .
Blanch the slices: bring the water to a boil in a pot or even in a very large pan and once it reaches a boil, cook for about a minute. Let them cool for a few minutes.
Meanwhile, unroll the rectangular puff pastry , cut strips 6 cm high and as wide as the longest side. From one pastry you should get three. Brush each strip with the jam : it will help you to make the apple slices stick together.
Lay the apples slightly overlapping each other in the upper half of the strip. They will have to protrude slightly. Fold the portion of the bottom strip upwards to form a sort of pocket , then roll it up tightly.
Place the puff pastry roses in muffin molds (if you don't have them, silicone or aluminum cups are fine too) and bake at 180 ° C for 20 minutes . When cooked, the pastry must be crunchy. Serve the puff pastry rose decorating as desired with more icing sugar.
If you like apples and love the combination with puff pastry, you can prepare apple sheets .
Apple roses: the variants
These ready-made puff pastry desserts will save you every time you have an unexpected guest but still want to serve a truly spectacular dessert . In fact, as we have just seen, they are not only very easy to do, but they can also be customized in a thousand different ways: let's see some of them together!
Let's start immediately with the tastiest variant: the apples and Nutella roses. Instead of icing sugar, you just need to spread a light layer of hazelnut spread on the puff pastry (don't overdo it, please, otherwise it will come out during cooking, settling on the bottom of your muffin cups, risking burning).
If you love spices, add some cinnamon powder to the icing sugar and sprinkle generously.
Don't have emergency puff pastry in the fridge ready to use? Doing it at home, if you are in a hurry, is impossible . In this case we suggest you to make the apple roses with shortcrust pastry, which you can also prepare in a few minutes with our recipe . The result will be more toasted, but they will be equally greedy! However, we suggest you keep an eye on them during cooking, which may take a little longer .
Riproduzione riservata © - WT