Asparagus and shrimp risotto: a delicious combination for a fantastic first course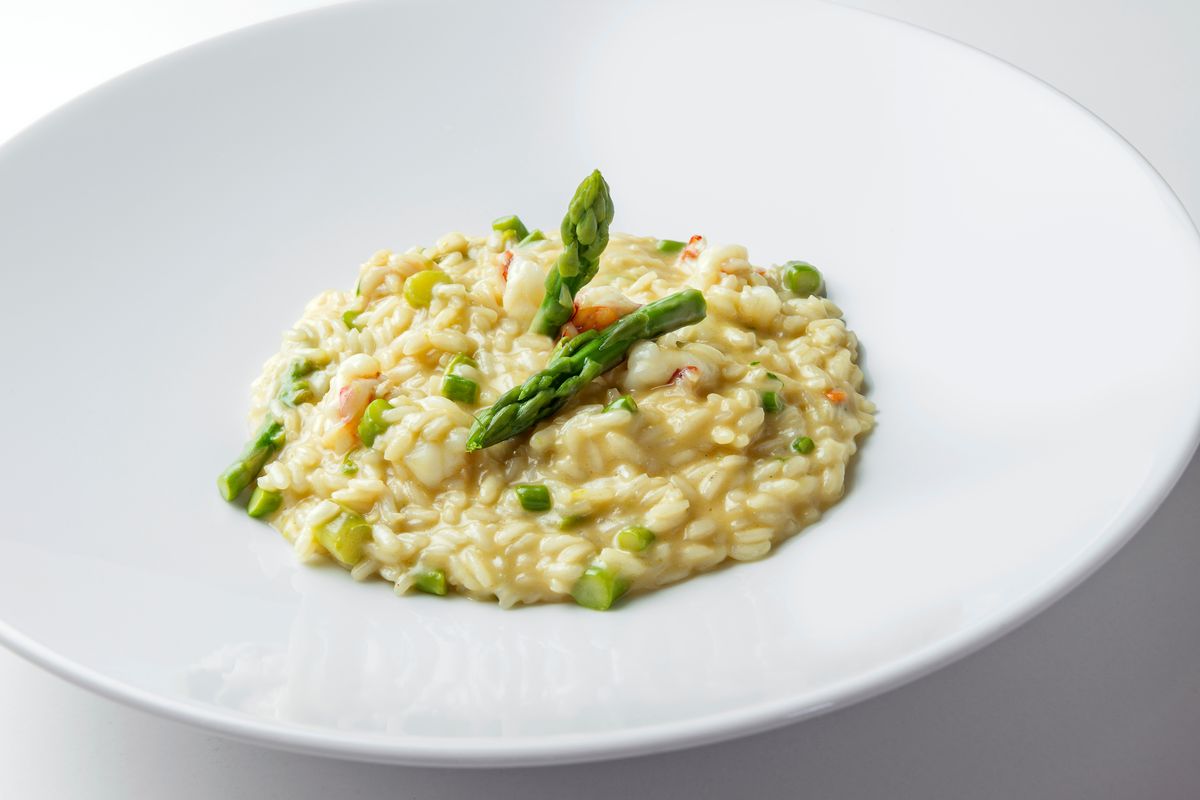 The asparagus and shrimp risotto is fantastic, delicious and perfect for making a good impression during a dinner with friends. Here's the recipe!
Today we are going to prepare the asparagus and shrimp risotto, a first course that is beautiful to look at, fragrant and inviting. You can prepare it for any occasion, from a Sunday lunch to a dinner with friends, just make sure you have bought fresh prawns and you're done!
Prawns and asparagus are a winning combination, which in a risotto become a real winning combination . In short, if you were looking for a delicious and easy-to-make first course, you're in the right place: let's start right away and get to the stove to prepare this wonderful recipe!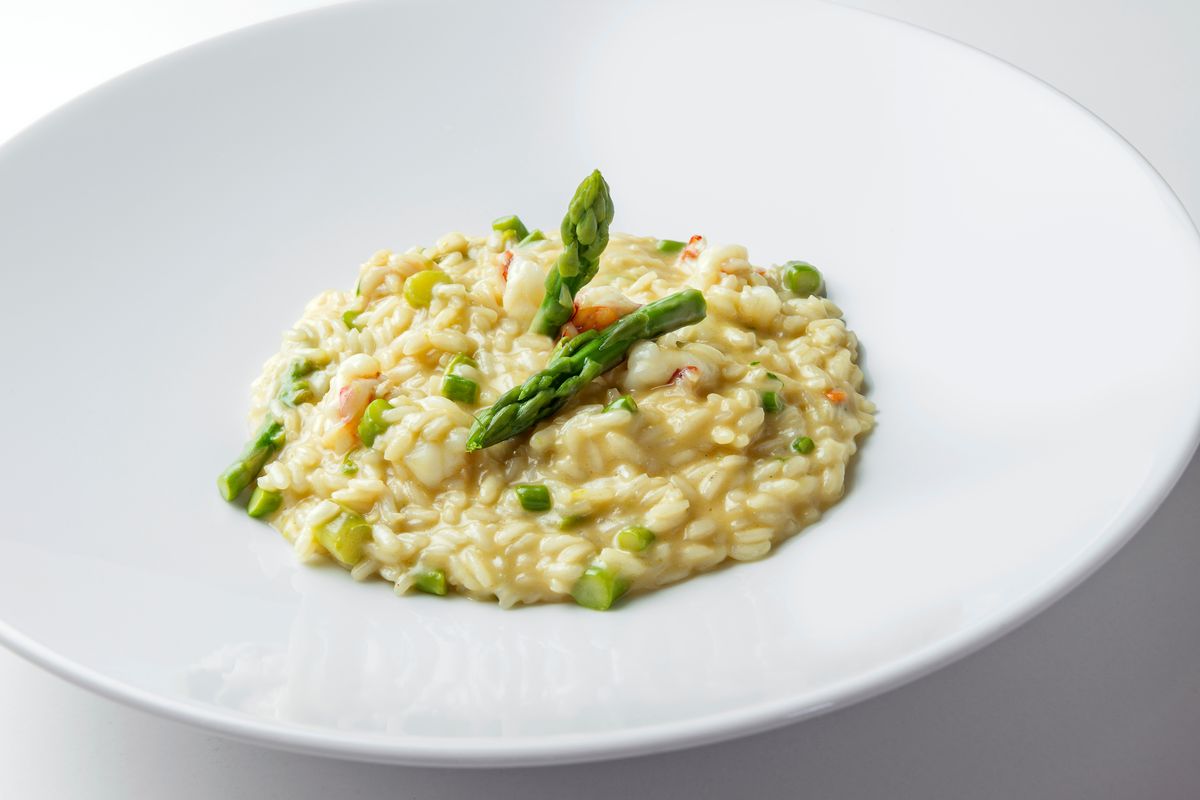 Preparation of asparagus and shrimp risotto
First of all clean the asparagus, washing them and removing the external parts that are too hard and keep them aside. Then cut the tips and leave them aside , while instead reduce the stems to small pieces.
Then clean the prawns: remove the external carapace and the head and leave them aside, then remove the casing by making a small incision and throw it away.
Now prepare the broth. In a saucepan, heat a drizzle of oil, then add the shrimp scraps and leave them for a couple of minutes, squeezing well with a spoon so that they release the juices.
Then add the asparagus scraps and cover with water.
Bring to the boil, add salt and cook over low heat for 20-30 minutes , then filter everything, remove the waste and put the broth back on the heat, which will be used to cook the rice.
Take a saucepan with double handles and fry the onion in extra virgin olive oil.
Toast the rice, then blend it with white wine.
At this point add the asparagus stems, which will cook with the rice, and then gradually add the broth.
Bring the rice to the boil, and in the meantime, sauté the prawns (coarsely chopped or whole) and the asparagus tips in a pan.
When cooked, mix it with a drizzle of oil, then serve and decorate it with the prawns and asparagus tips (which you can also cook a few minutes before the rice is ready).
Finish with a grind of pepper and if you like with a handful of lemon zest. Enjoy your meal!
Variations for making risotto with wild asparagus and prawns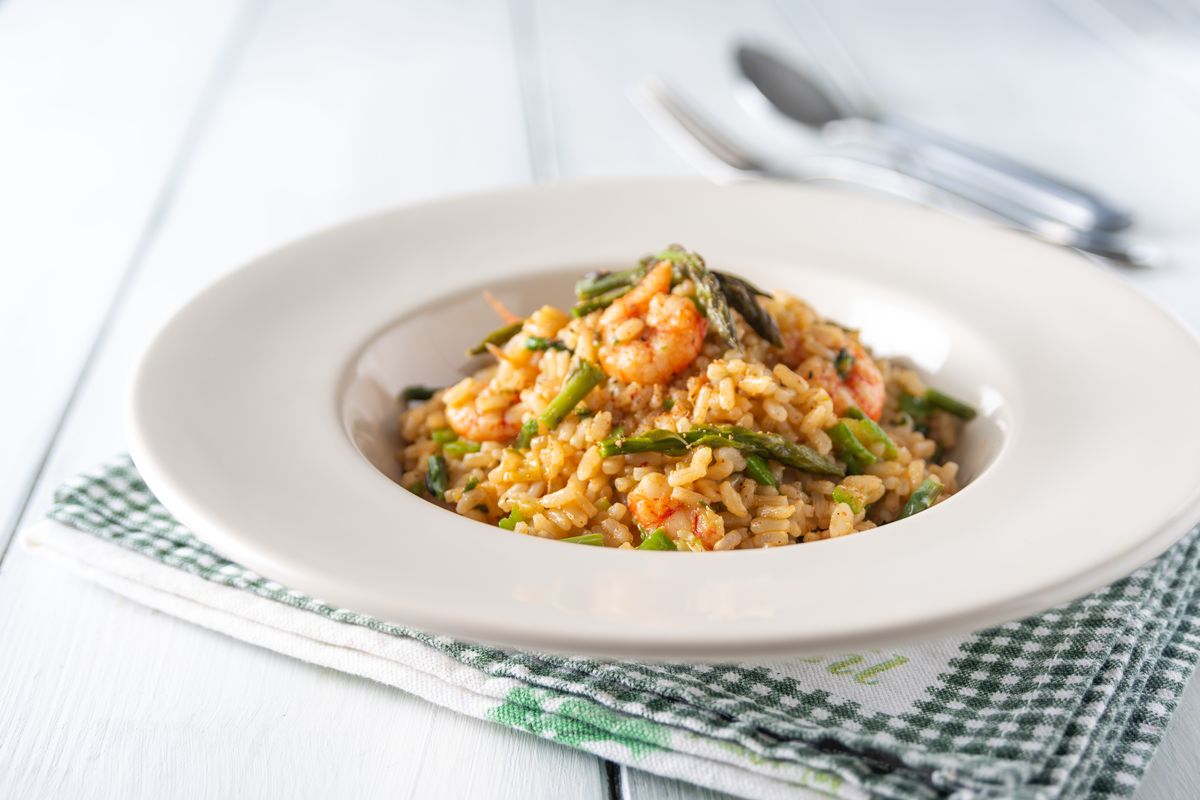 Try preparing risotto with wild asparagus and shrimp, this variety of vegetable is smaller and thinner, keep the tips crunchy and you will see that all the palates on the table will be conquered.
If you like them, here are all our recipes with asparagus !
storage
We recommend consuming the risotto at the moment to fully enjoy its delicacy. We do not recommend freezing in the freezer.
Riproduzione riservata © - WT