Aubergine rolls (in 7 versions)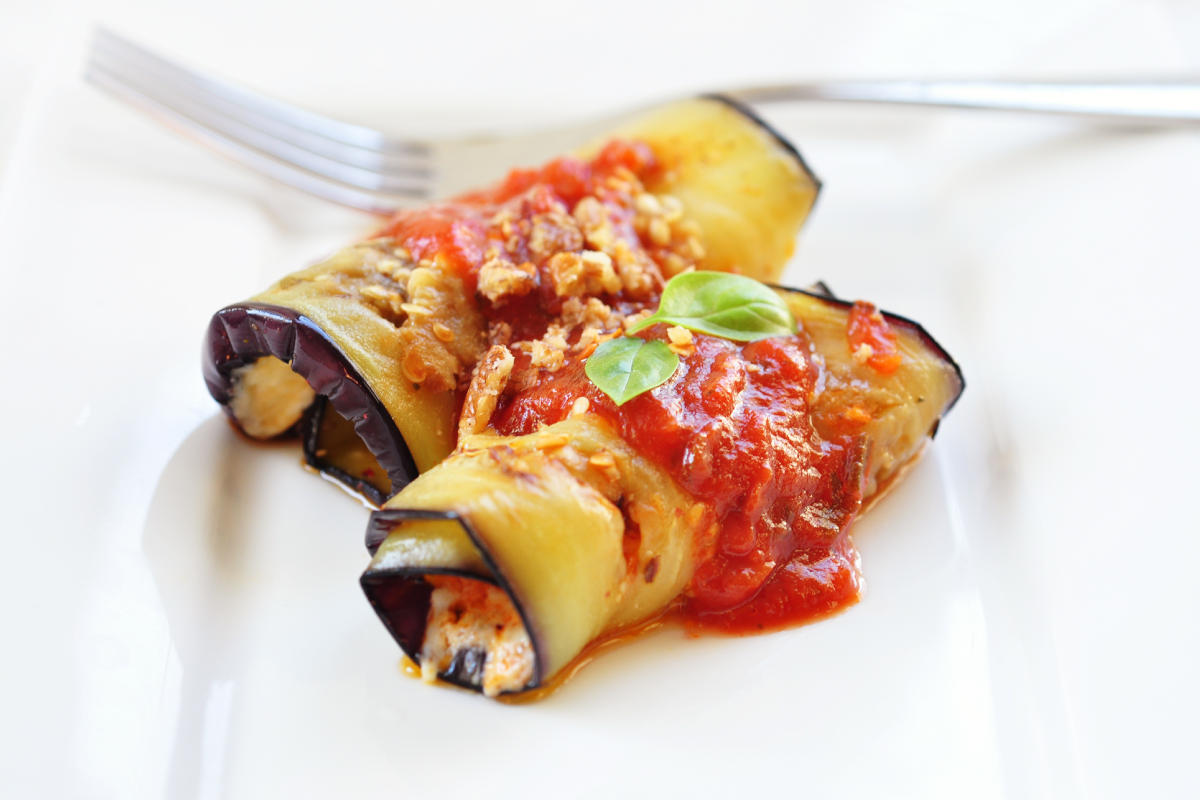 Aubergine rolls: an easy recipe for a tasty appetizer with a thousand variations. Try them: they are also perfect as a tasty second course!
Preparing eggplant rolls is really simple . A few ingredients are enough to obtain a tasty appetizer, to be served before a family dinner or for an aperitif with friends.
The best part is that they lend themselves to so many variations. You can serve them imaginatively on a serving plate for a standing buffet, or leave them au gratin in the oven to create a tasty crust.
If you prefer, you can also cook the aubergines ahead of time and assemble the rolls a few minutes before serving.
Here are all the steps of the preparation (and other eggplant roll recipes)!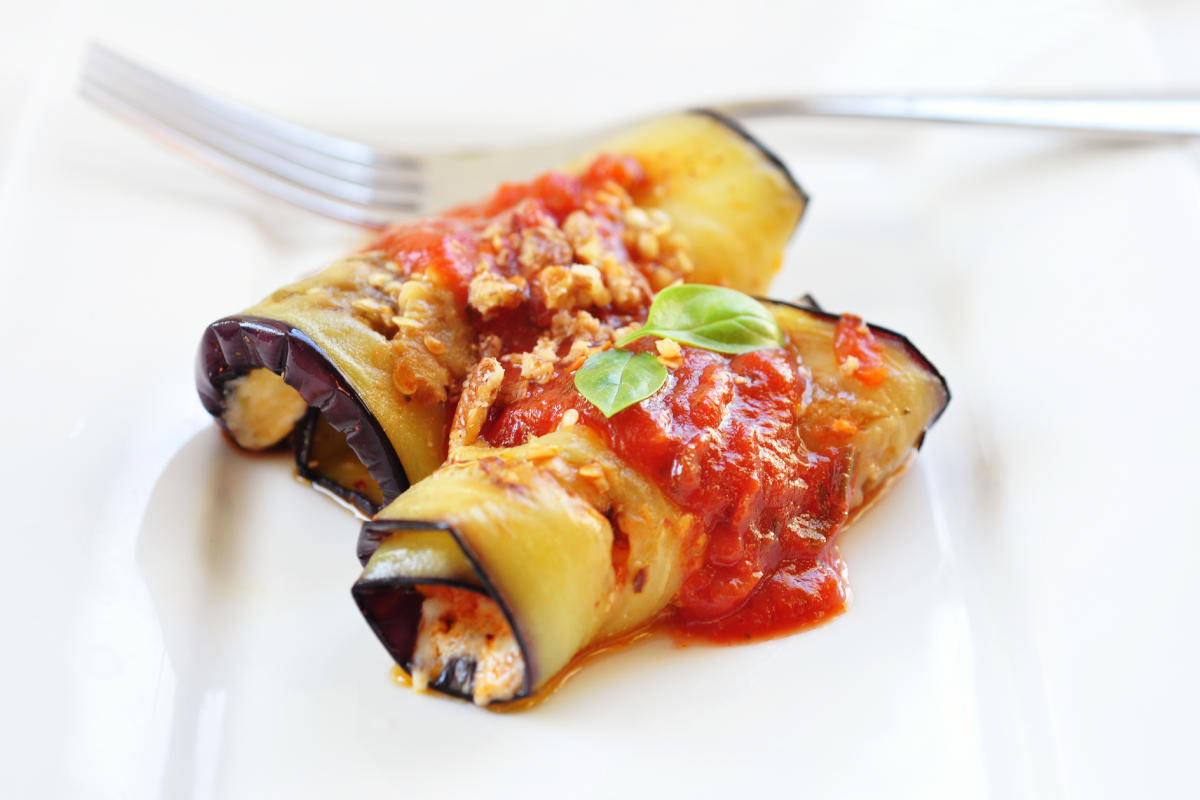 Preparation of eggplant rolls in the oven
Start by washing the aubergines well and cutting them into slices lengthwise. Then immediately put them in the oven (in a tray with baking paper) at 180°C for about 10 minutes. Once ready, let them cool.
Meanwhile prepare the sauce. Put a saucepan on the fire with a drizzle of oil and the garlic clove and let it heat up for a few minutes.
Add the tomato puree, salt and pepper and cook for at least 10-15 minutes .
At this point, take the warm aubergine slices, put a little cooked ham and a stick of cheese on them. Roll up the rolls and secure them with a toothpick.
Place the rolled aubergines in a pan greased with oil, then pour over the tomato sauce and a handful of breadcrumbs.
Bake in a preheated oven at 180°C ( grill mode ) for about 5-10 minutes. Serve warm and… enjoy your meal!
Grilled aubergine rolls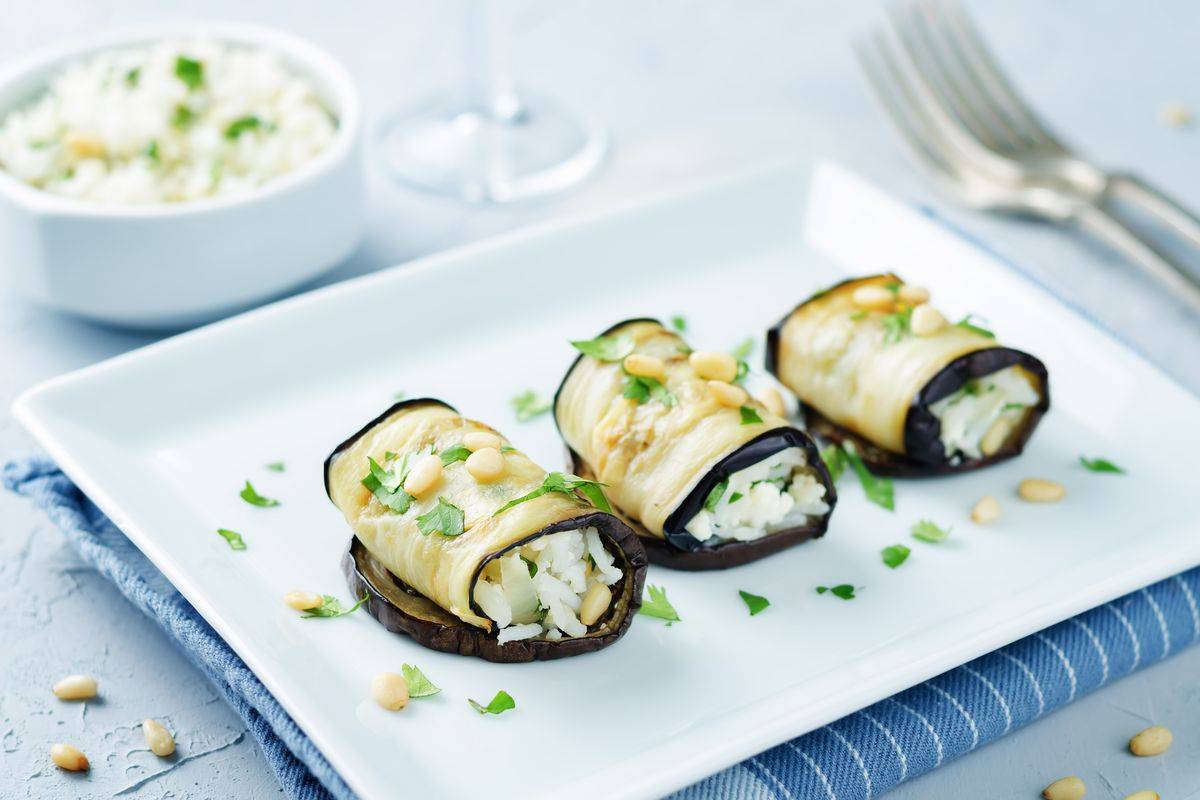 Now that you have tried the classic recipe, we can offer you some variations, light and less light, which however will win you over. Let's start with the grilled eggplant rolls and here are the ingredients you'll need:
2 long aubergines
200 g of cottage cheese
pine nuts to taste
extra virgin olive oil to taste
Salt and Pepper To Taste
First you need the aubergines well and cut them into slices. Grill them on the barbecue or on a non-stick grill, cooking them for a couple of minutes on each side.
Now gradually place the grilled aubergines on a plate and leave to cool before dressing them with a drizzle of oil and salt.
On the side, flavor the ricotta with a little chopped dried fruit (we chose pine nuts ), salt and pepper. Stuff the aubergines with the ricotta filling and roll up to form the rolls. Arrange the rolls on a serving plate, decorate as desired with chopped pine nuts and fresh parsley leaves.
Finish with a drizzle of raw oil and leave to rest in the refrigerator until serving.
This version is also perfect cold, for aperitifs and buffets. If you liked this recipe, try all our quick appetizers too!
Fried aubergine rolls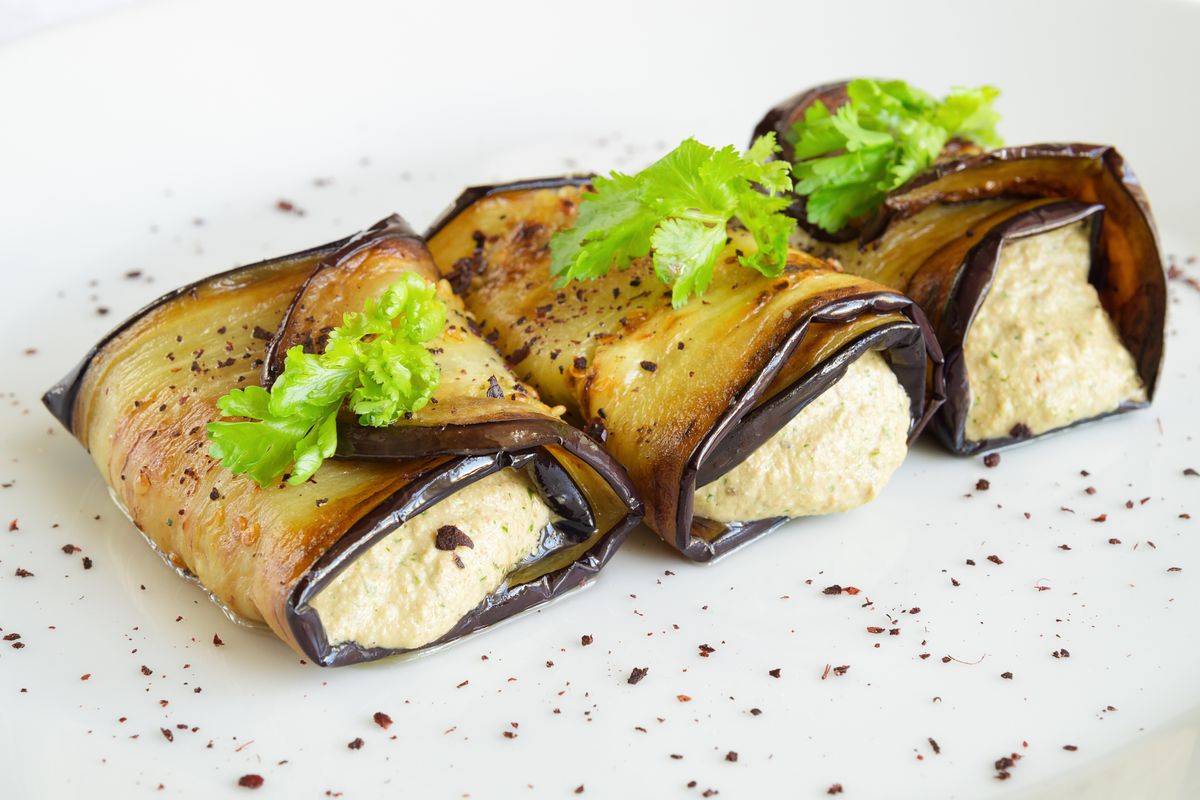 For the sweet tooth we can't help but see how to make fried aubergine rolls . The ingredients are:
1 eggplant
1 mozzarella
150 g of cottage cheese
fresh parsley to taste
Salt to taste
pepper as needed
oil for frying to taste
Fry the slices of vegetables in boiling seed oil until golden brown.
Once cold, fill with a cream made with diced mozzarella, ricotta, oil, salt and pepper to taste .
Close with a toothpick and arrange on a serving plate.
You can also replace the ricotta with any other cream cheese you like. For an even more substantial dish, try adding some rice, perhaps the one left over from the night before!
Sicilian aubergine rolls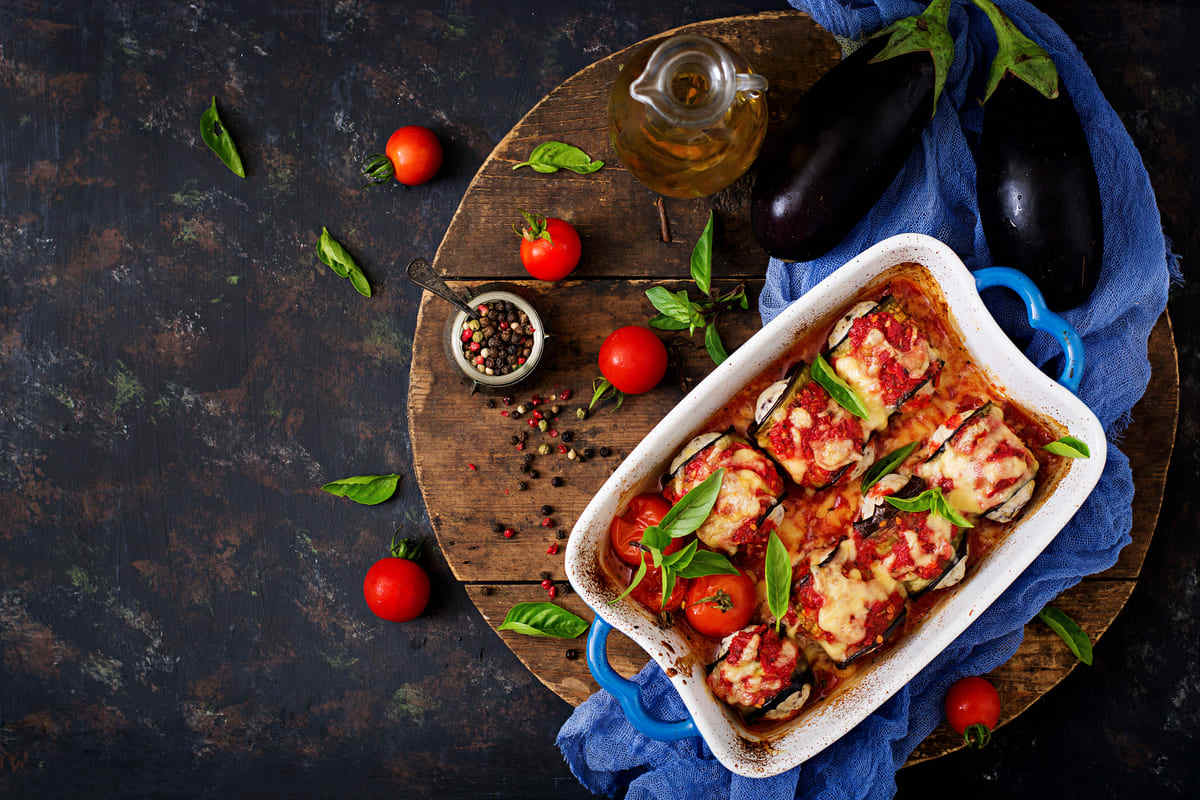 And here we are with a delicious alternative, the recipe for Sicilian aubergine rolls : a single and substantial dish, made with a filling of meat and ricotta, all drowned in a delicious tomato puree! The ingredients are:
3 medium sized eggplants
1 white or golden onion
200 g of minced meat
1 tablespoon of sultanas
ricotta cheese to taste
tomato purée to taste
extra virgin olive oil to taste
grated bread to taste
seed oil for frying to taste
Salt to taste
For this recipe you will have to start frying: in fact, after washing, cutting and letting the aubergines drain with coarse salt, you will have to fry them in plenty of oil until they are golden brown.
Once ready let them dry on a sheet of absorbent paper and start preparing the meat.
Put a drizzle of oil in a pan to heat with the finely chopped onion. Once browned, add the minced meat and let it cook over high heat until it is well cooked.
At this point add 2 tablespoons of tomato puree, the ricotta and the previously soaked raisins. Give it a good stir and turn off the heat.
The time has come to make the aubergine rolls : stuff the slices with a spoonful of the meat and ricotta filling, roll them up and secure them with a toothpick.
Now arrange all the rolls in a baking dish, cover them with the tomato puree and a handful of breadcrumbs and cook everything in the oven at 180°C for about 10 minutes.
Eggplant rolls and pasta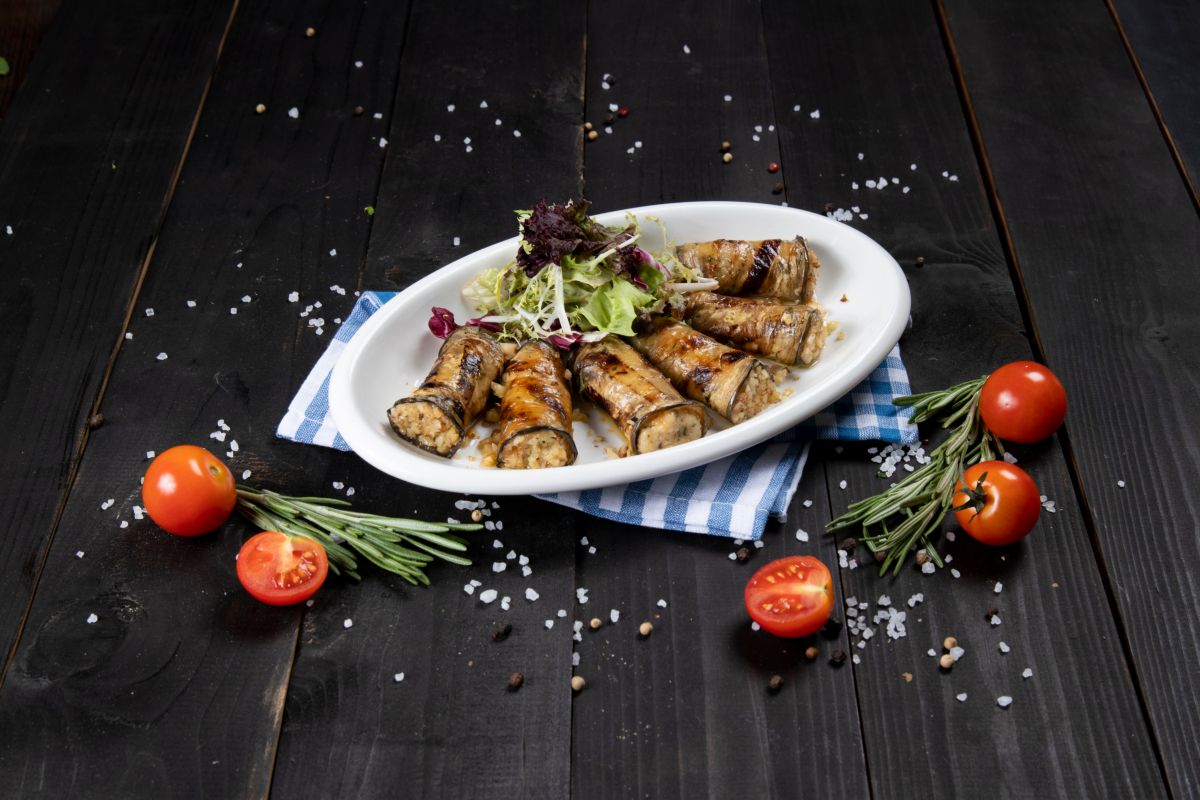 At first glance it may seem like a bizarre pairing but try them and you will be delighted! To make the eggplant and pasta rolls , you will need:
2 medium-large aubergines
200 g of spaghetti
750 g of tomato puree
100 g of speck cubes
1 tablespoon of pesto
1 clove of garlic
Salt to taste
50 g of grated parmesan
olive oil to taste
seed oil to taste
Take your aubergines (purged and cut into slices) and fry them in a pan; then arrange them on sheets of absorbent paper.
In another pan, prepare the sauce with speck, tomato puree and a teaspoon of weight. Use it to season spaghetti that you have cooked in the meantime and drained al dente .
Wrap a forkful of pasta in each slice of aubergine and roll up, securing with a toothpick. Place in a baking dish and bake for 15-20 minutes at 180°C .
Rolls of aubergines and swordfish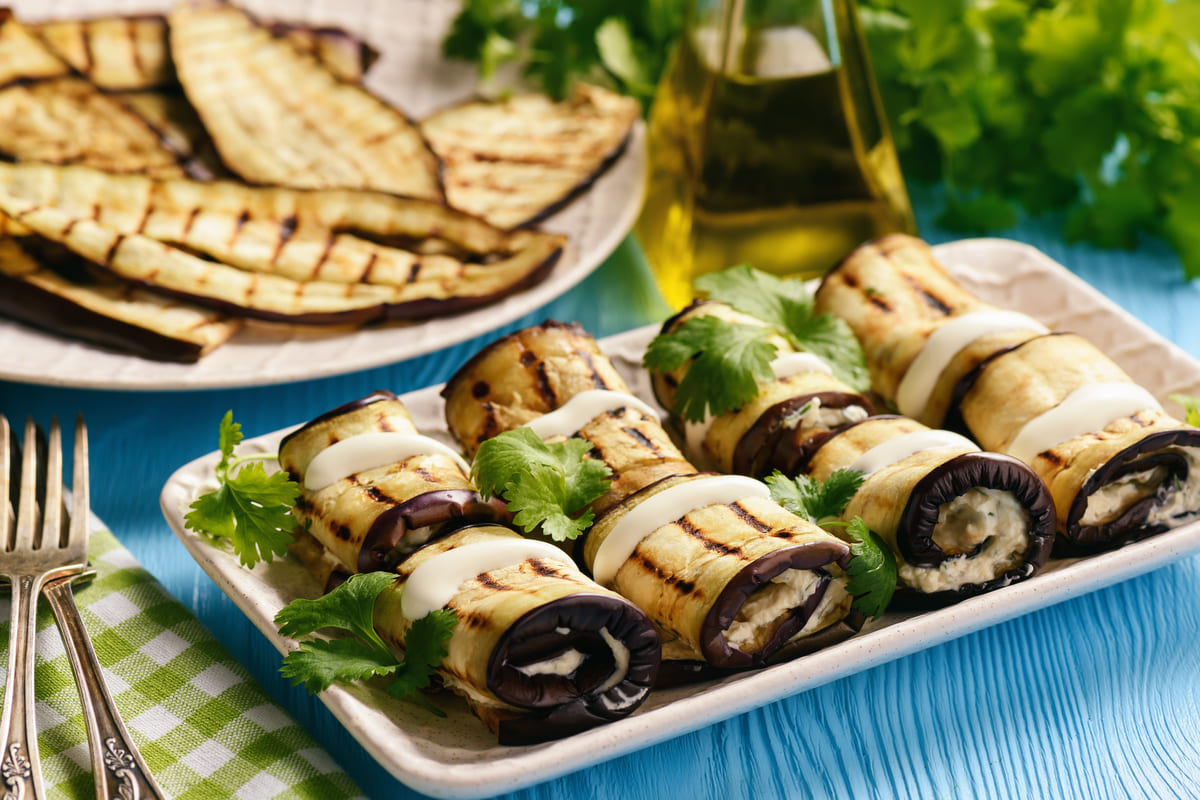 Since fish and aubergines are a winning combination for the summer, we can't help but offer you aubergine rolls with swordfish . The necessary ingredients are:
2 eggplants
1 slice of swordfish
1 anchovy in salt
15 g of pine nuts
15 g of almonds
30 g of capers
1 slice and 1/2 of sandwich bread
Salt to taste
Wash the aubergines and cut into slices. For the filling, put the swordfish, anchovies, pine nuts, almonds, capers and bread in a blender and chop everything up.
Place in an oiled baking dish and cook your rolls in a very hot oven at 200°C for 10 minutes .
Mediterranean aubergine rolls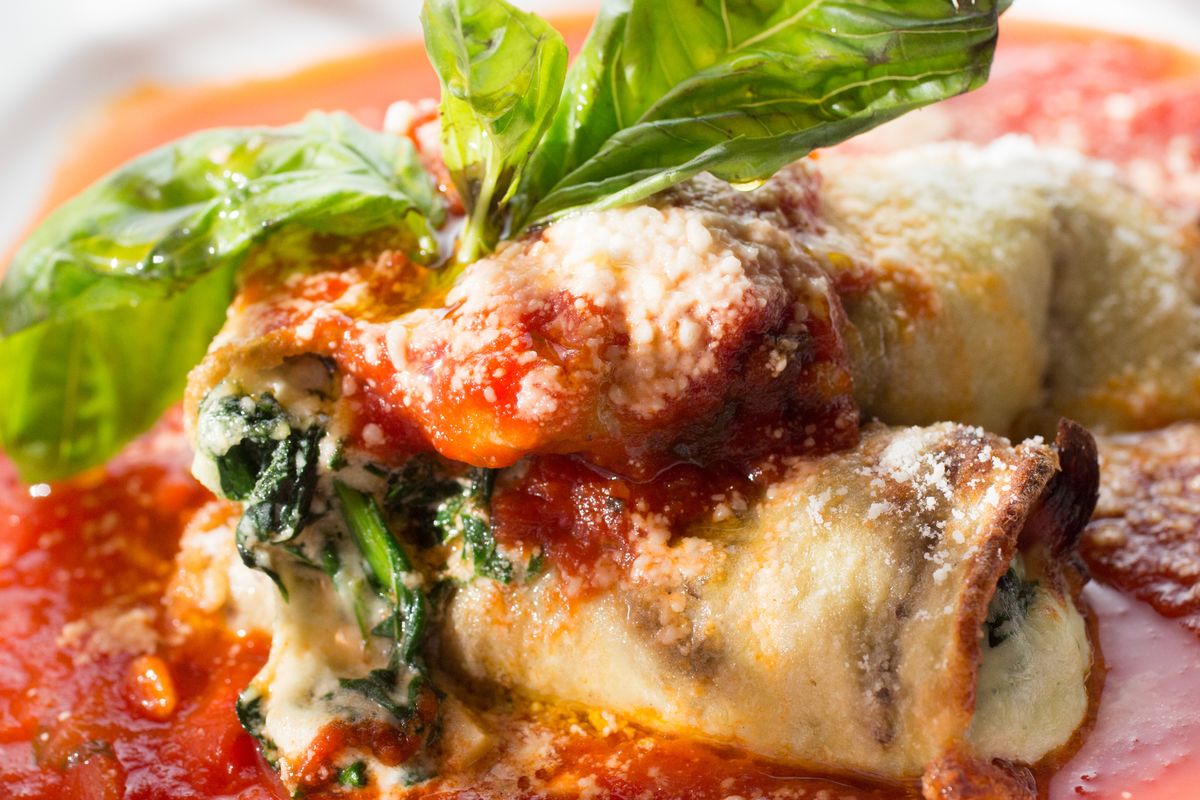 We conclude with a 100% Italian recipe: Mediterranean aubergine rolls . Preparing them is easy and, if you decide to serve them as a main course, I recommend increasing the quantities as they will be devoured quickly! These delicious stringy morsels will spread an inviting aroma typical of home cooking, taking you on an enchanting culinary journey.
1 long aubergine
200 g tomato puree
basil to taste
2 tablespoons extra virgin olive oil
150g mozzarella
1 clove of garlic
pitted olives to taste
Salt and Pepper To Taste
Heat the garlic in the oil over low heat for 5 minutes , add the tomato sauce and cook for 15 minutes .
In the meantime, wash and thinly slice the aubergines with a mandolin and grill them on both sides.
Arrange the aubergine slices on a cutting board and dress them with the tomato sauce, mozzarella, olives and basil leaves.
Roll up the stuffed aubergines and place them seam side down in a baking dish.
Cover the rolls with more sauce and pieces of mozzarella and bake at 180°C for 10 minutes .
Once cooked, take the hot and stringy rolls out of the oven, ready to taste!
storage
Conservation advice: the rolls prepared following these recipes can be stored in the refrigerator covered with cling film for one day, maximum two.
Calories of eggplant rolls
Nutritional values ​​vary greatly from the type of filling you make (and how much you put in). Generally, for the simplest version with ricotta cheese and dried fruit, there are around 200 calories per serving, which obviously go up for more elaborate and richer versions . For example, fried aubergine rolls are almost double!
If you love this vegetable, here are all ouraubergine recipes !
Riproduzione riservata © - WT