Chicken curry with milk accompanied by basmati rice: the video recipe of the oriental dish!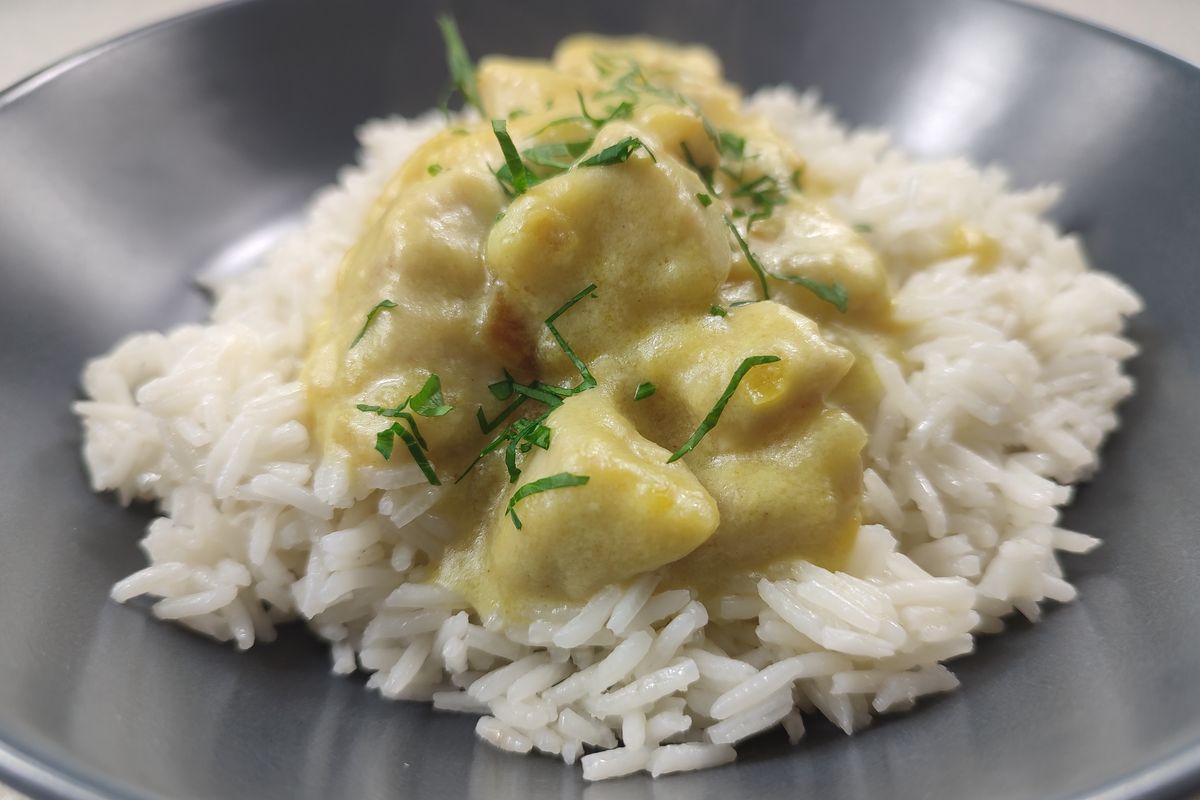 Here is the original recipe for chicken curry with basmati rice, a dish full of heady flavors and aromas: bring it to the table and you will feel like in a fairy tale.
Today let's see together how to prepare a fantastic recipe, curry chicken with basmati rice, a hearty dish with amazing oriental flavours, much loved in Italy and which is often prepared as a single course. The combination is perfect: on the one hand the delicacy of the white rice, which extinguishes the spicy and strong notes, and on the other the soft and tasty chicken nuggets, accompanied by a wonderful curry sauce. Imagine even just one bite… and you'll already be salivating!
To make the cream we will use milk, but you can also use cream or even neutral or Greek yogurt, to obtain a more acidic and fresh taste.
So let's see how to make these fabulous Indian curry chicken bites to perfection!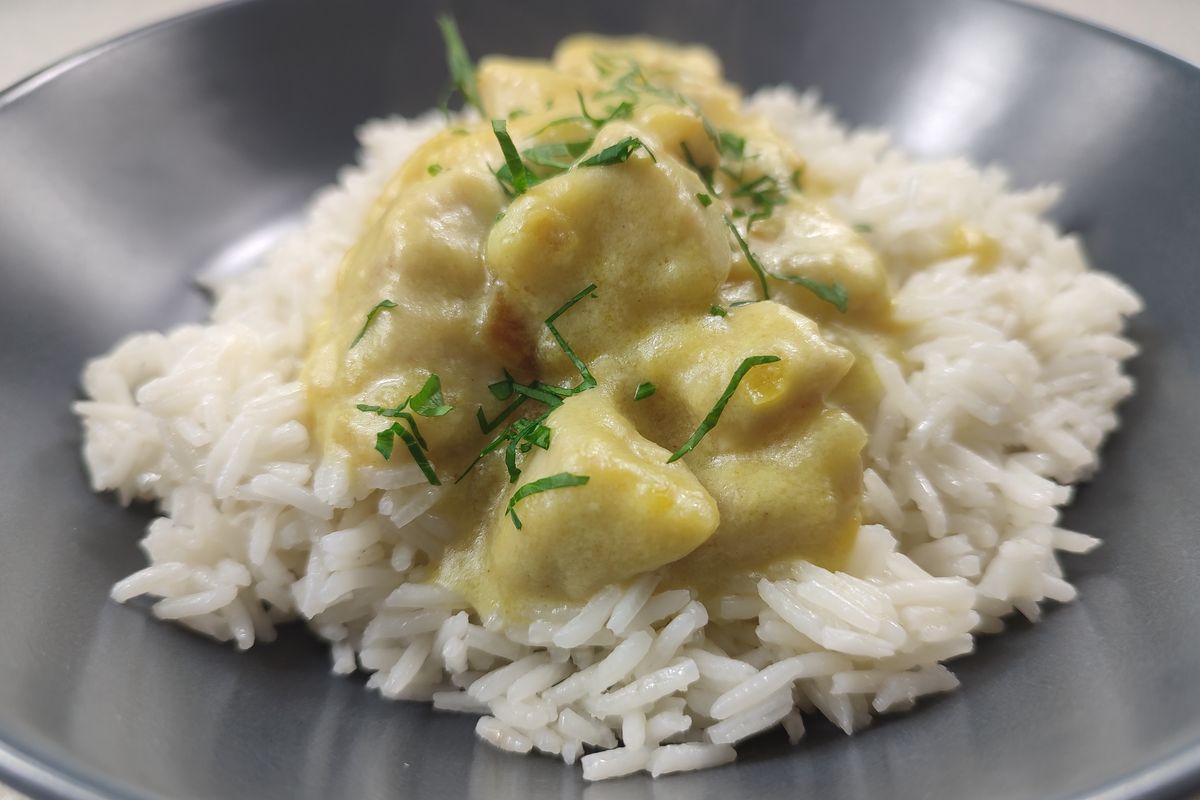 Preparation of chicken curry: simple recipe
Clean the onion and chop it finely, then cut the chicken breast into bite-size pieces or strips. At this point, heat some extra virgin olive oil in a non-stick pan and add the onion and a teaspoon of curry. Fry for a couple of minutes. Meanwhile, flour the chicken and add it to the pan. Saute everything for 2 minutes, and finally add the milk.
Cook for about ten minutes, adding a pinch of salt and pepper. The milk should reduce, becoming a sort of cream. Add the rest of the curry while cooking, and when the chicken is ready, switch off and let it rest.
If you want to accompany it with basmati rice, all you have to do is prepare this quality of rice following our instructions. This long grain variety is originally from India and is characterized by a delicate taste. Her name, in Hindi, means "queen of fragrance" .
Basmati rice is rich in starch, so before cooking it you have to rinse it under running water, so that the grains do not stick together.
Once you've done that, fill a pot with water and place it over a high heat . When it boils, add salt and add the rice, which will cook in 10-15 minutes.
Now that everything is ready, all you have to do is serve! Drain the rice and arrange it on the base of the plate, then place the chicken with the sauce. Enjoy your meal!
If you liked this dish, try all our delicious quick second courses too!
And here is the video recipe to prepare it at home:
How to cook curry rice with chicken: the secrets for the creamy recipe
Surely you have figured it out: making chicken curry is easy and pretty fast. But what are the secrets to making this dish perfectly and in accordance with the Indian tradition? Well, actually there is no trick and there is no deception! The only secret is to give life to a perfect mix of spices, intoxicating and fragrant, which with every bite will make us feel just as if we were sitting in the best Indian restaurant. So here are some tricks for an impeccable dish!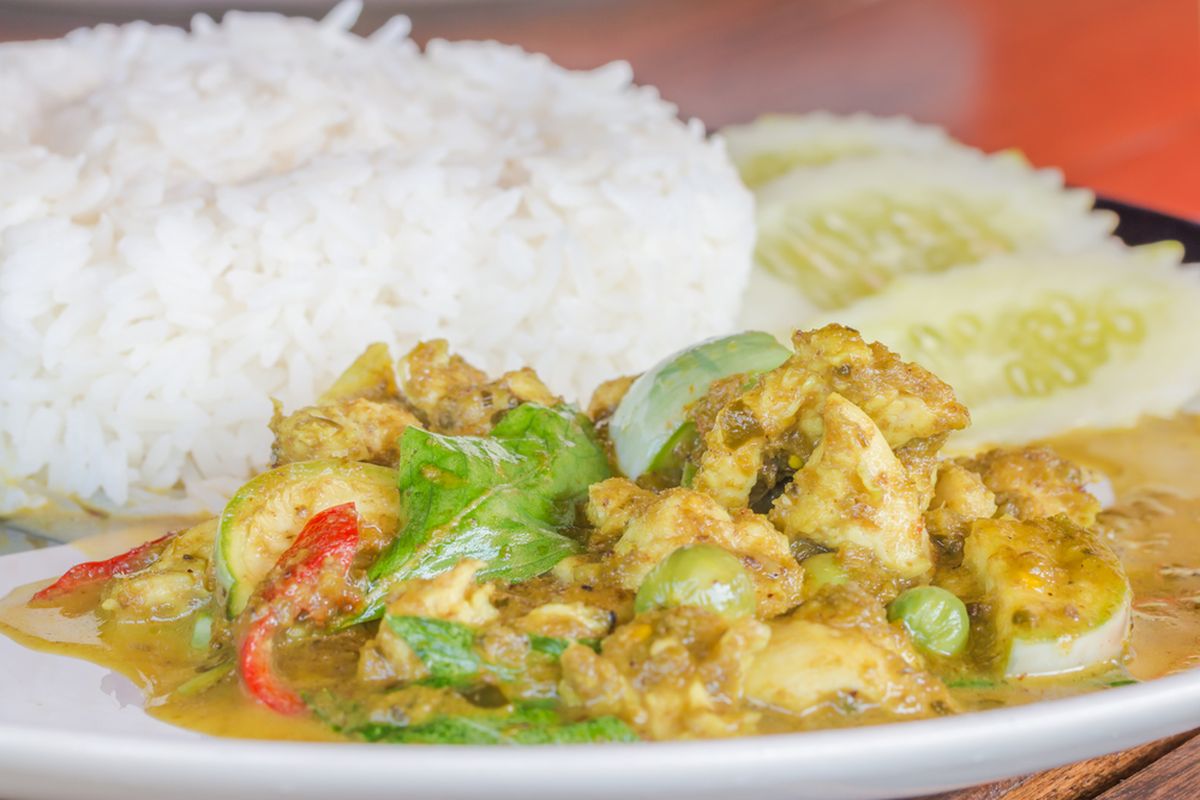 1. The cream: from chicken curry and yogurt to the use of broth
First of all, instead of milk, you can try making a delicious curry chicken breast with coconut milk! Its flavor will make the dish soft but exotic at the same time. In addition to curry, you can also use ginger, which you can blend together with garlic and add to the cooking. Another delicious variation regarding chicken curry ingredients is the use of tomato. Try adding ripe tomatoes cut into small cubes, making sure they cook a lot, just as if you were preparing a sauce.
The use of low-fat yogurt is also interesting, perfect for preparing a light chicken curry, but at the same time creamy and tasty! In this way you can also avoid using flour, there will be no need!
Then there is an ingredient that will change the dish definitively: the chicken Marsala ! It is a mixture of Pakistani and Indian spices, which include chilli, cinnamon, pepper and many other flavourings. Add a spoon and let yourself be carried away by oriental scents!
If, on the other hand, you want to enhance the taste of the curry without losing the creamy effect , you can also use a few ladles of meat or vegetable broth. A teaspoon of flour will come in handy to thicken: let the sauce reduce and serve!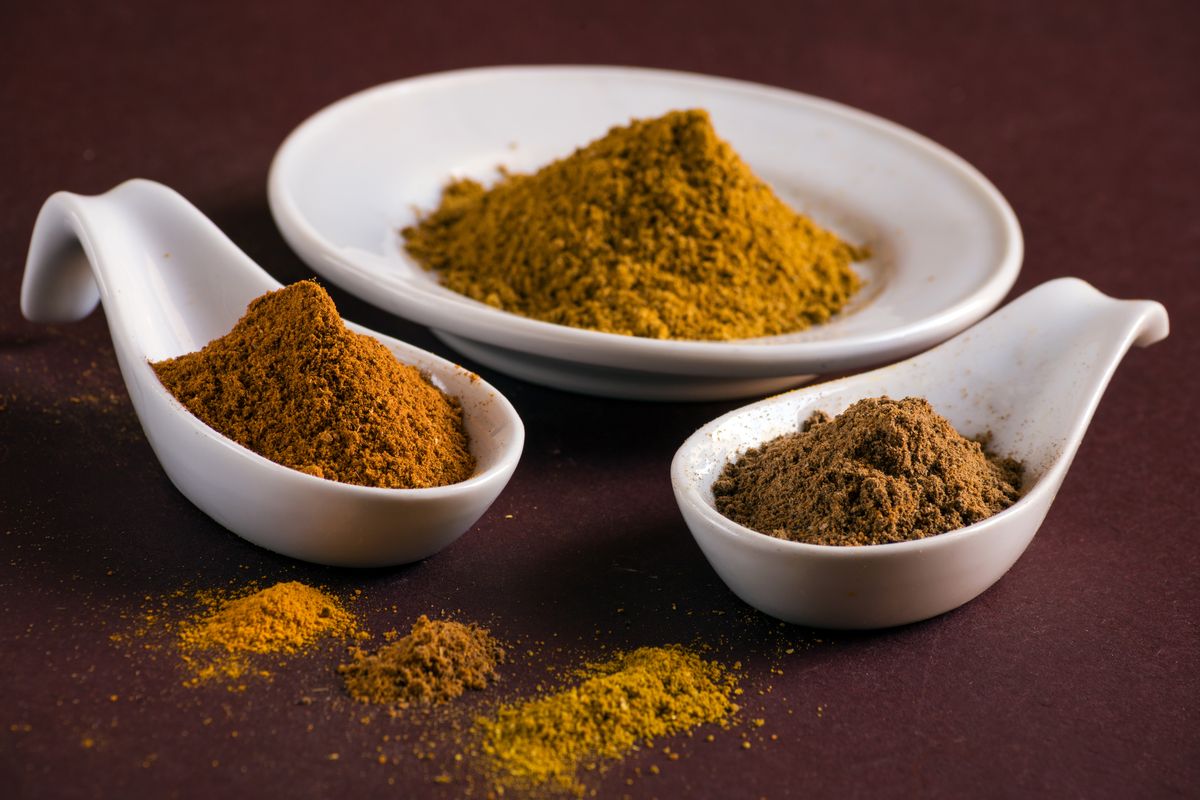 How to do with spices? Before or after cooking the meat? There are different schools of thought at this juncture, however the Indians usually use them immediately and add the other ingredients to the pan only after the spices begin to release their characteristic aromas. For this reason we cooked the curry with oil . Furthermore, you can also use it to bread the meat together with the flour and its taste will become even more intense (in this case, pay attention to the degree of spiciness of the spices you have purchased, we recommend that it be medium spicy. If it turns out to be too strong, you can always dilute with more milk or cream).
2. Rice: enhance its flavor even more!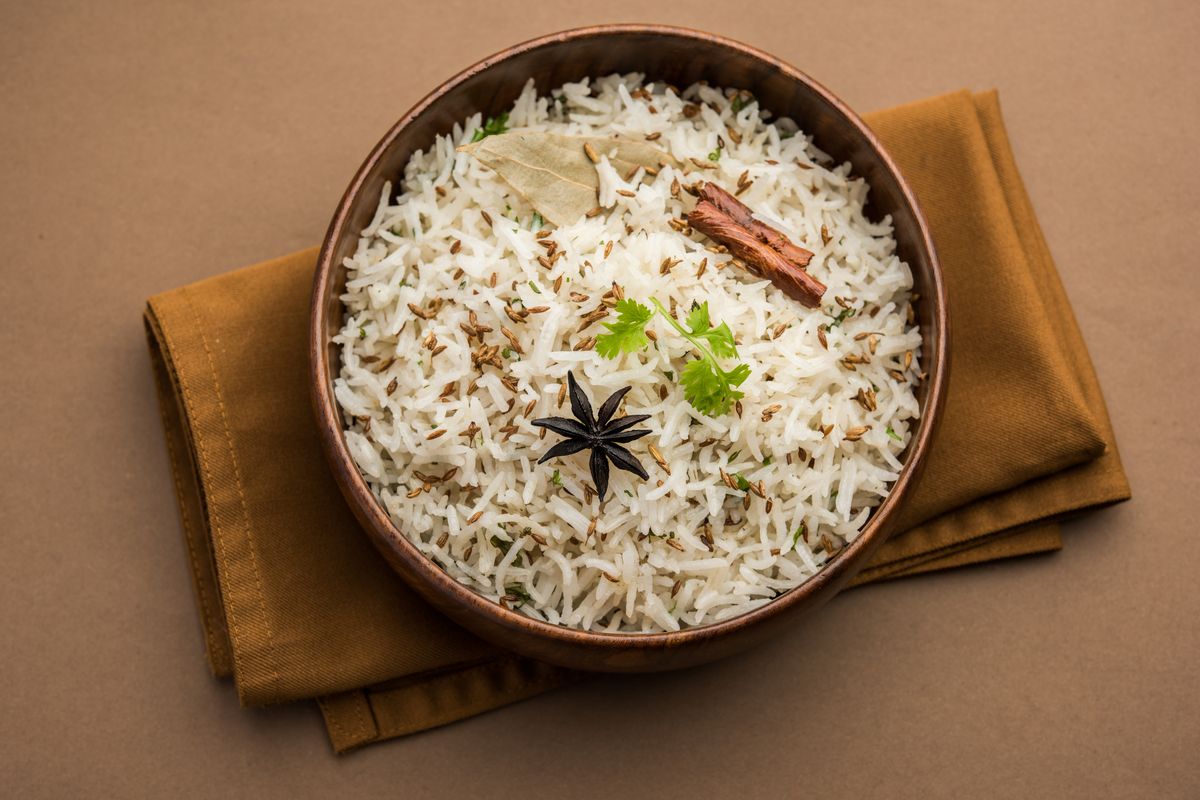 If you want an even more spicy taste, there are some secrets for cooking rice as well. When you are going to boil it, insert a cinnamon stick, cardamom pods and star anise into the pot.
Leave the necessary time cooking and once the rice is ready remove all the spices and you will get an even more fragrant and tasty rice! Seeing is believing.
3. Cooking and balance of flavours
One last piece of advice concerns attention to detail: let's talk about cooking and balance. As for the first item, make sure you cook the chicken well, while paying attention to the spices, which would alter their flavor when burned. For balance, on the other hand, try to taste continuously to avoid too many flavors covering the real protagonist of the recipe: the curry!
5. Pairings: not just rice!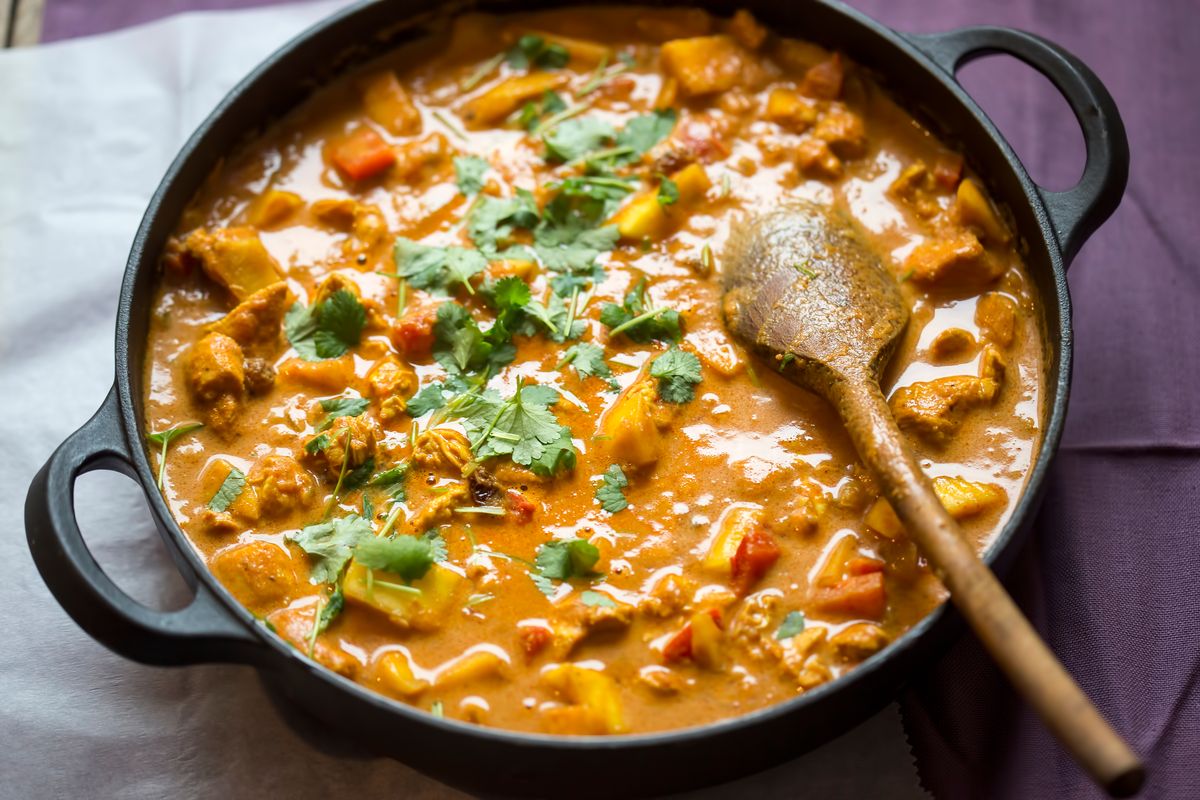 How about trying a chicken curry with vegetables too? In addition to the rice, in fact, you can add some vegetables that will give color to the dish, but also an extra touch of taste!
We recommend courgettes, carrots, peppers and coppery tomatoes, but you can also let yourself be inspired by the seasonality of vegetables (the chicken curry with pumpkin is also very good). Once you have cut the vegetables into cubes , all you have to do is add them to the chicken in the pan and let them cook, first sautéing them and then leaving them to soak in milk, broth or any other liquid you have chosen.
To keep the chicken intact, you can cook the vegetables separately and use them as a side dish . In this case, a cute cut could be the Julienne one!
Chicken curry with the Thermomix
Now let's see how to prepare rice and chicken curry using the Thermomix.
Put the onion in the mixing bowl (and the garlic if you use it) and blend for 10 sec. at speed turbo.
Fry for about 3 min at 100°C and speed 2. 1 with the extra virgin olive oil, then flour the chicken and, after inserting the butterfly , cook for 3 minutes at 100°C, also adding salt, pepper and curry.
It's time for the sauce: add milk, broth or yoghurt and cook for about 5-10 minutes at speed. soft, always maintaining the temperature of 100 °C . Serve with rice , vegetables or other side dishes!
Want other ways to cook this cut of meat? So here are all our recipes with chicken breast !
storage
The complete dish can be stored separately in the refrigerator. Cooked basmati rice will keep for about a week in the fridge, well covered in plastic wrap. Chicken curry, on the other hand, remains good for a maximum of 2-3 days after cooking and stored in a container with an airtight lid. We do not recommend freezing chicken in the freezer, cold rice can instead be placed in the freezer for a few months.
Riproduzione riservata © - WT