Christmas cookies for all tastes: 10 delicious ideas to sweeten the holidays!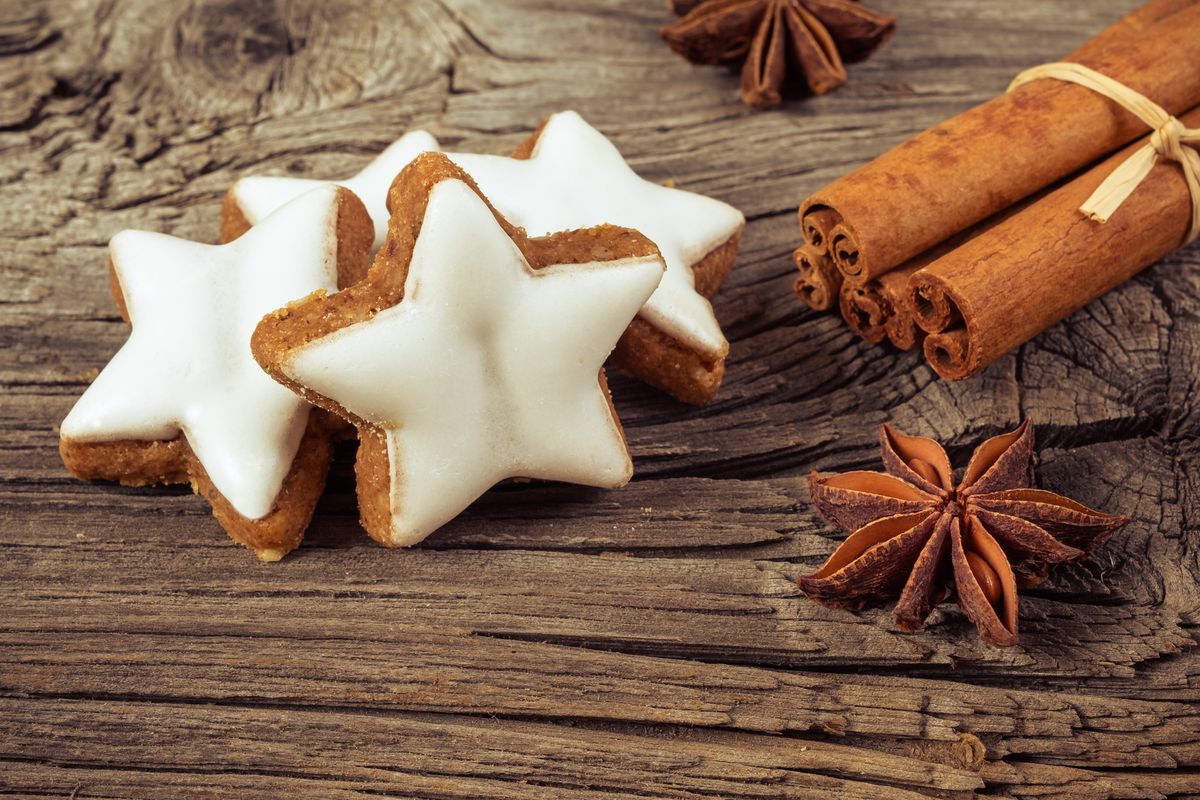 Christmas cookies can be prepared with many ingredients and decorated with colorful and… tasty decorations! Here are 10 unmissable recipes to make your Holidays unforgettable.
Today we see how to prepare some wonderful simple and quick cookies for Christmas. The holidays are the best time to indulge yourself in the kitchen with new ideas and dishes, and above all they are the ideal time to prepare sweets and treats of all kinds and have fun decorating them with your friends or relatives. Among the many that can be made are biscuits, perfect as gifts or to be enjoyed at any time.
From those with cinnamon and ginger to chocolate, passing through other delicious and beautiful varieties also to hang on our tree : are you ready to start this Christmas journey ?
The best Christmas cookies: delicious recipes
So here are ten Christmas cookies that we have selected for you. There really is something for all tastes, from the simple ones flavored with the classic Christmas spices to the decorated ones, with some lighter, vegan and… salty variations! Decorate the table, enjoy them for breakfast or as a snack or prepare some Christmas biscuits to give to your friends and relatives !
1. Cinnamon Christmas Cookies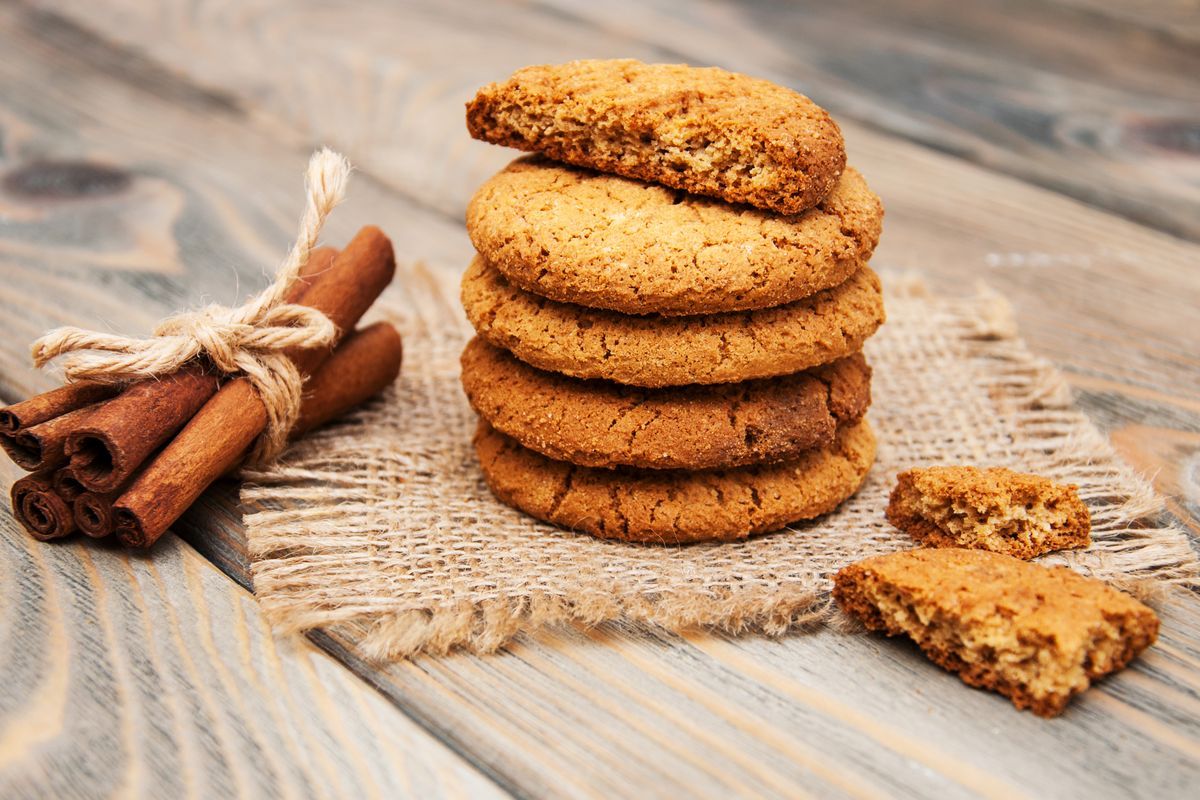 Now let's see how to make cinnamon biscuits , a real Christmas classic . This spice, just from its perfume and its intense aroma, immediately brings to mind the period of the winter holidays, and it is no coincidence that it is very used in this period.
So, if you love cinnamon desserts and don't want to give up giving yourself the right atmosphere at the right time, these are the biscuits for you! The ingredients are simple, but their taste is truly overwhelming : you can serve them as a dessert by accompanying them with other sweets, or enjoy them at breakfast or as a snack with a fabulous hot drink!
Ingredients for the cinnamon biscuits recipe (for 8 people)
120 g of butter
250 g of 00 flour
100 g of sugar
1 egg
1 teaspoon cinnamon
1 teaspoon of honey
1 pinch of salt
2. Ginger Christmas Cookies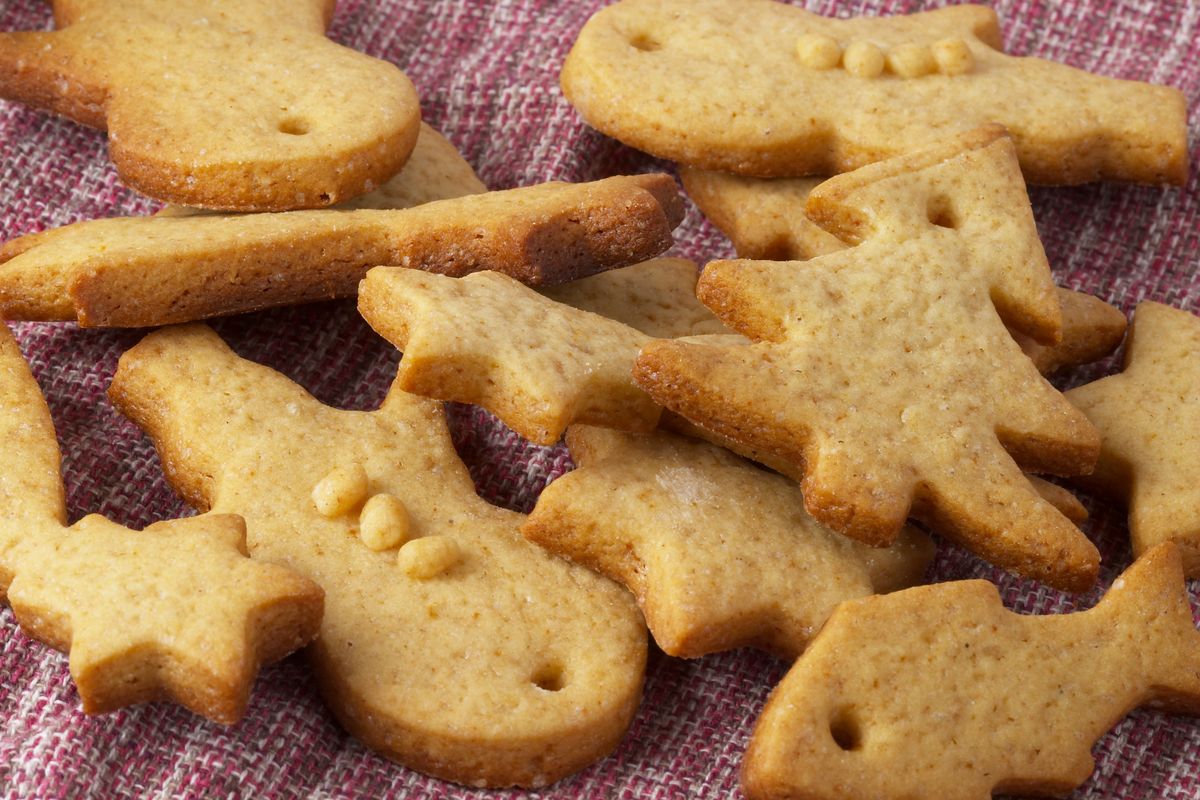 We continue with another recipe for simple biscuits. We've seen how cinnamon is one of the most used spices during Christmas, but ginger comes next, another pungent and delicious aroma when used right . And certainly ginger cookies are, and how!
These are also really simple to make, and what's more, if you want, you can also try to combine the two flavors : that's right, wonderful ginger and cinnamon cookies! Just a warning: dose the two spices well, because their flavor is really very strong and decisive !
Ingredients for the fresh ginger biscuits recipe (for 4 people)
300 g of flour
150 g of butter
120 g of sugar
70 g of fresh ginger
Lemon zest to taste
1 egg
3. Chocolate Christmas Cookies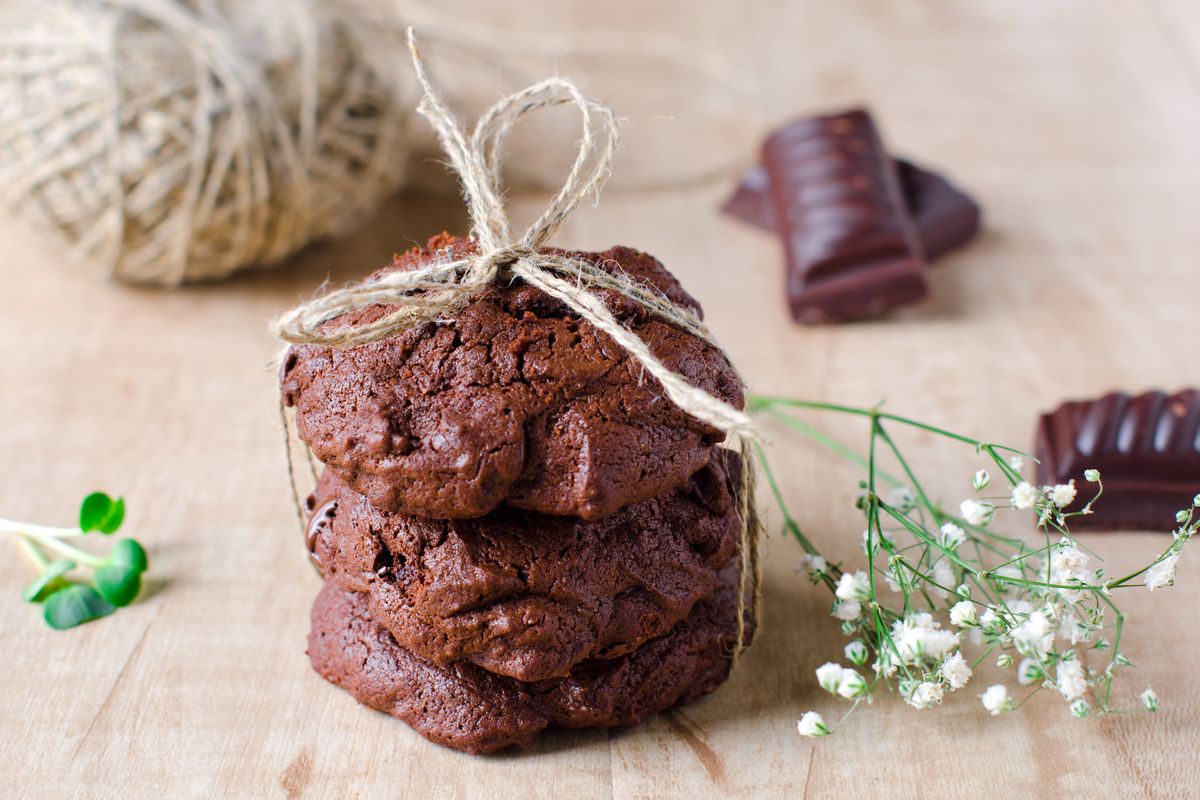 Dark chocolate and almond Christmas cookies are very similar to soft cocoa macaroons . They are made without the use of flour and butter and are really easy to prepare.
Their spicy scent combines cloves, cinnamon and almonds, which go very well with dark chocolate, and are perfect to be enjoyed on any occasion , from breakfast to the end of a meal, perhaps with a sprinkling of whipped cream or ice cream for accompany them!
Without them this festive day wouldn't taste the same, so why not offer them to your guests at the end of your Christmas lunch or Christmas dinner? Try us too!
Ingredients for the chocolate biscuit recipe (for 4 people)
150 g of almond flour
1 egg white
150 g of sugar
150 g of dark chocolate
1 teaspoon cinnamon powder
ground cloves
1 pinch salt
almonds for decoration
4. Christmas cookies without butter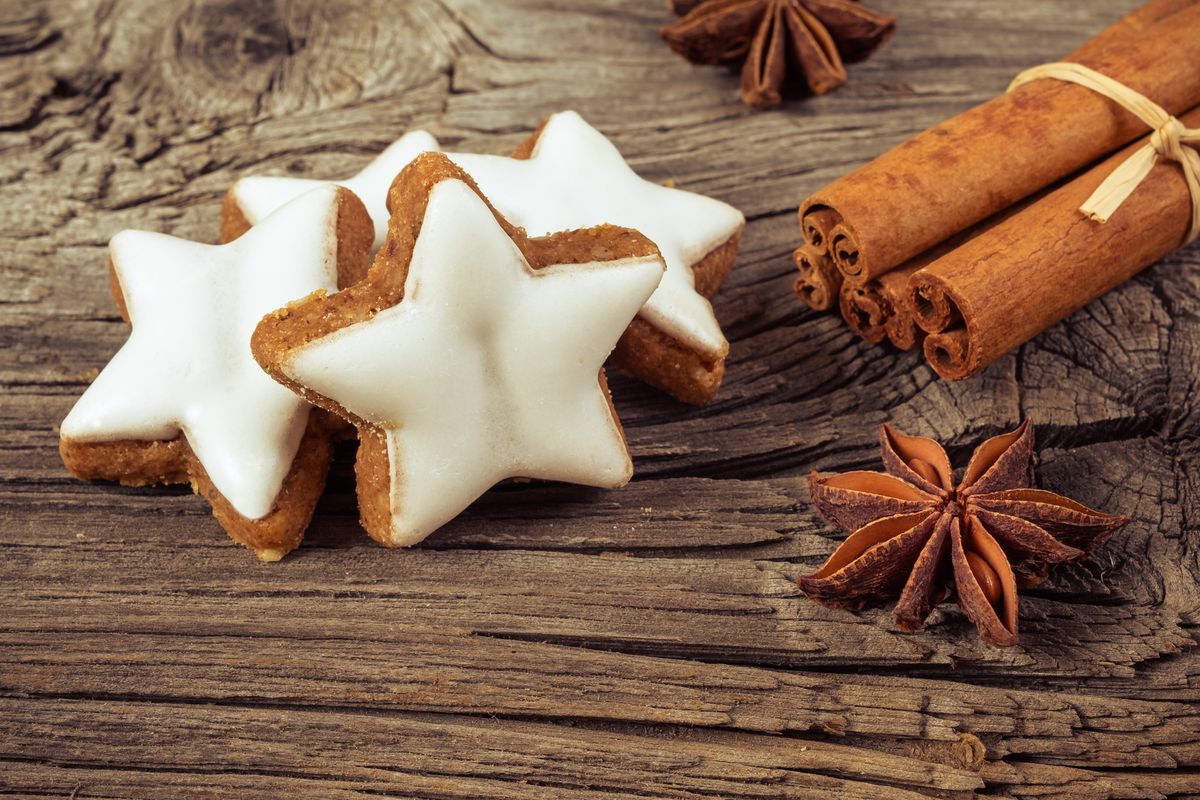 Now let's move on to simple butter-free biscuits , but enriched with a splendid sugar glaze. These Christmas biscuits are made from a lighter dough, which as mentioned does not contain butter, but seed oil is used instead.
To give them a Christmas look, we decided to give these biscuits a star shape. What's more, we put some cinnamon inside the dough.
But it doesn't end there! In fact, we have combined these light biscuits with a very tasty sugar glaze, which is prepared only by boiling water with icing sugar: simple, but really impressive . Seeing is believing!
Ingredients for the recipe for Christmas biscuits without butter (for 8 people)
For simple biscuits without butter:
150 g of 00 flour
20 g of cane sugar
20 g of honey
Cinnamon to taste
30 ml of seed oil
30ml of water
For the glaze:
80 g of sugar
2 glasses of water
5. Gingerbread men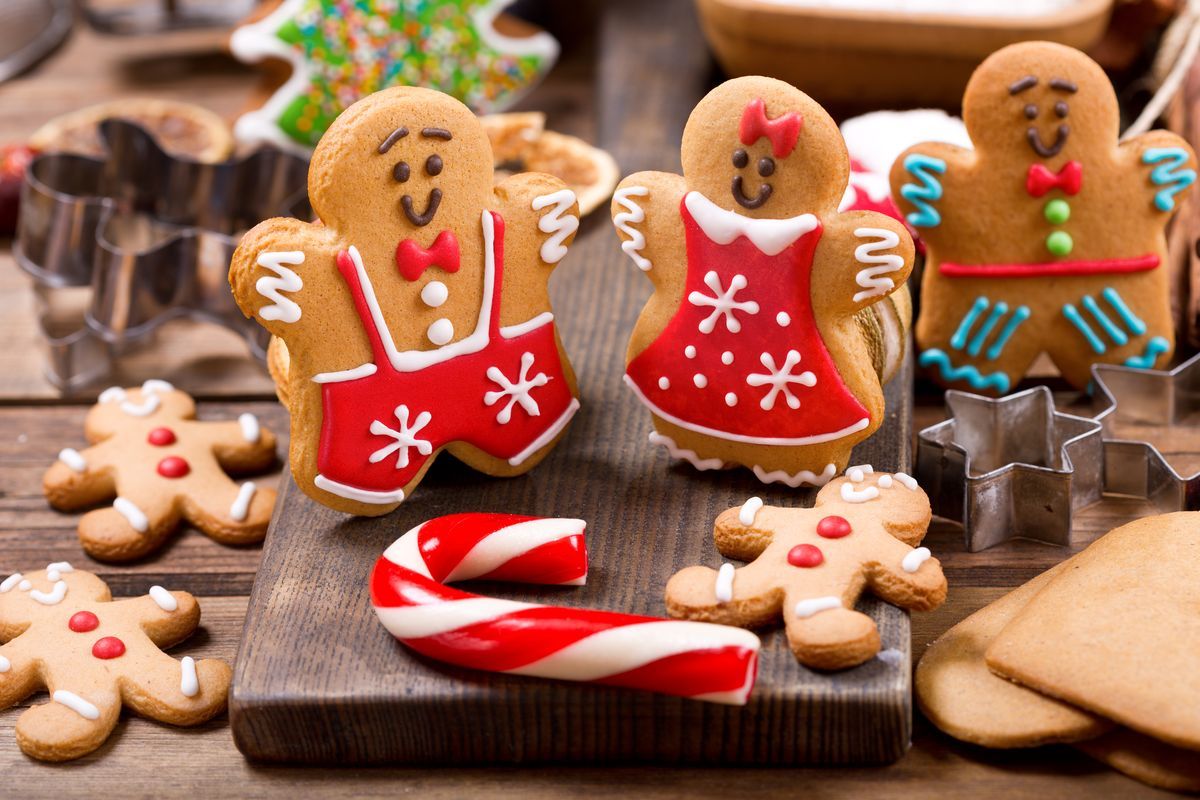 The gingerbread recipe (or gingerbread) is a classic Anglo-Saxon Christmas, but over time it has also spread to the rest of the world. If we talk about Christmas-themed cookies, well, these are certainly the most beautiful you can make.
These are delicious ginger biscuits , which are however made with molds in the shape of… men! Hence obviously the name of the sweets, which you can serve when you have guests or even better, give to your friends and relatives!
The beauty of these sweets lies in decorating the men with icing, making smileys, expressions, clothes and so on. You can indulge yourself as much as you like, also using coloring, to give your icing an even more Christmas- like look!
Try to prepare them too and make Christmas memorable !
Ingredients for the gingerbread cookie recipe (serves 4)
350g 00 flour
150 g of granulated sugar
150 g of butter
150 g of honey
1 egg
1 level teaspoon of bicarbonate
2 teaspoons ginger powder
1 teaspoon cinnamon powder
Nutmeg powder to taste
Ground cloves to taste
1 pinch of salt
6. Christmas cookies with icing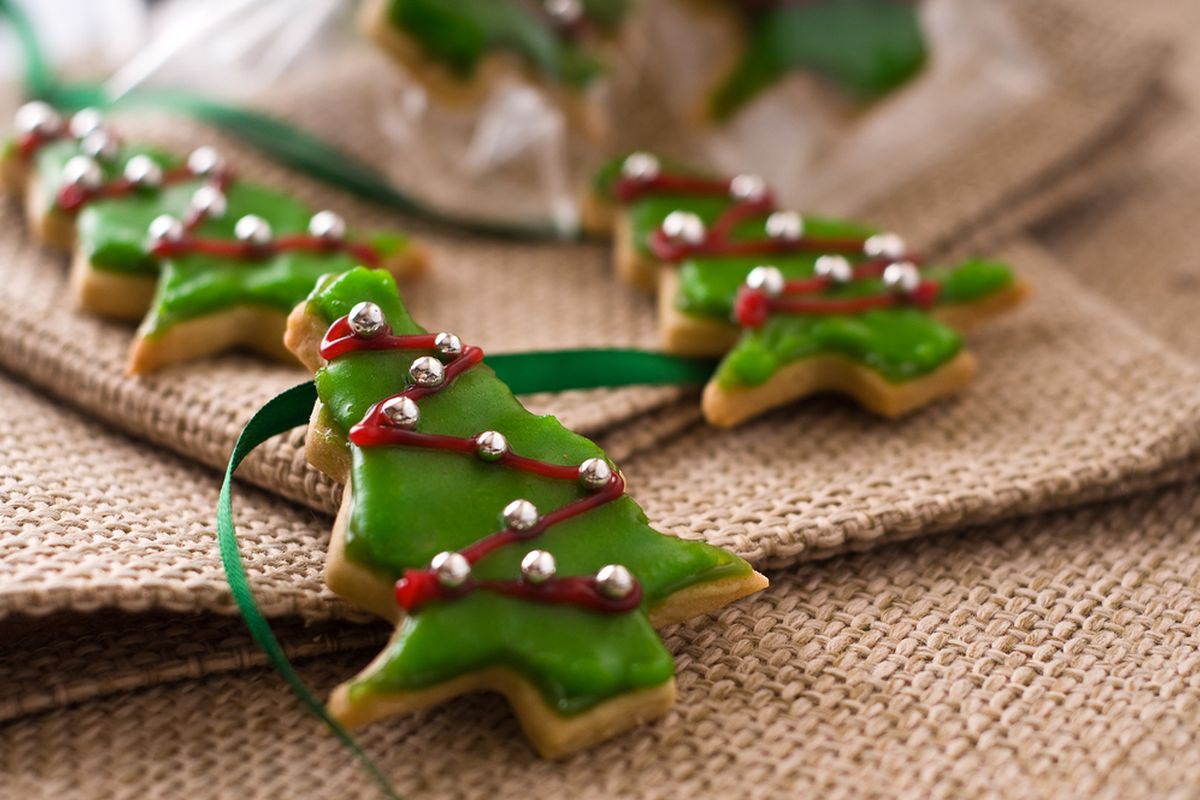 We've already talked about frosting several times, but now we'll explain how to make amazing sweets , decorated in full Christmas style and perfect as a gift or to hang on your Christmas tree: these decorated Christmas cookies will drive everyone crazy!
First of all, what you have to do is choose a theme: you can make them of all types and colors, recreating hearts, balls, trees or much more. We chose the little trees, which we decorated with two types of syrups (one icing with green food coloring and one red) and some silver balls .
After creating the dough and baking in the oven, take the Christmas trees and sprinkle them with green icing , then use the red one to make strips to simulate festoons . Finally, with the silver balls that you can buy at the supermarket, finish your cookie tree!
Here are all the ingredients for the icing cookies .
Ingredients for the Royal Icing Christmas Cookies recipe (serves 4)
For the dough
200 g of 00 flour
100 g of sugar
100 g of butter
1 egg
50 g of cornstarch
50 g of wildflower honey
1 teaspoon baking powder
1 teaspoon cinnamon
For decoration
150 g of icing sugar
1 egg white
1/2 teaspoon lemon juice
food coloring
silver balls
7. Vegan Christmas Cookies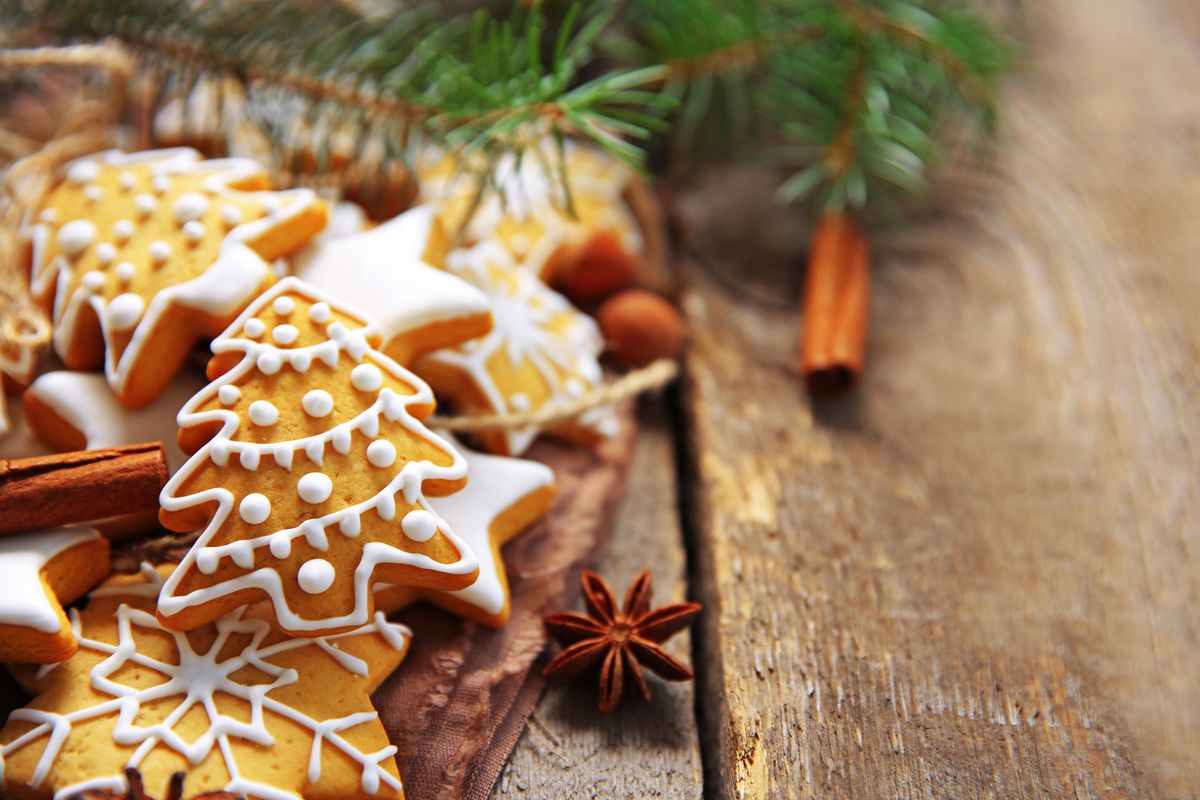 Vegan Christmas cookies are fantastic treats , ideal for proposing within your 100% VEG menu. In this way, even for those who follow this type of diet, there will be the possibility of celebrating with a dessert that suits your needs, but without sacrificing taste!
Also in this case you can opt for a typically Christmas shape, and if you wish, you can also prepare an icing with sugar, which will make the biscuits even more appetizing!
Are you ready to experience a… deliciously vegan Christmas? So here are all the ingredients to prepare these wonderful decorated biscuits.
Ingredients for the vegan Christmas biscuits recipe (for 8 people)
180 g of wholemeal flour
60 g of starch
50 g of corn oil
50 g of brown sugar
1 teaspoon of baking soda
2 tablespoons of soy milk
warm water
sugar glaze
a pinch of cinnamon
8. Santa Cookies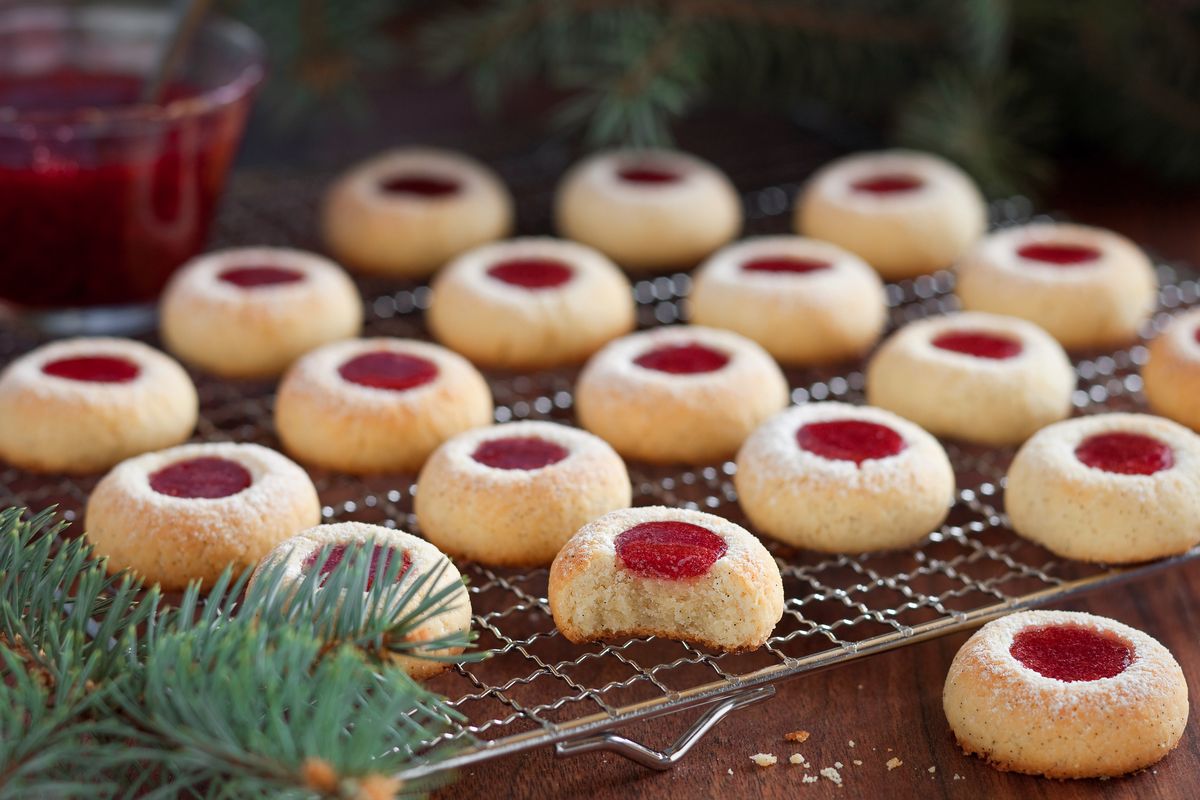 Here is a recipe for simple and delicious biscuits, which we have decided to call Santa Claus biscuits, partly because of their red heart , partly because, according to tradition, they are the ones we will leave with Santa Claus on the night between the 24th and December 25th.
The jam we have chosen is that of cherries , but there are many other jams that you can use to fill these biscuits. You can have fun and prepare large quantities of them to enjoy them with your guests: try to choose the filling you like best and get to work right away with the recipe for these biscuits !
Ingredients for the Christmas biscuit recipe (for 8 people)
200 g of 00 flour
100 g of butter
100 g of almond flour
60 g of icing sugar
1 egg
1 untreated lemon (zest)
cherry jam to taste
1 pinch of salt
9. Christmas trees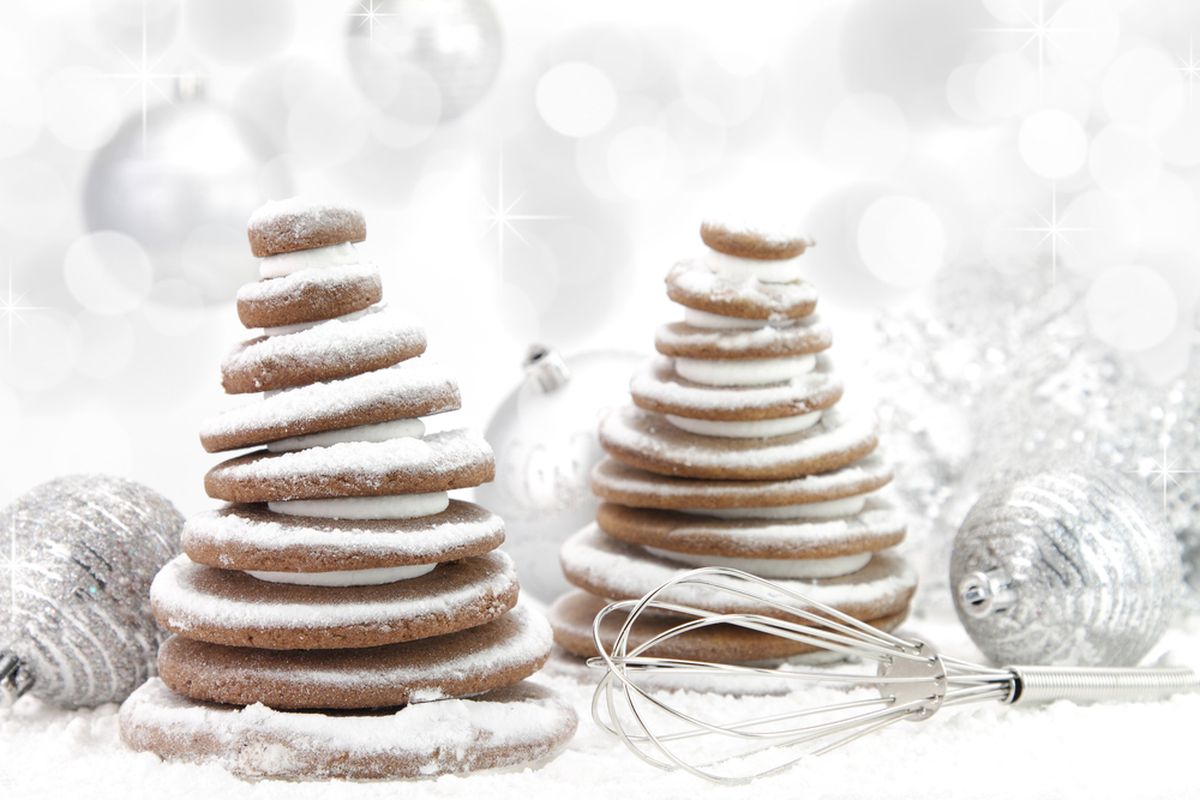 Let's move on to a more complicated recipe, but trust us, it will be worth it! We are talking about Christmas trees made of biscuits , a sweet to eat and share with friends and relatives at the end of a dinner or lunch, or even to treat yourself to a moment of goodies in the afternoon or in the morning.
Unlike the biscuits that we have seen previously, in this case we are going to create a real tower of glazed biscuits , where the icing acts as a glue between the various disks , gradually smaller and smaller so as to create the tree effect.
In addition to their incredible flavor, you will make a great impression with this recipe. Place it in the center of your table, so that everyone's mouth is watering!
Ingredients for the gingerbread trees recipe (serves 4)
375 g of 00 flour
100 g of sugar
150 g of honey
10 g of baking soda for food
100 g of soft butter
1 egg
1 yolk
1 pinch of grated lemon zest
1 pinch of ground ginger
1 pinch of ground cinnamon
powdered sugar to taste to decorate
10. Salty Christmas Cookies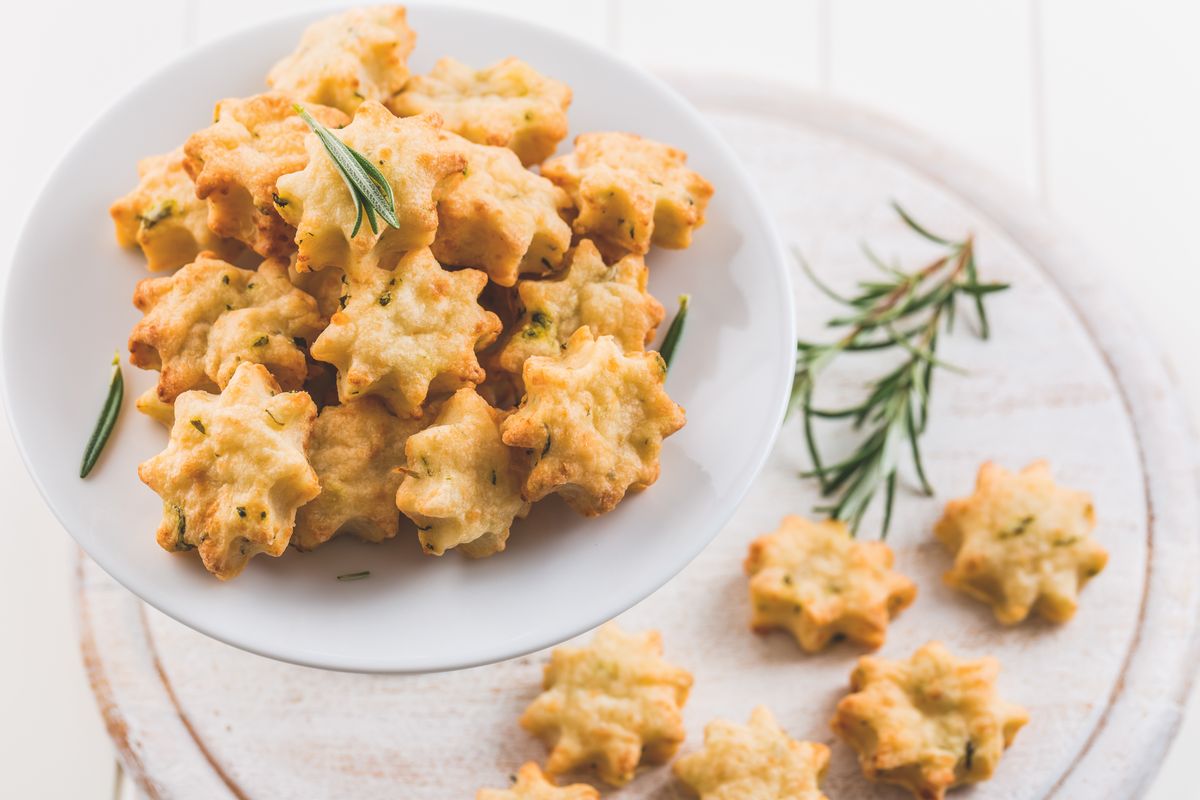 Here's one last variant of biscuits… decidedly particular! As a last proposal for your Christmas menu, we have decided to offer you some savory cheese and ginger biscuits!
Perfect for livening up your themed aperitifs or holiday appetizers, these fantastic savory biscuits will be a delicious surprise for your guests. The ingredients are simple: parmesan, ginger, oregano and fennel seeds.
Put them in a bowl or in several small bowls and enrich your table with these biscuits!
Ingredients for the recipe for savory biscuits for a Christmas aperitif (for 8 people)
150 g of flour 0
100 g of butter
100 g of grated Parmesan
1 egg yolk
Salt up to taste
Ginger to taste
Fennel seeds to taste
Pepper as needed
Dried oregano to taste
Riproduzione riservata © - WT