Easter appetizers: those who start well are halfway through lunch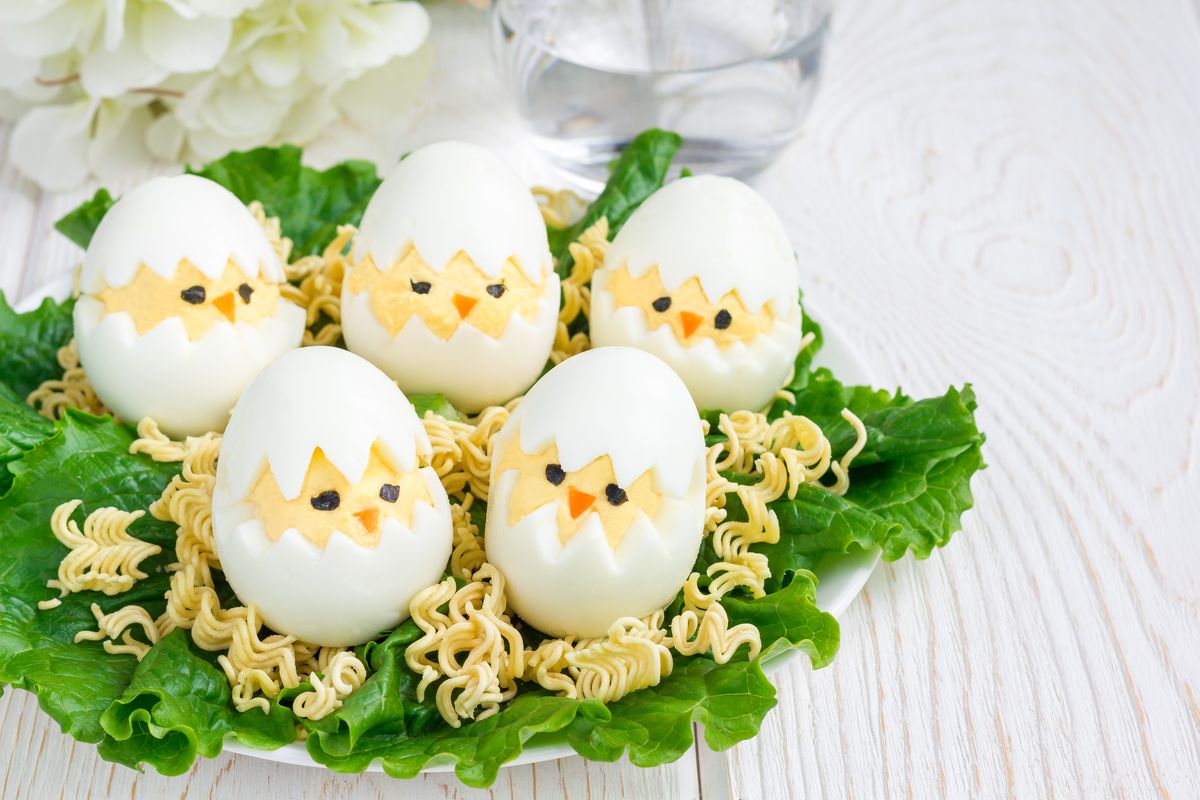 There are really many Easter appetizers that you can prepare to make this day unique: here is our selection of Easter recipes.
Appetizers are the highlight of any lunch . Either because when you sit down to the table you're always quite hungry, or because they let your imagination run wild, they're a real must. Easter appetizers are certainly no exception. They too, between great classics and a pinch of imagination , are indispensable for spending a day dedicated to good food and good company.
The protagonists of your Easter appetizers can only be eggs in all their forms (and you will be amazed at how many things you can do!), closely followed by typical savory leavened products and cakes . Here is our selection to enrich the Easter menu .
Easter appetizers: delicious recipes
Whatever Easter appetizer you cook, know that you will hardly be able to do without eggs . Undisputed symbol of Easter, they are used in all their forms: boiled, decorated, colored or as an addition to some typical recipes for decoration.
Colored eggs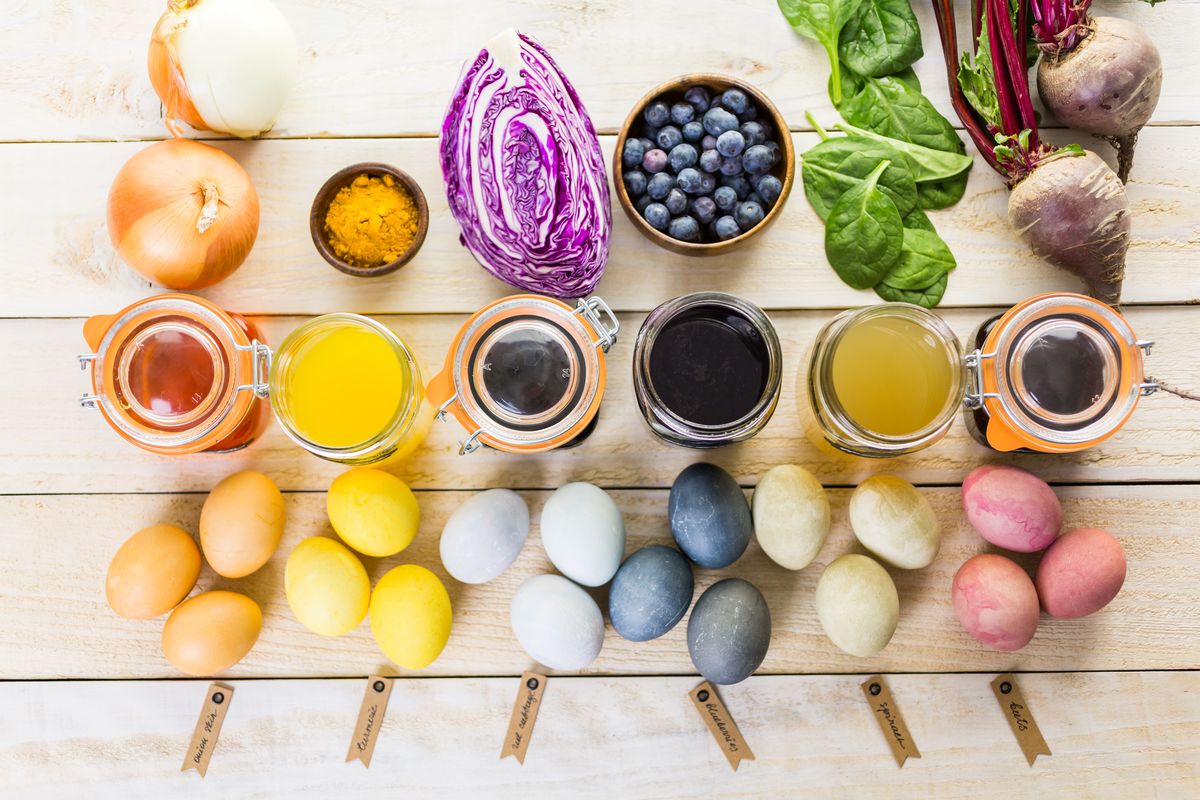 Colorful eggs are perfect for preparing with the little ones during the holidays. The various shades of color are easily obtained even with natural ingredients , therefore the finished result is a 100% safe product. Our advice is to use white eggs instead of the traditional ones, so that the color is brighter.
Ingredients for 4 people:
8 white eggs
1 beet
2 tablespoons of turmeric
1 bunch of spinach
coffee
Vinegar
First, bring the water to the boil with one of the ingredients chosen to color the eggs, then boil them for 10 minutes after they return to the boil. As soon as they are ready, transfer them to a bowl filled with water acidulated with 2-3 tablespoons of vinegar which will help to fix their colour. Your colored eggs are ready!
Alternatively, you can prepare beautiful marbled eggs , spectacular and also excellent for filling.
Easter boiled eggs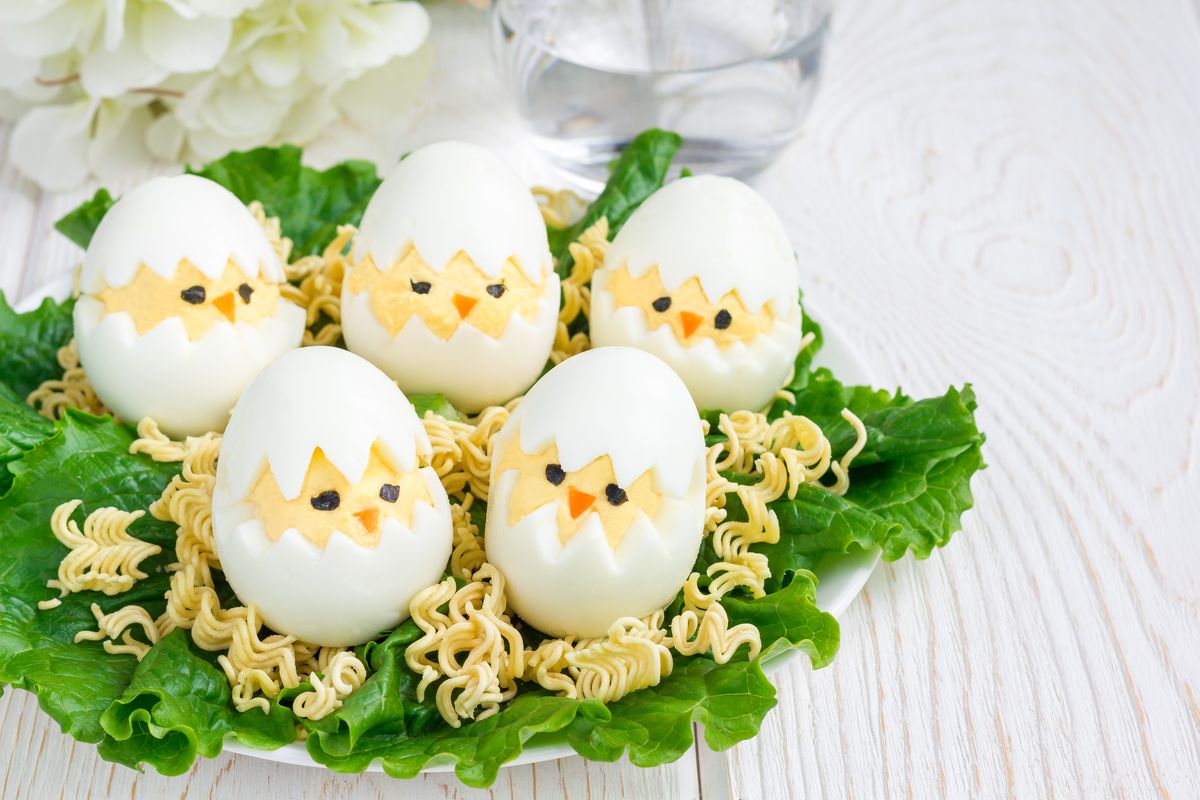 Also perfect for the little ones or for an outdoor lunch , these hard-boiled eggs disguised as a chick are really cute. Preparing them is simpler than it seems and you will need very few ingredients .
Ingredients for 3 people:
4 large eggs
1 carrot
lettuce to taste
black olives to taste
Cook the eggs for 7-8 minutes starting from the boil then cut the egg white at the top and set it aside for a moment. Create the muzzle of the chick with a piece of carrot for the beak and black olives for the eyes. Put the cut egg white in hat ways and serve in a serving dish with a few lettuce leaves to taste. Work them. Here is one of the quick Easter appetizers that you can prepare with eggs.
Stuffed eggs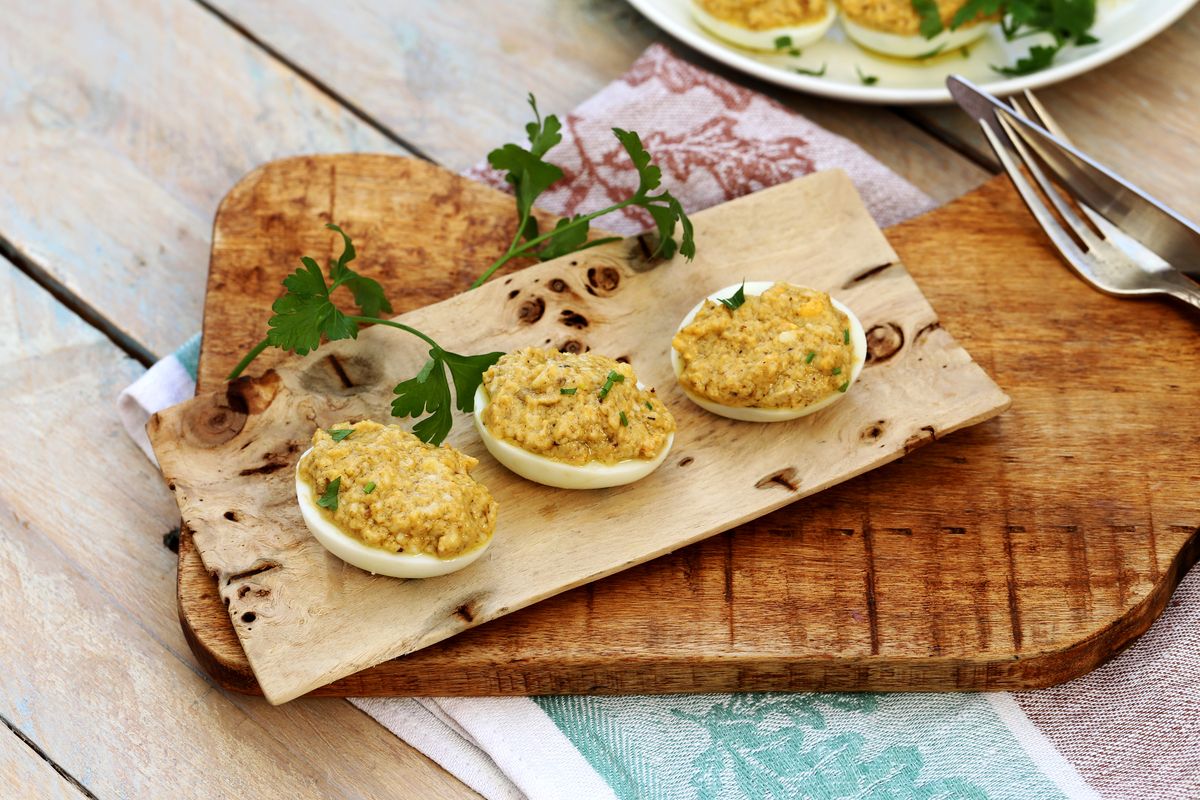 Among the other recipes with eggs that are perfect to serve as an Easter appetizer , stuffed eggs cannot be missing. Simple to prepare and easily customizable , everyone really likes them.
Ingredients for 4 people:
8 eggs
8 anchovies
150 g of canned tuna
parsley to taste
pepper as needed
Salt to taste
butter to taste
lemon zest to taste
Cook the eggs for 8-10 minutes starting from boiling, then peel them and cut them in half lengthwise. Gently take the yolk and mix it in a bowl with the anchovies, the finely chopped parsley, a spoonful of soft butter and a pinch of pepper. Transfer the well-mixed filling into the hollow left by the yolk and place in the refrigerator until serving.
If you like this idea, we suggest you also try the deviled eggs : they are really delicious!
Capricciosa salad pie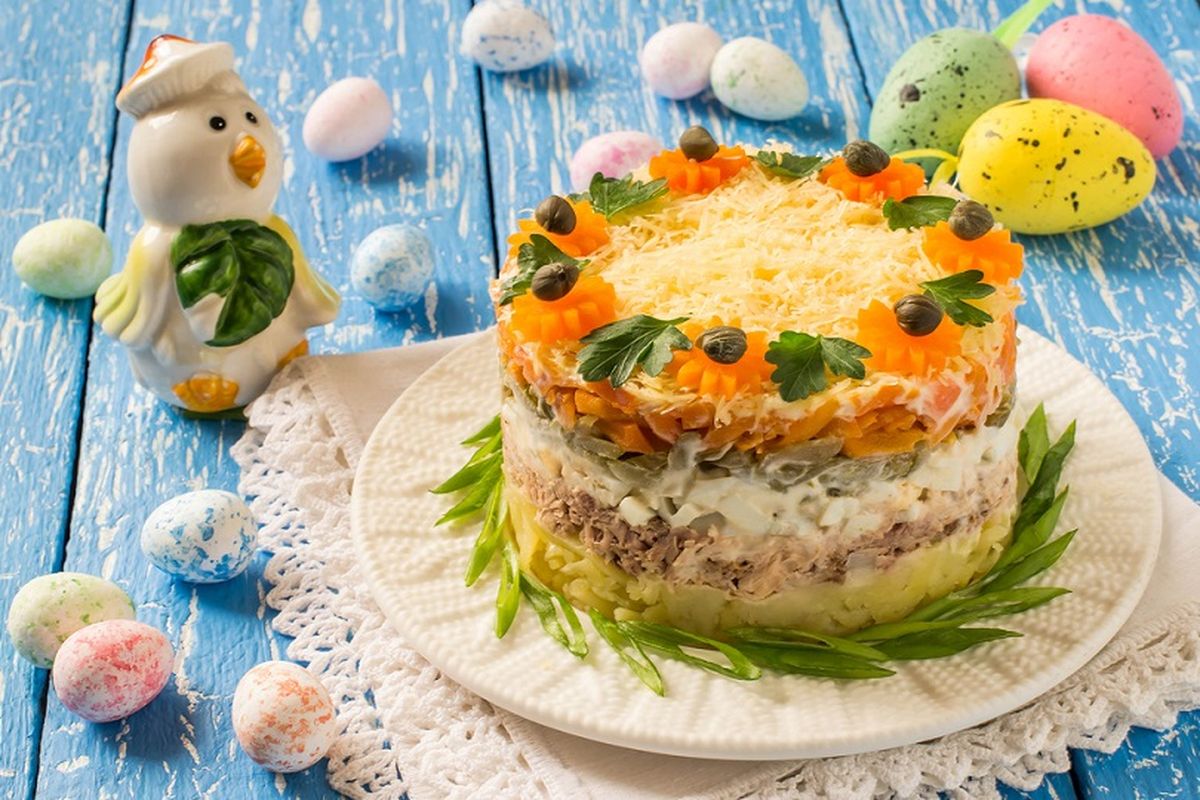 If you are looking for delicious Easter appetizers, the capricciosa salad pie is what you need. Scenographic and rich, it will seem like you are bringing a real decorated cake to the table that will leave your guests stunned.
Ingredients for 4 people:
2 carrots
1 small celeriac
1 lemon
100 g of Emmental
1 teaspoon of sweet mustard
1 tablespoon of white wine vinegar
50 g of olives
1 boiled potato
100 g of tuna
1 boiled egg
1 yolk
100 ml of seed oil
1 teaspoon of lemon juice
1 teaspoon vinegar
Salt to taste
First you need to cut cheese, carrots and celeriac into julienne strips. The latter is then transferred to a bowl with water and lemon. Meanwhile, prepare the mayonnaise in the classic way. Once all the ingredients are ready, proceed with the layers : first one of mashed potatoes with mayonnaise, then one of tuna, one of knife-chopped olives, one of capricious salad made up of carrots, drained celeriac, emmental, mayonnaise and mustard, and finally a decoration based on carrots and mimosa egg yolk .
Easter cake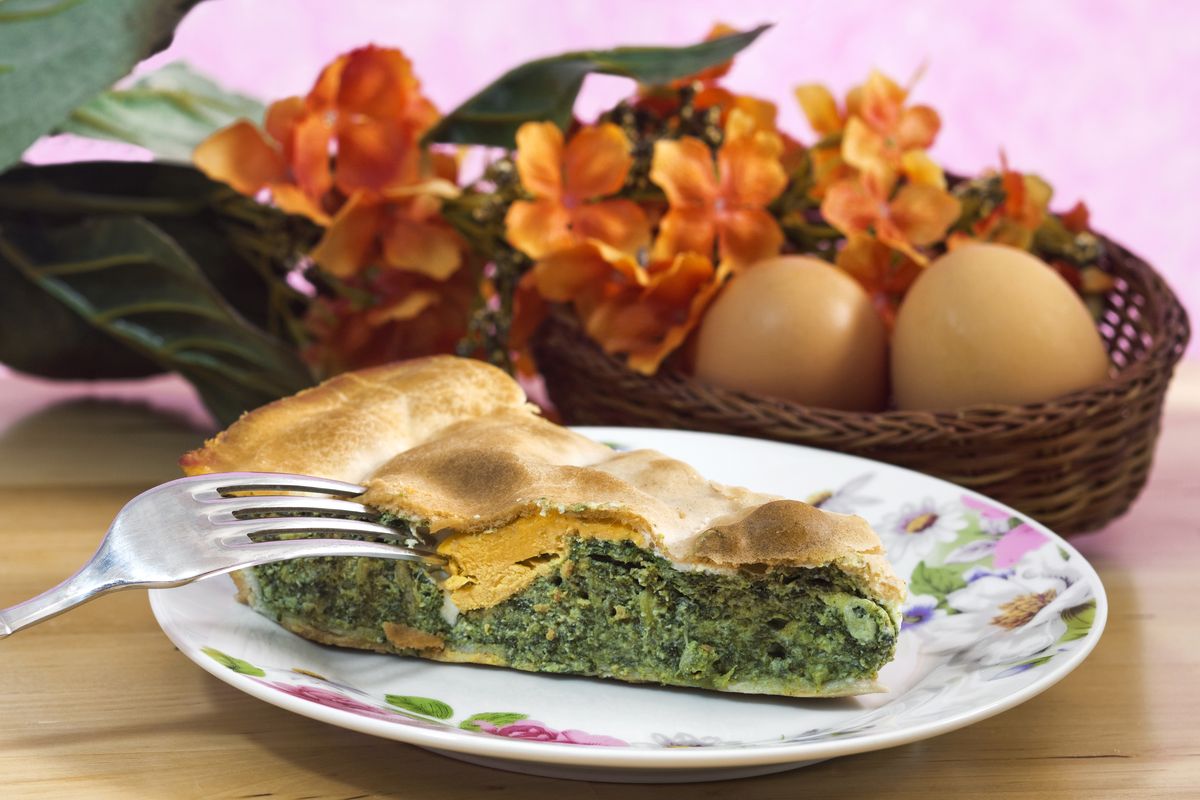 When it comes to savory Easter cakes it is impossible not to mention the legendary Torta Pasqualina . Rich and tasty, it is excellent to be enjoyed cold even on Easter Monday and differs from the classic ricotta and spinach cake because the chard is used as green leafy vegetables and the filling is enriched with whole eggs.
Ingredients for 4 people:
2 rolls of puff pastry
800 g of beets
450 g of fresh ricotta
5 eggs
grated cheese to taste
2 cloves of garlic
marjoram to taste
extra virgin olive oil to taste
Salt and Pepper To Taste
To prepare the Easter cake, start by boiling the beets and sautéing them in a pan with oil and garlic. Then mix them with the ricotta, add salt, pepper and Parmesan and flavor with the marjoram . Pour the filling into a pan lined with a disc of puff pastry and form 5 hollows inside which you will break the eggs . Cover with the other sheet of puff pastry, sealing the edges well and cook at 180°C for 35 minutes .
Easter Cake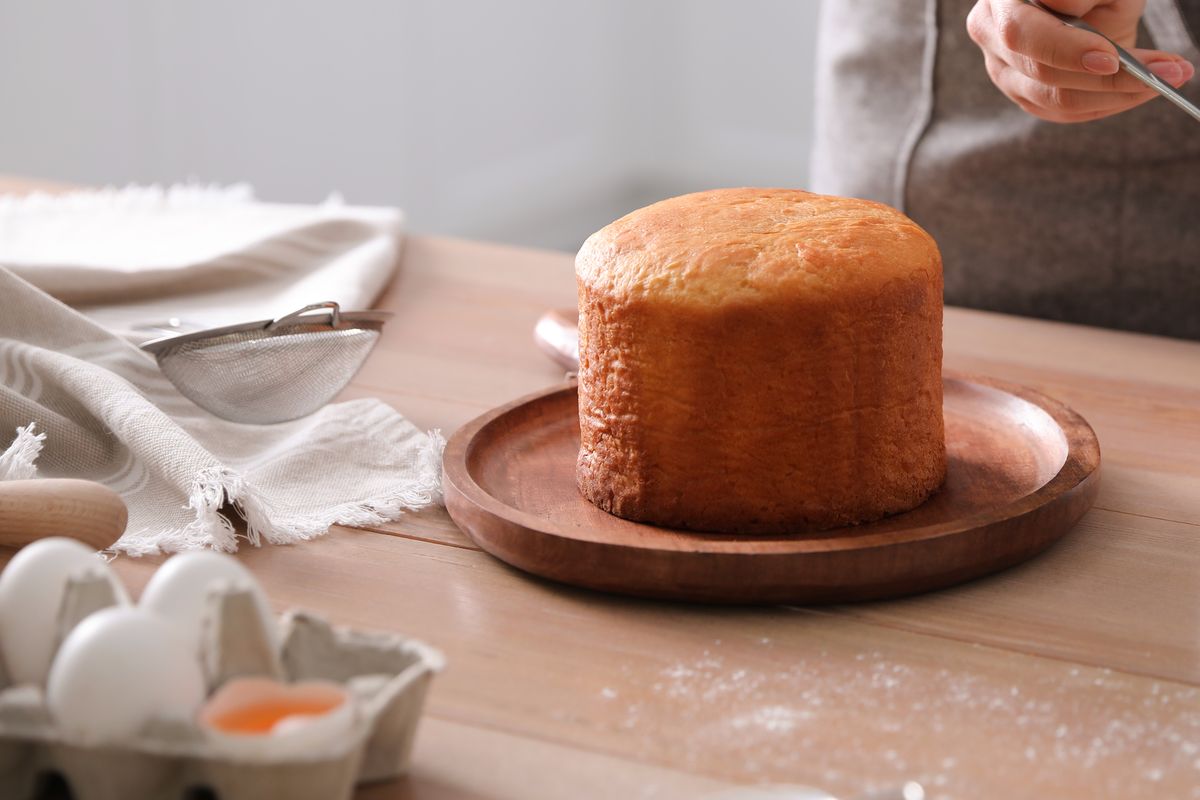 Usually served for breakfast together with cold cuts and cured meats, the Easter cake is a sort of savory panettone filled with cheese. The dough is also very tasty and we guarantee that you will be pleasantly surprised.
Ingredients for 4 people:
550 g of 00 flour
50ml of milk
25 g of brewer's yeast
6 eggs
90 g of butto
150 g of grated pecorino
150 g of grated parmesan
Salt to taste
pepper as needed
First, dissolve the yeast in warm milk and let it rest for 10-15 minutes . Then take a planetary mixer with a hook and pour all the ingredients inside and start kneading until it forms a well-strung dough. Take the dough and let it rest for at least 3 hours in a buttered pan and in a warm place, well covered with a cloth (until it doubles in size). Once the leavening time is over, butter a mold of about 22 cm in diameter and cook in the oven at 180°C for 30-40 minutes .
Similar in preparation and also typical of central Italy is the Easter pizza : try them both and choose the one you prefer!
Easter growth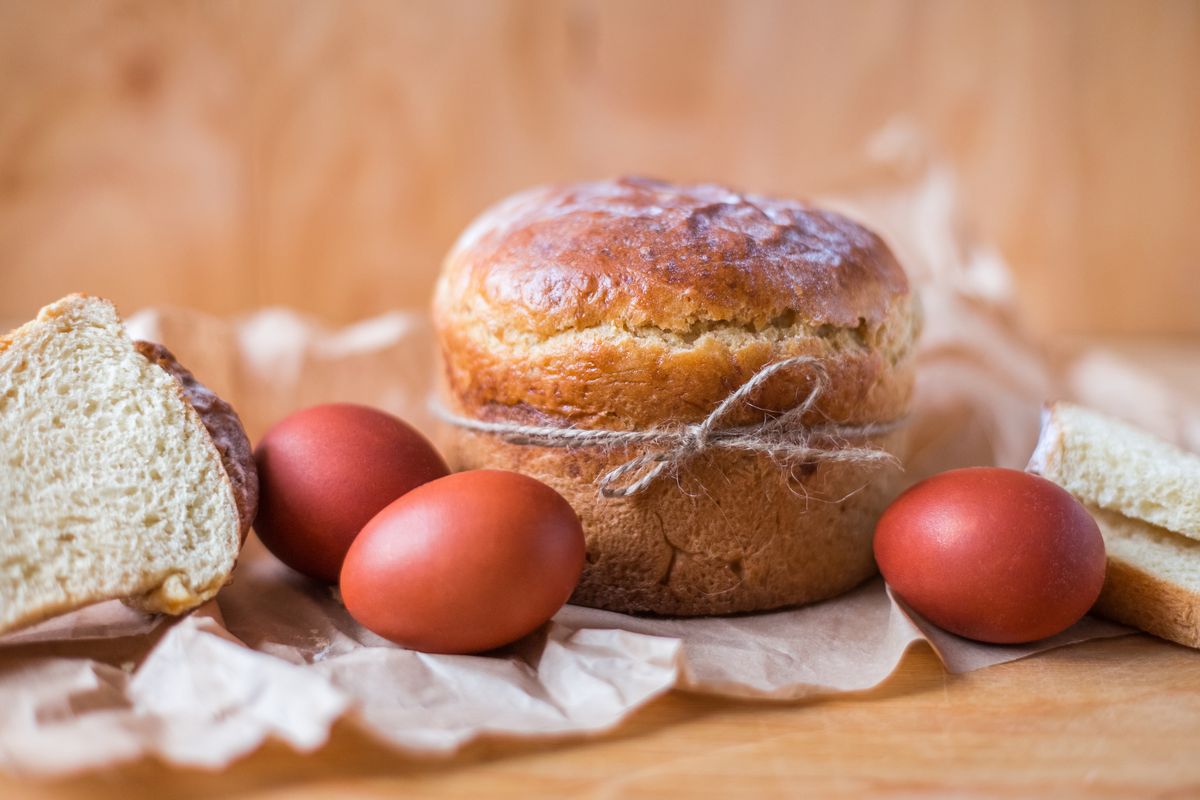 The Easter appetizers are mostly all regional recipes and among these we also find the Easter crescia . This sort of cheese bread is used to accompany cured meats and cold cuts and is also excellent for Easter Monday picnics.
Ingredients for 4 people:
500 g of 00 flour
125 g of Parmigiano Reggiano
100 g of fresh Pecorino
5 eggs
100 g of milk
70 g of extra virgin olive oil
25 g of brewer's yeast
Salt to taste
pepper as needed
Dissolve the yeast in the milk then add it all to the sifted flour and Parmesan cheese. Mix in a bowl and slowly add the oil. Beat the eggs separately with salt and pepper then add them to the mixture together with the diced pecorino cheese. Form a ball and let it rise until doubled in size, then cook at 180°C for about an hour . Serve it once cold.
Casatiello Napoletano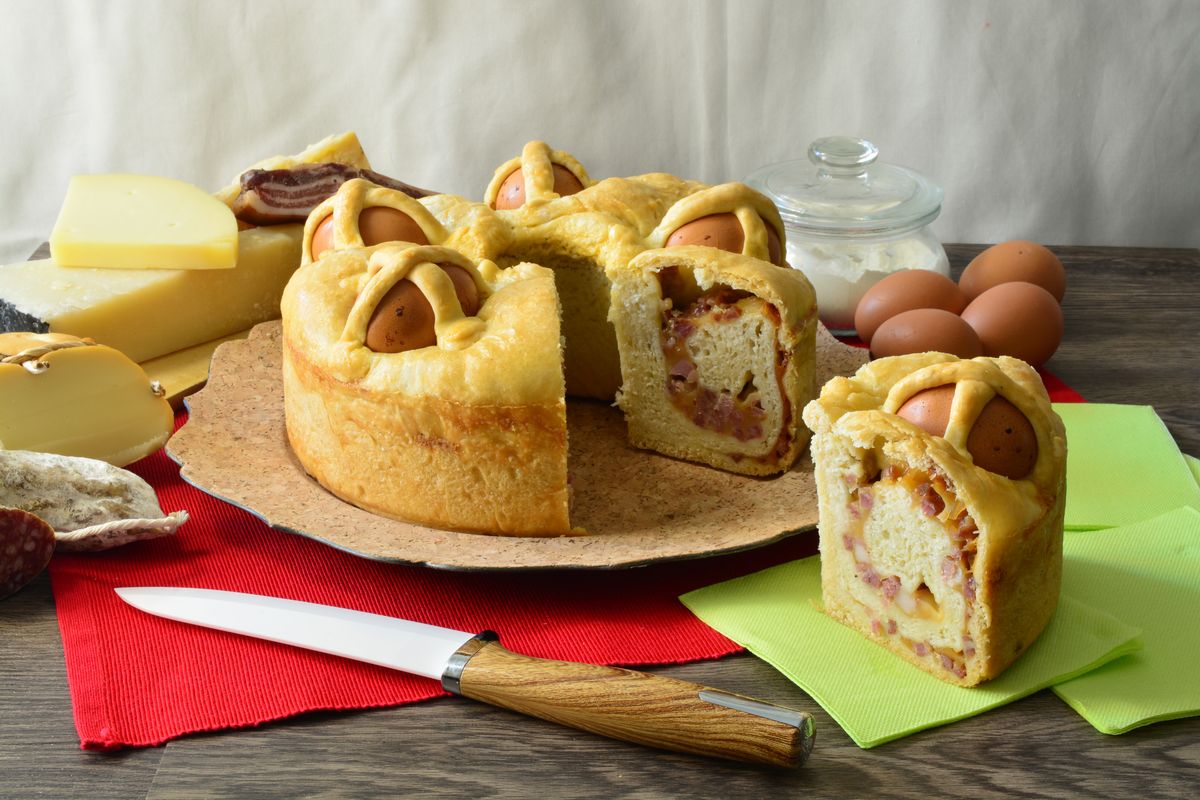 There is no self-respecting Easter lunch in the Campania capital without the Neapolitan casatiello , one of the tastiest and tastiest Easter appetizers. It goes without saying that to understand the reason for this attachment to the recipe you should try it : its full and decisive taste will conquer you at the first taste!
Ingredients for 6 people:
600 g of 00 flour
350 g of water
30 g of lard
15 g of brewer's yeast
Salt to taste
pepper as needed
extra virgin olive oil to taste
160 g of Neapolitan salami
130 g of pecorino
5 eggs + 1 yolk
First you need to mix flour, water, yeast and lard and let everything rise for 3 hours. The dough is then rolled out and enriched with diced salami and pecorino cheese, rolled up and placed in a donut mould. Once you have placed the raw eggs to decorate, brush them with the yolk and then you can proceed with cooking at 180°C for about 50 minutes .
To speed up the preparation you can also follow our recipe for the Neapolitan casatiello with the Thermomix .
Neapolitan cake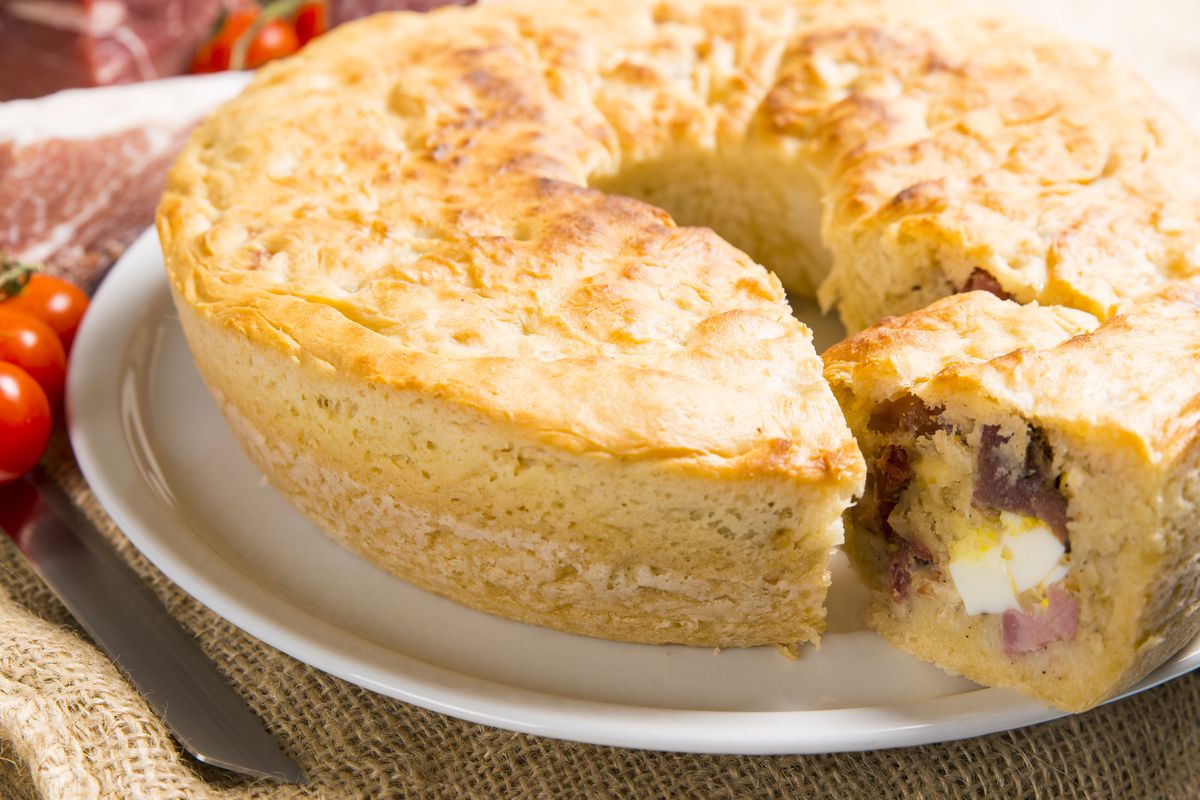 Also in this case it is a typical recipe of Easter in Campania , similar to the casatiello from which it differs almost only in having hard-boiled eggs inside rather than as an external decoration that unites many of our Easter appetizers.
Ingredients for 4 people:
600 g of 00 flour
300ml of water
250 g of Neapolitan salami
100 g of sweet provola
100 g of spicy provolone
100 g of grated pecorino
150 g of lard
4 eggs
25 g of fresh brewer's yeast
1 teaspoon of sugar or honey
Salt to taste
pepper as needed
In a bowl, mix the flour with 300 ml of warm water in which you have dissolved the yeast with the sugar. Also add the pecorino cheese, a pinch of salt and the melted lard and finish kneading. Put the dough to rise until doubled, then roll it out to form a rectangle. Spread out the cold cuts, cheeses and hard-boiled eggs all diced and rolled up. Place the loaf in a donut mold and cook at 160°C for an hour .
Savory pastiera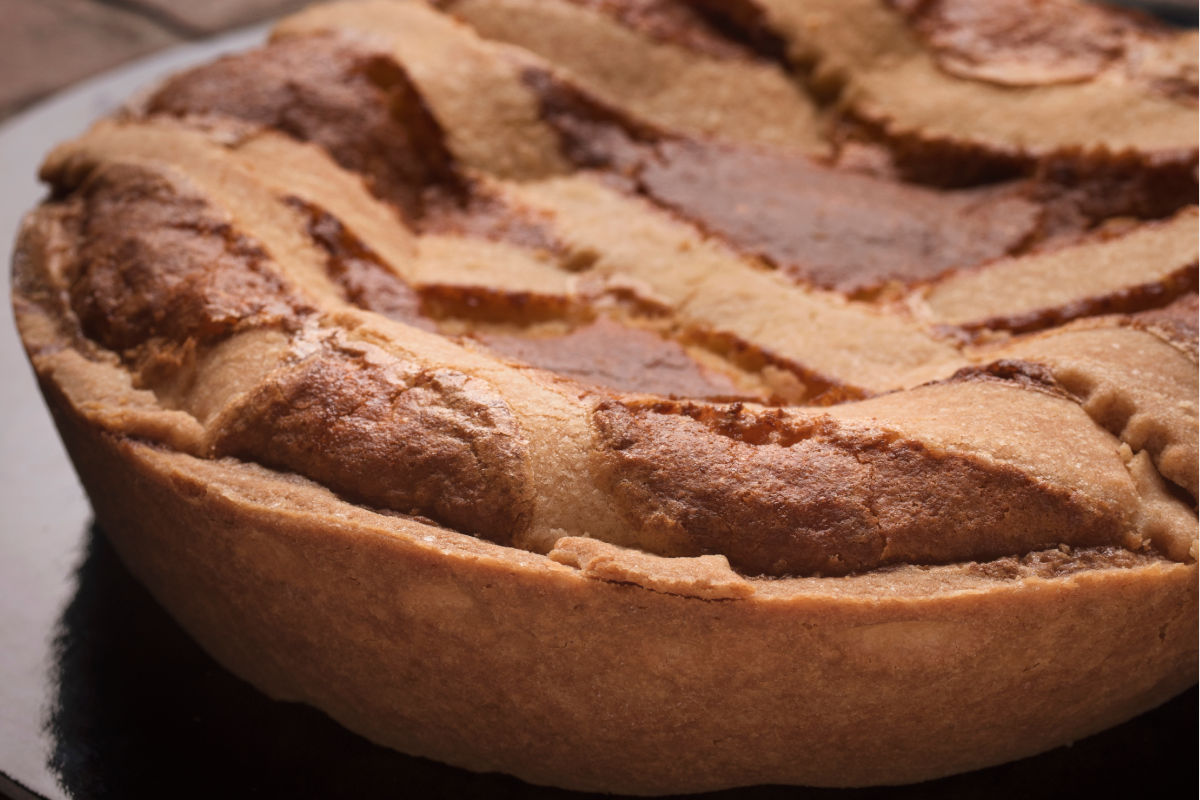 Among the most successful Easter appetizers, but also perfect as a single dish to be enjoyed on Easter Monday, there is the salted pastiera : a reinterpretation of the typical dessert of the city of Naples. The filling is very simple, made with ricotta cheese , speck and eggs, while a delicious savory pastry is used for the shell.
Ingredients for 4 people:
250 g of type 00 flour
140 g of butter
3 eggs + 1 yolk
100 g of grated Parmesan
250 g of cooked wheat
60ml of milk
300 g of cottage cheese
50 g of pecorino
100 g of provolone
100 g of speck or salami
Salt to taste
pepper as needed
First prepare the pastry by mixing 1 egg and 1 yolk, flour, butter and grated Parmesan. Let it rest in the fridge and in the meantime make the filling by heating the remaining butter, milk and cooked wheat in a saucepan over low heat (until the latter has absorbed all the liquid ). Then mix together the remaining eggs, the ricotta, the cured meat, the cheeses cut into cubes and, seasoning with salt and pepper, add the cooked wheat too . Roll out the pastry in a tart mould, cut off the excess pastry and pour the mixture, complete by creating a grid on the surface with the remaining pastry and cook at 180°C for 40 minutes .
Easter cake with artichokes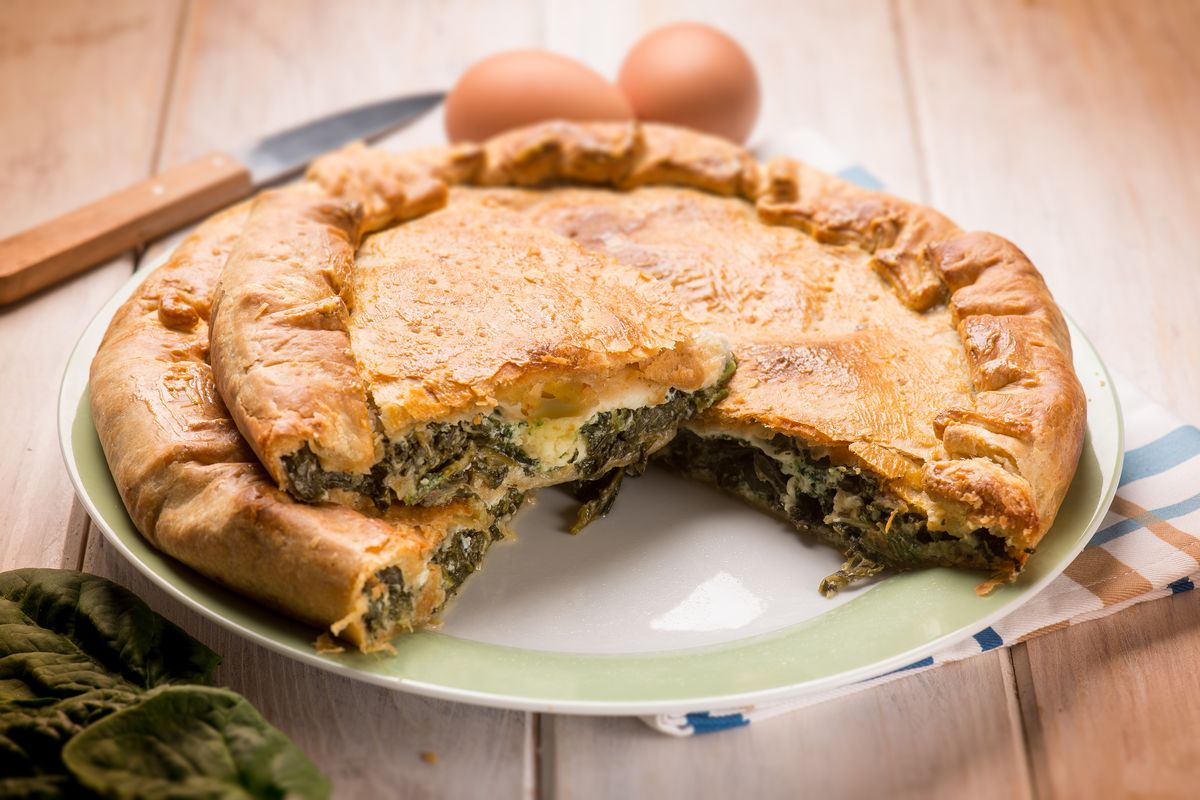 The Torta Pasqualina is an institution during the Easter period, but we have tried to modify the filling with a vegetable that everyone really likes and transforms one of our Easter appetizers into a gem to try immediately: the Torta Pasqualina with artichokes !
Ingredients for 6 people
250 g of flour
150ml of water
2 tablespoons of oil
1 teaspoon of salt
6 artichokes
250 g of cottage cheese
6 eggs
1 sprig of marjoram
100 g of Parmesan
1 small onion
3 tablespoons of extra virgin olive oil
Make a fountain with the flour on a pastry board and add the oil and salt and, little by little, also the water at room temperature. Knead until you get a smooth and homogeneous dough that you will set aside. Now dedicate yourself to the filling by cleaning and cutting the artichokes into thin slices. Chop the onion and brown it in a pan with a drizzle of oil, then add the artichokes, a pinch of salt, a few spoonfuls of water and cook for about 20 minutes on a low flame. In a bowl, mix the ricotta with 2 eggs , the marjoram, the grated Parmesan and the cooked artichokes. Mix well and keep aside. Now take the dough back and divide it into two loaves . Start by spreading the first one very finely, until it reaches a maximum thickness of 2 mm and place the dough on an oiled baking sheet. Pour the filling inside, create 4 hollows with a spoon and break 1 egg each inside. Roll out the remaining pastry to cover the surface and seal the edges well. Now cook at 180°C for about 40 minutes .
Salted Easter Braid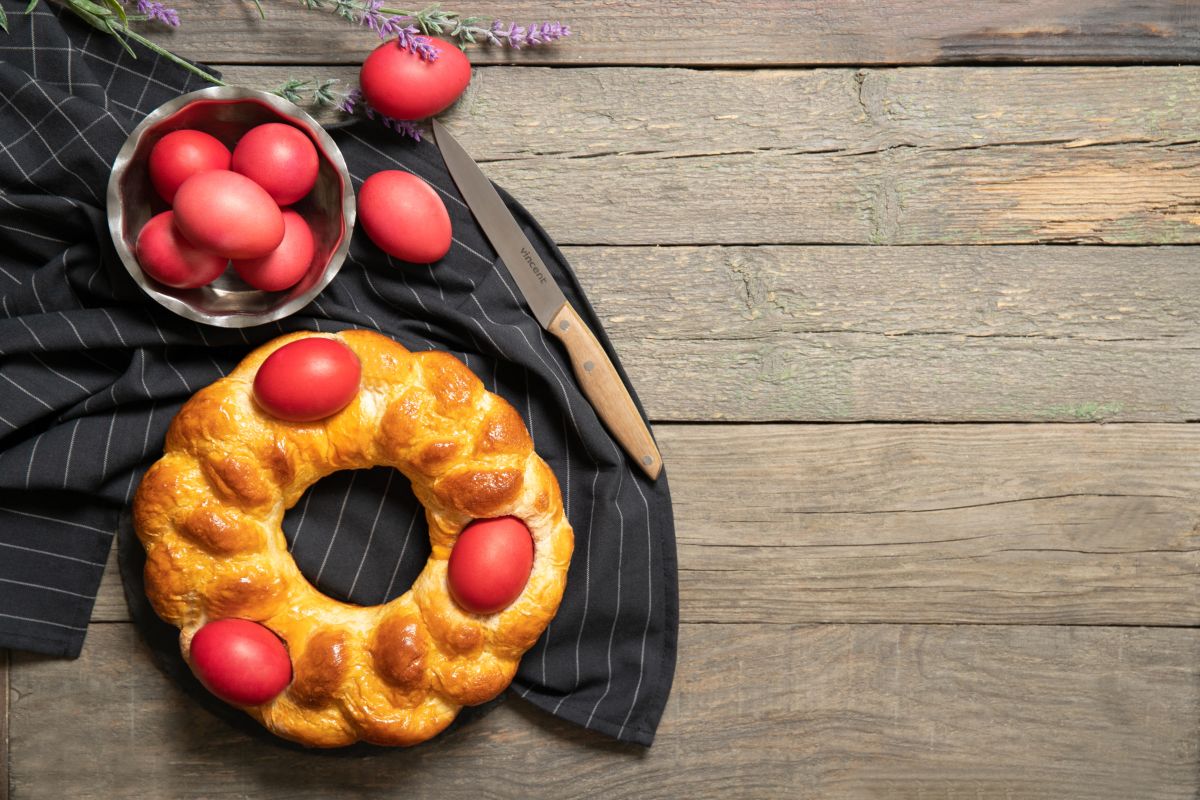 Have you ever tried a savory Easter braid ? A soft and delicious bread perfect to be served as a first course but also as an accompaniment to the whole meal on Easter Sunday… it should not be counted as one of our Easter appetizer proposals!
Ingredients for 6 people
500 g of Manitoba flour
170 g of flour 0
50 ml of EVO oil
10 g of butter
25 g of brewer's yeast
10 g of salt
1 teaspoon of honey
300ml of water
120 g of black olive cream
280 g of mozzarella
140 g of cooked ham
4 eggs
Dissolve the yeast in the water and then pour it into a bowl containing the two sifted flours and the warmed melted butter. Knead and add honey, oil and salt until you get a smooth and homogeneous dough (you can also finish kneading on a pastry board). Let everything rise for about two hours in a bowl covered with a clean cloth and until doubled in size. In the meantime, prepare the filling by cutting the well-drained mozzarella and the cooked ham into cubes, then mix it with the olive cream. Once the leavening time has elapsed, divide the dough into three and make some strings , flatten them and put the filling in the center and then request the dough on itself and seal well with your fingers. Now create the braid by crossing the dough parts and then rolling it up on itself forming a braided donut-like shape. Place the product on a baking sheet covered with parchment paper, add the well-washed whole eggs (optional) and let it rise in the oven that is off but with the light on for about 1-2 hours . Finally brush with 1 egg and cook at 180°C for about 35 minutes .
Easter savory casadinas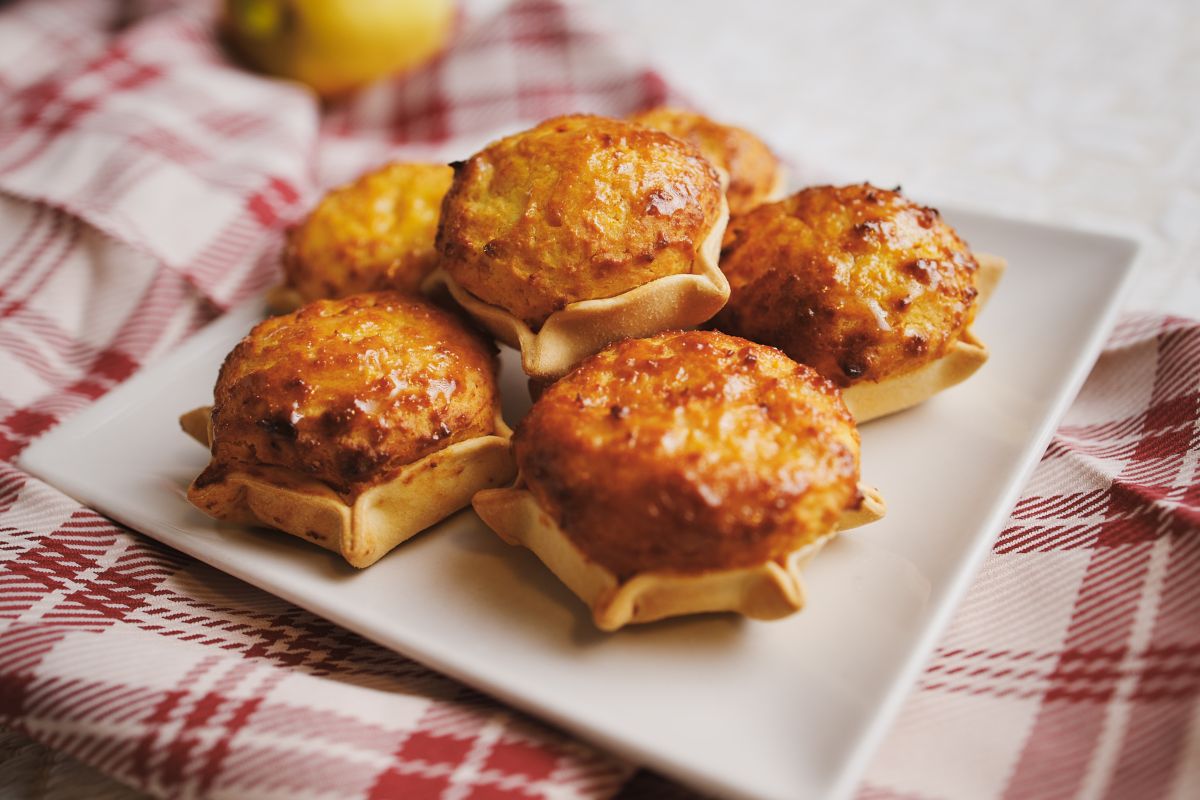 Much more famous in their sweet version , even the savory casadinas have their reason and we can't wait to guide you step by step in their preparation.
Ingredients for 4 people
500 g of semolina
about 150 g of lard
1 teaspoon fine salt
lukewarm water to taste
500 g of Sardinian pecorino
1 bunch of parsley
10 mint leaves
1 tablespoon of flour
Salt to taste
Put the semolina in a bowl together with the lard, salt and a little water. Mix and add water in case the dough is too dry then, when you have obtained a nice smooth dough, let it rest for about half an hour in the fridge . For the filling, cut the cheese and mix it with the chopped parsley and mint, the flour and a pinch of salt. Roll out the dough after it has rested and obtain a sheet of about 2-3 mm , then make discs of about 12 cm in diameter . Stuff the pastry with the filling, leaving 1 cm free from the edge and fold the pastry inwards by pinching with the thumb and forefinger so as to obtain many small baskets. Transfer the pardulas to a baking tray covered with parchment paper and cook at 180°C for about 15-20 minutes .
Fiadone from Abruzzo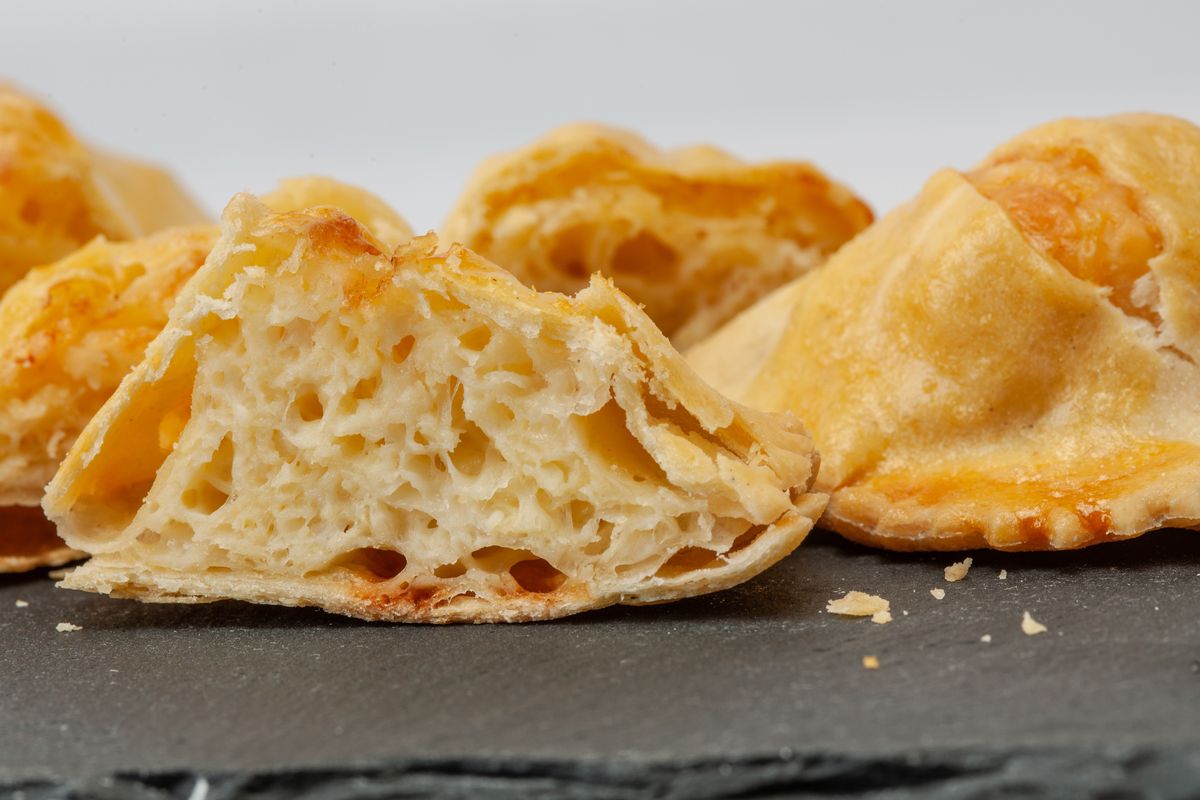 A savory ravioli made in Abruzzo initially during the Easter period but which, now, is good at any time and especially during a family party. This and much more is theAbruzzo fiadone , a regional variant very similar to the sweet ricotta ravioli that is prepared in many regions of Southern Italy.
Ingredients for 4 people
250 g of flour
2 eggs
50 m of white wine
50ml of oil
100 g of Rigatino (or sheep caciotta)
100 g of pecorino
1 packet of saffron
Salt to taste
Combine the flour, 1 pinch of salt, wine, 1 egg and oil in a bowl and mix well (first with a spoon then continue to knead on a pastry board). When you have obtained a nice dough, wrap it in plastic wrap and let it rest in the fridge for at least 30 minutes . In the meantime, prepare the filling by mixing together the grated caciotta, pecorino, saffron and the remaining egg. Roll out the dough until it is about 2 mm thick and proceed just as if they were ravioli: put a lot of filling nuts on half of the dough, duly spaced, close the dough and seal it (using the tines of a fork is also fine). Finally, cut the ravioli into the shape you prefer and cook them in the oven at 200°C for about 15 minutes .
Easter bread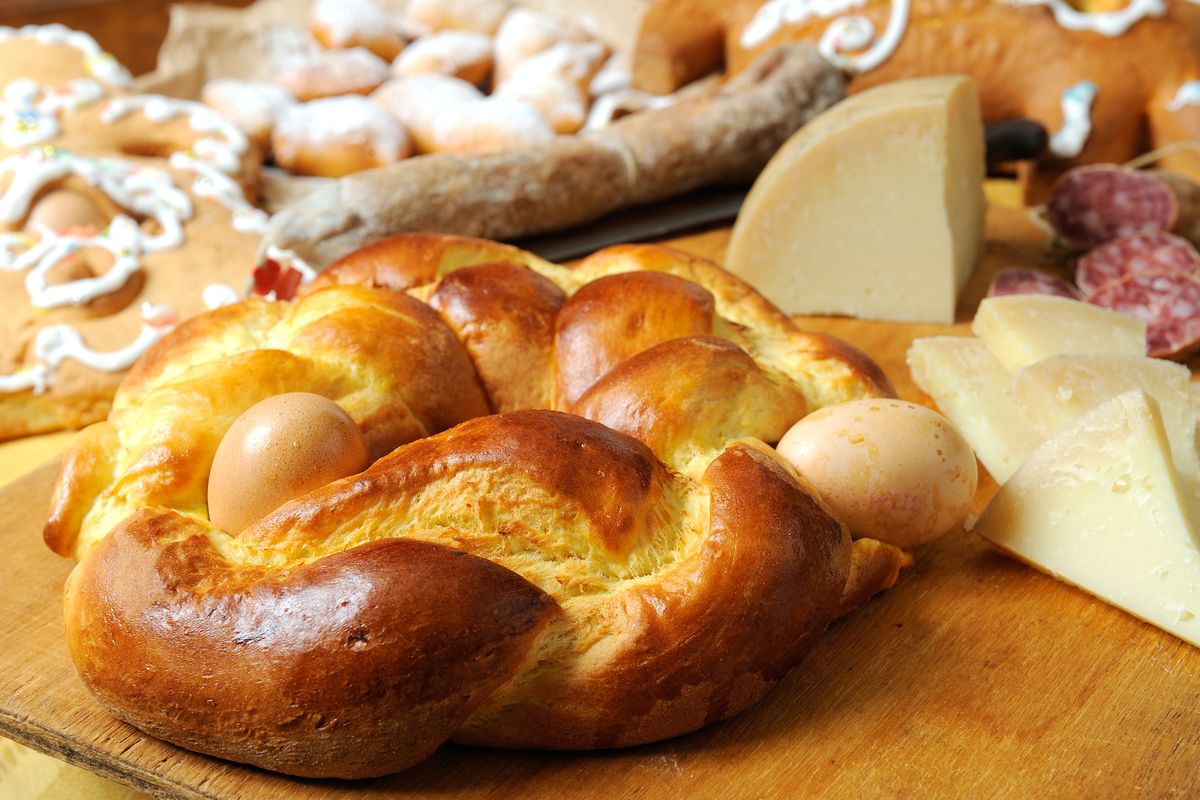 A greedy, rich and tasty bread: Easter bread is the perfect appetizer for young and old but it is also excellent to accompany any lunch. Seeing is believing!
Ingredients for 6 people
20 g of fresh brewer's yeast
120ml of milk
600 g of durum wheat semolina
100 g of 00 flour
120 g of spicy sausage
4 eggs + 1 yolk
EVO oil to taste
150 g of provolone or scamorza
1 tablespoon of sugar
Salt to taste
50 g of grated parmesan
50 g of grated pecorino
Dissolve the yeast in the warm milk and then add it to the two sifted flours in the planetary mixer with a spiral hook. Activate the planetary mixer at low speed and, a little at a time , add the grated cheeses, the eggs, 1 level spoonful of sugar and a pinch of salt. Continue to mix, increasing the speed if necessary, until the dough comes together properly. Then transfer it to an oiled bowl and let it rise in a warm place for about 3 hours (or in any case until doubled). Once the time has passed, add salami and cheese cut into cubes , mix well and create your loaf or braid (in this case, divide it into two parts and braid the bread as you like). Place it on a baking tray covered with parchment paper, brush the surface with the remaining egg yolk and bake at 200°C for about 30 minutes (if the temperature is too high, lower it to 180°C , depending on your oven).
Easter calzone
A recipe from the Marche region to celebrate Good Friday ? There's always the Easter calzone with chard, olives, capers and anchovies!
Ingredients for 4 people
300 g of durum wheat semolina
5 tablespoons of extra virgin olive oil
1 glass of whole milk
1 level teaspoon of salt
1 sachet of yeast for pizzas and savory pies
450 g of fresh chard
green olives to taste
capers to taste
anchovy fillets in oil to taste
Clean the beets, cut them into pieces and boil them for about 10 minutes in boiling water , then squeeze them well and sauté them in a pan with a drizzle of oil, the anchovies, capers and olives for about 10-15 minutes over low heat. Prepare the calzone dough by combining the durum wheat semolina flour with a pinch of salt, milk, oil and brewer's yeast. Knead until you get a compact dough, then dust the work surface with flour and roll out the dough until you get a sheet of about 5 mm thick . Put the filling on half of the dough, close it and seal the edges well, then brush the surface with extra virgin olive oil and bake at 190°C for about 20 minutes .
These are just a few typically Easter ideas that you can use to enrich your lunch; alternatively, we advise you to take a look at our delicious appetizers , there will surely be something that's right for you . Are you looking for something quicker to prepare? Opt for one of our quick appetizers !
Riproduzione riservata © - WT