Ever tried baked polenta in the shape of sticks?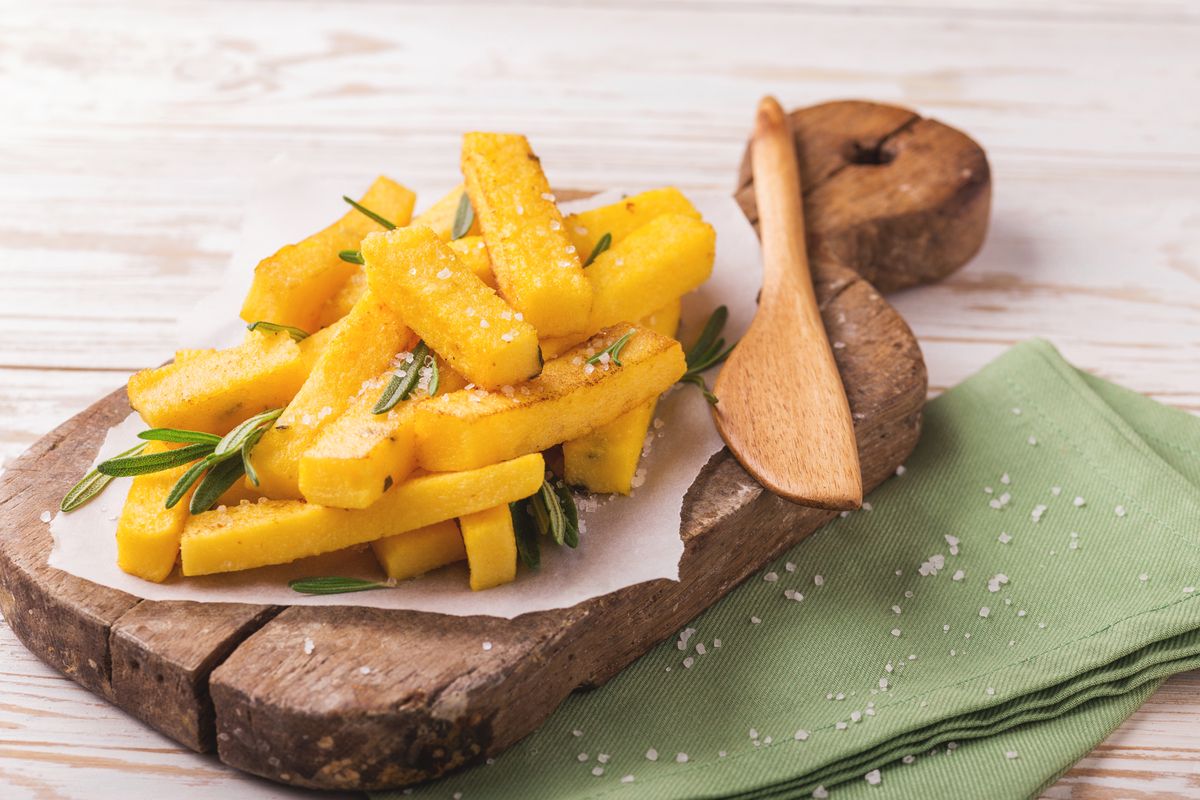 Baked polenta is a wonderful dish, easy to make and that can be made in many ways: let's see the recipe immediately!
Baked polenta is a very good dish, which can be prepared especially for a particular occasion or it can be cooked by reusing the polenta from the day before. In both cases, it is a dish that can be cooked in many different ways and can become an excellent match for meats or other courses, or it can be eaten as a single dish.
Today we will see how to prepare baked polenta sticks (or croutons) and also a delicious variant with lots of cheese . Let's get started: here is the recipe for crispy baked polenta!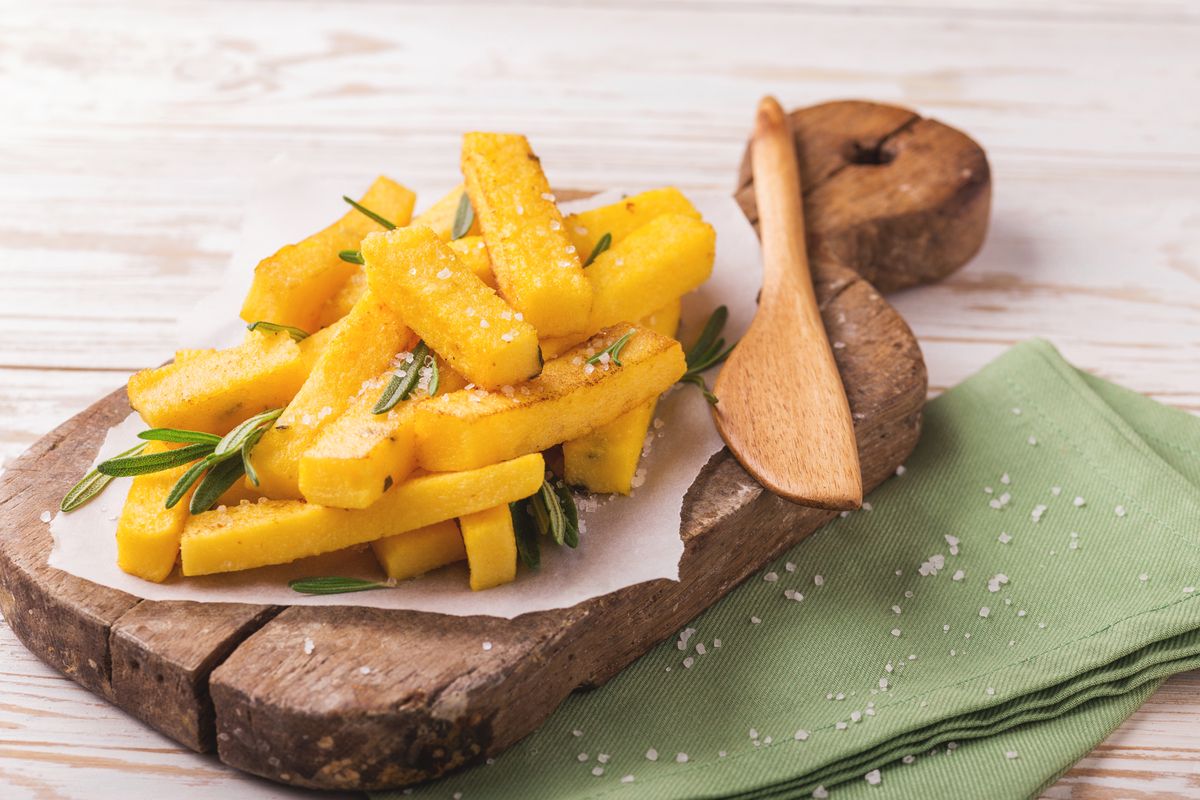 Preparation of the recipe for baked polenta (in the shape of sticks)
First of all prepare the polenta by boiling the water with a tablespoon of salt and one of oil. When the water is at temperature, pour the flour and then turn vigorously to avoid lumps. Go on for 40 minutes .
Once ready, spread it on a baking sheet lined with a sheet of lightly oiled baking paper and let it cool for 1-2 hours in the refrigerator.
After the time has passed, take the polenta from the fridge and cut it into sticks or into a square shape to create polenta croutons.
With a kitchen brush and seed oil or melted butter, wet the surface of the croutons and then place in the oven already heated to 190 ° C for about 20-25 minutes until your sliced ​​polenta is baked in the oven. nice crunchy.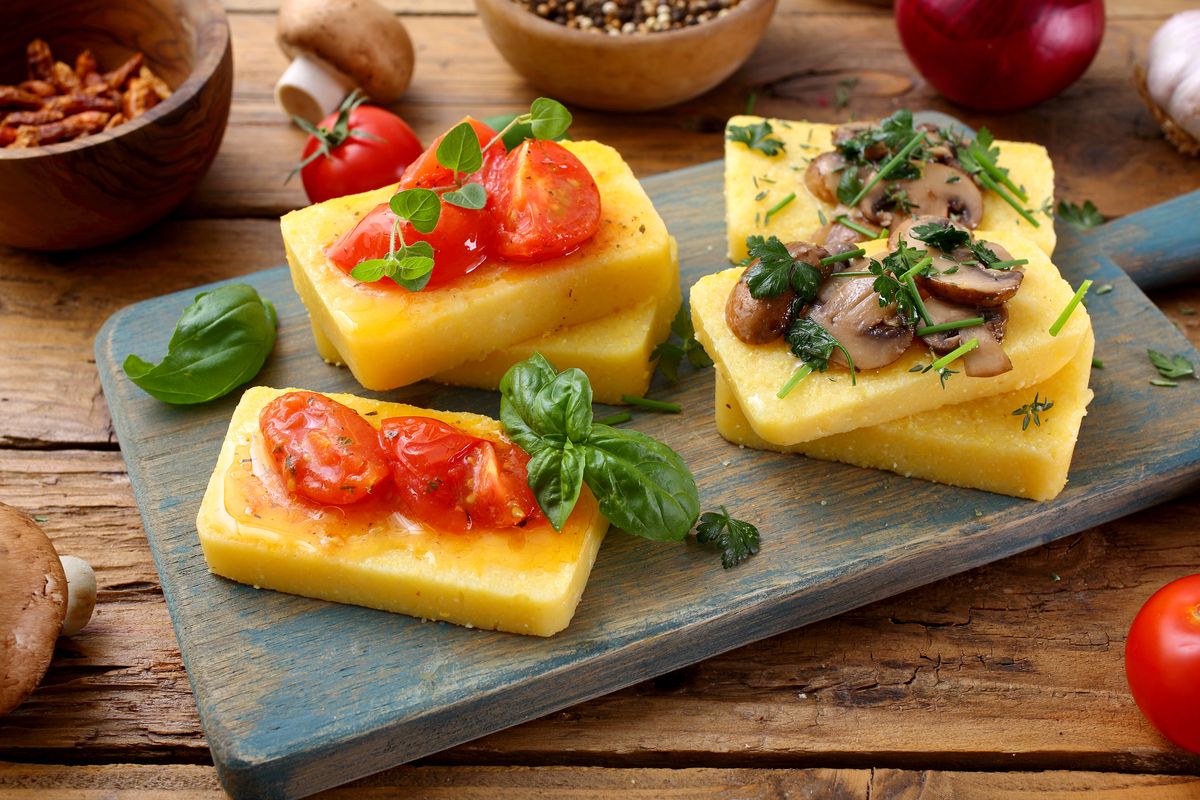 Serve the sticks accompanied by a sauce, or season the croutons to taste with lots of ingredients. Some idea? Gorgonzola, stracchino and cold cuts are the masters, but also ragù, sausage, sautéed mushrooms, fresh tomatoes and radicchio. In short, you can unleash your imagination and try many different combinations!
How to make baked polenta with cheese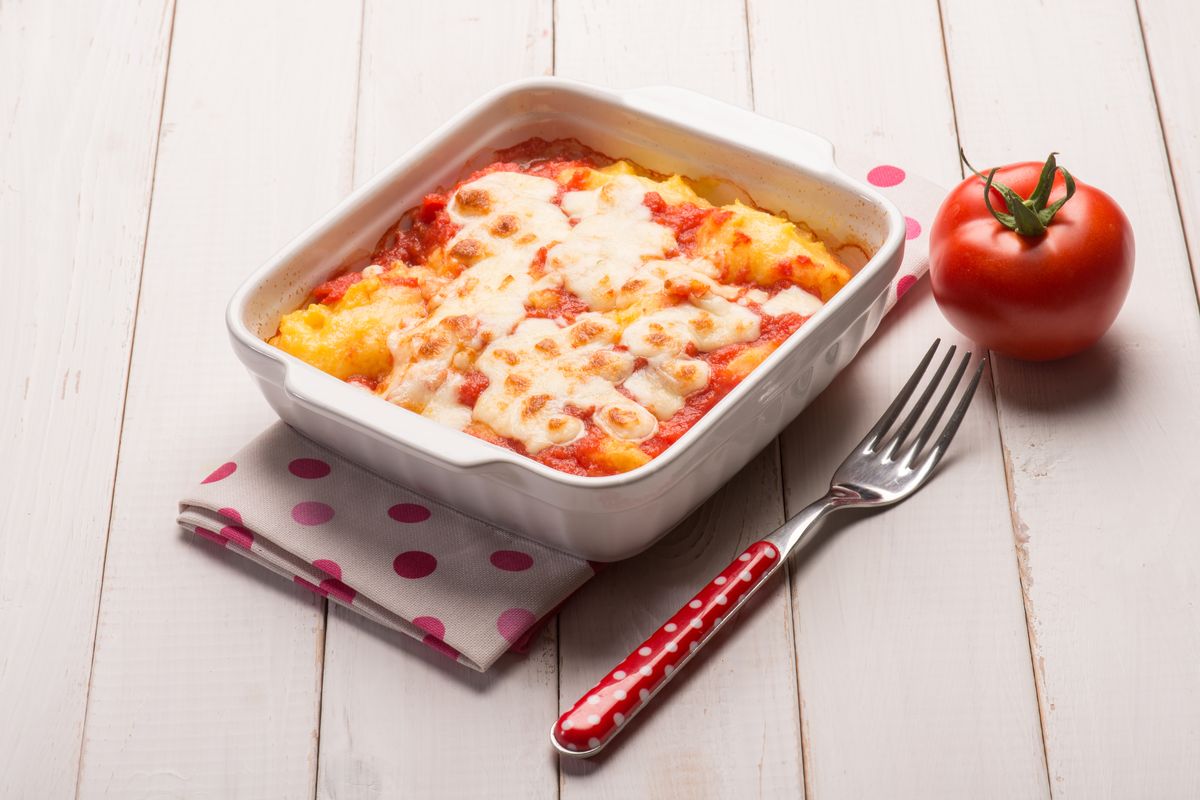 With the same basic ingredient you can also prepare a richer and more homemade dish: polenta with baked cheese, and also some tasty passata . In this case you must proceed as for the first recipe up to point two inclusive, without necessarily spreading it on a baking sheet. Alternatively, even the leftover polenta baked with these ingredients will be spectacular (indeed perhaps this is exactly what you need for these preparations).
Ingredients:
400 g of corn flour
2 liters of water
100 g of fontina
40 g of grated cheese
Salt to taste
pepper as needed
80 g of butter
extra virgin olive oil to taste
coarse salt to taste
tomato puree to taste
Take your cold polenta, cut it into slices and after buttering a baking dish, arrange the first layer. Now put the fontina and the grated cheese, then another layer of polenta and another layer of grated cheese. Season with salt and pepper and finish with flakes of butter. Bake in the oven for 40 minutes at 180 ° C , and once ready serve it in slices accompanying it with cold cuts, mushrooms or whatever you like! An advice? Try adding 2-3 tablespoons of tomato puree on each layer (and also at the end on the surface before completing with the cheese) you will see that the result will be a bomb of taste.
Also try the fried polenta !
storage
We recommend keeping the polenta cooked in the oven for a maximum of 1-2 days in the fridge, well covered with cling film.
READ ALSO: How to make traditional polenta: a fabulous dish!
Riproduzione riservata © - WT