Everyone loves it, few really know how to cook it: here is pasta with tomato sauce!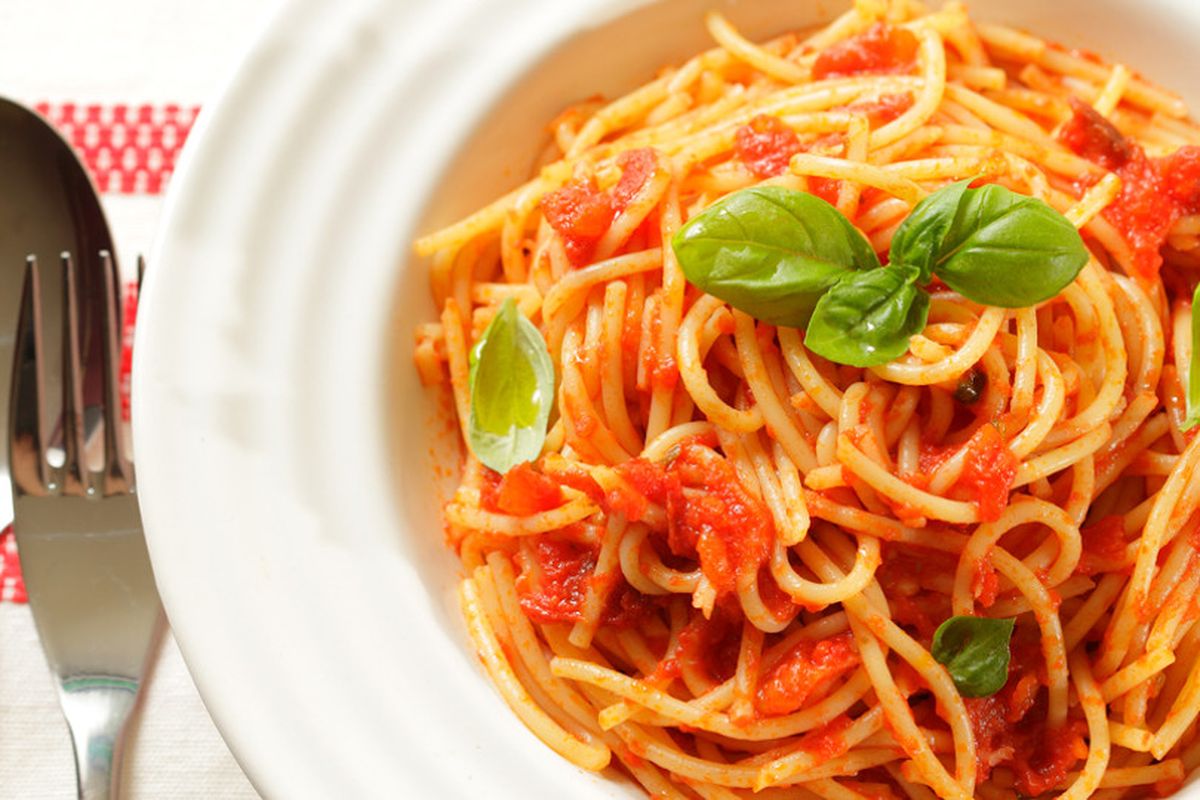 Pasta with tomato sauce is one of the recipes that best represents the Italian culinary tradition: here's how to prepare it to perfection.
Let's start from a fundamental assumption: the real recipe for pasta with tomato sauce does not exist. You got it right, the highest institution of Italian cuisine, the symbolic dish of our culinary tradition, cannot be prepared in a single, perfect form. Starting with the type of pasta, which certainly sees spaghetti among the favourites, but which play with penne, macaroni, mezze Maniche and so on and so forth; passing through the sauce, which can be prepared with different types of tomatoes, and again, with fresh tomatoes, peeled, reduced to pulp or sauce.
Those who love cooking also know another thing well: that pasta with tomato sauce is not a simple dish. Immediately banish from your mind the memories of university, when during periods of intense study you had tomato puree heated in a saucepan and then dipped the pasta in it (and maybe even ate it from the pot!).
Pasta with tomato sauce, precisely because it is a dish made with just a few basic ingredients, is among the most difficult to balance, and the result is anything but obvious. There are many different versions of this dish, but we have tried to stay as close to tradition as possible, using spaghetti and San Marzano tomatoes, sweet, fleshy and low in water.
Pasta, tomato and basil: are you ready to balance these three elements perfectly to give life to the most iconic dish of the Italian tradition? So let's start right away: here is the recipe for spaghetti with tomato and basil!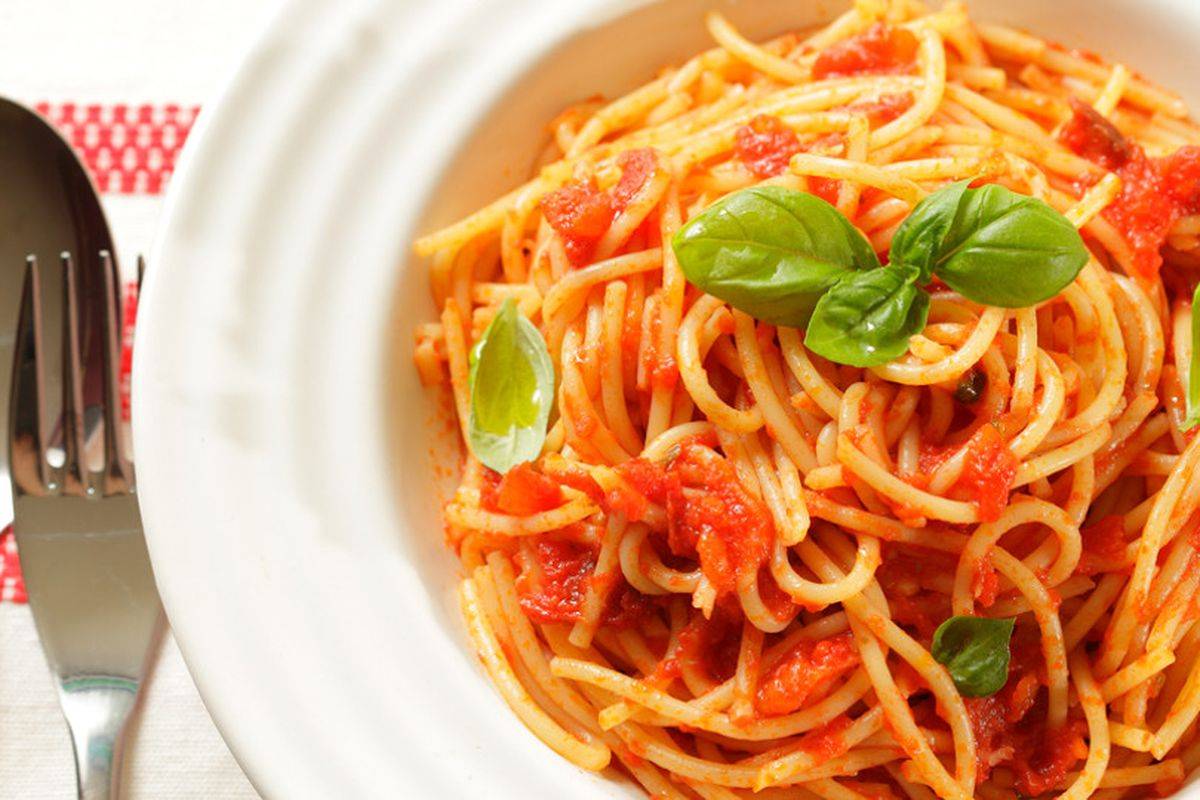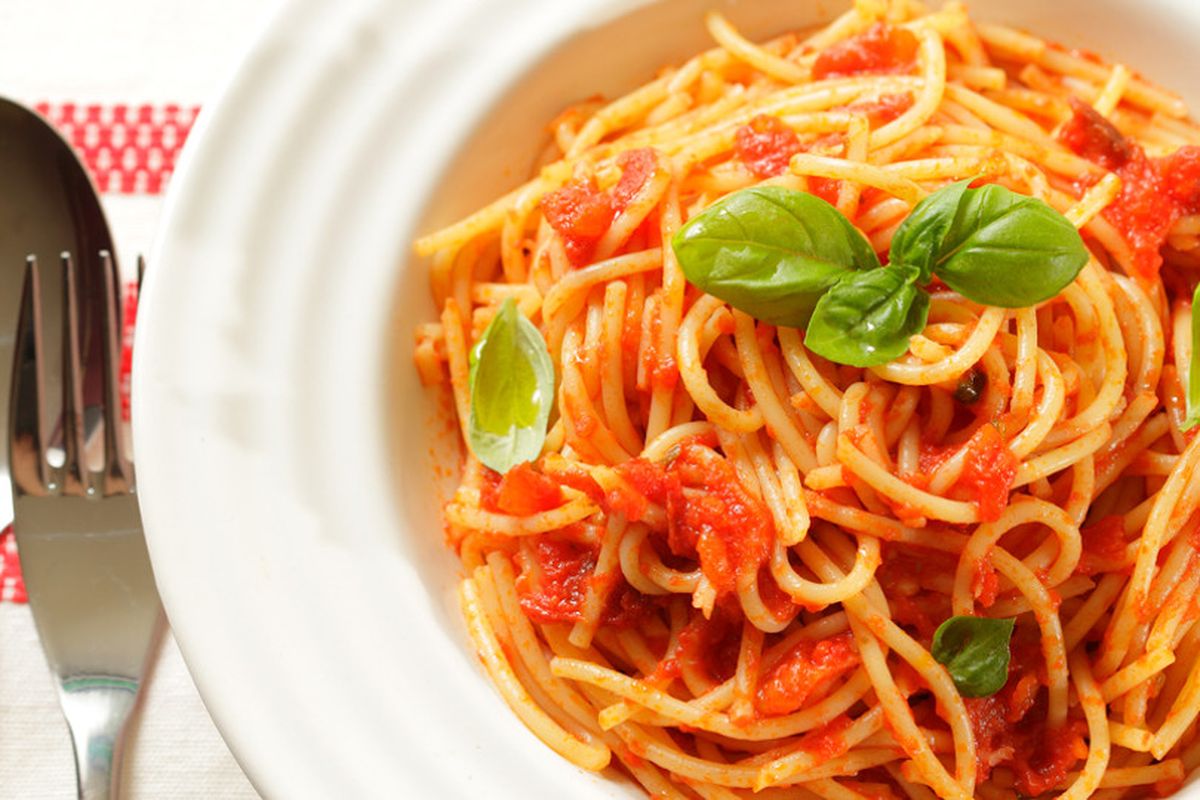 How to make pasta with tomato sauce: the recipe
Let's see immediately how to make the sauce, simple not only in appearance thanks to the use of peeled tomatoes. Take a frying pan and put a generous layer of oil with the peeled and tested garlic.
Let the garlic brown and then add the peeled tomatoes.
Lower the heat under the pan, add salt and cover with a lid, letting the tomatoes cook for about 50-60 minutes .
Once the time has elapsed, remove the garlic and pass the tomatoes through a vegetable mill, in order to obtain a smooth tomato sauce without pieces (if you want, you can do this step more than once to be sure you don't find any pieces).
Put the pureed sauce back into the pan with a drizzle of oil and continue cooking for another 10-15 minutes , adding a few basil leaves to taste (washed and dried thoroughly).
Meanwhile, boil the water for the pasta in a large saucepan.
Once the pasta is cooked, drain it al dente and put it in the saucepan with the sauce off the heat. Give a further round of oil, add a ladle of cooking water, finally mix the spaghetti well with the fresh tomato sauce.
Once you have concluded this sentence, you will be ready to serve. Serve the pasta hot with fresh basil leaves, a drizzle of raw oil and a grating of black pepper.
Your spaghetti with tomato and basil are finally ready: enjoy your meal !
Another classic pasta format to use for this preparation are pennette with tomato sauce, but also linguine or tagliolini. If you liked this easy first course, we also leave you many quick and easy recipes to surprise all your guests and our favorite quick first courses !
Pasta with fresh tomato sauce: the variant and suggestions for flavoring the first course
If you have good tomatoes suitable for preparing a sauce, such as the classic San Marzano, you can also try preparing this tomato pasta recipe starting from fresh vegetables . To make it easier to remove the skin, we advise you to blanch them in hot water for about 10-15 minutes, remove the skin as much as possible together with the seeds and then continue with the previous recipe without skipping any step (for safety it would be good to pass the everything in a vegetable puree so as to have a nice smooth sauce).
You can also enrich your pasta with a simple sauce, for example by preparing a nice fried onion in a pan before adding the sauce (once it's ready) and you won't have to use anything other than your favorite quality of onion: we at example we go crazy for the red onion, we chop half with a knife and that's it.
Spices and aromatic herbs must not be missing: not only basil but also a little chopped chilli pepper can be right for you and give that extra boost to the dish. To complete the first one, a generous grating of cheese such as Grana Padano or Parmigiano Reggiano is never bad. A little secret? If the tomato sauce is too acidic, just add a pinch of sugar .
Tomato pasta: calories
If you follow a light diet, surely this is a dish that can easily find space on your menu, perhaps eaten for lunch, given the amount of carbohydrates in pasta. But how many calories does a plate of pasta with sauce have? Usually a portion, if we consider about 80 g of pasta , is around 400 calories, considering more or less 300 for the pasta and another 100 for all the condiments.
For other great classics of our cuisine, here are all our recipes with tomatoes for you!
storage
Pasta with tomato sauce is, for many, a religion. It should be enjoyed piping hot and just ready to be able to appreciate it 100% . For this reason we absolutely advise against keeping it in the fridge. If you want, you can keep your sauce separately in an airtight container, in the fridge for 3-4 days.
What do you think? If you liked it, here are many other ideas for cheap first courses !
Riproduzione riservata © - WT