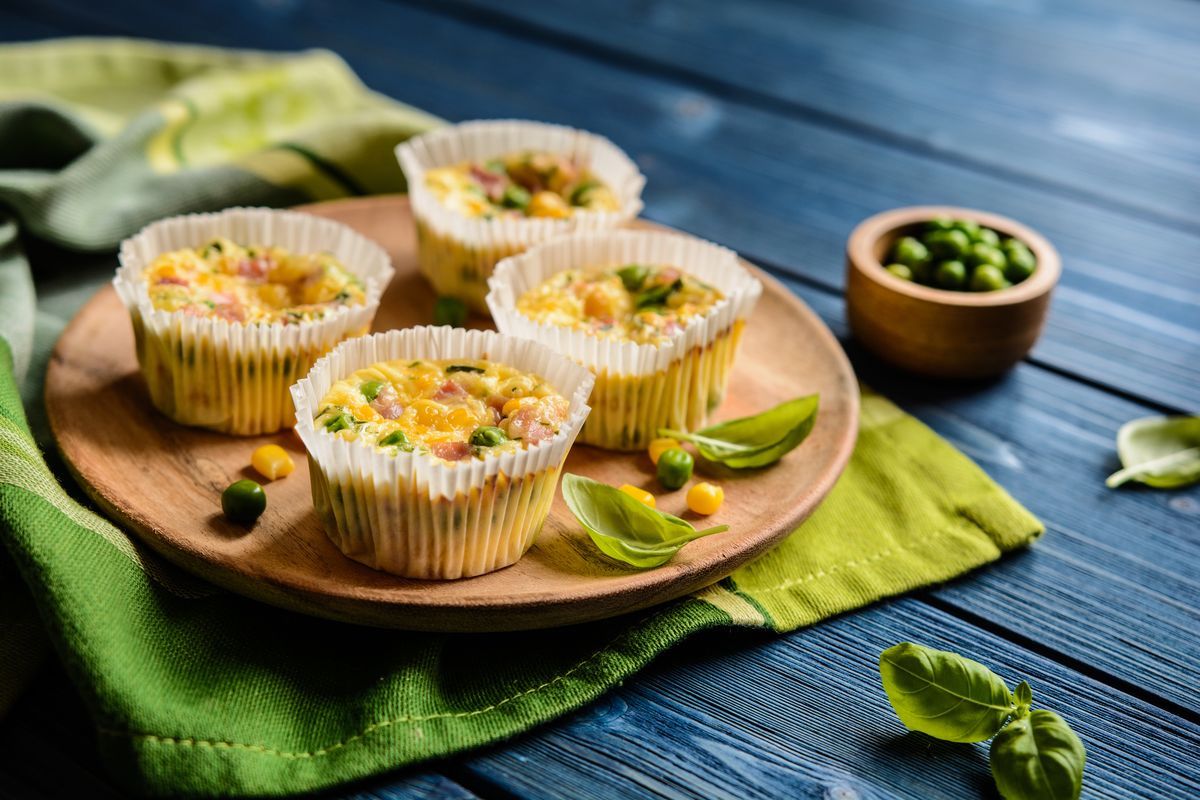 Cooking fresh peas in an alternative way is possible. Here are some recipes for preparing perfect side dishes for the summer too.
Cooking fresh peas is quite simple, but sometimes you run the risk of always cooking them in the same way, risking proposing trivial recipes. Here are some useful tips for preparing delicious recipes with fresh peas, from first courses to side dishes, without forgetting appetizers.
There are many recipes with fresh peas, perfect for preparing them in an alternative and particular way compared to the traditional recipes in which they are used. In this case the peas are always used for the preparation of the side dishes , but the final result will be very particular. Also remember that the cooking time for fresh peas is usually short and depends on the size of the peas.
Pea salad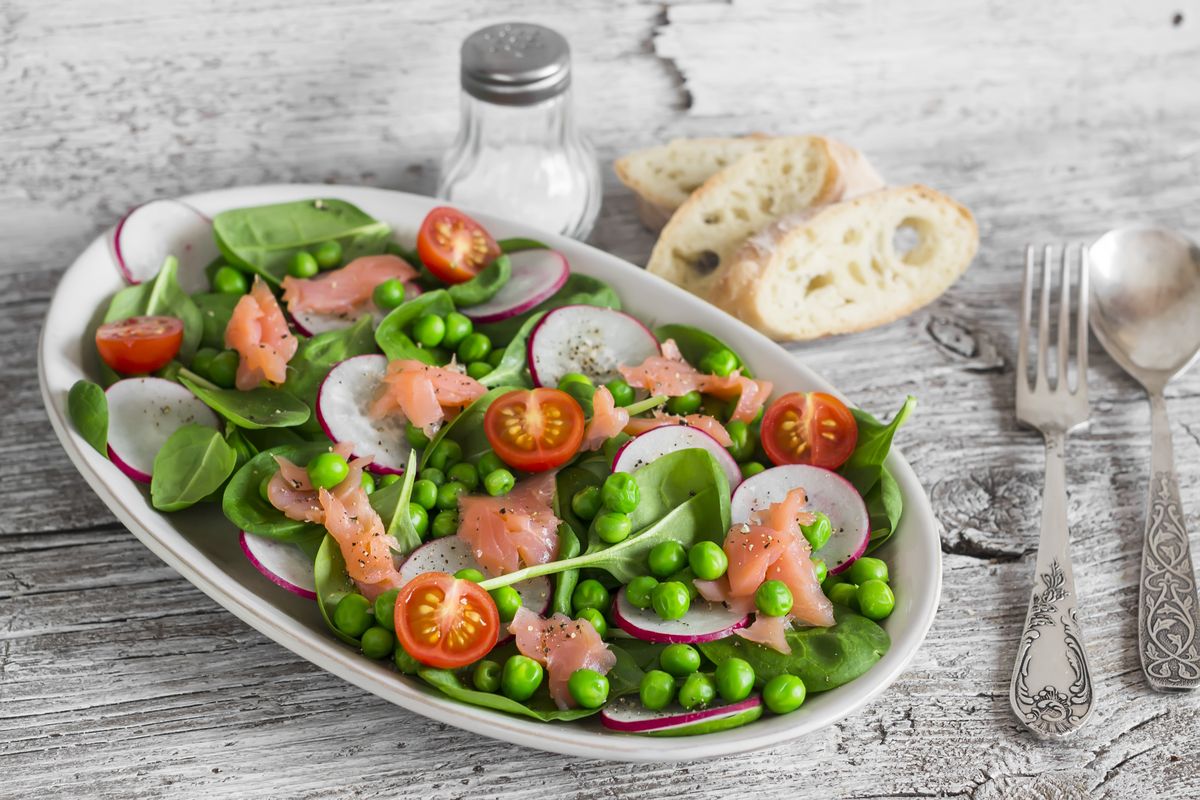 To prepare the fresh pea salad, start by boiling the peas in boiling salted water for 5 minutes, then drain and let them cool. In the meantime , wash the rocket and dry it, then wash the cherry tomatoes and cut them into wedges. Separately, in a non-stick pan, toast for a few moments. Combine all the ingredients in a large bowl and season with extra virgin olive oil, salt and pepper.
Pea Salad Ingredients:
1 bunch of rocket
400 g of peas
smoked salmon to taste
cherry tomatoes to taste
radishes to taste
Salt to taste
pepper as needed
Puree of fresh peas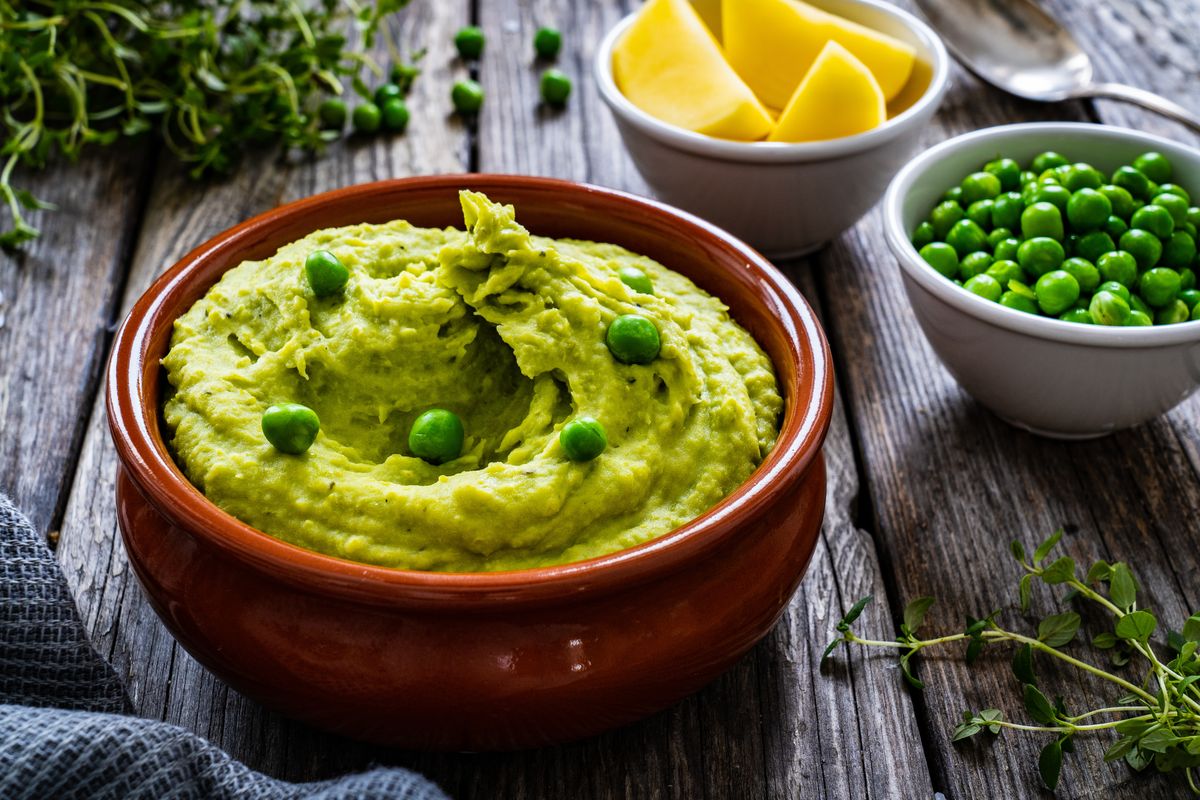 Another very simple side dish to prepare and also perfect for the summer is mint flavored pea purée . To prepare this, first boil the potatoes separately and the peas with the aromatic herbs and broth. When cooked, blend the ingredients separately and then add to the last one, seasoning with olive oil and salt.
Pea puree ingredients:
500 g of peas
200 g of potatoes
300 ml of vegetable broth
extra virgin olive oil to taste
Salt to taste
fresh mint to taste
basil to taste
Pea plum cake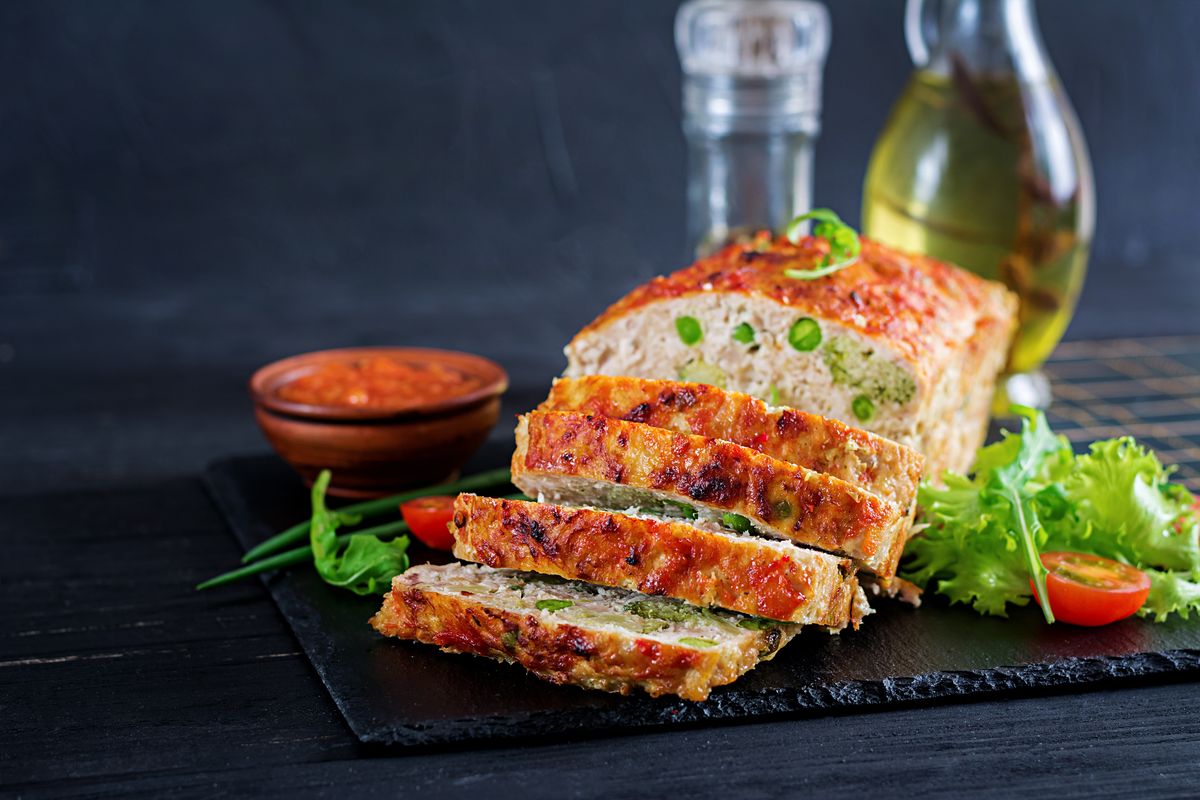 Preparing this plumcake is much simpler than you think: for the filling, brown the onion with a little oil, add the peas and fry them. Add water, let it dry and season with salt. Sift flour and baking powder. Whip the eggs with oil and milk, add the flour gradually. Add grated cheese, salt, peas and cooked ham. Pour the dough into a mold lined with parchment paper. Bake at 180°C for 45 minutes . Once cooked, let it cool and enjoy the pea plumcake as an appetizer or main course .
Ingredients for the Pea Plumcake:
150 g of diced cooked ham
200 g of cooked peas
2 tablespoons of extra virgin olive oil
half onion
220 g of 00 flour
3 tablespoons of grated cheese
2 medium eggs
110ml of milk
a teaspoon of salt
70 g of seed oil
1 sachet of instant yeast for savory dishes
Pasta with green peas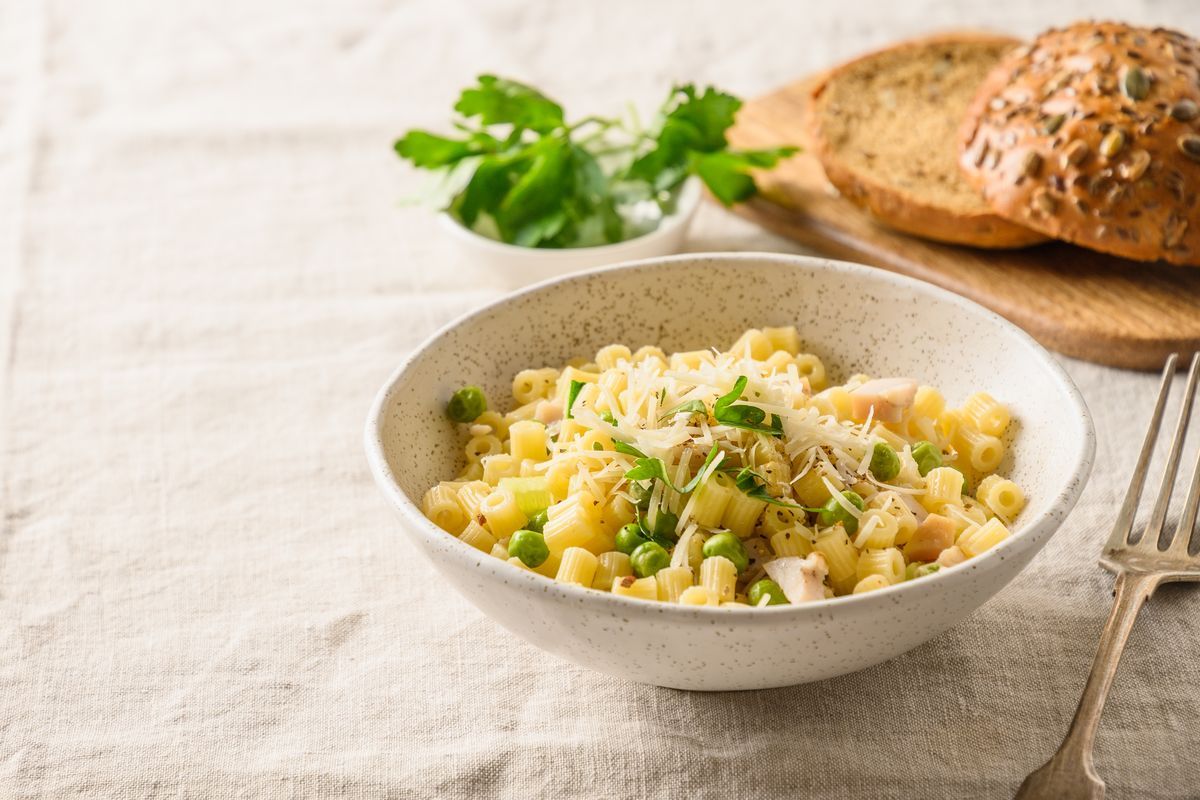 A simple pasta , tasty and good in every season, but especially when you have fresh peas. To prepare it: peel and thinly slice the onion, then brown it gently with a drizzle of olive oil. Add the peas, cook for 5 minutes , cover with water and cook for 20 minutes . Meanwhile, cook the pasta in salted water. Combine the peas with a little of the pasta cooking water, turn off the heat and season with salt, pepper and grated cheese. Mix well and serve immediately.
Ingredients for the pasta and peas:
320 g of ditalini
800 g of shelled peas
1 small onion
extra virgin olive oil to taste
grated cheese to taste
Salt and Pepper To Taste
Pan-fried peas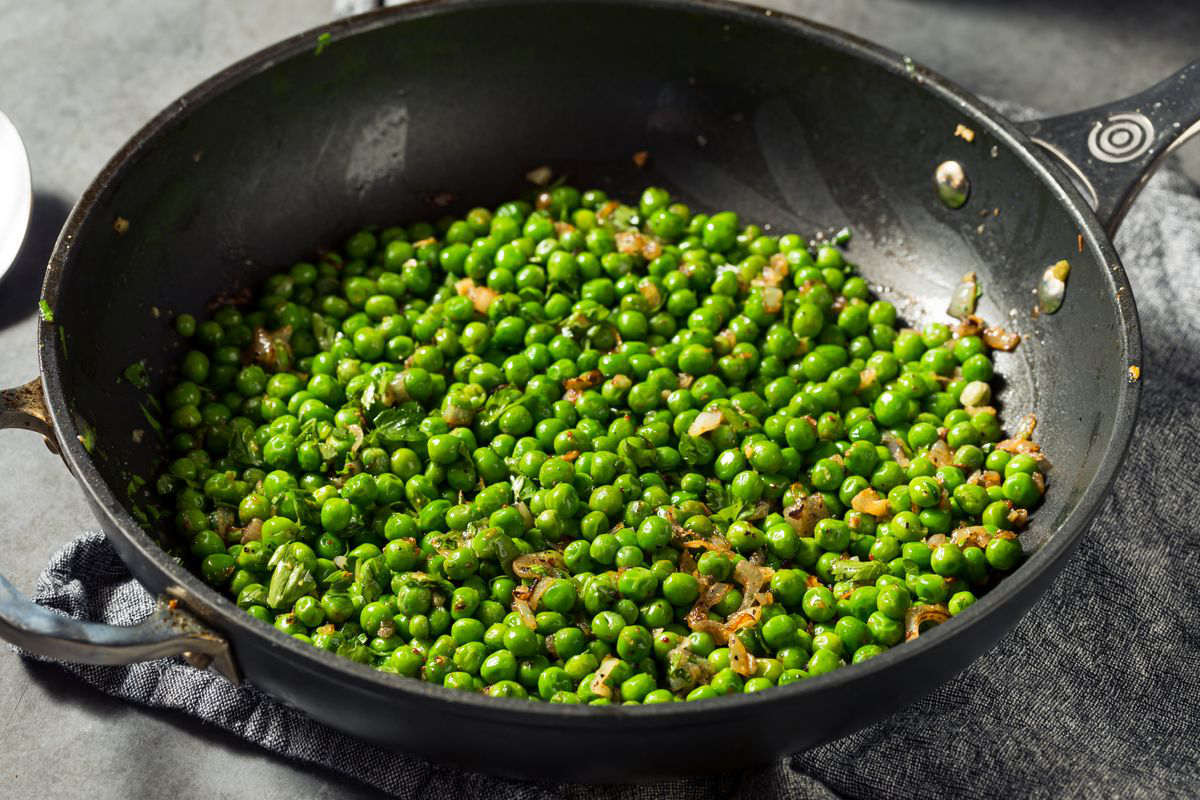 An easy, quick and tasty side dish. Pan-fried peas are perfect to combine with white meat, fish or cuttlefish dishes. For the recipe , prepare the broth and heat it . Shell the peas and chop the onion. Heat the oil in a pan and add the onion, making it wither. Add the peas, salt and pepper, brown them for a few minutes. Add the broth, cover and cook for about 15 minutes. Once you have obtained a thick base and the peas are cooked, turn off the heat and serve immediately .
Ingredients for the pan-fried peas:
300 g of peas (shelled weight)
250 ml of vegetable broth
1 onion or shallot
Salt to taste
pepper as needed
extra virgin olive oil to taste
Baked crispy peas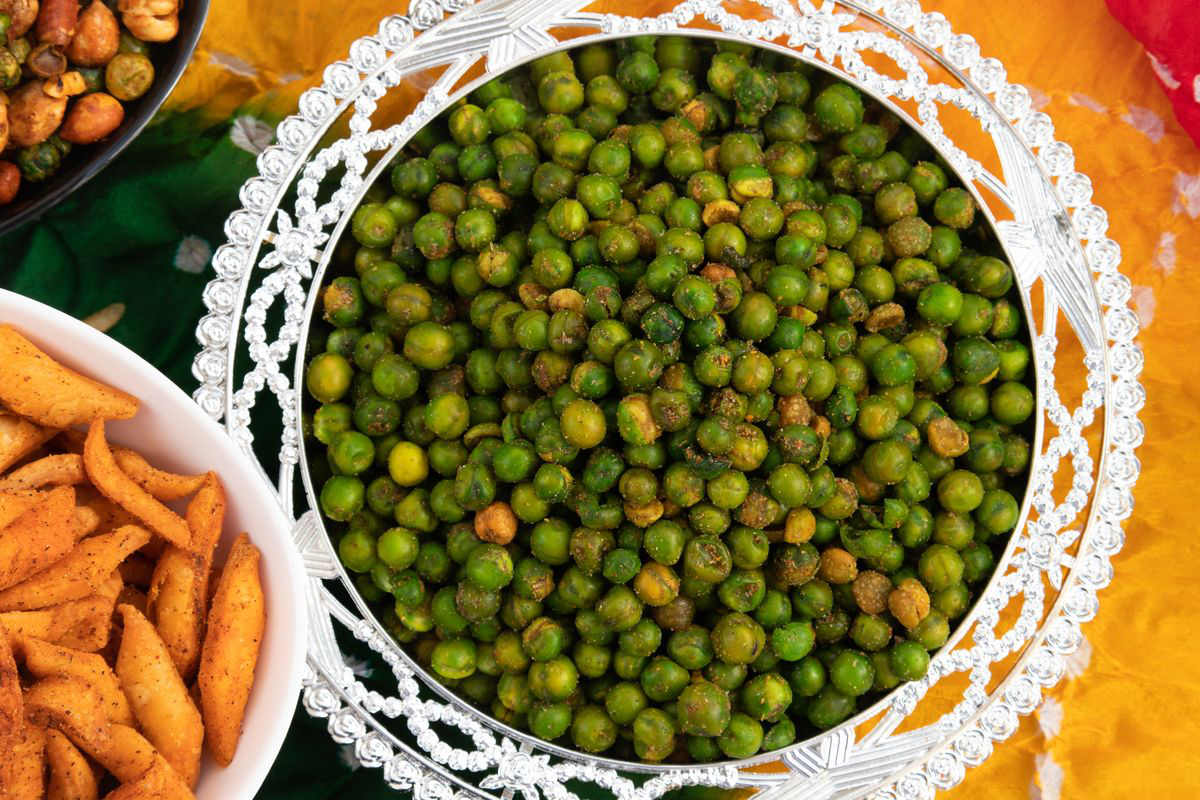 To be served as an aperitif or as a snack during the day, crispy baked peas are a must try! Bring a pot of water to a boil and salt it lightly. Blanch the peas for 1-2 minutes , then drain and rinse them under cold water. Gently dry them with kitchen paper and place them in a bowl. Season the peas with oil, paprika, salt and pepper. Add the flour, mix well and distribute the mixture on a baking sheet lined with parchment paper. Bake in a preheated oven at 200°C for 20-25 minutes . Halfway through cooking, turn the peas with a spoon or ladle. Remove from the oven and leave to cool completely before serving.
Baked Crispy Peas Ingredients:
450 g of peas
2 spoons of flour 0
paprika to taste
Salt to taste
pepper as needed
olive oil to taste
Cuttlefish and peas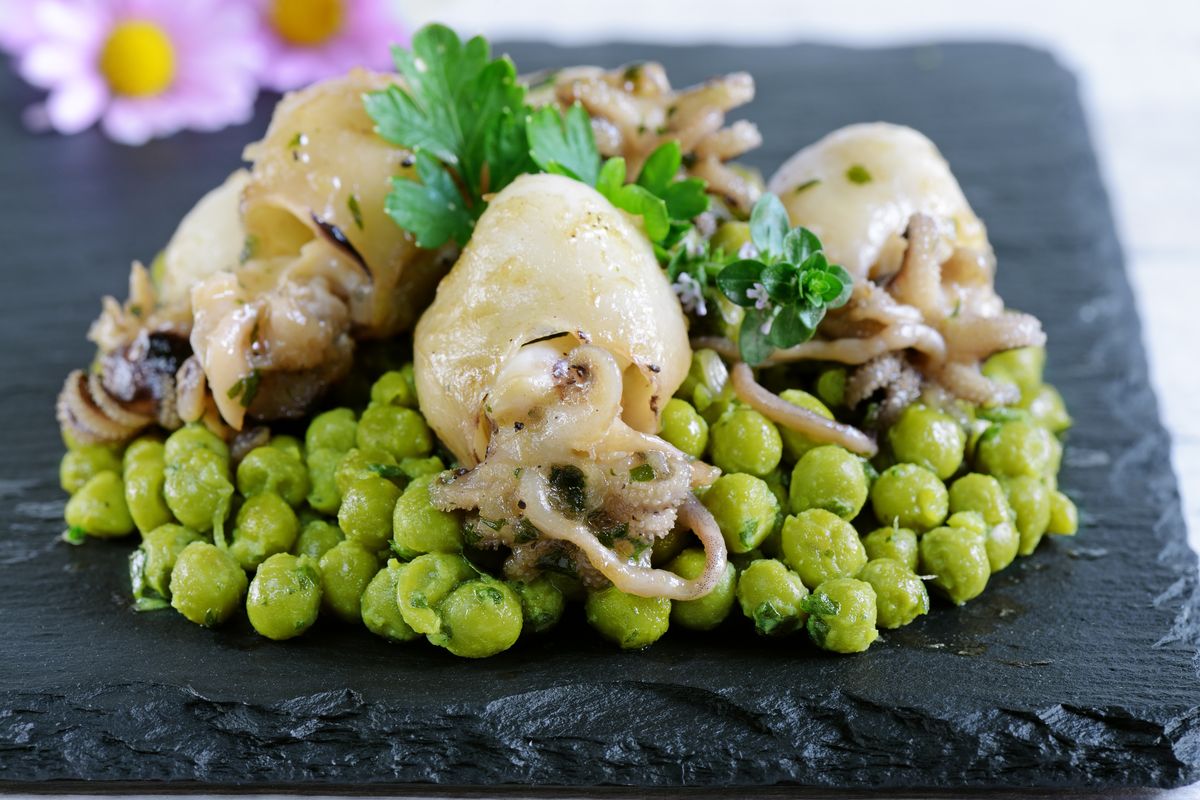 An indissoluble couple for a delicate and delicious second course: yes, we are talking about cuttlefish and peas . To make them , wash the cuttlefish and, if you prefer, cut the tentacles into thin strips or pieces. Heat the oil in a pan and brown the garlic. Add the cuttlefish, peas, salt and pepper. Deglaze with the white wine and let it evaporate. Cook for another 10-15 minutes .
Ingredients for cuttlefish and peas:
800 g of cuttlefish
400 g of peas
1 clove of garlic
oil to taste
Salt and Pepper To Taste
1 glass of cooking white wine
Pea soup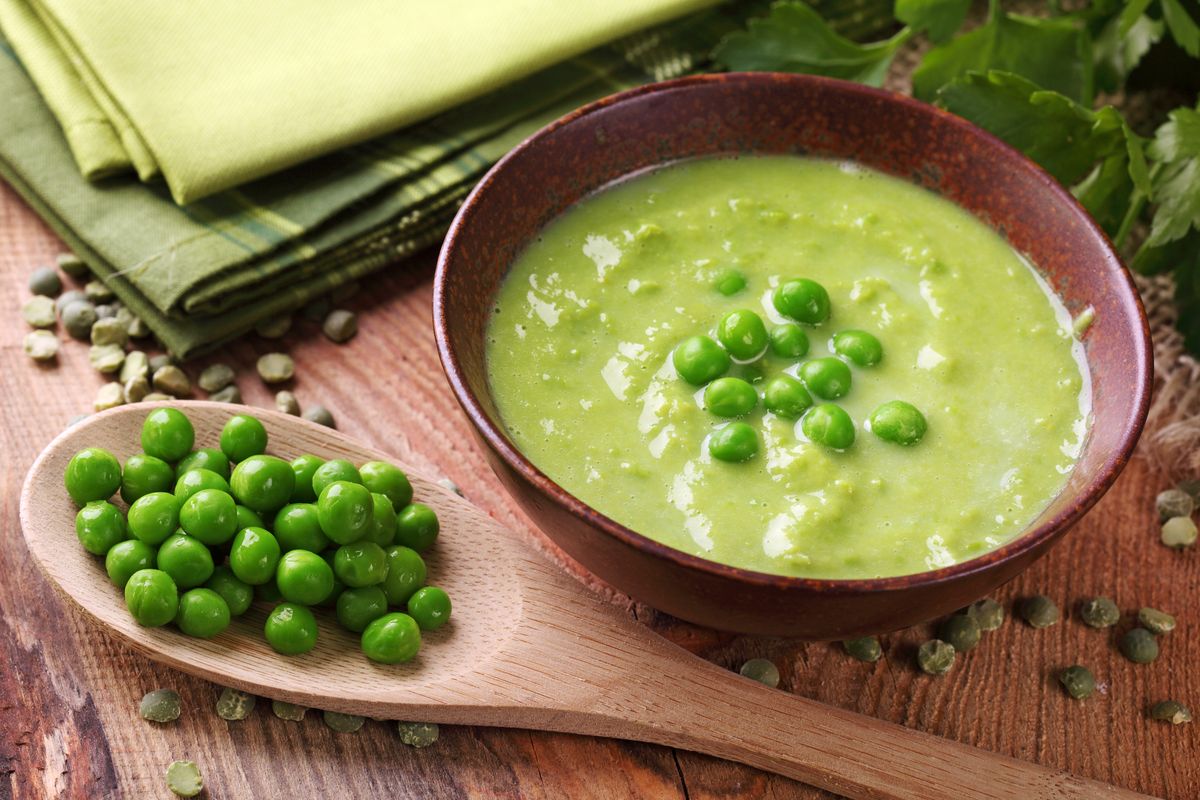 Light, detox and light: you won't be able to resist the pea soup . The recipe is very easy, you will have to peel and cut the potatoes into cubes. Brown the shallot in oil for 2-3 minutes . Add the potatoes and peas, then the hot stock. Cook for 15-20 minutes and blend. Toast the bread in a pan. Mix the ricotta with the milk until you get a cream. Serve the soup with the ricotta cream, toasted croutons and black pepper. Enjoy your meal!
Ingredients for the potato soup:
500 g of fresh peas
2 potatoes
1 shallot
parsley to taste
1 tablespoon of oil
vegetable broth to taste
Salt to taste
pepper as needed
2 tablespoons of cottage cheese
2 tablespoons of milk
homemade bread to taste
Savory pea muffins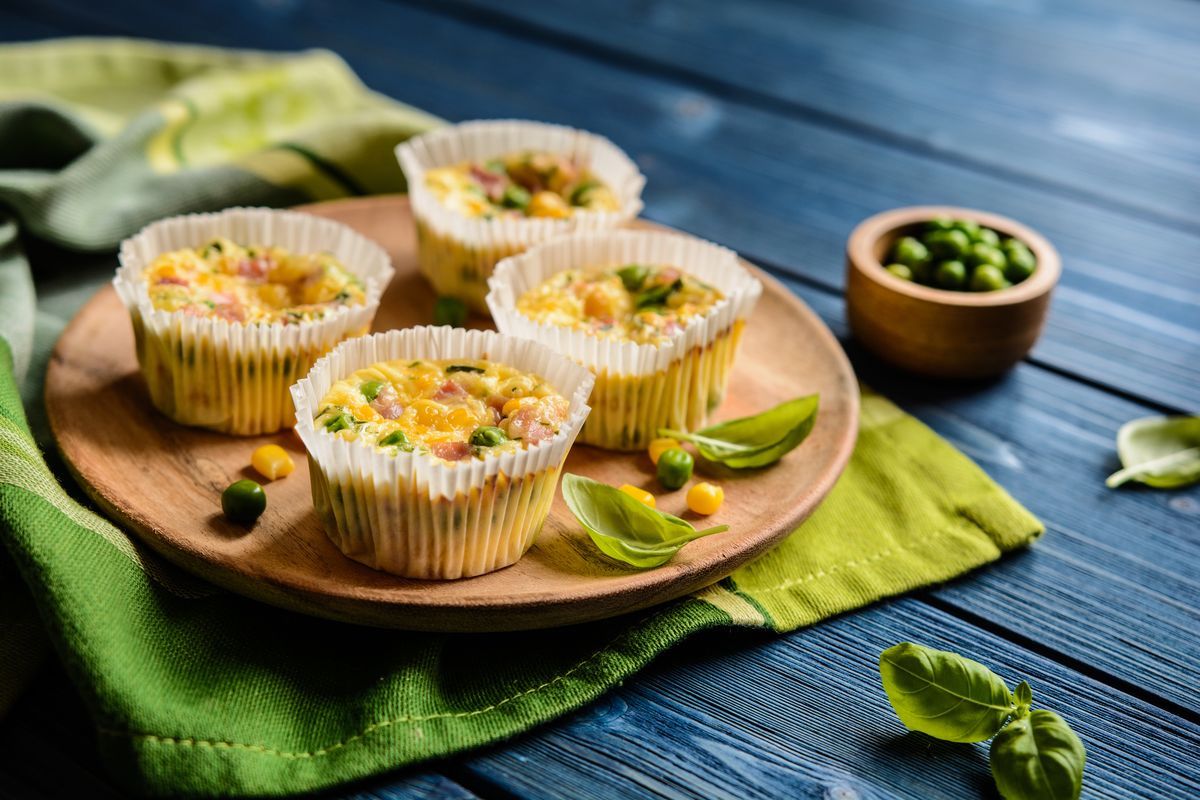 Our review of the best, and most delicious, recipes with peas is coming to an end . As the penultimate idea, we could not fail to offer youpea muffins . The preparation is very easy: grate the cheese and grease a pan with oil. Cook the peas for a few minutes, add salt and turn off the heat. Prepare the muffin dough by mixing eggs, oil, milk, salt, flour, baking powder, parsley and peas. Fill the cups and bake in the oven at 180°C for at least 30 minutes , until golden brown. Check doneness with a toothpick.
Ingredients for Savory Pea Muffins:
200 g of peas
200 g of flour
3 eggs
100ml of milk
1 bunch of parsley
100 g of Parmesan cheese
olive oil to taste
10 g of instant brewer's yeast
Salt to taste
100 ml of seed oil
Gazpacho with peas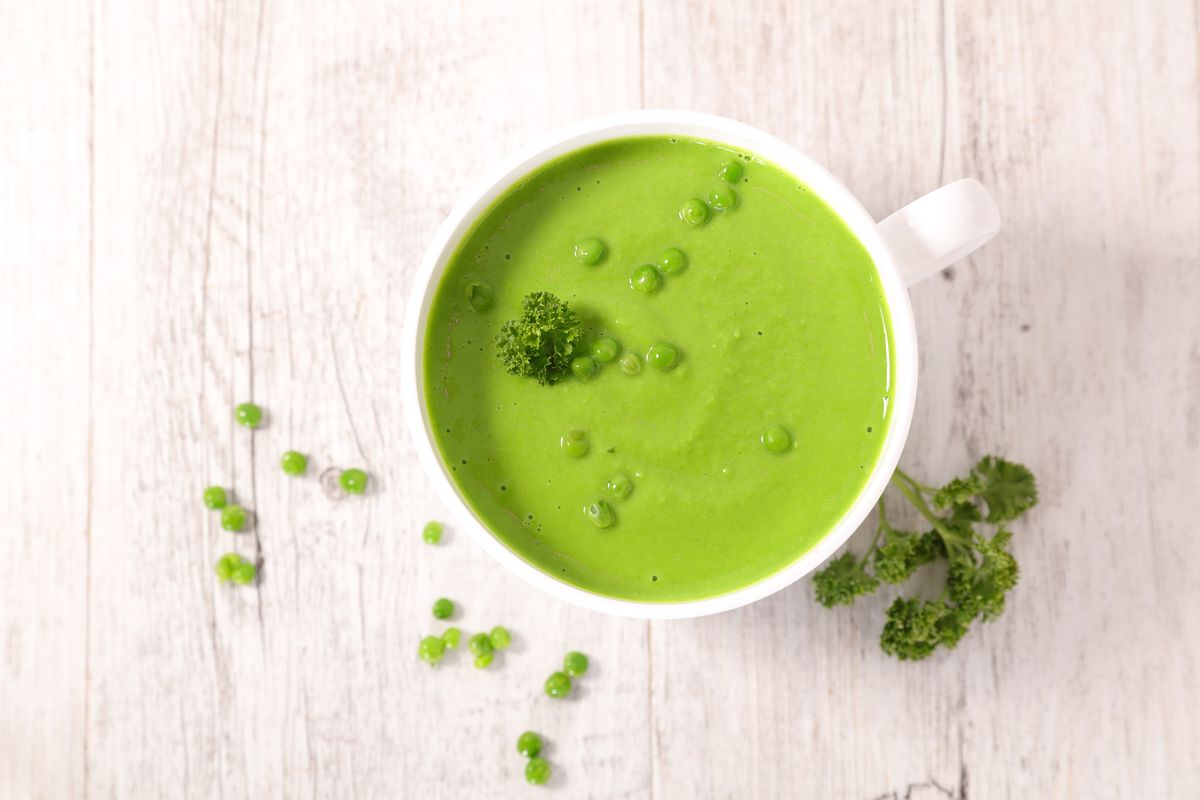 Last, but not least, our fresh and creamy pea gazpacho recipe. To prepare it, bring a pot of water to the boil and shell the peas . Peel and cut the onion in half. When the water boils, salt it and dip the peas and onion. Drain the peas and onion once cooked and cool them in ice water. Blend them with cream and bread using an immersion blender. Add the cooking water from the peas if necessary to obtain a creamy consistency. Season with salt and cool in the fridge. Serve the gazpacho decorated with fresh peas, cubes of crunchy bread and fresh mint leaves.
Pea gazpacho ingredients:
500 g of peas
100 g of homemade bread + some croutons to decorate
ice water to taste
1 white or golden onion
80 ml of cream
Salt to taste
fresh mint to taste to decorate
Riproduzione riservata © - WT