How to make homemade pesto: 13 sauce recipes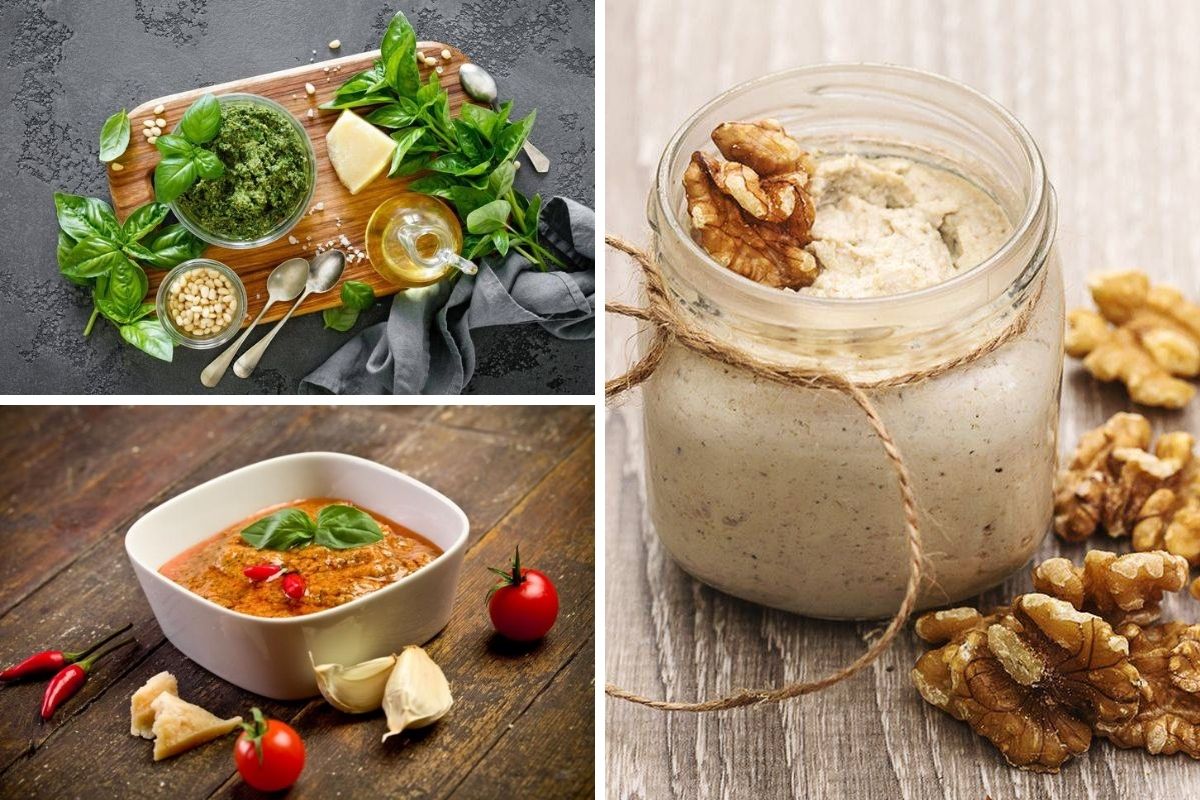 Here are the best recipes for preparing homemade pesto: from the traditional Genoese sauce to the most delicious variations, let's discover all the secrets of this sauce together!
Pesto is a traditional Italian sauce, and more precisely, it belongs to the Ligurian culture . The most famous version of this condiment, not surprisingly, is known as pesto alla genovese: a basil-based sauce, enriched with many delicious ingredients , including pine nuts, cheese, garlic and extra virgin olive oil. But what are the origins of this wonderful green sauce?
Homemade pesto: the 13 best recipes
Here is a selection of 10 wonderful pesto recipes for you, perfect for preparing fabulous first courses, appetizers, or to accompany meat and fish. Before starting, a warning : real pesto is prepared by crushing the ingredients with a mortar, but if you're short on time, you can also use a blender. If you do, however, keep the speed low , so the blades don't oxidize the ingredients!
1. Genoese pesto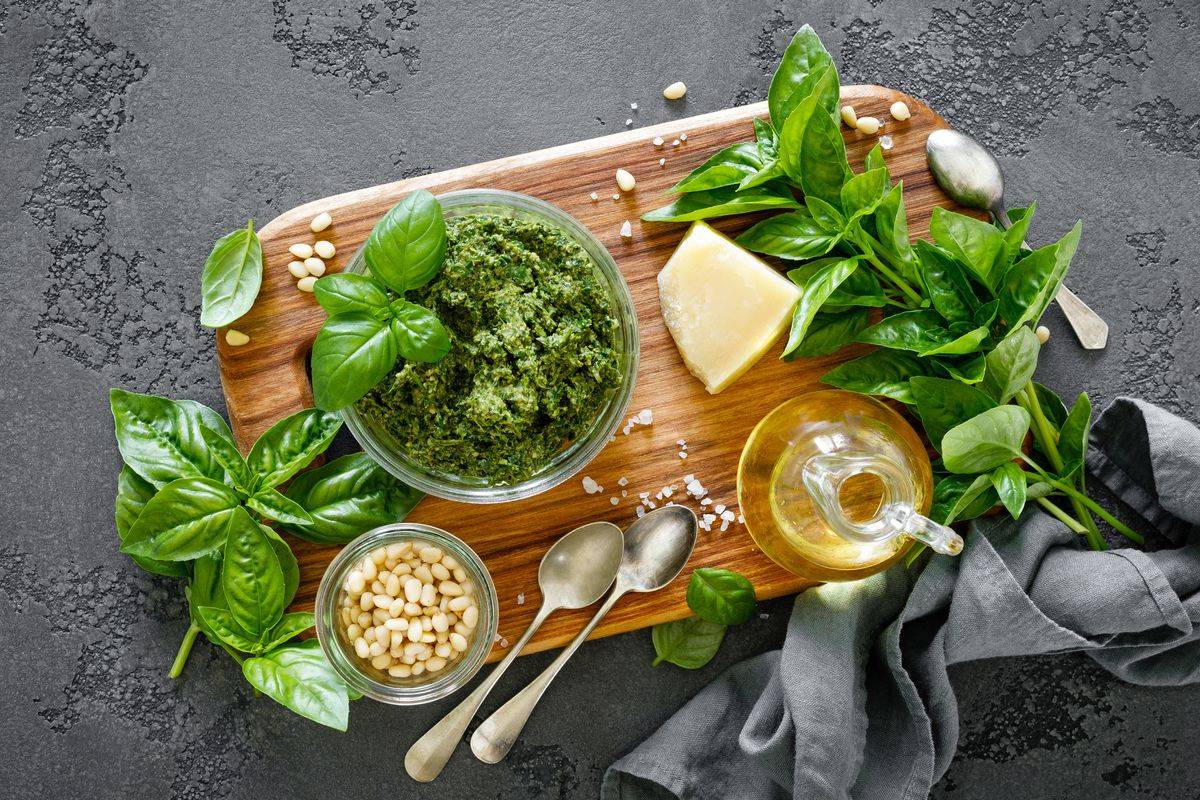 We can only start with the most famous homemade pesto of all, basil pesto, also known as alla genovese . The ingredients that tradition requires to make this sauce are obviously basil , which is combined with extra virgin olive oil, pecorino cheese, Parmesan cheese, garlic, pine nuts and coarse salt.
But how do you make Genoese pesto at home? We are used to consuming this sauce in restaurants , and more often than not buying it ready-made and packaged , but in reality it is a simple and quick preparation. The secrets? First the quality of the ingredients; then, if you want a perfect result, don't use a blender, but a mortar, so that the steel of the blades doesn't oxidize the basil.
Try preparing Genoese green pesto at home and enjoy it with delicious first courses or… directly on bread!
Ingredients for the homemade Genoese pesto recipe (for 4 people)
60 fresh basil leaves
100 g of extra virgin olive oil
80 g of grated cheese
30 g of pecorino
1 clove of garlic
1 tablespoon of pine nuts
Coarse salt to taste
2. Zucchini pesto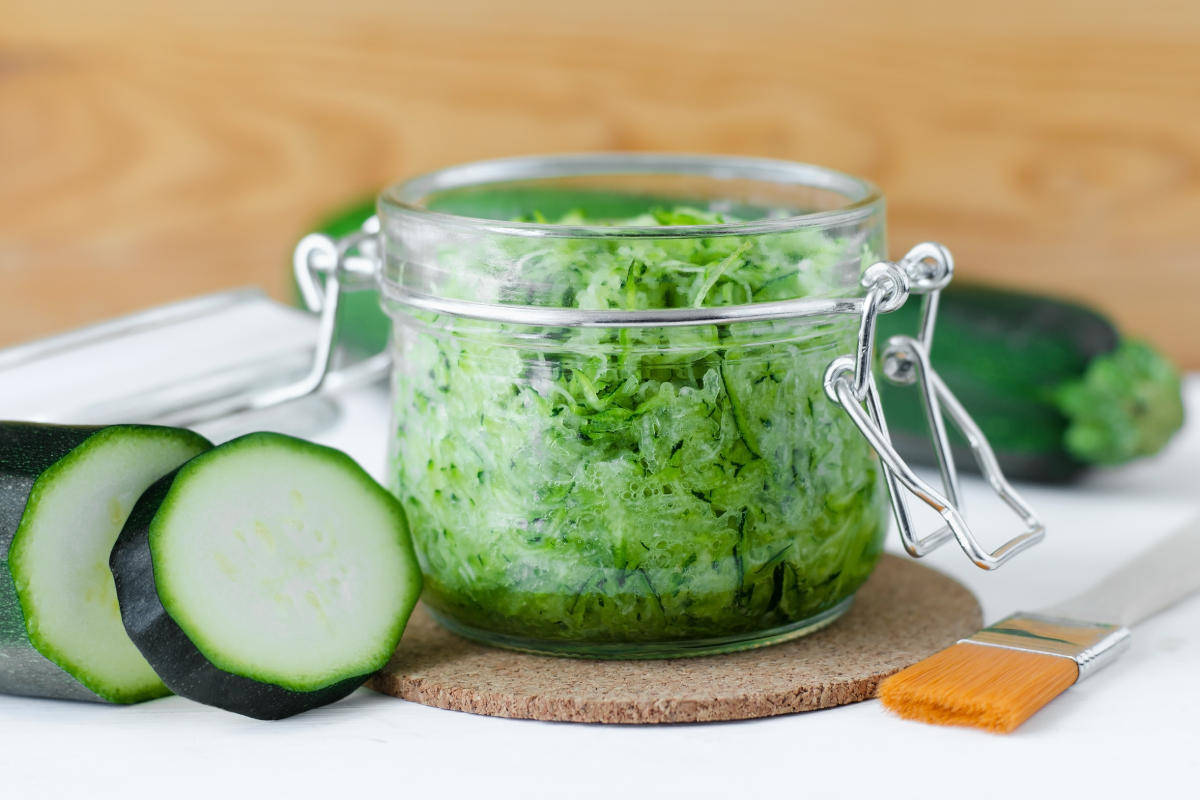 We had talked about variations, and we can't not start with one of the most delicious : zucchini pesto . It is a fresh, delicate and creamy sauce, which can be prepared in many different variations.
In our recipe we use courgettes, which we first lightly blanch in salted water, basil and almonds, to give the courgette sauce a particular taste. It is very good for seasoning pasta, risotto , lasagna, but also for giving life to delicious croutons.
And if you want to try an even fresher variant, but above all, faster to prepare, you can try making raw zucchini pesto. You simply have to grate them directly and add all the other ingredients.
Are you ready to enjoy a fabulous pasta with zucchini pesto?
Ingredients for the zucchini and almond pesto recipe (for 4 people)
4 zucchini
10/12 fresh basil leaves
40 g of almonds
100 g of grated cheese
1 clove of garlic
Salt to taste
Pepper as needed
Extra virgin olive oil to taste
3. Rocket pesto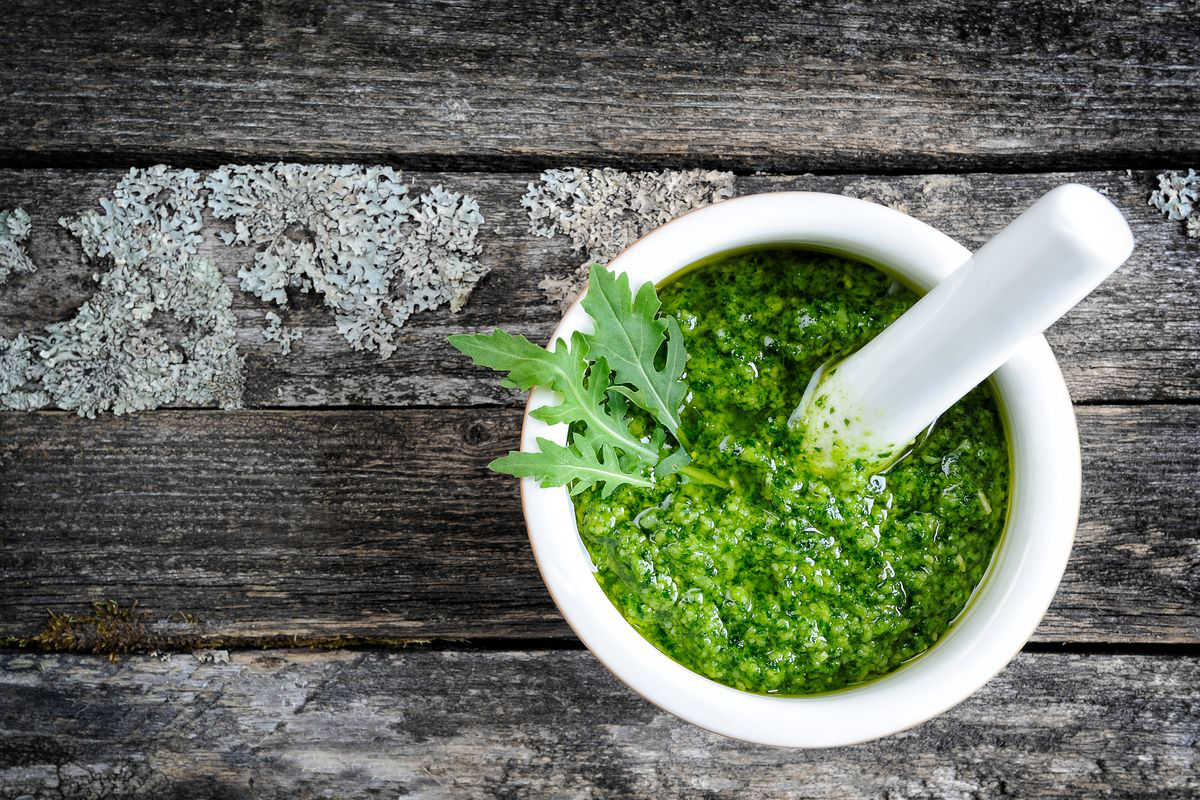 Rocket and pine nut pesto is a variant that replaces basil with rocket, and for this reason its taste is more particular, with a slight bitter note . This sauce is especially excellent for preparing appetizers and goes well with both meat and fish .
You can also think of using it to dress a seafood salad, or use a few spoonfuls of rocket cream to give an edge to your dishes, such as octopus with potatoes.
To make this rocket sauce, you have to follow exactly the steps of the traditional pesto, and you can vary it by using walnuts or almonds instead of pine nuts. If you want to reduce the bitterness of the rocket, you can instead serve this cream with cherry tomatoes , which will give acidity and balance to the recipe.
Try making rocket pesto too!
Ingredients for the rocket pesto recipe (for 4 people)
100 g of fresh rocket
100 g of cheese mix (pecorino and parmesan)
1 clove of garlic
extra virgin olive oil to taste
50 g of pine nuts
salt up to taste
4. Pistachio pesto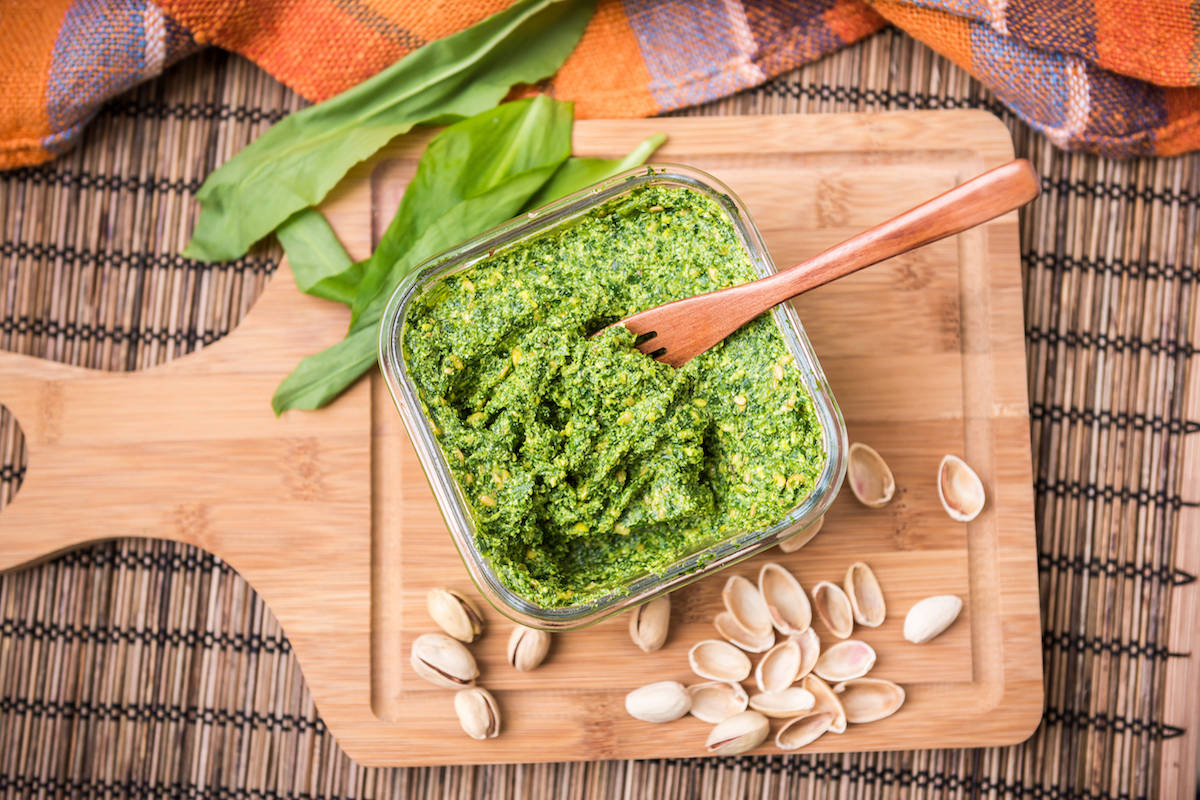 Now let's see one of the symbolic sauces of Sicilian cuisine, which is made with the green gold of Sicily: Bronte pistachios. We are talking about pistachio pesto , a decidedly tasty sauce and suitable for those who love strong flavours.
What is the original pistachio pesto recipe? The preparation is clearly based on the quality of the pistachios, which are processed with garlic, cheese, oil, basil and water. The result is a sauce with a strong, savory and decisive flavour, which can not only be combined with first courses, but also with fish main courses or delicious aperitifs.
Are you ready to try your hand at preparing this delicious pistachio cream? Here are the ingredients!
Ingredients for the homemade pistachio pesto recipe (for 4 people)
200 g of pistachios
2 tablespoons of grated cheese
4 fresh basil leaves
1 clove of garlic
100ml of water
100 ml of extra virgin olive oil
Salt to taste
pepper as needed
5. Trapanese pesto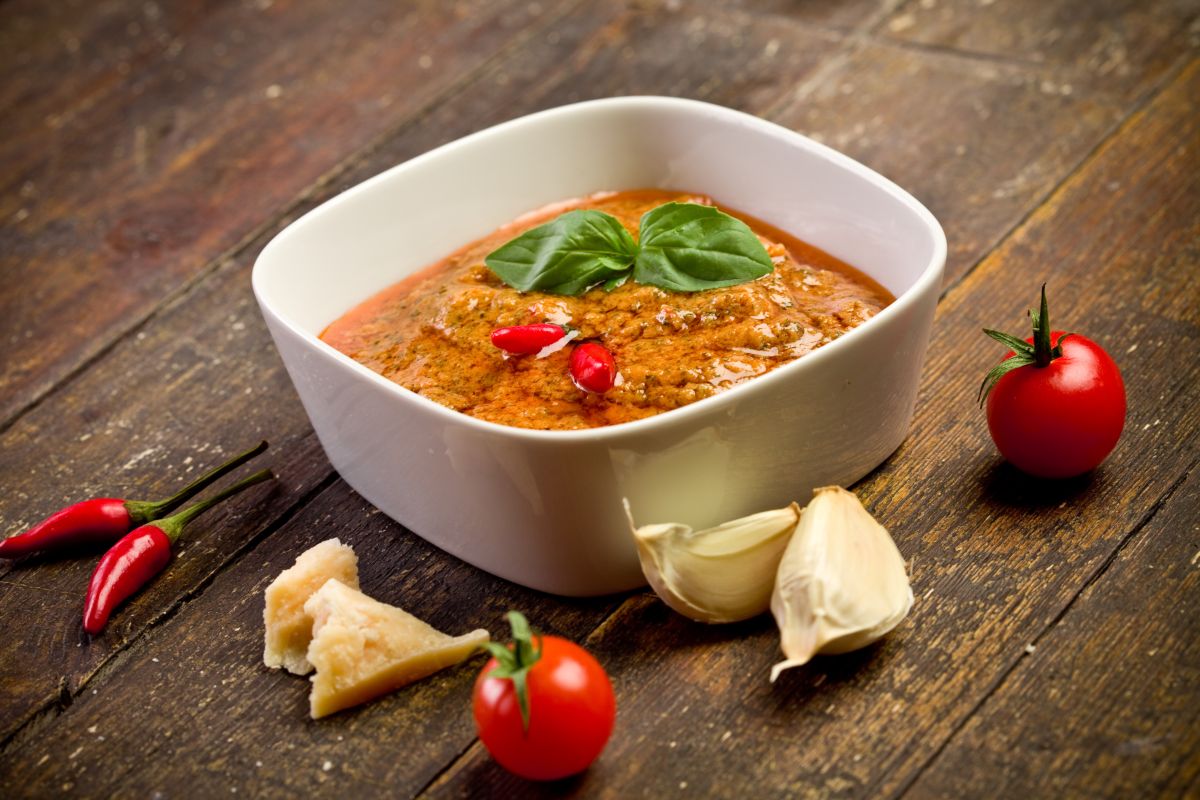 We remain in Sicily, and more precisely in Trapani, a city located on the western tip . Right here, a long time ago, the recipe for pesto alla trapanese originated.
The name is not at all causal, and indeed it is due to the frequent trade exchanges that took place with the Genoese. It was they who spread pesto in these areas, which was then reworked based on the ingredients that the Sicilian land offered, including ricotta, tomatoes and almonds.
To prepare this delicious sauce, all you have to do is peel the tomatoes , so as to make the consistency of the sauce velvety and creamy, and then pound them together with the rest of the ingredients. The result will amaze you !
Ingredients for the Sicilian pesto recipe (for 4 people)
6 tomatoes
50 g skinless almonds
15 fresh basil leaves
100 g of grated cheese or cottage cheese
1 clove of garlic
Extra virgin olive oil to taste
Salt to taste
Pepper as needed
6. Aubergine pesto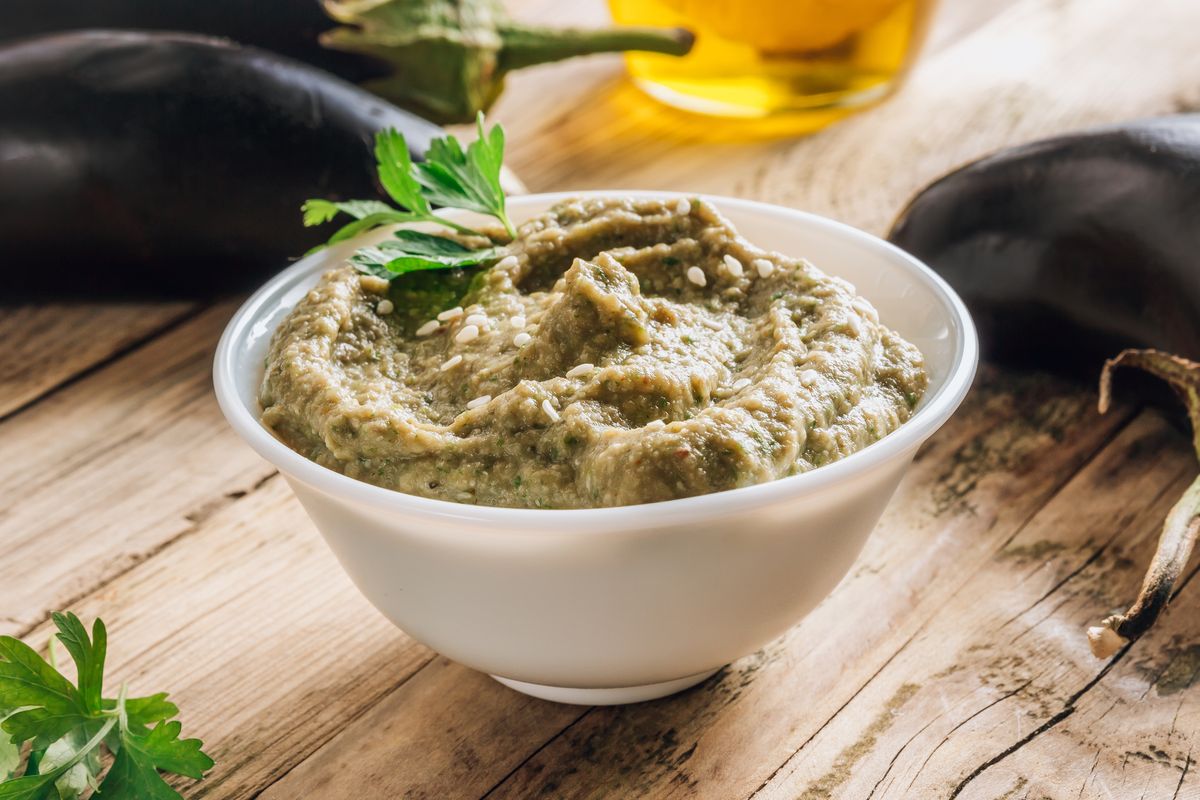 Perfumed , very delicate, perfect for every occasion. Aubergine pesto is something truly sublime, capable of enhancing a first course with its creaminess and aroma, but also perfect for creating mouth -watering appetizers .
Its taste can be combined with many fresh products, from mozzarella to provola, from tomatoes to cold cuts ; in short, all perfect ingredients to prepare dream croutons.
To make the eggplant sauce, cook them in the oven and then mash them with all the other ingredients. In a few minutes you will have created a wonderful sauce. Seeing is believing!
Ingredients for the Sicilian aubergine pesto recipe (for 4 people)
800 g of aubergines
60 g of almonds
40 g of grated cheese
50 g of extra virgin olive oil
basil to taste
Salt to taste
pepper as needed
7. Walnut pesto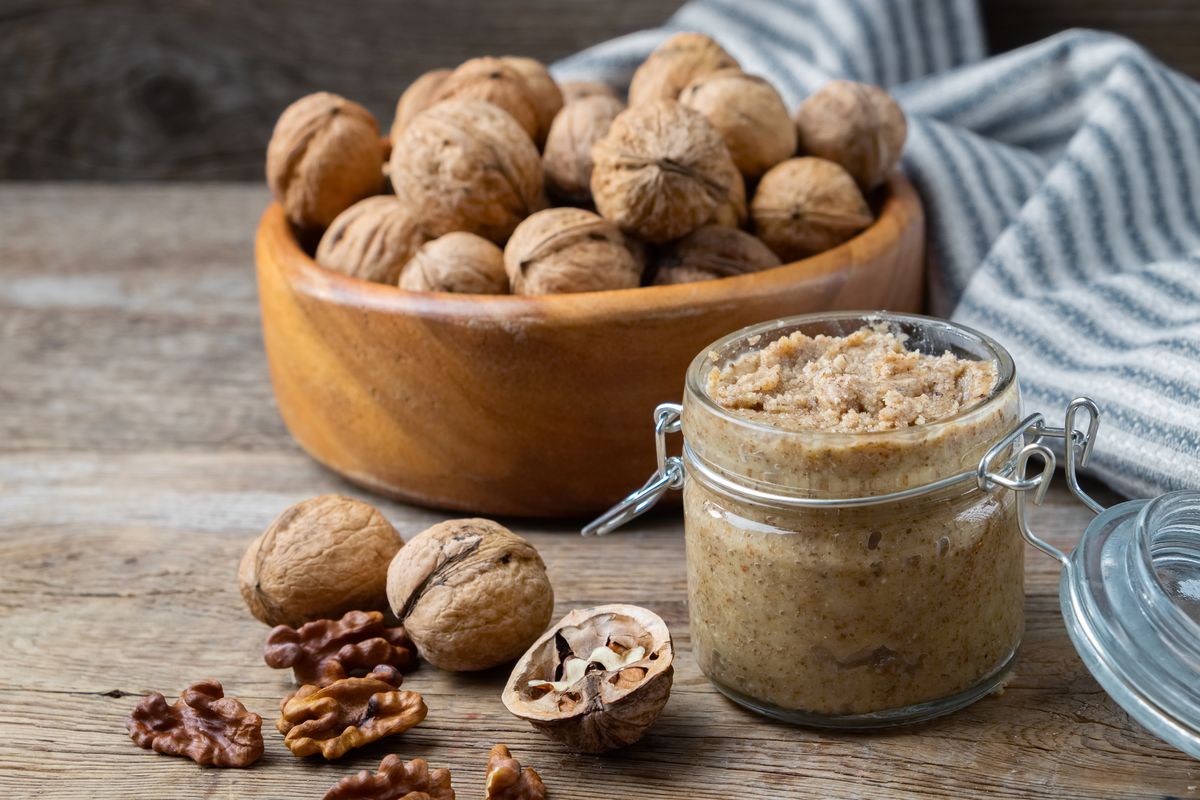 After basil pesto, walnut pesto is undoubtedly one of the best known and most consumed of all. And it is no coincidence that its origin is precisely Liguria, where the walnut sauce has been prepared for many years and represents one of the sauces of the regional tradition .
Its difficulty lies in the preparation and treatment of walnuts, which are blanched in water for a few minutes. This step, which serves to remove that bitter aroma conferred by the shell, must then necessarily be followed by peeling , so as to obtain the kernels, and which is done by hand nut by nut.
Once the cleaning process is finished, the walnuts are pounded with cheese, breadcrumbs soaked in milk, oil and garlic, until a velvety and delicious walnut cream is obtained. In some variations of the Ligurian culinary tradition, fennel and marjoram are also added, which give the sauce a fabulous aroma .
Ingredients of the recipe for the walnut sauce for pasta (for 4 people)
150 g of walnuts
30 g of pine nuts
40 g of Parmigiano Reggiano
40 g of breadcrumbs
1 clove of garlic
150 ml of whole milk
Extra virgin olive oil to taste
8. Fennel pesto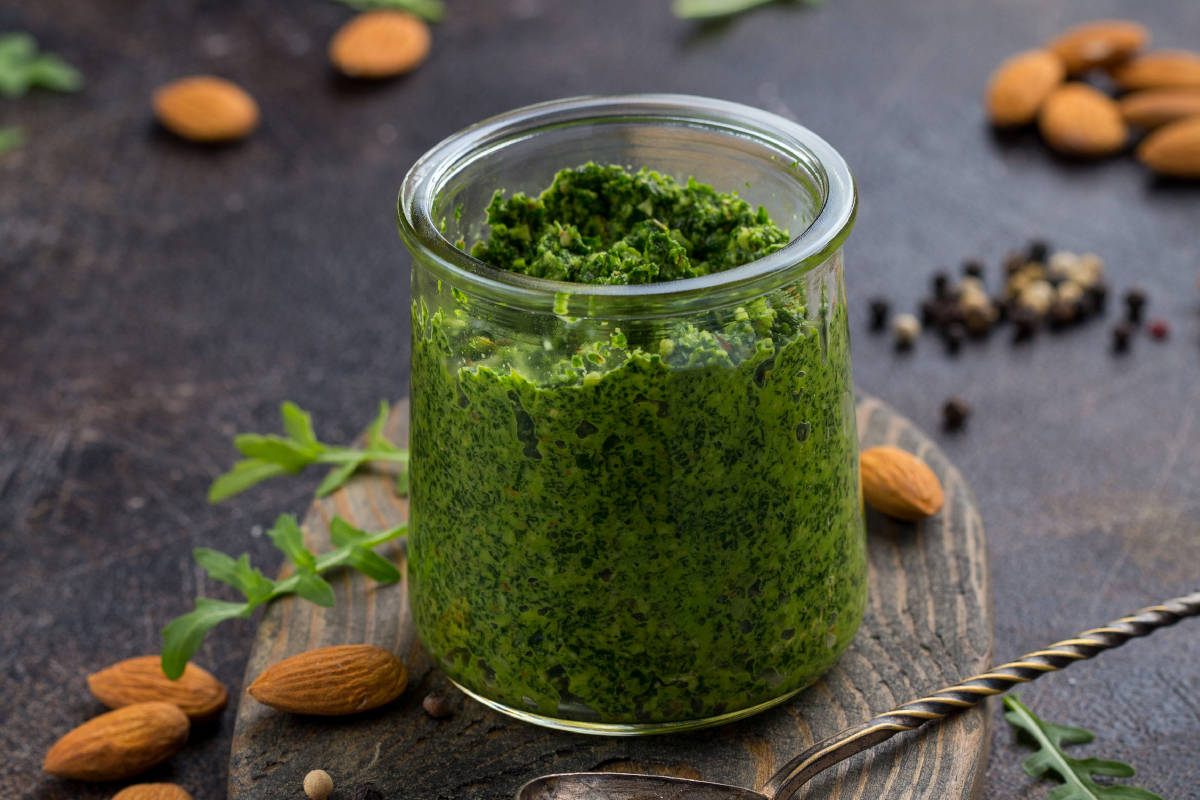 Now let's see how to make fennel pesto , a very particular and unusual condiment. The taste of fennel, in fact, is very structured, delicate on the one hand but pungent and savory at the same time.
To make this sauce, first blanch the fennel in slightly salted water, then add it to all the ingredients and work it until you get a creamy sauce. At this point, you can use it for many dishes, and above all combine it with many flavors. In fact, this pesto goes well on its own, with bread, or with pasta, but also with fish and meat, used as a sauce to flavor second courses .
Try to prepare it, the result will amaze you!
Ingredients for the recipe of fresh wild fennel pesto (for 4 people)
a nice bunch of wild fennel
100 g of peeled almonds (or 50 g of pine nuts + 50 g of almonds)
3-4 tablespoons of pecorino or other grated cheese
extra virgin olive oil to taste
Salt to taste
a clove of garlic
9. Broccoli pesto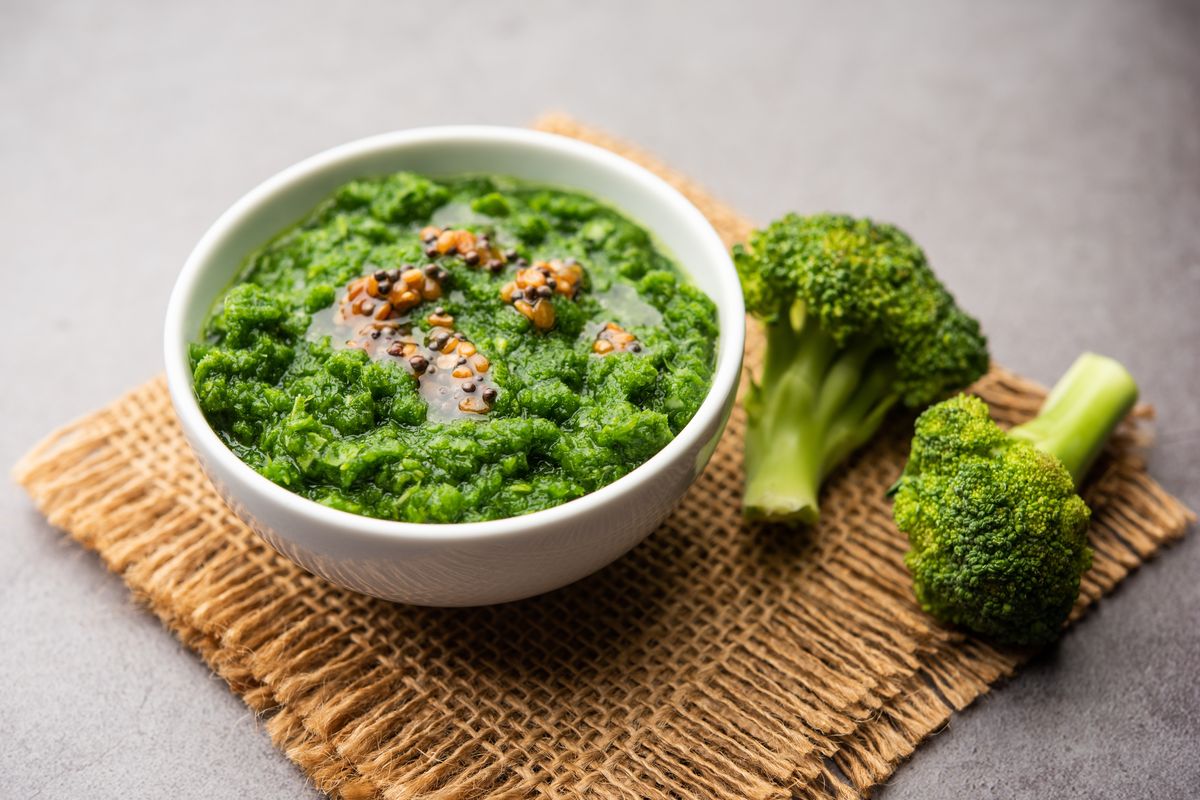 The broccoli pesto ingredients are pretty much the same as in the traditional pesto recipe. Pine nuts are used, sometimes also almonds, extra virgin olive oil and grated cheese. Obviously, the difference is made by broccoli, the undisputed protagonists of this preparation.
The secret to obtaining a delicious sauce is to blanch the broccoli in salted water, after having cleaned them by removing the leaves, white parts that are too hard and the stems. 10 minutes will be enough, until the vegetables have become nice and soft .
At this point, divide the florets and add them to the rest of the ingredients to be pounded. Add garlic if you want even more flavor. You can also use this sauce to flavor delicious risottos . Try it at home!
Ingredients for the broccoli pesto recipe (for 4 people)
250 g of broccoli
20 g of pine nuts
20 g of Parmesan
10 g of fresh basil leaves
50 ml of EVO oil
Salt to taste
10. Cashew pesto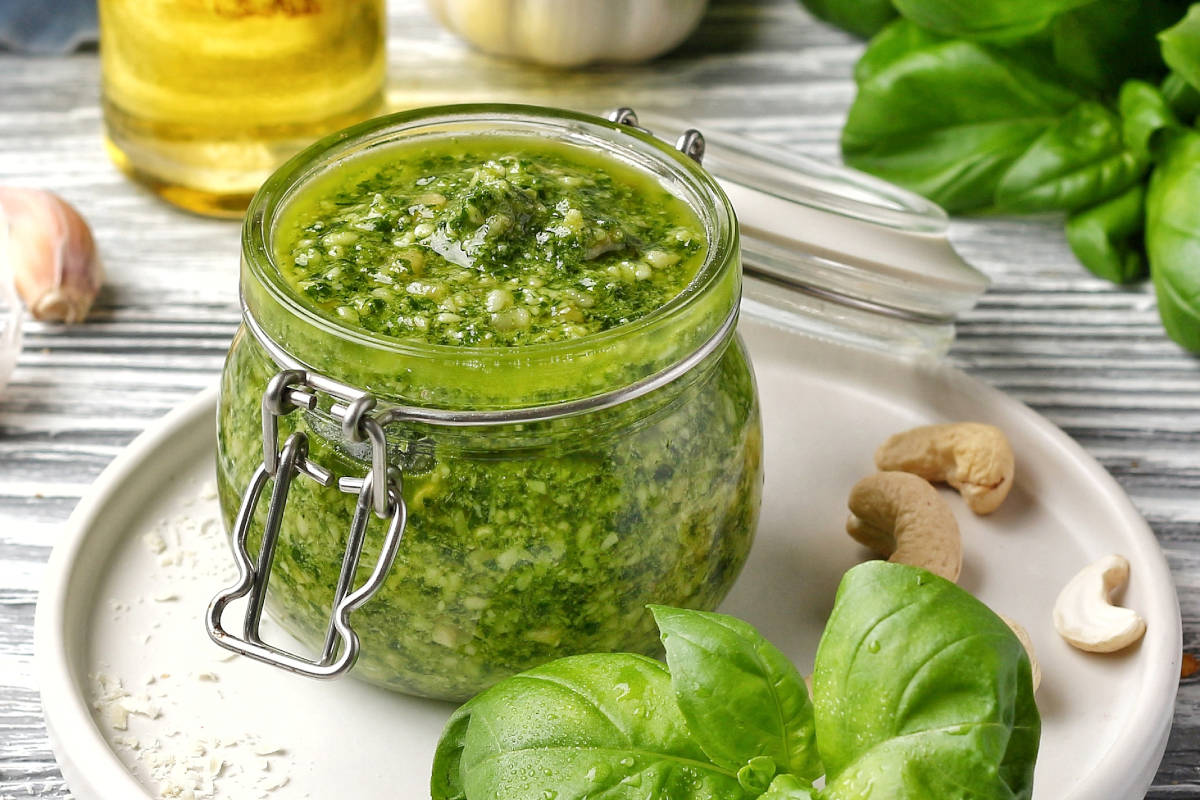 We continue with a vegan sauce , which can be prepared simply with cashews, basil, garlic and oil. The taste of cashew pesto is very delicate, velvety and light, and by crushing the cashews together with all the other ingredients you get a very versatile cream.
In fact, you can use it to season first courses, such as spaghetti, gnocchi or even stuffed ravioli, but this cream is even better if consumed like hummus, the traditional chickpea sauce that is served as an appetizer together with vegetables or croutons bread.
Of course, if you want, you can add cheese to the preparation, but in this way you will have prepared a dish suitable for everyone, both vegans and those who are intolerant to dairy products .
Ingredients for the vegan cashew pesto recipe (serves 4)
70 g of cashews
60 g of basil
100ml of olive oil
1 clove of garlic
Salt to taste
Finally, we leave you all our best quick recipes and also those for quick sauces : you will amaze everyone!
11. Sicilian pesto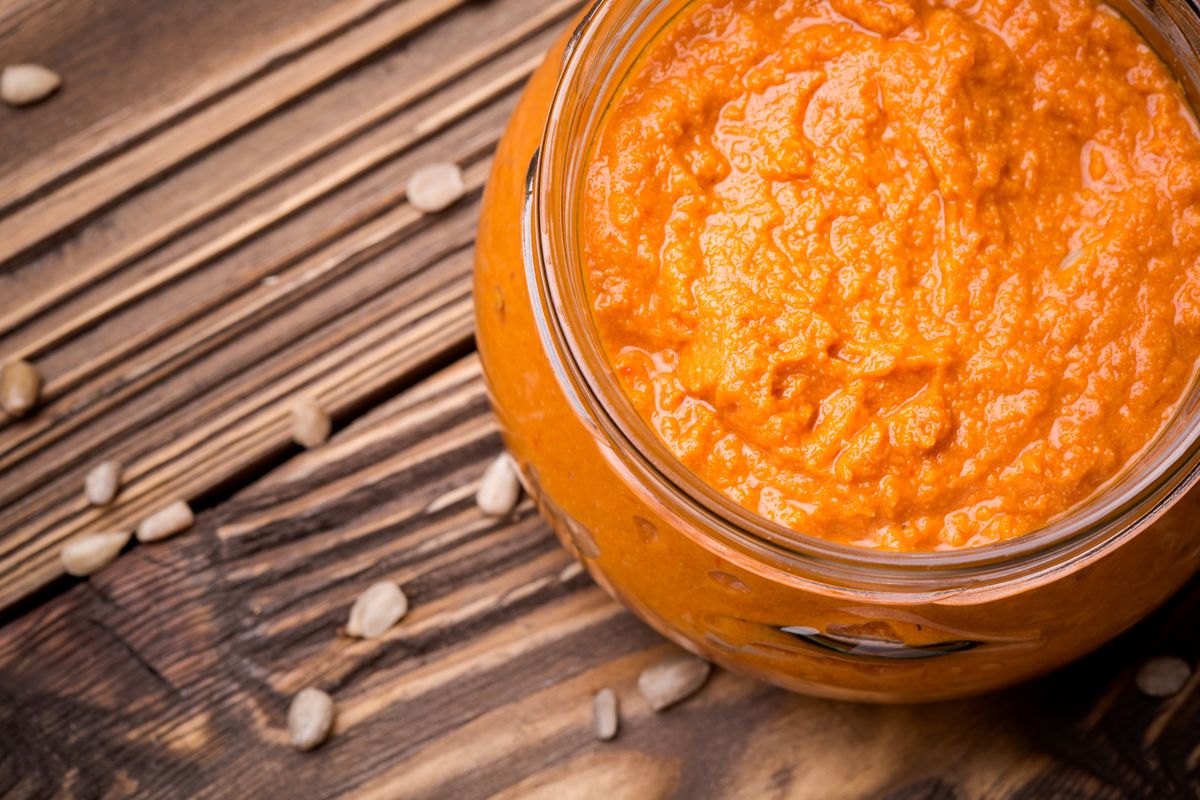 Sicilian pesto differs from Genoese pesto on several aspects. Initially, the tomatoes, deprived of the seeds, are added. Plus, it can be made easily with a simple mixer without fear of incurring the wrath of purists. Finally, the ricotta is added. However, the presence of basil, garlic, pine nuts and Parmesan remains unchanged.
Sicilians are said to have learned this particular preparation from Genoese sailors (but they could also tell an opposite story, since everyone would like to be the "first"). Are you ready to make it at home? Nothing simpler and more enjoyable.
Sicilian pesto ingredients (for 8 people)
400 g of red tomatoes
100 g of parmesan
1 clove of garlic
200 g of cottage cheese
2 bunches of basil
100 ml of extra virgin olive oil
50 g of pine nuts
Salt to taste
12. Kale pesto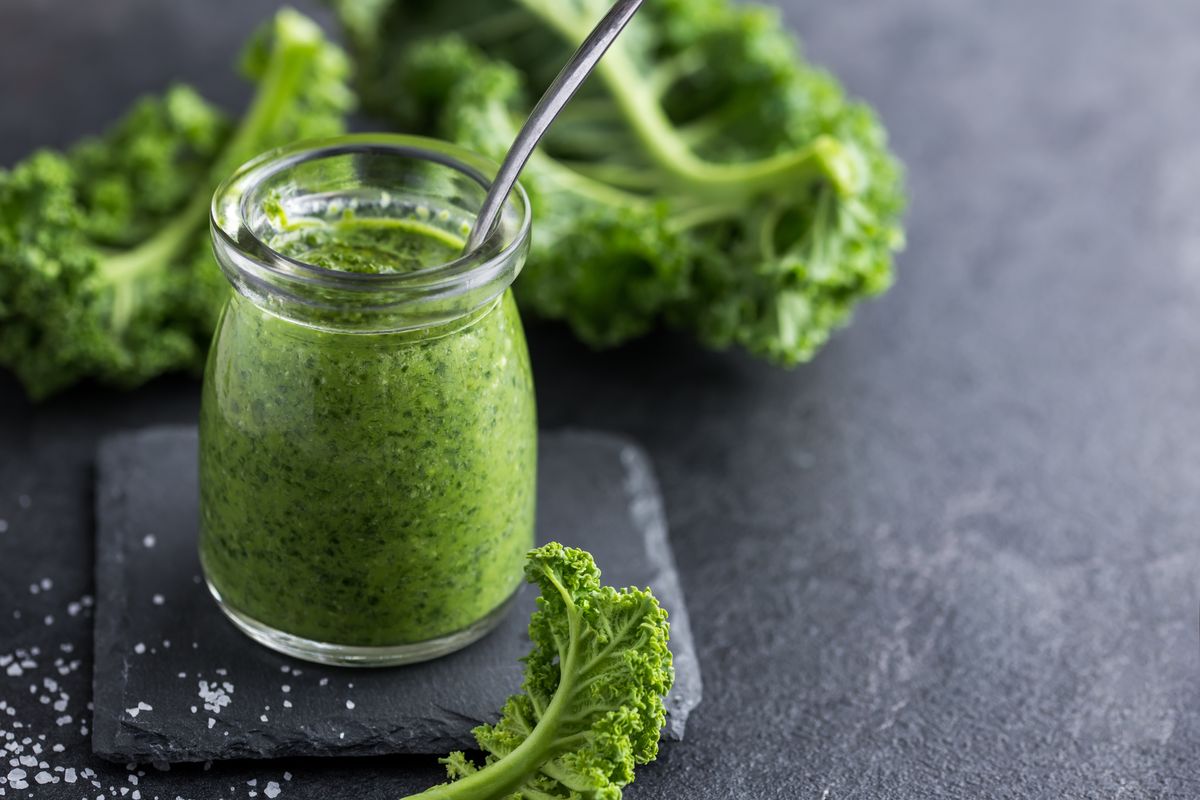 Black cabbage is a vegetable typically eaten during the winter and is highly appreciated in Tuscan cuisine, where it is the main ingredient in ribollita. However, it can also be used in other equally delicious recipes, such as kale pesto for example. This pesto is perfect for seasoning pasta or spreading on croutons, and is quick and easy to prepare.
To make the black cabbage pesto, in addition to the black cabbage itself, you will need almonds (or other dried fruit of your choice), garlic, salt, chilli pepper and oil. The procedure is similar to that of traditional pesto, but with the addition of boiling the cabbage leaves before using them. This will make the leaves tender and bring out all their flavor. Are you ready to prepare an exceptional winter pesto?
Ingredients for the kale pesto recipe (for 4 people)
200 g of black cabbage
50 g of almonds
1 clove of garlic
chili pepper to taste
50 g of extra virgin olive oil
Salt to taste
13. Sun-dried tomato pesto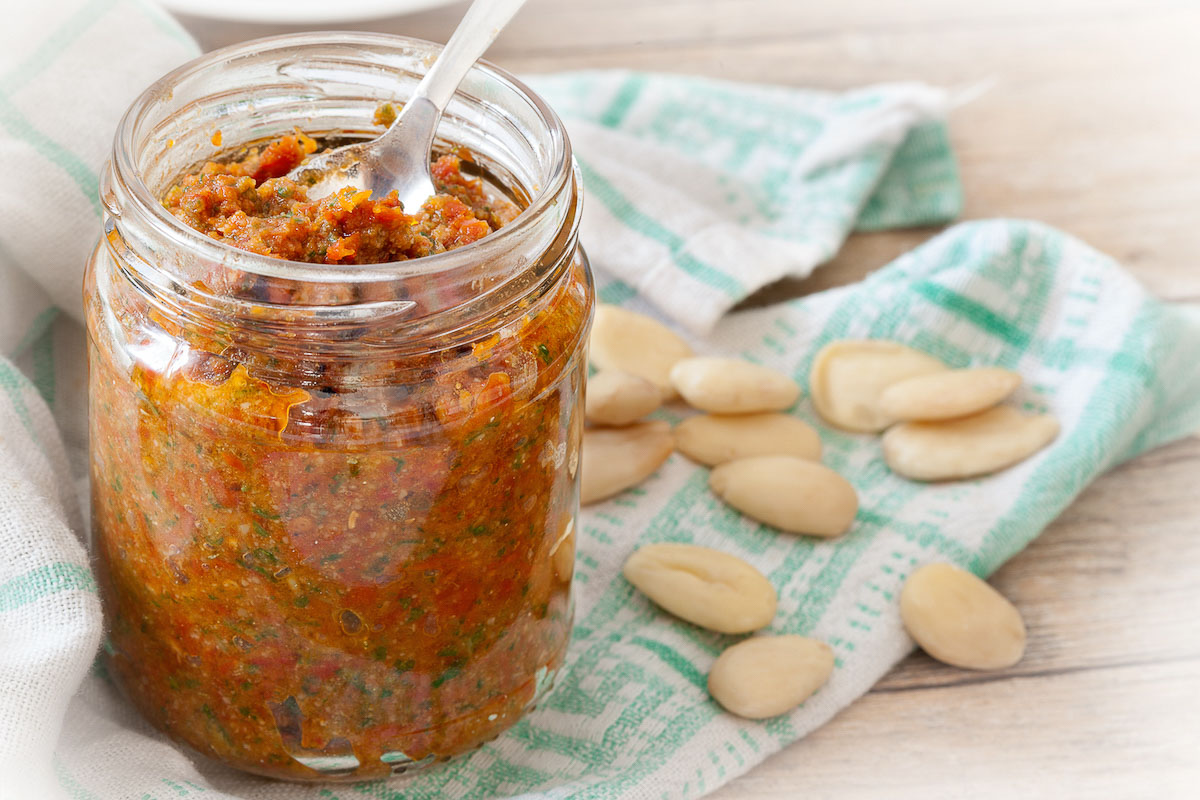 We conclude with an easy but greedy sauce. Very little is often enough to make a pasta dish tasty and satisfying, such as seasoning it with sun-dried tomato pesto ! To prepare it in its basic version, only 4 ingredients are needed and less than 5 minutes , the time needed to retrieve everything from the pantry and blend the ingredients.
The best known version of this pesto is Sicilian dried tomato pesto, which requires almonds, garlic, oil and of course dried tomatoes ( in oil or rehydrated ). You can also add oregano or basil to make it even more aromatic, or parmesan cheese for a richer flavored pesto that can also be spread on bread. Let's see together how to prepare it!
Ingredients to prepare the dried tomato pesto (for 4 people)
150 g of dried tomatoes in oil
40 g of blanched almonds
1 clove of garlic
60 g of extra virgin olive oil
1 pinch of salt
Riproduzione riservata © - WT