Let's cook a delicious savory pie with asparagus and ricotta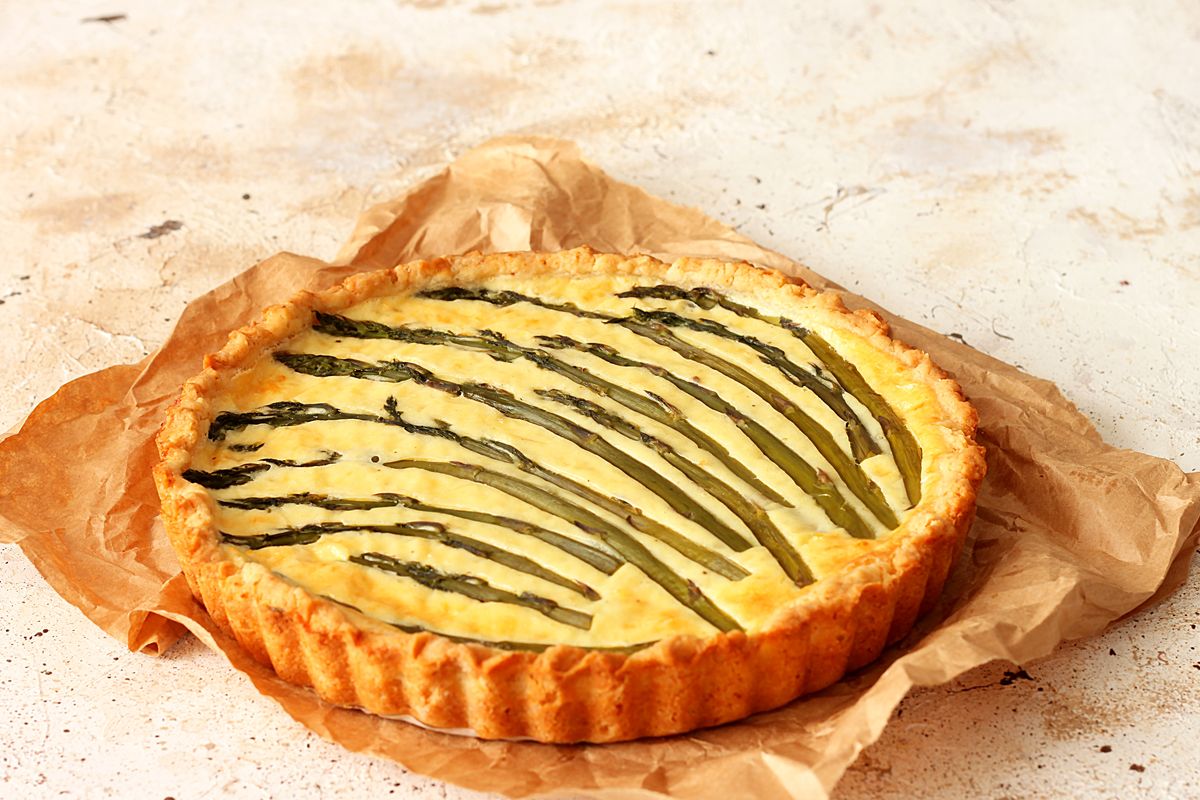 Ideal as a second course or single dish, everyone really likes savory pies. Let's find out today how to prepare the savory pie with asparagus.
This season, beautiful bunches of asparagus are starting to appear in the fruit and vegetable department of the supermarket. This vegetable, of which there are also very valuable varieties such as white asparagus, is perfect for preparing delicacies with a refined flavor . Today we will prepare a savory pie with asparagus, perfect as a second course.
For this recipe very few ingredients will be enough for the result will amaze you. In fact, to enhance the flavor of asparagus, we're going to combine it with a few genuine ingredients. The result will be a sort of really tasty asparagus quiche. Today we will prepare the shortcrust pastry with asparagus, but you can also choose the classic puff pastry (in this case, be careful not to open the oven before it is fully cooked , otherwise the pastry will tend to collapse).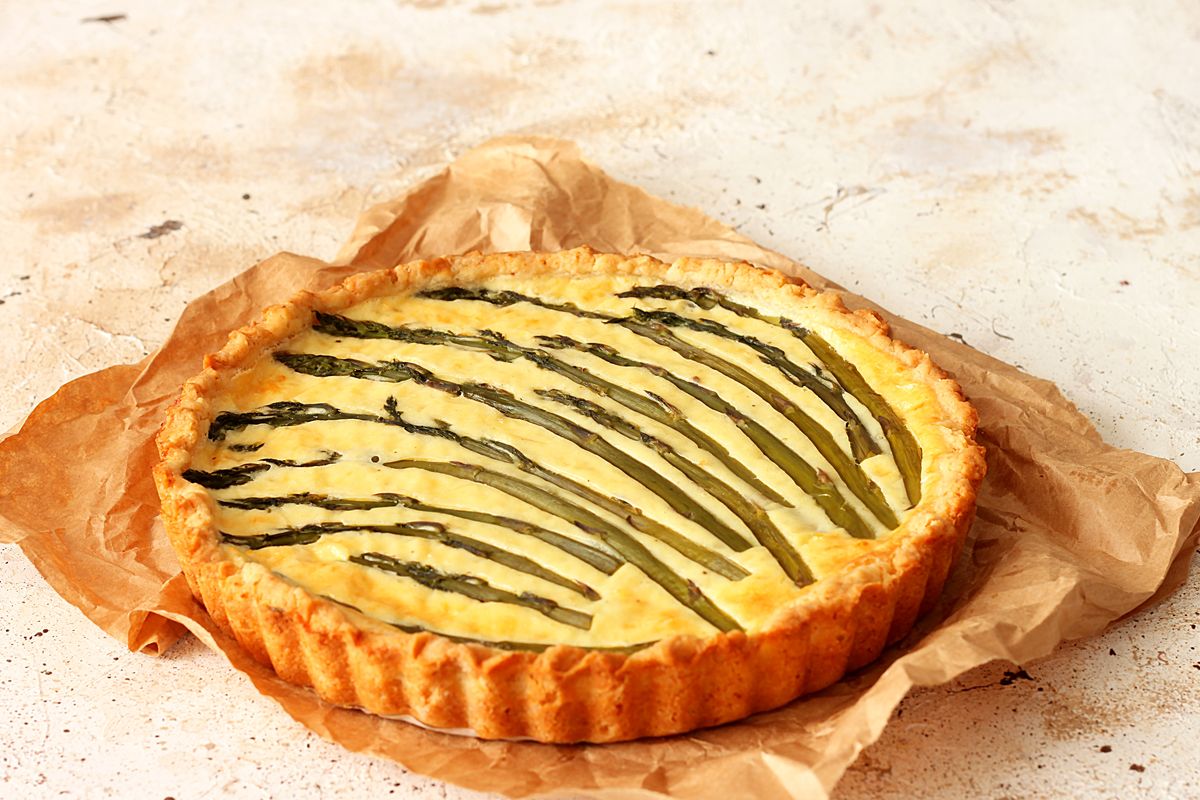 How to prepare the asparagus and ricotta savory pie
First we clean the asparagus. After having rinsed them quickly under running water, slightly bend the final part of the stem until it breaks. In this way you will deprive the asparagus of the woody part .
Transfer them to a basket and steam them for a maximum of 10 minutes (You can also leave them in boiling salted water).
Then drain them, take a pan, melt a knob of butter and brown them adding the clove of garlic.
Once ready, divide them into two groups. One part ( about 10-15 asparagus ) set aside without touching it. The second bunch of cooked asparagus cut into pieces of the size you prefer.
In a bowl, combine the eggs, the cream, the ricotta, two handfuls of grated cheese, the chopped asparagus, salt and pepper and mix well with a spoon so that the filling blends perfectly.
Unroll the shortcrust pastry and transfer it to a tart pan of about 26 centimeters in diameter.
Prick the bottom with the prongs of a fork and pour the filling . Complete with the whole asparagus, squeezing them lightly so that they integrate well with the filling.
Bake at 200°C for 30 minutes .
You should know that using mini tart molds you can serve single-portion asparagus tarts, ideal for parties or savory buffets. Furthermore, if you want to try a slightly different preparation, you can also blend some of the asparagus and incorporate them into the cream.
Another delicious recipe with asparagus is risotto : we suggest you try it!
Rustic asparagus pie with homemade shortcrust pastry
If you want to make the casket of your cake at home, there is nothing simpler, just a few ingredients and very little time to mix everything.
110 g of cold butter
200 g of 00 flour
60ml of cold water
Salt to taste
Take a bowl or a mixer with a blade and pour the flour, a pinch of salt and the cold butter cut into cubes into it .
Start the mixer for a few seconds, just long enough to give the ingredients a quick stir .
Add the cool water and turn the mixer on again until the dough is no longer blended and compact.
At this point, turn everything upside down on a work surface and quickly knead to form a dough.
Wrap it in cling film and place it in the fridge for at least 1 hour.
Once the time has passed, and the filling is ready, take the loaf out of the fridge, place it between two sheets of parchment paper and roll it out with a rolling pin to a maximum thickness of 3-4 mm before placing it on the cake pan.
And here is a rustic asparagus cake prepared from scratch in a few simple steps. Furthermore, if you want to enrich the dish , add a few cubes of bacon, speck, or a few pieces of soft cheese such as provola, scamorza or mozzarella.
storage
We recommend keeping your savory pie in the fridge, for a maximum of 2-3 days, well covered in transparent film. We do not recommend freezing in the freezer.
Riproduzione riservata © - WT