Let's find out how to prepare the perfect toast, the most popular dinner recipe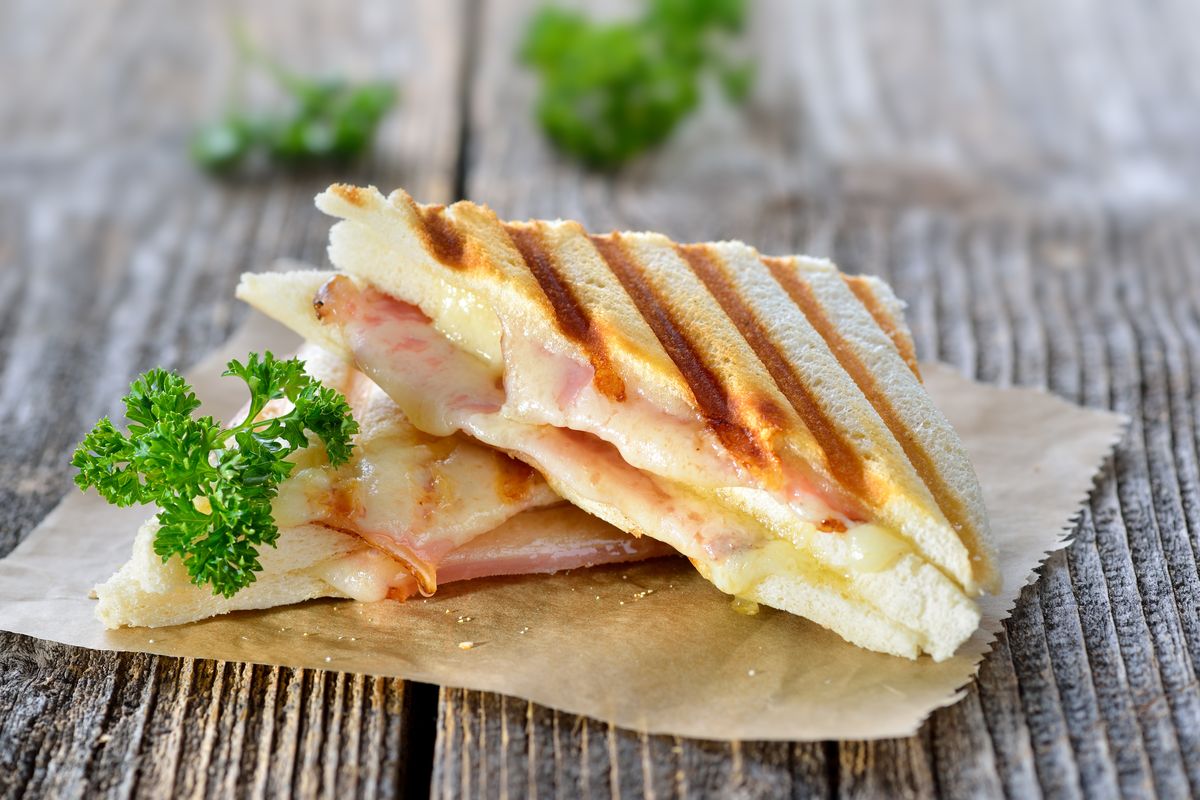 Tired of the usual trivial combinations? Take advantage of our ideas for a perfect mouth-watering toast. There is something for all tastes!
Two slices of bread, one of cheese, salami or cold cuts of your choice and after a few minutes in the toaster, dinner is safe . This is the practice for preparing toasts, but you must know that it takes very little to transform them into something truly sensational. Keeping the simplicity of realization but varying the ingredients, it is possible to obtain an almost infinite number of combinations, one better than the other. Let yourself be guided by our advice for preparing an unforgettable toast, from the most classic recipes to the "gourmet" versions.
Perfect toast: the golden rules
To prepare a perfect toast, given the simplicity of the steps, there are some rules to keep in mind that do not compromise the amount of time you will spend preparing it. In fact, they are general notions, valid for any filling.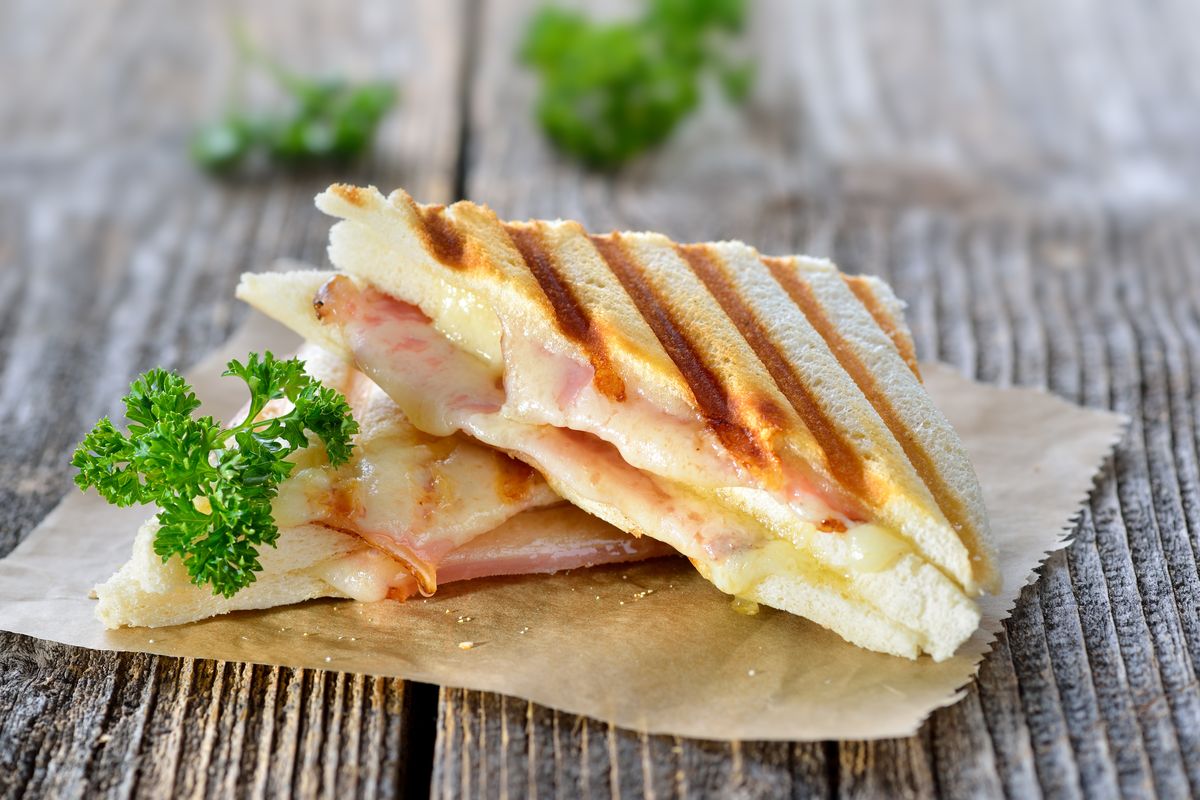 The bread
The main ingredient of toast is bread , so choose good bread . The pancarrrè is perfect (although many use crustless bread for sandwiches). On the market there are different types, from the most classic to the wholemeal version passing through the one enriched with seeds or based on durum wheat.
By changing the flour, you will get a different toast every time. You can also prepare them by slicing any bread , as long as the crust isn't too dry.
The filling
Cheese and cold cuts (or cured meats) are among the most popular fillings. The golden rule for preparing a perfect toast is to enclose the cold cuts between two slices of cheese.
Although many use thin slices (who doesn't have them at home?), we recommend using fontina or other tasty cheeses. Clearly the filling is at your discretion and just below you will find a roundup of really delicious ideas.
Cooking
Once the toast is prepared, it's time to cook it. A self-respecting toast must crunch at the first bite and to obtain a uniform toasting, the plates that allow you to cook both sides at the same time are ideal. Alternatively you can use the toaster , taking into account however that a little cheese could drip on the bottom. If this is the only way you can prepare it, know that there are toaster bags on the market, specifically designed to prevent the filling from leaking.
Finally, last resort, the frying pan . You can heat the toast in a pan, about two minutes per side, pressing gently with a kitchen spatula or with your hand. This way you will get a perfect browning.
Stunning toast ideas
Having made all the necessary premises, let's see what are the recipes to prepare the perfect toast. We will see the most classic ones but also some more delicious variants , perfect for ennobling this dish that is so often mistreated!
Ham toast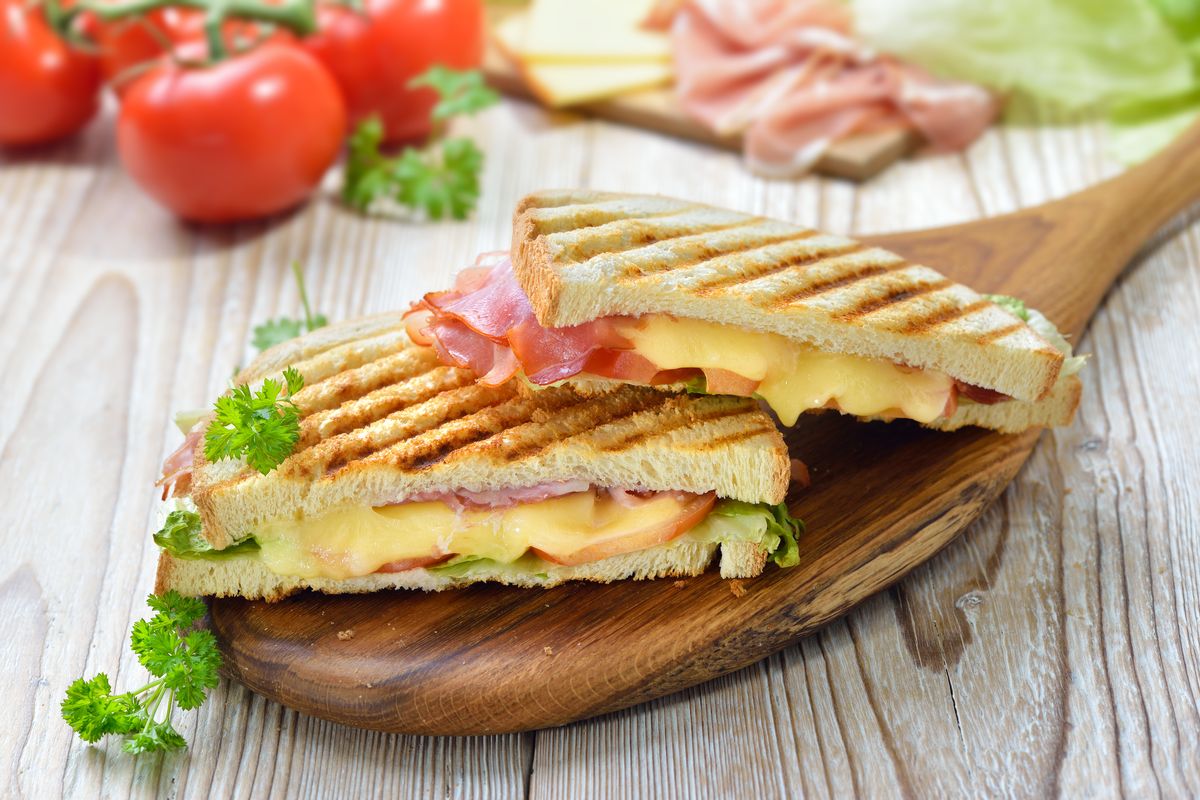 It is the toast recipe par excellence but, as mentioned before, to prepare it to perfection there are some precautions to follow, and above all it is important to choose quality raw materials. Better to opt for freshly sliced ​​ham and Fontina cheese .
Ingredients for 4 people:
8 slices of bread
8 slices of ham
8 slices of fontina cheese
The key to a great ham toast is to add a double dose of cheese so proceed as follows: slice of bread, cheese, two slices of ham, more cheese and finally bread. Heat it in the appropriate toaster for 2-3 minutes , until it is golden and crunchy. The cheese must be melted, but not dripping from the edges.
Avocado toast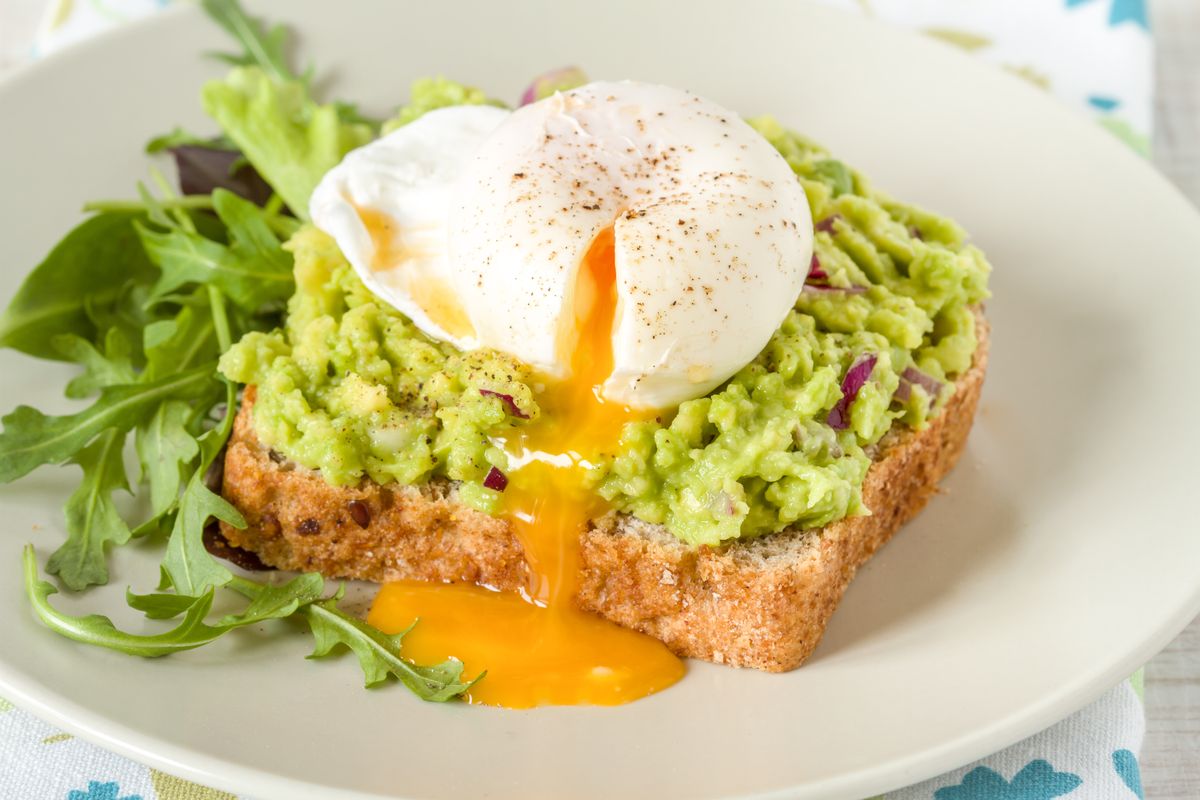 Little known until a few years ago, avocado toast has recently become the protagonist of brunches, breakfasts but also light dinners . The combination of avocado and egg flavors is nothing short of sensational. Here's how we prepare it.
Ingredients for 2 people:
4 slices of bread
1 avocado
2 eggs
1 lemon
Salt and Pepper To Taste
First prepare the fried eggs by cooking them in a pan for about 5 minutes (alternatively you can opt for poached eggs). Then prepare an avocado cream by crushing the pulp of the fruit and seasoning it with salt, pepper and lemon juice. Distribute it on two slices of toasted bread and complete with the egg. Close and enjoy, but know that the version with poached egg is more practical to enjoy on the plate.
Croque Monsieur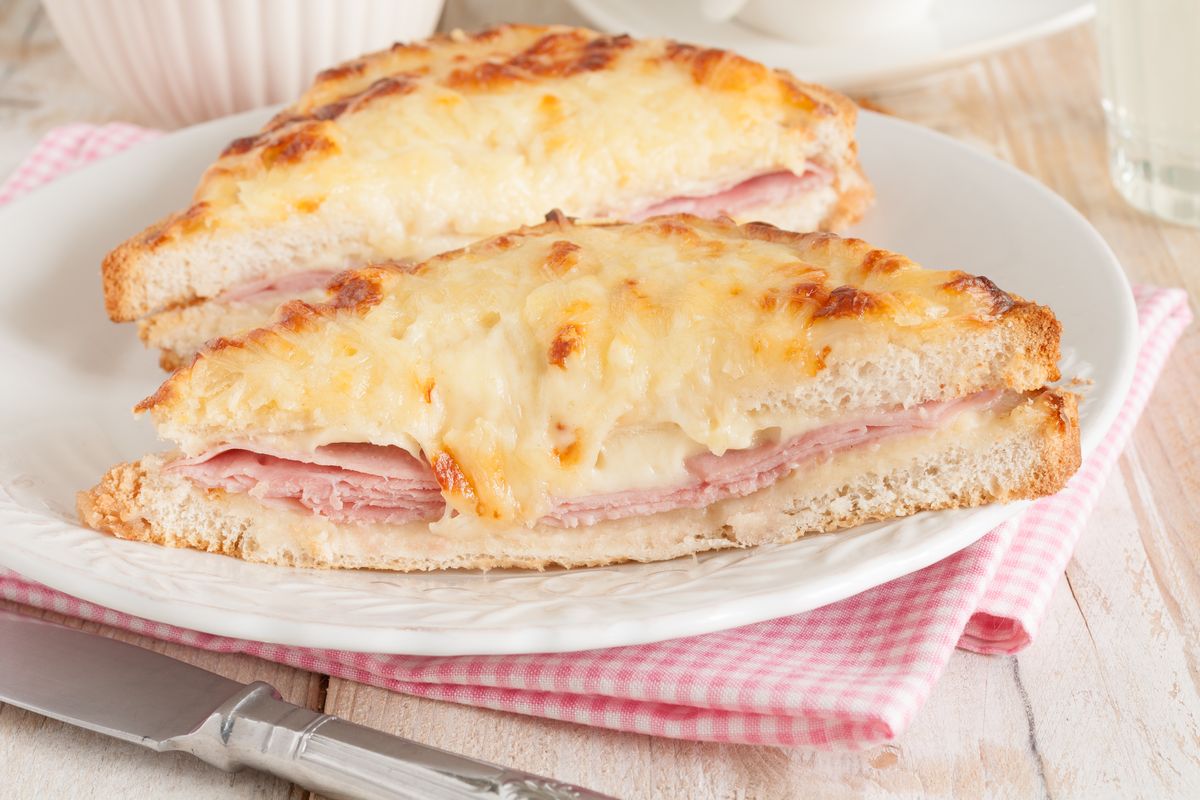 If, on the other hand, you want to dedicate yourself to preparing toast in the oven, we suggest you try the legendary Croque Monsieur . Typical of French cuisine , it is something truly sensational and very different from the recipes we are used to.
Ingredients for 4 people:
8 slices of bread
80 g of cooked ham
100 g of emmental
gruyere to taste
300 g of bechamel
At the expense of the particular ingredients, this toast recipe is also pretty simple. Spread about a spoonful of béchamel on half of the slices of bread, then cover with the ham , add a slice of emmental and finally close with more bread . Cover with another layer of béchamel and spread a generous amount of large grated gruyere . Bake in the oven at 220°C for about 5 minutes and serve piping hot.
Croque Madame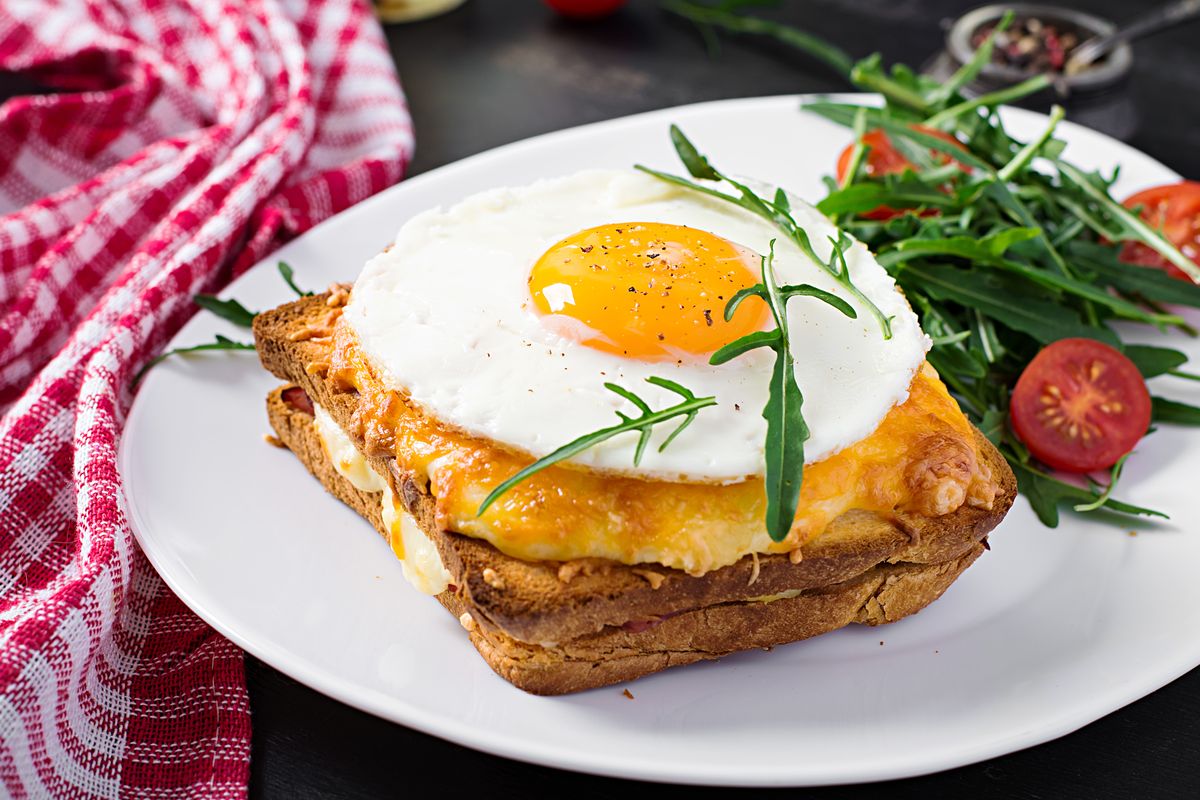 Compared to the previous recipe, the Croque Madame is even richer. The preparation is completed by a pan-cooked egg which with its melting heart will flood the bread embracing all the other ingredients.
Ingredients for 4 people:
8 slices of bread
4 eggs
40 g of butter
80 g toasted cheese (or gruyere)
80 g of cooked ham
Salt to taste
Pepper as needed
béchamel sauce (optional)
The preparation is very similar to the previous one, except that some versions do not include the use of béchamel. Spread the slices of bread with a little butter then form the toast by placing two slices of rolled ham on the base and a slice of cheese on top. Close and heat in a pan until it has melted. Complete with the egg , one for toast, cooked in a pan with a little butter and placed directly on the bread. If you wish to add the béchamel sauce , place a layer immediately under the ham and another covering the bread.
BLT (Bacon, Lettuce and Tomato)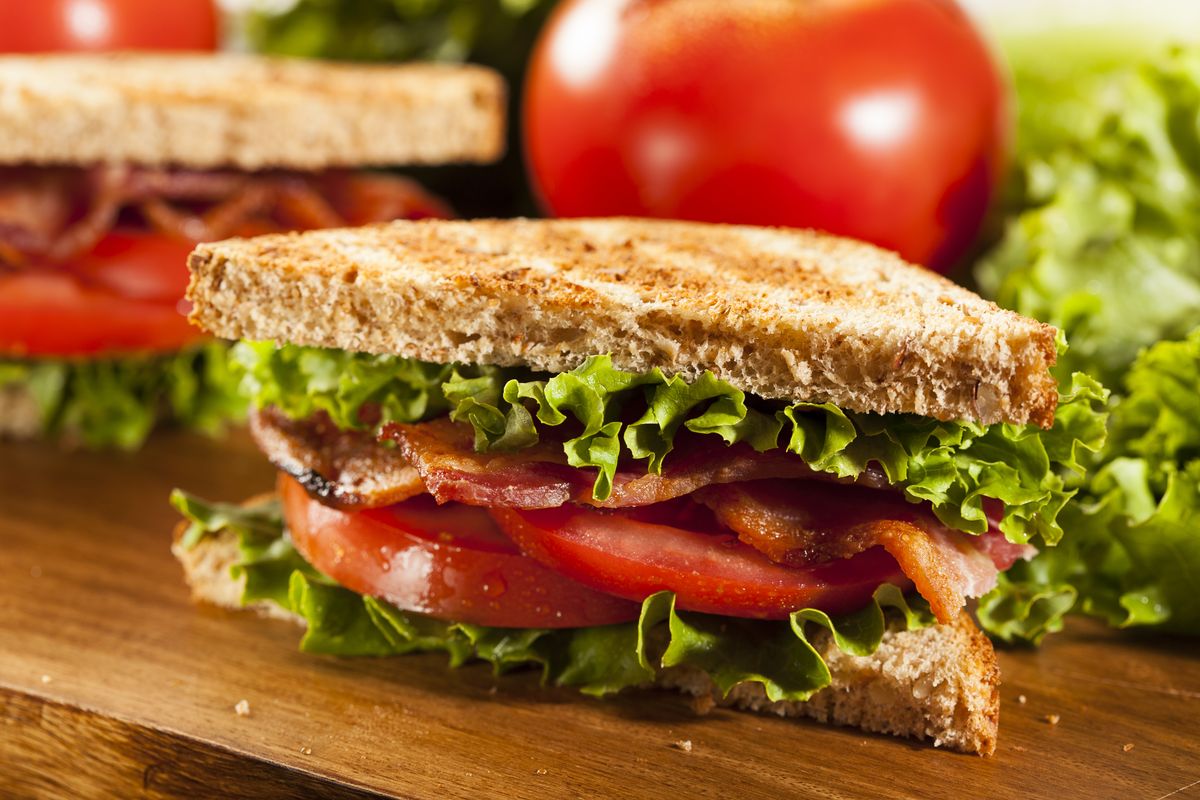 The idea of ​​a rich and tasty toast, even if prepared with few ingredients, comes from overseas. The BLT is something truly sensational that we absolutely recommend you try.
Ingredients for 4 people:
8 slices of sandwich bread
16 slices of bacon
1 head of lettuce
2 tomatoes
butter to taste
Salt to taste
pepper as needed
Brown the slices of bacon until you reach the degree of browning that best suits you. Toast the slices of bread in a pan until they are golden and crunchy, then spread them inside with a little butter and season with salt and pepper. Assemble the sandwich by distributing the lettuce leaves first, then the bacon and finally the tomato slices without the seeds. Close and enjoy immediately.
Light toast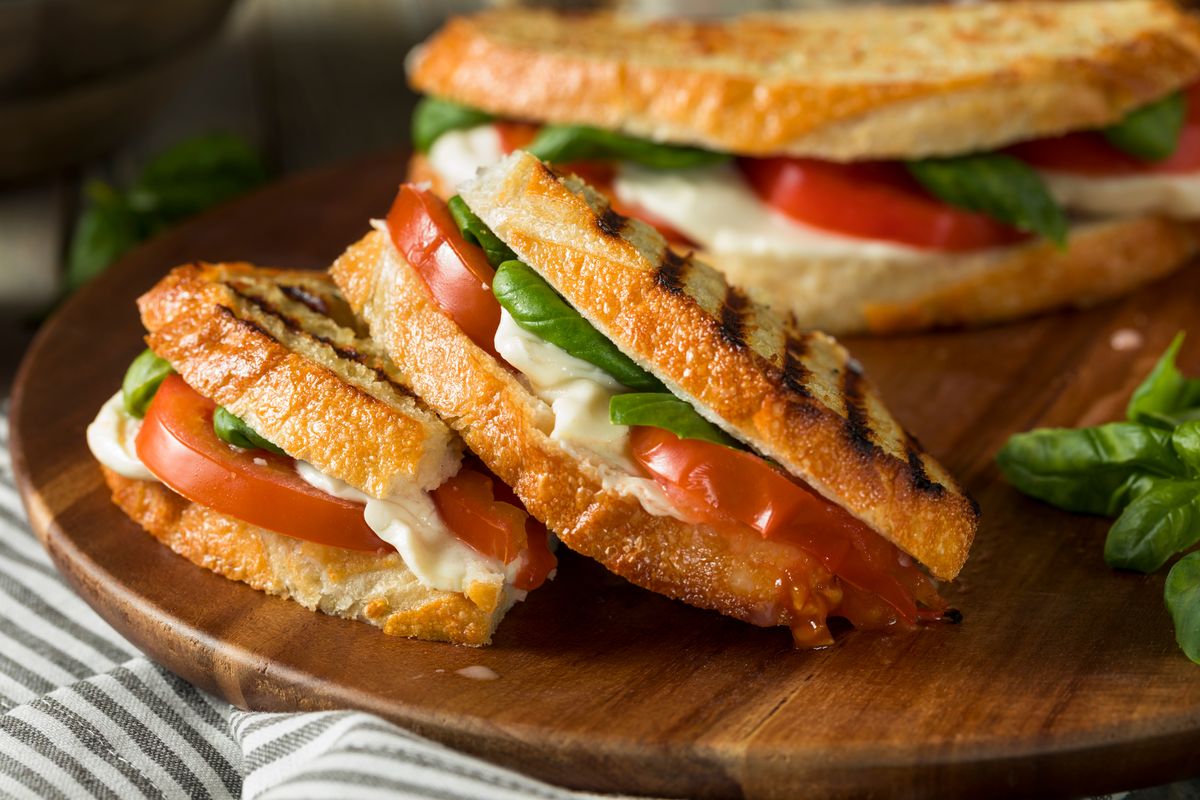 To make a light toast you need to reduce the calories of the ingredients used for the filling. In fact, bread, even if wholemeal , will still be the main source of the dish.
Ingredients for 4 people:
8 slices of wholemeal bread
2 light mozzarella
8 slices of lean cooked ham
1 tomato
Assemble the toast as follows: place the ham on half of the slices of bread, then cover with the mozzarella and finally the tomato , both cut into slices. Season with a pinch of salt and a sprinkling of oregano and close. Toast for about 5 minutes , just long enough for the mozzarella to melt. The addition of a few basil leaves will give the dish a pleasant note of freshness.
Pizza toast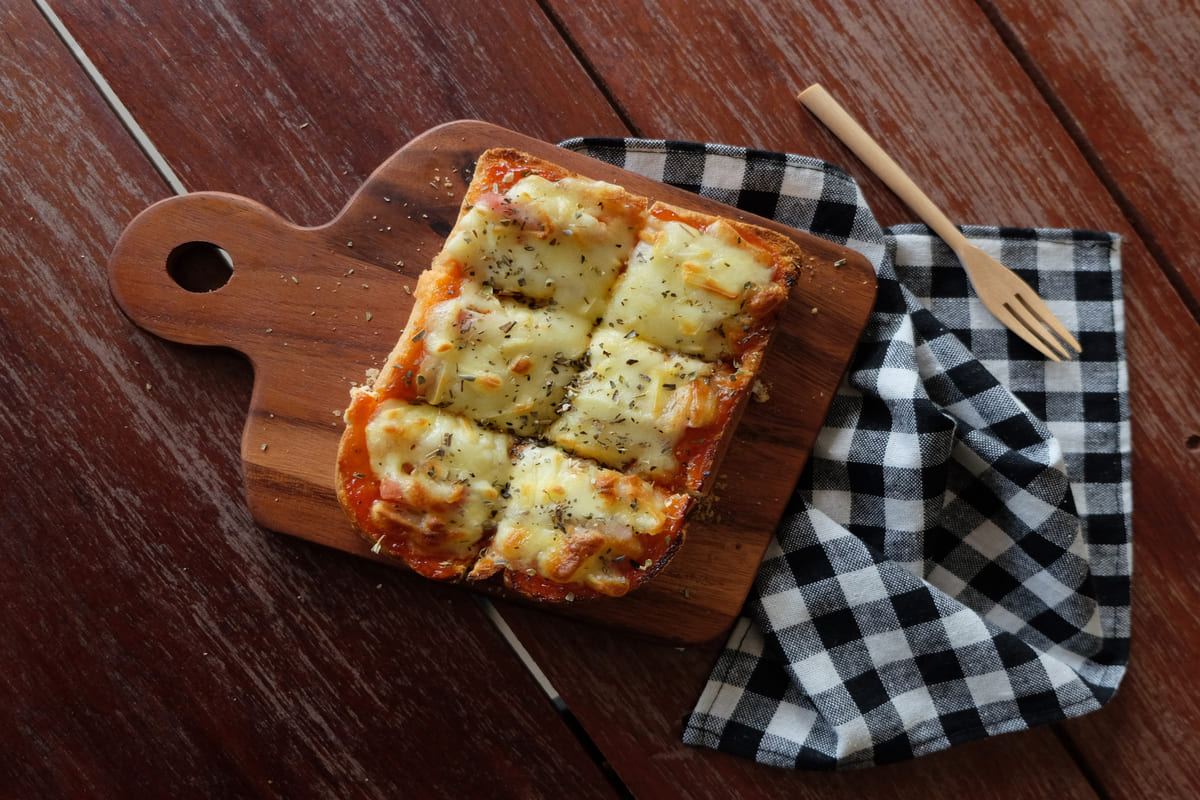 When it comes to pizza, everything is good, but pizza toast is truly amazing. In fact, imagine combining two recipes that are already delicious on their own in a single dish: something delicious can only come out!
Ingredients for 4 people:
12 slices of toast bread
6 slices of cooked ham
6 slices of scamorza
400 g of tomato pulp
Salt to taste
oregano to taste
1 tablespoon of extra virgin olive oil
100 g of mozzarella for pizza
Put 6 slices of bread on the bottom of a baking dish, side by side to create a base. Then place the slices of ham and scamorza and cover with the remaining bread. Distribute to cover the tomato pulp seasoned with salt, oil and oregano and finally complete with the grated mozzarella for pizza. Bake at 180°C for 15-20 minutes and enjoy hot.
Elvis toast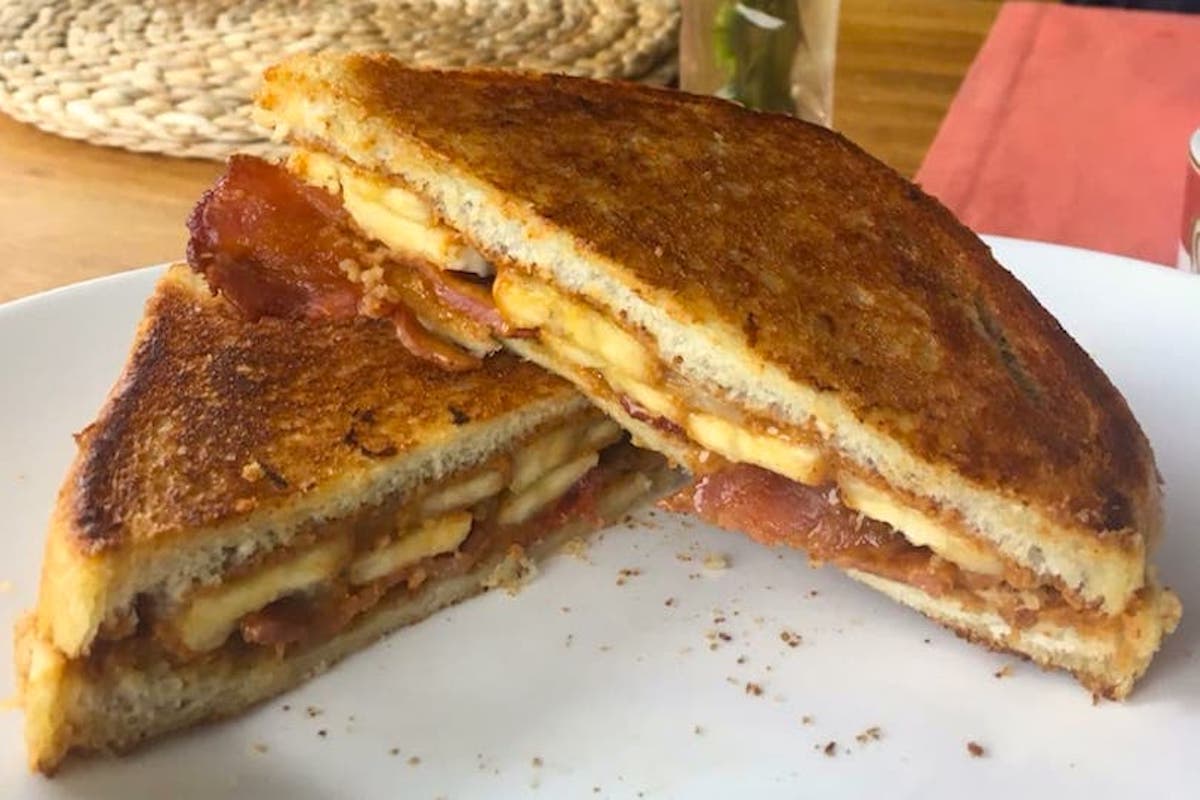 Elvis toast is certainly not a recipe for the faint of heart. The pairing, already at first glance, is very American and may not suit everyone's tastes. But we tried it and it must be said that it was an experience.
Ingredients for 2 people:
4 slices of large toasted bread
8 slices of bacon
peanut butter to taste
1 banana
butter to taste
Brown the slices of bacon in a pan until they have released part of the fat and become crispy. Then spread a layer of peanut butter on the slices of bread and assemble the toast by placing the sliced ​​banana and bacon. Close and, after adding a knob of butter to the pan with the fat, fry the toast on both sides until golden and crispy.
Vegetarian toast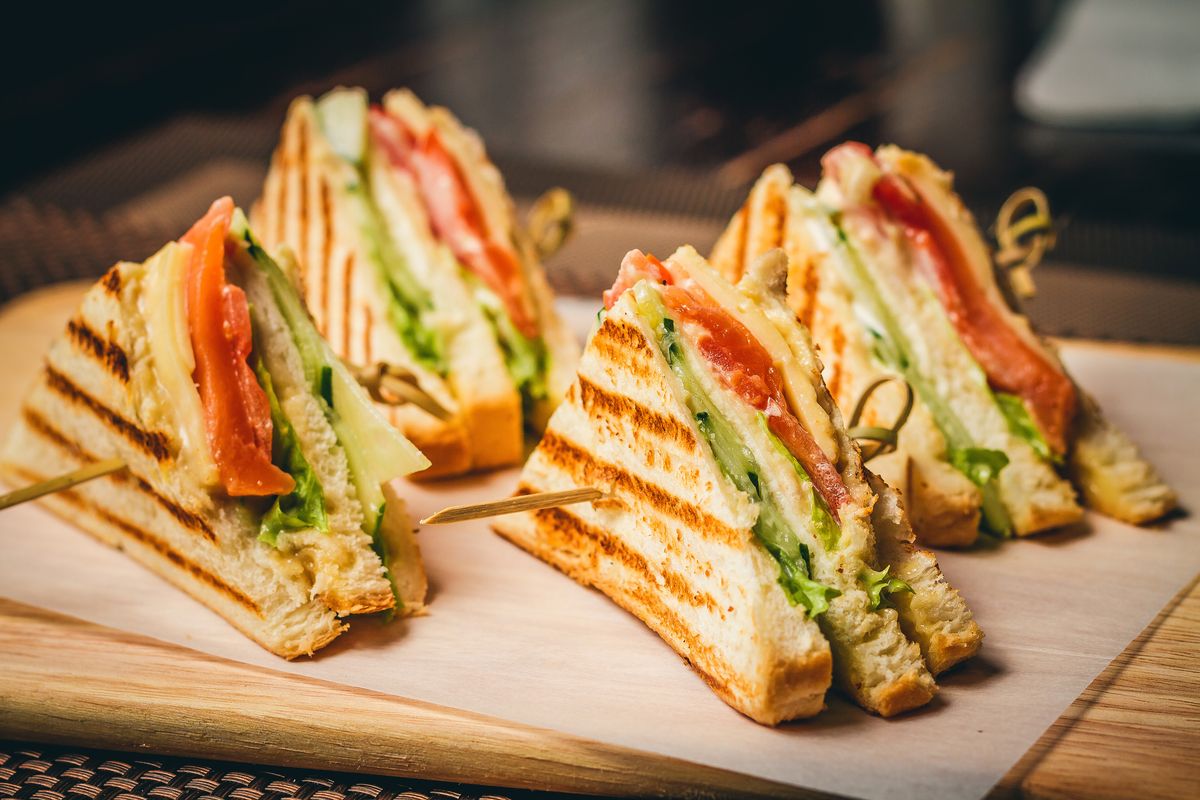 For a lighter but no less tasty version, we invite you to try our three-story vegetarian toast. Tasty and balanced, it will conquer even the most avid omnivores.
Ingredients for 4 people:
12 slices of bread
2 tomatoes
iceberg lettuce to taste
1 red onion
8 slices of emmental
2 tablespoons of mayonnaise
Salt to taste
oregano to taste
First, slice the tomatoes and onion and season the former with a pinch of salt and a sprinkling of oregano. Then place 4 slices of bread on the chopping board and start assembling the toast: spread a layer of mayonnaise , then put the salad , tomatoes and a slice of cheese . Cover with a slice of bread , spread with more mayonnaise , put more tomatoes , the onion and the cheese . Close with the remaining bread and toast until the cheese has melted.
Vegan toast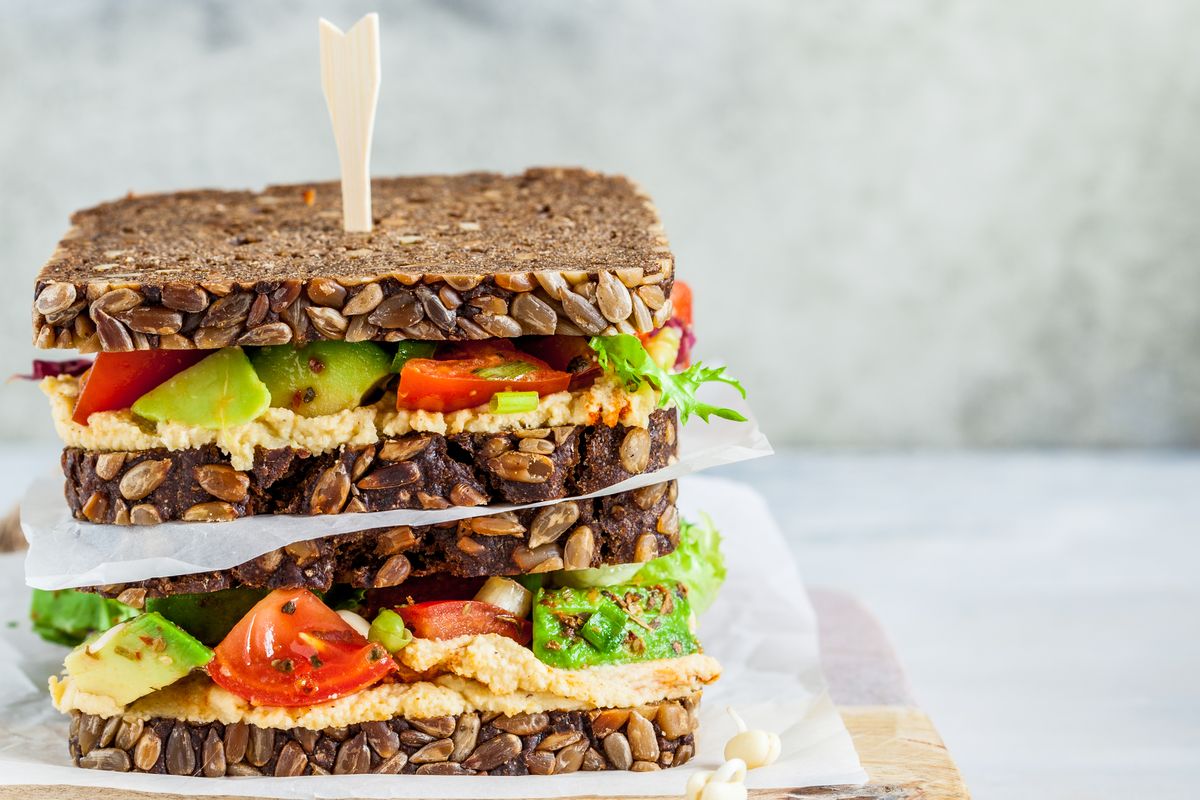 Making vegan toast is much easier than you might imagine. Certainly there isn't just one type because with a little imagination it's possible to recreate many combinations . However, we want to give you a simple but at the same time tasty idea.
Ingredients for 4 people:
8 slices of cereal bread
2 tomatoes
1 avocado
1 red onion
1 lemon
Salt to taste
Wash the tomatoes and cut them into rather small pieces after removing the seeds. Then peel the avocado , remove the central core and cut the pulp into cubes then season it with lemon juice to prevent it from blackening. Finally, peel the onion and chop it with a knife. Mix all the ingredients in the bowl, seasoning with a pinch of salt . Spread a generous amount of hummus (it can also be found ready) on 4 slices of bread, then complete with the diced vegetables and finally with a few leaves of salad . Close and enjoy after toasting the bread in a pan for a few minutes, just long enough to make it crunchy.
Potato toast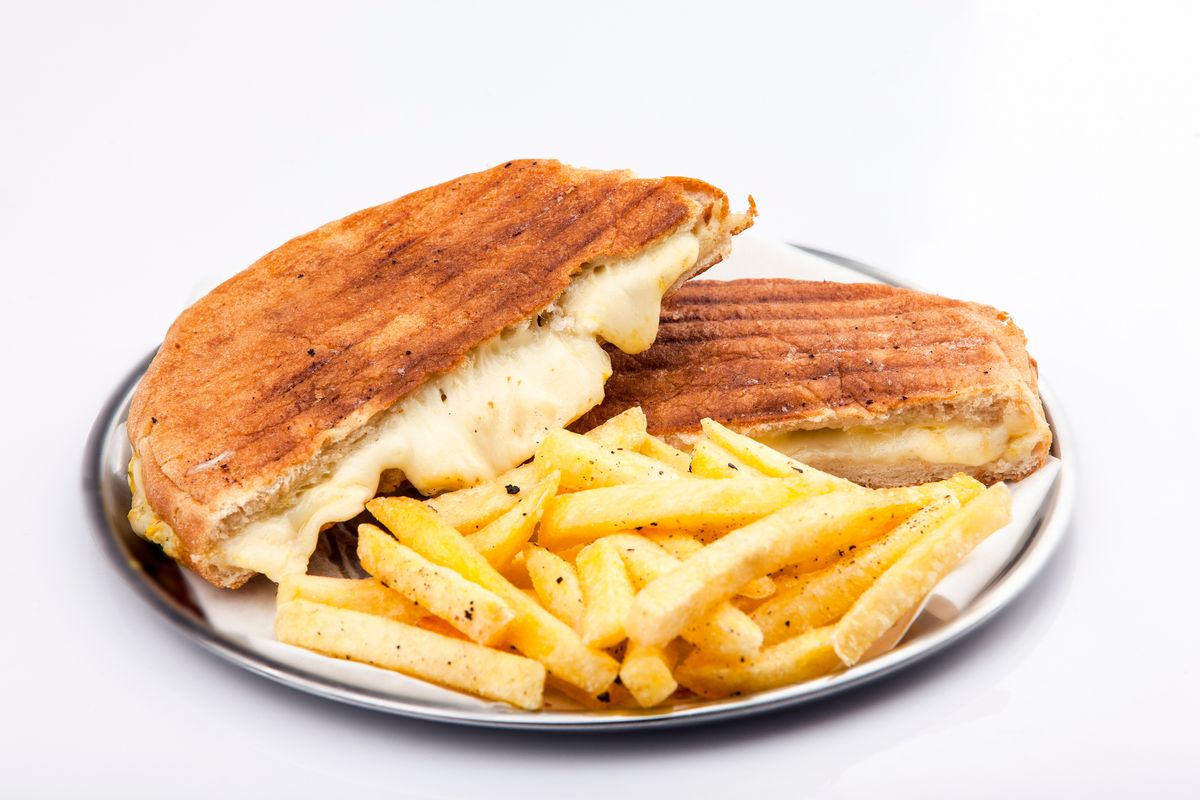 Potato toast is a truly delicious recipe, similar in appearance to a classic ham toast but even more delicious : in fact, the potatoes make up the outer casing. And nothing tastier could come out!
Ingredients for 4 people:
200 g of 00 flour
400 g of potatoes
1 egg
30 ml of seed oil
1 teaspoon of salt
1 sachet of instant yeast for savory preparations
4 slices of ham
4 slices
Boil the potatoes in salted water then mash them, still hot, and transfer them to a container. Once warm, add the flour, egg, oil and, if needed, salt and mix. Roll out the mixture until it is about a centimeter thick and cut 8 squares . Place half a slice of ham and half a thin slice on half of them and close with the remaining squares. Heat a drizzle of oil in a pan and cook the toasts for 7 minutes on each side, then serve hot.
Sweet toasts
The positive side of toasts is that they are so versatile that they can be transformed into delicious sweet recipes with little effort. From "recycled recipes" to the most delicious ones, here's how to prepare delicious sweet toasts. We give you some ideas but then let your imagination guide you to experiment with new combinations .
French Toast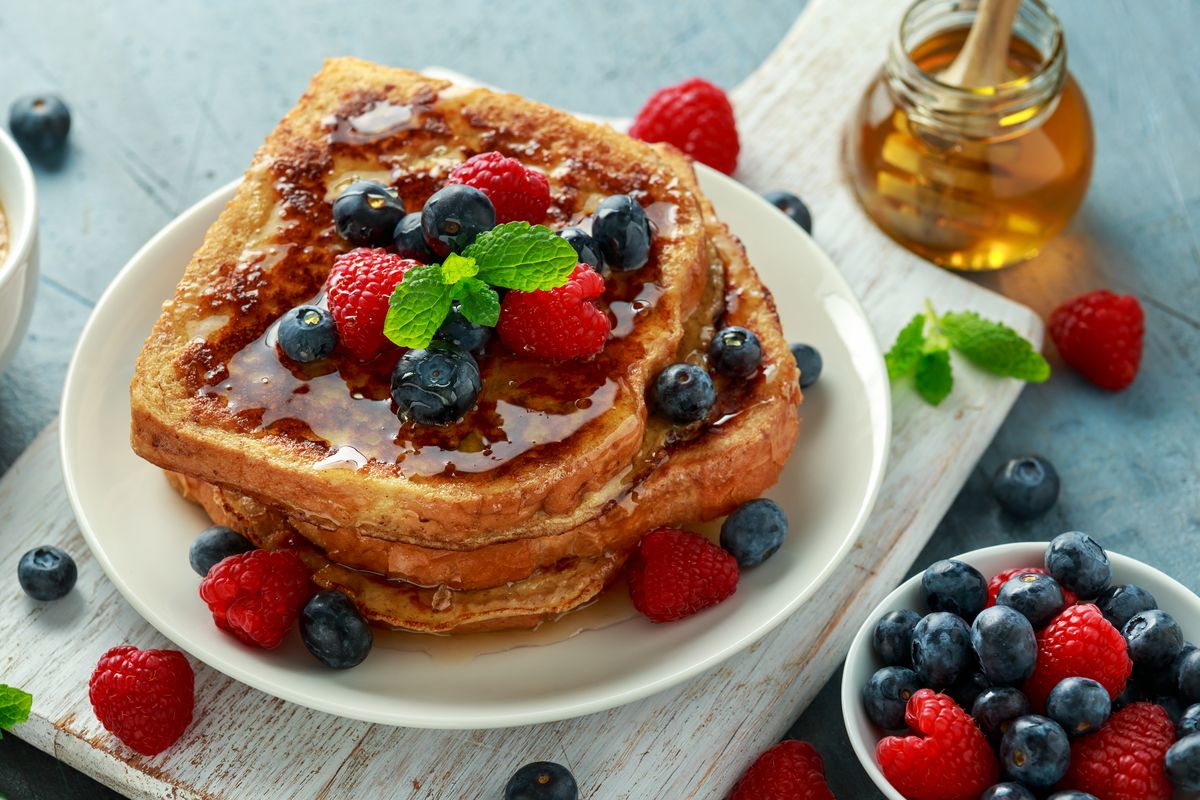 French toast is a sweet toast perfect for recycling leftover slices of bread . Super easy to make with just a handful of ingredients, it's great for breakfast or brunch.
Ingredients for 4 people:
8 slices of American type sandwich bread
200 g of blueberries
100 g of butter
100ml of milk
3 eggs
A pinch of cinnamon
A pinch of salt
Powdered sugar
Maple syrup
Beat the eggs with the milk and the cinnamon and quickly dip the slices of bread on both sides. Heat a non-stick pan with a little butter and fry the slices until they are golden and crispy. Serve topped with fresh blueberries , a drizzle of maple syrup and a little icing sugar .
Peanut Butter Toast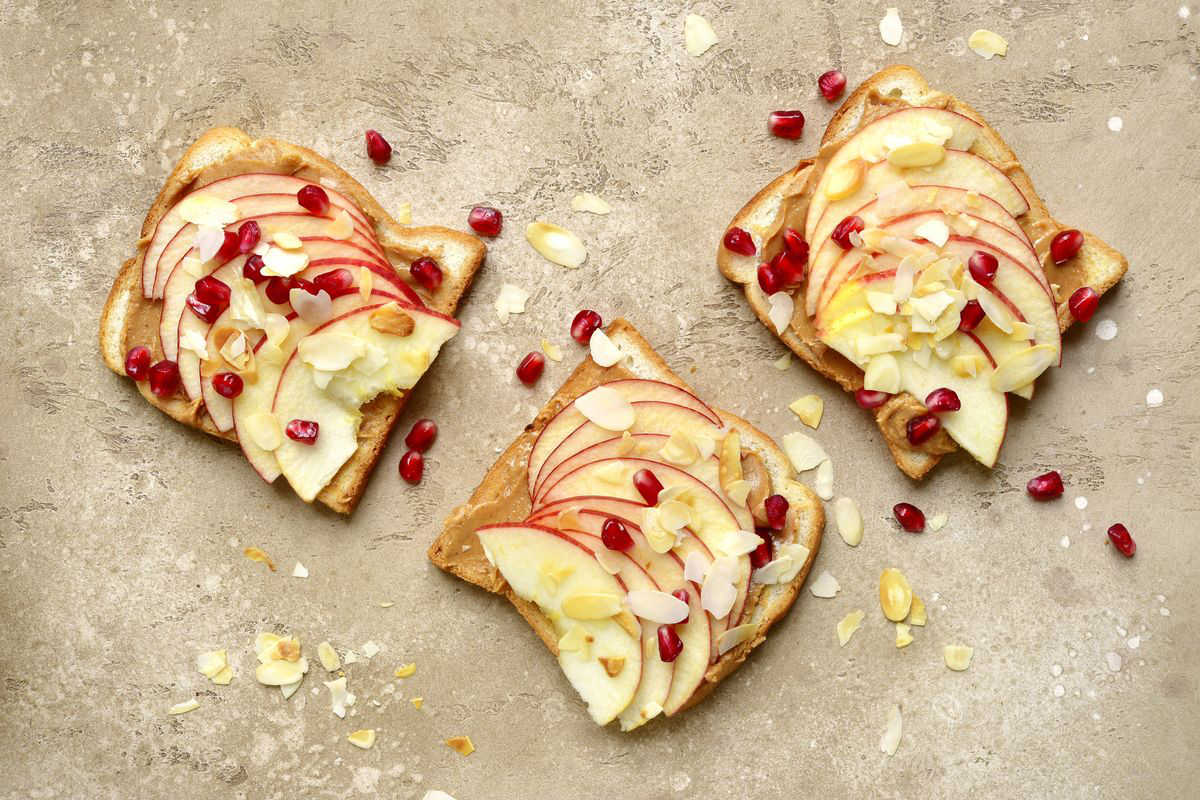 To fuel up at the start of the day, there's nothing like peanut butter toast . To be enjoyed open, it is perfect for young and old .
Ingredients for 4 people:
4 slices of bread for toast
4 teaspoons of peanut butter
1 apple
pomegranate to taste
Toast the bread with the plate, the toaster or directly in the pan, until it is crunchy. Spread each slice with a teaspoon of peanut butter and complete with the sliced ​​apple and a few pomegranate seeds.
Banana toast and Nutella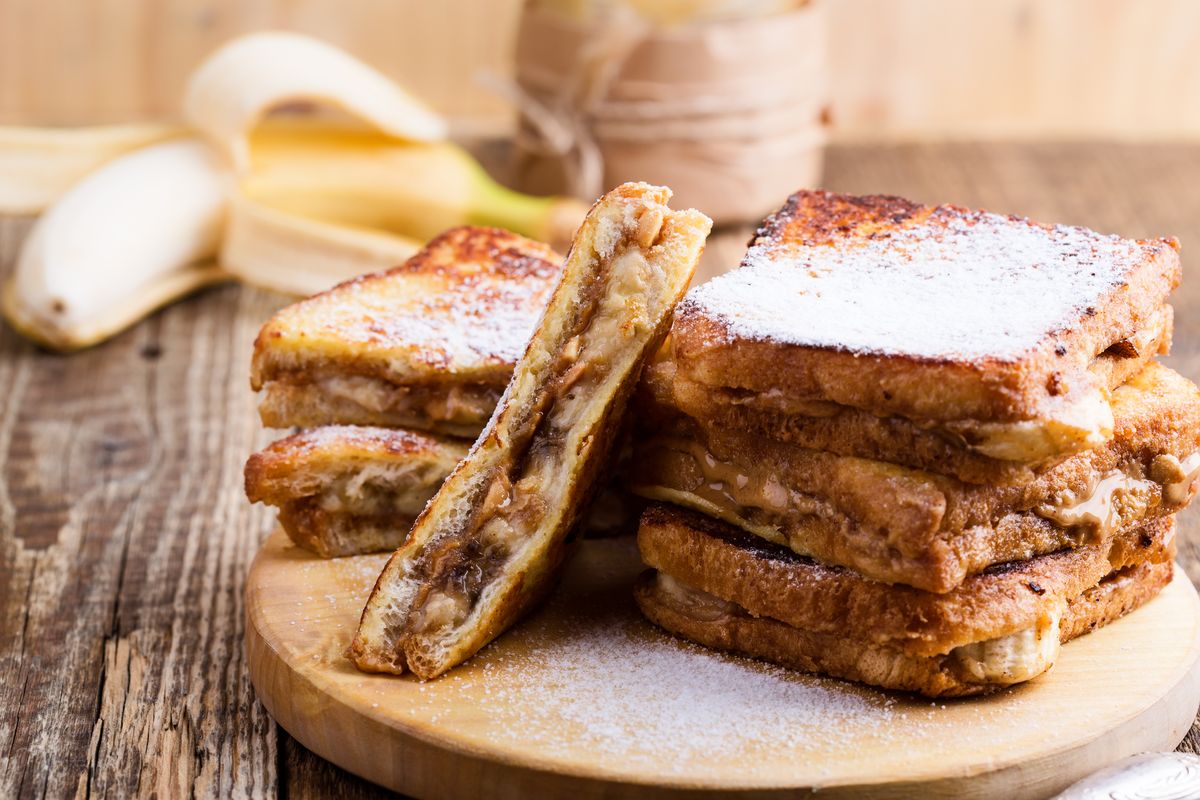 True gourmands will have already guessed how good toast with bananas and nutella can be. Of course, the calories are felt , but a slight from time to time is fine.
Ingredients for 4 people:
8 slices of toast bread
4 spoons of nutella
2 bananas
chopped hazelnuts to taste
butter to taste
First, toast the bread in a pan with the butter until it's nice and crunchy. Then spread a generous layer of nutella on half of the slices, cover with the sliced ​​banana and complete with a little chopped hazelnuts . Finally, spread more Nutella on the remaining bread and close. Good right?
Strawberry toast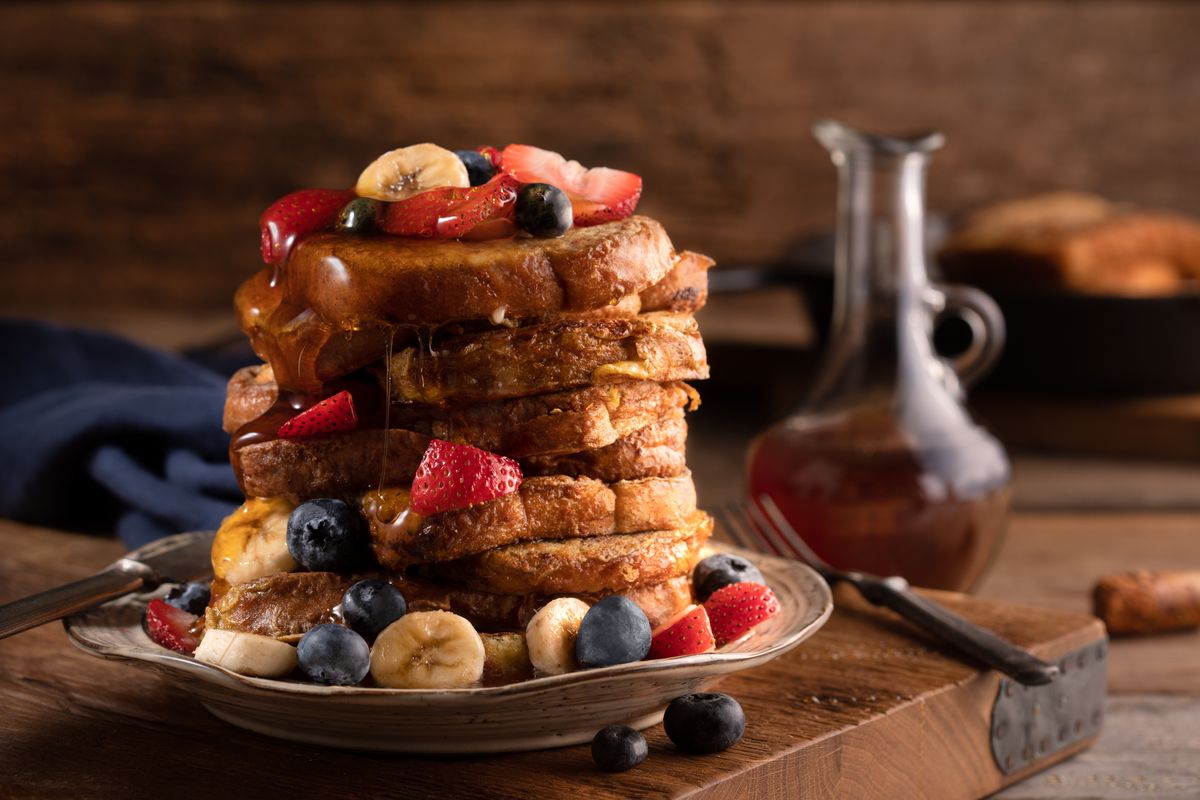 Leaving aside the classic toast with jam, we want to offer you this toast tower that is delicious beyond measure but really simple to prepare. Serve it during a brunch and you will leave everyone speechless.
Ingredients for 4 people:
8 slices of bread
nutkao cream
100 g of strawberries
maple syrup to taste
blueberries to taste
50 g of butter
Melt the butter in a pan and toast the slices of bread on both sides. Arrange them, as they are ready, one on top of the other, just as you usually do with pancakes, alternating each layer with a spoonful of nutkao cream and sliced ​​strawberries . Finally, decorate with strawberries and blueberries and complete with a drizzle of maple syrup.
Now that you have tons of toast ideas to make, all you have to do is get started. Which one will you start with?
Riproduzione riservata © - WT