New Year's menu: 20 recipes from appetizers to desserts to start the new year in the best possible way!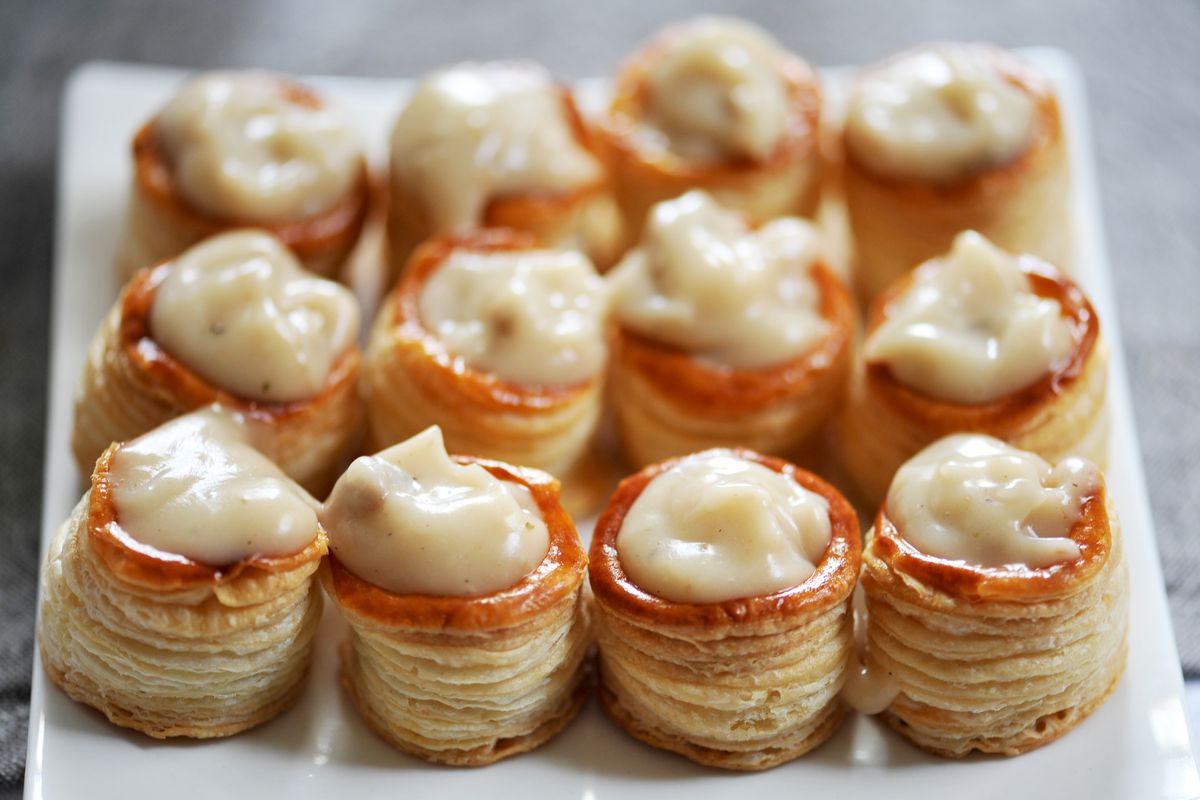 What to do on New Year's Eve you will have already decided, now you only need one thing: the New Year's menu! Here are 20 quick and easy recipes for a super party!
Need New Year's Eve menu ideas? Don't worry, you are in the right place ! Today we're going to discover incredible dishes, easy to prepare and perfect for bringing taste, tradition and a lot of imagination to your table!
Traditionally, the Italian New Year involves a series of superstitious rituals to be respected more or less rigidly. It begins with the tradition of wearing red underwear , that of throwing objects that lie unused out of the window, that of eating lentils during dinner on December 31st as a wish of wealth for the new year and finally that of kissing under the mistletoe at the stroke of midnight.
In short, there are as many things to do on New Year's Eve as you want, but foodies know that only one counts : the menu! From the classic cotechino with lentils to desserts to be enjoyed on the sofa while the New Year's concert is on TV: here are the best recipes for New Year's Eve, to satisfy your palate and leave your guests speechless.
The best recipes for New Year's Eve: menus from appetizers to desserts
In the end it was your turn: you will host the New Year's Eve dinner, to the delight of relatives and friends . The expectation is high, everyone wants to spend a special New Year's Eve based on laughter and good food to welcome the new year in the best possible way. We have selected 20 recipes that will make you look great, but above all, that will make you spend a pleasant evening in the company of your loved ones!
Appetizers for New Year's Eve
Everyone on the table, it starts with the courses! If you have few and confused ideas, here are four proposals for preparing quick, simple and delicious New Year's appetizers that will amaze your guests and won't really take you much time.
1. Scallops au gratin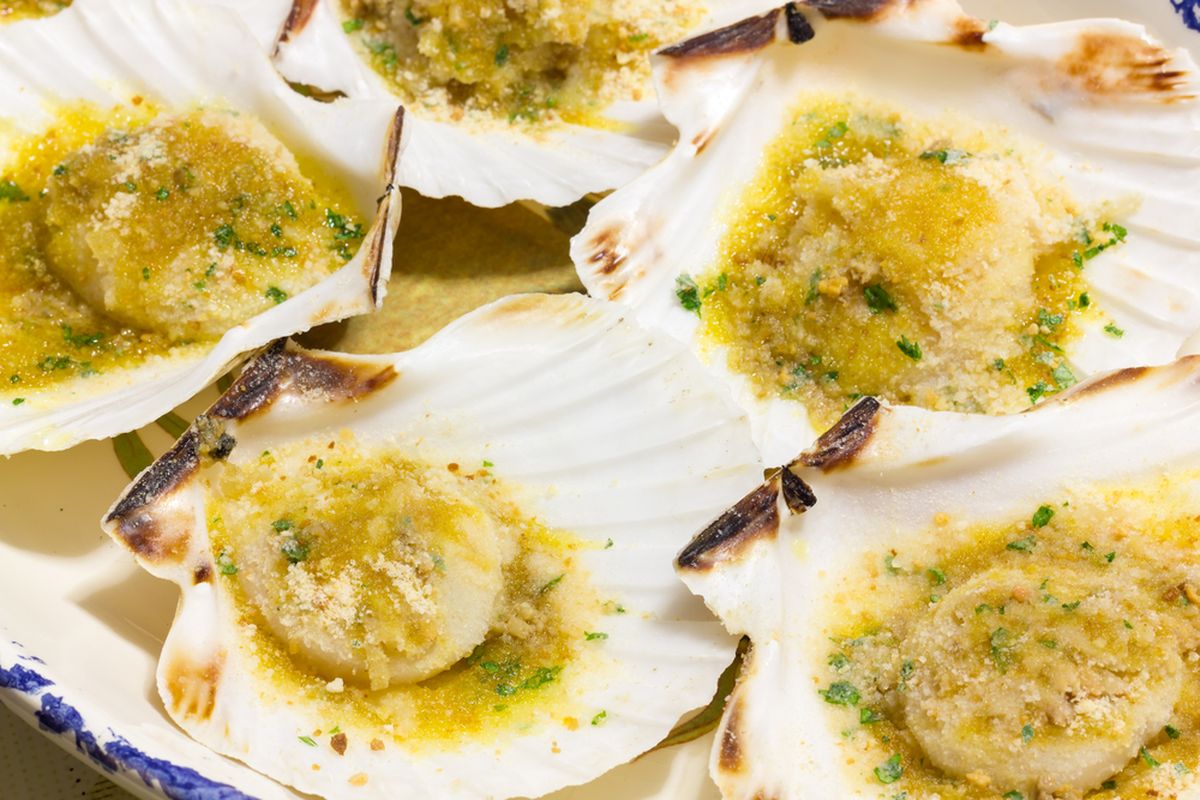 To start New Year's dinner in style, there's nothing better than bringing this dish to the table. Scallops au gratin are certainly a traditional dish and consumed especially during the holiday season, and trust us, they are truly unsurpassed: good, easy, fast and impressive! Impress all your guests starting from the first course.
Here are all the ingredients for this refined and tasty dish!
Ingredients for the scallops au gratin recipe (for 4 people)
8 scallops
150 g of breadcrumbs
2 cloves of garlic
fresh parsley to taste
extra virgin olive oil to taste
Salt to taste
pepper as needed
1 lemon
Open the scallops and keep only one half with the fruit. Separately, prepare the gratin by mixing the breadcrumbs, the minced garlic with a knife without the core , the minced parsley, salt, pepper and the lemon zest. Mix and cover all the scallops with this breading, add a drizzle of oil and place in the oven, on a baking sheet covered with special paper, for about 10 minutes at 200°C .
2. Salmon mousse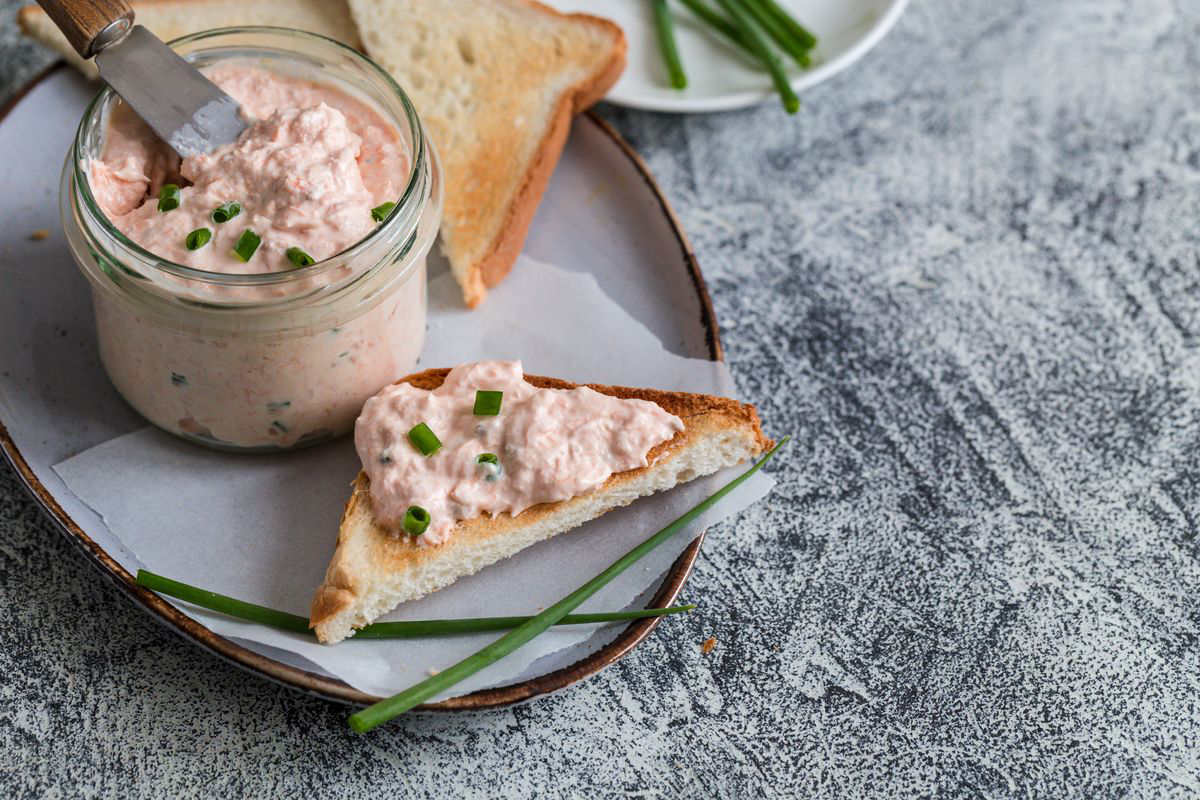 Fish appetizers for New Year's Eve? Here's the salmon mousse ! You can prepare this dish well in advance and put it on the table letting guests serve themselves, or make delicious croutons ready to be enjoyed . The ingredients are simple, with just a few moves the game is done!
Salmon, as we know, is another of those refined, delicate ingredients, excellent to serve during the holiday season. Make this wonderful colorful and delicious appetizer too!
Ingredients for the salmon mousse recipe (for 4 people)
200 g of smoked salmon
200 g of robiola
60 ml of fresh cream
dill or fennel to taste
Salt to taste
pepper as needed
Chop the salmon with a knife and put it in the mixer together with the soft cheese and blend it to obtain a creamy and homogeneous consistency . Separately, whip the cream and add it to the cream, being careful not to disassemble it. Flavored with herbs, salt and pepper, stir gently to mix everything and pour the mousse into a small bowl ready to be served or to rest for a few hours in the fridge, covered with transparent film.
3. Vol au vent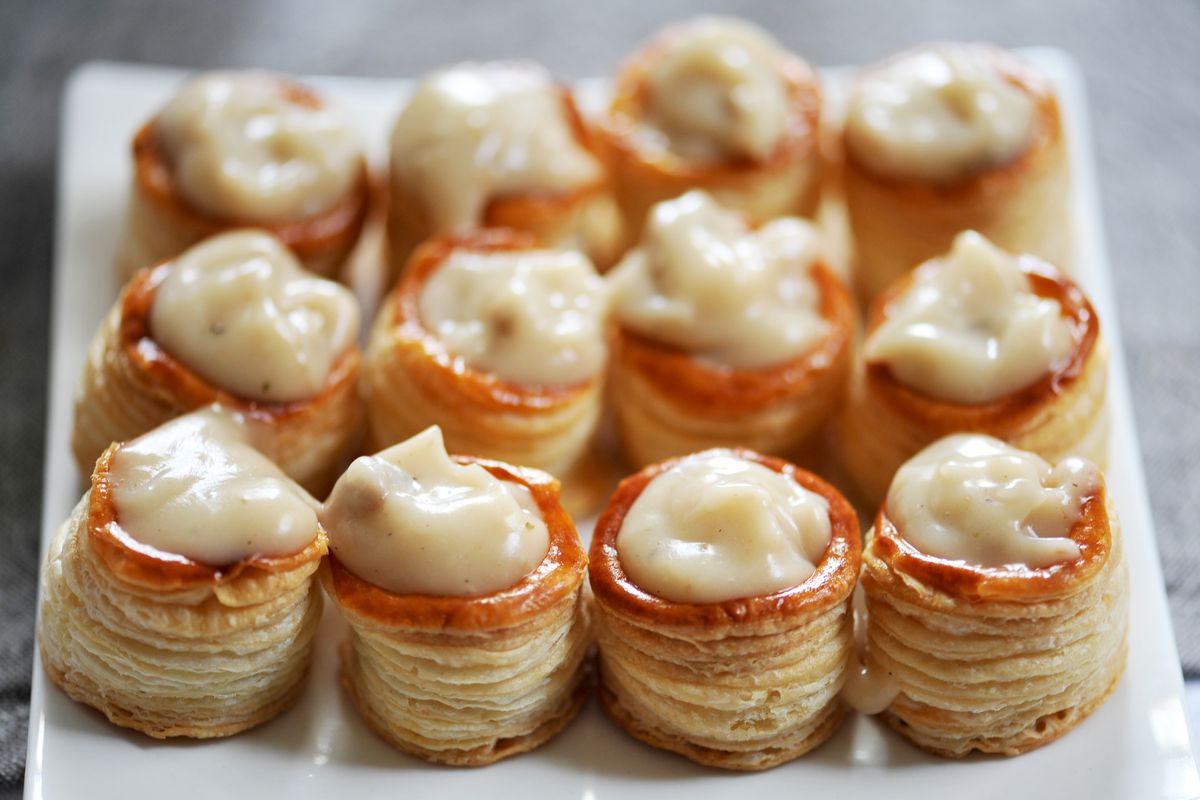 After two fish appetizers, let's move on to another excellent dish to start the dance for dinner, the savory vol au vents with cheese. You can either buy them already made and fill them with a cheese fondue, or for an even more delicious result, prepare everything yourself. In this way you will have fun creating a homemade recipe entirely by yourself, and trust me, the result will be felt all right !
Ingredients for the savory vol au vent recipe (for 4 people)
2 rolls of puff pastry
120 ml of milk + to taste for creating vol-au-vents
60 g of fontina
60 g of taleggio
15 g of butter
1 pinch of salt
nutmeg to taste
1 pinch of pepper
1 teaspoon of 00 flour
Roll out the puff pastry and cut into disks of about 5-6 cm in diameter until the dough is finished. Of these, set aside 10 so that there are at least 30 more on the work surface. With a smaller pastry cutter (about 4 cm in diameter) cut 30 rings which will be used to compose the vol-au-vents. Take the 10 bases and put 3 rings of dough on each one, always alternating them with a brush of milk so that they adhere well to each other (if you have more dough you can create more vol-au-vents. All you need is 3 rings for each base ). Prick the base, place them on a baking tray covered with parchment paper and cook them in the oven at 200°C for around 10 minutes .
Prepare the fondue filling by melting the butter in a saucepan and adding the flour, keep mixing to form a light caramel-colored roux and, at this point, add the milk slowly and the cheese cubes, stirring constantly so that no lumps are formed. . Wait for it to reach a nice creamy consistency and complete with salt, pepper and nutmeg to taste. Stuff the vol-au-vents with the fondue and, if you prefer them hot, put them in the oven again at 180°C for about 5 minutes .
4. Russian salad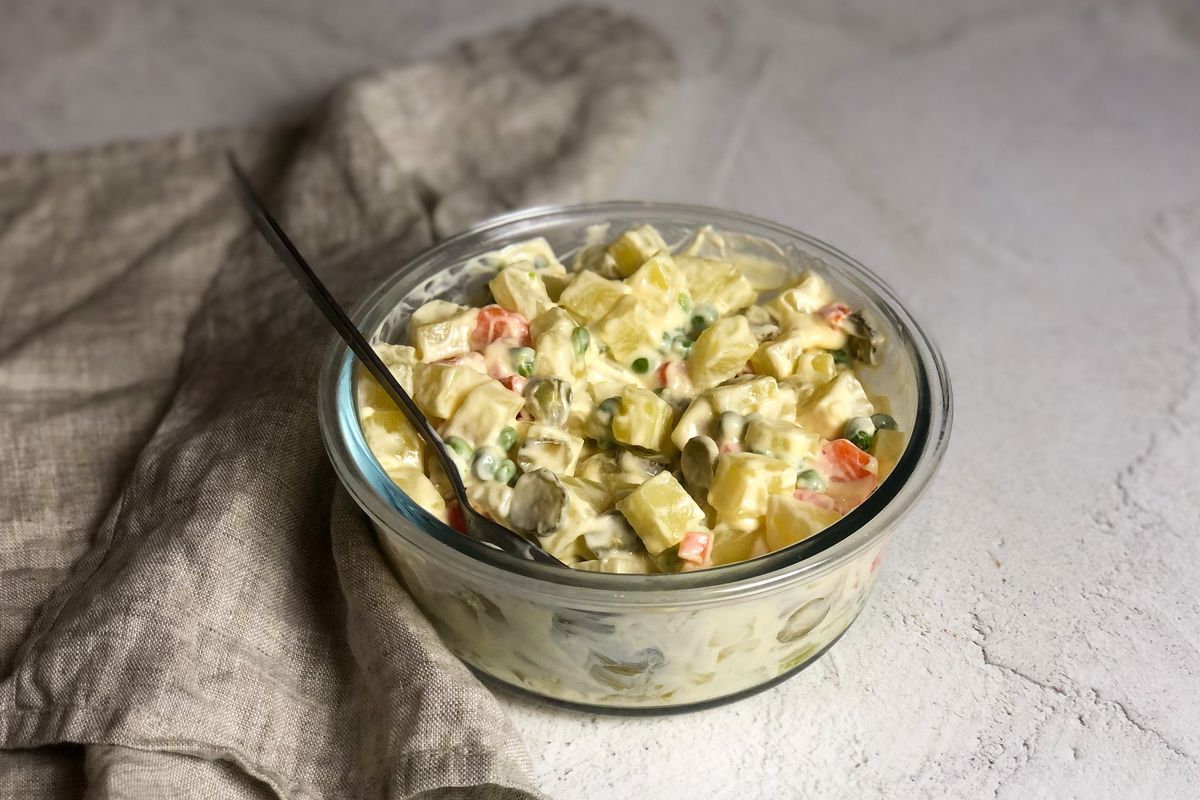 The last appetizer for the New Year's Eve dinner is vegetarian, delicious and loved throughout Italy: we are talking about the Russian salad of course! A cold and easy to prepare appetizer, where you can use ready-made mayonnaise or make it at home .
Ingredients for the Russian salad recipe (for 4 people)
350 g of mayonnaise
500 g of potatoes
300 g of peas
200 g of carrots
50 g of pickled gherkins
white wine vinegar to taste
Salt to taste
extra virgin olive oil to taste
Peel and wash the carrots and potatoes and cut them into chunks paying attention to the size (try to make them as equal as possible and similar to the size of the peas). Now cook them in a pot of salted water together with the peas until they are soft (you can also cook them separately or in the same pot, then drain and dry well. Put the vegetables in a bowl and add the chopped doilies too. into slices, season with oil, vinegar and salt and add the mayonnaise a little at a time.Stir to mix the ingredients well and serve cold .
First courses for New Year's Eve
The first course went smoothly and without problems, now we move on to the first course (or first courses depending on how many recipes you want to prepare for New Year's Eve). There are many first courses for the New Year's Eve dinner to choose from, fish is certainly the master, but we also don't want to forget special dishes, risottos and the classic lasagna!
1. Champagne risotto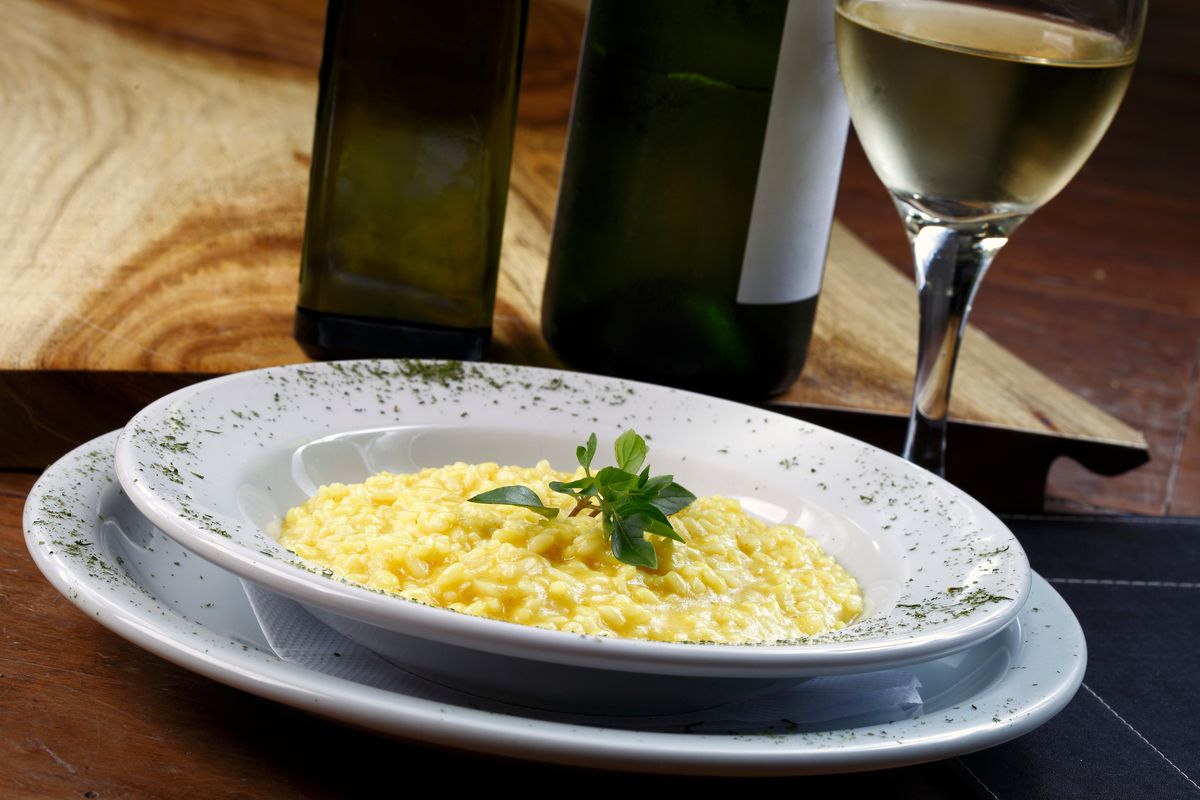 Let's finally move on to the first courses. Here too, tradition has it that high quality ingredients are used, perhaps unusual and that are not eaten every day. In short, what better occasion to cook a wonderful risotto with Champagne ?
Apparently this is a very simple dish, a risotto creamed with butter and cheese and enriched with Champagne, which is used during preparation both for deglazing and during cooking. This is why it is important to get a good and quality bottle !
Try it yourself, you will be surprised!
Ingredients for the champagne risotto recipe (for 4 people)
320 g of Carnaroli rice
onion or shallot to taste
vegetable broth to taste
70 g of butter
100 g of grated cheese
pepper as needed
Salt to taste
1 bottle of Champagne
Heat the broth in a saucepan and finely chop the onion, sauté it in a pan with half the indicated butter for a few minutes. When the onion is soft, semi-transparent and not toasted, toast the rice for about 2 minutes in a pan and then pour in about half a bottle of wine . Let the alcohol evaporate completely by stirring the rice with a wooden spoon, then lower the heat and let the risotto simmer. Once the wine has reduced considerably, add a few ladles of broth and cook following the instructions on the package and adding more broth as needed (the rice must always be covered by the liquid ). When there will be a few minutes left at the end of cooking, add 1 more large glass of Champagne, stir and let it absorb.
Turn off the heat and stir in the rest of the butter and cheese. Then combine it with a glass of Champagne left in the bottle.
2. Linguine with lobster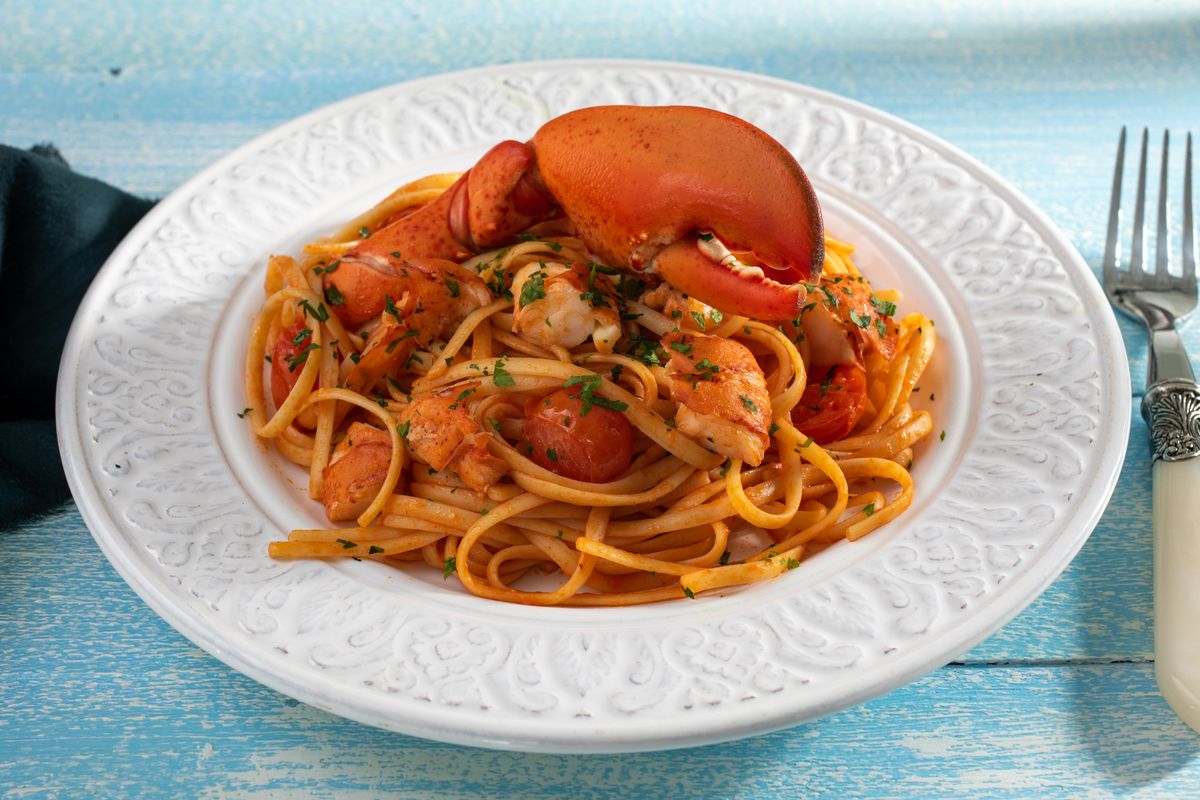 Were we talking about refined ingredients? Well, how could we leave out the lobster then? We have decided to offer it in this fantastic first course, linguine with lobster , in our opinion a pasta recipe for New Year's Eve that can never be missing. In the preparation of this sauce, tomatoes and all the aromas and condiments necessary to create an amazing sauce are also used. There are no other words to spend: prepare this dish to impress all your friends!
Ingredients to prepare linguine with lobster (for 4 people)
350 g of linguine-type pasta
2 lobsters weighing 400 g each
1 clove of garlic
300 g of cherry tomatoes
1/2 glass of white wine
1 fresh chilli
parsley to taste
extra virgin olive oil to taste
Salt to taste
pepper as needed
Wash the parsley and cherry tomatoes, chop the former with a knife and cut the latter in half then put them aside in two separate bowls. Now cut the crustaceans in half lengthwise and break the claws (you can do it yourself or even ask your trusted fishmonger). Now put the oil, garlic and chilli pepper in a pan and let it brown for a few seconds, then add the lobsters. After 3-4 minutes , pour in the white wine and let the alcohol evaporate, then add the cherry tomatoes and chopped parsley. Season with salt and pepper according to your taste, then cook for a few more minutes until the lobster meat is completely cooked and detaches easily from the carapace .
Cut the pulp into small pieces (or leave it inside the exoskeleton for linguine with lobster in bellavista) and cook the pasta in a pot of boiling salted water. Drain and serve, also adding the sauce and meat.
3. Pomegranate risotto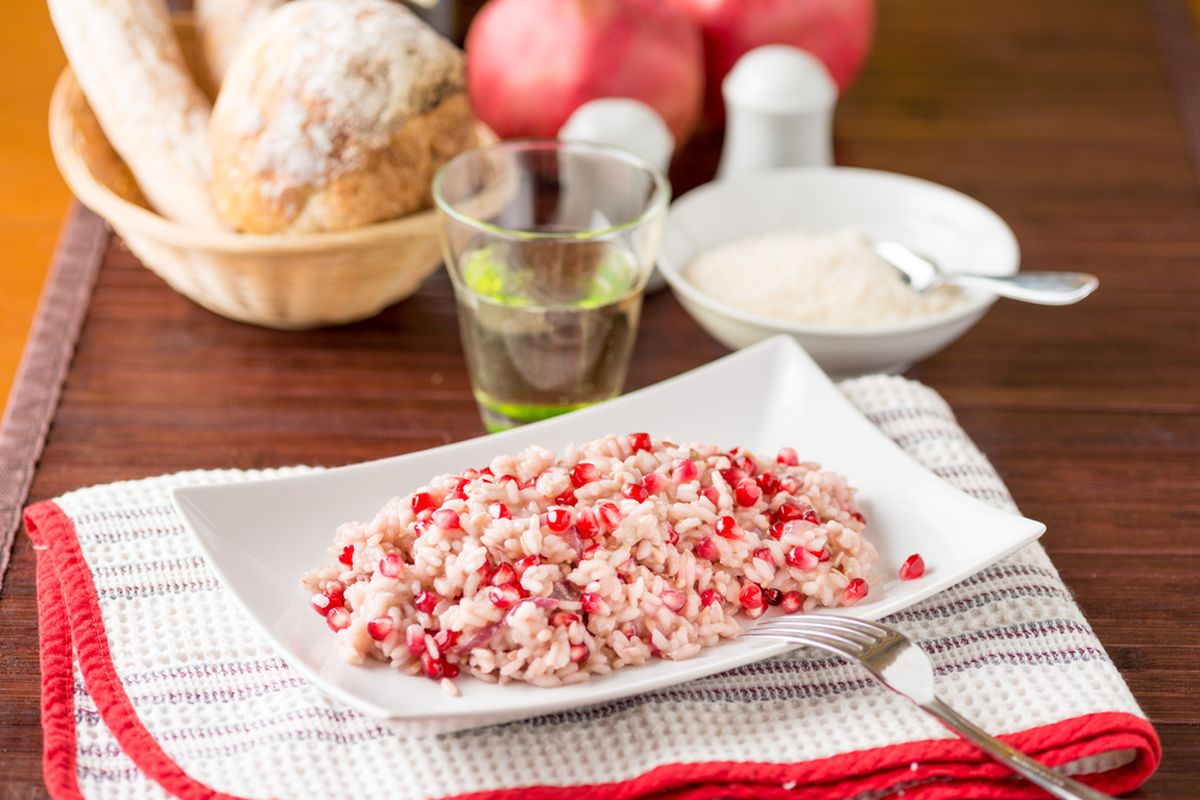 Let's go back to a risotto that will surely… get talked about! Have you already tasted pomegranate risotto in your life? Well, if you've never tried it, we highly recommend it. This first course is wonderful and perfect to offer on this particular occasion, both for the pomegranate, an inevitable fruit on the festive tables, but also for its red color, which recalls the New Year.
Try it too and color New Year 's Eve with this risotto!
Ingredients for the pomegranate risotto recipe (for 4 people)
320 g of Carnaroli rice
1 shallot
60 g of butter
2 pomegranates
100 g of grated cheese
pepper as needed
Salt to taste
vegetable broth to taste
1 glass of white wine
Heat the broth in a saucepan and proceed with cleaning the pomegranates . Once all the grains have been obtained, put them in a mixer ( except for 2-3 tablespoons which will be used for decoration) and obtain the juice. Now chop the shallot and put it to brown in a pan with a knob of butter taken from the total for a few minutes, then add the rice and toast it for two minutes, blending afterwards with the white wine. Let the alcohol evaporate completely and add all the pomegranate juice, once boiling, lower the heat and cook the risotto (it will take 15 to 18 minutes for a Carnaroli) adding a few ladles of hot broth if necessary.
Once cooked , turn off the heat and stir in the remaining butter and cheese, add pepper to taste and serve garnished with the pomegranate seeds set aside.
4. Lasagna Bolognese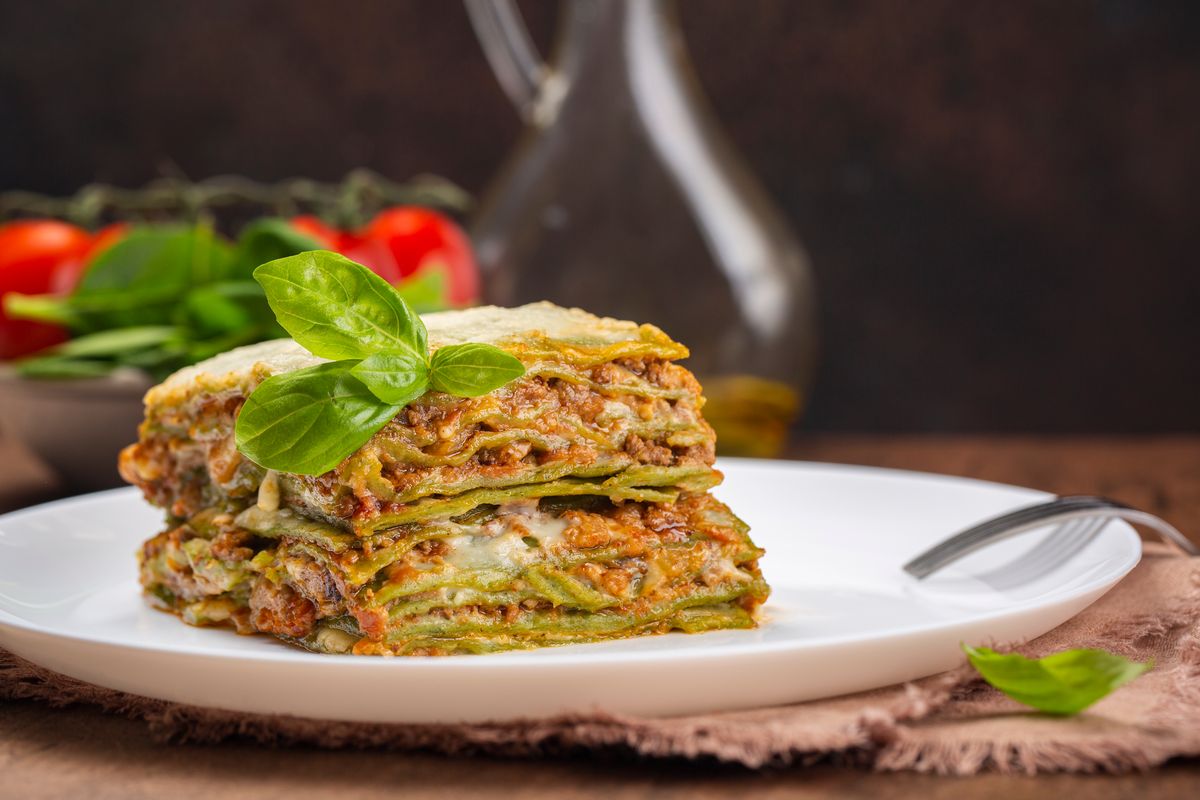 Among the recipes for New Year's first courses we wanted to add the classic lasagna , delicious, rich and also suitable for Christmas, Easter, lunches or family celebrations. You can make them from scratch, to amaze everyone and prepare a single dish with attention to the smallest details, otherwise you can already buy some basic preparations and assemble it.
Ingredients for the lasagna alla bolognese recipe (for 6 people)
250 g of minced veal
250 g of minced pork
100 g bacon (stretched or rolled)
1 carrot
1 onion
1 stick of celery
1 glass of milk
extra virgin olive oil to taste
1 glass of red wine
50 g of butter
250 ml of meat broth
350 ml pureed tomatoes
500 g of flour
500 g of spinach
4 eggs
60 g of butter
60 g of flour
nutmeg to taste
Salt to taste
900ml of milk
Prepare the meat sauce by sautéing the celery, carrot and onion with a drizzle of oil and then adding the pancetta to the pan to toast. Then add the minced meat and brown over high heat, then pour in the red wine and let all the alcohol evaporate before adding the pureed tomato sauce, the broth, adding salt and pepper and adding the glass of milk. Leave to cook for at least 2 hours and put the ragù to cool down.
Also prepare the pastry by boiling the spinach in a pot for 5 minutes, drain and squeeze them well to remove all the water, then chop them with a knife and let them cool. Once at room temperature, put the flour on a work surface and form a fountain, add the eggs and spinach and mix first with a fork and then with your hands to obtain a green, smooth and homogeneous dough which you will have to wrap in transparent film and leave in the fridge for 1 hour . Once the time has passed, cut the dough into 4 and roll out the dough with a rolling pin or with the help of a machine until it reaches a thickness of about half a millimeter . Then cut your sheets of puff pastry about 12×18 cm and boil them one by one in boiling salted water until they float to the surface.
The last preparation before assembly is the béchamel. Heat 900 ml of milk in a saucepan and, when it is hot, start creating the roux in another saucepan. To make the roux, melt about 60 g of butter over the heat then add the same amount of flour, stirring with a whisk to avoid the formation of lumps. When the roux has taken on a light hazelnut color, slowly add the hot milk, continuing to mix until everything has thickened. Season with salt and pepper, add a pinch of nutmeg and you'll be ready to assemble the dish and proceed with cooking in the oven.
Once the lasagna has been formed in the pan, making the layers with pasta, béchamel and meat sauce, cook it in the oven at 160°C for about 50 minutes (to make it even tastier, add a little grated cheese before cooking).
5. Spaghetti with clams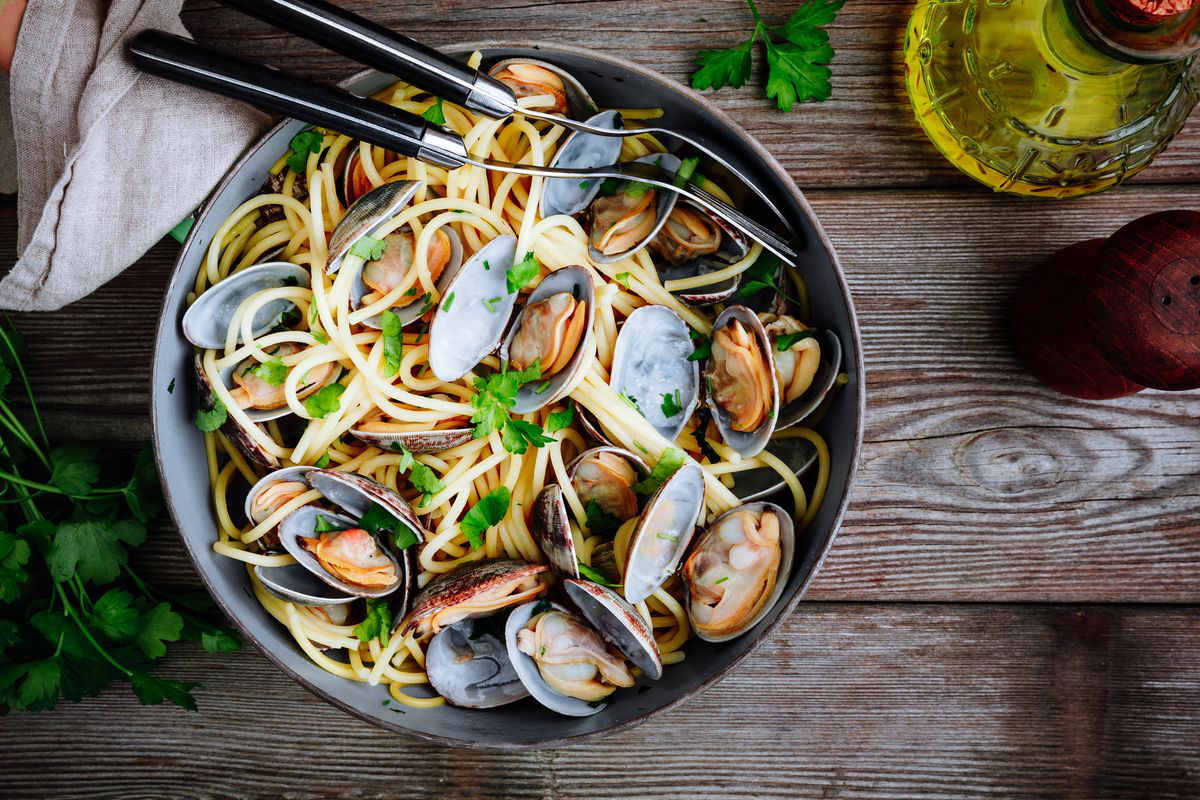 Spaghetti with clams are loved by many, if you haven't yet prepared them at home for fear that they were too complex but you are wrong, with our recipe you will always make a great impression!
Ingredients of spaghetti with clams (for 4 people)
380 g of spaghetti
1 kg of clams
white wine to taste
Salt to taste
pepper as needed
2 cloves of garlic
chili pepper to taste
fresh parsley to taste
The recipe starts with the clams, in fact you have to purge them very well and then proceed with the creation of the dish. Put the pasta water on and, while it is heating, take a pan and put it on the fire: pour a drizzle of oil, throw in the garlic and let it brown, then add the clams and parsley. Immediately cover with a lid and wait for a few minutes for them all to open, then pour in the white wine and wait for all the alcohol to evaporate.
When they are open, remove the garlic, remove them from the heat and filter the sauce so that not even a grain of sand has escaped from cleaning. In the meantime, cook the long pasta in salted water, drain it al dente and put it in the pan where you will add the sauce and well cooked molluscs. Mix well, add pepper to taste and serve.
Seconds for New Year's Eve
The New Year's dinner has arrived in the middle and it's time for the main courses for New Year's Eve. In this case we are much more inclined to offer you meat main courses for New Year's Eve, but we have nevertheless included a fish proposal to make everyone happy.
1. Cotechino and lentils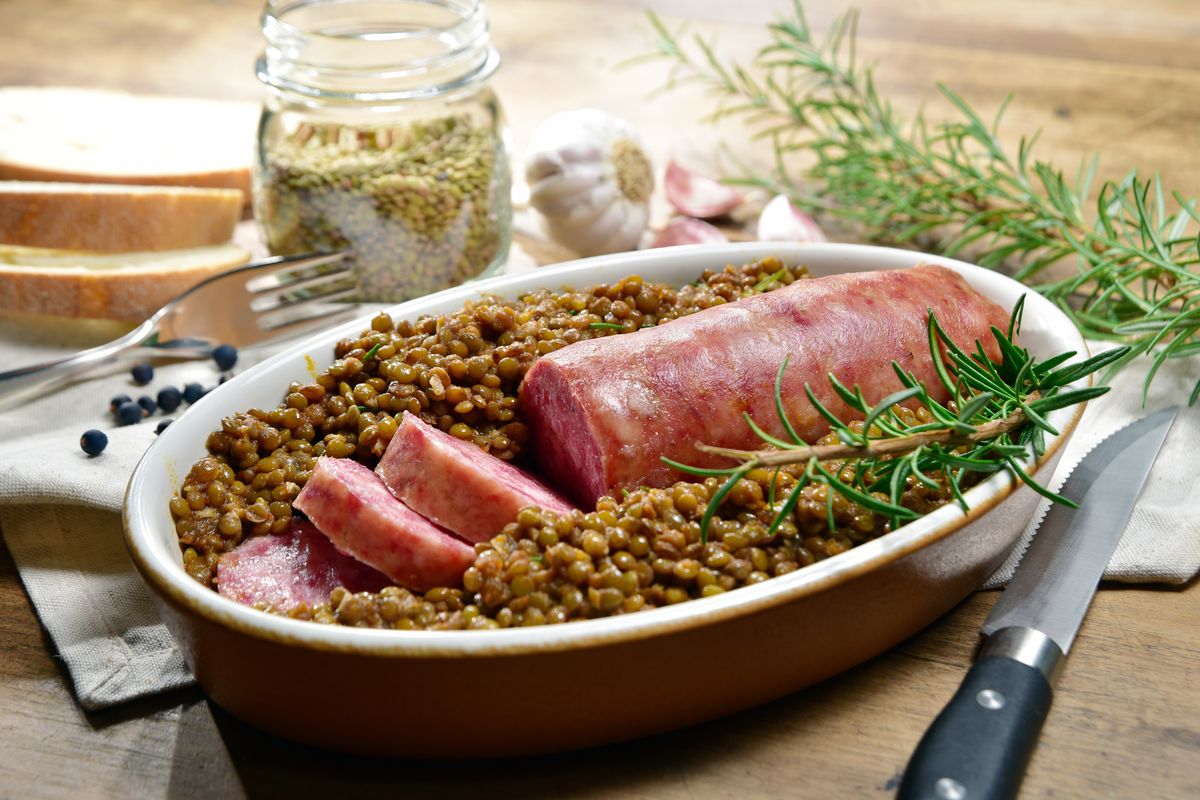 Here we are at the real New Year's institution, the inevitable dish on all the tables of the last dinner of the year: we hope you have kept a little space in your stomach for this second course, because the cotechino with lentils is coming!
That's right, what New Year's Eve would it be without him? You can also prepare the lentils in advance and cook the cotechino just before dinner : bring all the taste of the Italian tradition to your table too!
Ingredients for the recipe of lentils and cotechino (for 6 people)
For the cotechino recipe:
1 cotechino
1 carrot
1 celery
For the lentils:
350 g of lentils
1 onion
1 carrot
1 celery
5 slices of bacon
Extra virgin olive oil to taste
Salt to taste
Pepper as needed
Bay laurel to taste
Rosemary to taste
Vegetable broth to taste
1 teaspoon of tomato paste
Take the cotechino and wrap it in aluminum foil, making holes with some toothpicks, then cook it for about 2 hours in a pot of water with a stick of celery and a carrot for flavoring (this is the cooking time for a fresh cotechino , for the pre-cooked ones, even just 20-25 minutes should be enough).
On the side, while the meat is cooking, prepare the lentils. If they are dry, leave them to soak in a bowl of water for about 2 hours and separately prepare a mixture of celery, carrot and onion. Heat a drizzle of oil in a saucepan and add the chopped vegetables for the sauté. Add the finely cut bacon, the drained lentils, salt, pepper and bay leaf. Add a spoonful of tomato paste and about 1 liter of vegetable broth and cook for about 45 minutes , lowering the heat when it reaches a boil.
Once cooked, put everything together in a bowl and serve.
2. Baked salmon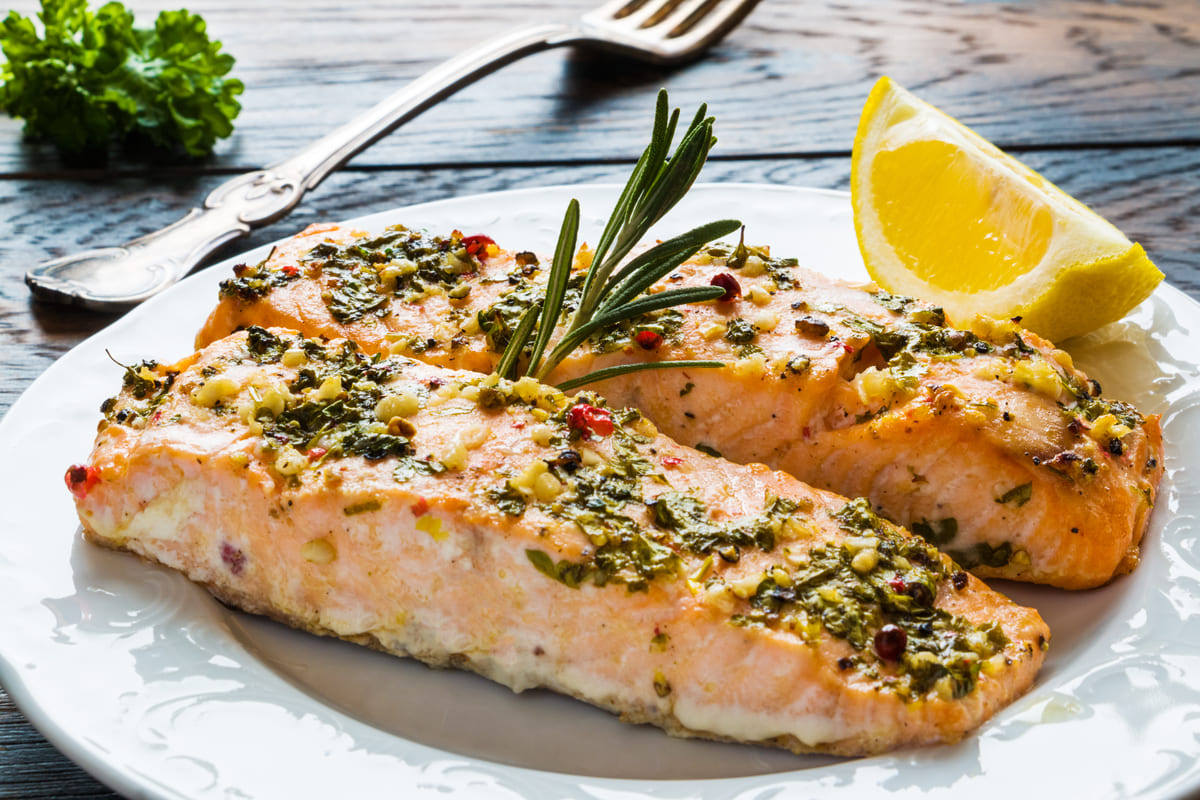 As promised, there isn't only meat among the second courses for New Year's Eve: baked salmon is very easy to make, good and full of flavour, combine it with a spoonful of mayonnaise and serve it to the diners.
Ingredients for the baked salmon recipe (for 4 people)
4 salmon steaks
40 ml of extra virgin olive oil
2 cloves of garlic
1 lemon
1 bunch of parsley
Salt to taste
Take the salmon slices (fresh or defrosted) and place them on a baking tray lined with parchment paper . Separately, in a small bowl, combine equal quantities of oil, lemon juice, zest, the minced garlic without its core and the finely minced fresh parsley. Pour the emulsion over the fish and bake at 180°C for 15-20 minutes and then serve.
3. Crusted meatloaf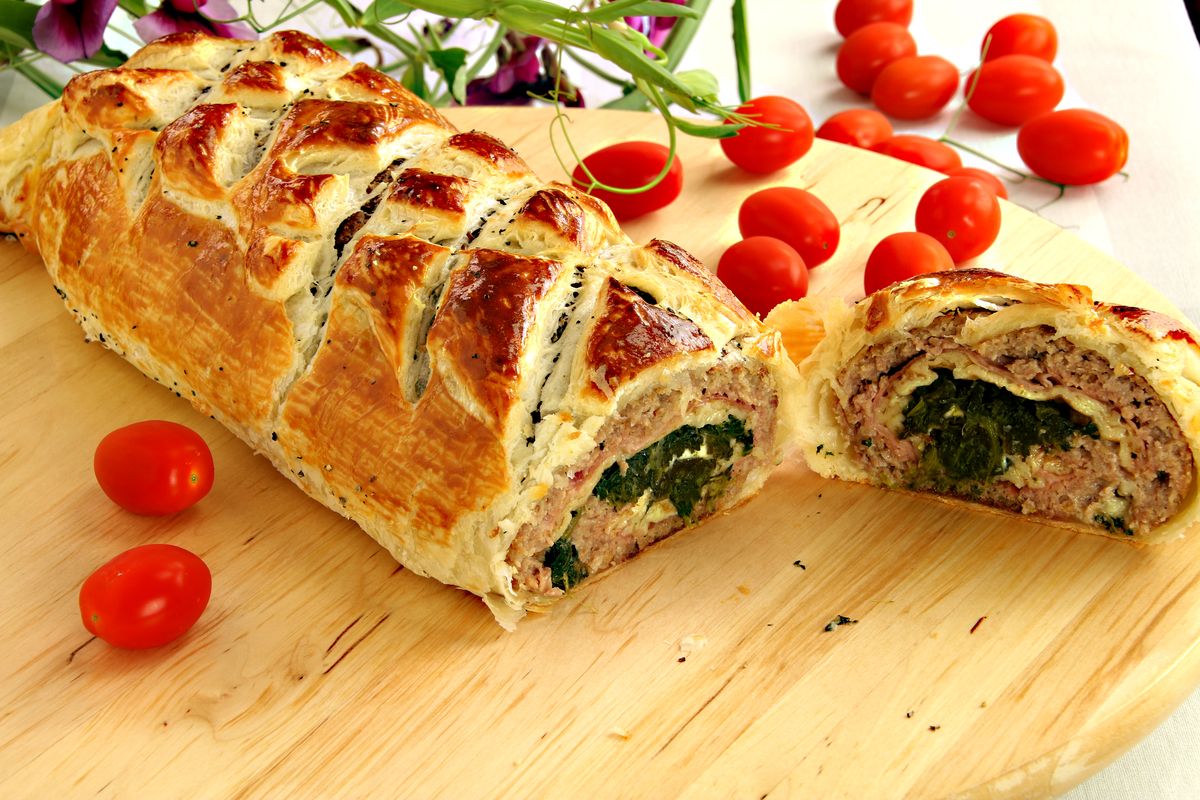 Scenic but not loved by everyone, meatloaf in a crust has as many followers as skeptics but with this recipe we are (almost) certain that we will all agree on its goodness. It looks difficult? It's actually an easy second course for New Year's dinner, you'll just have to be patient in the weaving of the pasta .
Ingredients for the crusted meatloaf recipe (for 6 people)
700 g of mixed ground
2 eggs + 1 yolk
70 g of sandwich bread
50 g of grated parmesan or parmesan
Salt to taste
pepper as needed
2 rolls of puff pastry
milk to taste
150 g of stringy cheese (provola type)
400 g of spinach
Put the minced meat, the cheese, the bread softened in the milk, a pinch of salt and pepper and the 2 eggs in a bowl. Mix everything until you get a homogeneous, moist but not too wet mixture with a consistency similar to meatball dough. Separately boil, drain well and chop the spinach with a knife and set aside for a moment.
Now take a sheet of parchment paper and roll out the meat about 1/1.5 cm thick , put a layer of boiled spinach on top and then the diced provola. Roll up the meatloaf, seal it well and roll up the parchment paper like candy to keep its shape and leave it in the fridge for at least 30 minutes .
Now take the two rolls of puff pastry and overlap them on one side. Place the meatloaf on top, cut transversal strips in the dough about 1.5/2 cm wide along both rolls but without touching the base where the stuffed meat rests. Close the strips over the meatloaf creating a sort of weave and making sure to cover all the meat. Lastly, brush with a little milk and bake at 180°C for about 1 hour .
4. Roast in the oven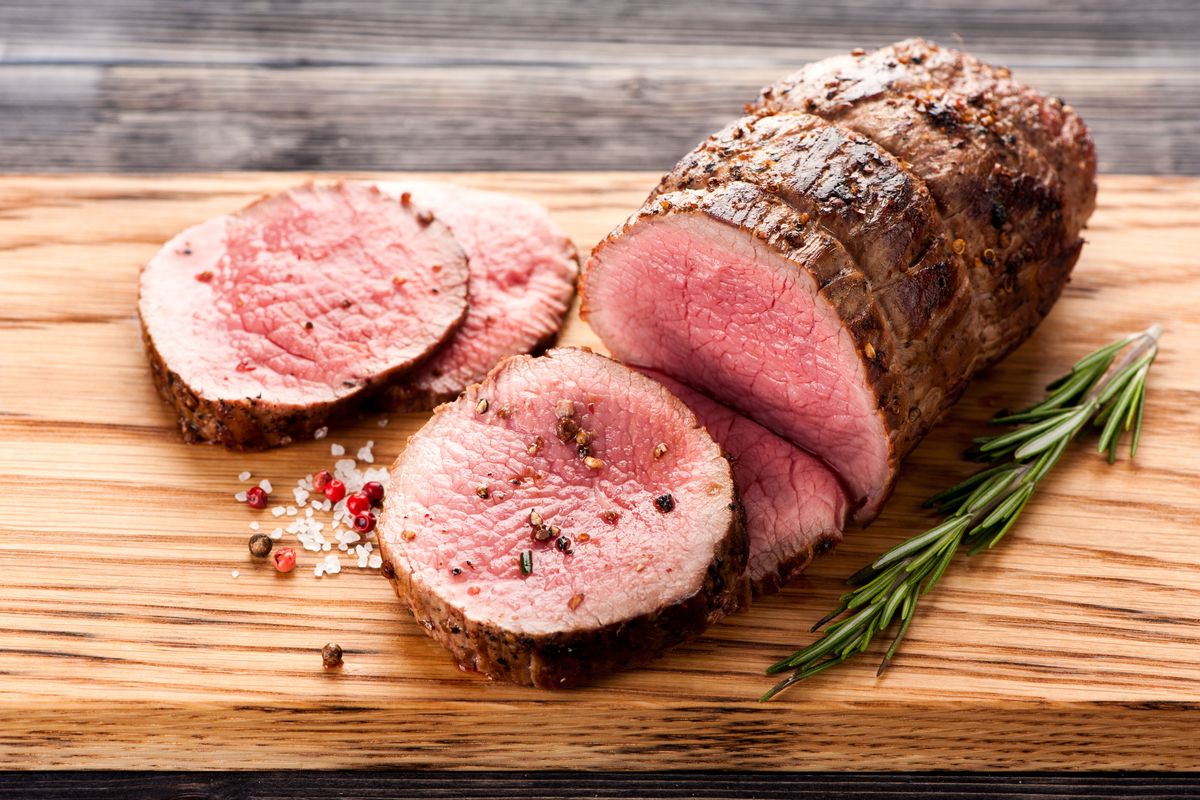 And here's our latest proposal, for a second easy to accompany with lentils or baked potatoes: we're talking about roast beef! It is nothing complicated, except for the part of binding the meat which, however, you can also ask your trusted butcher.
Ingredients for the oven roast recipe (for 4 people)
1 kg of beef for roast (topside or sirloin)
1 glass of white wine
2 cloves of garlic
3 sprigs of rosemary
EVO oil to taste
salt and pepper
broth to taste (vegetable or meat)
Take the meat and leave it covered for some time at room temperature, then massage it with oil, salt and pepper and tie it with kitchen string, fitting the washed rosemary sprigs between the strings. Take a pan, put it on the fire and add a drizzle of oil and the garlic without the core . Once the oil is hot, brown the meat on all sides and, only once sealed on all sides, add the white wine. Once all the alcohol has evaporated, transfer the meat with all the contents of the pan to a pan suitable for use in the oven and cook the roast at 200°C for 45-50 minutes , turning it halfway through cooking.
Before putting it in the oven, add a few ladles of broth, sprinkling the meat whenever it is too dry. Once ready, turn off the oven, wrap the meat in aluminum foil and let it rest for 10-15 minutes before slicing it and serving it.
Side dishes for New Year's Eve
A good main course must always be combined with something tasty as a side dish and for New Year's Eve we have decided to leave you three proposals that can easily be replaced with other dishes or ingredients but which, combined with the previous recipes, are really super spot on and interchangeable.
1. Baked potatoes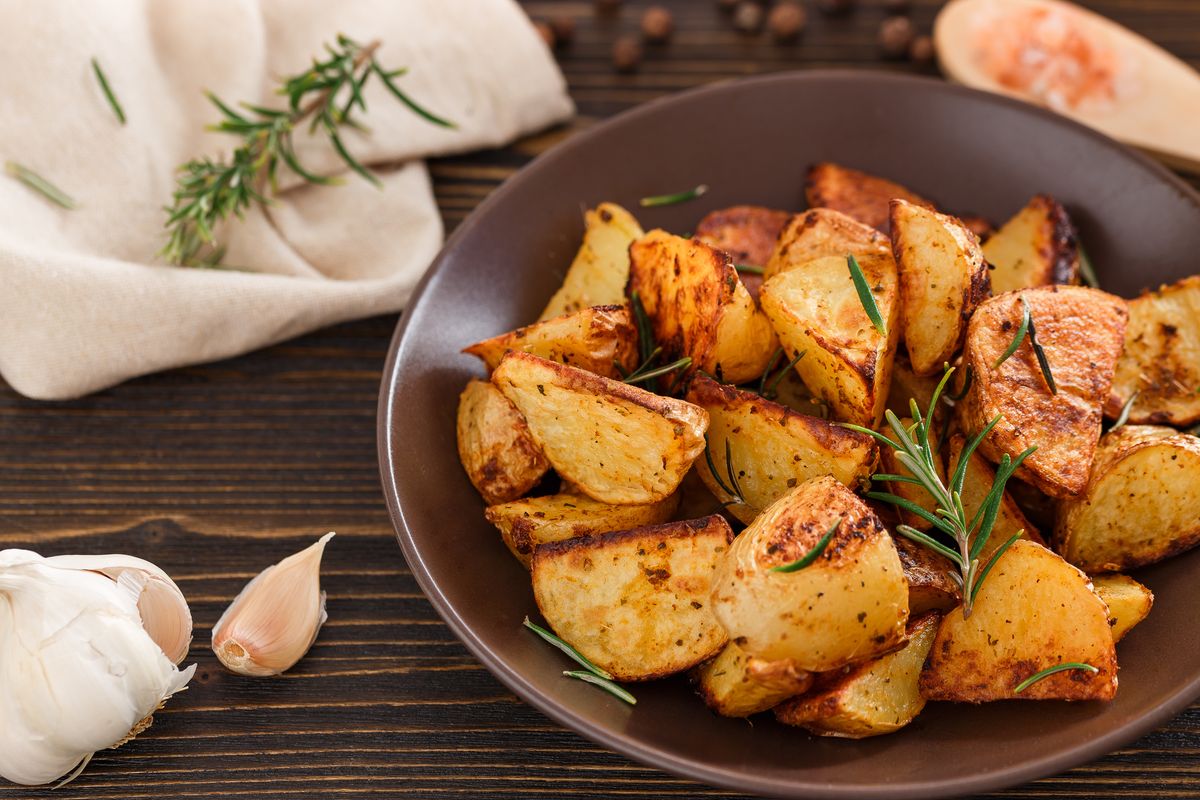 Let's start with a classic, easy but with a thousand secrets to make it truly unforgettable… we're talking about baked potatoes ! We don't want to go into much detail, it's a perfect New Year's side dish that always brings everyone together. Let's move on to the ingredients and preparation.
Ingredients for the baked potatoes recipe (for 4 people)
1.5 kg of potatoes
2 cloves of garlic
extra virgin olive oil to taste
salt up to taste
black pepper to taste
oregano (dry or fresh) to taste
rosemary (dry or fresh) to taste
Finely chop the oregano and rosemary and combine them in a small bowl that you will temporarily set aside. Peel and cut the potatoes into cubes and boil them in a pot of water for about 5-10 minutes . While the potatoes are cooking, turn on the oven, ventilated mode and bring it to a temperature of 200°C by placing an empty pan or bowl inside to heat . Drain the potatoes and season them with oil, herbs, salt and pepper and then pour them into the hot pan and put it back in the oven for about 50 minutes , stirring occasionally to create a crust on all sides of the potatoes.
2. Stewed lentils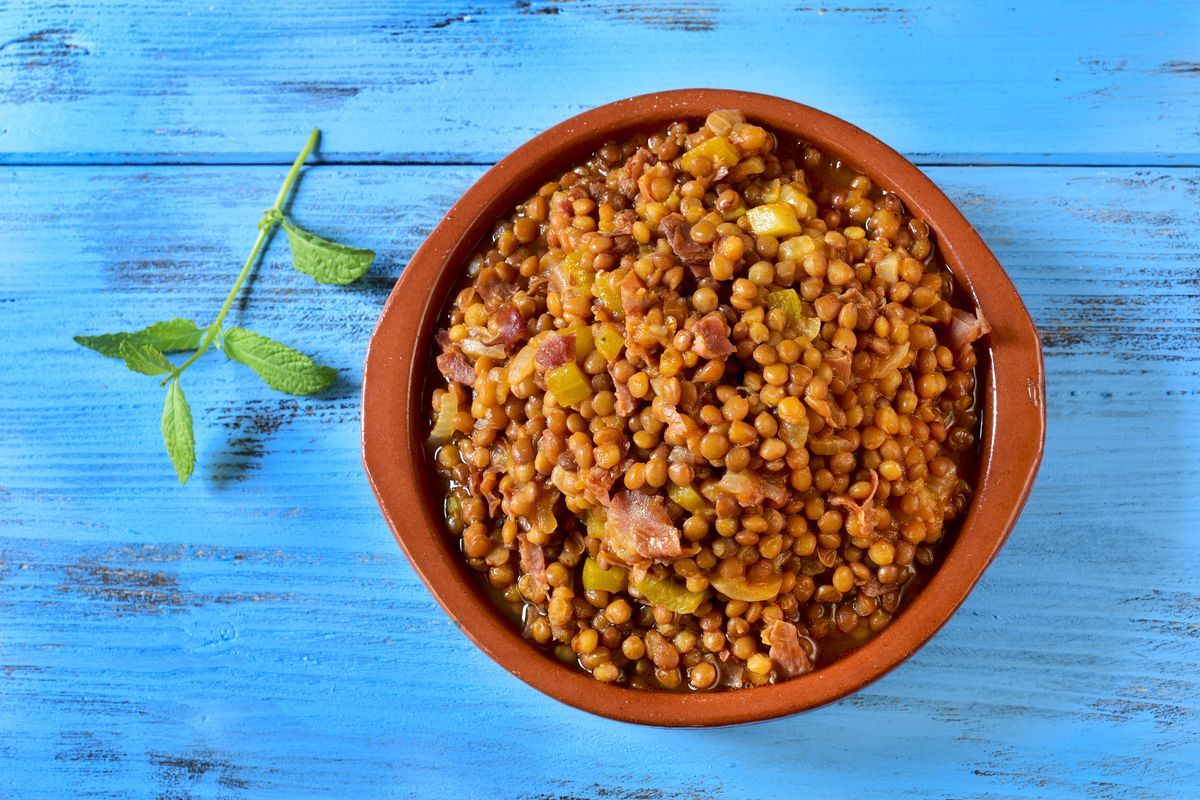 We have already talked about it with cotechino, but stewed lentils are the inevitable side dish of New Year's Eve dinner. As tradition says they bring money, do we want to tempt fate?!
Ingredients for the stewed lentils recipe (for 4 people)
500 g of lentils
800 ml of tomato puree
60 g of bacon
1 onion
sage to taste
1 stick of celery
1 carrot
olive oil to taste
Salt to taste
pepper as needed
Chop the celery, carrot and onion and fry in a pan with a drizzle of oil, a few chopped sage leaves and the diced bacon . Once the pancetta is toasted, add the tomato puree, season with salt and pepper and cook for 5-10 minutes . Once the time has passed, add the lentils, the water to cover them and cook everything over a low flame for 1 hour . Stir from time to time and, if they are too dry, add more water.
3. Duchess potatoes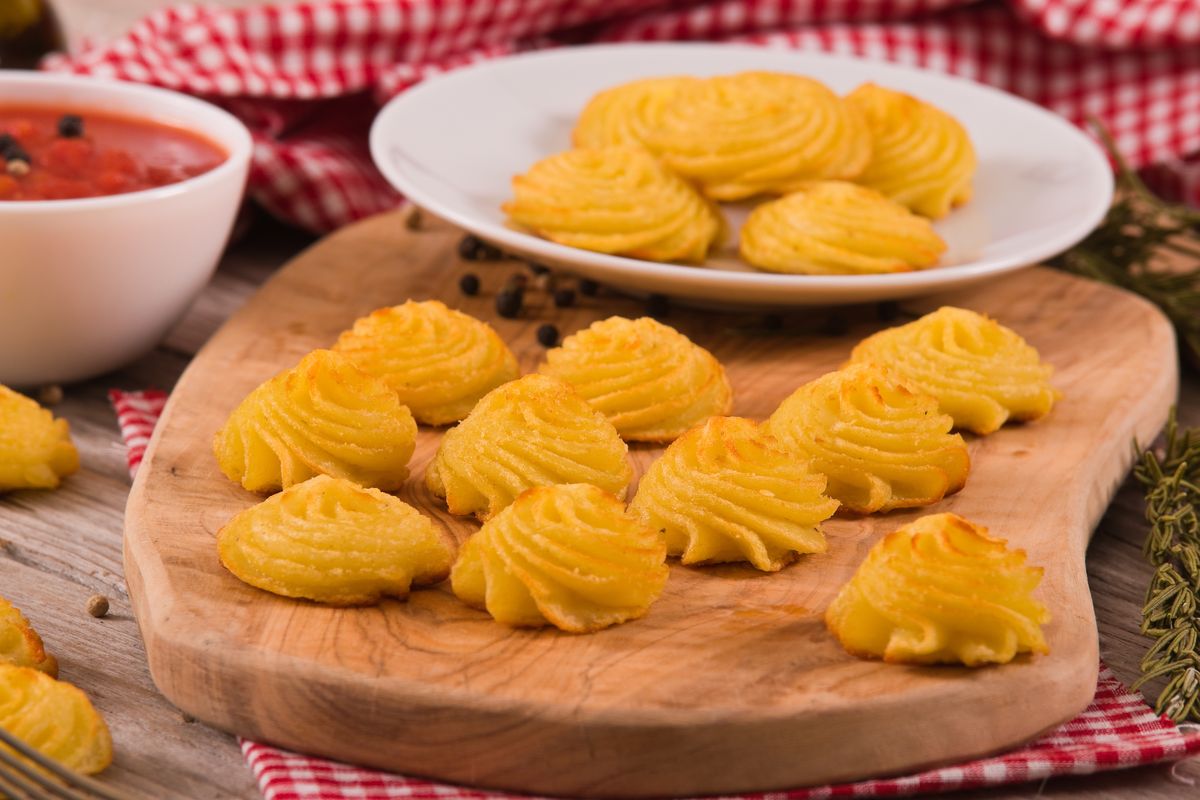 We close with an easy but spectacular side dish that can also pass for an elegant appetizer: we are talking about duchess potatoes . The ingredients are not many, the realization is quite simple and the result is good and beautiful.
Ingredients for the duchess potatoes recipe (for 4 people)
500 g of floury potatoes
40 g of butter
2 egg yolks
50 g of grated Parmesan
2 teaspoons of nutmeg
Salt to taste
pepper as needed
First of all you have to boil the potatoes in a pot of boiling hot water for about 40 minutes . Once cooked, drain them, peel them and pass them through a potato masher. In a bowl, combine the mashed potatoes, butter, egg, Parmesan, salt and pepper to taste and nutmeg. Mix everything well and put the mixture in a pastry bag. Take a baking tray covered with a sheet of parchment paper and make tufts of potato mousse, then bake everything at 200°C for 15 minutes .
Desserts and sweets for New Year's Eve
Dulcis in fundo can not miss the desserts for the last year. Also in this case there are many options to choose from, we have opted for easy recipes that can always be prepared without too much effort . If you have a sweet tooth this is the right place to find inspiration.
1. Pandoro with mascarpone cream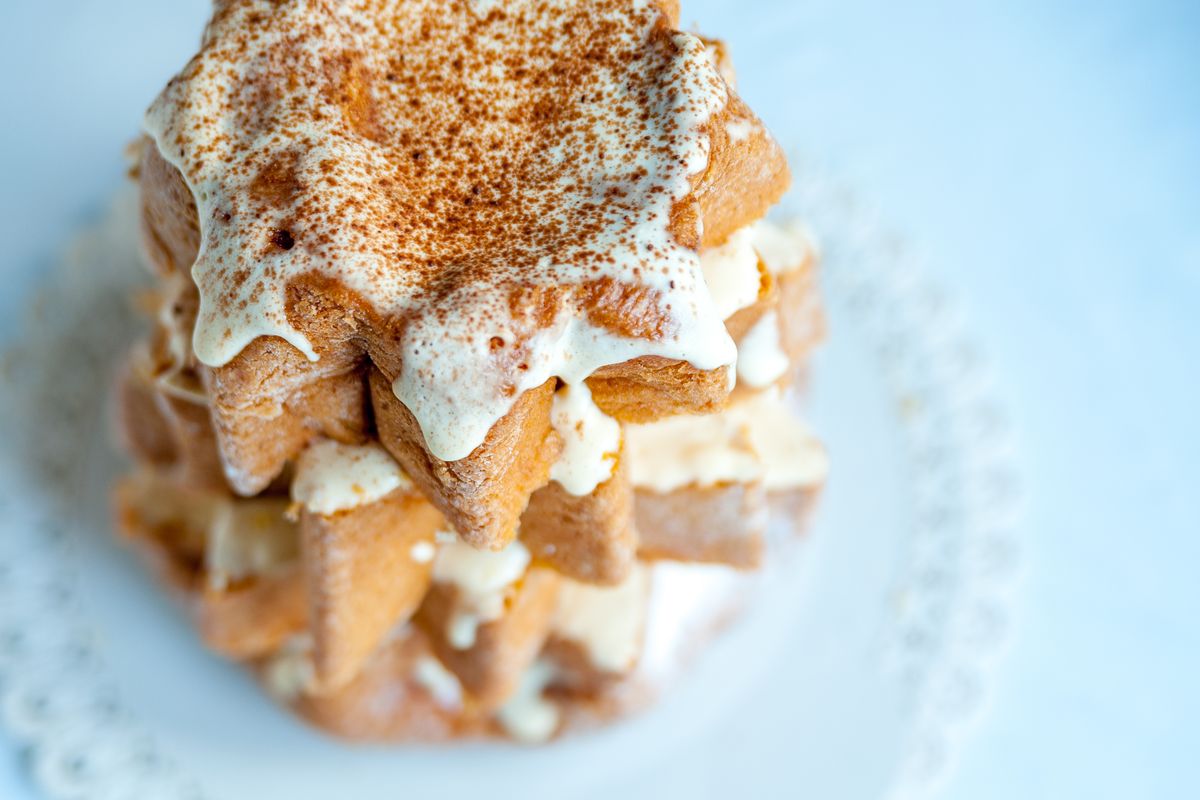 A sweet symbol of the Christmas holidays, pandoro is truly something that cannot be missed on the table during the New Year. Maybe New Year's Eve isn't the best occasion to prepare it at home (it's a really long and very complicated recipe), but you can fill it with a tasty mascarpone cream .
Ingredients for the stuffed pandoro recipe (for 6 people)
250 g of mascarpone
60 g of sugar
½ teaspoon vanilla extract
3 very fresh eggs
1 Pandora
Separate the yolks from the whites then start whipping the latter until stiff, adding half the sugar. Then mix the egg yolks with the mascarpone and the other half of the sugar to create a smooth and homogeneous cream. Gradually add the whipped egg whites, being careful not to disassemble them, add the vanilla and put the cream in the fridge to rest. Now cut the pandoro into slices horizontally and fill all the layers with the cream before serving.
2. Eggnog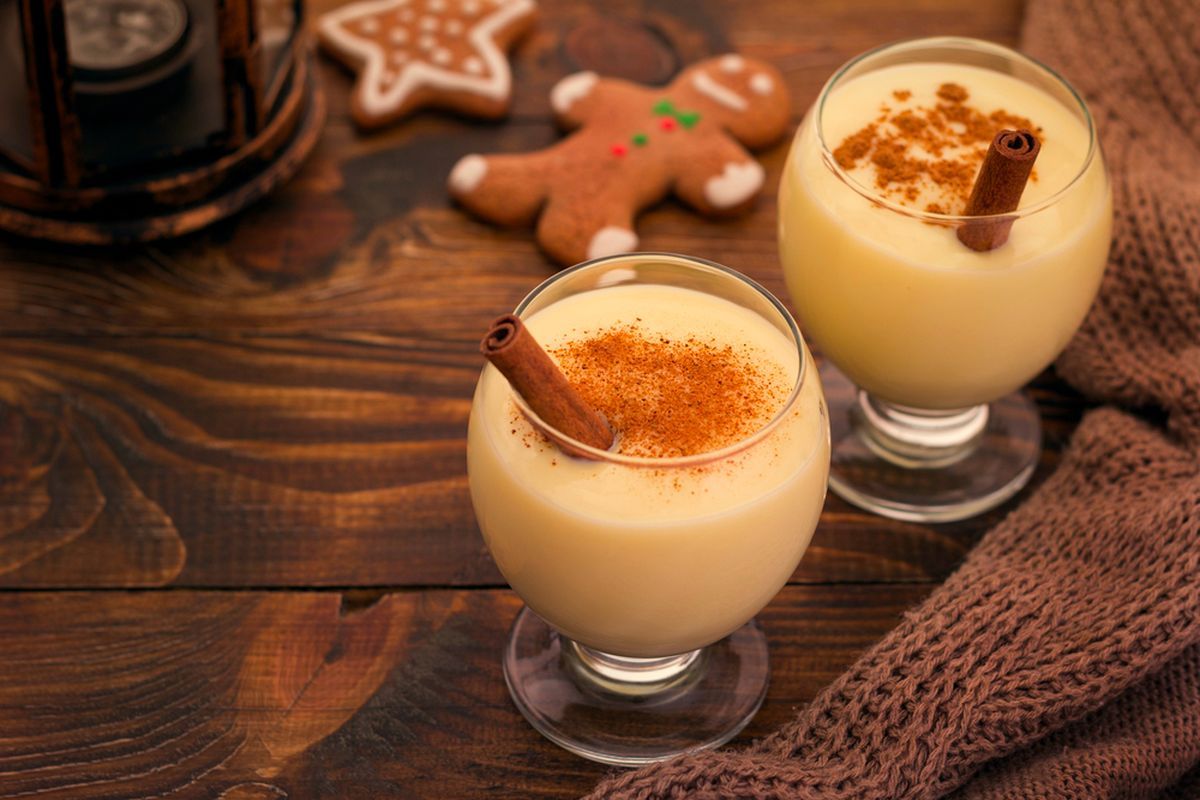 We have no doubts that at the sight of pandoro, all of you will have come up with the same question: "Good, but what could I combine it with?" . We are here for the solution! How about preparing some homemade eggnog ?
This egg, Marsala and sugar-based cream is the perfect ally for your pandoro, but you can also enjoy it as a spoon dessert , perhaps combining fruit or biscuits! Prepare it too and conclude the dinner with taste and refinement !
Ingredients for the eggnog recipe (for 4 people)
4 egg yolks (about 80 g)
80 g of granulated sugar
80 g of Marsala
Take a bowl, inside whisk the egg yolks at room temperature with the sugar until you obtain a light and frothy mixture, then add the Marsala a little at a time and insert the bowl into a pot of hot water to proceed with cooking in water bath. Continue to mix with the whisk until the zabaglione is swollen and frothy or when it has reached between 80° and 84°C . Turn off the heat and serve in small glasses with some biscuits.
3. Yule log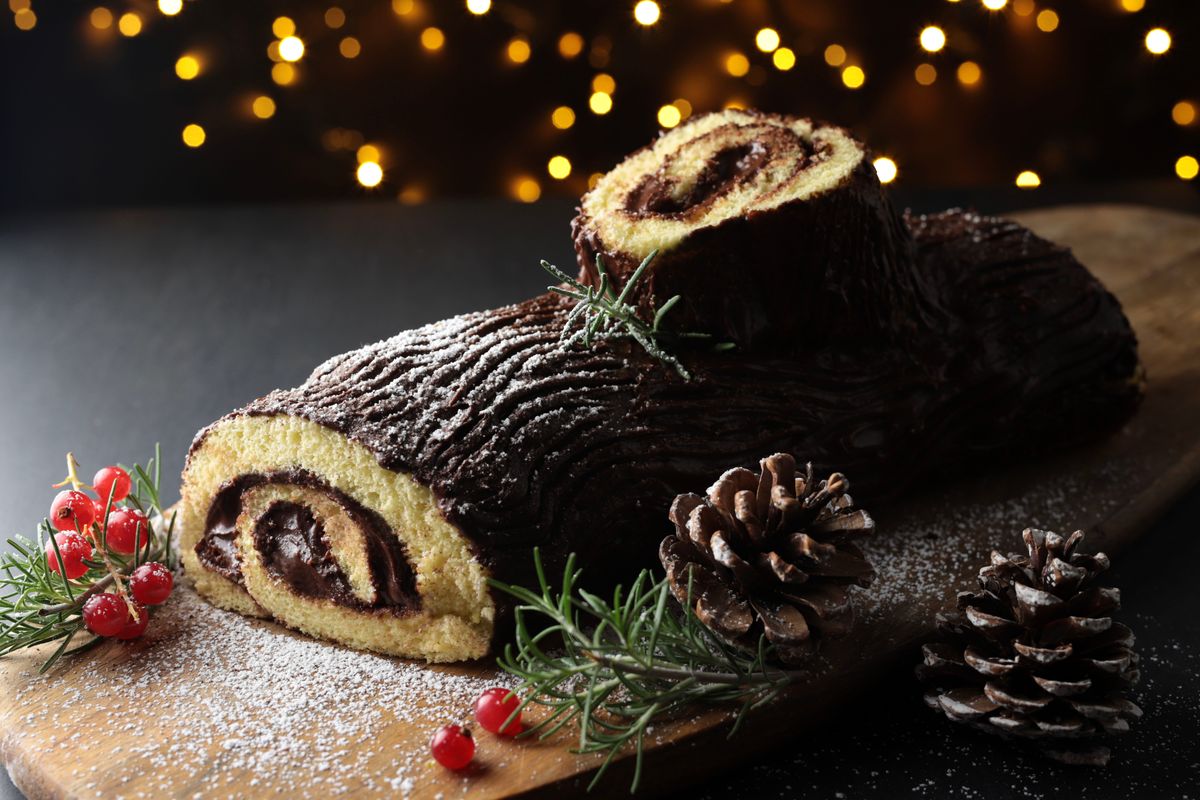 We conclude our review of recipes with a somewhat laborious dessert, but which from its appearance alone will make you think that it will have been worth it after all: the Christmas chocolate log . Don't be fooled by the name, this treat will do just fine for New Year's Eve too, trust me!
Good, greedy, perfect for all lovers of sweets, this dessert will leave you with a splendid memory of the evening and dinner: it is a sponge cake filled with a fantastic chocolate glaze, and finally covered with another fabulous crunchy crust .
Try it too… and Happy New Year!
Ingredients for the Yule log recipe (for 6 people)
100 g of 00 flour
5 eggs at room temperature
130 g of sugar
3 spoons of honey
1 sachet of vanillin
For the topping and filling:
500 g of chocolate ganache
150 g of dark chocolate
Christmas themed decorations
Separate i tuorli dagli albumi, montate i primi con le fruste elettriche e aggiungendo metà zucchero, la vanillina e il miele, in un'altra ciotola fate lo stesso con i secondi e unite lo zucchero rimasto. Unite i due composti facendo attenzione a non smontarli e aggiungete la farina setacciata, poi versate l'impasto in una leccarda da forno e cuocete a 220°C per 6 minuti (stendete l'impasto molto basso di circa 2 cm). Una volta cotto sfornate e arrotolate l'impasto quando è ancora caldo (perché sarà più elastico) così da dargli la forma. Srotolate poi il pan di Spagna freddo e spalmate su un lato la ganache, una volta farcito arrotolatelo e avvolgetelo nella pellicola da cucina e riponetelo in frigo per 2 ore . Passato il tempo tiratelo fuori, togliete la pellicola e rifinite i bordi con un coltello, poi tagliate un pezzo da mettere sulla cima per dare la forma di un ramo e attaccatelo con la ganache rimasta. Sciogliete il cioccolato a bagnomaria e ricoprite l'intero tronchetto, decoratelo a piacere e servite.
4. Tiramisù di pandoro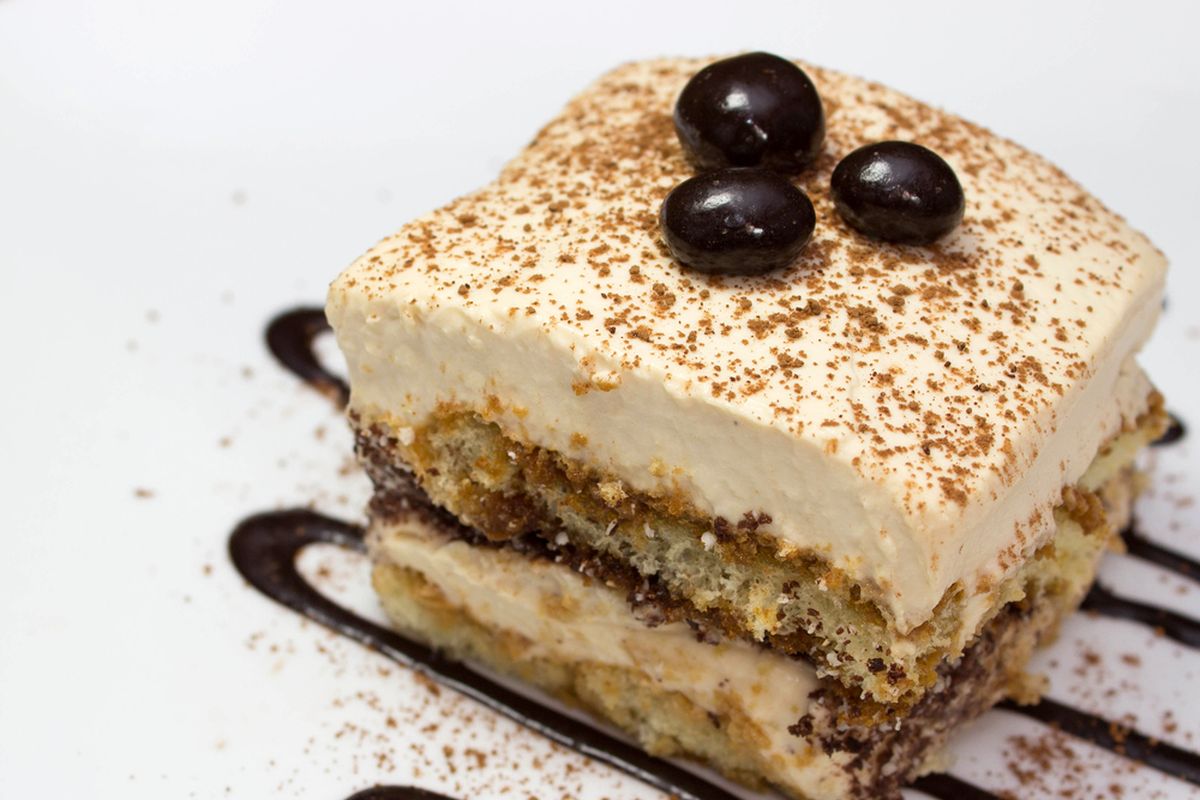 Terminiamo il menù con qualcosa di classico e rivisto in veste natalizia: il tiramisù di pandoro ! La realizzazione è facilissima, in pochi minuti (e con mezzo pandoro avanzato) otterrete un dolce per Capodanno da leccarsi i baffi.
Ingredienti per la ricetta del tiramisù di pandoro (per 8 persone)
mezzo pandoro
500 g di mascarpone
300 ml di caffè amaro
4 uova
100 g di zucchero
cacao in polvere qb
Preparate il caffè e lasciate che si freddi, nel mentre tagliate il pandoro a fette . Im una planetaria o con delle fruste elettriche montate i tuorli con lo zucchero, poi unite il mascarpone continuando a mescolare. Montate poi gli albumi a neve e incorporateli ai tuorli e mascarpone un po' alla volta, mescolando dal basso verso l'alto facendo attenzione a non smontare il tutto. Prendete la crema al mascarpone e lasciatela riposare in frigo circa 30 minuti , poi assemblate il dolce. In una teglia mettete uno strato di pandoro, qualche cucchiaio di caffè amaro, uno strato di crema e un successivo di pandoro continuando fino a terminare gli ingredienti. Alla fine completate con una spolverata di cacao amaro .
Riproduzione riservata © - WT