Octopus and potato salad: a delicious appetizer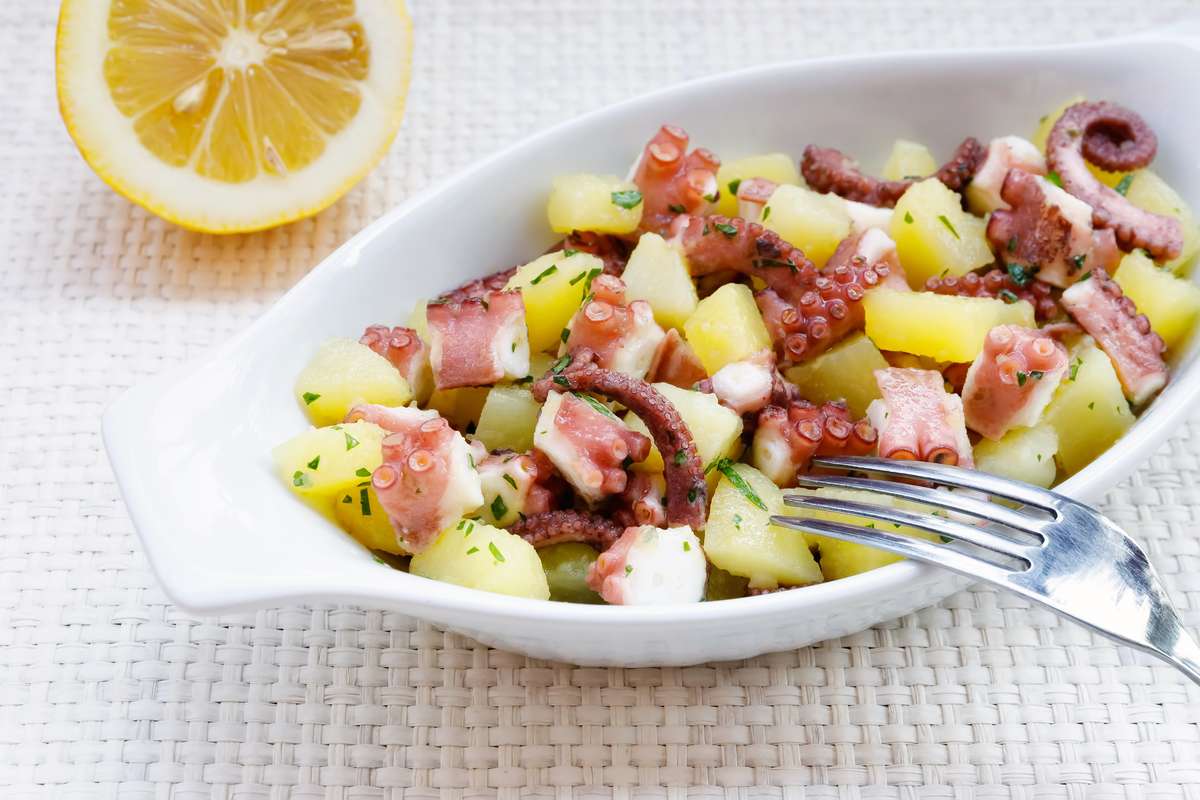 Octopus and potato salad is an appetizing dish, suitable for any occasion and prepared with simple but incredibly good ingredients.
Octopus and potatoes: we present a simple and very tasty appetizer, which shows how to enhance a product of great goodness. Surely you too have tasted it already ready, but have you ever tried to prepare it at home? The process is simpler than it seems, and the result is truly exceptional!
The octopus must be cooked in a light vegetable broth, and everything must be aimed at enhancing its flavor without the other ingredients covering its taste. You can serve this course at room temperature, to bring out its aromas and scents, or keep it in the fridge and enjoy it cold.
Let's start right away and let's prepare the recipe for octopus with potatoes together!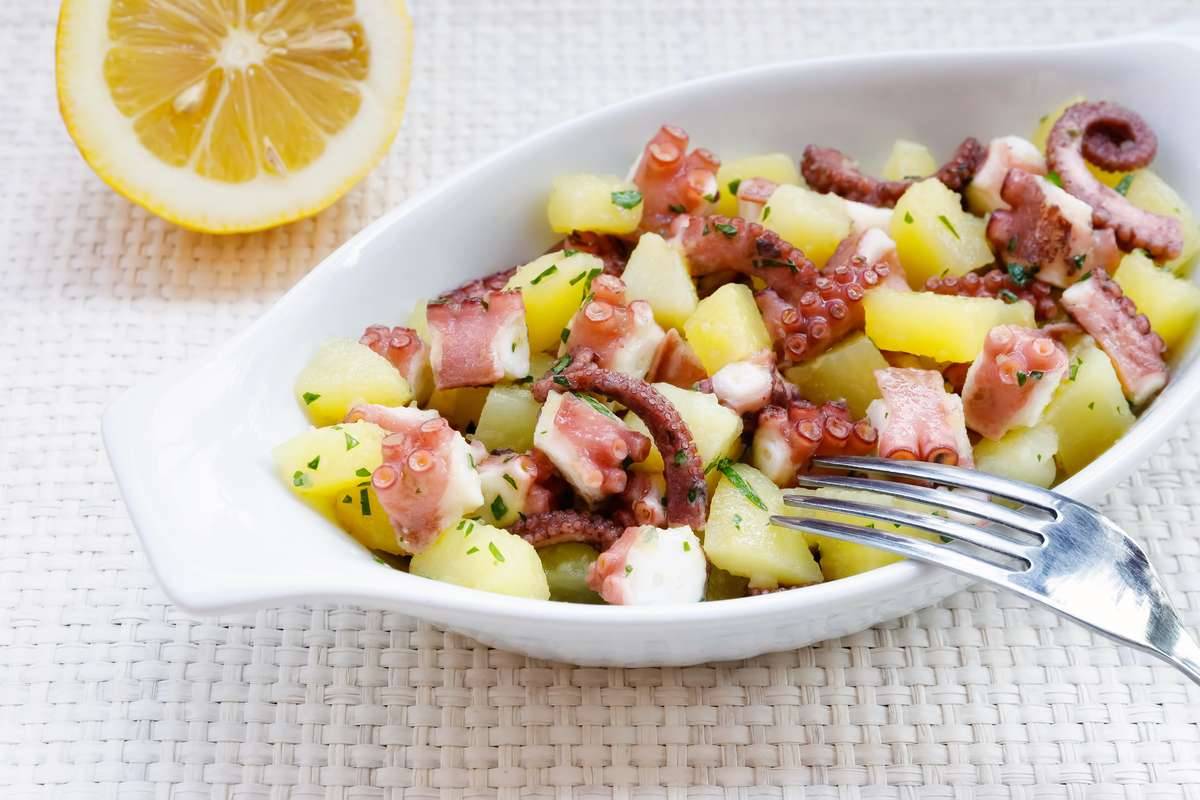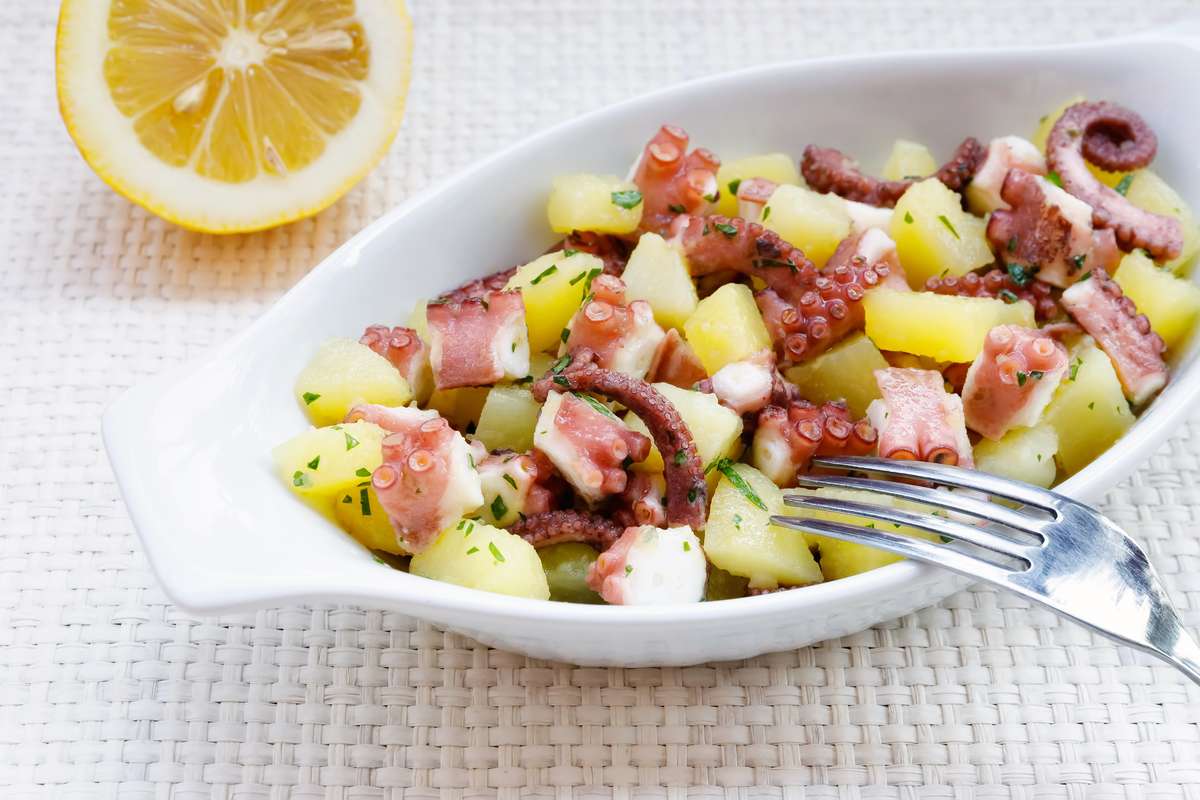 How to cook octopus and potatoes: the recipe
Put a pot full of water on the fire. Clean a stick of celery, a carrot and a small onion . Cut the vegetables into two or three pieces and pour them into the pot. When the water boils, take the cleaned and washed octopus by the head and immerse only the tentacles in the boiling water for a couple of seconds. Take it out of the water and let it cool for five seconds.
Repeat this four or five times. In this way you will curl the tentacles and they will be more beautiful to see on the plate!
Let's move on to cooking the octopus: place it in boiling water and leave it immersed for about 35-40 minutes. The times also depend on the size, so do the toothpick test to be sure, and when it is tender let it cool in its cooking water.
In the meantime, wash the potatoes under running water, preferably all of the same size, put them in a large saucepan and cover them with water. Put it on a stove and bring to a boil. Depending on the measure, they should take from 20 to 35 minutes to boil. Peel the potatoes and when cold, cut them into bite-size pieces about two centimeters in size.
Put the cold octopus on a cutting board and cut it into pieces, then pour it into a bowl and add the potatoes. Also add the chopped parsley leaves , the celery stalks cleaned of external filaments and cut into slices and a peeled clove of garlic.
You just have to season with extra virgin olive oil, salt, pepper and lemon juice . Mix very well and let it marinate for at least an hour at room temperature, turning it occasionally. Enjoy your meal!
The variants
If you want to enjoy hot octopus with potatoes, a good idea is to prepare it stewed. To make it, all you have to do is, once the octopus and potatoes are cooked, put everything back into a saucepan with the shallots, tomato puree, herbs, salt and pepper.
Let it cook until the sauce has reduced, and occasionally dilute with the broth according to your tastes: add more if you want a slow soup , leave it drier if you want a thicker sauce.
storage
You can store your octopus and potatoes in the refrigerator, in an airtight container, for 1-2 days.
READ ALSO: Flavors of the sea: here are the best recipes with octopus
Riproduzione riservata © - WT