Potato gateau: an incredible traditional photo and video recipe!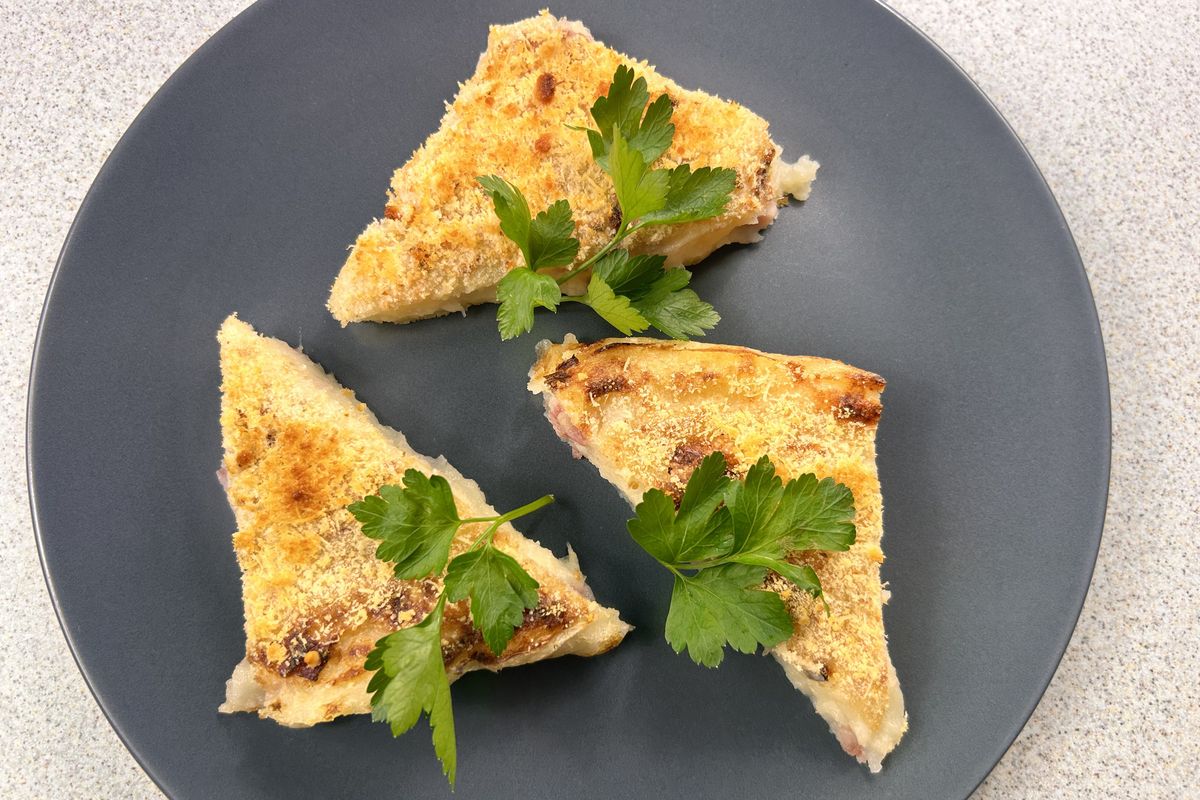 The recipe for potato gateau (or potato gattò) is incredibly simple. Get yourself potatoes, eggs, cheeses, salami and let's do it together!
The Neapolitan potato gateau, although the name may be misleading, is a sort of baked potato timbale, but with a story to tell. The recipe is typically Neapolitan (where it is also known as potato gattò ), but over time it has been revisited a bit in every Italian cuisine and especially in southern Italy, so it shouldn't seem strange to find those who say they know how to cook the gateau to perfection of potatoes with the Neapolitan recipe.
The history of this dish, in fact, has its roots in the 1700s: the wife of the sovereign Ferdinand I of Bourbon loved the refined French cuisine to the point that her Neapolitan cooks often drew on it. Obviously, soon even the people wanted to try this tasty potato pie so loved by the Queen. Here, even today, every family hands down and keeps its personalized recipe but we have decided to reveal it to you with our video recipe and step-by-step photos.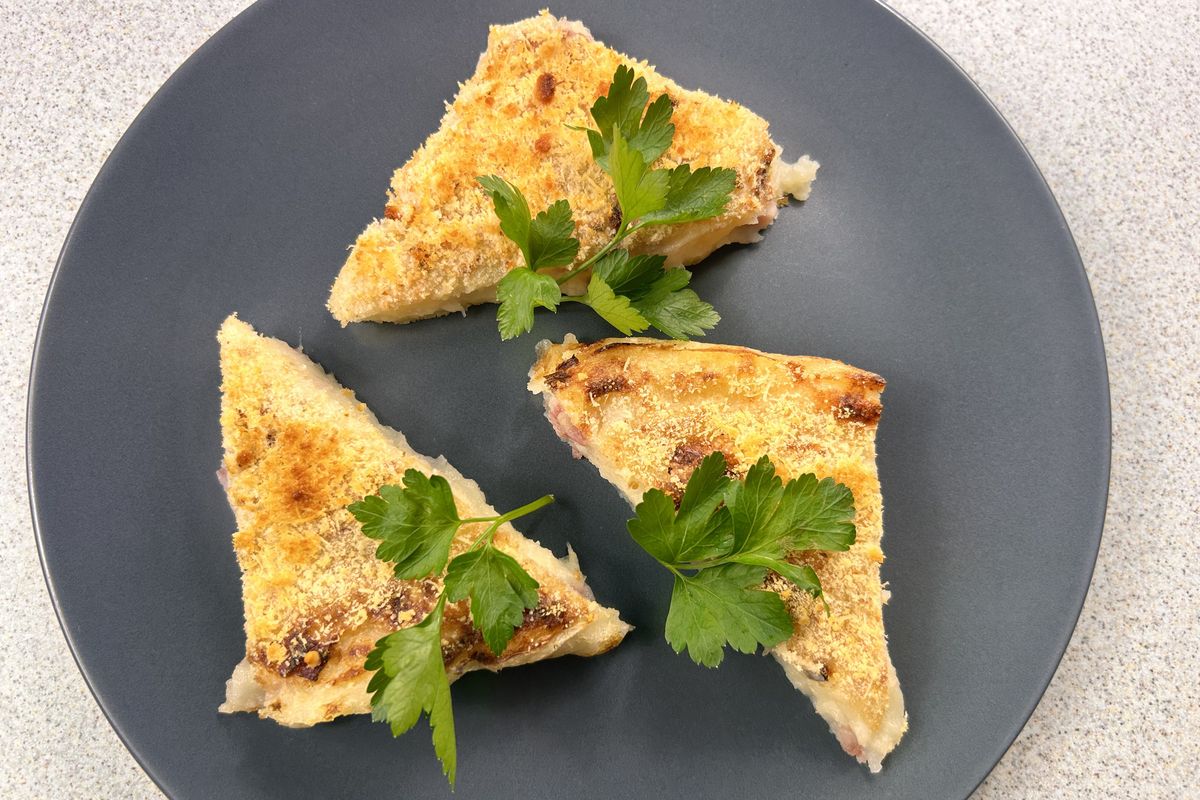 How to make potato gateau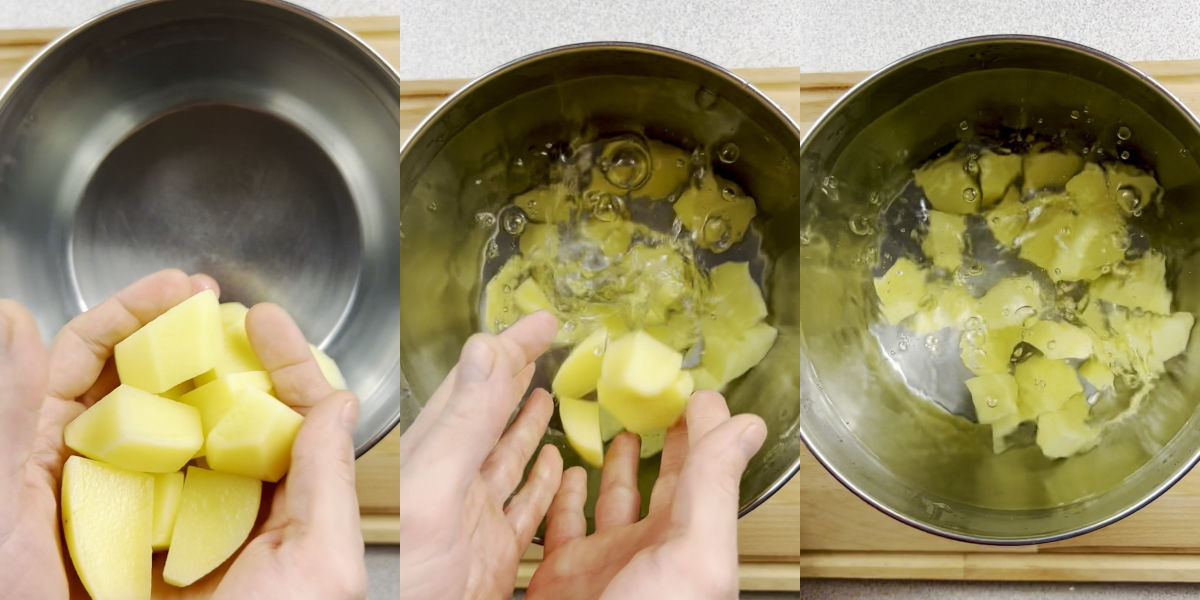 1. Start by cooking the potatoes: after having washed them, plunge them into boiling salted water. It will take 20 to 40 minutes for them to be well cooked (the advice is to take them all more or less of the same size).
2. When they're nice and soft, drain and mash them with a potato masher (you can also leave the peel on, it will remain in the kitchen utensil).
3. In a bowl, combine the mashed potatoes and eggs and mix well.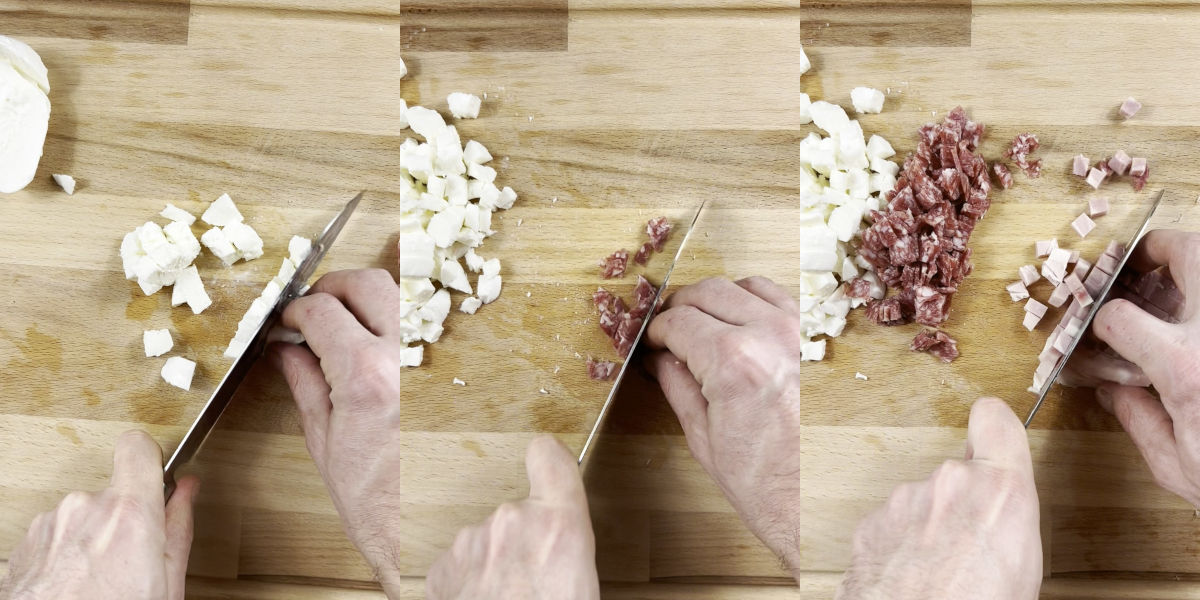 4. Cut all the cured meats and the whey-buffered mozzarella.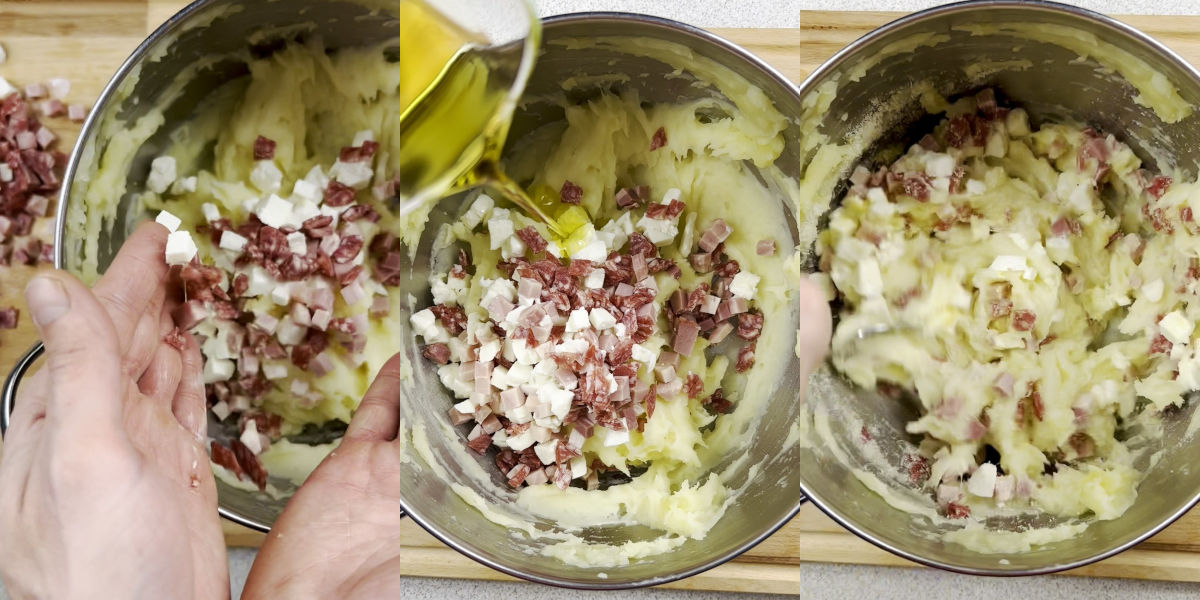 5. Then add the diced and well-drained mozzarella, the salami cut into small pieces and the cooked ham.
6. Mix, then complete with the oil, grated cheese and salt and pepper to taste.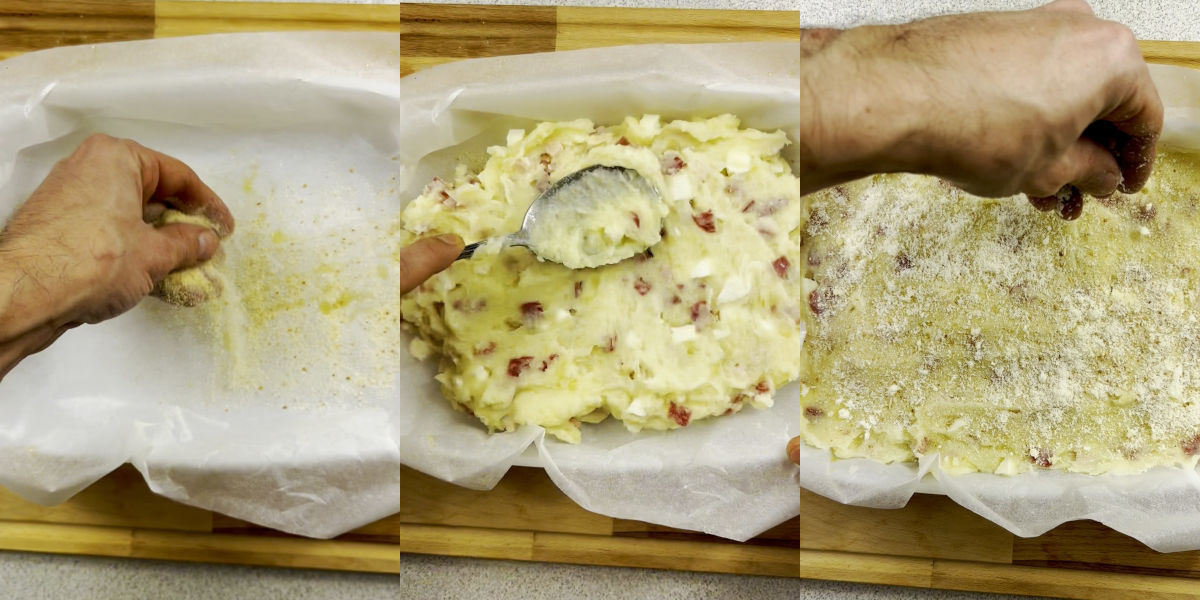 7. Transfer the mixture to an oiled baking tray covered with a thin layer of breadcrumbs, level it with your hands and add a sprinkling of grated cheese and breadcrumbs and a drizzle of oil (you can use knobs of butter instead of oil , both in the pan and on top of the flan).
8. Bake (in a preheated oven) at 180°C for about 30 minutes .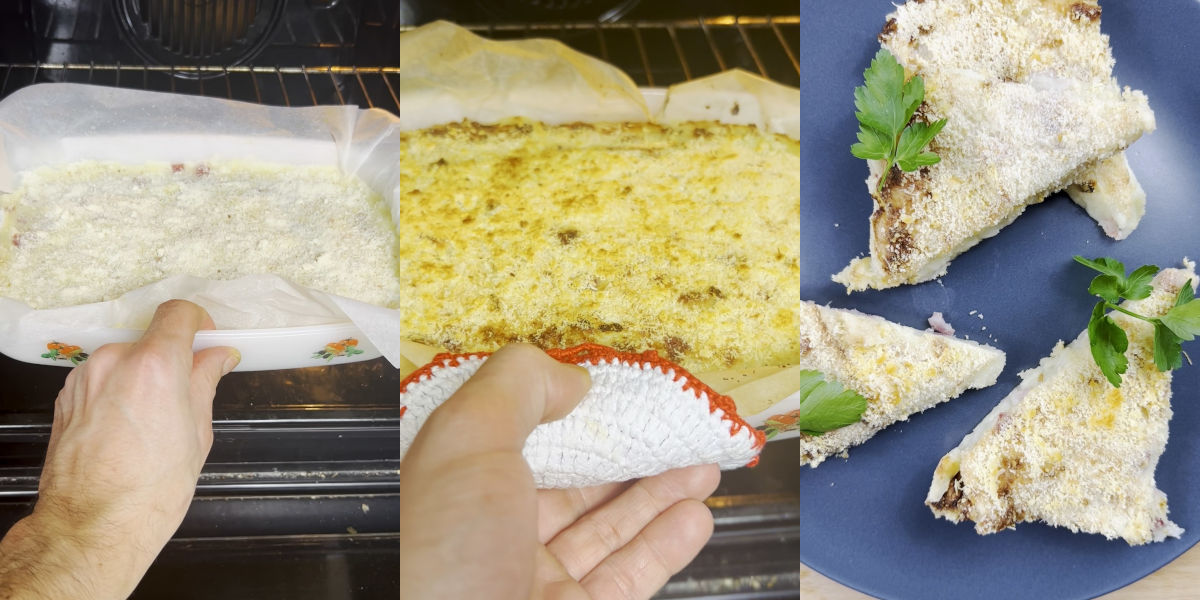 9. Remove from the oven and serve your warm potato pizza. Bon appetit !
Don't feel like turning on the oven ? Try the pan-fried potato gateau : it's ready in a flash !
Preparation tips and variations
You can choose any variety of potatoes you have at home: we have chosen the yellow ones, with a more compact texture. If you use the white ones, which are more floury, they will tend to fall apart a little more during cooking.
If the consistency , before cooking in the oven, does not seem right to you, add a little milk or breadcrumbs.
The cooking of the potato gateau is very important. Put it in the oven when it has already reached temperature and pay attention to the positioning. In fact, you have to place it in the pan halfway through the appliance so that a crust can form on the surface without risking burning it. When there are about 7-10 minutes left at the end of cooking, then activate the grill mode for a perfect result and a simple but mouth-watering potato gateau.
As for cured meats and cold cuts with which to enrich it, however, it all depends on you: you can stick to the classic recipe, or even make a vegetarian potato gateau, that is, without cured meats, but with only cheese. The beauty of this recipe, in fact, is its versatility: it is the "empty the fridge" dish par excellence. In short, put everything you want in it! You can then also transform this single dish into a veg recipe. Replace cow's milk cheese with soy cheese or tofu.
Obviously, you can also try the vegan version of the potato gateau without eggs (nor cheese and salami).
storage
You can keep the raw dish for about 2 days in the refrigerator, well covered in transparent film. Once cooked, it should always be kept in the fridge for a maximum of 2-3 days . We do not recommend freezing in the freezer.
Riproduzione riservata © - WT