Quick first courses: 10 simple, tasty and delicious recipes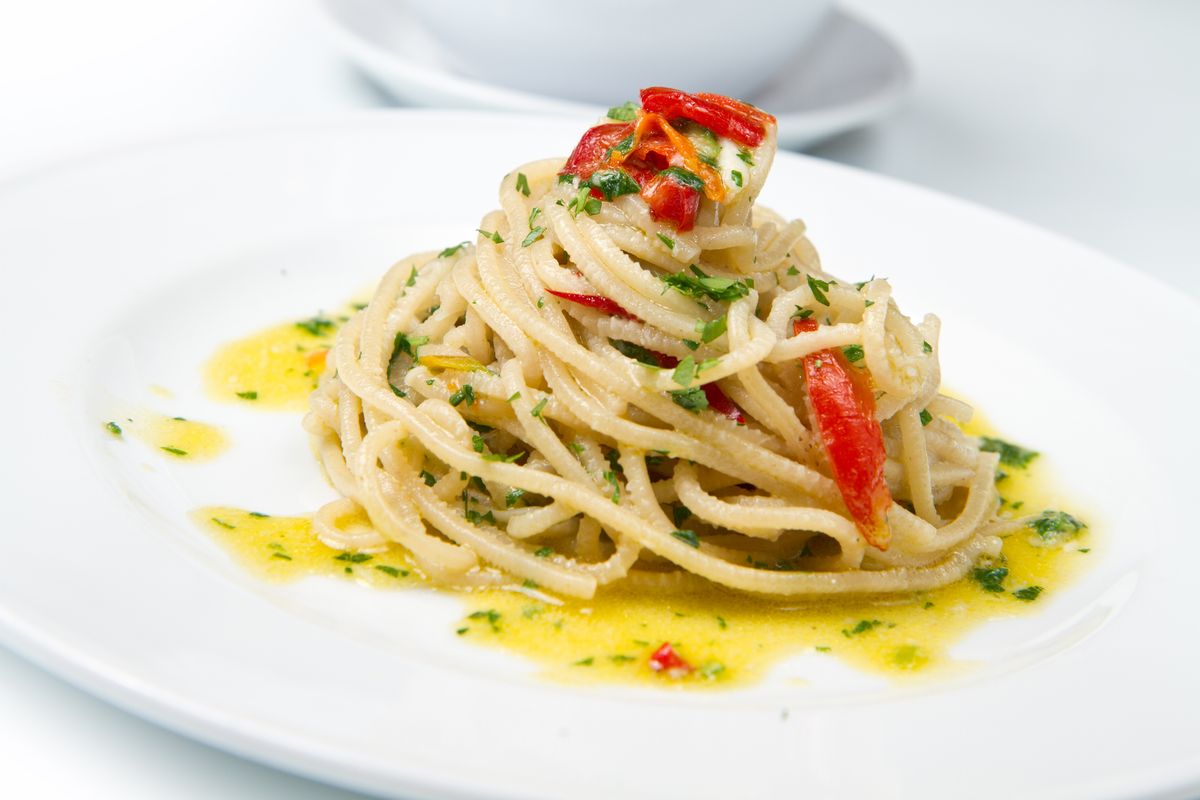 Quick first courses for lunch or dinner: from pasta to gnocchi to velvety soup, here are many easy ideas and recipes.
When looking for ideas for dinner or lunch, the simplest solution is always first courses: a pasta with flakes is ready in half an hour and we manage to come up with a self-respecting meal even when we're really in a rush! Then, there are some quick first courses that guarantee us guaranteed success, even with diners who are difficult to conquer: it is precisely on these that we want to focus today, offering you our top 10 recipes that are easy and above all quick to make . Perfect first courses for those who are always in a hurry, but don't want to give up on taste.
It is known that we Italians are fans of simple and quick first courses, but if sometimes you happen to admire the fridge in search of inspiration , with no ideas for dinner, what you need is a little help. Our quick recipes for first courses want to help you combine the need to make a nutritious and genuine dish with the frenetic pace of everyday life .
Obviously, for a matter of speed of preparation we have excluded fresh pasta. Furthermore, resorting to ready-made sauces is not the solution, which is why you won't find any here : ours are all 100% homemade recipes.
Quick pasta recipes
Let's start with a nice roundup of simple and quick pastas. The sauces are inspired by the classic recipes of our tradition : pesto, walnut sauce, carbonara, garlic, oil and chilli pepper, cheese and pepper… from the most unusual to the great classics, there is something for everyone.
You can vary the pasta format according to what you have at home (for each recipe we will give you some advice); if you're ready to get started , here are the best quick pasta-based first courses out there!
1. Genoese pesto pasta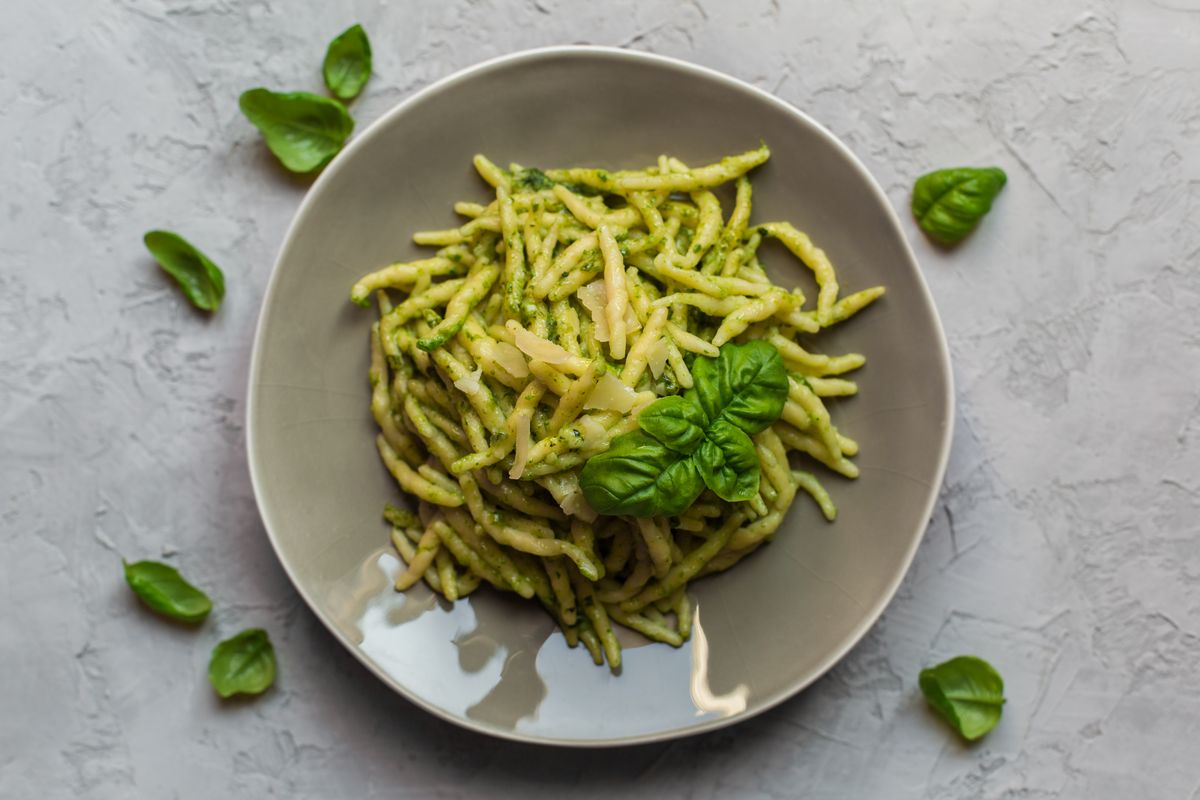 Let's start with pasta with pesto, a recipe of Genoese origin but much loved throughout Italy. For this first course we obviously recommend the trofie , which in this case are the perfect format. If you don't have them at home, choose short or long pasta according to your preferences: it doesn't matter.
Even for the dressing we will stick to the classic, making a basil pesto , but know that there are many variations: rocket , dried fruit, aubergines…
Necessary ingredients for pasta with pesto (for 4 people):
360 g of trofie type pasta
50 g of fresh basil leaves
100 g of extra virgin olive oil
1 tablespoon of pine nuts
70 g of grated cheese
30 g of pecorino
1/2 clove of garlic
1 pinch of coarse salt
Put a pot of water on the fire, bring to a boil and add salt. When it comes to a boil again, cook the pasta. Follow the cooking times indicated on the package and when it is cooked, drain it. In the meantime, prepare the pesto (to be faster , we will use a mixer): blend the basil leaves, the peeled garlic, the pine nuts and the grated cheese and add the olive oil slowly as needed to obtain a creamy sauce .
Then, in a bowl, combine pasta, pesto and a couple of tablespoons of cooking water in order to bind pasta and sauce well.
2. Parmesan and pepper paste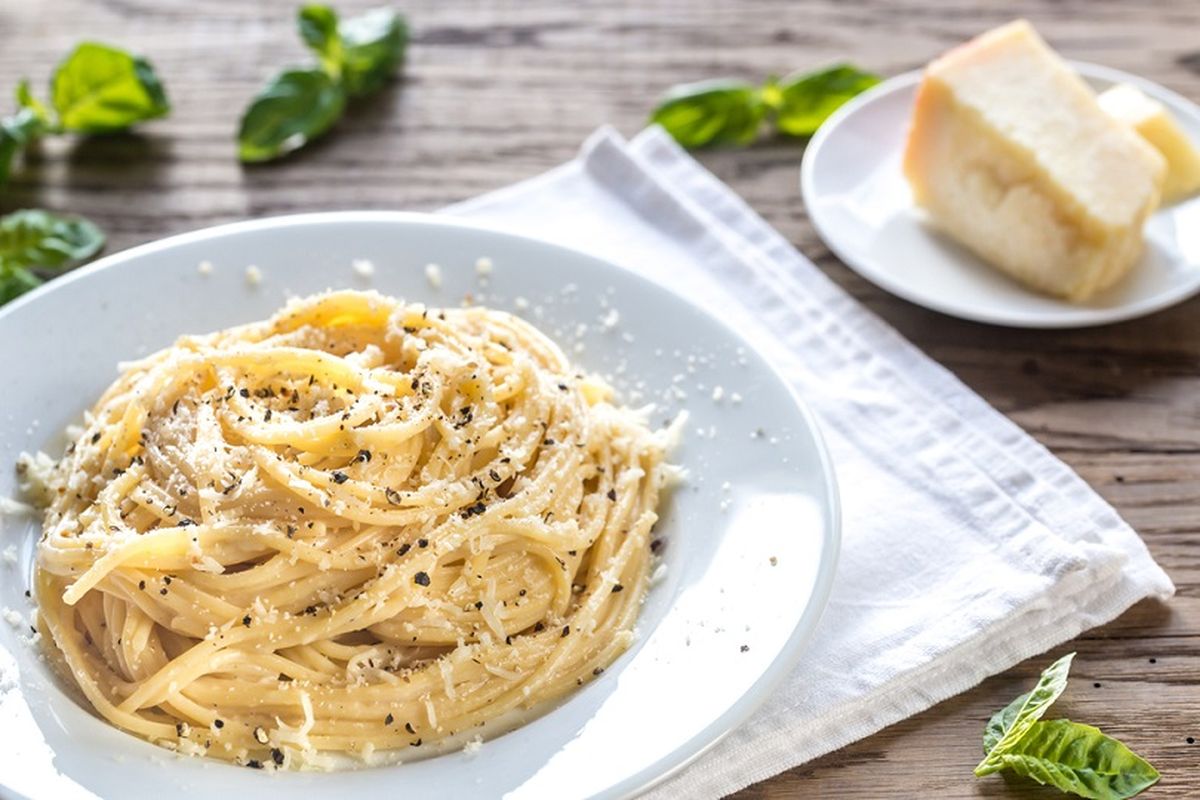 A quick first course that is more delicious than a simple white pasta with grated cheese? Play it safe with these spaghetti Parmesan and pepper . The secret of this dish lies in making a creamy sauce with grated cheese (a bit like cacio e pepe) and the pasta cooking water.
Ingredients needed for this quick first course (for 4 people):
360 g of spaghetti type pasta
200 g of grated Parmigiano Reggiano
butter to taste
black pepper to taste
Salt to taste
While you dip the spaghetti in boiling salted water, in a separate bowl add half of the Parmesan and a ladle of the pasta cooking water until you get a sort of creamy sauce. When the pasta is cooked, transfer the spaghetti to the bowl with the butter flakes, the Parmesan cream and the ground black pepper. After a few minutes of creaming , serve and add the rest of the grated Parmesan.
We used spaghetti, but you can also choose penne or fusilli. On the other hand, gnocchi are not recommended , as they could crumble in the creaming.
3. Quick Nut Sauce Pasta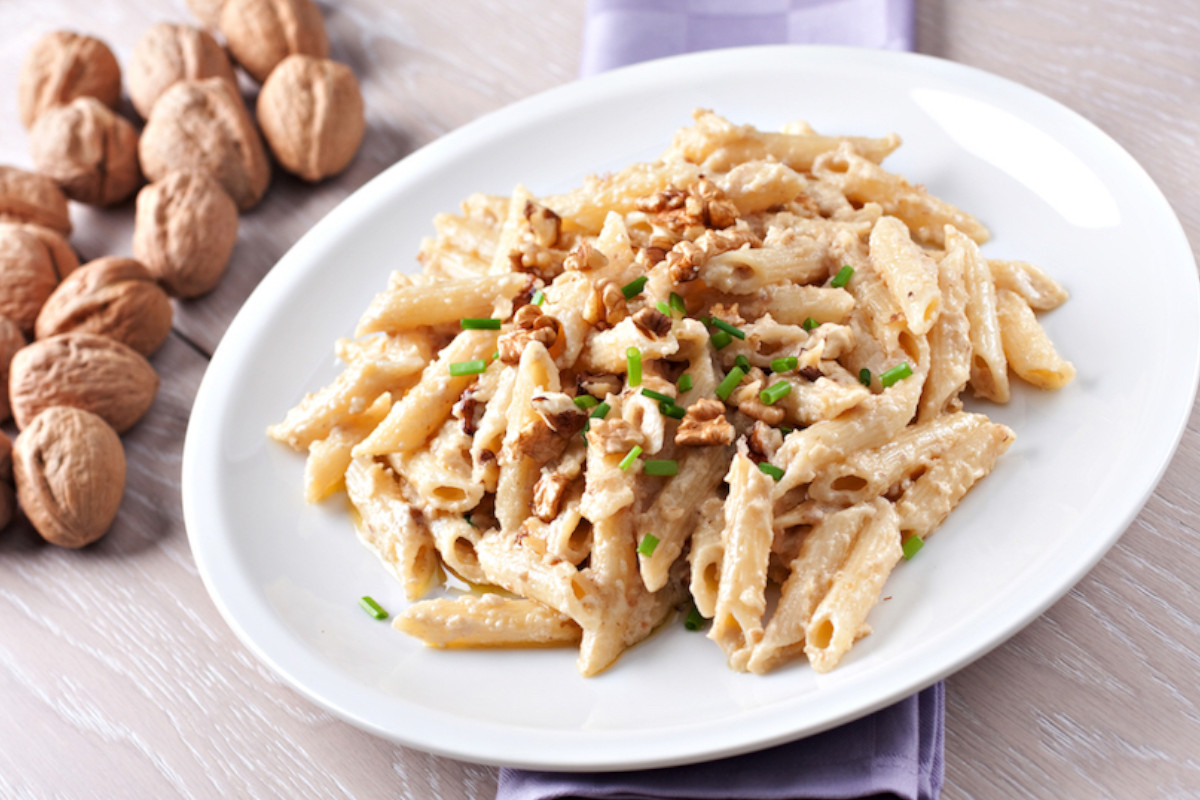 Let's continue the list of quick and easy first courses with a pasta with walnut sauce . To some it might seem like a mere reinterpretation of pesto, but in reality this sauce too is part of the ancient Ligurian culinary tradition . Our recipe calls for the use of milk instead of cream: the choice of this ingredient makes everything a little lighter .
Ingredients for this first course (for 4 people):
150 g of walnuts
360 g of pasta
30 g of pine nuts
40 g of Parmigiano Reggiano
40 g of breadcrumbs
1 clove of garlic
150 ml of whole milk
extra virgin olive oil to taste
For this preparation, while you cook the pasta in boiling salted water, you will have to dedicate yourself to making the sauce. Blanch the walnut kernels for about 5 minutes in boiling water in order to eliminate the bitter taste given by the peel. For the walnut sauce, soak the bread in the milk and when it has softened squeeze it well. At this point blend the cheese, the peeled walnuts, the pine nuts and the garlic, slowly adding the olive oil. If necessary, also add some milk to make sure that the consistency is nice and creamy.
Use this sauce to dress pasta and complete with a ladle of cooking water. Also in this case, we have chosen short pasta, but if you prefer spaghetti , feel free to vary .
4. Spaghetti with garlic, oil and chilli pepper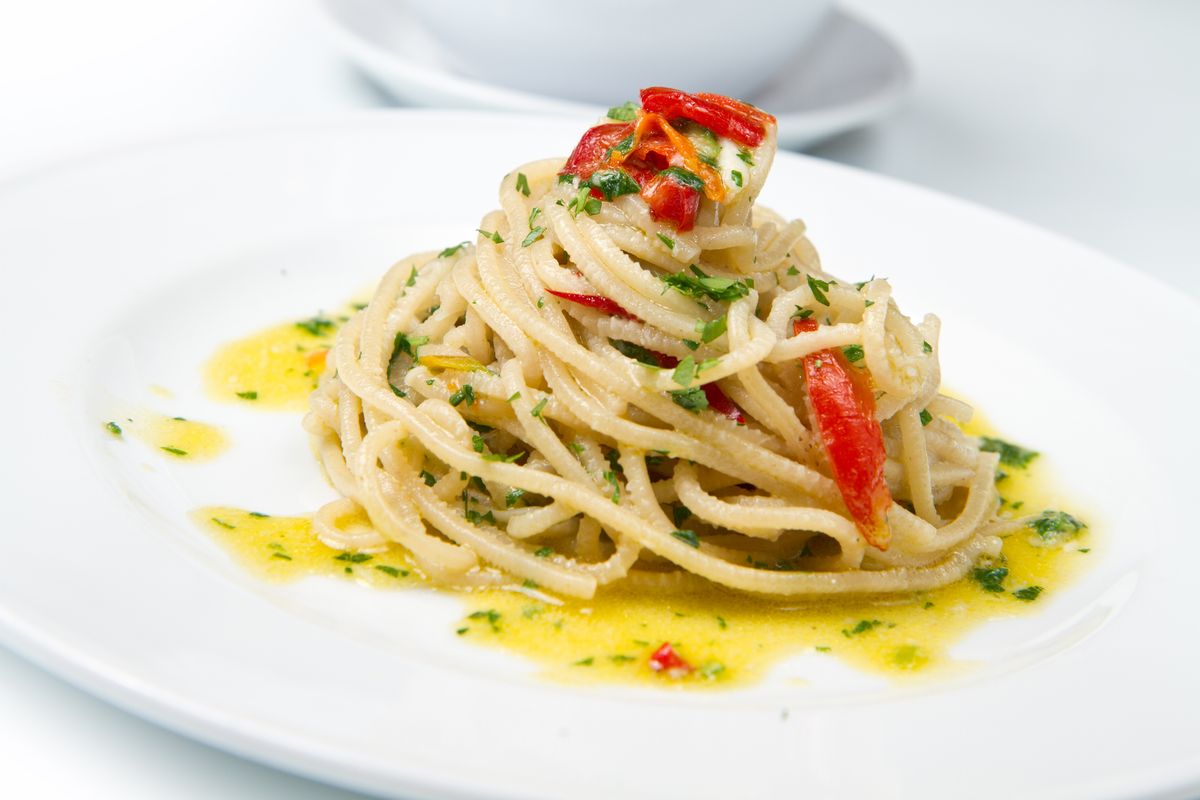 Spaghetti with garlic, oil and chilli pepper are a great classic, the "midnight pasta" that is prepared when hunger is great and the pantry is empty . In this case, we'll tell you right away: it's better not to vary the pasta shape because if this dish has become a must as it is, there's definitely a reason!
Having said this, however, do not reduce this dish to a pasta to be made in a hurry: it is very tasty , very easy to make and can be flavored as desired.
Ingredients needed for the quick pasta par excellence (for 4 people):
380 g of spaghetti
3 tablespoons of extra virgin olive oil
chili pepper to taste
2 cloves of garlic
fresh parsley to taste
Plunge the spaghetti into boiling salted water and when they are half cooked , drain them. In the meantime, heat the oil with the chopped fresh chilli pepper and a whole clove of garlic. Separately, make a sort of garlic paste by chopping the other clove with a knife, crushing it and seasoning it with salt. Also add this mixture to the pan and be careful not to burn everything: if necessary, turn off the heat to wait until it's time to drain the spaghetti.
Then drain the pasta and finish cooking in the pan, risottandola with cooking water. In this way the perfumed oil will flavor everything and you will feel what an explosion of taste! Complete with parsley before serving.
5. Pasta with anchovies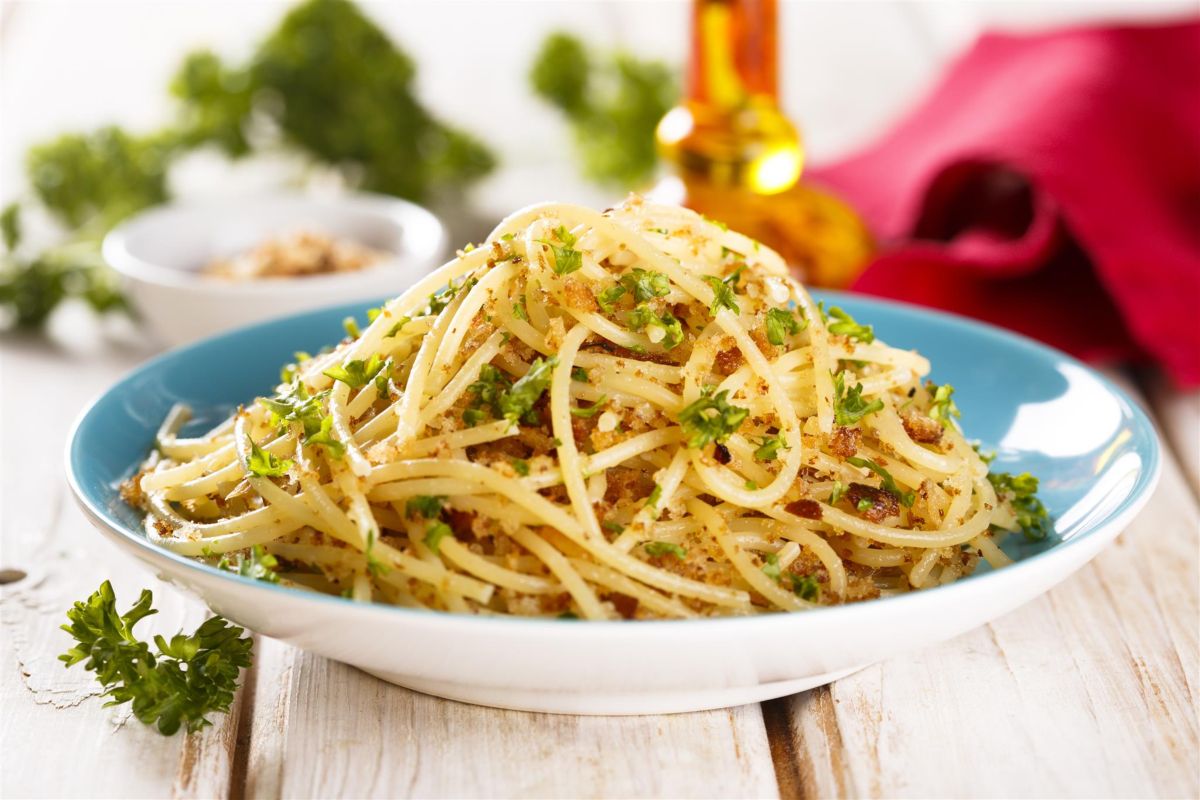 Pasta with anchovies is a first course of a certain level : perhaps anchovies don't meet everyone's taste, but when you know how easy it is to make, you can't help but try it !
Don't be put off by the high-sounding name or the more sought-after ingredients and give it a chance. As a format, we strongly recommend spaghetti.
What you need for this quick first course (for 4 people):
380 g of spaghetti type pasta
30 g of anchovies in oil
70 g of breadcrumbs
extra virgin olive oil to taste
2 cloves of garlic
aromatic herbs to taste
Once again, while you put the water on, cook the spaghetti and in the meantime dedicate yourself to preparing the sauce. In a nice large frying pan, heat the extra virgin olive oil, the garlic, the anchovies and a ladle of the pasta cooking water . While the anchovies are melting, toast the breadcrumbs in another pan.
Remove the garlic from the pan with the anchovies, add half the breadcrumbs and also add the spaghetti which is still a little behind in cooking . Cook them completely by risottandoli in a pan and adding cooking water. Serve by adding the remaining breadcrumbs and aromatic herbs.
6. Tomato pasta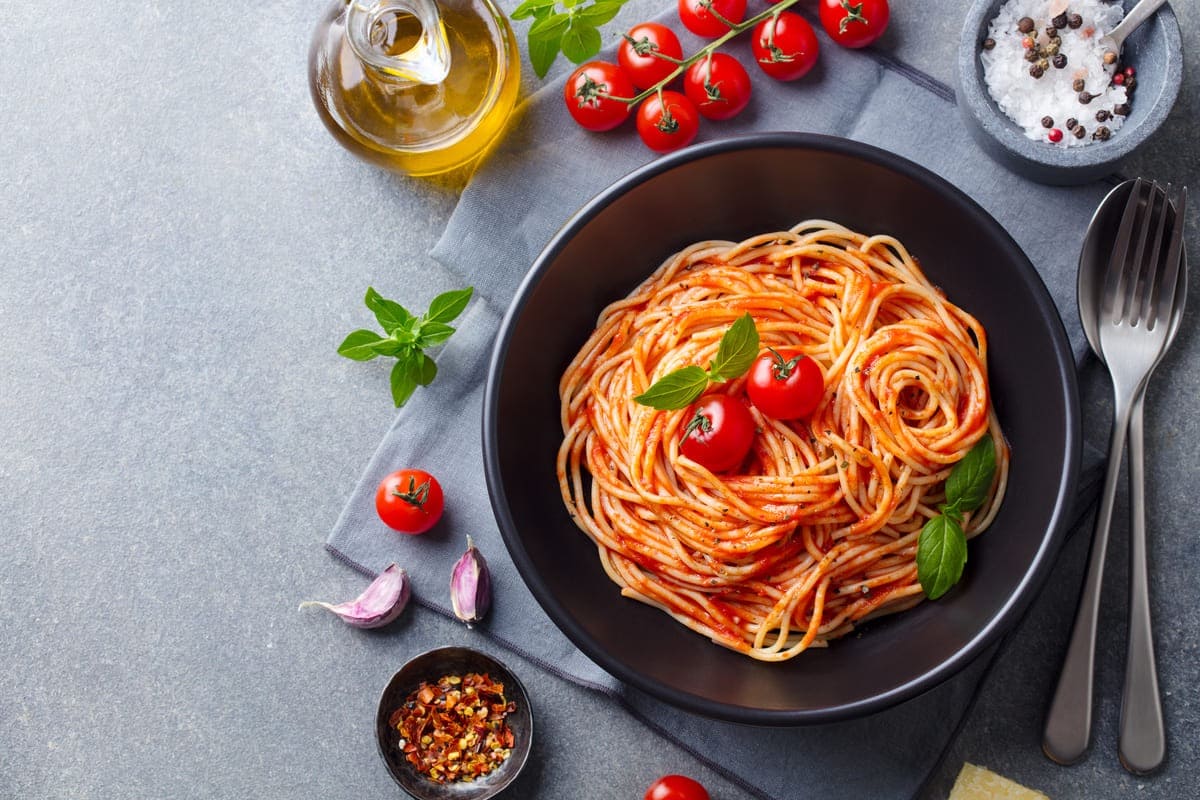 We now come to another great classic:pasta with tomato sauce . To be honest, we will not leave you the classic recipe, the purists will forgive us, but the recipe for spaghetti all'assassina , a typical dish from Bari . What is different from usual? The preparation is that of risotto pasta: spaghetti and tomato puree will be cooked in a pan, with a surprising result !
We make delicious spaghetti with tomato sauce, but you can easily use penne or fusilli; just keep in mind that the final crust could be affected a bit.
Ingredients for 4 people:
400 g of spaghetti
800 g of peeled tomatoes
1 clove of garlic
olive oil to taste
pepper as needed
Salt to taste
In a large frying pan, start frying the garlic in a drizzle of oil, adding the peeled tomatoes. Season with salt, lower the heat and cook for about 50 minutes . Then take the garlic and pass the tomatoes through a vegetable mill to create a smooth sauce without pieces. Put everything back in the pan with a drizzle of oil and cook for another 10-15 minutes (adding the basil to taste). Cook the pasta in boiling salted water, drain it al dente in the pan with the sauce and mix well, adding cooking water as needed. Serve by adding some basil, a drizzle of raw oil and a grating of black pepper.
You can also cook the pasta directly in the pan: add the "dry" spaghetti and toast them for 2-3 minutes together with the garlic and oil. Remove the garlic and add a ladle of sauce and two ladles of warm water and season with salt. Gradually add water and sauce until the pasta is cooked. Finally, raise the heat and let the surface become crunchy.
A curiosity: this preparation was born as a recovery dish , and is also perfect for giving new life to leftover pasta from the day before.
7. Carbonara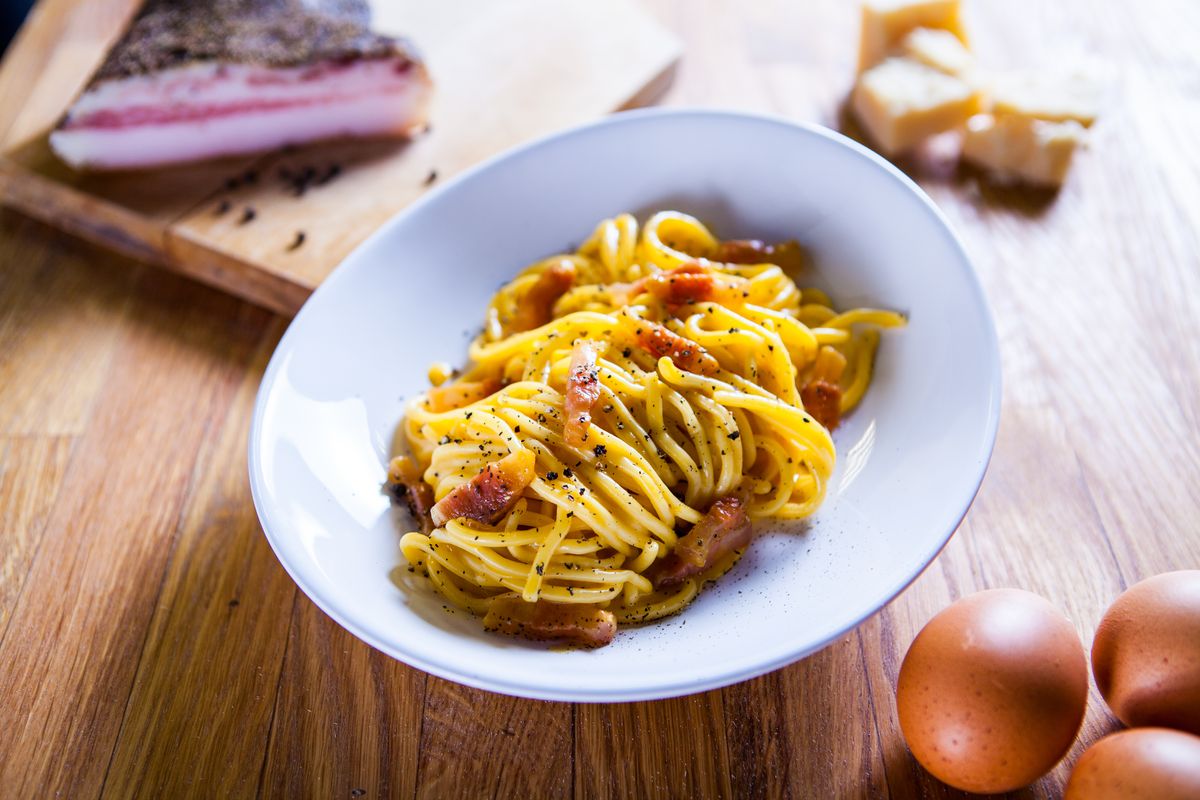 Could we have excluded pasta alla carbonara from this list? If you stop to think about it , there's very little to do and if you get the egg cooked right, you'll be able to make a quick and crazy first course! Of course, a book could be written on the carbonara recipe alone, but it is also true that you don't need to be a chef to prepare a slap-up dish.
For carbonara, spaghetti are really perfect (perhaps at this point you will have realized that we are biased !) but in reality this egg-based sauce lends itself to all pasta shapes.
For this quick and delicious pasta, get yourself (for 4 people):
380 g of spaghetti
4 yolks
1 whole egg
200 g of bacon
90 g of Roman pecorino
30 g of grated cheese
black pepper to taste
Salt to taste
Put the water on for the pasta (salted but not very much) and when it boils , dip the pasta into it . Cut the bacon into strips and brown it in a pan until it becomes crunchy but not dry; keep it aside. In a bowl, beat the egg yolks, pecorino and grated cheese with a fork. At this point, it will be time to drain the pasta al dente; sauté it in the pan with the bacon fat and a little cooking water.
Away from the heat, add the egg and cheese cream and the bacon and stir. Add cooking water as needed and mix quickly before serving.
Three quick, delicious and original first courses
After a succession of classic pasta dishes, here are other more original ideas : risotto, velvety soup and homemade gnocchi. Obviously, even in this case, they are all quick recipes: let's discover them together!
1. Bread dumplings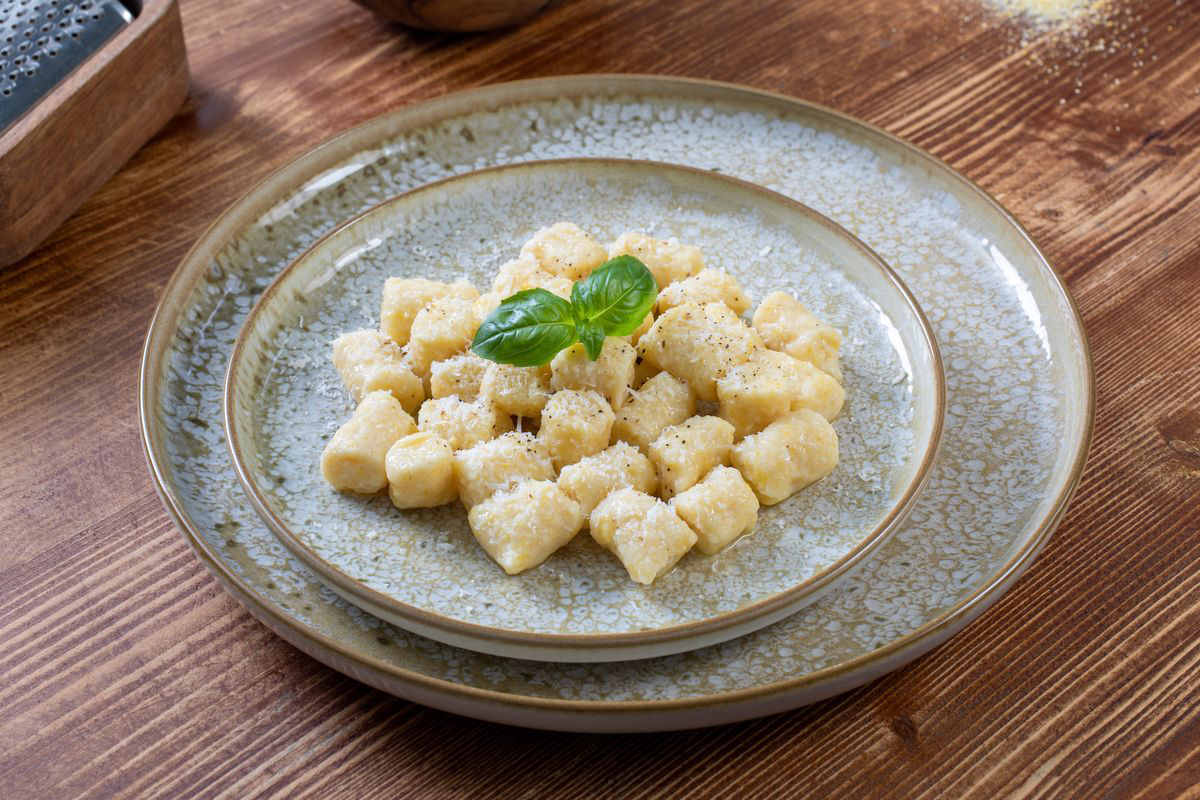 Among our quick and tasty first courses we offer you the recipe for bread dumplings . Made with stale bread (and which therefore also allow us not to waste anything) they are easier to make than the classic potato gnocchi, the final result of which can vary a lot based on the type of potatoes you have available.
Let's see the quick preparation and the ingredients (for 4 people):
250 g of stale bread without crust
1 egg
250 g of milk
200 g of flour
Salt to taste
pepper as needed
nutmeg to taste
In a bowl, place the diced bread, the flour, the salt, the pepper and a pinch of nutmeg. Separately, beat the milk and eggs and gradually add them to the bread mixture. Mix everything well and let it soften . If necessary, add flour or milk to adjust the consistency and start forming the gnocchi with your hands .
You can immediately dip them in water and season them as you prefer: there is the classic butter and sage which is very quick to make, or you can make a cream by melting some gorgonzola in a pan and let it mix your bread gnocchi.
2. Chickpea soup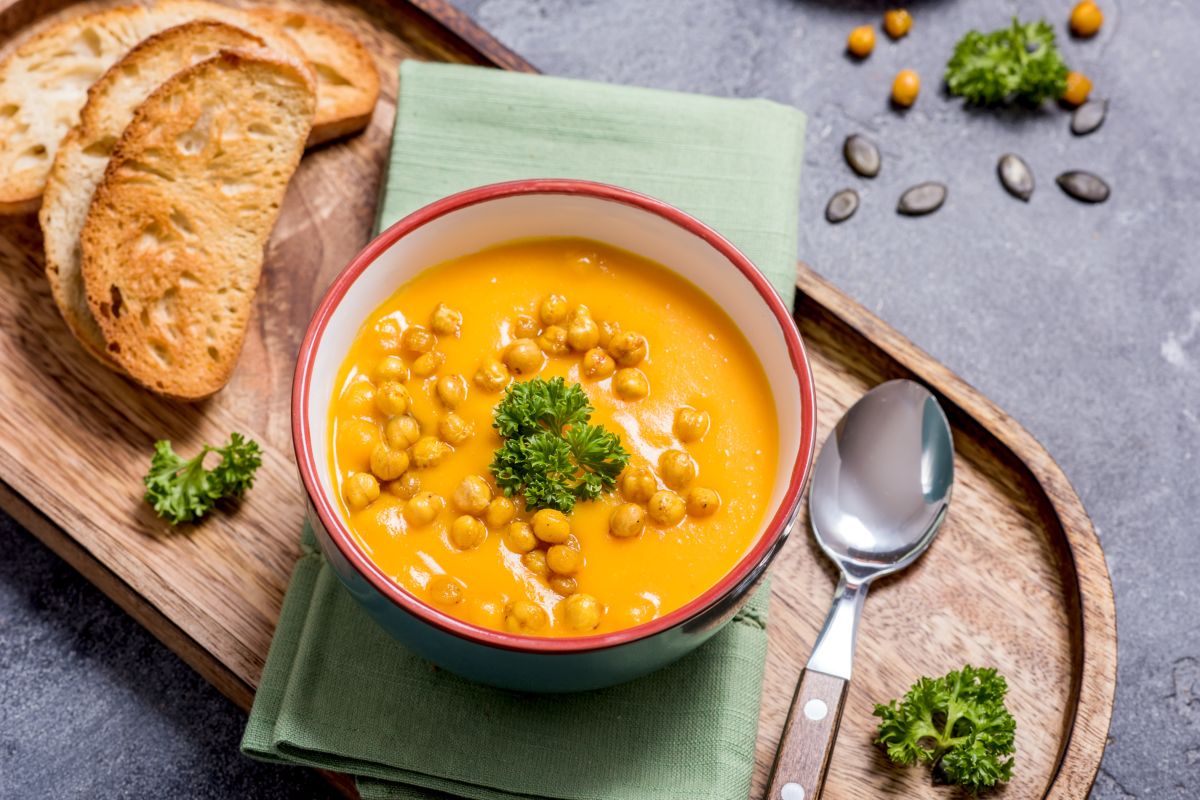 If you have a few cans of pre-cooked chickpeas in the pantry,chickpea soup is a brilliant idea ! All you need to do is add broth and… nothing else (if you don't have the broth ready, make it on the fly with stock cubes): in less than 20 minutes you'll have a light and healthy first course ready. Conversely, if you only have dried chickpeas , it will take a long time to make: you have to wait a night for the legumes to be soaked and then cook them for at least an hour.
Quick soup ingredients (for 4 people):
450 g of canned chickpeas
vegetable broth to taste
1 sprig of rosemary
sage to taste
Salt to taste
pepper as needed
extra virgin olive oil to taste
2 shallots
Brown the chopped onion in oil, rosemary and sage; add the chickpeas, remove the aromatic herbs and begin to cover with the broth, cooking for around 15/20 minutes . Then blend with an immersion blender: if you think it is too thick, add more stock and if it seems too liquid, let it reduce over low heat.
Have you seen how easy it is? Perfect for those looking for quick and light first courses!
3. Saffron risotto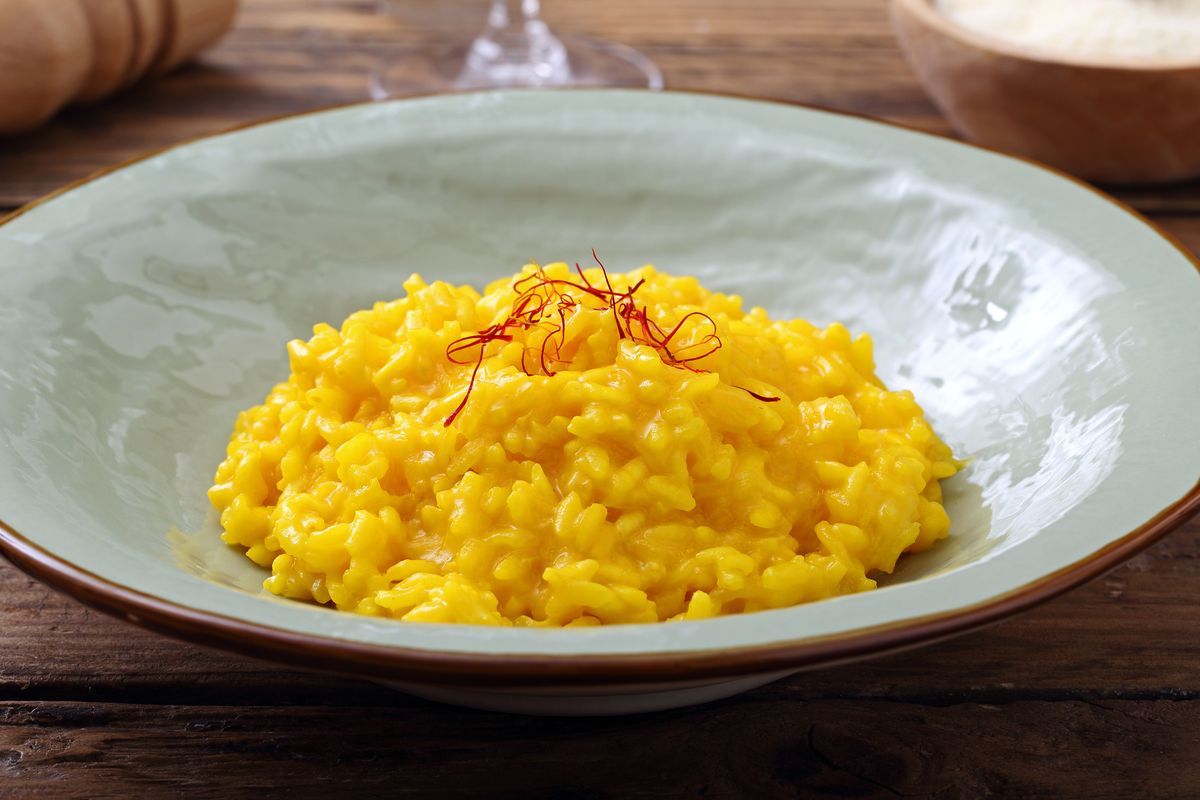 It's true, risotto isn't very quick to make, but could we perhaps have excluded it from this list? Our proposal is a saffron risotto , perfect all year round. Very creamy and naturally gluten-free, it offers us an interesting balance of flavors thanks to the particularity of the saffron and the flavor of the cheese.
Ingredients needed for the risotto recipe (for 4 people):
320 g of Carnaroli rice
1/2 white onion
40 g of butter
extra virgin olive oil to taste
100 g of grated cheese
pepper as needed
Salt to taste
1 liter of vegetable or meat broth
1 packet of saffron
half a glass of white wine
On the side, heat the broth , which should never be added cold to risotto. Take a couple of tablespoons and let us melt the saffron. Finely chop the onion and fry it in a pan with extra virgin olive oil. As soon as it is soft, toast it together with the rice for about 3 minutes, adding salt and pepper. Deglaze with the white wine and start pouring the broth gradually into the saucepan. When the risotto is about half cooked, add the saffron. When it is cooked , turn off the flame and stir in the butter and cheese.
How about discovering all our delicious first courses too? You will not regret it! If, on the other hand, you have very little time , try all our quick sauces too!
Riproduzione riservata © - WT