Recipes with zucchini: the 10 best to try!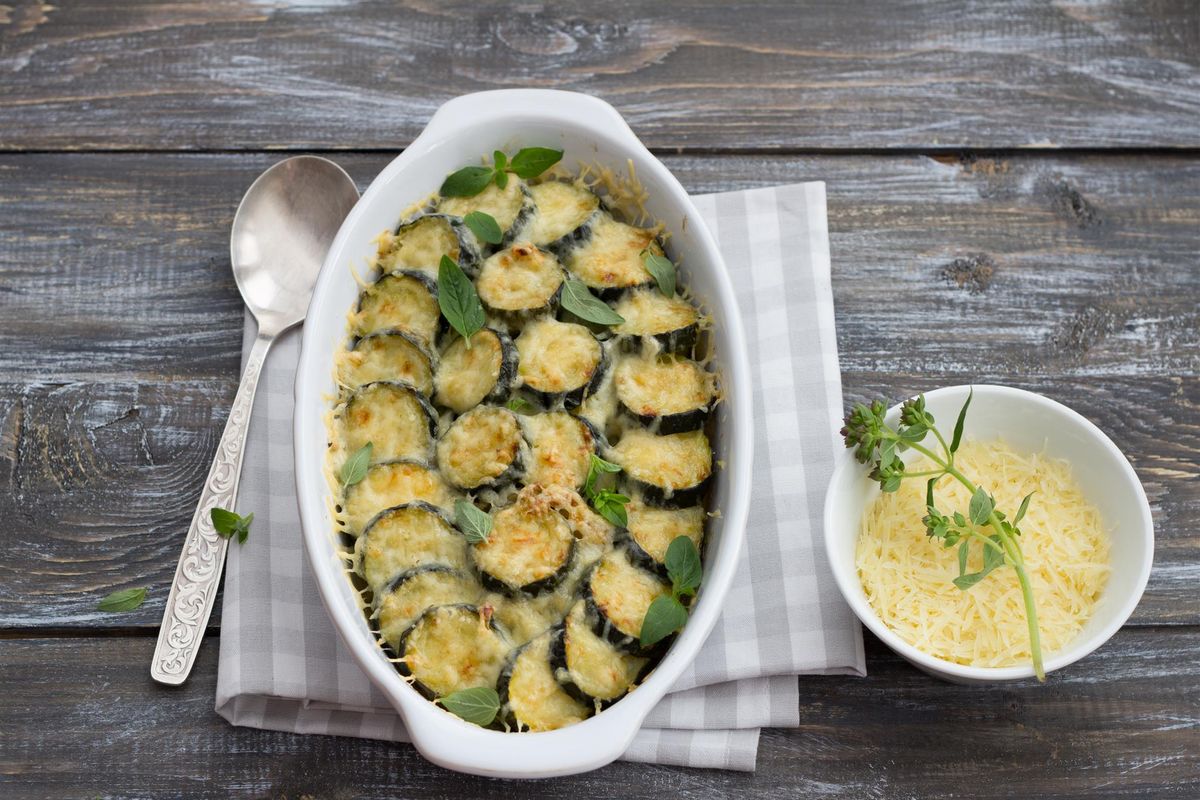 With the good weather comes the ideal time to prepare tasty recipes with zucchini, ideal for dinners with friends. Here are the best!
Quick, easy and cheap: recipes with zucchini are often ideal for summer weekends, or for an evening with friends , perhaps even with the children. By now they are present on the counters of the supermarket or greengrocer all year round , but the best period in which to consume them is still the summer. Their flavor goes wonderfully with that of other typical products of this season and preparing them never involves too much effort .
They are among the most popular and versatile vegetables, perfect for preparing first courses such as pasta with zucchini, appetizers, side dishes or unique dishes such as omelettes, flans or savory pies. Let's find out together everything there is to know about this delicious vegetable and see some recipes for all tastes!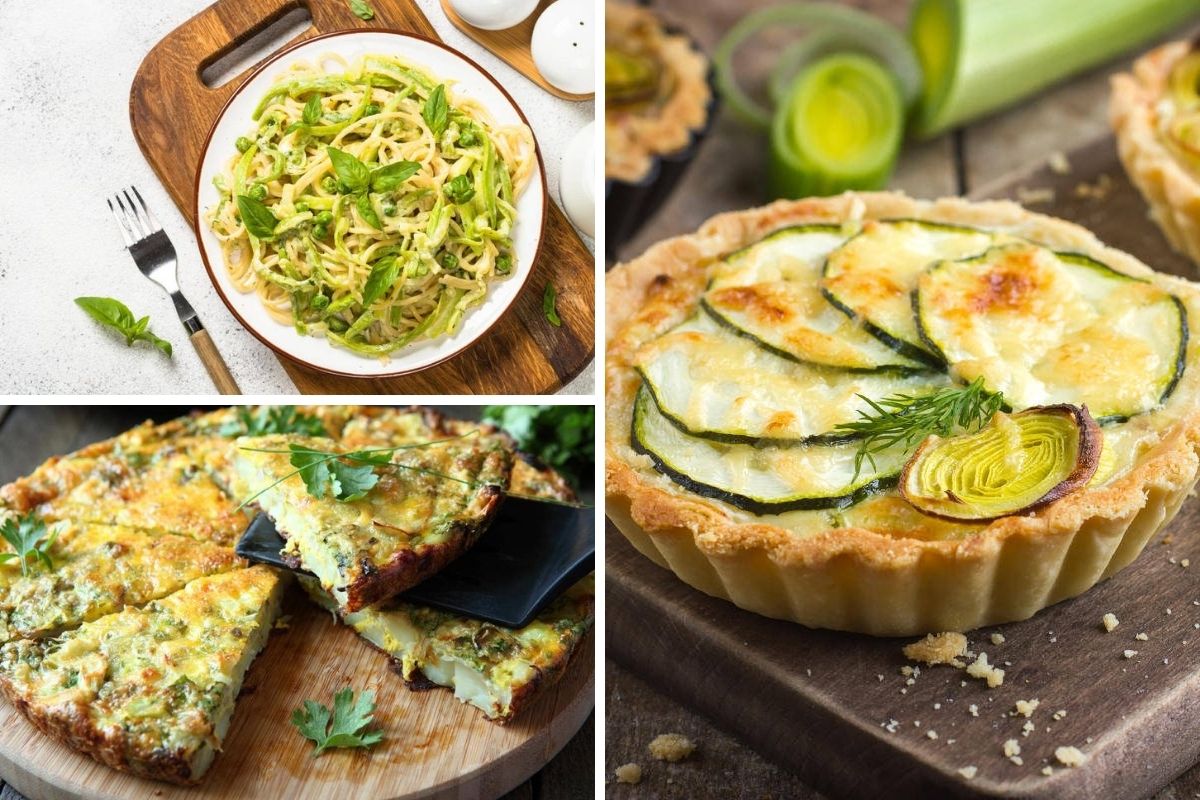 Zucchini: when they are in season and how to choose them
The period in which you can find courgettes goes from mid-March to mid-September, therefore between the warm seasons . But the best months to buy, prepare and eat zucchini are June, July and August.
How to choose zucchini to cook? The ideal is to buy the smaller ones . Even if it complicates the preparation a little and forces you to cut slices and small pieces, the result is guaranteed. The smallest courgettes are the tastiest , because as the vegetable grows and fills with water, it loses flavor.
An exception to this indication is if you want to prepare stuffed zucchini: in this case it will be better to buy the larger ones .
10 recipes with zucchini to try
Zucchini are healthy because they are rich in water and have a low caloric intake. They also contain vitamins A and C , help in case of urinary inflammation, kidney problems, regulate the intestines and are indicated in diets for diabetics and heart patients. But not only that, they are also (above all) delicious : let's see together some delicious recipes with zucchini!
1. How to make an omelette with zucchini (and the veg version), for quick and light recipes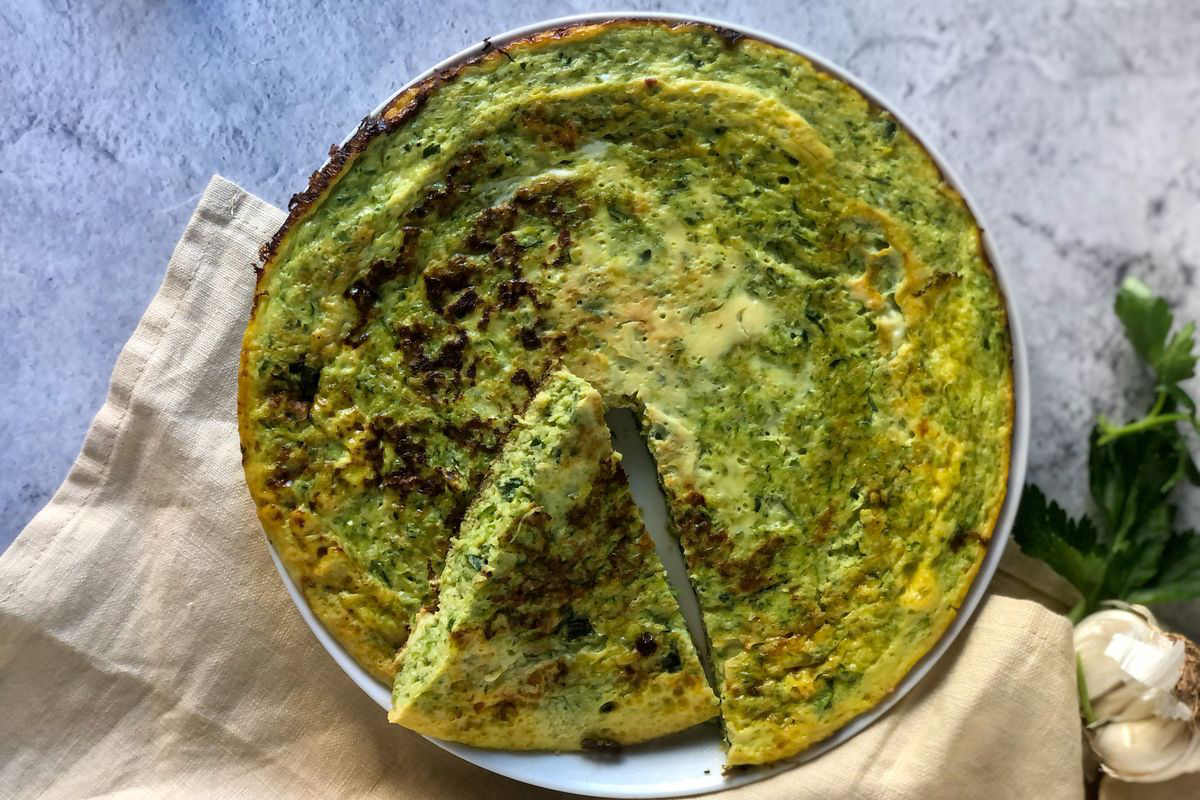 This recipe is the demonstration that you don't need great skills and a lot of time to always enjoy delicious recipes! In addition, the beauty of the zucchini omelette is that you can enrich it every time with everything delicious you have in the fridge (bacon, diced ham, cheese, cherry tomatoes…).
Ingredients of the omelette with zucchini (4 people)
4 eggs
3 zucchini
1 clove of garlic
70 g of grated cheese
Salt and Pepper To Taste,
1 tablespoon of milk
fresh parsley to taste
butter to taste
extra virgin olive oil to taste
To prepare it, start by slicing the onions thinly into rings. Then put them to brown well in a pan before adding the courgettes and cook for about ten minutes, which will be enough to cook them. Meanwhile, beat 2 eggs with grated cheese, salt and pepper to taste. Pour the beaten egg mixture into the pan and cook until golden on both sides.
Zucchini farifrittata: the vegan recipe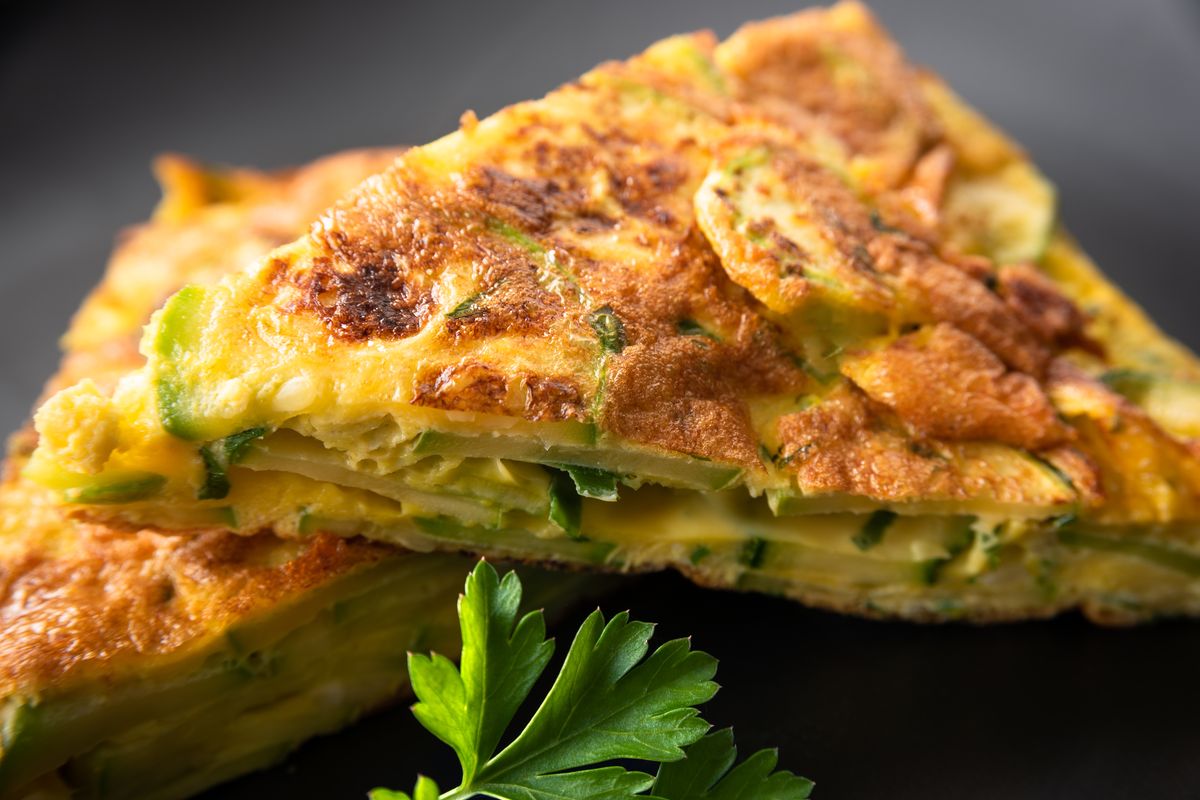 Here is a quick recipe with veg zucchini, a light dish ideal for those who want to stay in shape by eating something very good and with a tasty flavor: zucchini fariffrittata . It is an egg-free recipe, therefore vegan, light and also suitable for those with intolerances .
Unlike the classic courgette omelette, in this preparation you will have to combine: 150 g of chickpea flour, 350 ml of water, 2 courgettes, 1 shallot, fresh basil to taste, salt and pepper to taste, extra virgin olive oil to taste
Cut the courgettes and cook them in a pan with a drizzle of oil and the finely chopped shallot. While the vegetables are cooking, add chickpea flour and water and make a smooth batter . Add the chopped fresh basil, salt and pepper and add the courgettes. Mix well then let it rest in the fridge for a couple of hours. Pour the batter into a 30×30 oiled pan and bake at 200°C for 25 minutes .
2. Zucchini balls for tasty main courses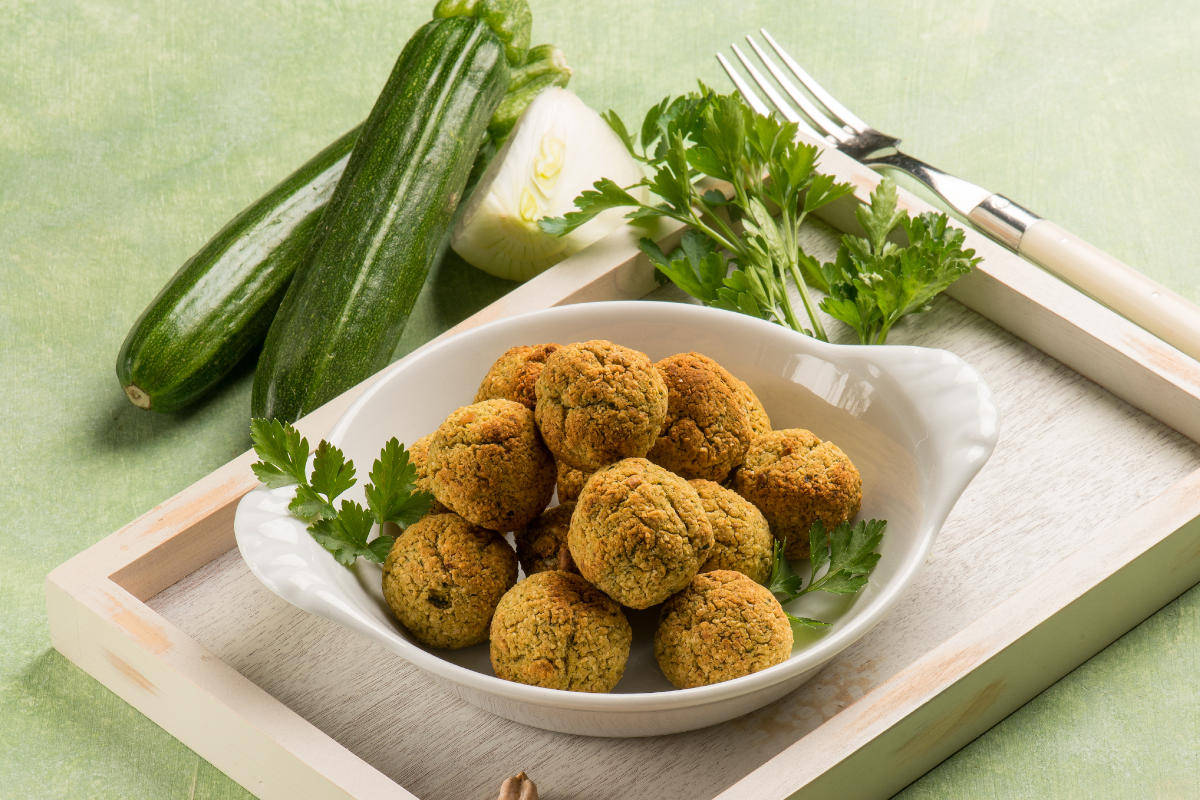 Few things kids like and are as suitable for a nice lunch or picnic on the lawn as meatballs. Here then is one of the most suitable recipes with courgettes and potatoes for preparing a healthy, tasty and rich side dish (also excellent as a main course): courgette meatballs !
Ingredients for the zucchini meatballs recipe (serves 4)
2 large courgettes
150 g of cottage cheese
150 g of potatoes
1 egg
40 g of grated Grana Padano
40 g of grated pecorino
Salt to taste
fresh basil to taste
grated bread to taste
extra virgin olive oil to taste
frying oil to taste
To prepare this flavourful dish, combine the grated zucchini, an egg, ricotta cheese, boiled potatoes, parmesan cheese, pecorino cheese, salt and chopped basil in a bowl. Mix well, adjust the consistency with a few spoonfuls of breadcrumbs and before dipping them in a pan with semi-hot oil, dip them in the breadcrumbs. Cook until golden brown and… the recipe is ready!
3. Baked zucchini recipe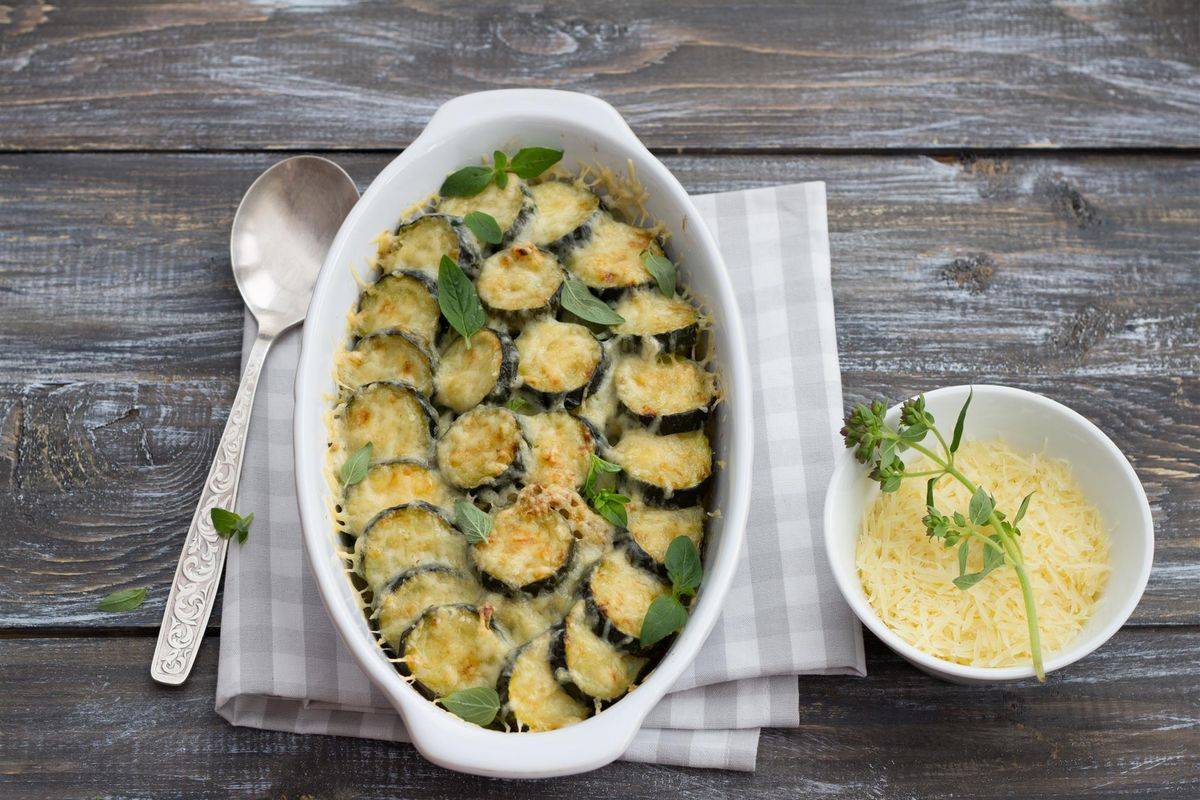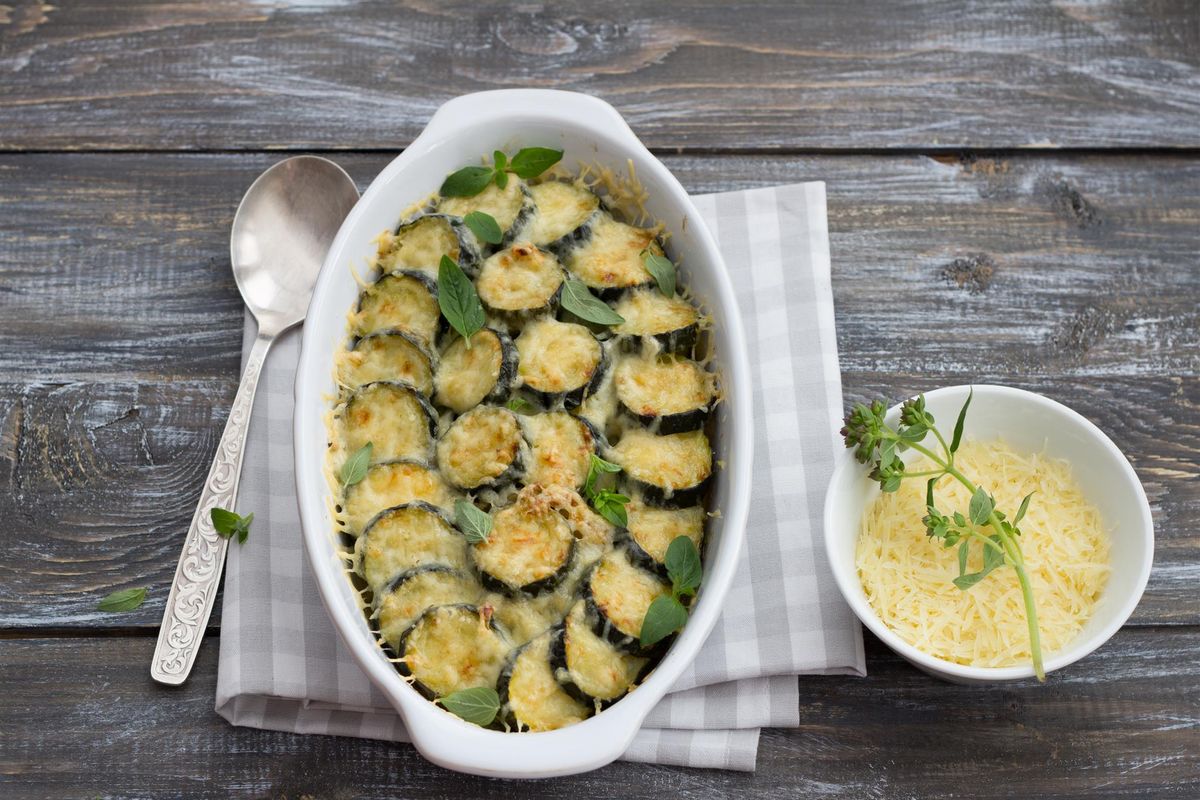 This is one of the best zucchini recipes out there: it allows you to bring a splendid, impressive appetizer to the table with just a few ingredients . To preparebaked zucchini you need fresh vegetables, grated cheese and breadcrumbs: they are also excellent for a last-minute dinner with friends!
Ingredients to make baked zucchini (4 people)
4 medium zucchini
6 tablespoons of breadcrumbs
6 tablespoons of Parmesan
evo oil to taste
aromatic herbs and salt to taste
Wash and cut the vegetables into rounds or matches, then dip them in a mix of breadcrumbs, Parmesan, salt and aromatic herbs of your choice. Arrange on a tray and bake at 200°C for about 20 minutes . Serve your baked zucchini au gratin while still hot.
4. Zucchini flan: the perfect appetizer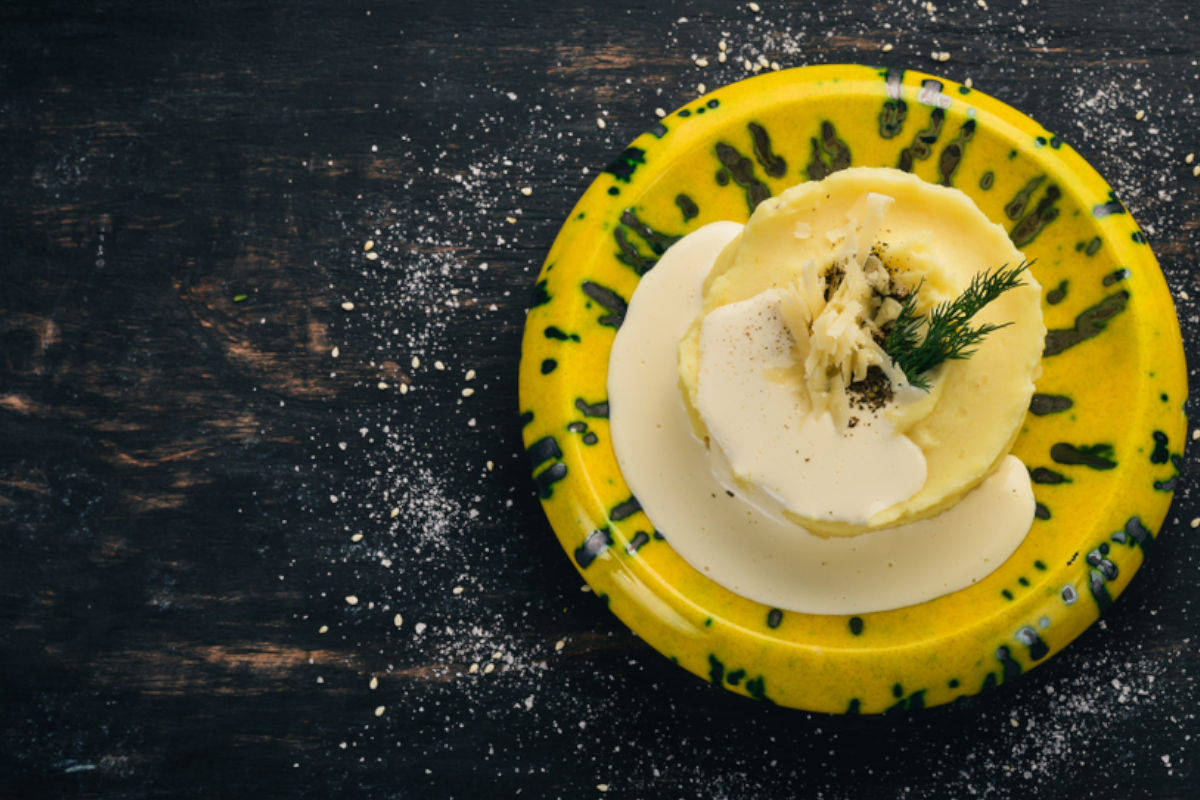 The flan, on the other hand, is an excellent idea for cooking zucchini in the oven in an even more original and tasty way. This recipe is nothing but a simplified version of the French-inspired zucchini flan .
Ingredients needed for 4 flans
500 g of zucchini
40 ml of fresh cream
60 g of grated Parmigiano Reggiano
2 eggs
1 clove of garlic
1 shallot
25 g of pine nuts
10 basil leaves
1 tablespoon of EVO oil
Salt to taste
pepper as needed
Start by trimming three courgettes and browning them in a pan with oil, a clove of garlic and the chopped shallot for 20 minutes . Season with salt and pepper then turn off the heat. Leave to cool, add the pine nuts and blend. Then, in a large bowl, beat the egg yolks with cream and grated cheese. Season with salt and pepper and add the vegetable cream. Lastly, add the whipped egg whites making very delicate movements.
Pour the mixture into greased single-portion molds and bake in a preheated oven at 180°C for 15/20 minutes or until each flan is golden brown. If you want to make a single zucchini pie, continue cooking for up to 35 minutes: it's perfect to serve in slices, even cold , as an appetizer or side dish!
5. Pasta with zucchini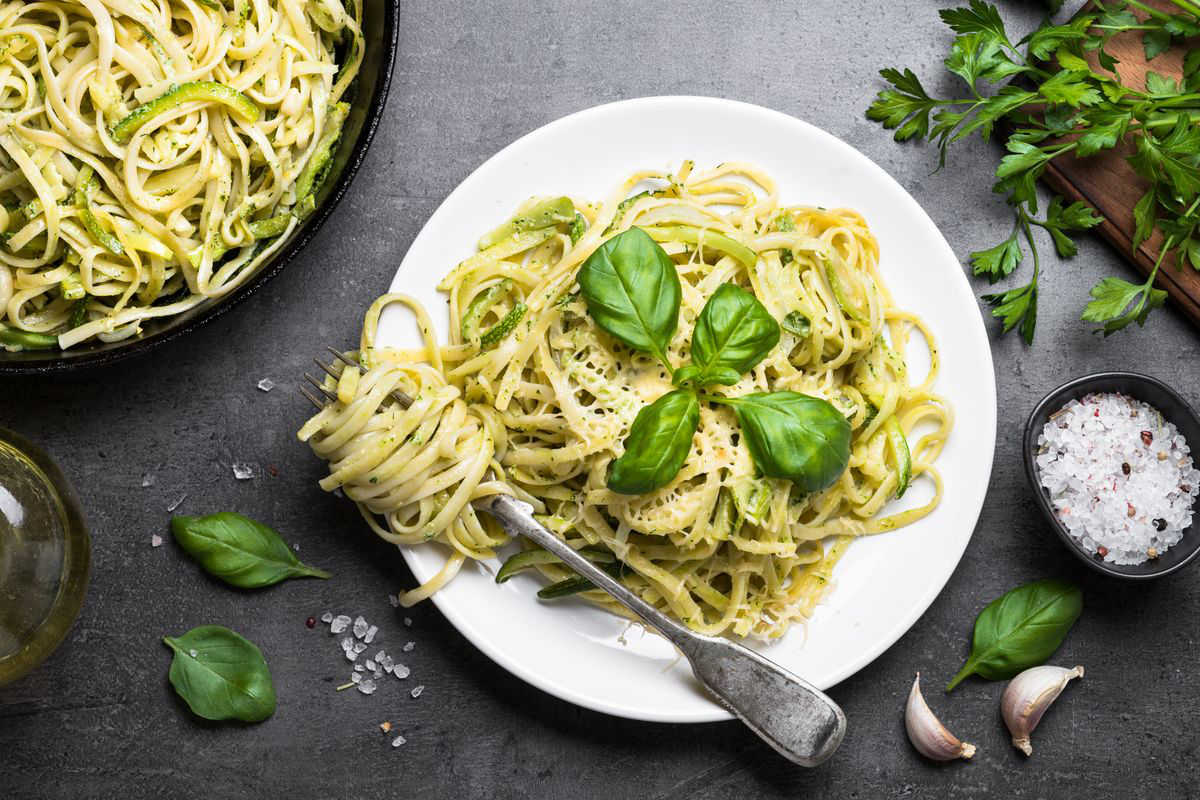 There are many variations of pasta with zucchini : there are those who blend the vegetables to create a creamy zucchini pesto, there are those who prefer to add tomato puree and those who want a seafood variant (in which case you can try the our zucchini and shrimp pasta ). But let's go in order and see what the basic recipe is!
Ingredients of the recipe for pasta with courgettes (4 people)
380 g of pasta
4 cooked zucchini
1 shallot
Salt and Pepper To Taste
extra virgin olive oil to taste
70 g of grated cheese
Do you have leftover zucchini from the side dish and you don't know what to do with them? Very simple : use them to dress pasta, a few artfully made additions will suffice. Fry a little bacon in a pan, add the leftover courgettes and finally the cooked and drained pasta al dente. Mix the flavors for a couple of minutes, adding some grated cheese as desired.
6. Zucchini Parmesan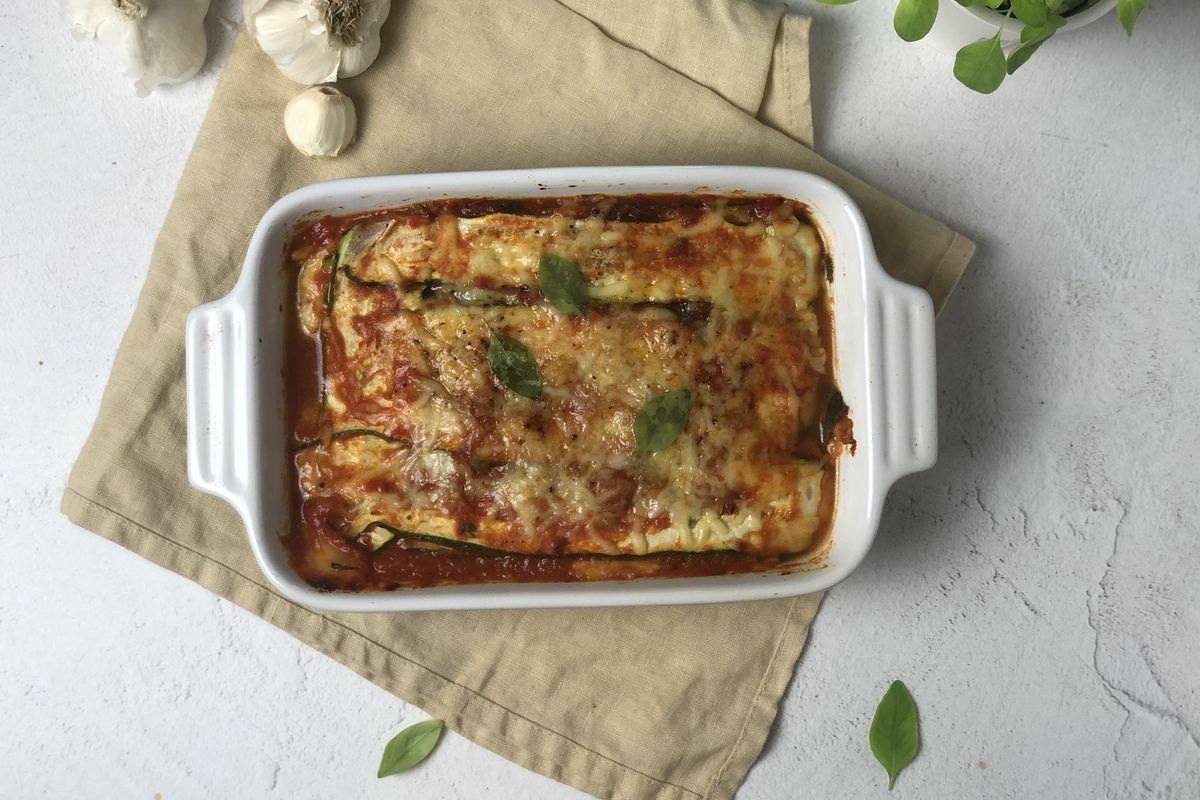 Rich, stringy and tasty: zucchini alla parmigiana has nothing to envy to aubergines prepared following the same recipe. In our light version we will insert everything raw before baking and gratin in the oven: the result is undoubtedly the fastest possible .
Ingredients of the quick zucchini parmigiana (6 people)
600 g of zucchini
200 g of mozzarella or scamorza
400 g of tomato puree
1 clove of garlic
60 g of grated Parmesan
extra virgin olive oil to taste
1 sprig of basil
Salt and Pepper To Taste
Prepare the tomato sauce by heating a drizzle of oil with the garlic in a pan and adding the tomato puree. Cook over medium-low heat for 30/40 minutes, season with salt and pepper and add the basil. Now take a baking tray, grease it with oil and start layering : arrange the thin slices of raw zucchini, followed by a layer of slices of scamorza or mozzarella (if possible make them the same thickness as the vegetables), grated Parmesan and sauce of tomato. Repeat the layering at least twice, until all the ingredients are used up. Then bake for 20-30 minutes at 200°C .
7. How to cook sautéed courgettes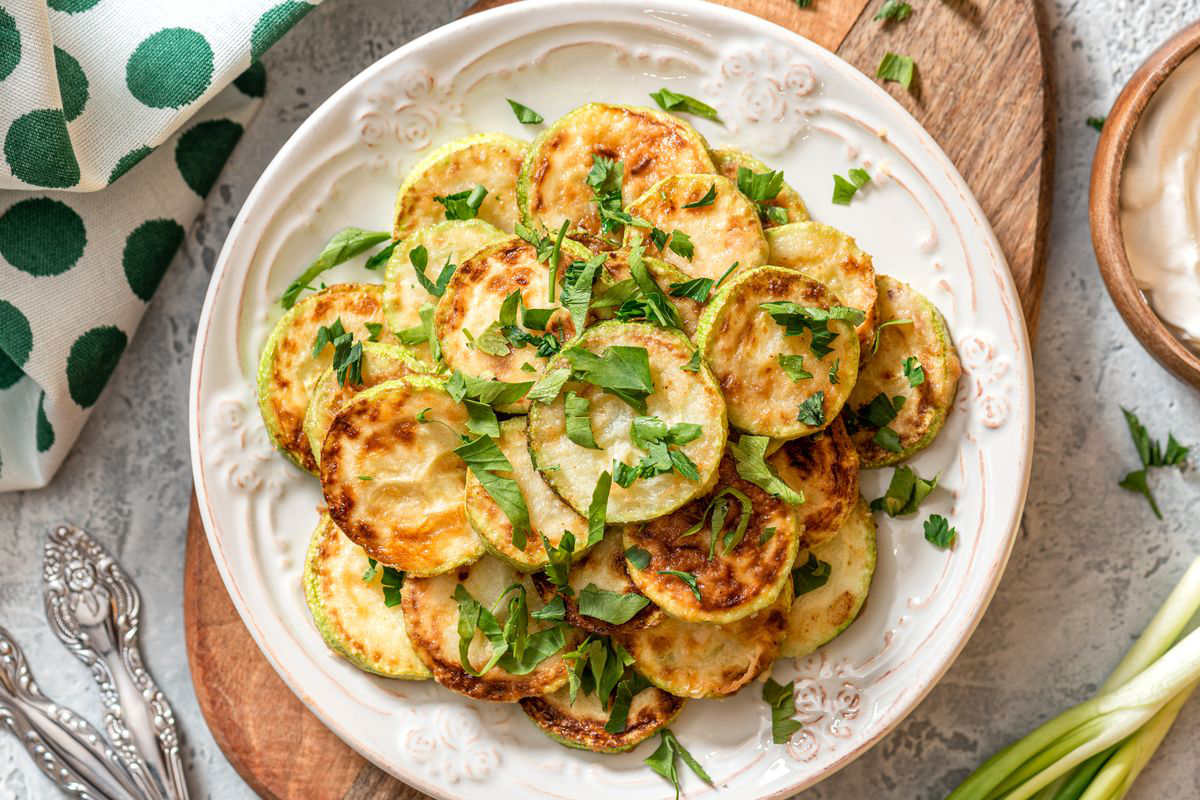 Among the recipes with courgettes, that of sautéed courgettes is perhaps the simplest to make: even if the name can be misleading , it means that the vegetables are cooked in a pan and seasoned with parsley. You can keep the sautéed courgettes in the fridge for a couple of days and maybe enrich them as you like with breadcrumbs, grated cheese, chilli…
Sauteed zucchini ingredients (6 people)
800 g of zucchini
1 sprig of parsley
2 tablespoons of extra virgin olive oil
1 clove of garlic
Salt and Pepper To Taste
Simple, fast and very light , with this recipe you will prepare zucchini in a pan with parsley, garlic and oil: a recipe that is child's play and will save you dinner several times. Cut the vegetables into slices, then sauté them in a pan with a drizzle of oil and garlic for about ten minutes. Season with parsley and voilà , they are ready!
8. Zucchini soup for light recipes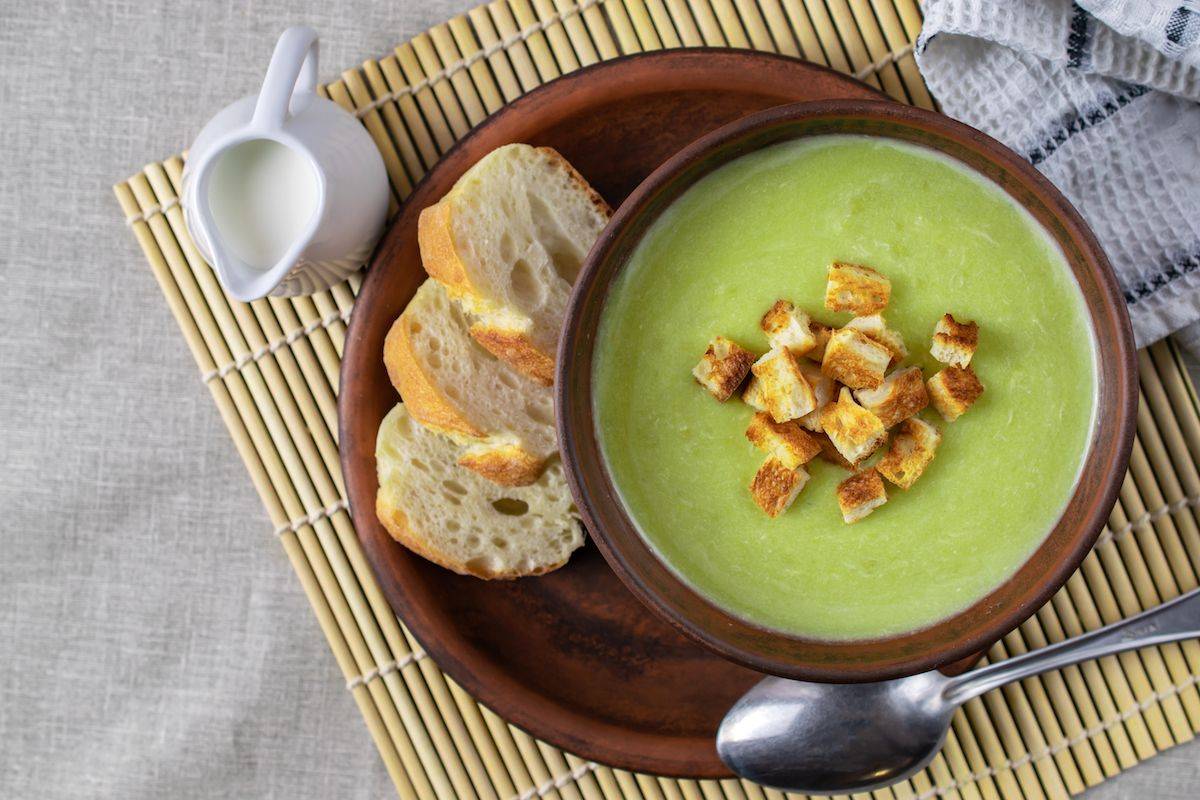 On all evenings when it's a little cooler than usual, but also for lunches when you feel like enjoying a cold zucchini cream, you can prepare a tasty velvety soup . If you want to get a unique dish, you can also add short pasta to your zucchini purée .
Zucchini soup ingredients (4 people)
800 g of zucchini
250 g of boiled potatoes
homemade vegetable broth to taste
1 white onion
stale bread
mixed fresh herbs
extra virgin olive oil and salt to taste
grated cheese to taste
Start by preparing a sauté by heating a chopped onion in a pan with a drizzle of oil. Then add the zucchini slices, boiled potatoes cut into small pieces and cover with the hot vegetable broth. Leave to cook for about twenty minutes so that all the liquid is absorbed; then, blend everything with an immersion mixer and add some grated cheese.
9. Risotto with zucchini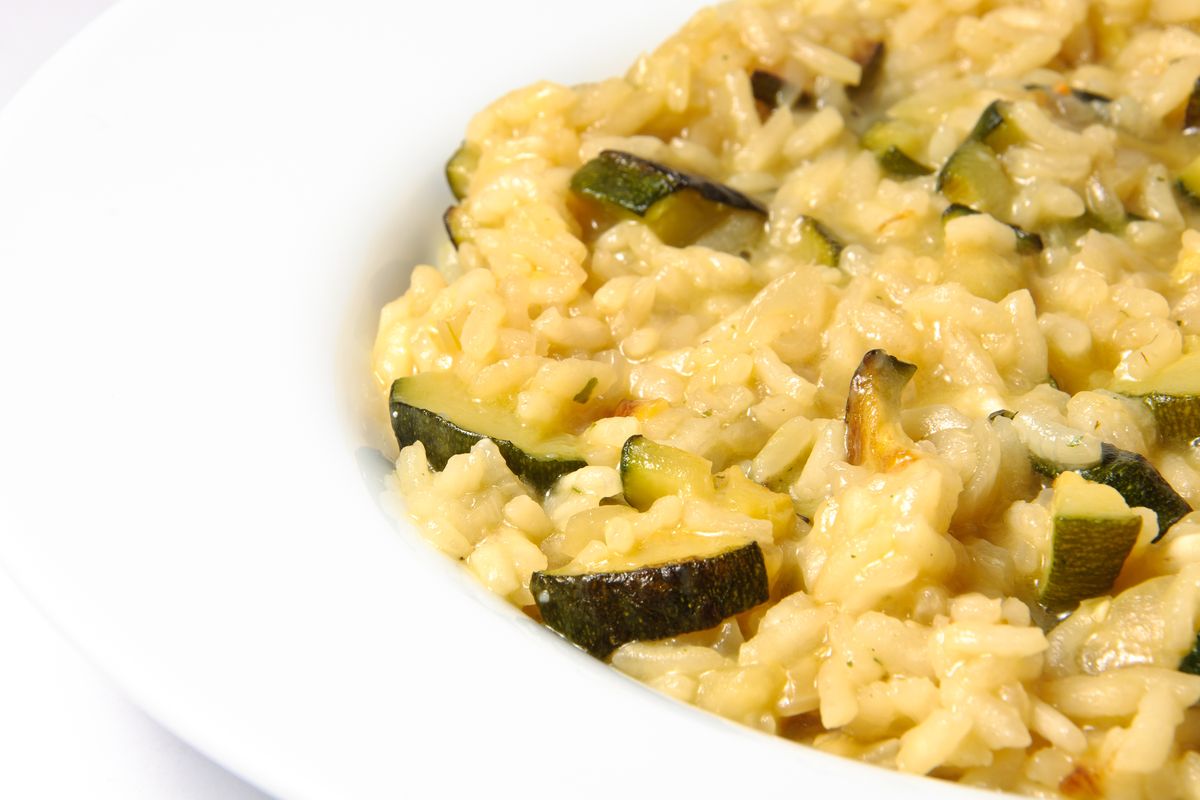 When we think of rice with zucchini , a creamy and really tasty preparation immediately comes to mind. For this recipe, it is very important that the slices of vegetables are very thin , otherwise they will take much longer to cook.
Zucchini risotto ingredients (4 people)
380 g of Carnaroli rice
3 large courgettes
2 shallots
80 g of grated cheese
extra virgin olive oil to taste
Salt and Pepper To Taste
30 g of butter
1 glass of cooking white wine
vegetable broth to taste
Cook 3 zucchini slices in a pan; after about 5 minutes, take half of it and reduce it to a cream with the help of an immersion blender.
After toasting and deglazing the rice with white wine, proceed with the classic preparation of risotto, adding broth gradually. When it is almost ready, add the cream and the slices of zucchini and finally stir in the butter and grated cheese.
10. Savory pie with puff pastry and zucchini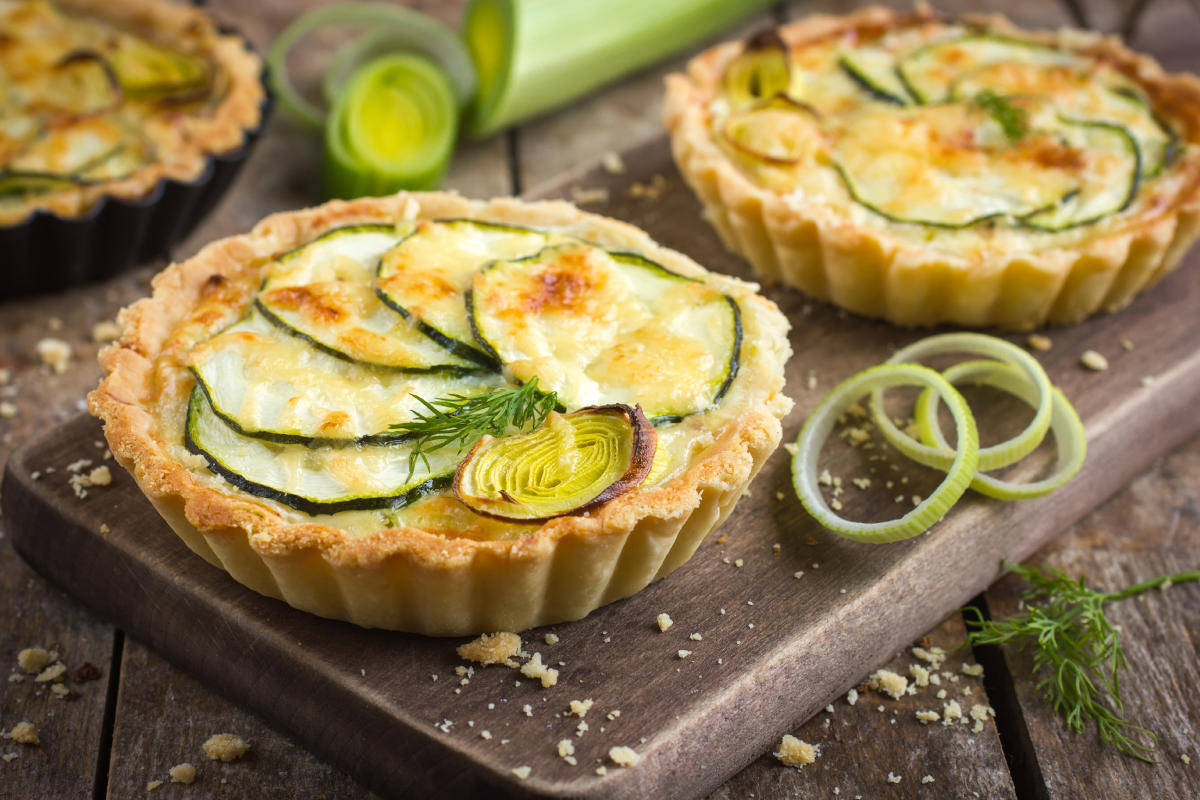 How can we forget a nice savory pie with zucchini ? This preparation undoubtedly saves you every time you want a quick and very versatile dish to prepare. What's more, it's perfect during the summer for all open-air picnics and packed lunches because it doesn't need to be heated to be tasty .
Zucchini savory pie ingredients (6 people)
3 zucchini
150 g of soft cheese
1 package of ready-made puff pastry
3 eggs
evo oil to taste
Salt and Pepper To Taste
150 g of grated cheese
Let's start with the filling: cook the zucchini in a pan for about ten minutes, without letting them become too soft and overcooked. Once cooled, add them to 3 eggs, 150 g of soft cheese, grated cheese, and a pinch of salt and pepper. Pour it into a roll of puff pastry already unrolled on a cake mold and bake at 180°C for about 20 minutes.
A curiosity: do you say zucchini or zucchini?
Although the term zucchini (in the plural zucchini) has entered the current spoken language, according to the Accademia della Crusca the real name of this vegetable should be in the masculine: zucchini, zucchini . The feminine should be relative only to the plant. However, feminine is not a mistake : it is accepted by the various Italian linguistic and regional declinations.
Riproduzione riservata © - WT