Spoon desserts: 15 quick recipes that will leave you speechless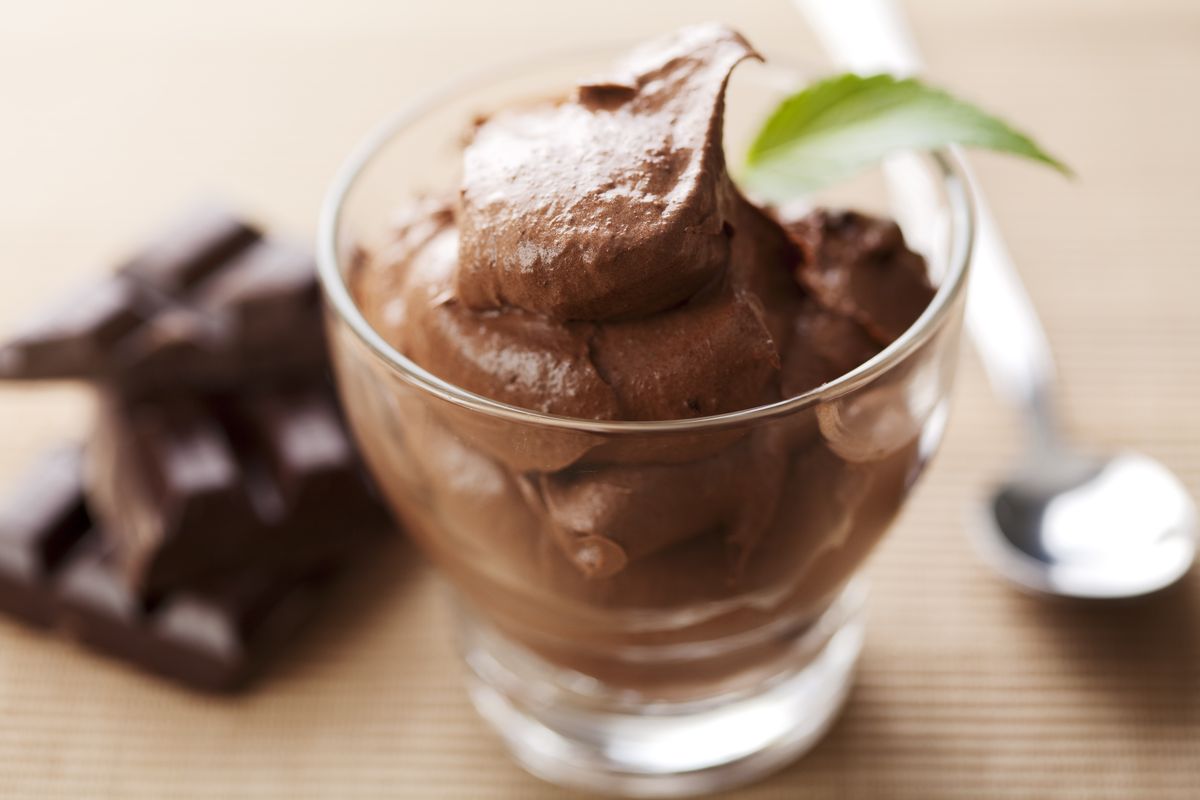 Would you like to prepare unforgettable spoon desserts? Here are our best quick and easy recipes for dream desserts to prepare (even) at the last minute!
How many times have you wanted to prepare a dessert but were looking for something different from the usual cakes? What is needed in these cases are spoon desserts! Mousses, creams, puddings, puddings: there really are proposals for all tastes; not to mention the great classics such as tiramisu and semifreddo.
Technically, a spoon dessert is a pastry product with a creamy consistency which, in fact, must be eaten with a spoon. We have customized this definition a bit, also adding that they are served in single portions so that it is easier (and hygienic) to enjoy them. For the rest, however, there are no limits: below we will offer you recipes such as the classic panna cotta and more original desserts such as passion fruit flan for a mix of flavors and textures . In this way it is impossible that you will not find what is right for you!
And if that wasn't enough, we've also looked for quick recipes (or, in any case, as quick as possible ) so that you can make them even at the last minute in case of sudden guests. Now that we're ready to get started, here are 15 amazing and easy-to-make pudding recipes!
Cold coffee cream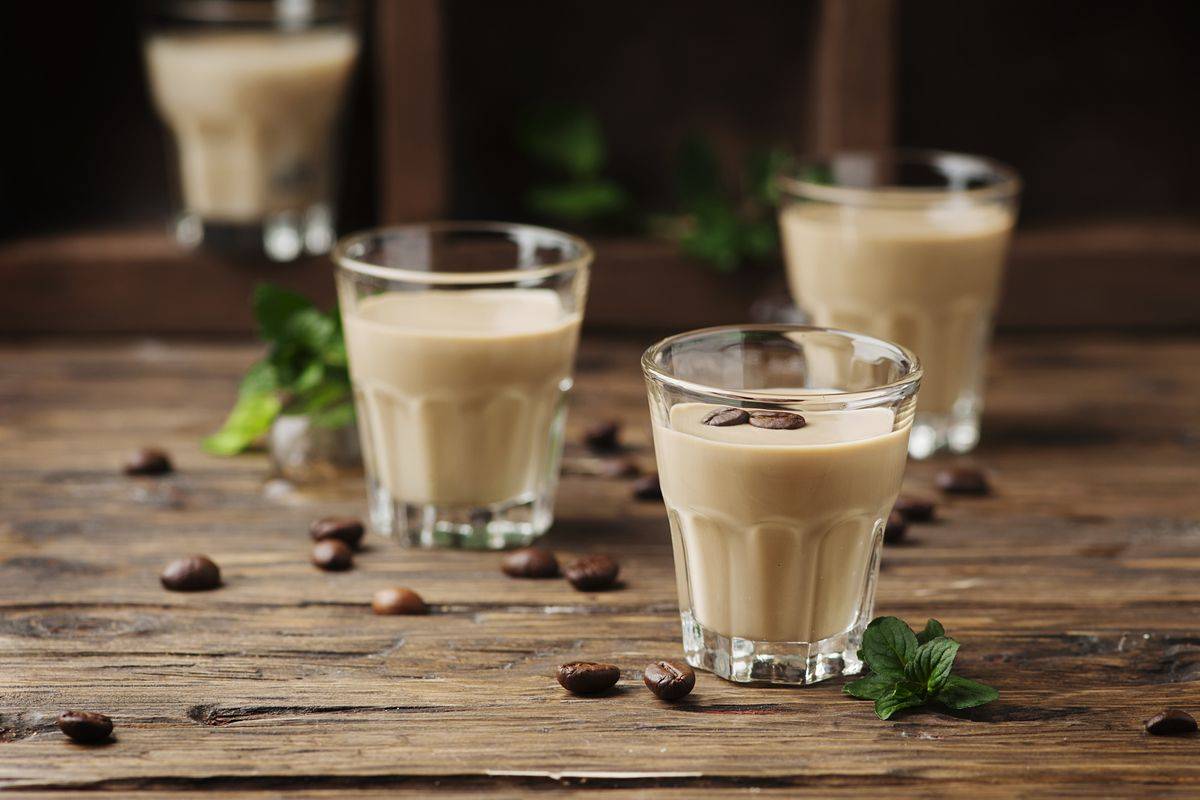 The first recipe among the easy spoon desserts that we offer you is that of cold coffee cream . Perfect for the summer, a period in which it is not unusual to find it in every bar , it will make happy all those who want a delicious after-dinner meal instead of the usual espresso ! All you need is:
100ml of espresso coffee
250 ml of cream
4 tablespoons of icing sugar
Divide the icing sugar in half and add the first part to the cold coffee and the second to the cream, which you will have to whip with an electric mixer. Now incorporate the two compounds without disassembling the cream and leave in the freezer for at least a couple of hours before serving. For best results, take it out of the freezer every 30 minutes and stir it again.
tiramisu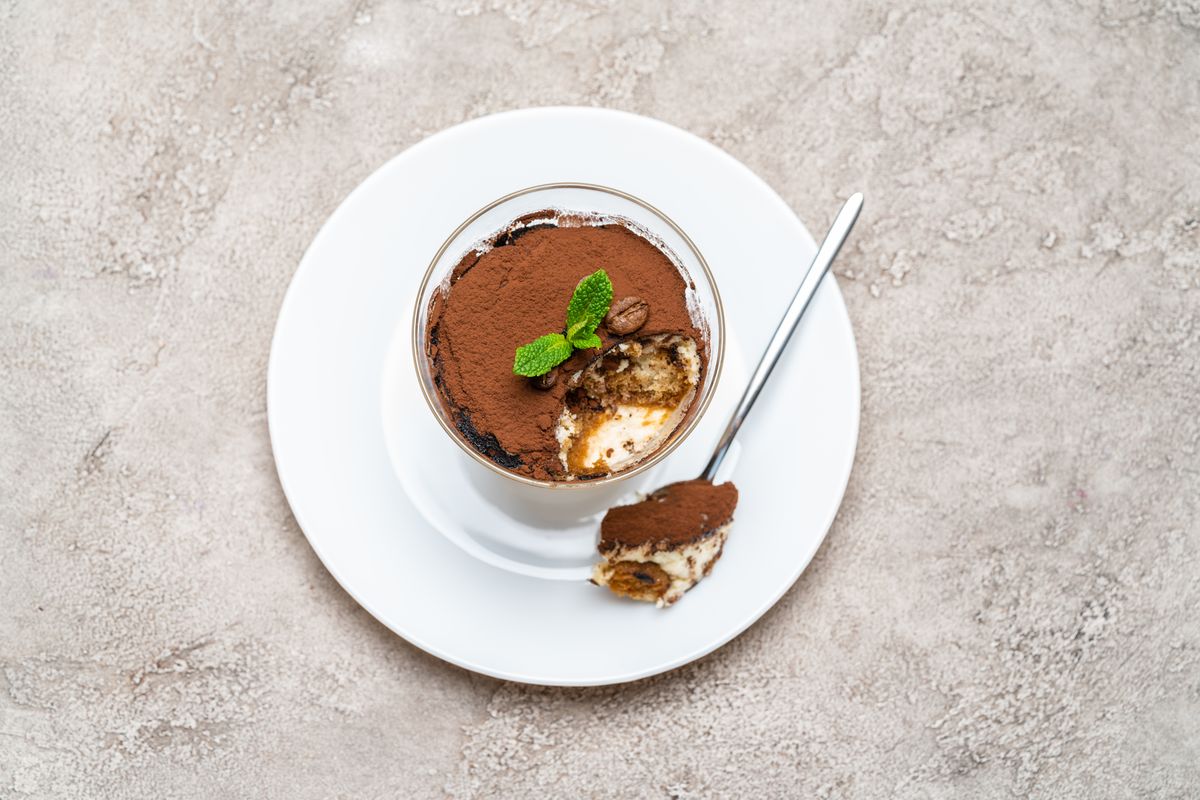 Tiramisu becomes an excellent glass dessert if, instead of making it in the classic rectangular pan, you make it in single-portion cups. It can become an original way to serve it and change it a bit: given its delicious flavour, in fact, this dessert will be appreciated in all its… forms!
The procedure for making it does not change: whip the yolks with half the sugar and then add the mascarpone. Whip the egg whites with the remaining sugar until stiff and then add the two compounds. In the cups, layer a little mascarpone cream and ladyfingers soaked in coffee; complete with a dusting of cocoa. The ingredients are always the same:
400 g of mascarpone
3 very fresh eggs
80 g of sugar
200ml of coffee
350 g of ladyfingers
bitter cocoa to taste
Cups of mascarpone cream and fruit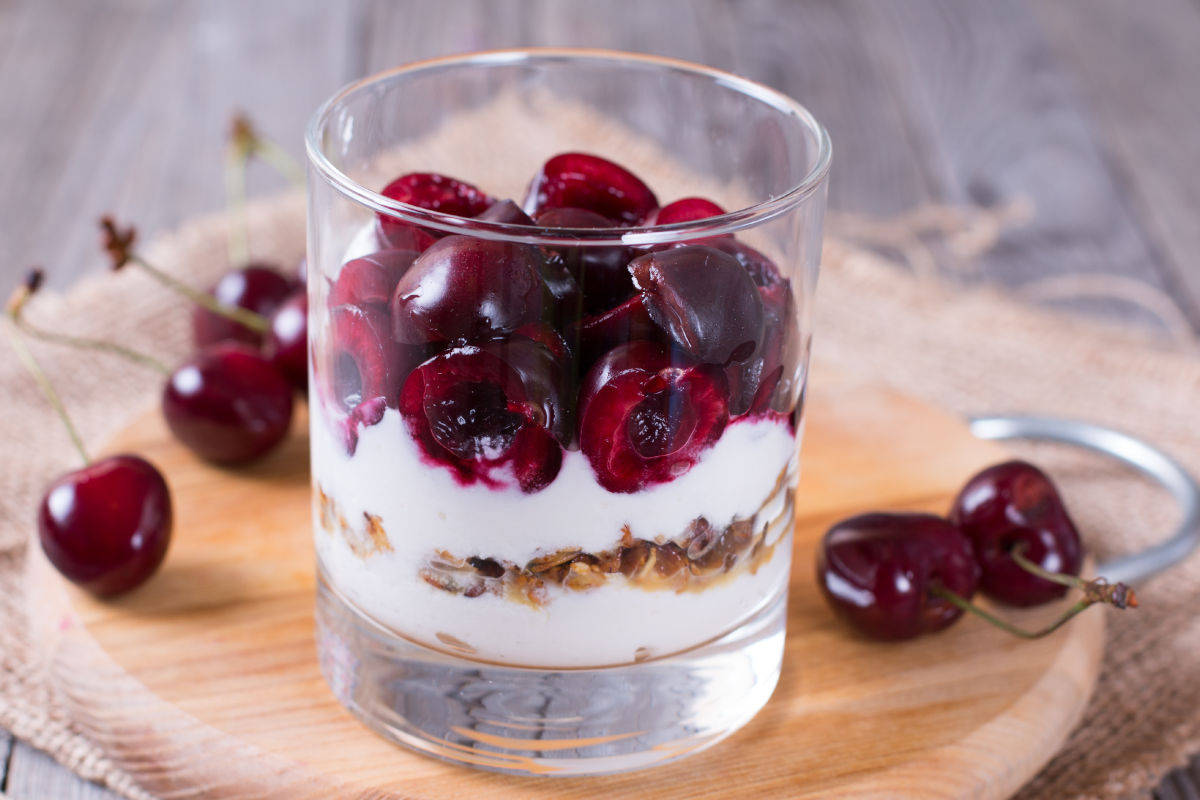 The mascarpone and fruit cups are desserts in the glass that are very quick to prepare; if you take a little care with the plating, however, they will look much more elaborate and no one will believe that you prepared them at the last minute ! We have chosen cherries but if it is not in season, replace them with what you prefer: blueberries, mangoes, apples…
Here are the ingredients of this quick dessert:
200 g of mascarpone
500 g of cherries
200 g of sugar
2 eggs
1 small glass of water
macaroons to taste
Wash the fruit and place in a saucepan with half the sugar and the water for about 5 minutes. Whip the egg yolks and the remaining sugar and add the mascarpone. Also add the whipped egg whites and the cream is ready. Layered cream and fruit in small glasses or bowls and completed with a layer of crumbled amaretti biscuits.
Catalan cream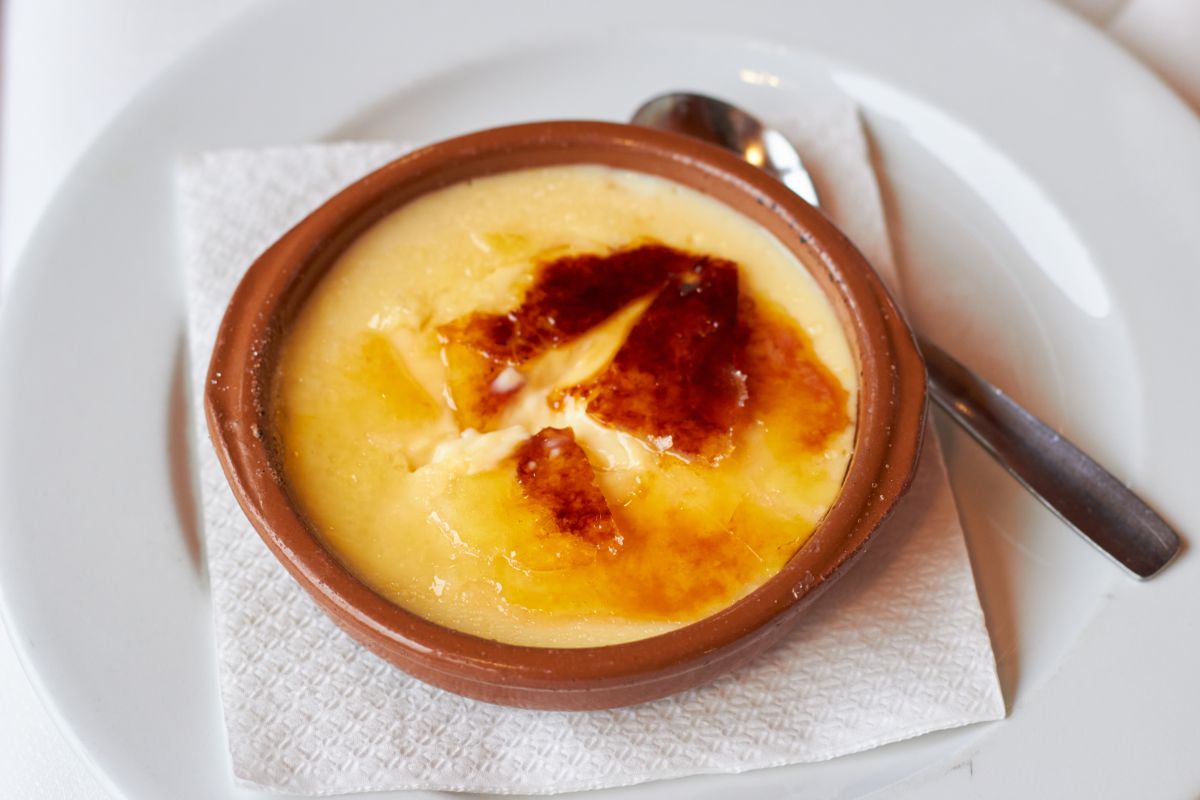 One cannot speak of spoon desserts and not mention the Catalan cream . This dessert comes directly from the Spanish culinary tradition and is famous for that crunchy crust on top. To make it, it is good that you get the appropriate torch; In addition, you will need:
500ml of milk
4 yolks
2 tablespoons of corn starch
100 g of sugar
1 vanilla pod
1 cinnamon stick
zest of 1 lemon
2 tablespoons of brown sugar
Put the milk on the heat for 10 minutes with the vanilla pod, the cinnamon stick and lemon zest. Separately, process the yolks, sugar and corn starch ; Pour the milk slowly over the egg mixture, stirring constantly. Bring everything back to the heat and cook for about 5 minutes. Arrange the cream in cups and keep in the fridge: last, before serving , sprinkle with brown sugar and caramelize with the special torch.
Shots of ricotta and fruit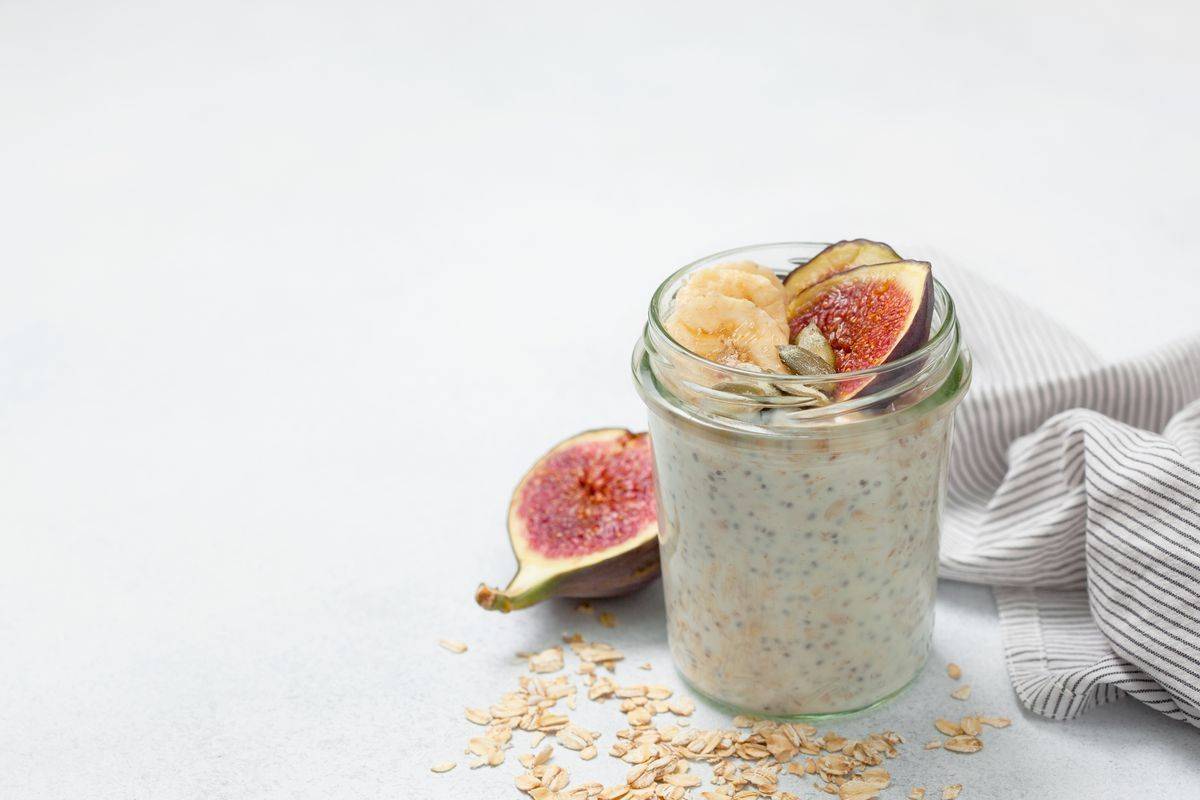 Let's now move on to the delicious cups with ricotta cream and figs. We have chosen the combination of figs and ricotta because they are two ingredients that go perfectly together but obviously figs are not available all year round so you can replace them with bananas, apricots, strawberries, cherries or berries as you like.
Furthermore, this is a basic recipe that you can vary as you prefer in its other ingredients. So here's how to make small glasses with ricotta and fig mousse and what you need:
250 g of cottage cheese
200 g of fresh figs
1 teaspoon of honey
3 tablespoons of icing sugar
1 teaspoon of white wine
To make them, in a pan, cook the figs (or any other fruit you have chosen) without peel with wine and honey. When they have reached the consistency of a cream, remove from the heat and let it cool (it won't take long). On the side, combine the ricotta and the sugar and proceed to the composition of your spoon desserts in the glasses: you choose whether to combine the two compounds or stratify them in the cups!
Chocolate-mousse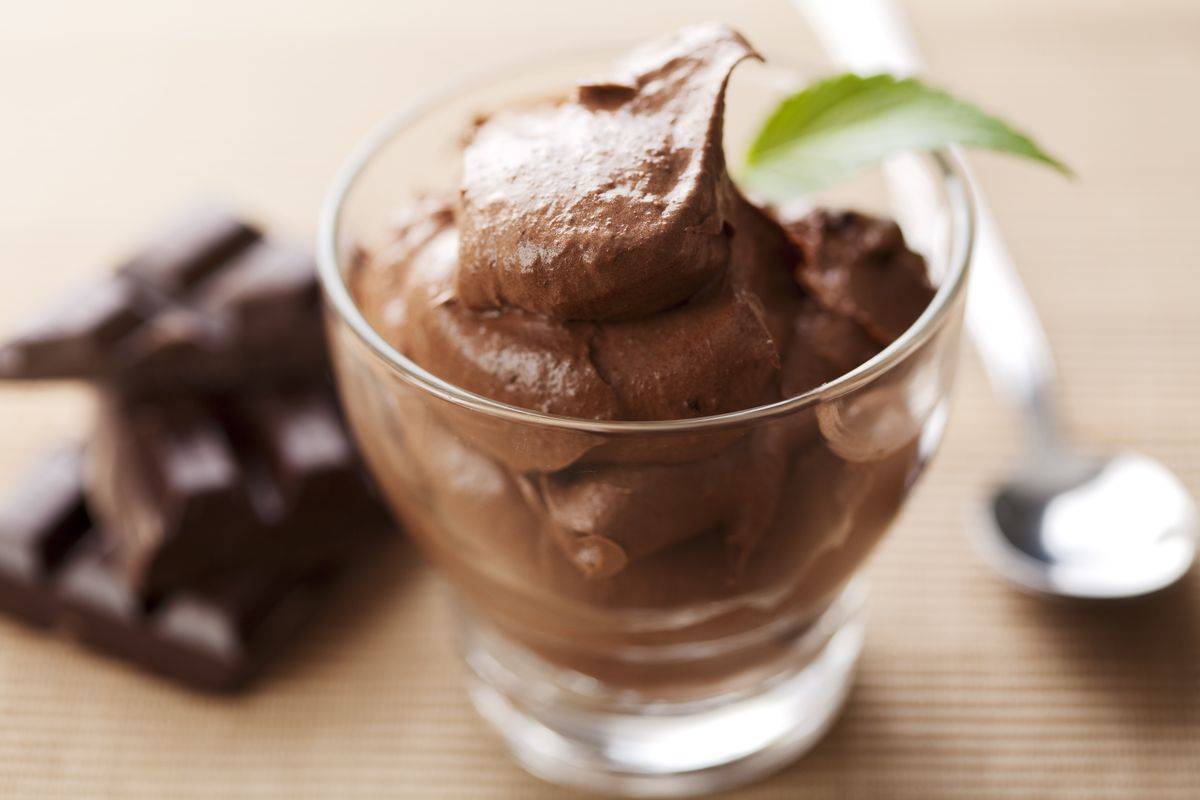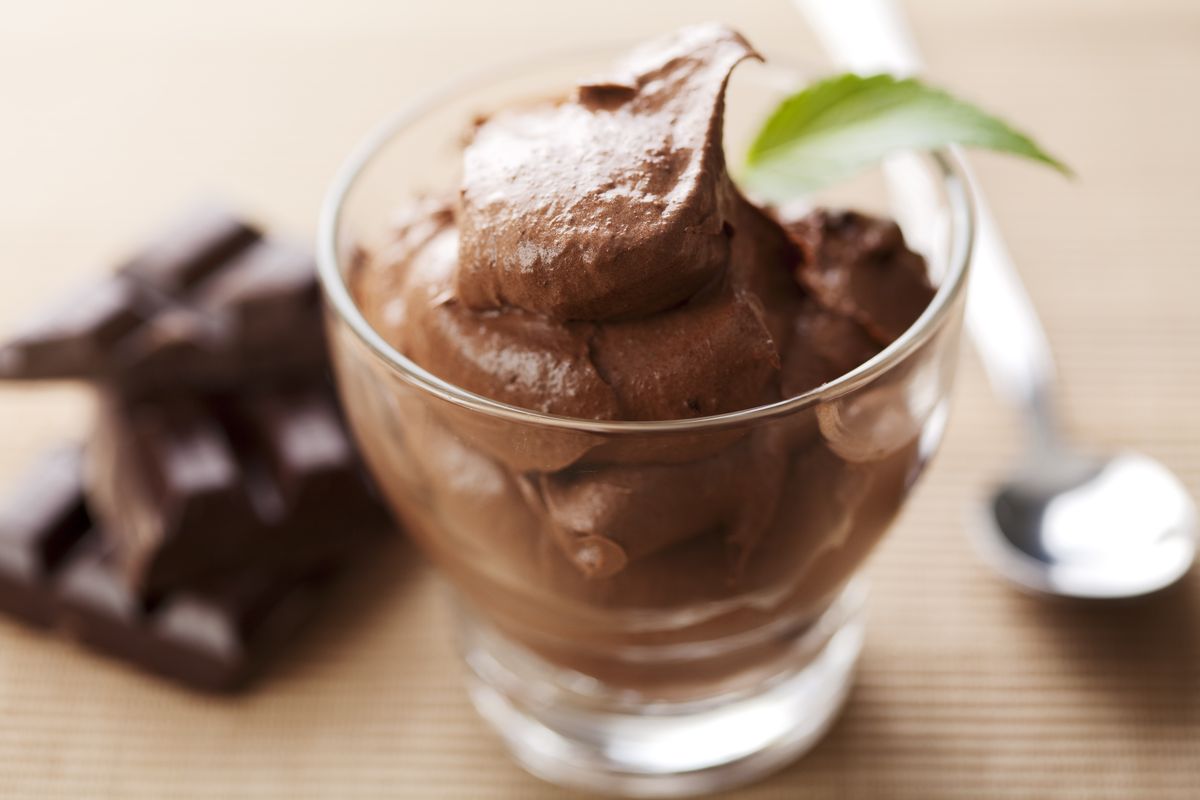 We bet you can't think of creamier desserts than chocolate mousse ! Here are the ingredients of the classic version (but if you want you can also try the recipe from the film Chocolat , the one with chilli pepper ) and the very easy recipe:
175 g of dark chocolate
250 g of cream
125 g of whole milk
50 g of icing sugar
Start heating the milk on the stove and add the icing sugar; Pour this mixture over the chopped chocolate and mix. While this mixture cools, whip the cream. Combine the two preparations and mix gently so as not to disassemble the cream. Place in cups and leave in the fridge for a couple of hours .
Puddings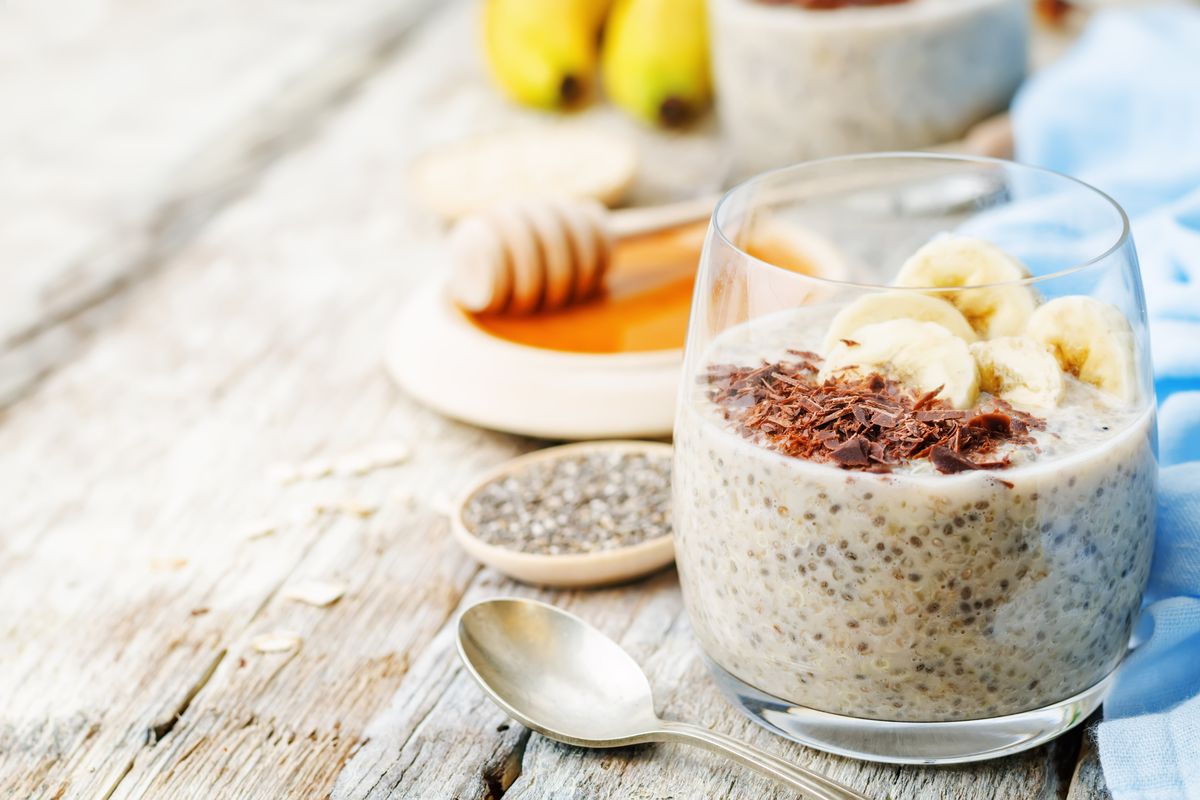 Traditionally, the term pudding refers to different types of preparations : a savory one (yorkshire pudding), one made with rice, one with chocolate typical of the holidays in Anglo-Saxon countries (Christmas pudding). But that's not all: in recent years, in fact, with the proliferation of fans of natural recipes, chia pudding has also arrived on our tables (where "chia" indicates the main ingredient, chia seeds, in fact).
For those looking for quick spoon desserts, this is the perfect recipe because it takes 10 minutes to prepare: you can do it before going to work and it will be ready to taste when you return! Here are the ingredients needed to make this pudding:
360 ml of coconut milk
65 g of chia seeds
100 g of fruit of your choice (to decorate)
15ml maple syrup
In a bowl, combine coconut milk, chia seeds and maple syrup, arrange the mixture in small glasses and leave in the fridge for about 6 hours before decorating with fruit and serving.
Coffee semifreddo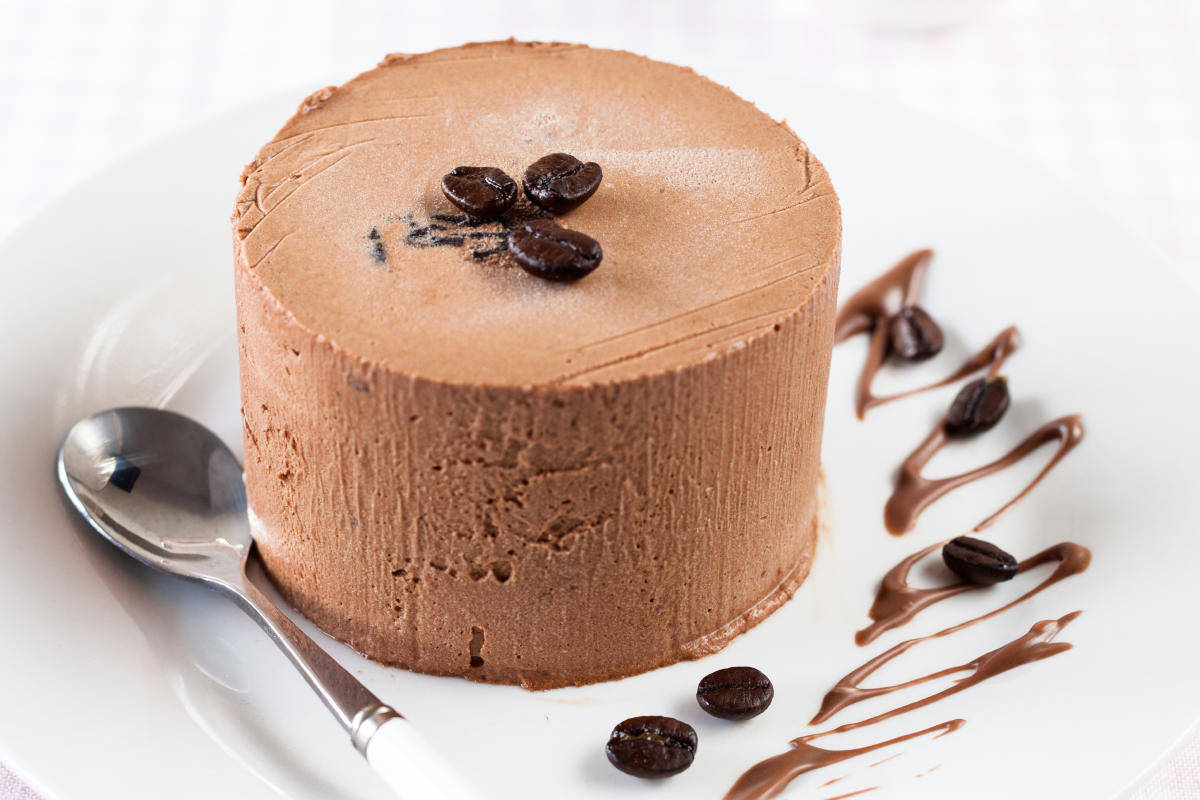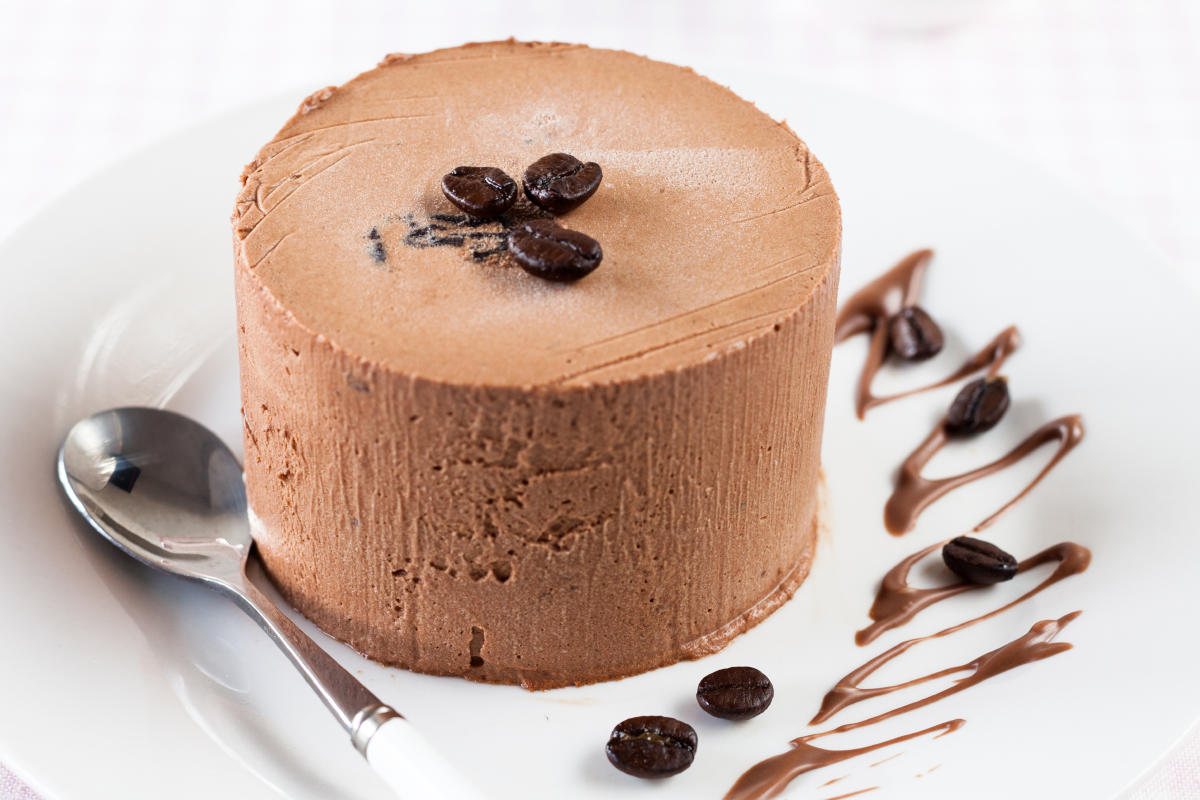 Refreshing and aromatic, the coffee semifreddo is a cold dessert that gives you energy! As you may know, they can be prepared in a large mold (like the one for plumcake) or in small and convenient single portions. We will proceed in the second way but the recipe is the same, you will need:
100ml of coffee
120 g of sugar
5 g of isinglass
4 eggs
250 g of cream
Whip the yolks with half the sugar and do the same with the egg whites and the other half of the sugar. Melt the isinglass, soaked and squeezed in the coffee, and leave to cool. Combine all the compounds at room temperature and place in the freezer in the special cups . After about 6 hours, you can take it out and, after about 20 minutes, enjoy it.
Lemon pudding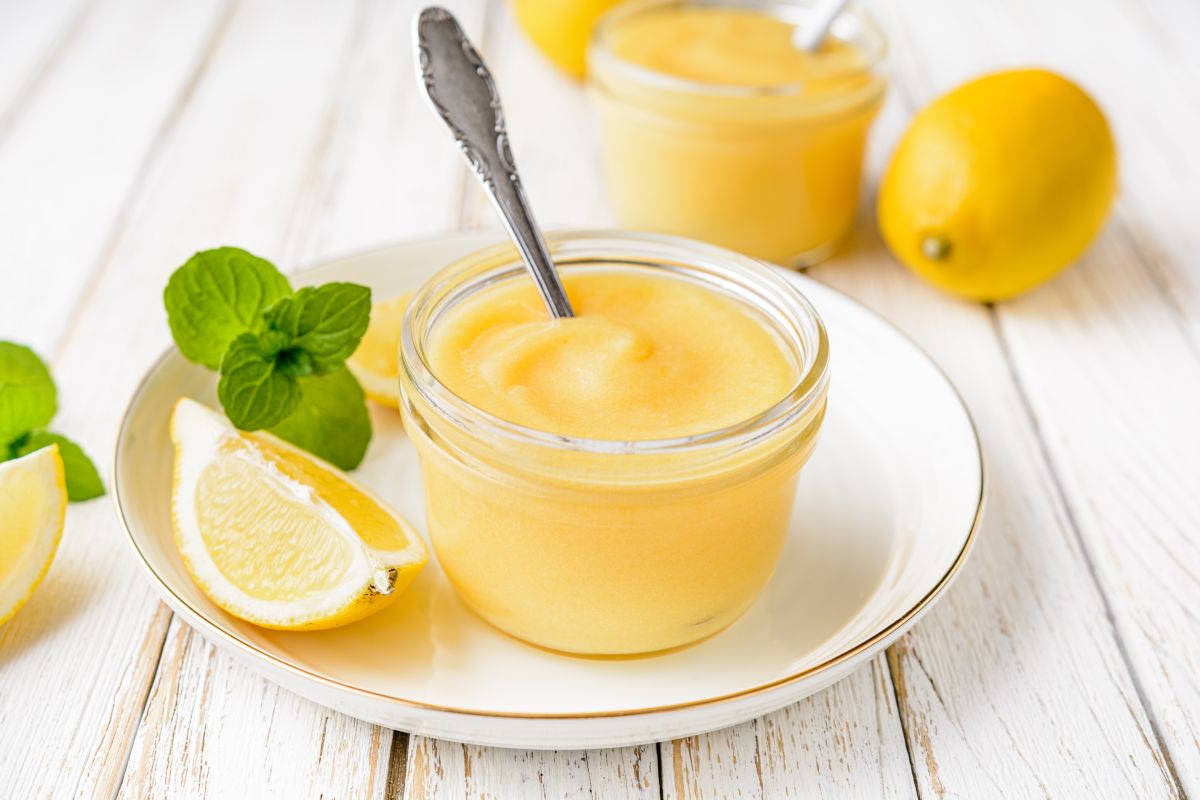 Lemon pudding is one of the easiest spoon desserts to make: you can even prepare it with your children (just be careful of the stove!). Here is what you need:
500ml of milk
60 g of cornstarch
100 g of granulated sugar
1 organic lemon
vanilla extract
You have to mix sugar and cornstarch and add the cold milk. Bring to the boil, add the lemon zest, the vanilla and, stirring constantly , bring to the boil. When you have reached it, turn off the heat and add the lemon juice. Remove the peels, mix well and place in cups. Store in the fridge and wait at least 4 hours before turning it over.
Passion fruit flan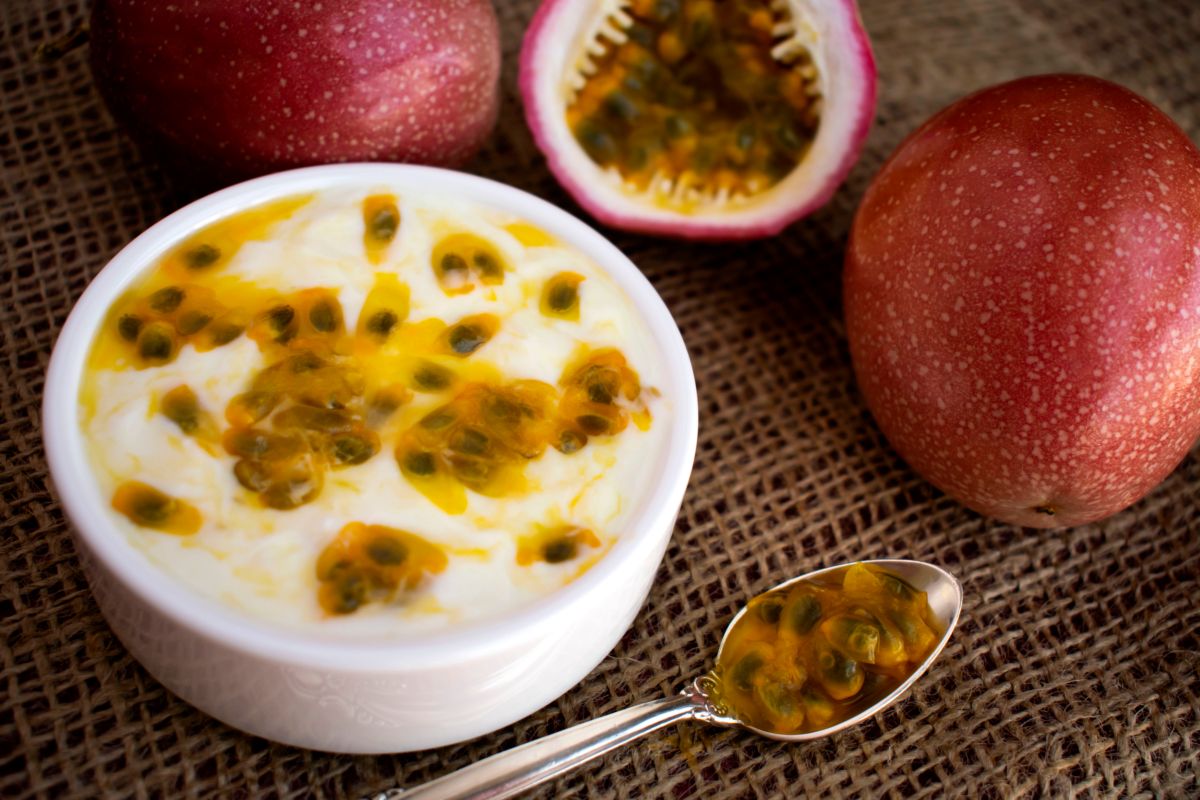 Flan is a typical preparation of Italian cuisine, which today we offer you in its simplified version enriched with a passion fruit sauce that will drive you crazy. Here are the exact doses of the ingredients:
200 ml of whole milk
400ml coconut milk
2 tablespoons of potato starch
4 eggs
140 g of granulated sugar + 1 tbsp
vanilla to taste
4 passion fruit
To make our passion fruit flan , proceed as follows: whisk the eggs and sugar and then add the starch. Boil the milk with the vanilla pod and pour it slowly into the egg mixture (filtering the pod). Transfer to cocottes and bake in a bain-marie at 180°C for 30 minutes ; while the flan is cooking, make the sauce by mixing the passion fruit pulp with a spoonful of sugar.
Peach crumble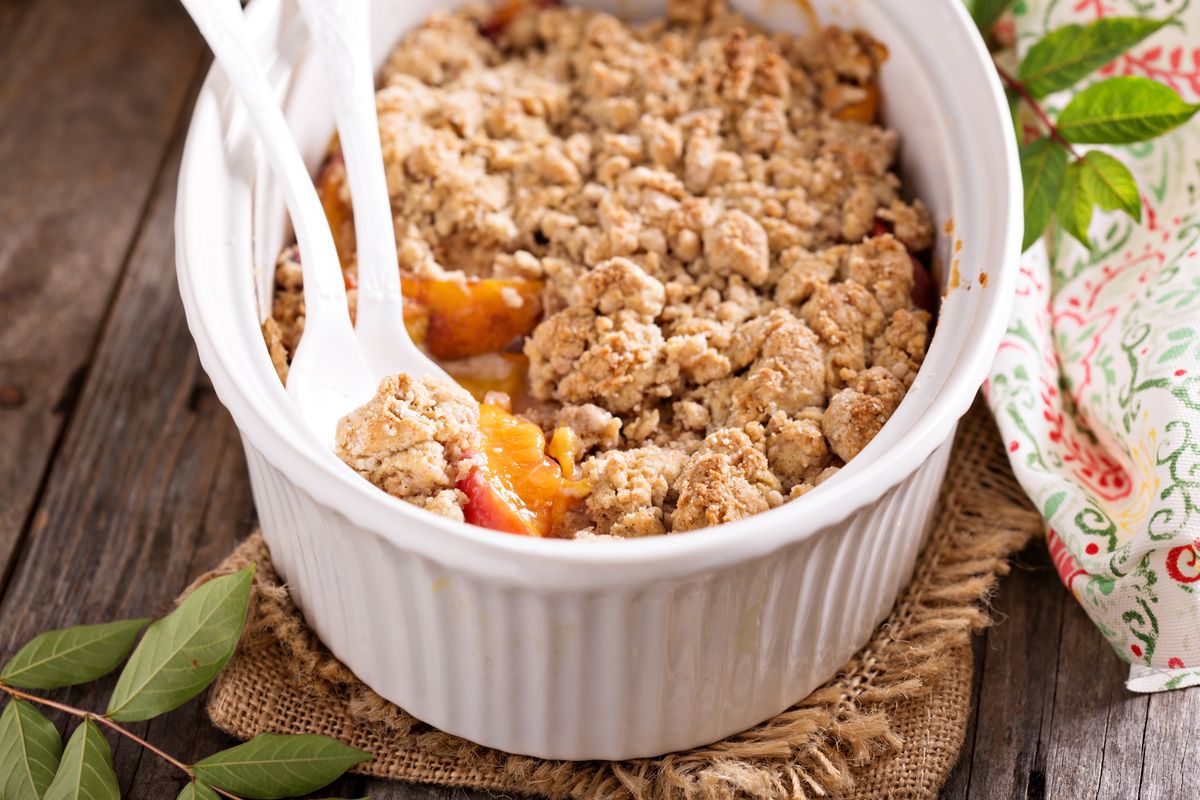 Let's not forget, then, that for those who are more of a spoon cake type, there are some options such as the crumble, a crumbled cake retort of Anglo-Saxon origin that is enjoyed with a spoon. Do not confuse it with a tart: by its nature this dessert is made up of a base, a filling (fruit or cream) and then again a crumbled dough , it is very crumbly and crumbles just by looking at it!
We offer you the ingredients and the recipe for the peach crumble but nothing prevents you from varying the fruit according to the season. Other very popular versions, for example, include cherries or apples; moreover, if you always keep a pack of peaches in syrup in your pantry, you can make this spoon dessert whenever you want ! You will need:
2 peaches
50 g of sugar + to taste for the peaches
lemon juice or liqueur to taste
80 g of 00 flour
50 g of butter
30 g of pistachios or hazelnuts
Panna cotta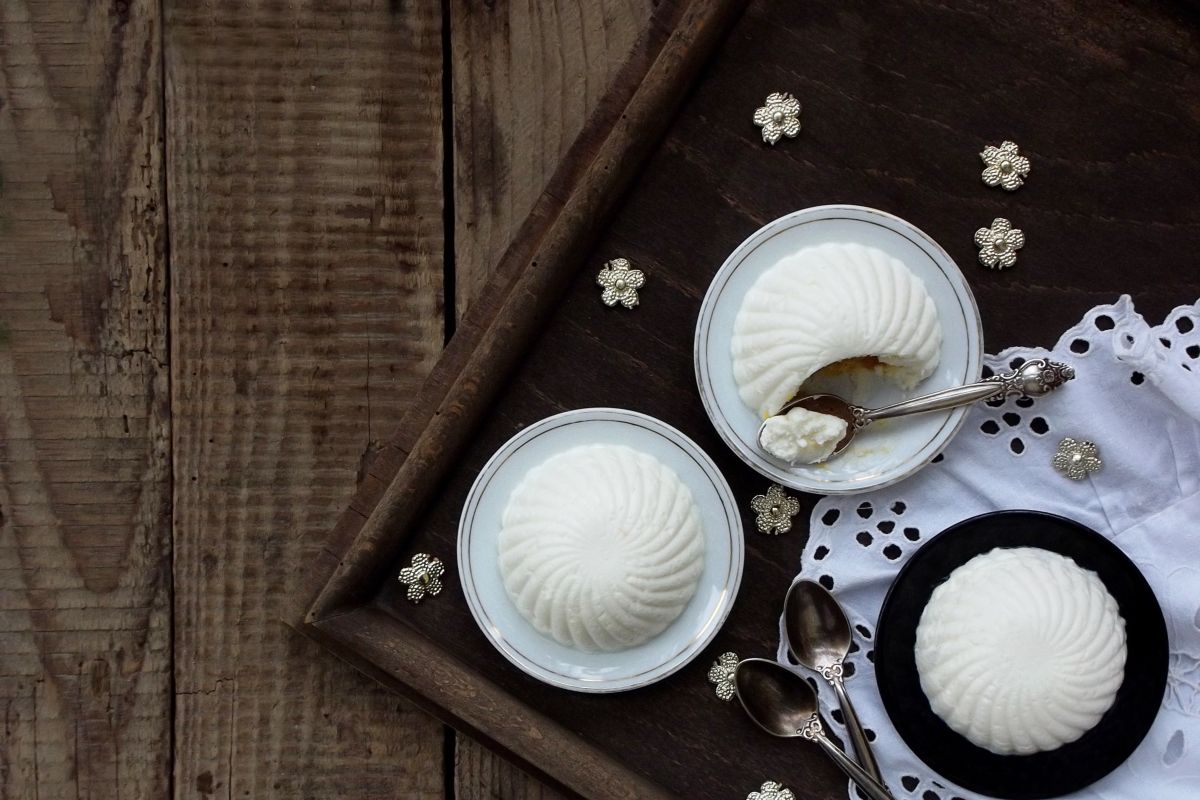 Panna cotta is one of the best and simplest spoon desserts. The classic recipe, the white one, can be enriched with fruit and toppings of your choice and it's really easy to do. The ingredients are:
500 ml of cream for desserts
150 g of sugar
100ml of milk
8 g of isinglass
All you have to do is pour the cream, sugar and milk into a saucepan, bring to the heat and, once it comes to the boil, cook for about 15 minutes without ever ceasing to stir. Add the soaked and squeezed gelatine and pour into single-portion cups. Chill in the fridge until serving.
Creme caramel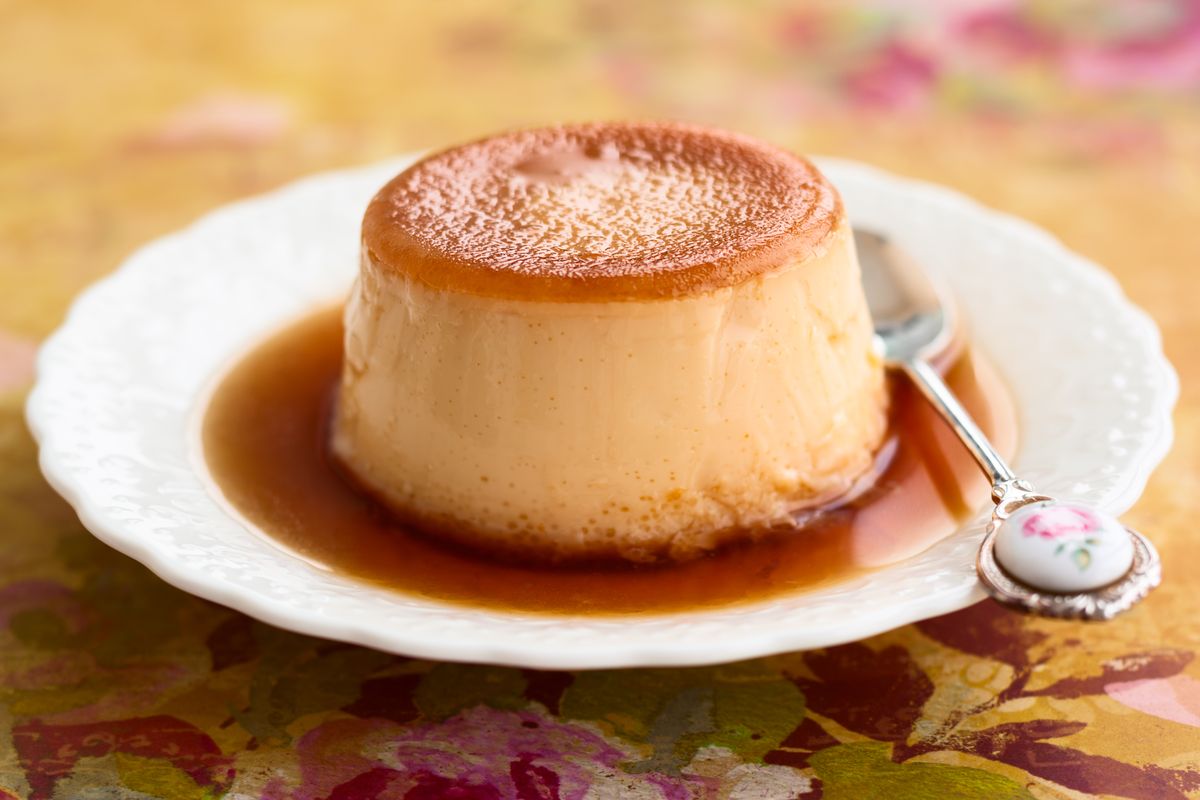 Not everyone knows that crème caramel is of… Portuguese origin! Obviously, by now this spoon dessert is widespread throughout Europe, and we can easily guess this also from the French name. We can define it as the spoon dessert par excellence, what do you say? Here are the ingredients:
150 ml of cream
500ml of milk
280 g of sugar
4 eggs
1 egg yolk
1 vanilla pod
First, the caramel is made by dissolving (without stirring) 150 g of sugar in a pan; then, arrange it in the cups . Put the milk on the heat with the vanilla and turn off the boil and leave to cool. Then pour it slowly over a mixture of beaten eggs and sugar. Mix everything, pour into the cups (the same ones after we put the caramel first, of course) and bake in a bain-marie at 180°C for 45-50 minutes .
Baked cottage cheese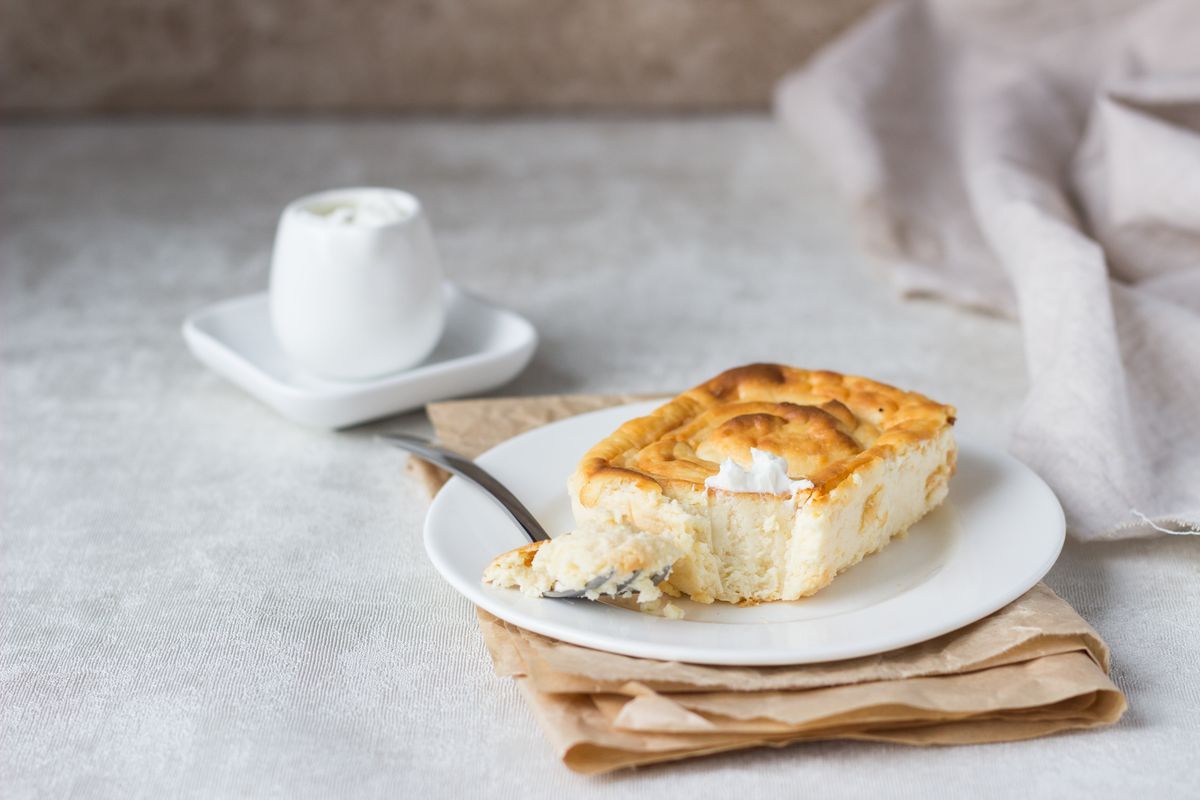 It's true, baked ricotta is a slightly bizarre dessert: when we think of this soft cheese, the first thing that comes to mind is certainly not a dessert. We are sure, however, that the texture of this dessert, halfway between a cake and a pudding, will surprise you ! Here are doses and ingredients:
4 eggs
700 g of cottage cheese
180 g of sugar
115ml of milk
200 g of potato starch
40 ml of orange juice
2 oranges (zest)
Drain the ricotta, mix it with the egg yolks and icing sugar and whisk together . Add milk, orange juice and zest and potato starch without making lumps. Finally add the egg whites and leave in the oven at 170°C for about 70 minutes .
Mango cake and coconut cream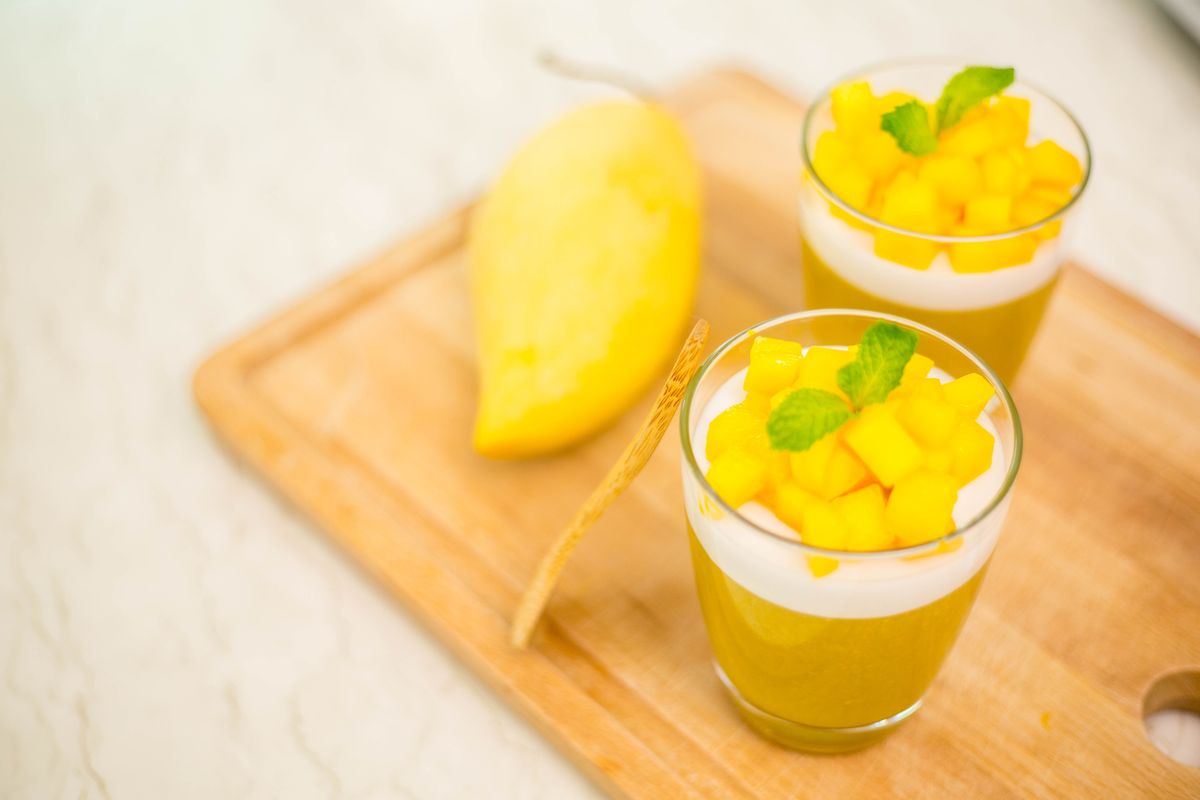 We conclude with a gluten-free dessert that will bring color and imagination to your table: mango and coconut cream cups . This, we guarantee, is the fastest spoon dessert of all . The ingredients you need to get are:
3 mangoes
80 g of sugar
1 tablespoon of lemon juice
350 g of yoghurt
350 ml of coconut cream or cream
4 tablespoons of icing sugar
Peel the mango, place it in a bowl and blend well after adding the yogurt, granulated sugar and lemon juice. Whip the cream with the icing sugar and compose your dessert by placing the two compounds in layers in single-portion cups. If you like, decorate with a diced mango .
Riproduzione riservata © - WT