Stuffed zucchini flowers: recipe and tips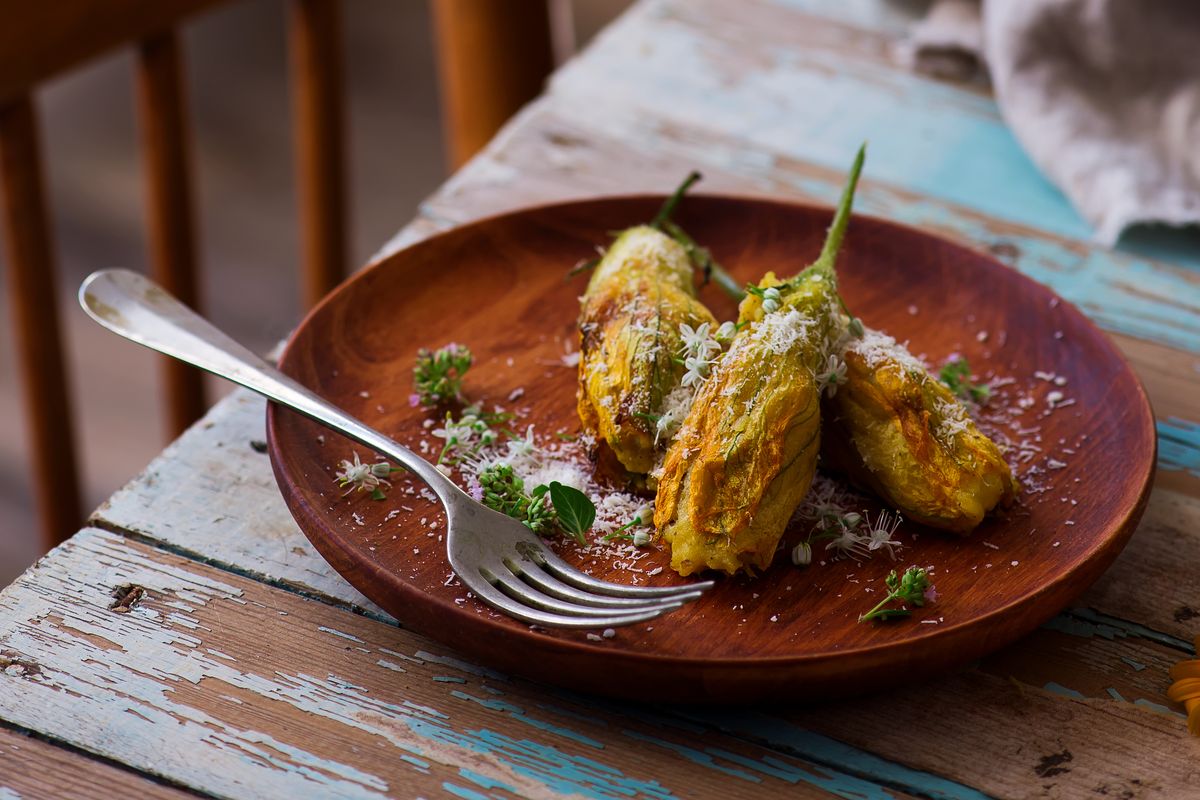 Here's how to cook excellent stuffed courgette flowers: a genuine and tasty dish with a very simple recipe (and a thousand delicious variations!)
We often forget that with the arrival of summer we also find courgette flowers: with their bright yellow-orange color and characteristic bell-shaped shape, they are a valid ingredient for a dinner or a special condiment. They are often also sold loose, without the courgettes, very fresh and already cleaned, ready to become the protagonists of inviting recipes without any effort. One above all, that of stuffed courgette flowers.
Zucchini flowers themselves have a rather delicate flavor and for this reason they are often fried in batter, according to many traditional specialties especially from southern Italy. Alternatively, given the shape, they are also excellent stuffed and baked au gratin in the oven. Since today we want to make a complete second course, very tasty but light , we will add the ricotta, with a final touch: an anchovy in oil to send the taste buds into ecstasy. But don't worry, we'll also give you many variations!
Let's see together how to cook stuffed courgette flowers!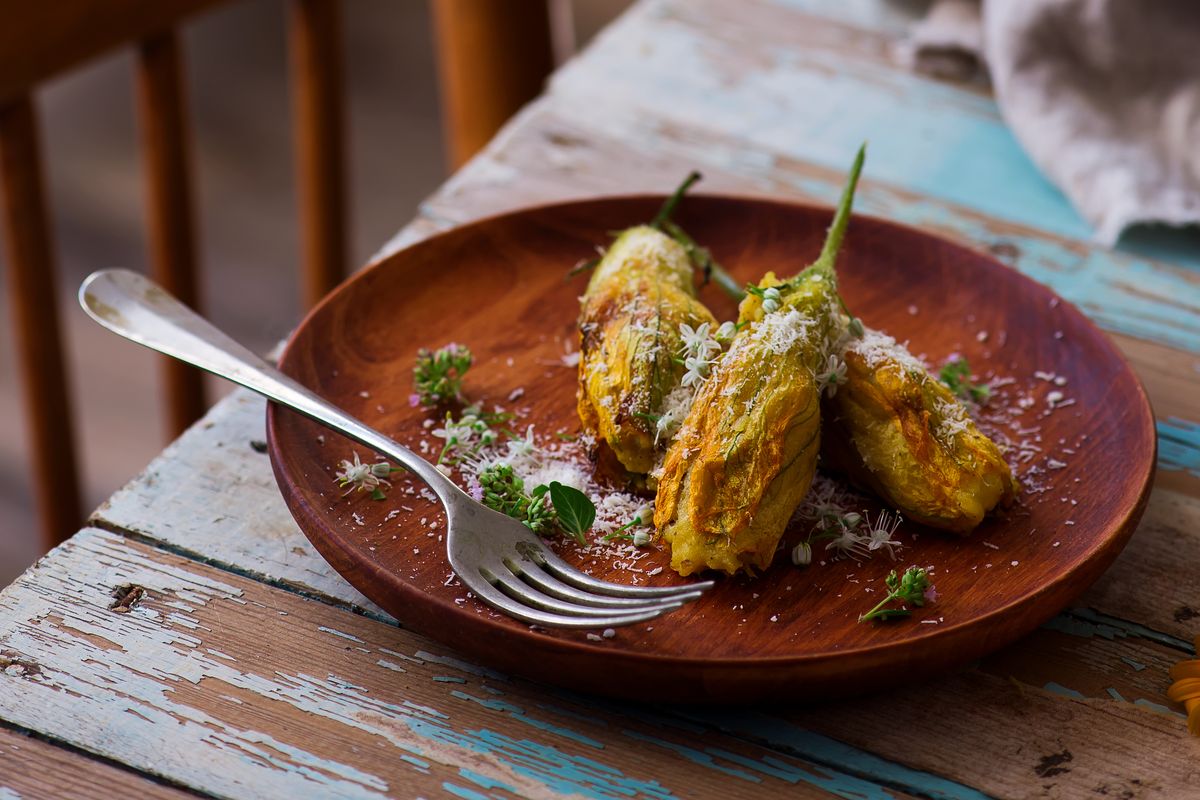 Preparation of baked courgette flowers
First you need to gently remove the flowers from the courgettes and clean them by removing the central pistil. Once this operation has been completed, being very careful to prevent the flower from breaking, wash and dry them by patting them lightly.
Then think about the filling by combining the ricotta, about half of the grated cheese, the finely chopped anchovies, a sprinkling of pepper and salt (but only if necessary since there is both the grated cheese and the anchovies).
Optionally, you can put the filling in a sac-à-poche or insert it directly into the courgette flowers with a teaspoon
Then place them very carefully in a baking dish or ovenproof dish lined with parchment paper or oil to prevent them from sticking, sprinkle them with a drizzle of oil and then sprinkle with the remaining grated cheese to help browning.
Cook the stuffed courgette flowers in a preheated oven at 180°C for about 15-20 minutes , making sure they do not burn. The last 5 minutes you can set the grill to have a nice final crust.
Preparation of fried stuffed courgette flowers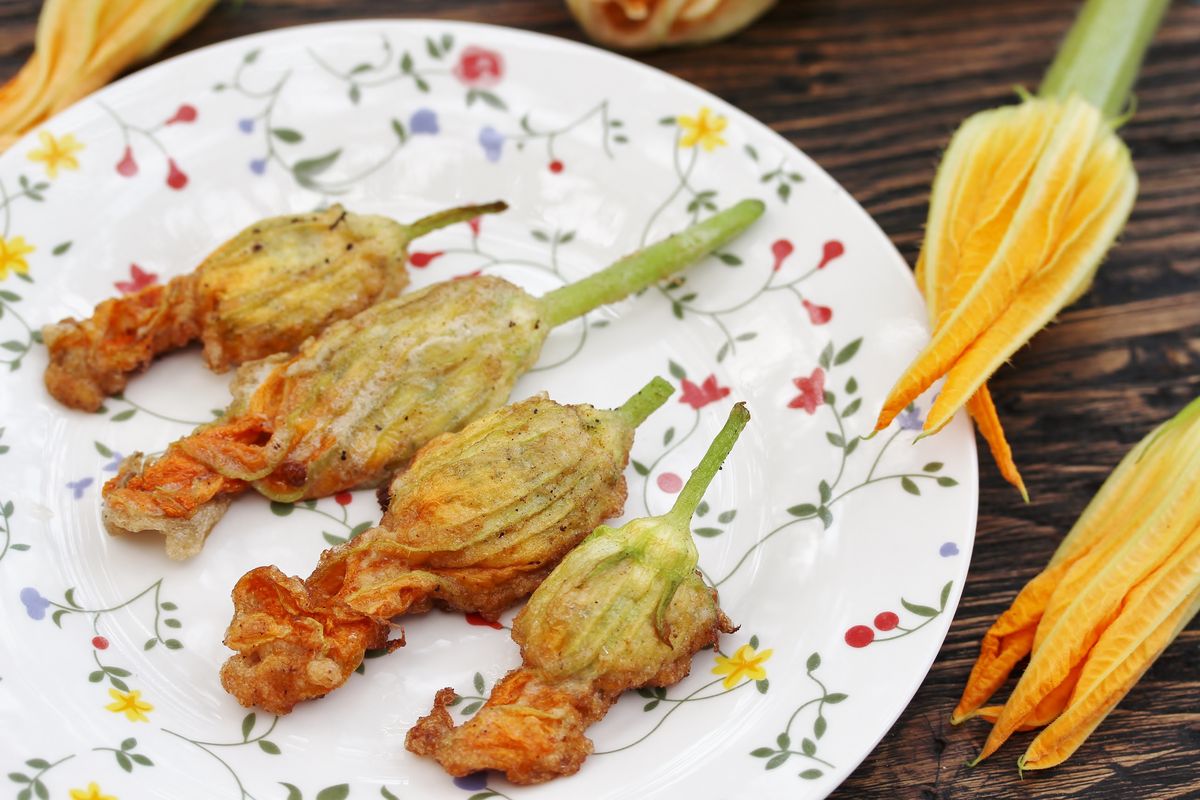 An unmissable variant of this recipe is that of stuffed courgette flowers in batter. After making your tasty filling and stuffing the flowers, instead of placing them on the baking tray, you will have to dip them in batter and then cook them in boiling oil .
For a crunchy batter, you need: 250 ml of cold sparkling water, 180 g of flour 0 and a pinch of salt.
Take care to lightly seal the stuffed courgette flowers by wrapping them around themselves so that the filling does not come out.
Mix all the ingredients of the batter with a whisk so as not to create lumps and dip in the stuffed courgette flowers one by one.
Immediately afterwards, immerse them in hot oil – at least 165°C . After a few minutes, drain them with a slotted spoon and arrange them on a sheet of absorbent paper.
Enjoy them immediately and enjoy your meal!
Stuffed zucchini flowers: meat and vegan
Not only with regard to cooking, but also for the filling you can vary according to your tastes. For example, you can make meatballs with 200 g of ground beef and 100 g of grated smoked scamorza cheese for the filling. Calculate, however, that the cooking times will be a little longer.
Another delicious filling (in this case vegan ) is made with boiled and mashed potatoes and turmeric or saffron to give it more flavour.
Do you love this dishes? Then try all the recipes with courgette flowers !
storage
We recommend consuming the baked flowers within 1-2 days and keeping them in the fridge, in a special container with a lid. Fried flowers, on the other hand, should be eaten at the moment or shortly after having prepared them.
Riproduzione riservata © - WT