Swedish taste and tradition: let's prepare Hasselback potatoes with our video recipe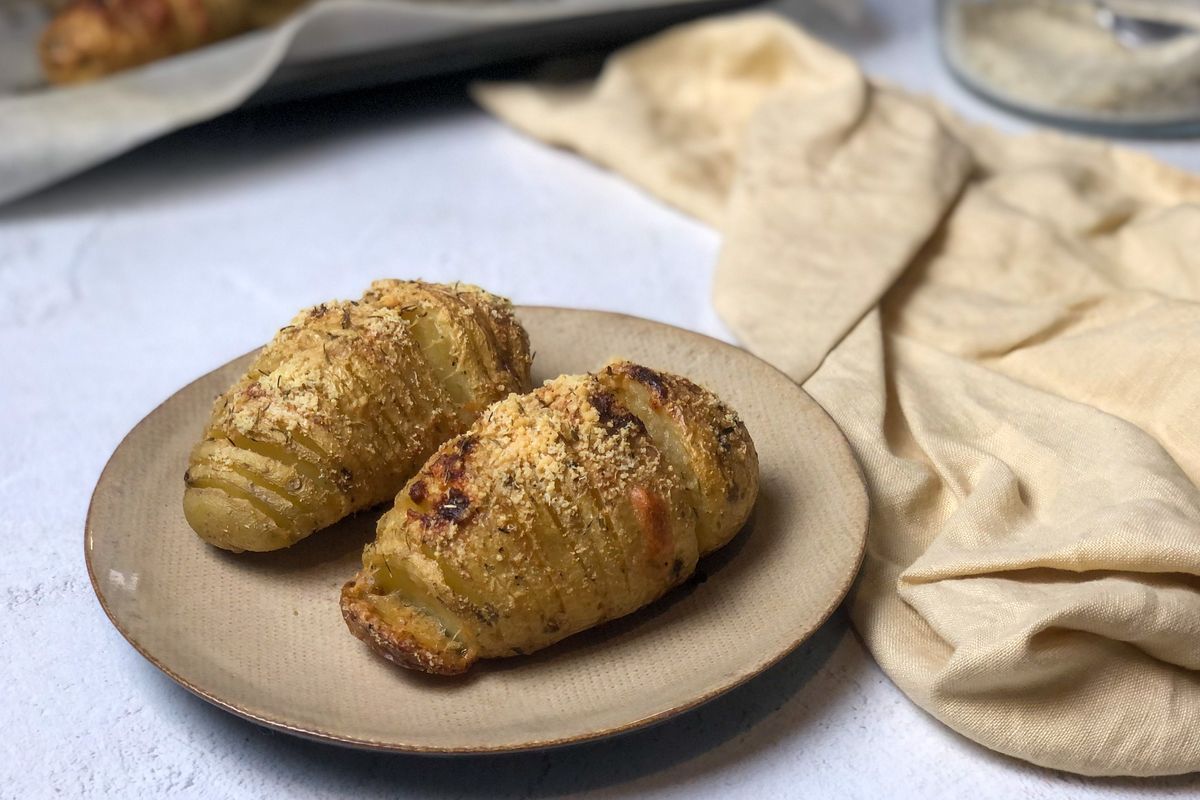 Hasselback potatoes are delicious whole baked potatoes of the Swedish tradition, also perfect for those who follow a gluten-free diet.
Today we prepare a typical Swedish dish, Hasselback potatoes, a delicious dish to be enjoyed as a side dish or as a single dish. Potatoes can really be prepared in so many ways, and if you're looking for an original and different variant , then you absolutely have to try them in this fantastic version.
These baked potatoes are cooked whole and in their skins, and are cut up and flavored with herbs and cheese. Their name comes from the Stockholm restaurant Hasselbacken, which was the first to offer them this way. From the traditional dish, various variations have spread according to the ingredients with which they can be flavored: in fact, you can use herbs and spices, butter or even prepare delicious baked potatoes stuffed with cheese or cold cuts.
Today we will prepare a traditional version with thyme and butter, and above all, gluten-free. Try it too, with these Swedish potatoes you will bring taste and imagination to the table! To make sure you don't make mistakes, we also have our video recipe for you.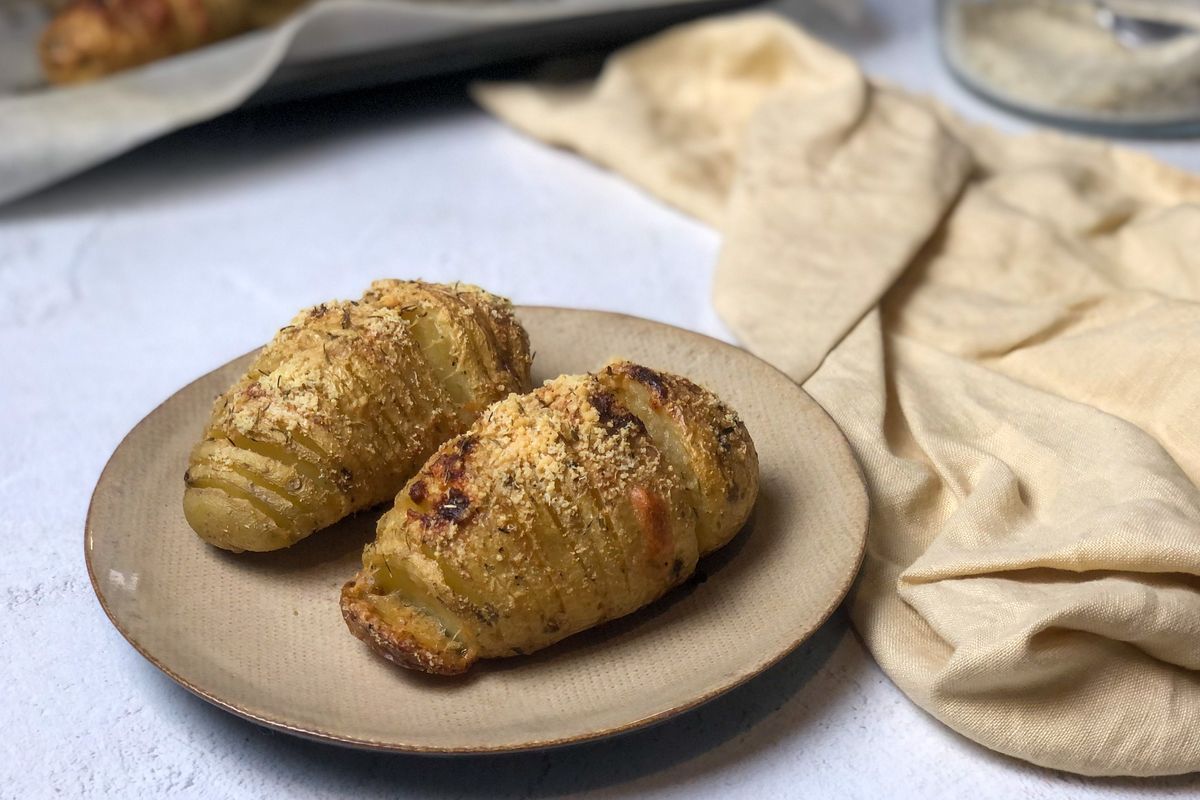 Preparation of Hasselback potatoes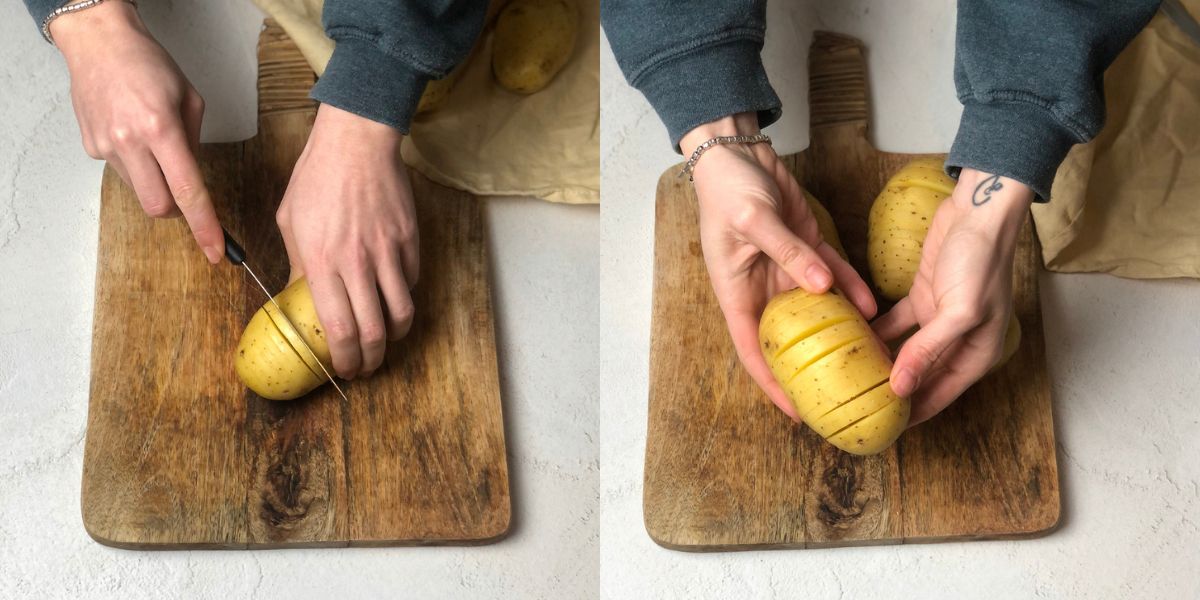 1. Take your potatoes and wash them under running cold water. Once you have dried them, cut them with a knife to obtain thin slices, and stopping the cut to leave the base intact, so that the potatoes do not split during cooking.
2. Wash the potatoes in fan shapes, and while you wait for them to dry and lose their starch, prepare the filling. Chop the thyme and add the salt, pepper and grated cheese.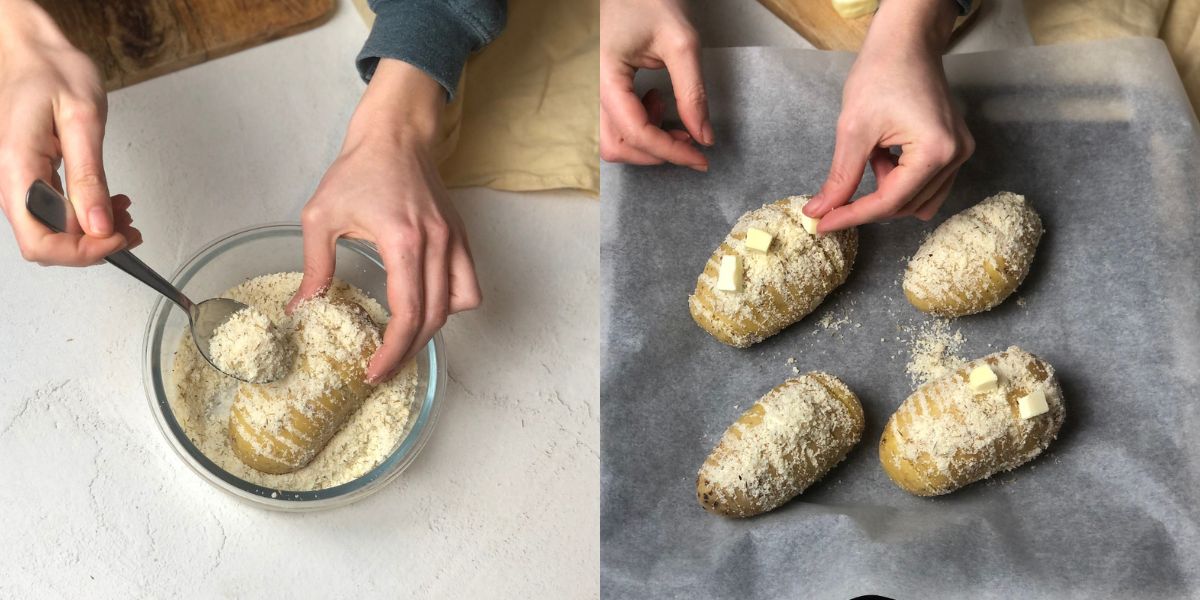 3. Stuff the potatoes with the chopped herbs and cheese and arrange them on a baking sheet lined with parchment paper, finally add knobs of butter to the surface and cook them at 200°C for about 80 minutes . As an alternative to butter, you can drizzle them with extra virgin olive oil.
4. When the peel of the potatoes has become crunchy, remove them from the oven and let them cool for a few minutes. Your potatoes are ready to enjoy, enjoy your meal!
For other delicious gluten-free side dishes, try these artichokes flavored with orange and bay leaf !
Variations and advice
These original potatoes are a tasty side dish but if necessary they can also be transformed into a second course . As? Just stuff them differently, using for example mushrooms, speck or sausage. Alternatively, for a more decisive taste, you can substitute cheese (such as cheddar) for the chopped herbs.
If, on the other hand, you want to keep the Hasselback potato recipe intact, you can think of an accompanying sauce that enhances its taste, for example a simple yogurt sauce .
storage
Swedish potatoes should be served piping hot but if necessary you can also prepare them the day before and then serve them after having heated them.
Riproduzione riservata © - WT