The ABC of peppers: 10 very simple and delicious recipes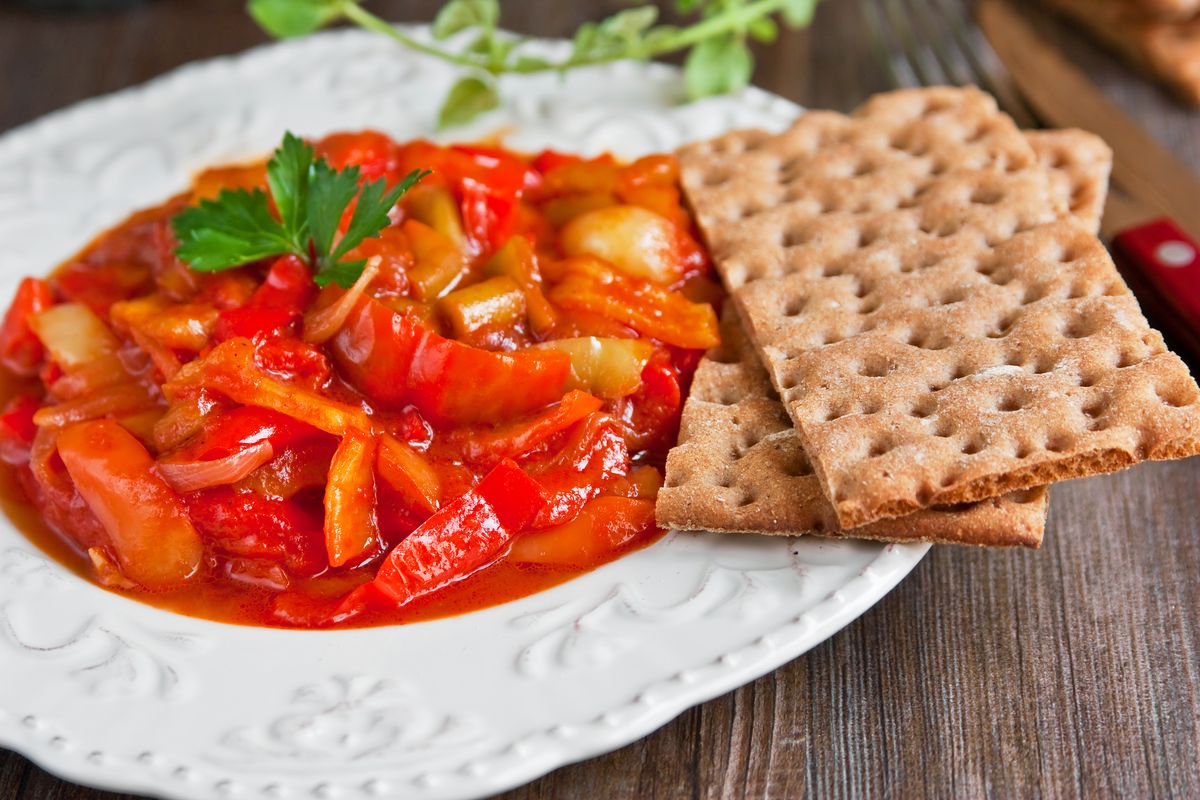 Here are 10 recipes with peppers, a vegetable that is good in all ways to brighten up your lunches with friends with flavor and taste!
Thinking of peppers, the delicious delicacies of festive Sundays immediately come to mind, when the whole family gathers around the table. However, someone, perhaps out of fear or perhaps out of inexperience, doesn't even dare to approach this vegetable which in reality just needs to be understood . Only in this way do the peppers give their best, becoming so creamy that they melt in your mouth .
Peppers are an explosion of taste and flavour , but also of nutritional elements: did you know, for example, that when raw they contain more vitamin C than oranges? They are also rich in iron, potassium, magnesium, calcium, beta-carotene, water and fiber. Recommended in low-calorie diets (the calories in peppers are quite low: only 31 calories per 100 g), they should only be avoided by those experiencing gastric problems.
How to peel peppers and make them more digestible
Do you usually find it difficult to digest peppers? We give you some advice: discard the peel as well as the seeds and internal filaments and you will see that they will no longer remain on your stomach. If cooked in the right way, you will be able to make them taste even to children!
To peel them in minutes , here's the secret:
After cooking them, remove them from the oven and cover them with cling film or place them in a plastic bag.
When they're completely cold, you can start peeling them : the steam from the heat will have made the peel so soft that you'll need a handful of seconds!
Even in the summer, when everyone loves peppers grilled and roasted on the barbecue, apply this technique. After searing them at maximum power , leave them covered with plastic wrap and the skin will come right off!
The 10 best recipes with peppers
Yellow, red, green and then bran, sweet, spicy, friarielli and friggitelli peppers… peppers come in a thousand varieties and colours. A much loved and prized quality is that of Peperone di Senise (PGI ) or cruschi peppers which, originally from Basilicata, are known for their crunchiness. The term cruschi peppers, however, often generates some confusion because it is also used to indicate the recipe for dried (and therefore crunchy) peppers.
For the dishes that we offer you today, choose the variety you prefer: so let's see 10 recipes that will make everyone happy !
1. Baked rice stuffed peppers
Peppers stuffed with rice are a very simple single dish (or second course) to make for both lunch and dinner with friends. This is one of those summer recipes that are delicious both freshly prepared and cold the next day: you can prepare them in advance and enjoy them cold on a hot afternoon when you really don't have the strength (nor the time) to turn on the oven . Alternatively, even heated in the microwave or in a pan, these stuffed peppers will satisfy your desire for healthy and tasty dishes .
Stuffed peppers without meat are the vegetarian alternative to the classic recipe of peppers stuffed with minced meat, capers and olives. The rice and cheese filling gives life to a dish that is creamy on the inside and crunchy on the outside: not to be missed! We advise you to choose vegetables that are not too large and not "pointy" because it is important that they stand upright during cooking. If this is not possible, you can always cut them lengthwise and stuff them like this.
This recipe is also perfect when you have leftover rice from the day before and you can customize it as you prefer: why not try adding bacon confetti to the filling? Or, replace the classic rice with brown rice. In short, you can rediscover the recipe for peppers stuffed with rice every day!
Ingredients for the vegetarian stuffed peppers recipe (for 4 people)
2 large or 4 small peppers
200 g of Carnaroli rice
parmesan to taste
1/2 glass of white wine
150 g of scamorza
500 ml of vegetable broth
15 cherry tomatoes or 200 g of cooked ham cubes
extra virgin olive oil to taste
Salt and Pepper To Taste
2. Sweet and sour peppers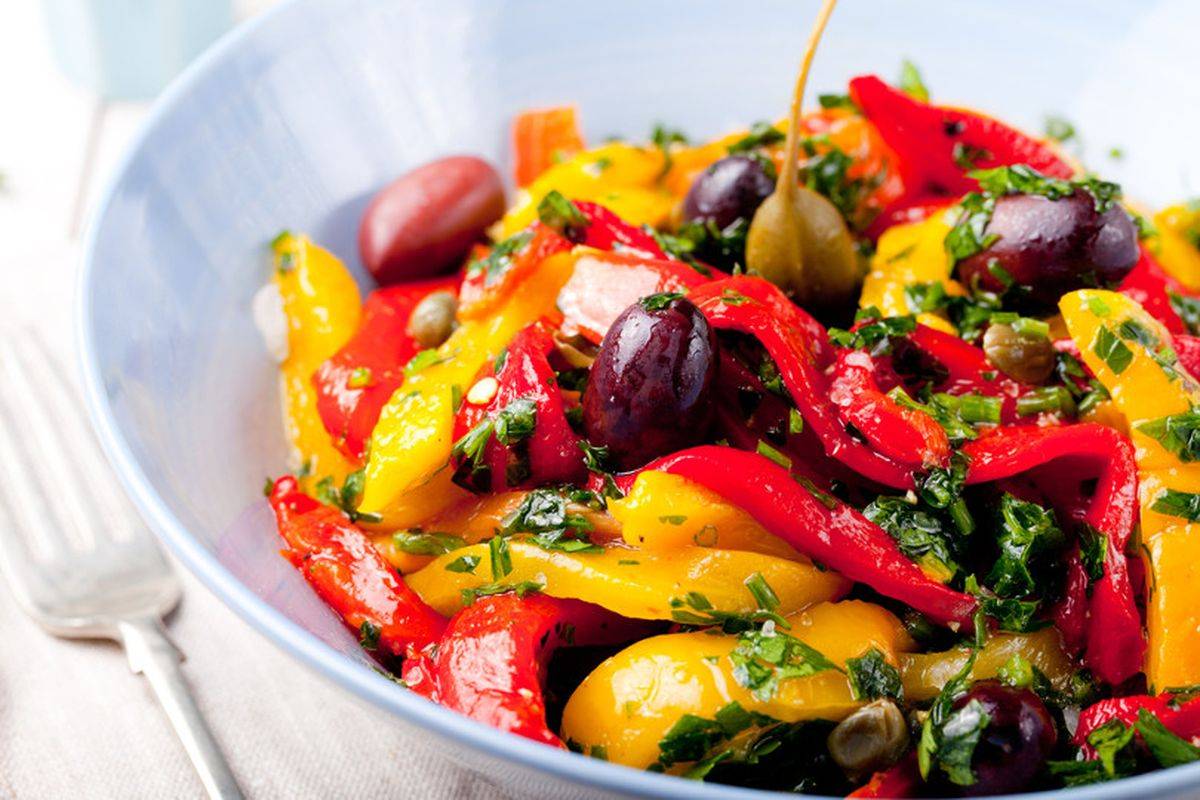 A versatile side dish to be enjoyed all year round? Undoubtedly sweet and sour peppers , which can be served hot, cold or even warm (depending on the season or on the other dishes). With their sweet and sour taste they go perfectly with dishes with strong flavors such as grilled meat. Alternatively, you can prepare them and enjoy them on bruschetta or crunchy croutons: they will be very tasty finger food.
The sweet and sour taste is given by the addition of cane sugar and raisins , which perfectly contrast the strong taste of the pepper. Finally, the pine nuts add an unusual touch of crunch to the dish. You can choose to use whatever variety you like, but if you use a mix (yellows, greens and reds) it will be much more visually pleasing !
If you don't enjoy them all on the same day, you can also keep your sweet and sour peppers aside to preserve: put them in a sterilized jar and cover them with EVO oil. Close well and store for a maximum of three months in the pantry . Once opened, consume them within a week and always keep them in the fridge.
Ingredients for the sweet and sour peppers recipe (4 people)
1 kg of red and yellow peppers
Half a clove of garlic
3 tablespoons of extra virgin olive oil
2 tablespoons of white vinegar
2 tablespoons of brown sugar
20 g of pine nuts
30 g of raisins
Salt to taste
Pepper as needed
parsley to taste
3. Baked peppers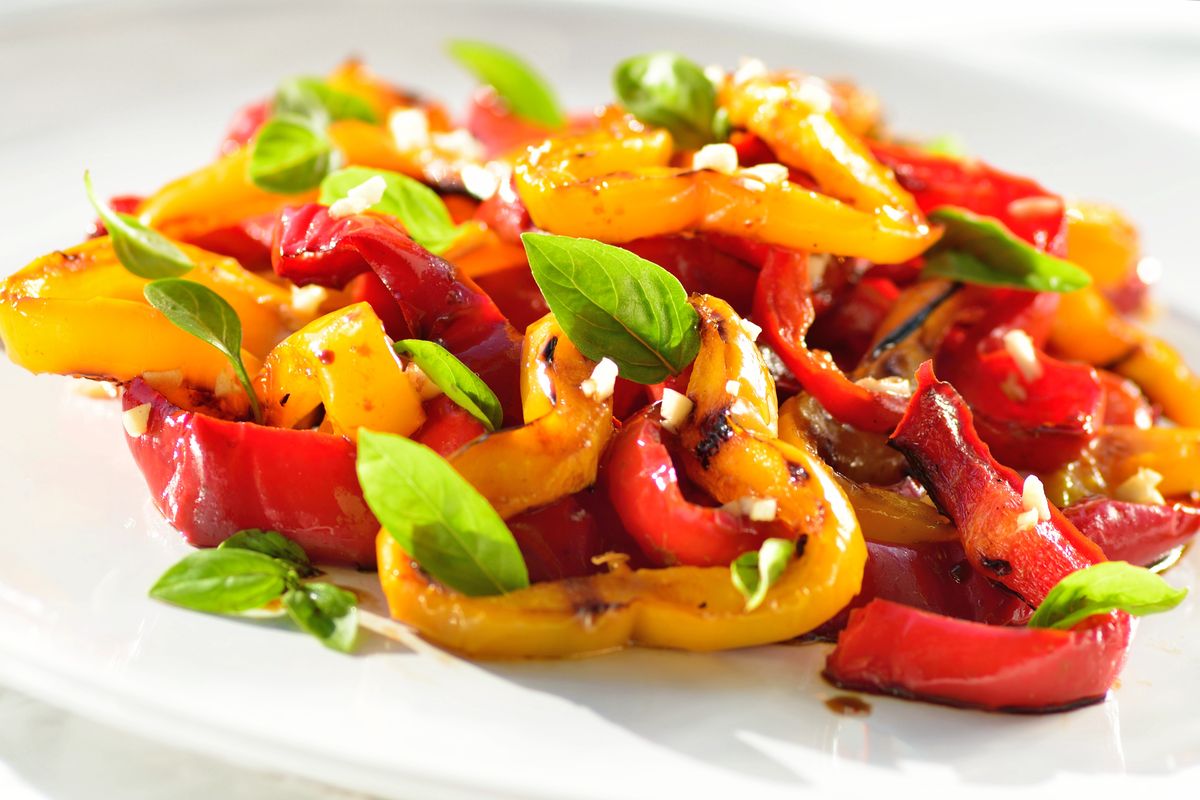 How good are roasted peppers? When cooked well they become so tender that they practically melt in your mouth. The ideal would be to prepare them during a splendid summer barbecue with friends, on the barbecue , in fact. But we know that this isn't always possible, so the best thing is to learn the technique to be able to make them all year round (in the comfort of our kitchen)!
The procedure is very simple: after washing and cleaning them, place them on a tray and bake at 200°C for about half an hour . We give you an important tip: remove the peel, so that they are easier to digest. Doing it without going crazy is really simple: as soon as the vegetables are cooked and still hot, remove them from the oven and place them in a plastic bag. Leave them there for about 1 hour, and you will see that the steam they release will make it very easy for you to peel them .
In our recipe for baked peppers we have added very few additional ingredients, in order to fully enjoy the flavor of the vegetable.
Ingredients for the recipe of roasted peppers in the oven (for 4 people)
6 yellow and red peppers
2 cloves of garlic
Extra virgin olive oil to taste
Salt to taste
Pepper as needed
4. Chicken with peppers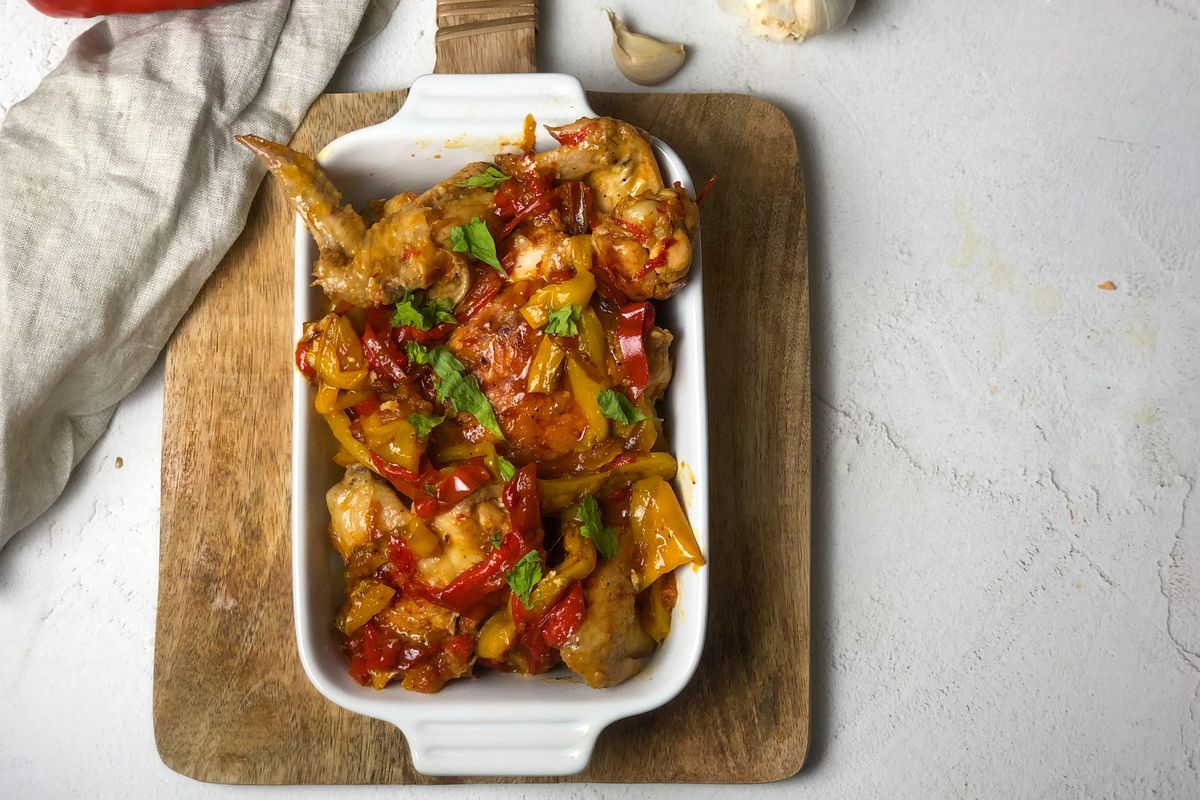 We now come to a tasty second course, which can also be a single dish. If the classic pan-fried chicken breast has bored you, try the recipe for chicken with peppers : a decisive and enveloping dish of the Roman tradition, very popular throughout the country.
You can choose whether to buy a whole chicken or pieces: the result will be equally tasty. We, for a matter of cooking speed and convenience, will not use an internal chicken, but breasts and wings. The preparation of the Roman-style chicken with peppers is very simple: you will have to simmer everything in a pan for about 45 minutes, deglazing with white cooking wine to add flavor to everything.
Ingredients for the chicken with peppers recipe (for 4 people)
1.5 kg of chicken breast and wings
3 yellow and red peppers
2 tomatoes
2 cloves of garlic
1 glass of cooking white wine
Extra virgin olive oil to taste
Salt to taste
Pepper as needed
parsley to taste
5. Pan-fried peppers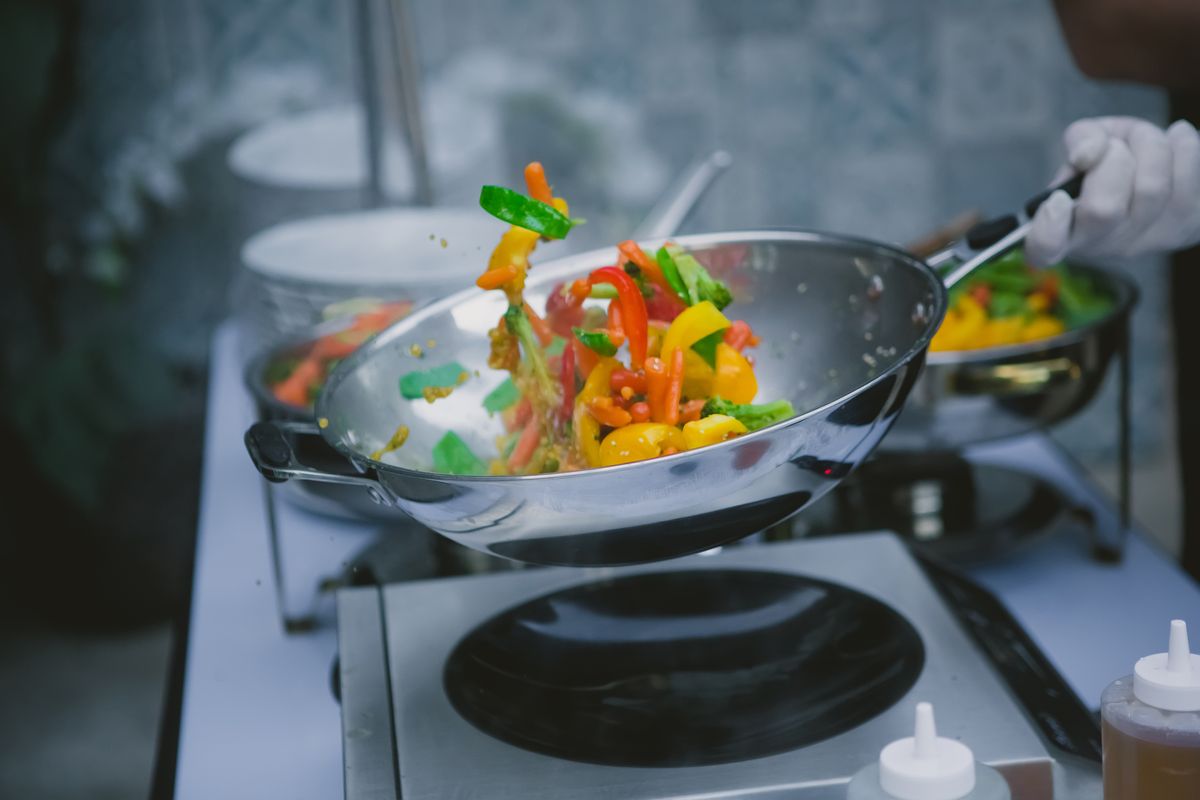 Impossible, obviously, not to delve into the cooking of peppers in a pan : perfect to accompany a rich course, they are ready in just 20 minutes . After having washed, cleaned and cut them into small pieces, you can dip them directly into the pan with the herbs.
The addition of balsamic vinegar gives the dish a creamy and rich taste , but it also has benefits for the body; rich in mineral salts and polyphenols (present in grapes) it manages to increase the digestion times of our body, thus making us ingest less food. Do you think that in the Middle Ages it was believed that balsamic vinegar was not only a condiment, but that it could even cure diseases and ailments . What's more, at the time only the nobles could afford it. Traditionally, it was therefore used in more sophisticated recipes, where the acidity of the classic white vinegar would have been excessive and a more complex and full-bodied condiment was preferred.
Ingredients for the pan-fried peppers recipe (for 4 people)
3 bell peppers (yellow and red)
1 tablespoon balsamic vinegar (or wine vinegar)
Salt to taste
Extra virgin olive oil to taste
Pepper as needed
Fresh basil to taste
1 clove of garlic
6. Pasta with peppers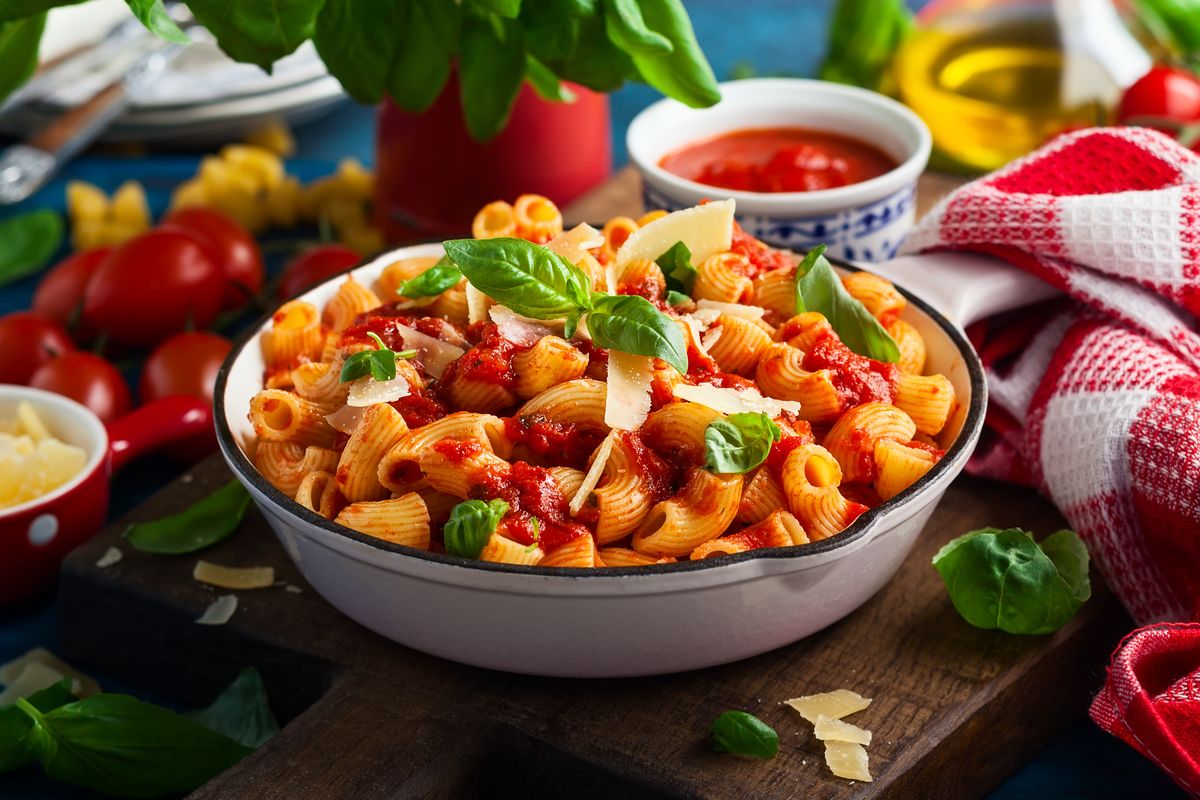 The recipe for pasta with peppers is simple and intriguing as well as very tasty. A little pasta, peppers and tomatoes: that's all you need to make this first course with maximum yield with minimum effort.
The realization, as promised, is very simple: start boiling water in which you will dip the pasta. In a separate pan, start cooking the peppers (cleaned and cut into strips) and also add the tomatoes so that the flavors begin to mix . Drain the pasta al dente and finish its cooking with the vegetables.
For an extra touch of creaminess , some prefer to add cooking cream: it will convince even those who don't like the taste of peppers too much. We recommend enjoying it immediately after preparation , but it will also be delicious the next day, cold: so you already have lunch ready to take to the office!
Ingredients for the pepperoni pasta recipe (for 4 people)
400 g of red peppers (but also yellow and green, as you prefer)
200 g of cherry tomatoes
400 g of pasta
200 g tomato puree
1 clove of garlic
basil to taste
Salt to taste
evo oil to taste
7. Cream of peppers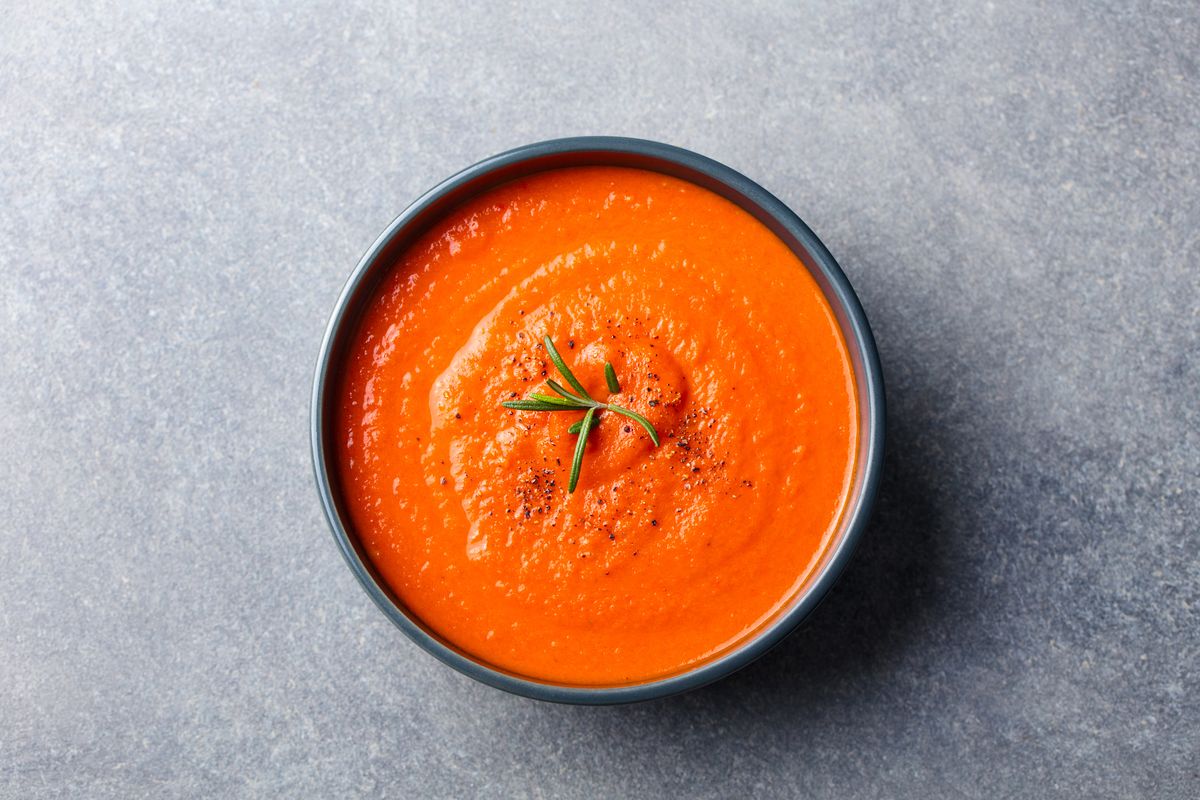 Creamy, rich and tasty: these are three adjectives that perfectly describe this recipe. A sauce that you can enjoy cold, hot or as a condiment for pasta with cream of peppers. It will also make a great impression on an appetizer buffet: with its intense flavour, it will go perfectly, for example, with a slightly aged or soft cheese .
Preparing it is simple, but if you have the Thermomix it will be really simple. After having simmered the minced garlic and oil for 3 minutes at 100 °C, speed 1, add the chopped vegetables to the mixing bowl (20 minutes, 100 °C, speed 1). Once cold, add the cream or spreadable cheese and blend at speed 7 for 30 seconds.
The pepper sauce , if not consumed immediately, can be frozen or kept in the pantry in sterilized glass jars for about 3 months.
Ingredients for the pepper cream recipe (for 4 people)
2 red peppers
5 cherry tomatoes
100 g of cream or soft cheese
20 g of Parmigiano Reggiano
1 fresh chilli
1 clove of garlic
Salt to taste
extra virgin olive oil to taste
8. Peppers in oil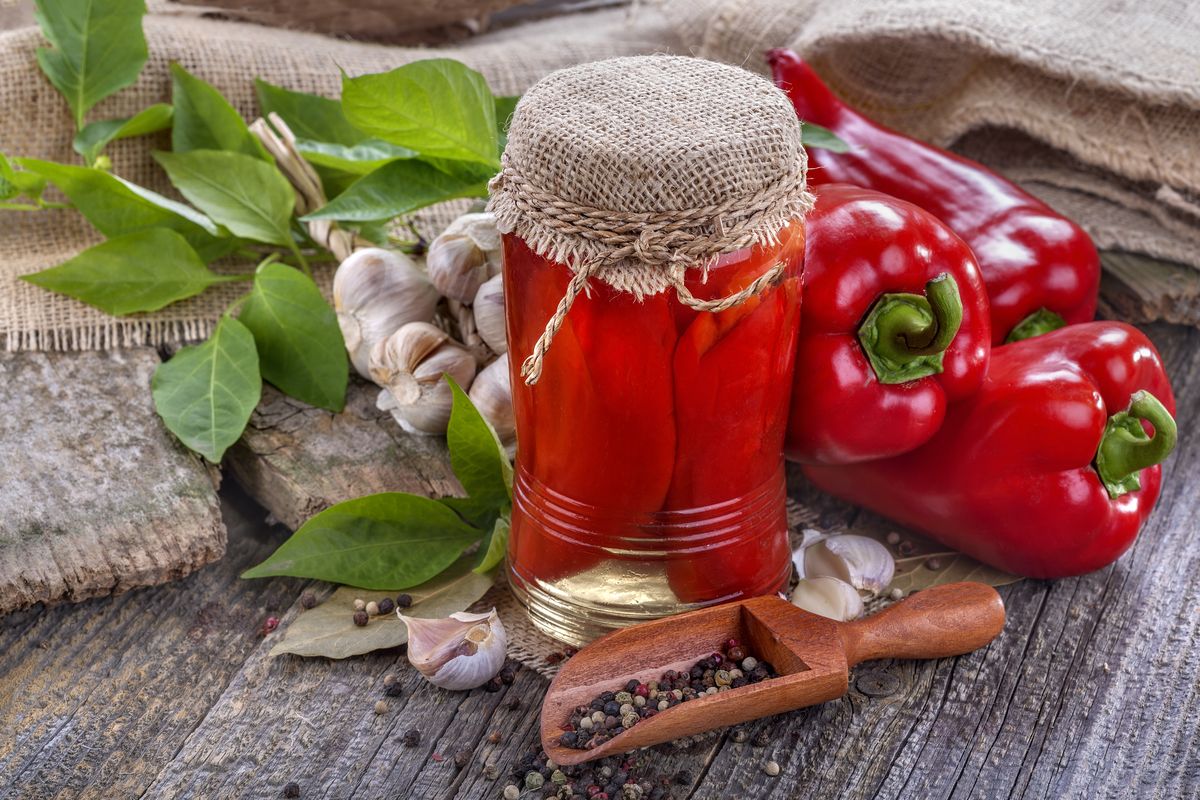 Was your garden generous enough to give you peppers in abundance? Preserving peppers in oil is perfect in these cases and will allow you to enjoy this delicious summer vegetable all year round .
After having cooked the vegetables in the oven for about 30 minutes , let them cool; then put it back in the jars and cover completely with oil. Leave the peppers in oil in the pantry for a few weeks and enjoy your meal!
We have added pink pepper to give the preserve an interesting twist, but also for its interesting properties. This variety of pepper, in fact, promotes digestion, has an antiseptic power and diuretic properties. Traditionally, precisely for these reasons, grandmothers used it as a natural remedy in case of wounds and digestive problems (but also for menstrual pain and toothache).
Ingredients for the recipe of peppers in oil (for 3 jars of 250 grams)
750 g of red peppers (or green peppers)
extra virgin olive oil to taste
aromatic herbs to taste
Salt to taste
cloves of garlic to taste
pink peppercorns to taste
9. Pepper jam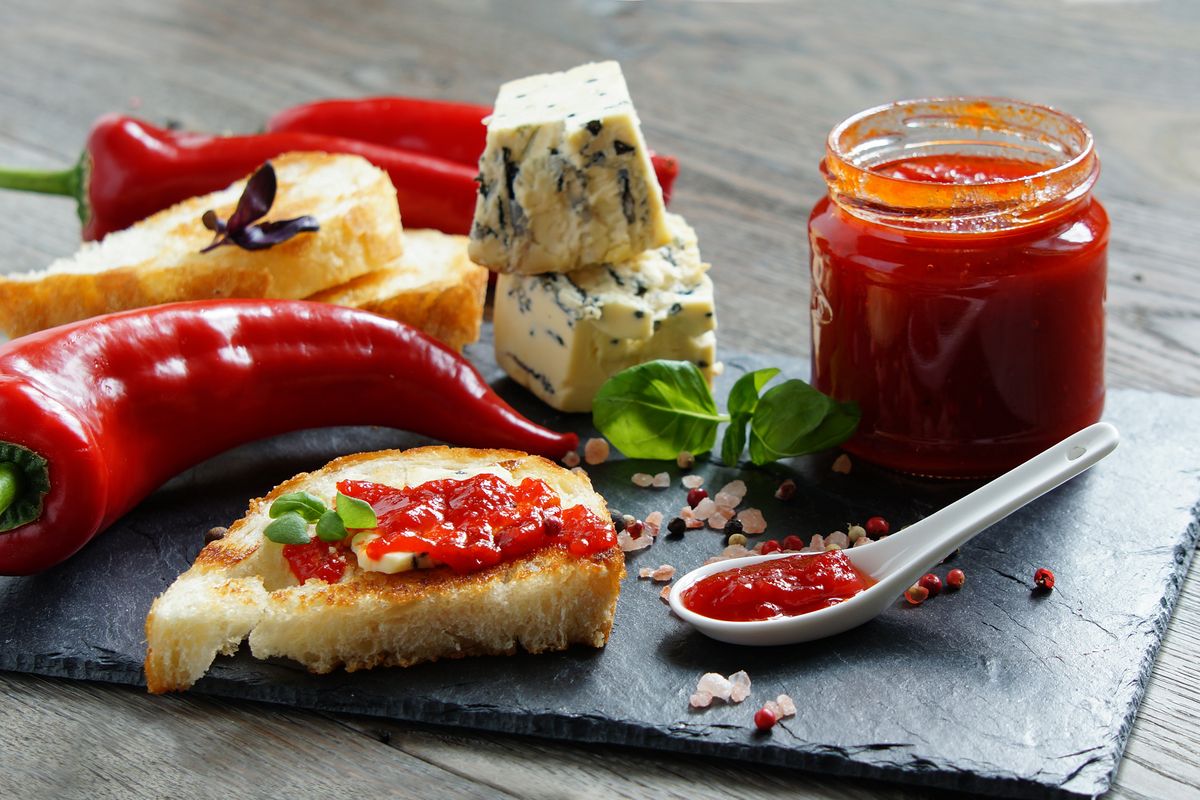 If you love appetizers with an intense flavour, we also recommend the pepper jam recipe . Sure, when it comes to jam the last thing we think about is vegetables, but give this recipe a chance and you won't regret it ! Very appreciated by lovers of buffet appetizers and cheeses , it also goes perfectly with bruschetta due to its sweet and sour taste.
The preparation is just like that of a classic jam: let the peppers soak in a mixture of sugar, white vinegar, salt and chilli pepper for about 4 hours . Then proceed with slow cooking. Finally, blend and place in sterilized jars. If you like spicy you can increase the amount of pepper (or omit it altogether if you don't like it).
Ingredients for the pepper jam recipe (for 4 people)
500 g of red peppers
220 g of sugar
1 teaspoon of salt
1 teaspoon of red pepper
100 g of white vinegar
10. Peperonata: the recipe with peppers par excellence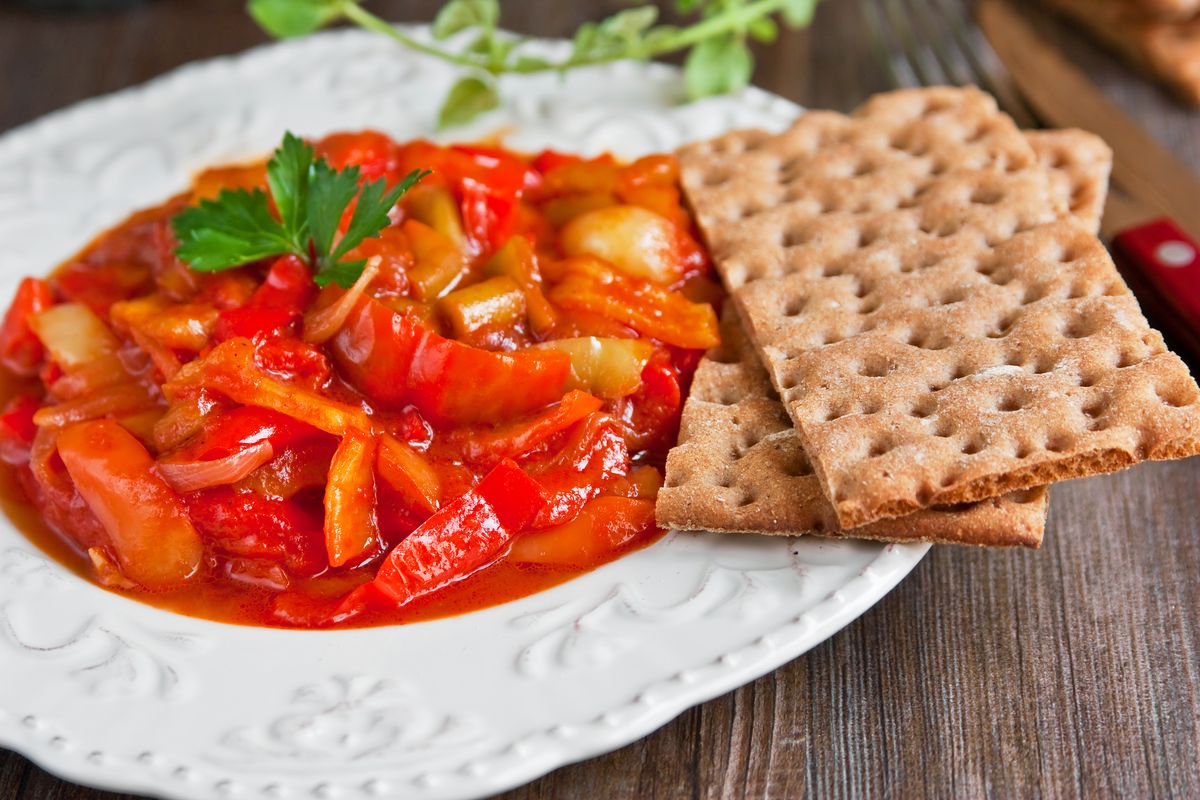 Finally, it is impossible not to conclude with the recipe that owes its name to this delicious vegetable: the peperonata . Originally from southern Italy, in reality, it is present in all the kitchens of our country and every region and every family has its own recipe.
In general, it is a side dish based on thinly sliced ​​peppers stewed in a pan with tomato puree, garlic and onion. Then, there are also those who add olives, vinegar and fresh tomatoes: a real bomb. You can enjoy it freshly prepared, but cold it is much tastier!
The classic peperonata involves preparing it in a pan, but we also recommend an alternative version : that of the baked peperonata. It will be necessary to arrange the vegetables and all the ingredients in a baking tray, before placing them in the preheated oven at 180 °C for 30 minutes . In this way you will obtain a lighter result because you will use less oil and seasonings.
Ingredients for the Sicilian pepper recipe (for 4 people)
1 kg of peppers (red, green and yellow)
300 g of red onions
extra virgin olive oil to taste
250 ml of tomato puree
1 clove of garlic
Salt to taste
pepper as needed
1 teaspoon of sugar
water to taste
Riproduzione riservata © - WT