The best Carnival recipes (to try in this period)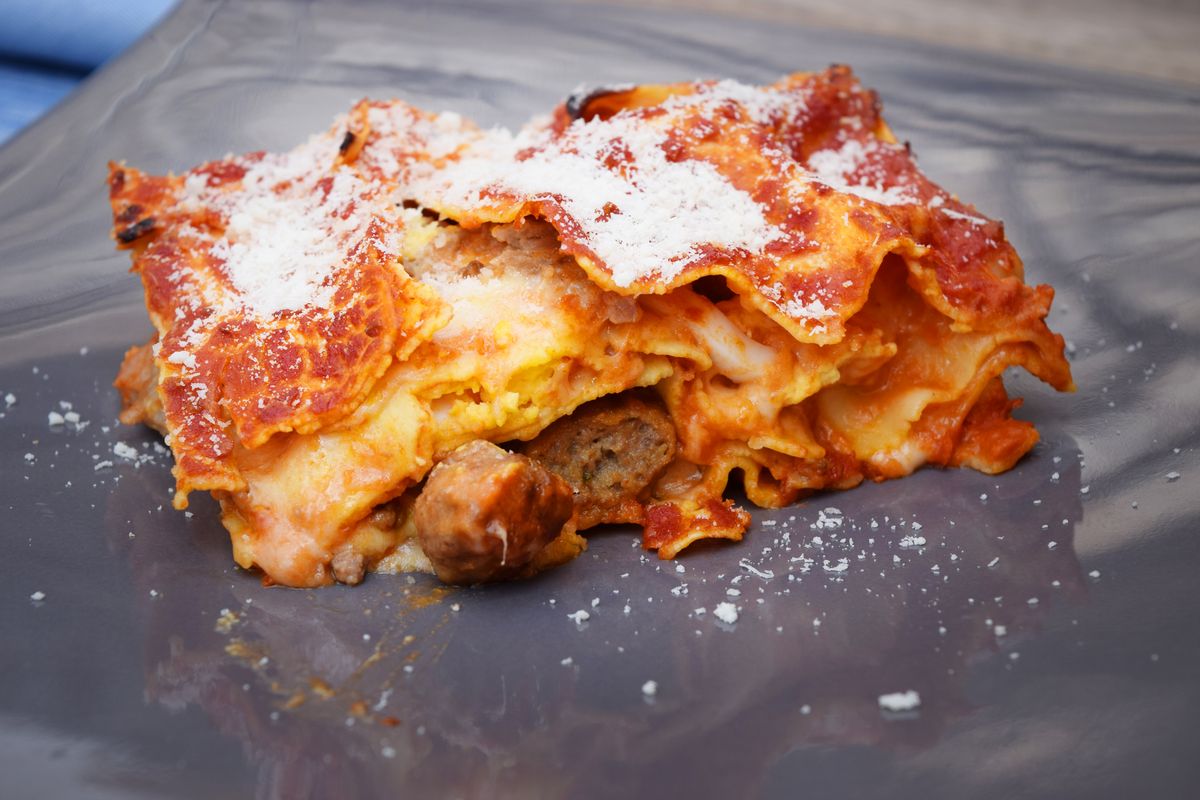 Carnival recipes: between traditional sweets and savory dishes, here are all the proposals to bring delicious dishes to the table for the whole family.
Carnival recipes aren't just sweets: each region offers very rich sweet and savory specialities, just as tradition dictates, according to which, before the beginning of Lent , one enjoys the pleasures of the table, eating more abundant dishes.
From North to South , therefore, Carnival recipes of fried sweets (such as the timeless chiacchiere) and savory dishes (such as Neapolitan lasagna, pasta omelette or harlequin gnocchi) follow one another. To celebrate properly, here are our proposals:
Carnival menu: 5 ideas for savory dishes
Not everyone knows that there are several savory Carnival recipes, so much so that it is possible to prepare an entire menu with dishes such as pasta omelette, Neapolitan lasagna or savory chiacchiere. Here are our top 5 favorites !
Carnival pasta omelette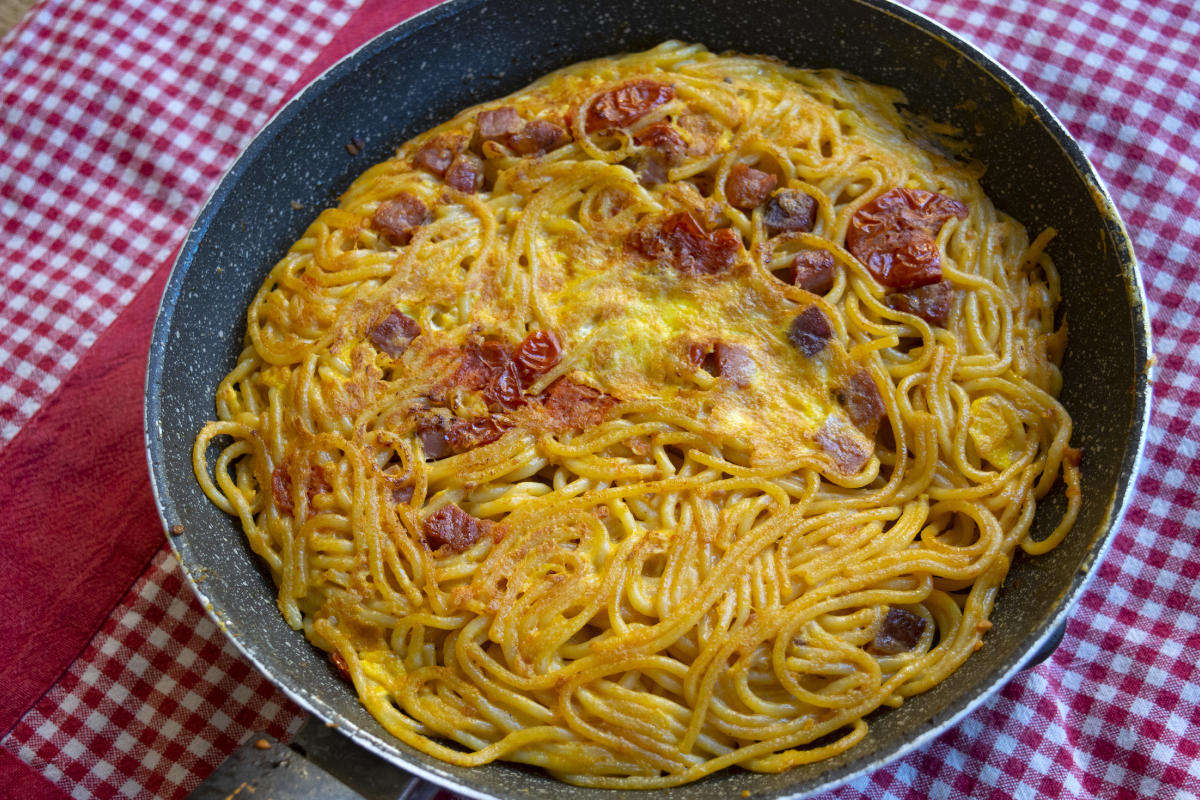 The Carnival pasta omelette is a typical Calabrian recipe that lends itself to being prepared at this time of year and is really great for recycling leftovers!
Ingredients needed for the spaghetti omelette (for 4 people):
300 g of spaghetti type pasta
3 eggs
2 sausages
30 g of grated Parmesan
parsley to taste
basil to taste
10 cherry tomatoes
milk to taste
olive oil to taste
Salt to taste
pepper as needed
To prepare it you have to cook the spaghetti in boiling salted water, drain them al dente and keep them aside. While the pasta is cooking, beat the eggs in a small bowl, add a few tablespoons of milk, the chopped aromatic herbs, a pinch of salt and pepper. Remove the casing from the sausages and break them roughly. Wash the tomatoes and cut them into wedges. Add both the sausage and the cherry tomatoes to the beaten eggs and finally the spaghetti, mixing well.
Take a fairly large frying pan and grease the bottom with a couple of tablespoons of oil. Bring the pan to the heat and as soon as the oil becomes hot, pour in the pasta with the eggs. Cook first on one side and then on the other to obtain a golden and crunchy crust on both sides.
Salty talk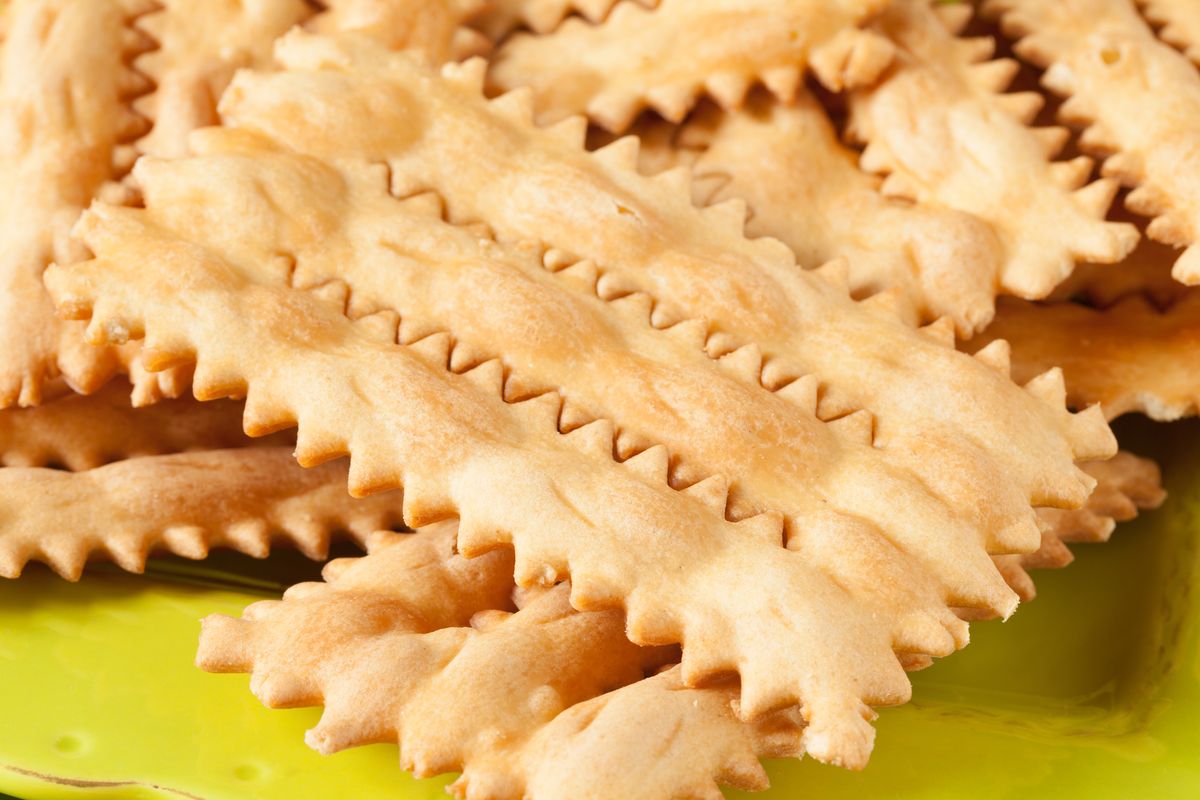 Savory chiacchiere are the variant for the appetizer of one of the best Carnival recipes there are. Try them for a delicious aperitif together with cured meats and cheeses!
Ingredients for making savory chatter (for 4 people)
200 g of 00 flour
1 egg
1 teaspoon of instant yeast for savory preparations
2 tablespoons of olive oil
30ml of white wine
1 teaspoon fine salt
oil for frying to taste
Sift the flour into a bowl, then add the egg and seed oil. Start kneading by hand or with the mixer fitted with the special hook, then add the yeast, salt and wine. Keep kneading until you get a compact and firm dough. Wrap it in cling film and let it rest for 30 minutes .
Roll out the dough until you get a thin sheet, then cut into rectangles. In the center of each one, make a further notch without reaching the edges. Pour the oil for frying into a large pan, bring to the heat and wait for it to reach the right temperature. Fry the savory chiacchiere until they are golden brown. When cooked, drain the excess oil before serving.
Carneval lasagna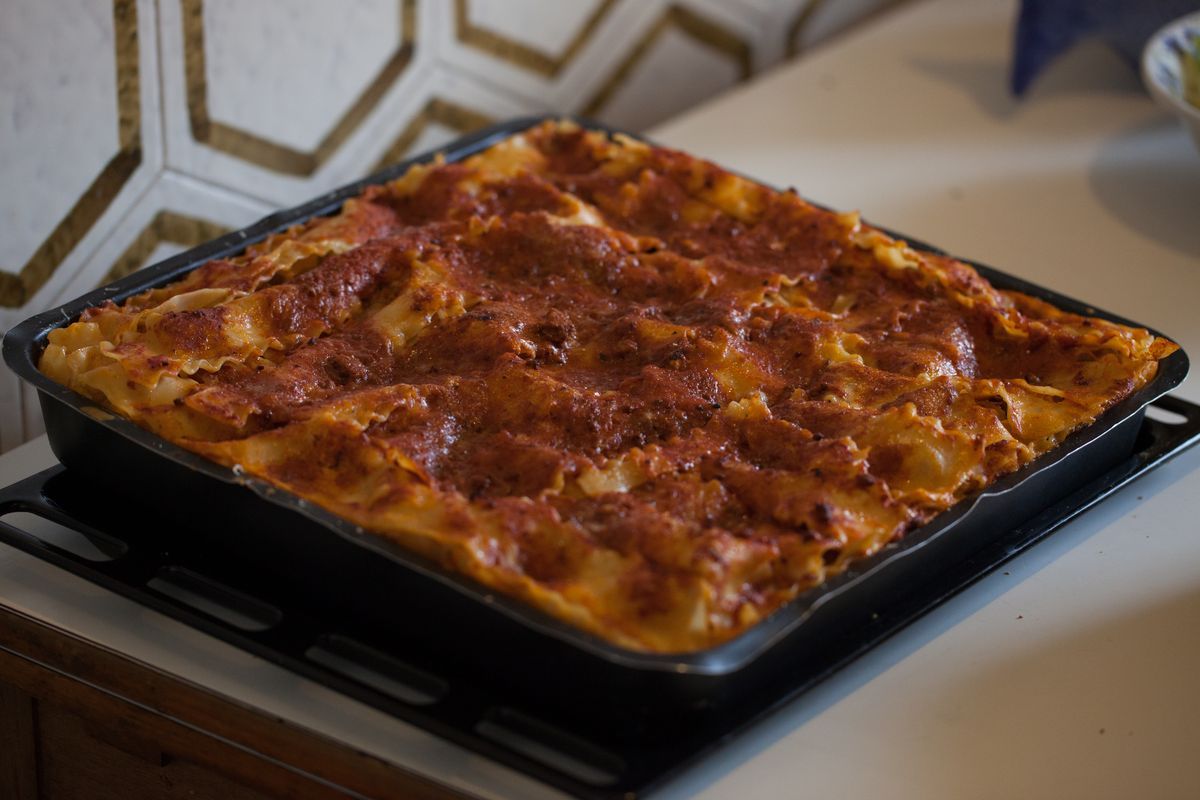 Carnival Neapolitan lasagna is a rich and abundant dish, perfect to include in the menu of the days preceding the beginning of Lent.
Ingredients for making Carnival lasagna (for 4 people)
250 g of fresh ready-made lasagna pasta
400 g of scamorza
400 g of cottage cheese
200 g of sausage
300 g of pork loin
2 eggs
750 g of tomato puree
butter to taste
60 g of grated Parmesan
2 boiled eggs
1 glass of white wine
grated bread to taste
50 g of aromatic mince for sauté (celery, carrot, onion)
Salt and Pepper To Taste
First, prepare the sauce: chop the loin and crumble the sausage. Put some butter in a saucepan and melt over low heat. Add the aromatic mix for sauté, let it go over high heat for a few minutes, then add the loin and sausage. Brown the meat well then blend with the white wine. Wait for the alcohol to evaporate then add the tomato sauce. Season with salt and pepper, lower the heat, place the lid ajar and cook for at least 2-3 hours , stirring occasionally.
At this point, divide the meat into two parts. Drain one of these from the tomato purée and blend it in a food processor with an egg, two tablespoons of breadcrumbs and two of Parmesan. Form some meatballs then brown them in a pan with a knob of butter. Keep the meatballs aside until they cool down, then add them to the rest of the meat sauce and continue with the rest of the preparation: mix the ricotta with the second egg, the rest of the Parmesan and season with salt and pepper. Cut the scamorza cheese and hard-boiled eggs into slices.
Now assemble everything: pour a generous layer of sauce on the bottom of a baking dish, cover with the lasagna sheet and spread the ricotta cream on top. Cover with a layer of sauce then make a layer of scamorza cheese and hard-boiled eggs, add the pastry and continue in this way making other layers. Cover the surface with ricotta and meat sauce and sprinkle with grated cheese. Bake in a hot oven at 180°C for 45 minutes .
Smacafam for ancoi and for tomorrow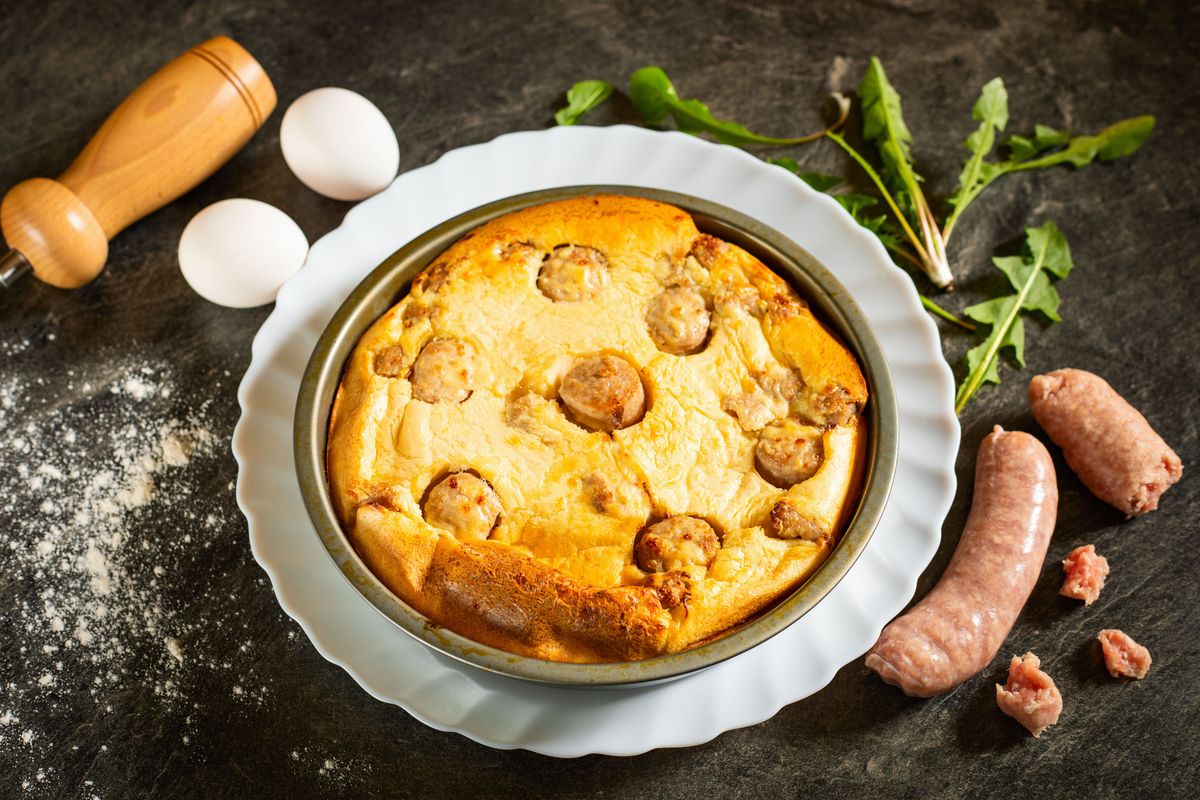 Smacafam for ancoi and for tomorrow : a rich and tasty focaccia " dampens hunger " is just what you need in your Carnival recipes. Do you know this Trentino specialty ?
Ingredients to prepare the Carnival focaccia
400 g of Lucanian sausage
100 g of speck
300ml of milk
250 g of 00 flour
3 eggs
60 g of butter
Salt to taste
pepper as needed
Shell the eggs in a bowl, season with salt and pepper then beat them with a fork. Sift the flour into a bowl then slowly add to the eggs . Mix and add the milk too until you have a homogeneous mixture. Take the sausage, remove the casing and cut it into chunks then cut the speck into cubes.
Add the sausage and speck to the mixture, mix and pour the mixture thus obtained into a pan covered with a sheet of parchment paper. Bake in a hot oven at 180°C for 30 minutes, take it out of the oven and serve the focaccia hot, cold or warm.
Gnocchi dell'Arlecchino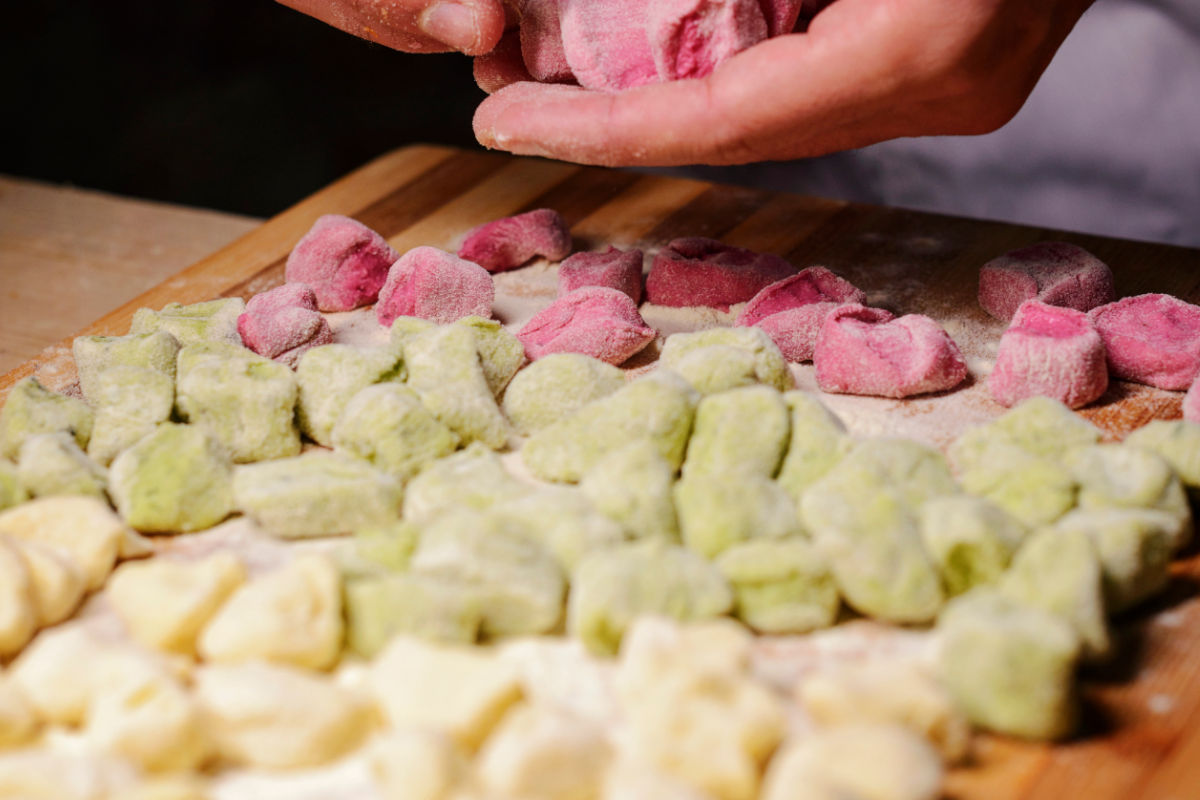 A top-notch Carnival menu cannot fail to have a colorful and fun first course among the dishes on offer. Here the Harlequin gnocchi fall just right.
Ingredients to prepare the Carnival gnocchi (for 4 people)
500 g of floury potatoes
Approximately 125 g of flour
1 egg
1 cube of frozen spinach
1/2 pre-cooked beetroot
Salt to taste
Boil the spinach in a saucepan of water then drain and squeeze them to remove as much water as possible. Boil the potatoes in plenty of salted water without peeling them . When cooked, you can peel them immediately or mash them directly with the potato masher in which the peel will remain. Leave to cool, then mix on a cutting board or in a bowl with the egg, flour and a little salt.
Divide the dough thus obtained into three loaves. Finely chop the spinach and add it to a portion of the dough to obtain the green colour. Blend the beetroot and add it to another portion of the mixture to obtain a red colour. Model each loaf forming strings , if necessary, help yourself by adding more flour, then cut into chunks. Boil the gnocchi and season them to taste.
Carnival desserts: 5 delicious recipes
Carnival sweets are almost all united by frying. There are many types, many recipes vary from region to region and they are all super tasty , as befits this time of year. Here are 5 you won't be able to resist!
Carnival arancini from the Marches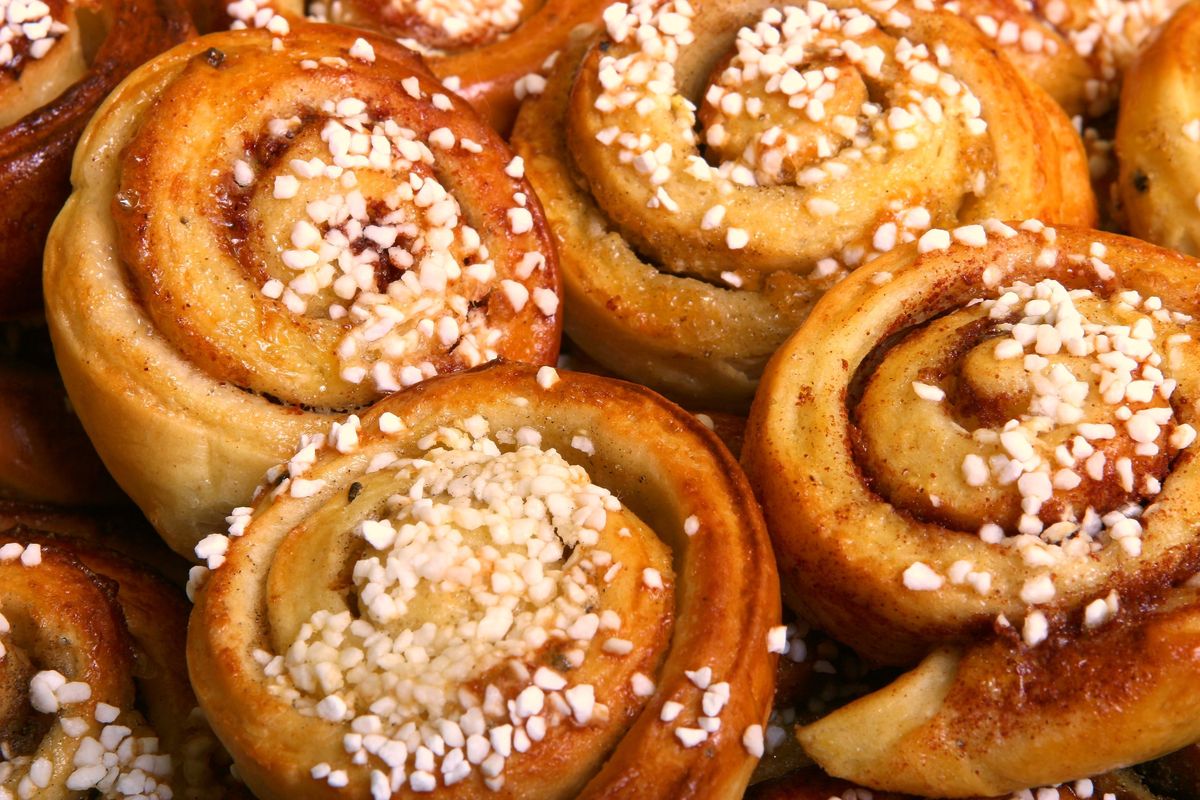 Don't let the name fool you, these treats have nothing to do with the famous Sicilian dish . If you don't know the Marche Carnival arancini , the time has come to prepare them.
Ingredients of the Marche Carnival sweets
500 g of 00 flour
200 g of sugar
250ml of milk
2 eggs
2 oranges
1 sachet of dehydrated brewer's yeast
cinnamon to taste
40 g of butter
oil for frying to taste
Let the butter soften at room temperature . Arrange the flour, 50 grams of sugar and the yeast on a work surface or in a bowl. Then add the butter cut into chunks, a pinch of cinnamon, the shelled eggs and the milk a little at a time. Knead vigorously with your hands until you have a nice compact dough. Cover the dough with a clean cloth and let it rise for 2-3 hours or in any case until it has doubled in volume.
At this point, roll out the dough on a lightly floured surface until it is about 4-5 mm thick. Dust the entire surface with the remaining sugar and with the grated orange zest. Roll up starting from one of the two shorter sides, cover again and let rise for an hour.
Cut the roll into slices and prepare for frying by heating the frying oil in a large pan. As soon as the oil has reached the right temperature, dip the Carnival sweets a little at a time and let them last first on one side and then on the other. Drain them from the excess oil and sprinkle them with icing sugar, sprinkles or chopped hazelnuts before serving!
Chatter Carnival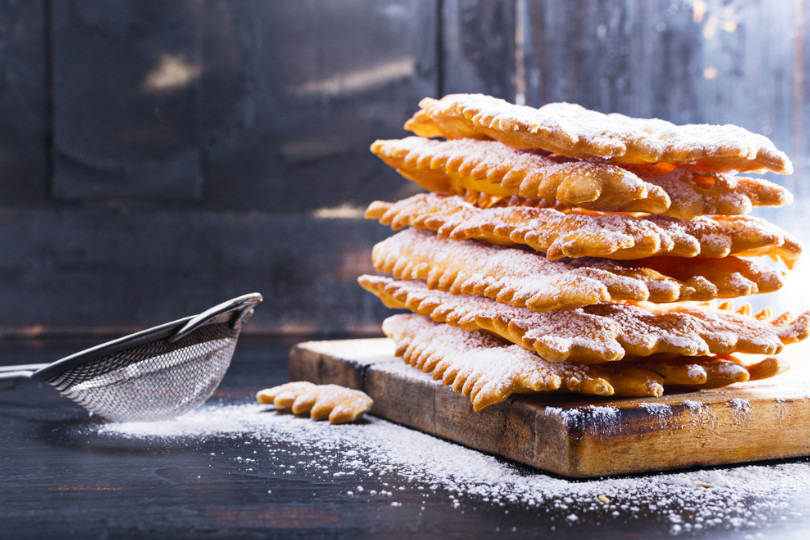 Chiacchiere are one of the sweet symbols of the period. They are known by many different names: bugie, crostoli, frappe, sfrappole, galani and so on, depending on the area where you are. Try this Carnival recipe perfect for the whole family.
Ingredients for Carnival lies for 6 people
250 g of 00 flour
35 g of butter
30 g of granulated sugar
2 eggs
1 pinch of salt
1 pinch of baking powder
1 small glass of grappa
the zest of half a lemon
powdered sugar to taste
seed oil for frying to taste
Beat the eggs in a bowl and set them aside. In a second bowl, combine the butter with the sugar and work it with a spatula until you get a cream and then add the salt, the sifted flour, the lemon zest, the liqueur and a pinch of baking powder. Finally, add the eggs and you will obtain an elastic mixture without lumps which you will leave to rest for about 30 minutes . Once the time has elapsed, take the loaf again, divide it into 2-3 parts and, using a pasta machine, make very thin sheets that you will close in a wallet and then roll them out again (this step will have to be done 2 times to be sure you have a perfect sheet). Roll out one last time to 2-3mm thick . Cut out the chatter with a notched wheel and make two cuts in the center of each rectangle.
Now fry them a few at a time in a pan of hot oil (170-180°C) until they are golden brown. Drain and leave them on kitchen paper sheets to absorb the excess oil. When they are warm, sprinkle them with icing sugar.
Carnival pancakes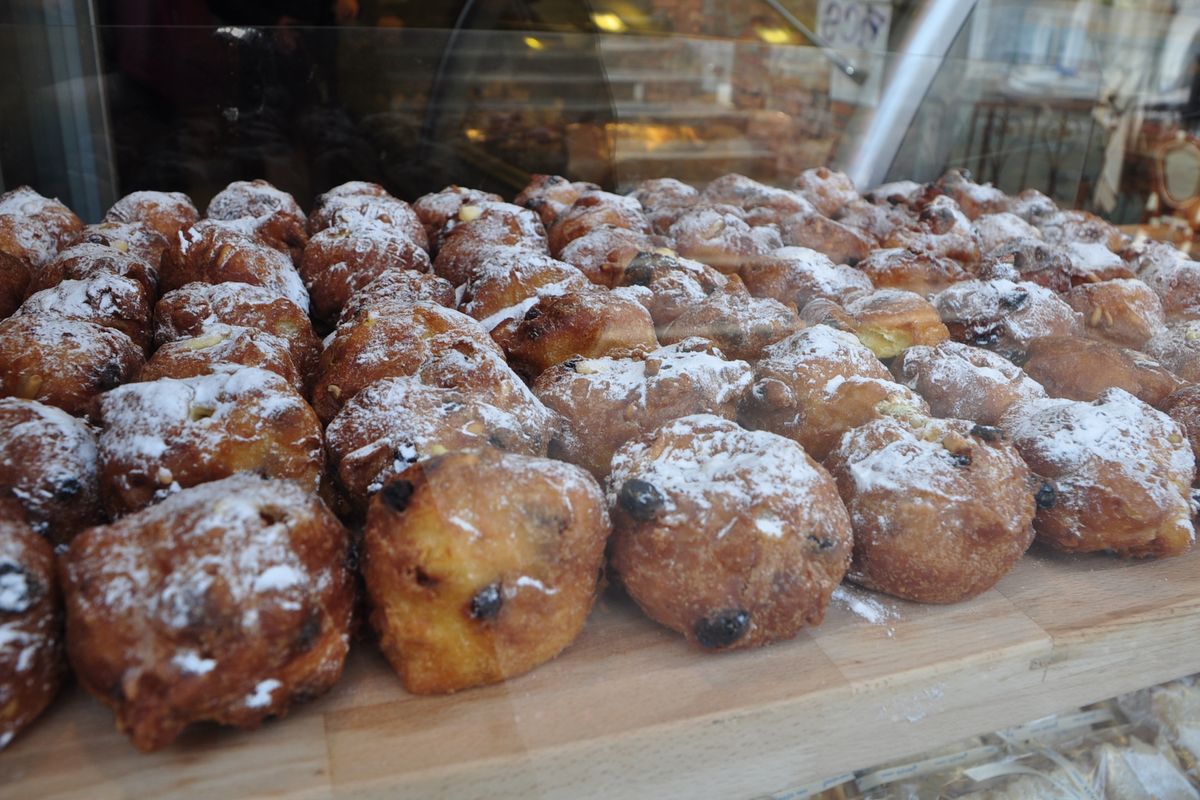 Soft, delicious and really simple to make: Carnival fritters or Venetian fritole are a must in your Carnival recipes. Here's how they prepare!
Ingredients for preparing sweet pancakes
400 g of manitoba flour
250ml of milk
2 eggs
30 g of sugar + that to decorate
30 g of fresh brewer's yeast
1 lemon
2 handfuls of raisins
1 pinch of salt
oil for frying to taste
water to taste
Mix the flour and sugar in a bowl. Then add the eggs, salt and grated lemon zest . Separately, dissolve the brewer's yeast in a couple of tablespoons of warm water. Add it to the rest of the ingredients then add the milk and raisins . Knead for about ten minutes and cover everything with a clean cloth. Let rise for a couple of hours in a warm place such as the oven turned off but with the light on.
After the leavening time, pick up the dough and put a pan with the oil for frying on the heat. With a spoon, gradually take portions of dough and fry them in hot oil. Let them brown, lift them, drain them from the excess oil and put them on a plate with kitchen paper. Dust the pancakes with sugar before serving.
damselfish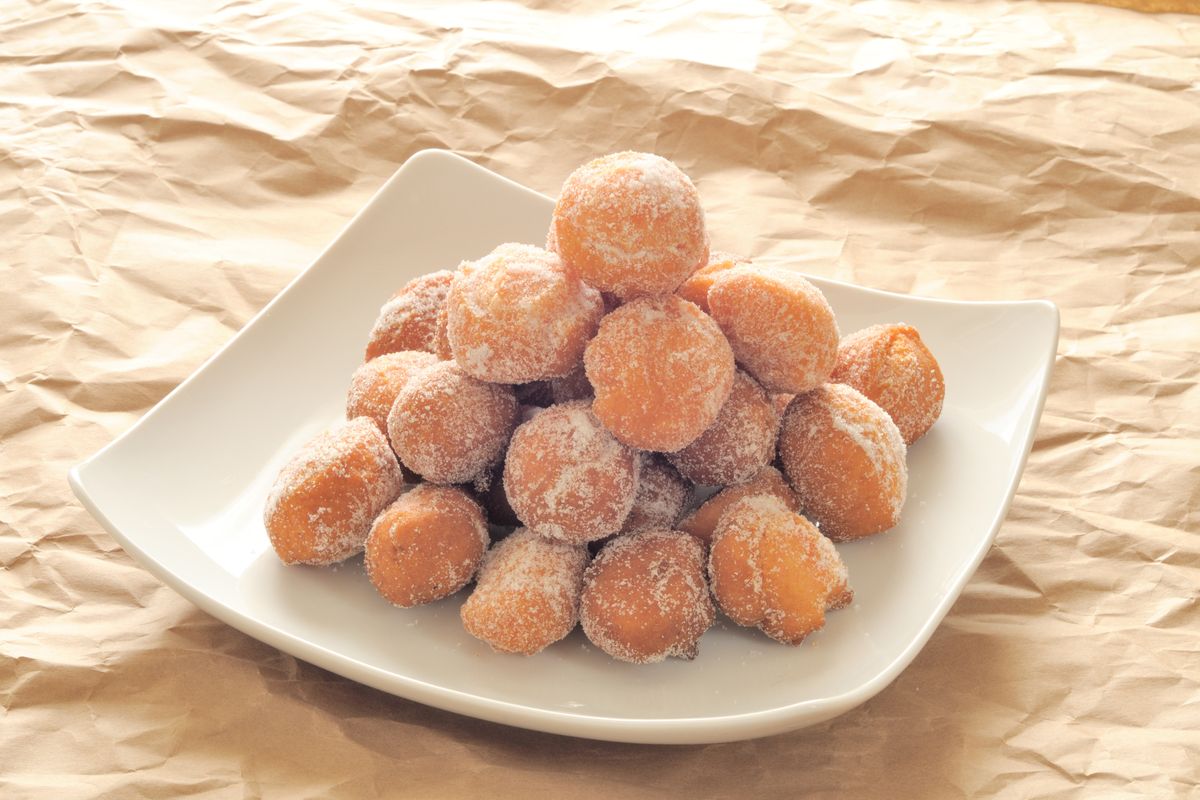 Castagnole are a dessert of Romagna origin typical of the Carnival. Unlike the Venetian version, they do not contain raisins and can also be served by first dipping them in Alchermes and then in sugar.
Ingredients for about 8 people
200 g of 00 flour
2 eggs
30 g of granulated sugar + that to cover the fried chestnuts
half a sachet of baking powder
50 g of butter
zest of 1 organic lemon
1 small glass of rum
1 pinch of salt
seed oil to taste
In a large bowl, mix the flour with the eggs, sugar, baking powder, salt, grated lemon zest, rum and butter softened at room temperature. Start kneading then after mixing all the ingredients, transfer them onto a lightly floured surface. Keep kneading until you have a nice dough then cover it with a cloth and let it rest for 15 minutes .
Divide the dough into smaller portions, then shape them into slightly elongated strings. Cut with a knife then shape each bite into balls of about 2.5/3 cm in diameter. Fry them in hot oil and when they are golden, drain them with a slotted spoon. Dust with icing sugar before serving.
Sweet noodles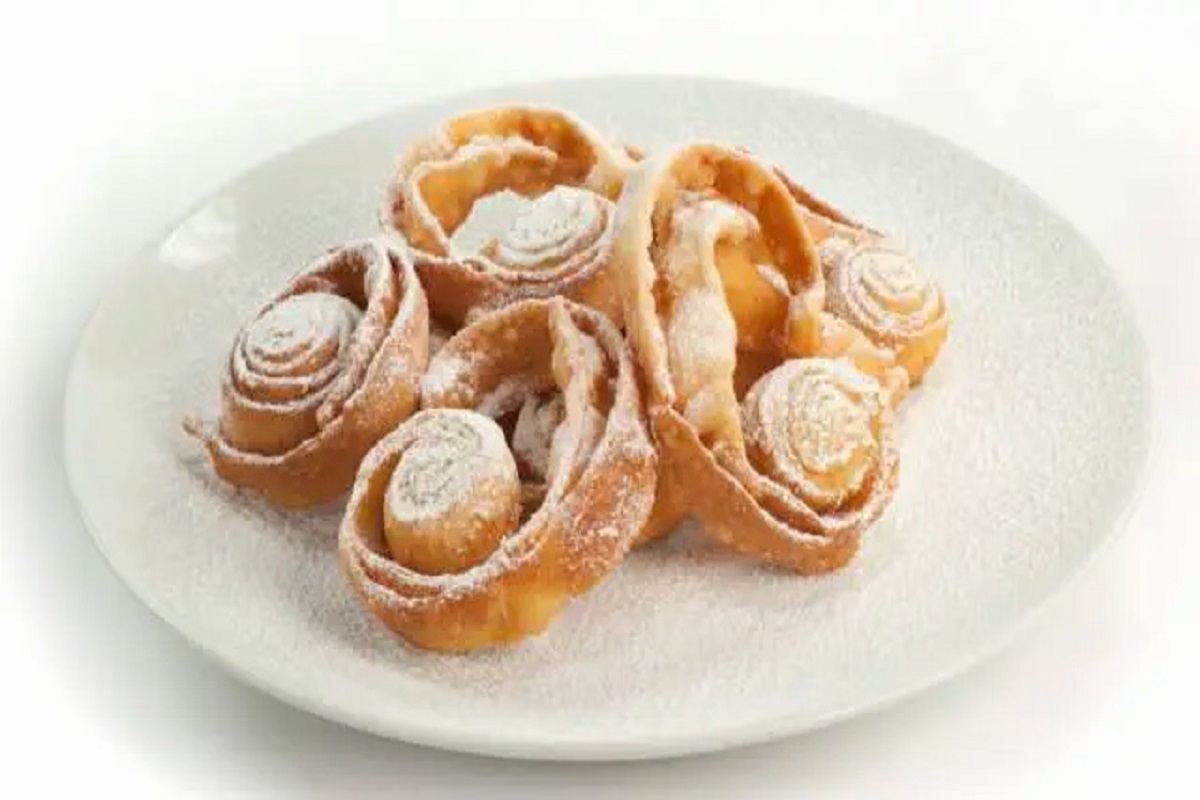 They are perhaps less known, but they are part of the sweets of the Emilia-Romagna tradition : sweet tagliatelle are delicious, fragrant and very easy to prepare. Here are the ingredients!
Ingredients for sweet tagliatelle for Carnival (for about 6 people)
200 g of flour
2 eggs
50 g of icing sugar
1 organic orange
seed oil for frying to taste
Sift the flour into a bowl or onto a work surface. Add the eggs, the salt and start kneading with your hands until you get a firm and compact dough which you will leave to rest under an overturned bowl for at least 30 minutes. After the time has passed, roll out the dough thus obtained until you obtain a sheet of 1-2 mm. Dust the surface with icing sugar and the grated orange zest.
Roll up the dough until you have a nice cylinder then let it rest for another 30 minutes . Take the dough and cut it into 1 cm slices. Fry in hot oil and let them brown. Lift them out of the oil, dry them and sprinkle them with more icing sugar .
Riproduzione riservata © - WT