The recipe for Andalusian gazpacho, the cold soup straight from Spain!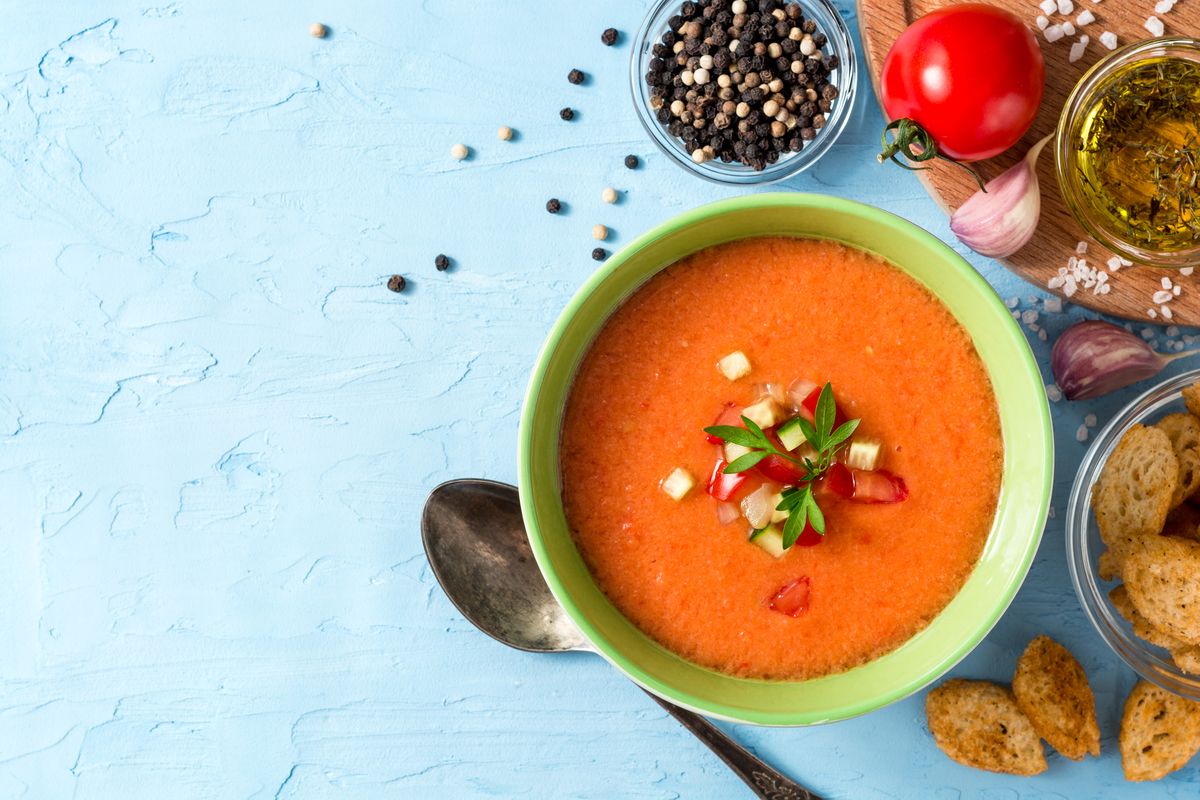 Here is the Andalusian gazpacho: the original recipe of the typical Spanish dish, perfect to serve during the warmer seasons.
Tomato gazpacho is a typical dish from Spain, especially from Andalusia, ideal for a light lunch or dinner but without sacrificing taste and freshness. It is one of those cold summer dishes that immediately make you want sun, sea… and holidays! Its origins are peasant, when it was popular as a refreshing snack for labourers. And the ingredients of gazpacho for this reason are absolutely available. Think that sometimes it is also served with ice cubes inside, just to keep its freshness intact throughout the meal.
There are many versions but today we will prepare the classic gazpacho recipe, trying to remain as faithful as possible to tradition . What do you say, shall we start with the preparation of the Andalusian gazpacho?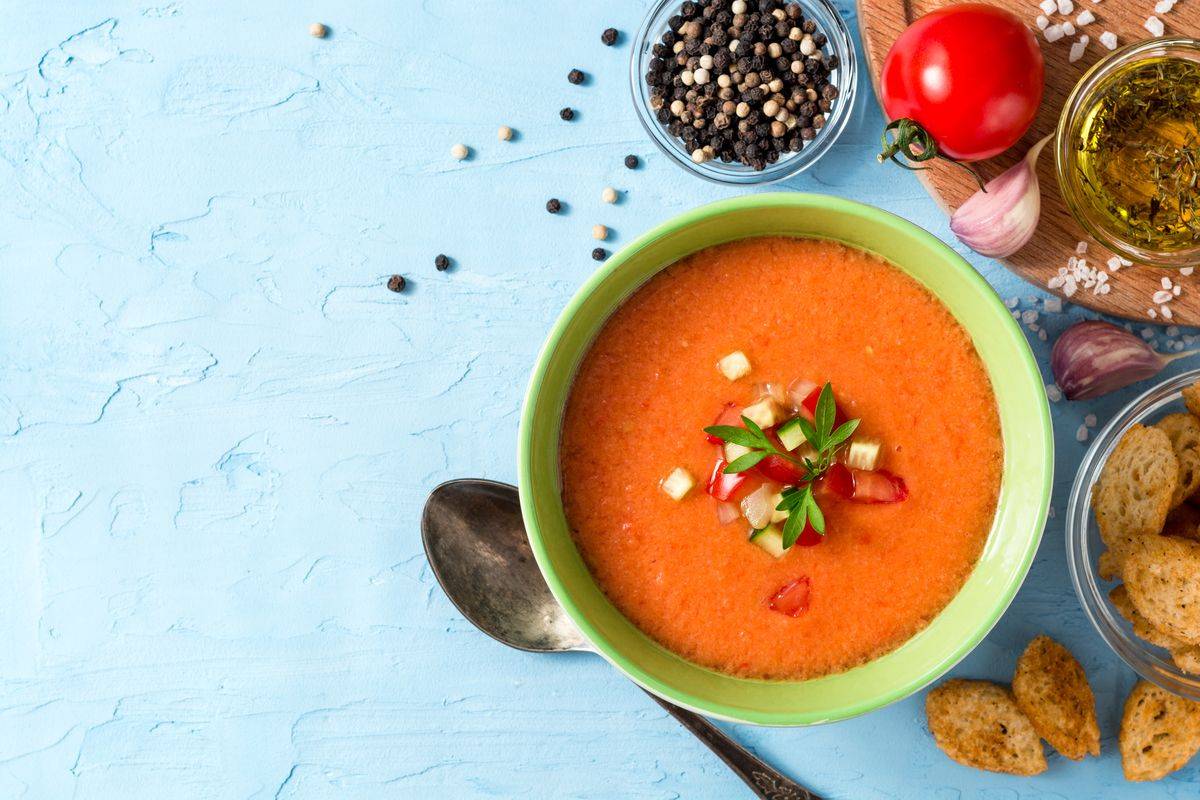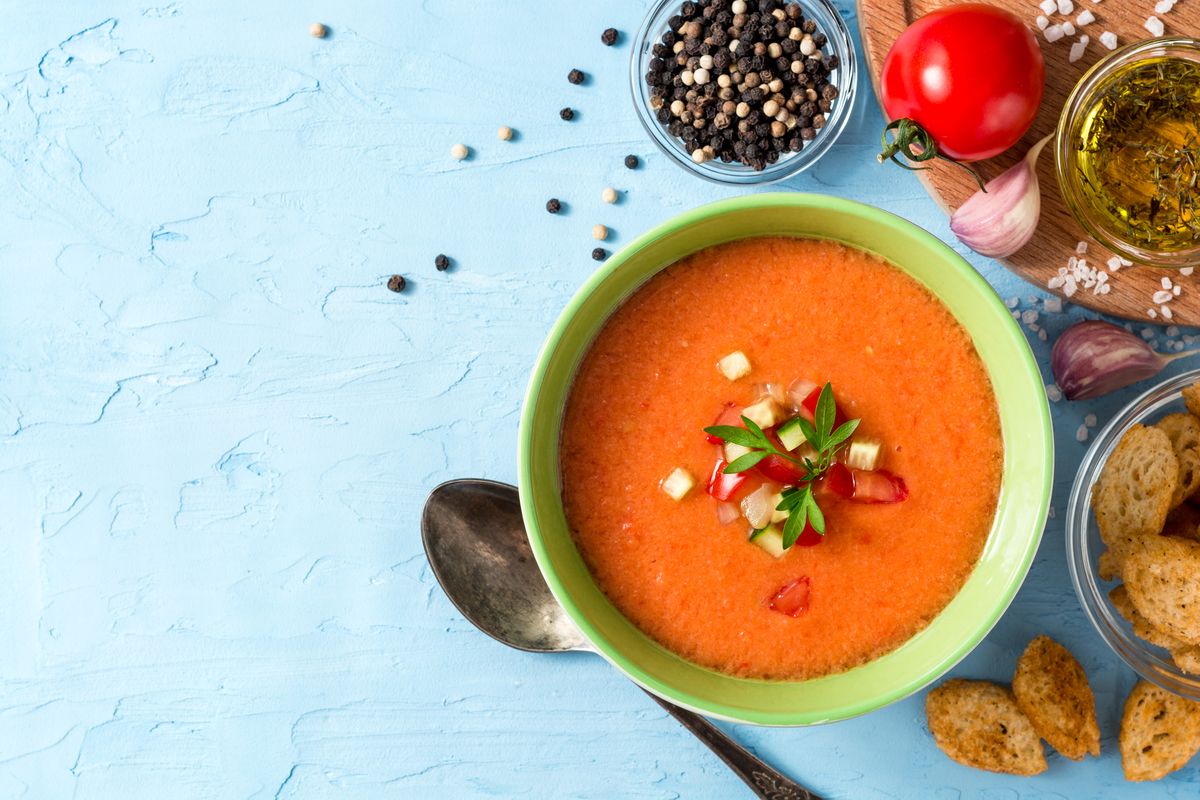 How to prepare gazpacho: original recipe
First of all, take the bread and divide the crust and the crumb: the first will be used for the croutons, while the second will be soaked in water and vinegar.
Now let's move on to the vegetables: take the tomatoes, wash them and then cut them into small pieces, removing the seeds . Also clean the cucumber by removing the peel and cut it into slices, peel the onion and chop it, clean the peppers and cut them into small pieces.
Blend everything with the garlic, which you can remove the soul to make it more digestible .
At this point sift the vegetable puree and add extra virgin olive oil, salt and pepper.
Add the breadcrumbs after squeezing it. Blend everything and season with salt and pepper again if needed.
Let your gazpacho cool in the refrigerator for a couple of hours before serving: you can also add some ice cubes.
Prepare the croutons in the oven or in a pan, adding salt, pepper and oil to the crusts.
Then prepare the remaining vegetables as an accompaniment : cut the red onion and raw vegetables into pieces, and if you like, you can also cut 2 hard-boiled eggs into small pieces.
If you liked this dish, also try our best summer first courses : they are delicious !
storage
Keep the gazpacho in the fridge, tightly covered , for a couple of days. However, the longer you wait, the more the nutritional and organoleptic properties will be lost.
Advice
If you love spicy, you can dare without distorting the original gazpacho recipe too much. In southern Extremadura, in fact, it is prepared with hot pepper instead of pepper and the addition of fennel seeds.
Spanish gazpacho is an appetizer but if you want to experiment and make it a tasty aperitif you can add fresh water to make it a fresh drink.
Riproduzione riservata © - WT