This is how seafood salad is prepared, a triumph of fish that is ideal for any occasion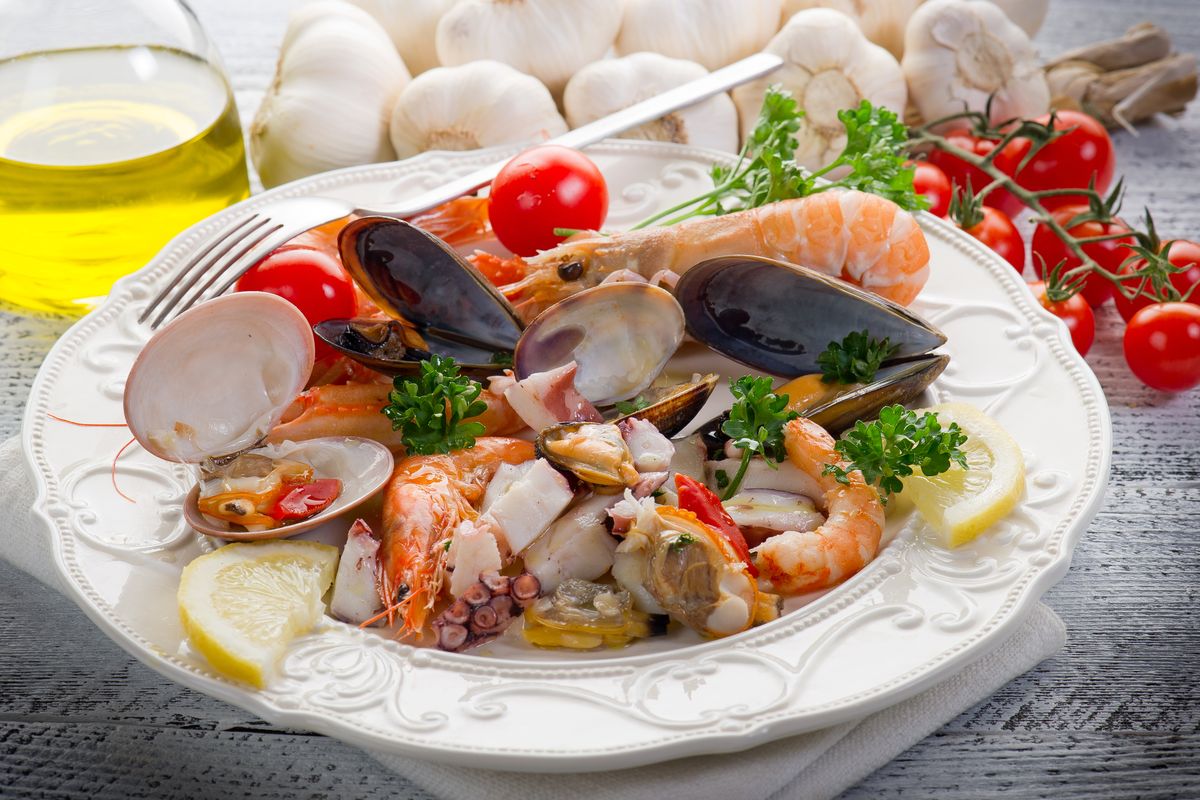 Seafood salad is a fresh, rich and perfect dish to bring to the table both as an appetizer and as a main dish.
Today we discover the recipe for seafood salad, a dish that we are often used to buying ready-made, but homemade is something else entirely! To begin with, here's the first rule: there are no rules! In fact, you can prepare a salad with many different ingredients, starting with the fish, which you can assemble as you like. There are those who prefer only octopus and prawns, those who can't do without mussels and clams, and those who still don't want to give up some crunchy vegetables , such as celery, peppers or even carrots.
We offer you a basic recipe and will conclude with some ideas for other variations. What are we waiting for? Let's get started right away: here are the ingredients for seafood salad and how to prepare it!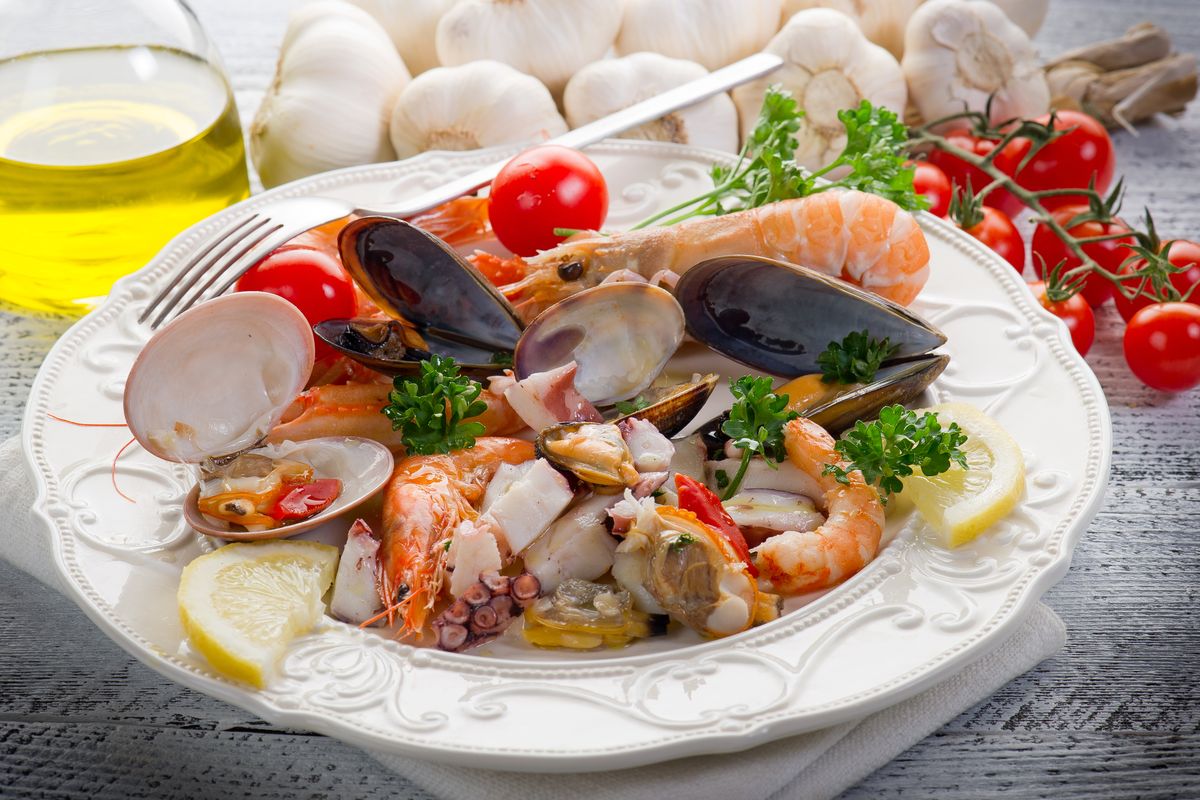 Preparation of seafood salad
First of all take care of cleaning the fish. Take the squid and remove the innards, the skin of the pouches and the eyes. Do the same with the octopus, emptying the bags and removing the outer skin. The same also with prawns and mussels.
As for mussels and clams, if you bought them fresh, clean them by brushing them well and removing all the outer beard.
At this point, move on to cooking: for the octopus you will have to boil it in water for about 35-40 minutes, while for the squid, in another pan, 15 minutes will suffice.
In two different pans, open the mussels, flavoring with a clove of garlic, a little pepper and a drop of oil. As soon as they have opened, put out the flame, eliminating those that have remained closed. A word of advice: don't throw away the water, which will have kept all its flavour, but filter it to remove any residual sand!
You just have to boil the prawns for a few minutes, and finally you will have everything you need to compose the dish.
Cut the squid and octopus into small pieces, mix them with the mussels, clams and prawns. Add a spoonful of mussel liquid, lemon juice, a clove of garlic, oil and finally the chopped parsley. Finish your fish salad with a good grating of pepper and let the fish salad rest in the fridge for a few hours, until it's nice and fresh.
Experiment and give life to the dish of your dreams that goes well in the Christmas appetizers section. For the summer season, however, try this and the other light summer recipes .
Seafood salad: the variations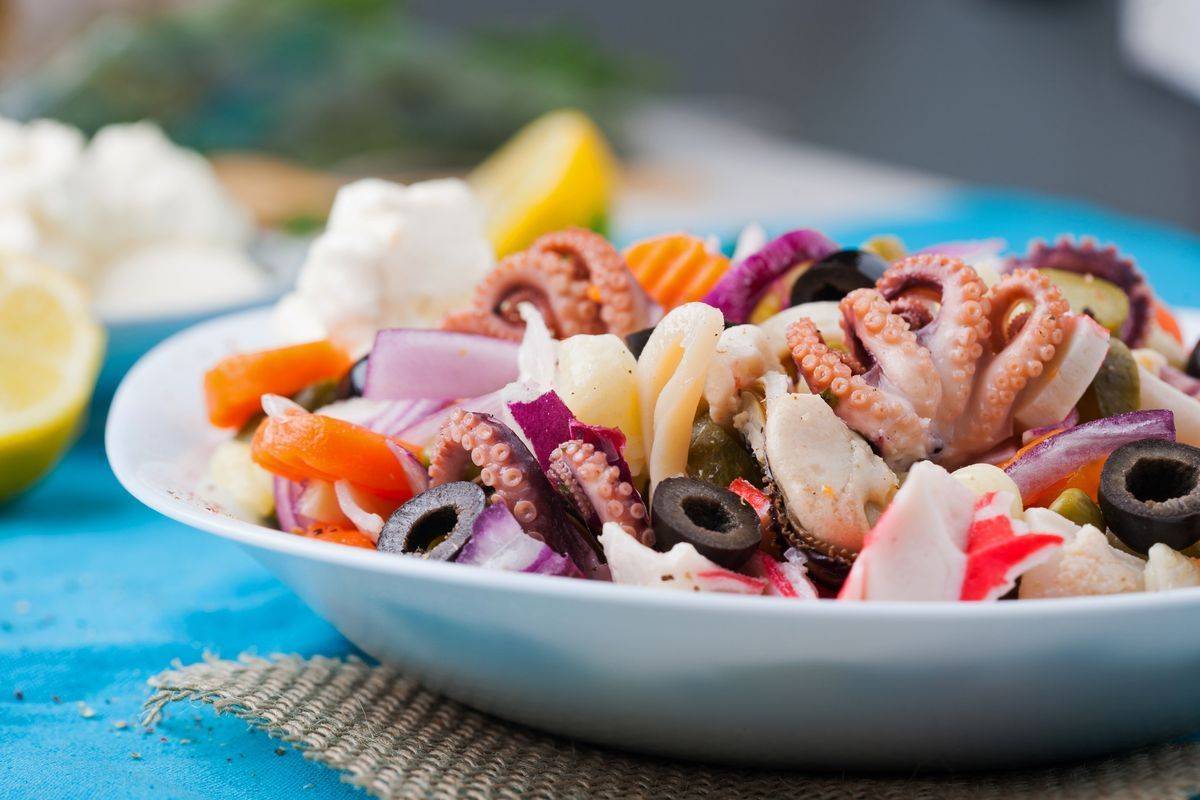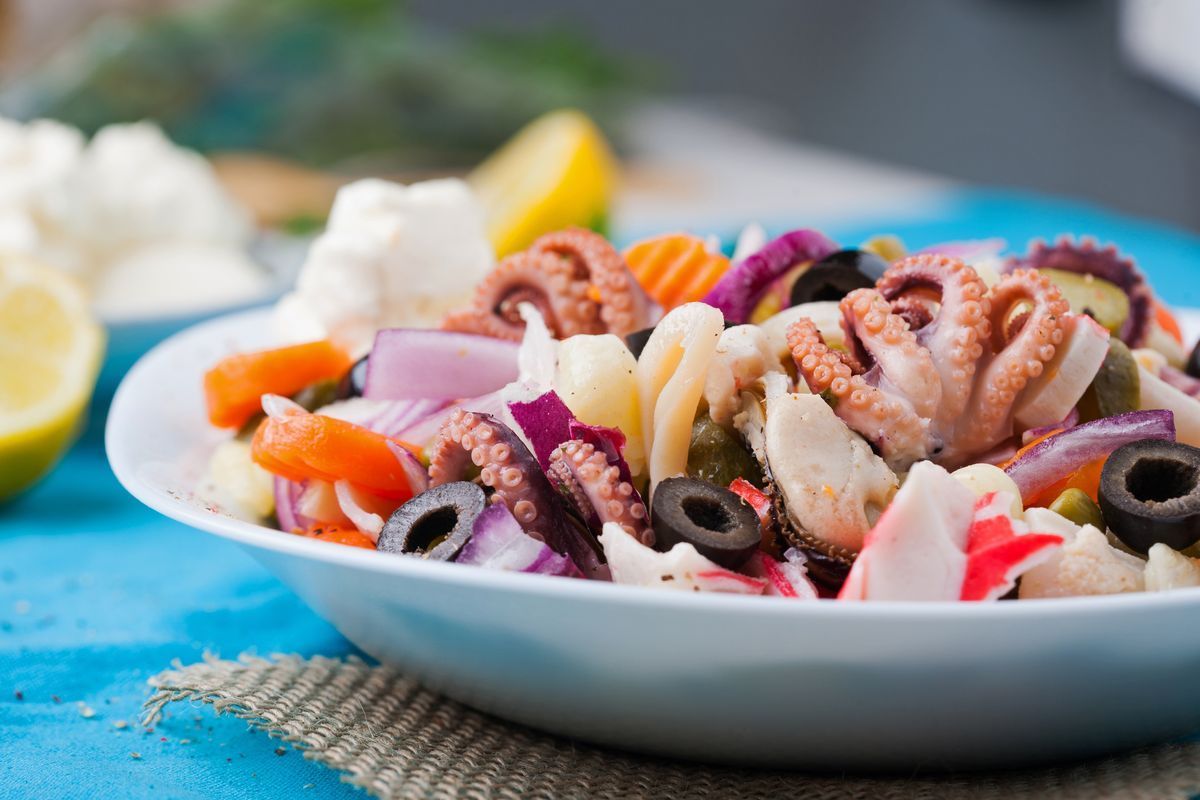 There are so many ways to give life to a recipe for a cold, original and imaginative seafood appetizer. In addition to the ingredients of the seafood salad that we have recommended, you can enrich this dish with other seafood or fish, starting with the surimi, other shellfish of your choice or with scampi.
If, on the other hand, you want a more colorful dish, you can also include peppers cut into thin strips in the preparation, or even celery or Taggiasca olives, which will also give an exquisite flavor to your dish. You can also add half a red onion and, if necessary, some chopped tomatoes that have just been put in the pan to dry.
The perfect seafood salad dressing
If you want a real explosion of flavour, then the best thing to do is prepare a lemon emulsion for salad dressing .
Take a lemon and extract the juice. Add a clove of minced garlic (without core), salt, pepper, parsley and about 3 tablespoons of olive oil.
Now beat everything with a fork : you will have to emulsify the sauce, mixing all the components well.
Pour the sauce over the salad, and enjoy your meal!
If you liked it, try all our recipes with octopus too!
storage
Now that you understand how to prepare seafood salad, all you have to do is store it carefully in case it doesn't end up with the first meal. This mixed seafood salad can be kept for a maximum of 1-2 days in the refrigerator, in a container with an airtight lid. Cooked fish, but not seasoned, can be frozen in the freezer if it is fresh products but it should be avoided absolutely if you have purchased defrosted product.
Riproduzione riservata © - WT