Tremble tremble… the rice salad is back with a scary photo and video recipe!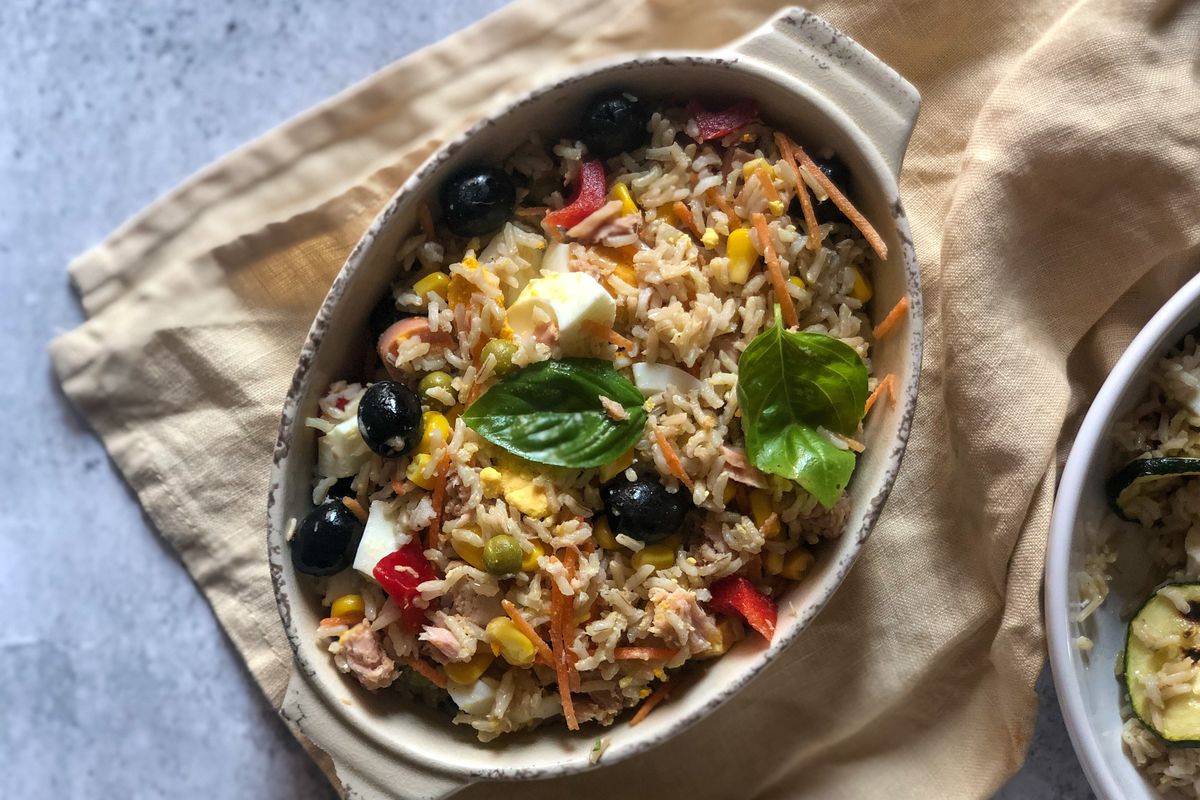 The rice salad recipe is simple and delicious, perfect for bringing a fresh and tasty dish to the table.
Fresh, colourful, tasty and suitable for any occasion: we are talking about cold rice salad, a dish that can be interpreted in many different ways and which is perfect for a light lunch or for a trip out of town . Although many consider this course not very tasty, in reality with the right precautions it can become an experience full of taste! In addition, rice is naturally gluten-free so, with the necessary precautions, it is also a dish suitable for those suffering from celiac disease.
In short, if you have never prepared this dish, or if you want to perfect the recipe even more and discover all its secrets, let's start immediately by following the photo steps and the video recipe !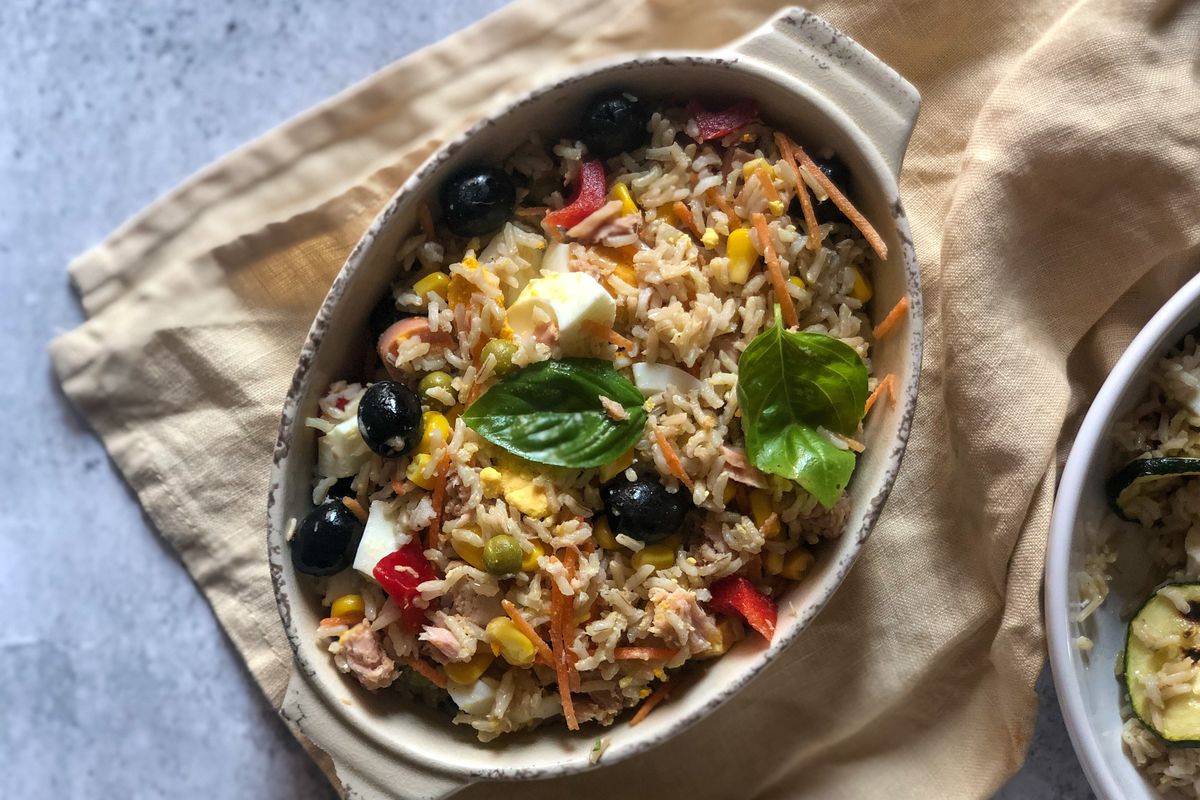 How to make classic rice salad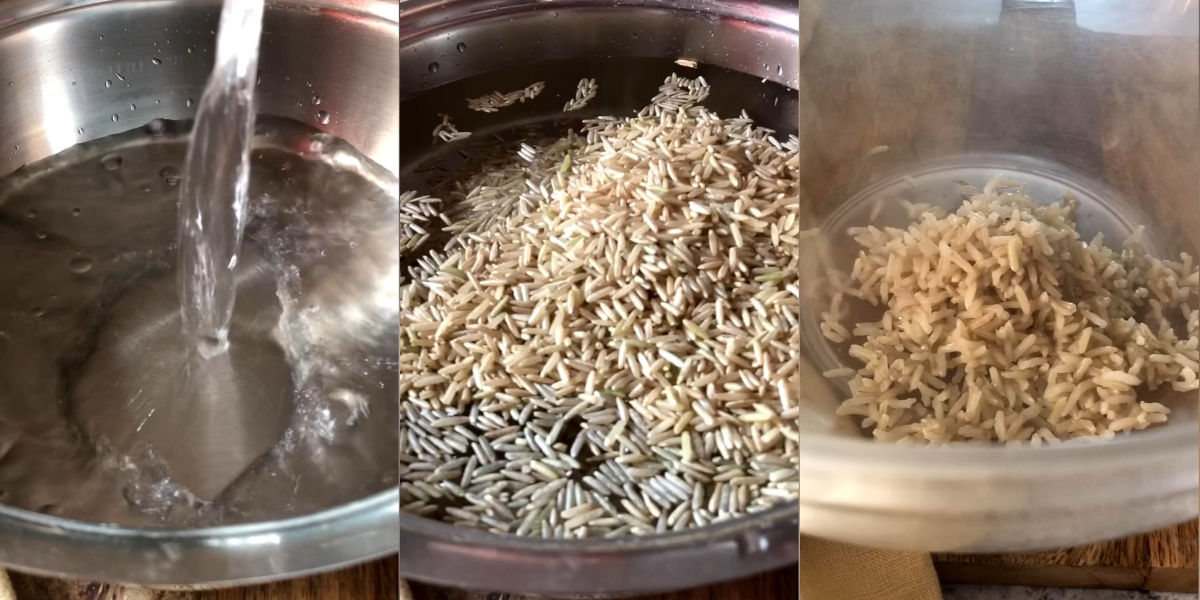 1. First of all, start by cooking the rice, which will also depend on the type you have chosen. Boil it in salted water and once ready let it cool.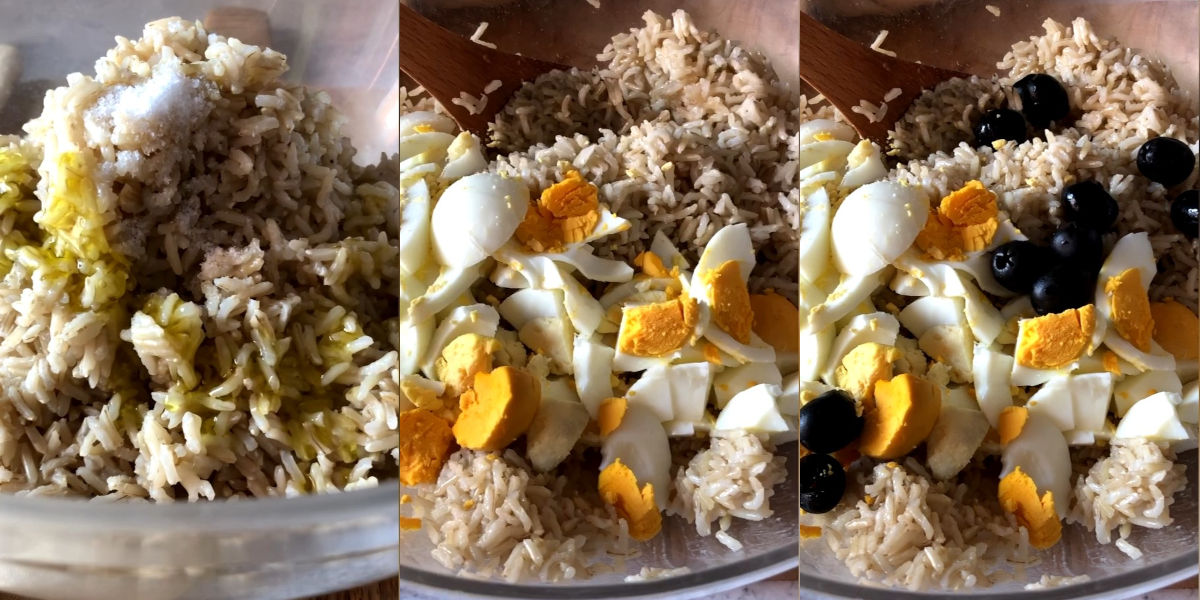 2. Season with oil, salt and pepper and leave it in a bowl, then take care of all the ingredients you have chosen. Slice the carrots into julienne strips, cook the peas, cut frankfurters and olives and cut the hard-boiled eggs into small pieces and add everything to the bowl.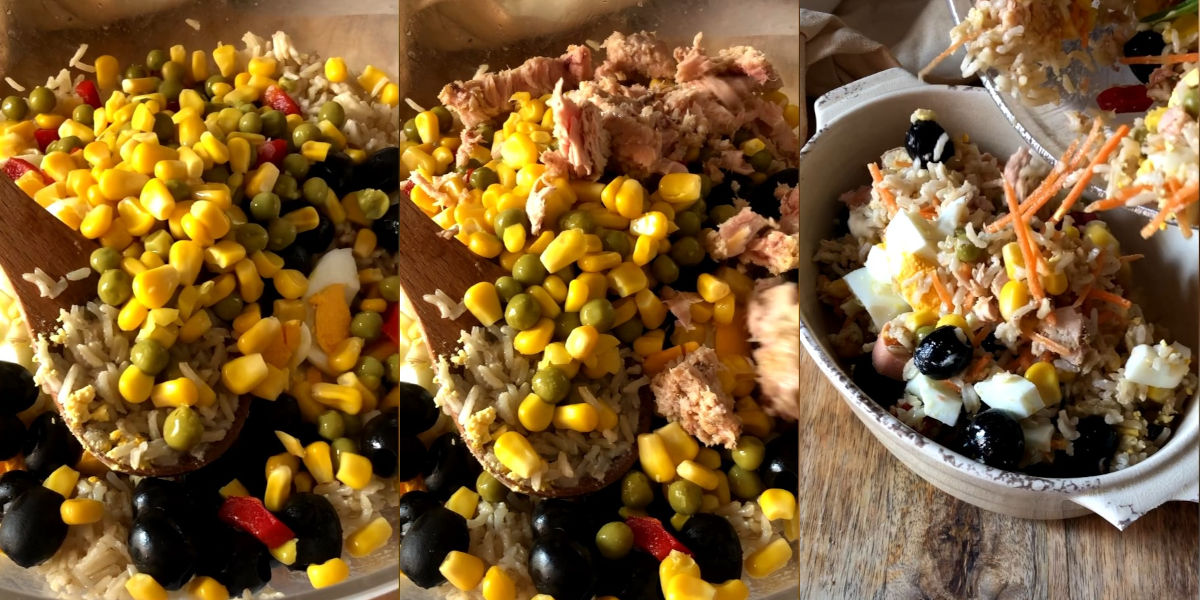 3. Also add the canned tuna and the corn, and mix everything , trying to create the right proportion between rice and seasoning. The salad is ready, bon appetit!
Lovers of this cereal can consult all our rice recipes : there really is one for all tastes !
Tips for a perfect rice salad
What we have created is a classic version of the salad, but as you will have understood, there are no limits to the imagination! You can use vegetables, fish, sauces and aromatic herbs as you like, to create the dish you most desire. But in general, there are small tricks to create a balanced and delicious dish.
Which rice to use?
What is the right rice for rice salad? Fine-grain rice such as Ribe, Veneria, S. Andrea is usually used, but Arborio is fine too. Parboiled rice is also interesting, because it resists cooking well and doesn't get too loose. Venere rice and basmati rice can also be used.
Cooking: a crucial phase!
First of all, the first tip is to carefully follow the cooking of the rice, remembering to salt the water and cook it 1 minute less: a crunchy texture is better than overcooked rice! Then, secondly, avoid letting it cool by rinsing it under running water, but simply let it rest in a bowl, perhaps with a drizzle of oil to prevent it from sticking, and once it is cold , season it to taste.
It must be good… but also beautiful!
Finally, give great importance to the balance between colors, textures and quantities of the toppings. A perfect salad is one that guarantees freshness , flavor and alternation between crunchiness and more delicate elements with every bite.
And if you want to tie everything together, try adding a spoonful of mayonnaise or mustard!
How about discovering all our light summer recipes too?
How to dress rice salad: delicious variations
Rice with salad is a dish that starts from a neutral base, i.e. that of boiled rice, therefore it lends itself to many different versions. In fact, the condiments in this case make the dish come to life, which can become something memorable . So here, in addition to the classic one we have already seen, some advice to try different versions of this recipe!
Vegetarian rice salad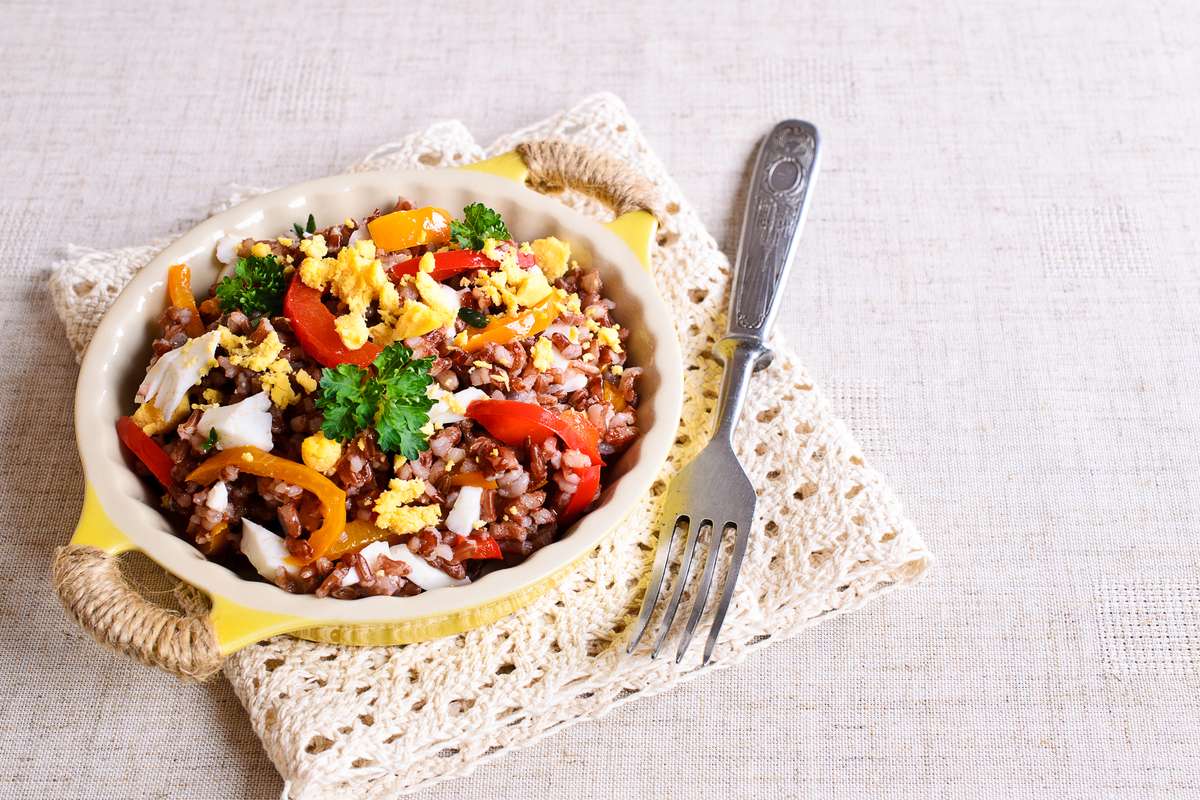 If you want to create a vegetarian variant , then you can focus on vegetables, but also on eggs and cheeses. You can choose a cheese that you like and cut it into small cubes , while the eggs will be cooked until they are hard-boiled. Here too, don't skimp on aromatic herbs (thyme, parsley, basil, fresh oregano) seasonings and a good extra virgin olive oil!
We want to try and recommend a brown rice and vegetarian salad, but that doesn't mean that you can't change the type of rice during preparation. Here is our recipe for rice salad with vegetables and feta cheese .
Ingredients for 4 people:
360 g of brown rice
2 medium zucchini
2 bell peppers (red and yellow)
Greek feta to taste
extra virgin olive oil to taste
Salt to taste
pepper as needed
fresh mint to taste
First, cook the rice in boiling salted water, drain it and leave it aside to cool. Then take the vegetables, wash them, cut them and grill them on a non-stick grill for a few minutes. Cut the feta into cubes then add it to the rice and vegetables. Mix everything well, season with salt, pepper and oil and keep it in the refrigerator for a few hours so that it takes on the flavors well.
Vegan rice salad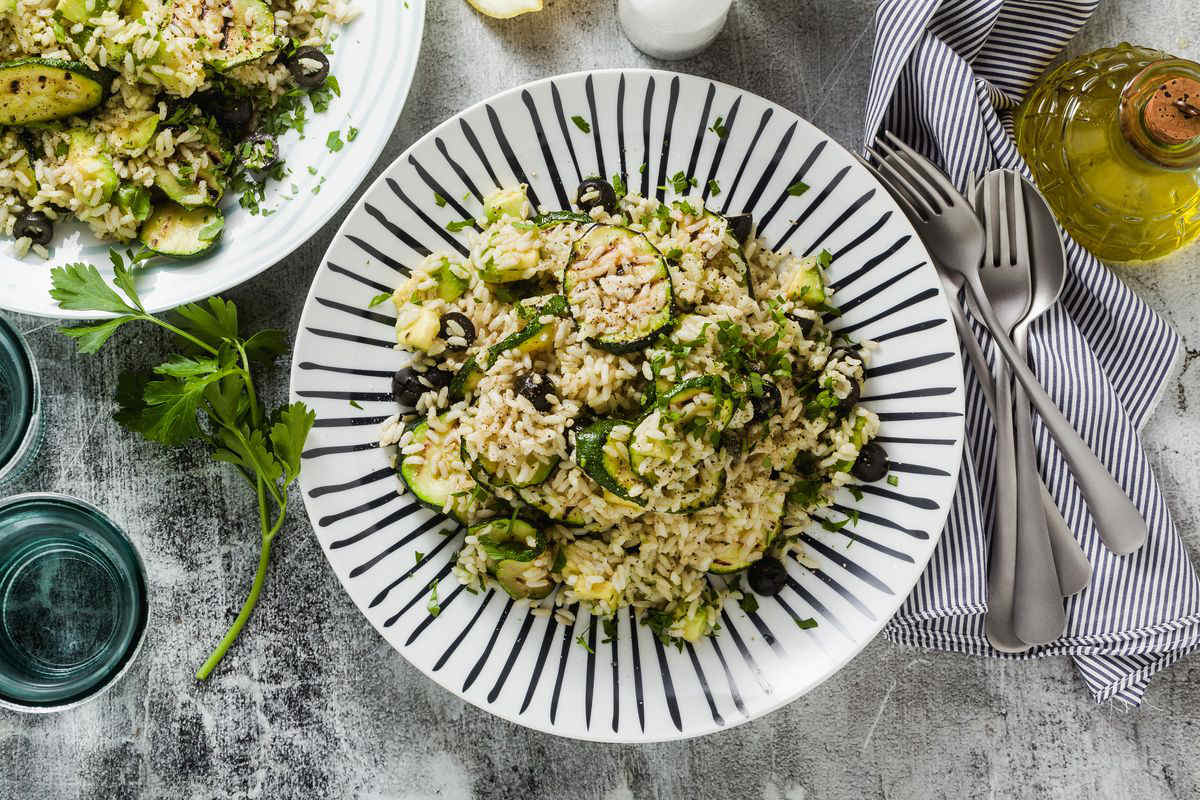 Different speech if you want the dish vegan instead. In this case the vegetables will be the only protagonists of this salad, so pay attention to textures, shapes and colors. A fancy idea? Zucchini, peppers, aubergines are a triptych that works great, where you can perhaps play with the cooking methods . For example, what do you think of lightly seared peppers, still crunchy, grilled zucchini and fried aubergines?
If, on the other hand, you want to stick to simple cooking , make room for capers, olives, basil and other herbs that will flavor your dish properly!
And here's an example that, we're sure, once you try it will become your summer workhorse: the recipe for rice salad with zucchini, avocado and olives .
Ingredients for 4 people:
360 g of rice
2 zucchini
1 avocado
black olives to taste
basil to taste
Salt to taste
pepper as needed
lemon juice to taste
After cooking the rice in boiling salted water, drain it and set it aside to cool. In the meantime, wash the courgettes and cut them into rounds , grill them on a special cast iron grill and add them to the rice together with the black olives cut into rounds. Lastly, cut the avocado in half, extract the pulp and cut it into cubes, season it with a little salt, pepper and lemon juice and add it to the rice salad. Season with salt and pepper , add a few basil leaves and leave to cool completely.
Rice salad with fish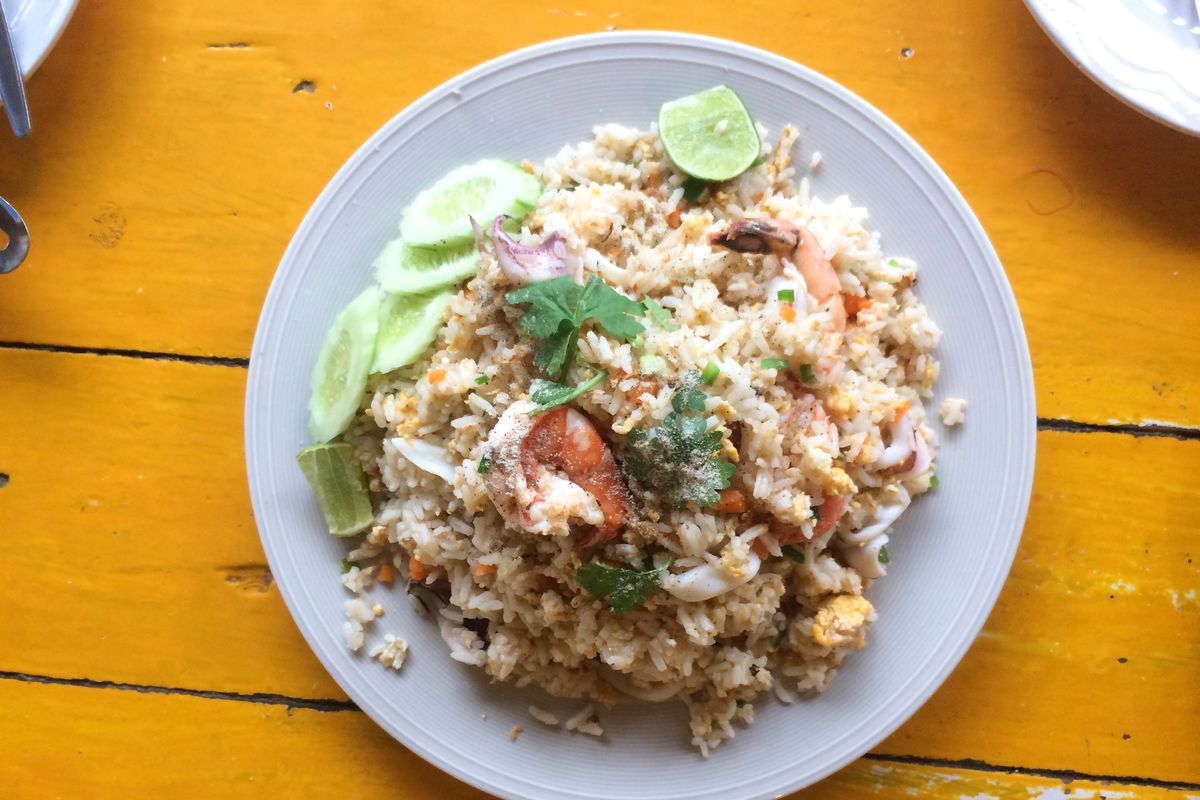 Fresh, tasty, gourmet. If you choose fish , you will ennoble this dish and make it something magical , other than a simple course for a trip out of town. In this case what matters is the balance of flavours, the freshness of the raw material and the dosages.
So make way for mussels, octopus, clams, cuttlefish, prawns, but also for cherry tomatoes, garlic, parsley, extra virgin olive oil and chilli pepper. Just talking about it already makes our mouth water ! Cook all the elements separately and add a little liquid from the clams and mussels to the rice cooking water, which will further flavor the dish!
And here is our version!
Ingredients for 4 people:
360 g of rice
300 g of mussels
300 g of clams
250 g of cuttlefish
150 g of shrimp tails
1 clove of garlic
extra virgin olive oil to taste
Salt to taste
pepper as needed
lemon to taste
parsley to taste
chili
Cook the rice in boiling salted water and then set aside to cool. Now let's prepare the fish: put the mussels and clams in a pan with a drizzle of oil and garlic (after having suitably drained them ). Once completely open, let them cool, remove them from the shell and set them aside. Now take the clean cuttlefish, cut them into large pieces and sauté them in a pan with a drizzle of oil, add the mussels and clams, the prawn tails (after removing the intestines) and let it sizzle for a few minutes. Add all the fish to the rice, mix well, season with salt and pepper and season by adding the vinaigrette (emulsion of oil and lemon) and chopped parsley. Cover everything with transparent film and leave your seafood rice salad for at least 2 hours in the refrigerator so that it absorbs the flavors well.
Venere rice salad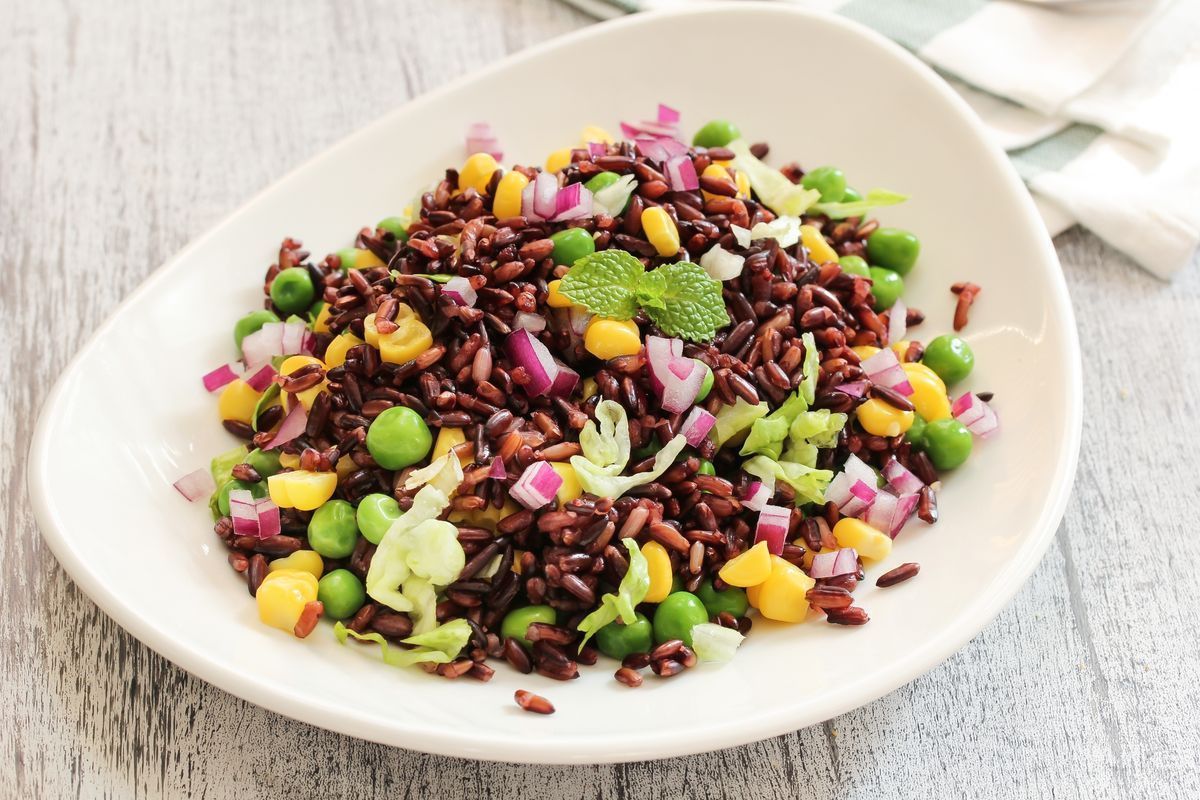 And here is Primo Cher's latest proposal: the recipe for Venus rice salad . Good, greedy, but also light and healthy. Our version is with vegetables and tuna, but you can also add smoked salmon, avocado or courgettes and it will still be delicious.
Ingredients for 4 people:
360 g of venere rice
canned peas to taste
2 cans of tuna
canned corn to taste
1/2 red onion
extra virgin olive oil to taste
zest of 1 untreated lemon
Salt to taste
pepper as needed
fresh mint to taste
First, cook the rice in plenty of boiling salted water, once cooked, drain it and put it in a bowl and let it cool. Now take all the ingredients that will serve as the topping: the canned tuna, the peas (canned or fresh) and the corn and mix them together in the rice. Then add the finely chopped onion, lemon zest and fresh mint leaves. Season with salt and pepper and leave to flavor for 1 hour in the refrigerator.
What do you think? And don't forget to take a peek at our summer first courses for lots of delicious ideas!
Riproduzione riservata © - WT