Zero desire to cook? Then you have to try the photo and video recipe of baked onions!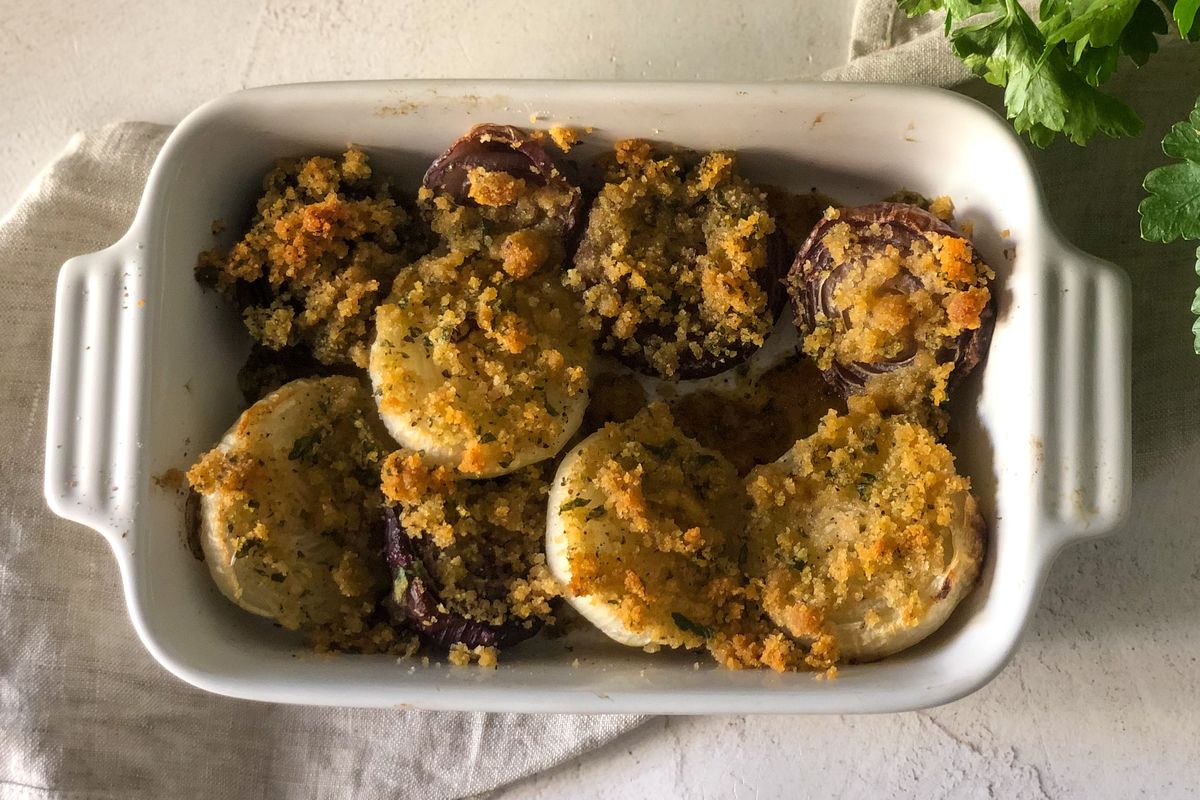 Baked onions: a side dish that melts in your mouth, very simple to make. Here is the recipe and step-by-step preparation tips!
Are you looking for a very simple side dish to make, which goes well with many different dishes? The recipe that best meets your needs is certainly that of baked onions. There are very few steps, you just need to have some time (cooking takes quite a long time).
After having blanched them, you have to arrange the onions on a pan and bake them for an hour; for an extra touch, you can add a gratin made with breadcrumbs and cheese.
So let's see how to cook white onions in the oven with all the photo steps and the video recipe , the variations and our best advice !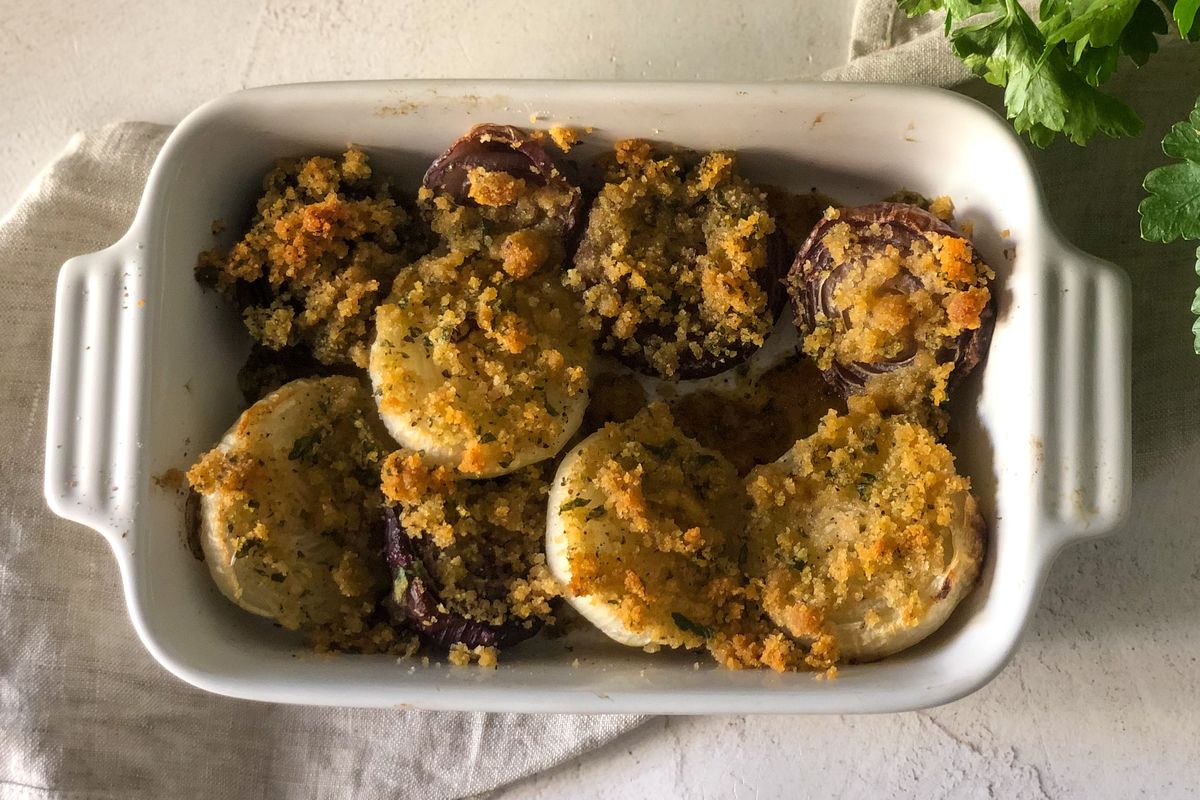 Preparation of baked onions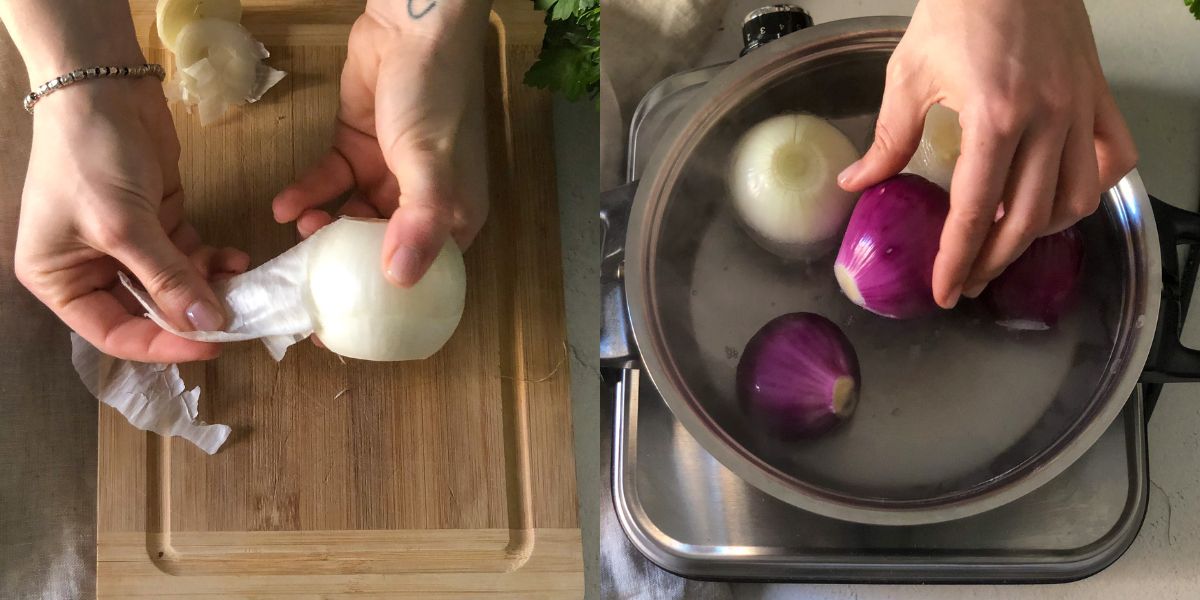 1. The first thing to do is peel the onions and boil them whole for 10 minutes in boiling water .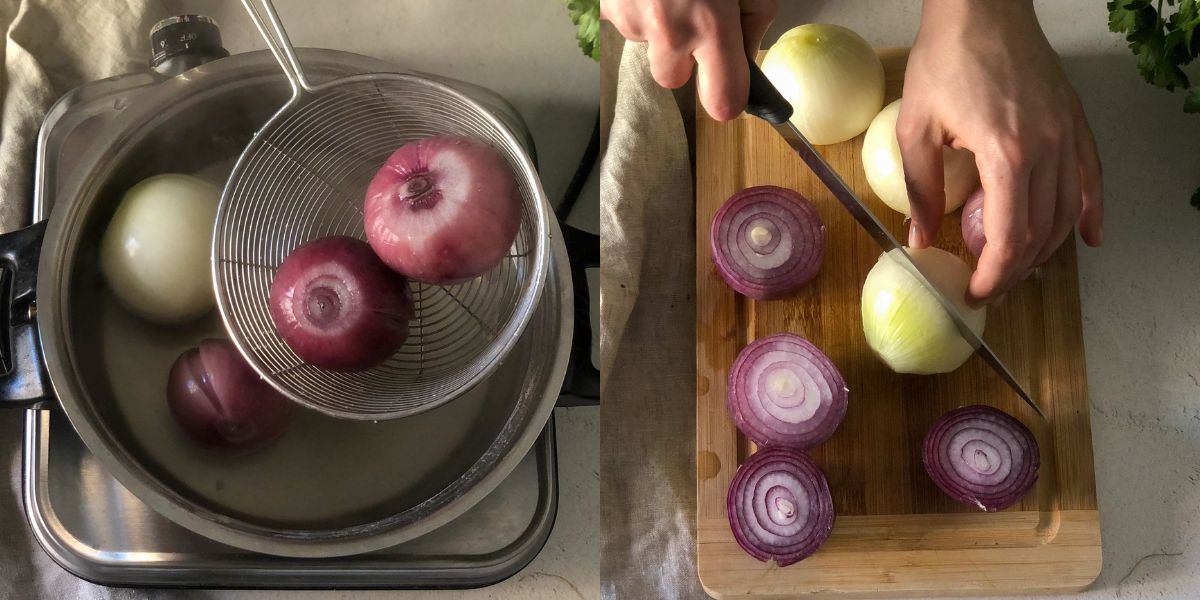 2. Drain and cut them in half , being careful not to burn yourself.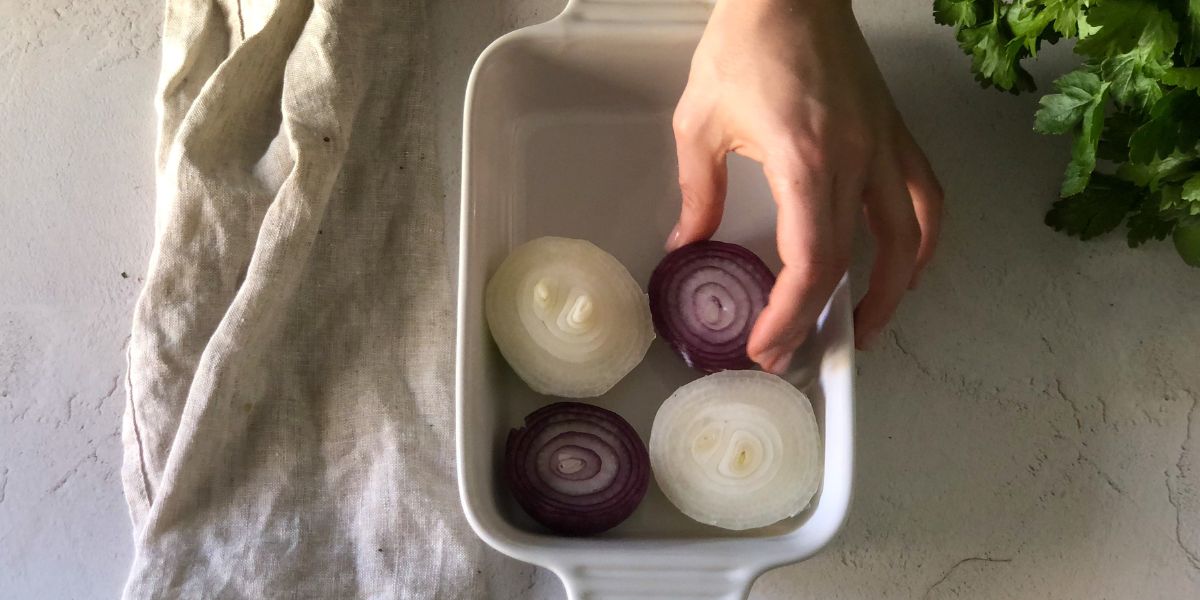 3. Arrange them in a baking dish with the cut half facing up and salt and pepper to taste.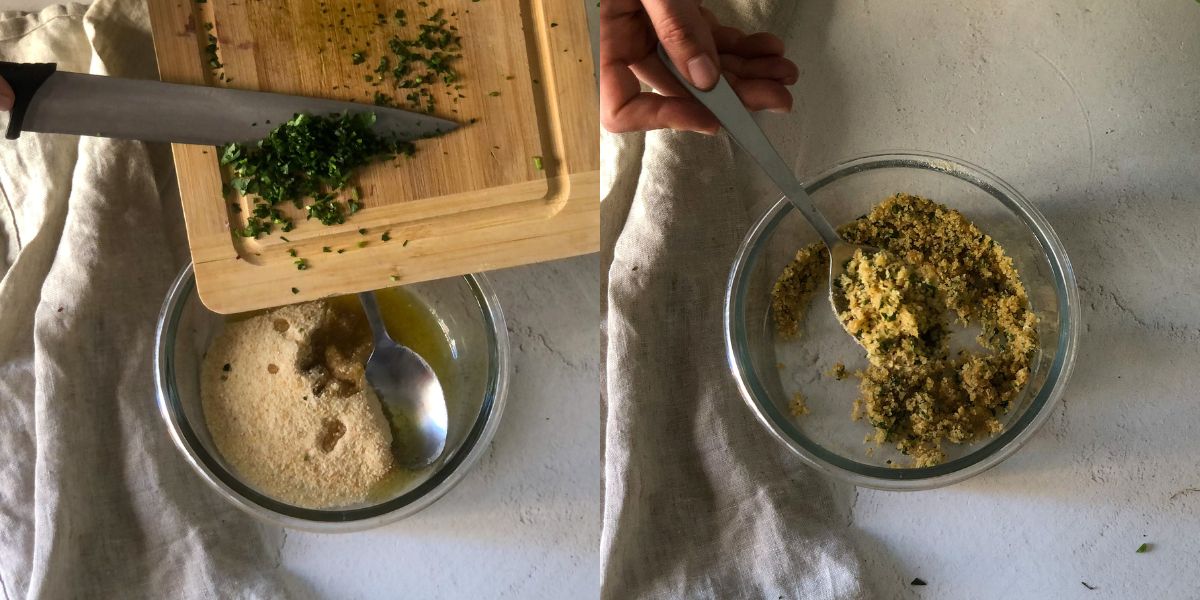 4. In a bowl, combine the breadcrumbs with about 3 tablespoons of olive oil and the aromatic herbs chopped with a knife (we chose parsley but you can also opt for thyme and rosemary or even marjoram).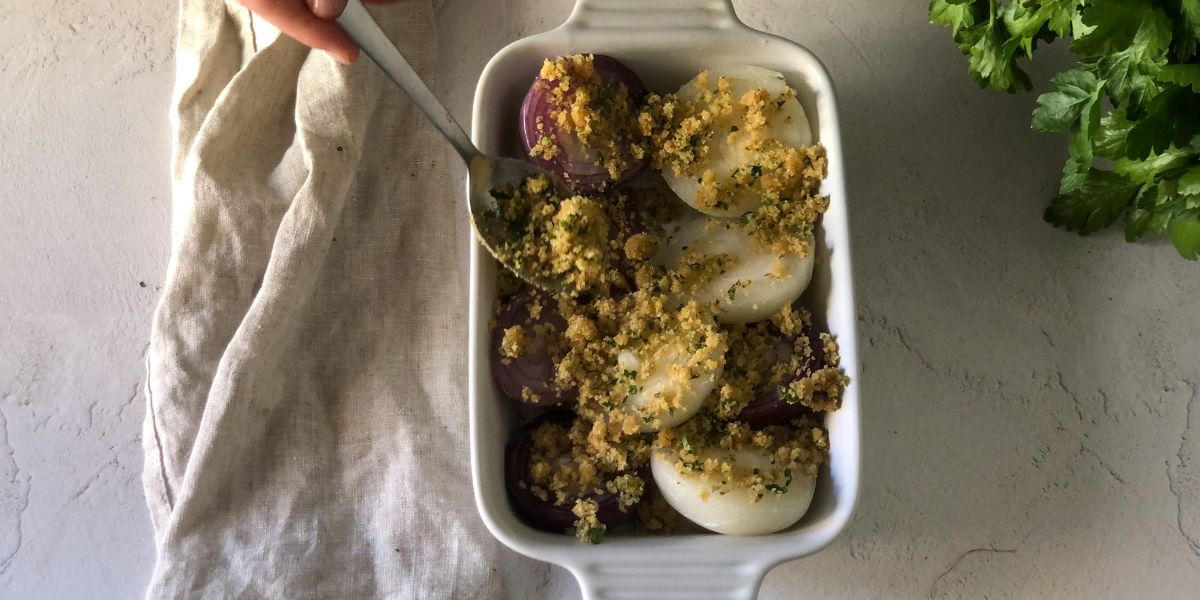 5. Pour the breadcrumbs over the onions and finish with a drizzle of oil.
6. Place the tray in a preheated oven for about 1 hour at 180°C . The time they have to stay in the oven is quite long but in the end it will be worth it: they will be so tender that they will melt in your mouth. If you see the surface starting to brown too much, however, cover the onions with foil.
7. For the last 5-10 minutes, raise the temperature and set the grill mode to create a crispy crust.
While the onions are cooking you can prepare your main course : this dish goes perfectly with roasts, stews, but also fish and meatloaf . Enjoy your meal!
Preparation of onions au gratin with breadcrumbs and cheese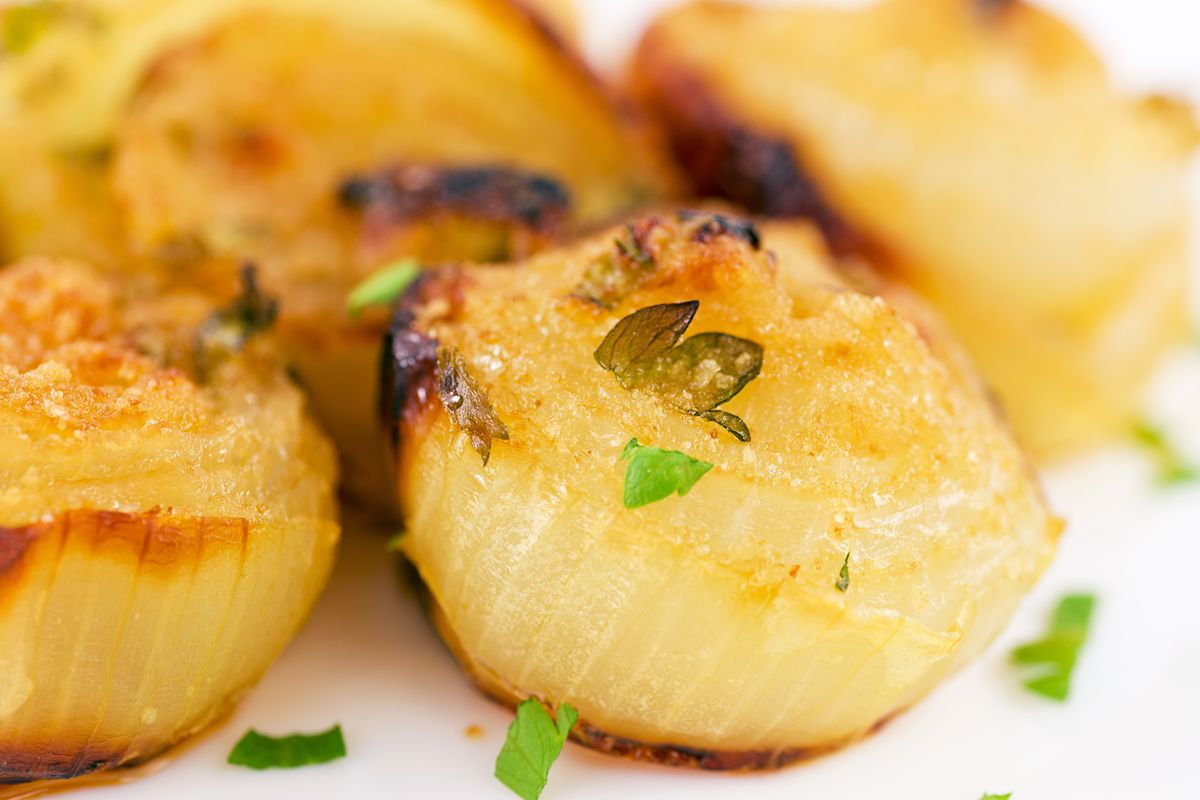 To make this recipe more delicious, you can make a richer gratin: prepare a mixture of breadcrumbs and grated cheese (150 grams of both should be enough); sprinkle it on the onions, which also in this case must be cut in half . Always bake for about 1 hour at 180°C.
Variations, advice and conservation
You can choose the variety you prefer: baked onions (such as Borettane onions) will cook in half the time, but they are not recommended for gratinating because they are very small .
To eliminate the smell , you can follow a very simple grandmother's trick: leave the onions in water for an hour before proceeding with the actual preparation.
Did you like this dish? Here are many recipes with onions to be discovered and our best side dishes for Christmas !
storage
Keep this dish in the fridge, in an airtight container , for a couple of days.
Riproduzione riservata © - WT